With the holidays upon us, everyone is looking for Christmas Recipe suggestions. Papa Noel has a unique way of spreading Holiday cheer down on the Bayou....maybe he's bringing you some of Sweet Daddy D's most requested recipes around the holiday season.
This post is not sponsored, but you will find affiliate links on this page. As an Amazon Associate, I earn from qualifying purchases. The price you pay as a consumer does not change, but I may make a small commission based on your purchase.
This photographic ran in the Morgan City Daily Review. Their photographer was lucky enough to catch Papa Noel and his helpers arriving in South Louisiana:
Mo' fas'er an' fas'er de' gator dey came
He whistle an' holler an' call dem by name:
"Ha, Gaston! Ha, Tiboy! Ha, Pierre an' Alcee'!
Gee, Ninette! Gee, Suzette! Celeste an'Renee'!
That's an excerpt from Cajun Night Before Christmas written by Trosclair (J. B. Kling, Jr.)
Starters!
In South Louisiana, it's common to start the holiday meal with gumbo or bisque. Here are some suggestions:
Turkey Oyster Gumbo
The perfect way to use your leftover holiday turkey. Oysters and turkey are a perfect match in this post-Thanksgiving Louisiana tradition!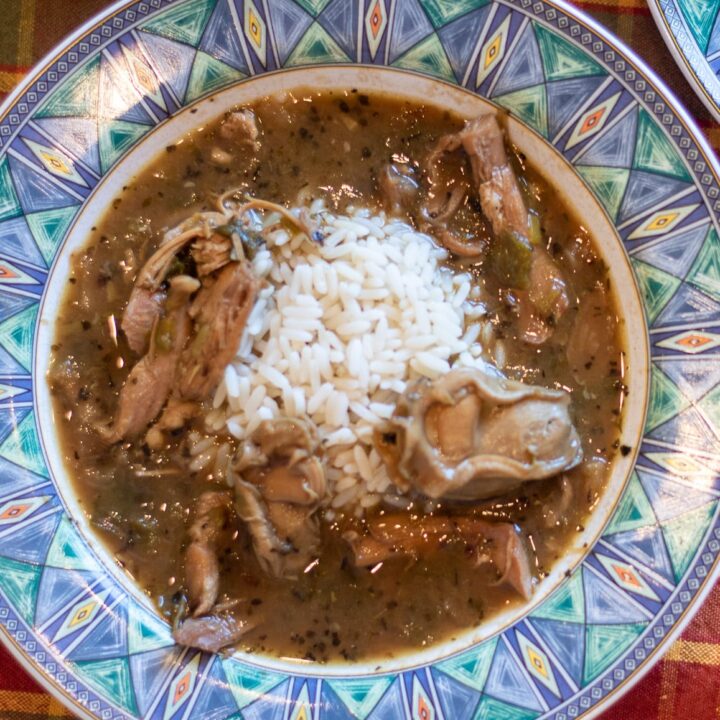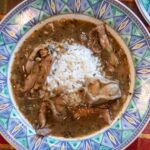 Oyster Artichoke Bisque
A New Orleans original: Oyster Artichoke Bisque, a rich creamy soup that pairs the wonderful flavor of fresh gulf oysters with the distinctive taste of artichoke.  You won't believe how something that tastes so fantastic could be this easy to make!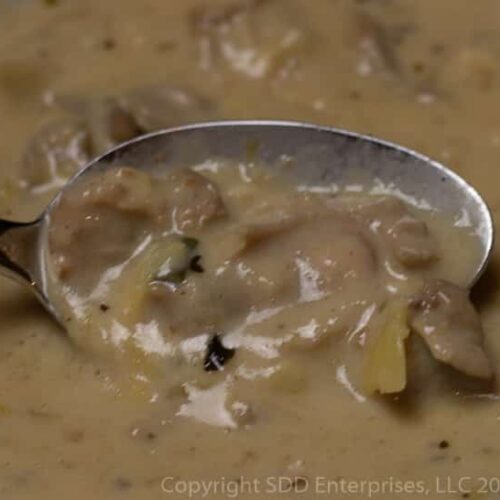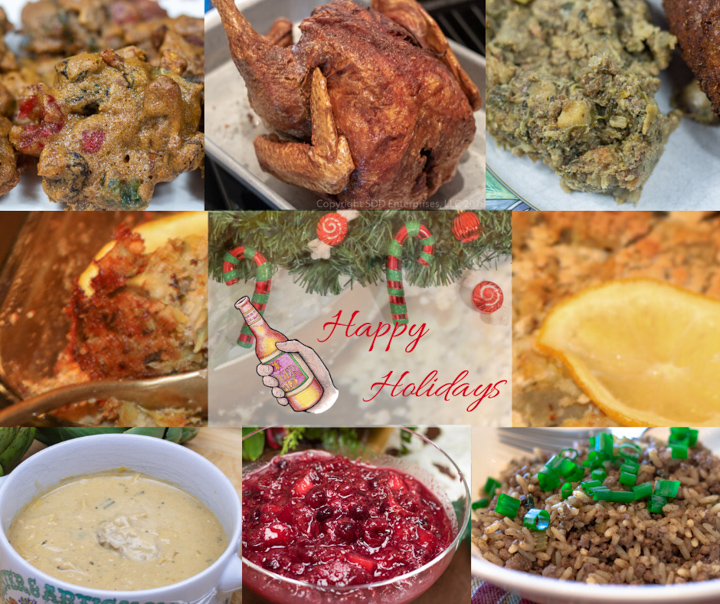 Don't forget the bird!
These are two very popular recipes:
Berto's Cajun Fried Turkey
Injected and rubbed with Cajun seasoning, then deep-fried to a golden brown. Crispy on the outside and tender and juicy on the inside. It's much more than finger-lickin' good!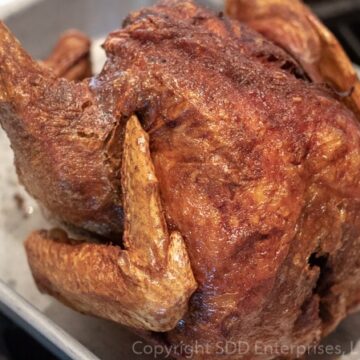 Sweet Daddy D's Herb Roasted Turkey
A dry brine and a liberal application of a herb-butter paste will result in a tender and juicy bird. So good, you won't want to just eat turkey on Thanksgiving.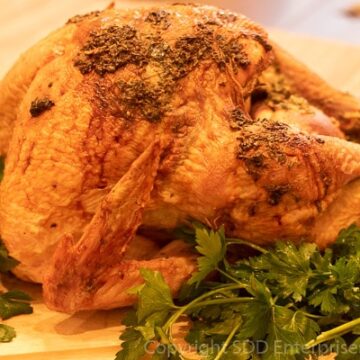 And you'll need this:
Cranberry Relish
Cranberry Relish...tart and sweet at the same time. Add a little crunch with Louisiana Pecans and you have a traditional Holiday treat.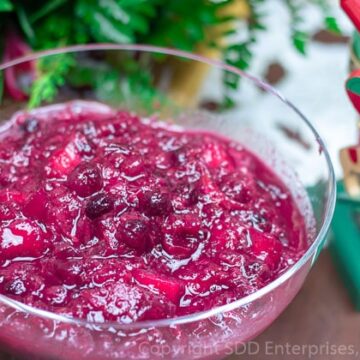 Popular Side Dishes
The best part of the holiday meal is the sides...take any of these to the family gathering and you'll be very popular!
Sweet Daddy D's Cajun Dirty Rice
A traditional Cajun/Creole dish that combines browned meats and liver with onions, peppers, Cajun/Creole spices and cooked white rice. It gets it's "dirty" description from the color of the browned meats and particularly the chicken liver.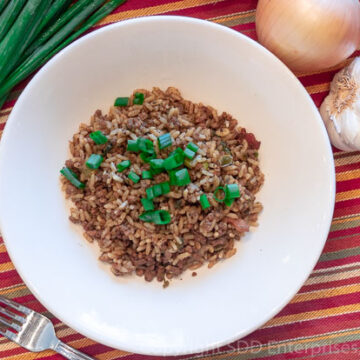 Stuffed Artichoke Casserole
Stuffed Artichokes in a simple casserole. Seasoned bread crumbs, garlic, Romano Cheese and artichoke hearts-Classic Creole-Italian!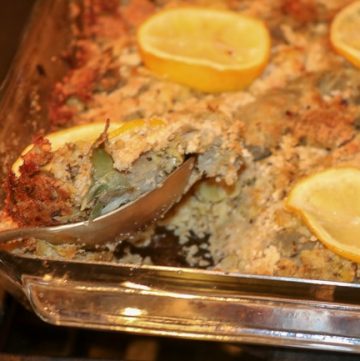 Mirliton Shrimp Dressing
Mirliton Shrimp Dressing combines the mild flavors of mirliton with Gulf Shrimp and Creole seasonings with bread stuffing.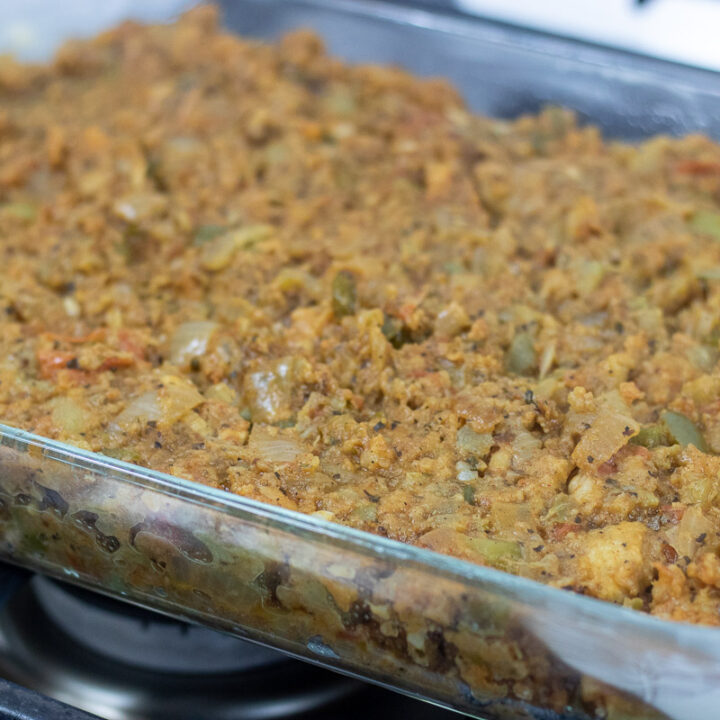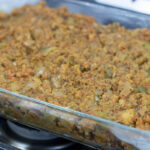 Oyster Dressing
Traditional South Louisiana Dressing made with oysters, sausage and giblets mixed with distinct herbs and bread.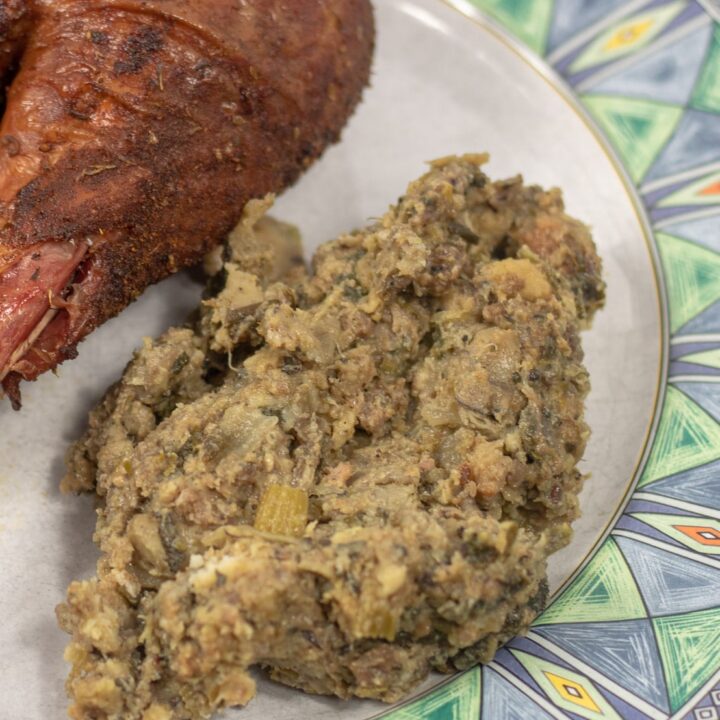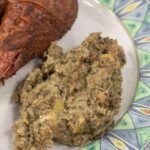 Roasted Brussels Sprouts with Pancetta
Bring out the natural sweetness in these Brussels Sprouts by searing, then roasting. The thyme, garlic and pancetta add a savory depth and a squeeze of lemon adds some brightness. The best part? This simple side dish is only 6 ingredients and can be done in one pan! This is a great side dish that goes with just about anything.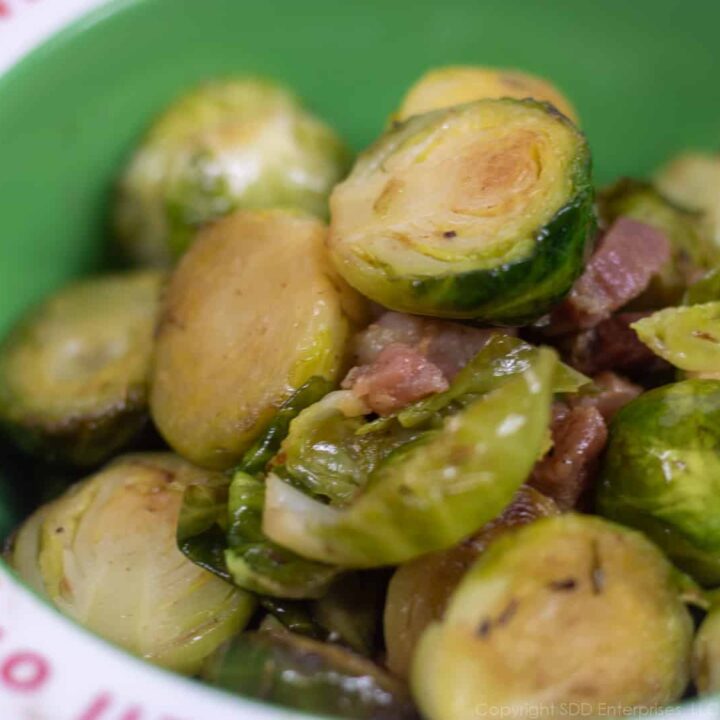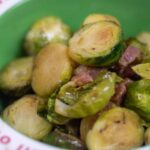 Roasted Carrots with Cane Syrup
Roasting brings out the natural sweetness of the carrots. Add some butter and cane syrup and sprinkle in a little thyme and you have a wonderfully special side dish that's perfect for any entree.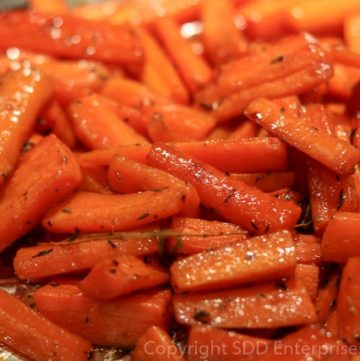 Finish with something sweet
Nibble on these traditions after digesting for a while:
Fruitcake Cookies (Christmas Lizzies)
Fruitcake Cookies, also known as Christmas Lizzies, are little fruitcake-like cookies that blend candied fruit and Louisiana Pecans with a touch of Brandy and held together with a little spiced batter. These fruitcake cookies are so flavorful, you won't believe how simple they are to make. If you only make one kind of cookie for the holidays, Grammie's Fruitcake Cookies are the one!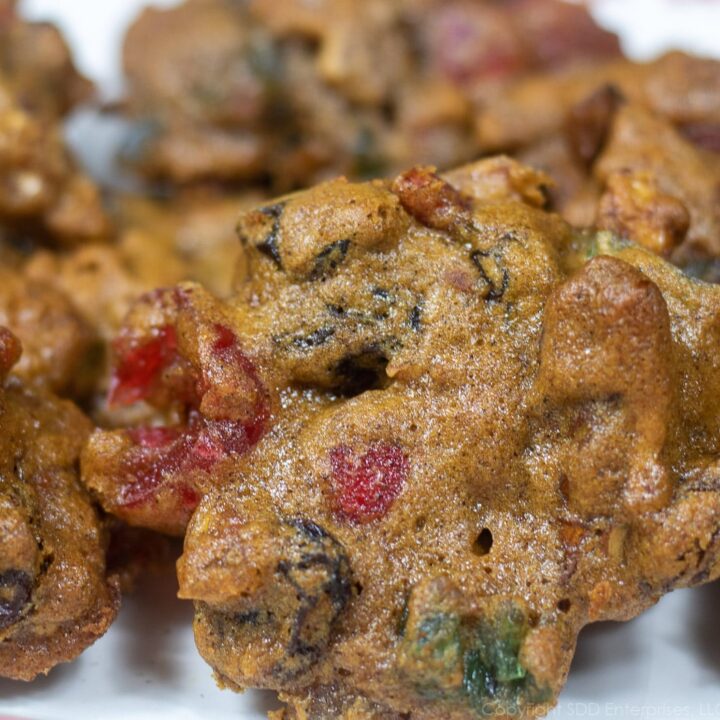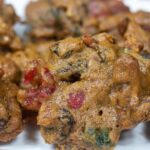 Aunt Ellen's Fruit Cakes
Full of sweet candied and dried fruit marinated in cherry brandy, then mixed with nuts and a spiced batter that's baked to perfection. This is why fruit cake is a holiday tradition that has lasted for centuries. If you haven't tried fruit cake, this is the one to try. If you are a fruit cake lover, then you'll know this is the best!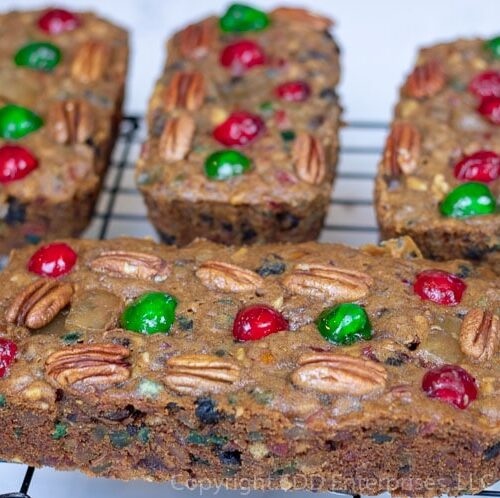 If none of these strike your match, take a look around First...You Have a Beer and check lots of other recipes!
If you make this recipe, please tell us about it in the Comments section below and make sure to LEAVE A RATING ON THE RECIPE. Post a picture on our Facebook page or on Instagram with a #firstyouhaveabeer. Make sure to Pin it on Pinterest. Follow us on Facebook, Instagram, Twitter and Pinterest and make sure to share this with your friends…they will love you for it. SIGN UP FOR OUR EMAIL UPDATES below so you don't miss anything!
Sign up for my email notifications of new recipes and posts right HERE.
Yeah You Right! and Happy Holidays!