With the holidays upon us, everyone is looking for Christmas Recipe suggestions. Papa Noel has a unique way of spreading Holiday cheer down on the Bayou....maybe he's bringing you some of Sweet Daddy D's most requested recipes around the holiday season.
This post is not sponsored, but you will find affiliate links on this page. As an Amazon Associate, I earn from qualifying purchases. The price you pay as a consumer does not change, but I may make a small commission based on your purchase.
This photographic ran in the Morgan City Daily Review. Their photographer was lucky enough to catch Papa Noel and his helpers arriving in South Louisiana:
Mo' fas'er an' fas'er de' gator dey came
He whistle an' holler an' call dem by name:
"Ha, Gaston! Ha, Tiboy! Ha, Pierre an' Alcee'!
Gee, Ninette! Gee, Suzette! Celeste an'Renee'!
That's an excerpt from Cajun Night Before Christmas written by Trosclair (J. B. Kling, Jr.)
Starters!
In South Louisiana, it's common to start the holiday meal with gumbo or bisque. Here are some suggestions: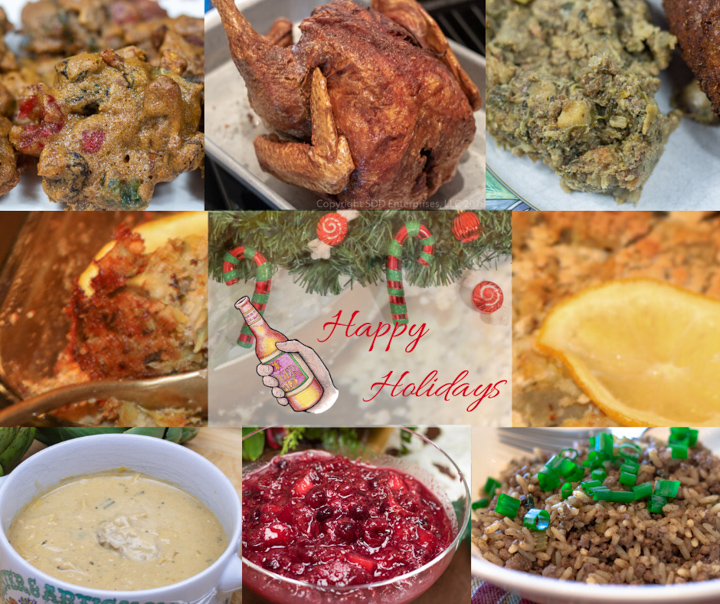 Don't forget the bird!
These are two very popular recipes:
Popular Side Dishes
The best part of the holiday meal is the sides...take any of these to the family gathering and you'll be very popular!
Finish with something sweet
Nibble on these traditions after digesting for a while:
If none of these strike your match, take a look around First...You Have a Beer and check lots of other recipes!
If you make this recipe, please tell us about it in the Comments section below and make sure to LEAVE A RATING ON THE RECIPE. Post a picture on our Facebook page or on Instagram with a #firstyouhaveabeer. Make sure to Pin it on Pinterest. Follow us on Facebook, Instagram, Twitter and Pinterest and make sure to share this with your friends…they will love you for it. SIGN UP FOR OUR EMAIL UPDATES below so you don't miss anything!
Sign up for my email notifications of new recipes and posts right HERE.
Yeah You Right! and Happy Holidays!