Macaroni and Cheese is perhaps the Dean of comfort food. Tasty with a familiar, comforting feeling, this baked Mac and Cheese recipe from Sweet Daddy D checks all the boxes. Its simple, no-angst style is patterned from the famous and unique New Orleans area eatery, Rocky and Carlo's, and is sure to become a popular request at your house!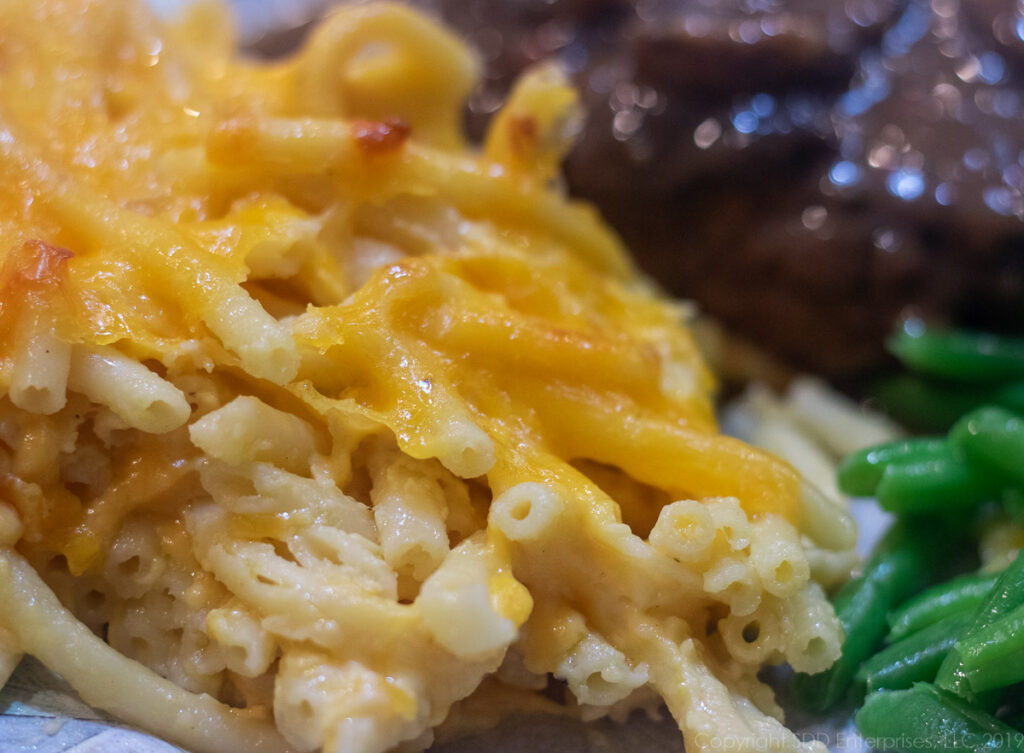 This post is not sponsored, but you will find affiliate links on this page. As an Amazon Associate, I earn from qualifying purchases. The price you pay as a consumer does not change, but I may make a small commission based on your purchase.
To truly enjoy New Orleans and South Louisiana cuisine, don't get distracted by all the five-star restaurants and Michelin Award-winning up and coming chefs. They're all truly great, but locals know that the best places to dine in New Orleans are the neighborhood joints. Parkway Bakery, Parasols, Domileses, Mandina's, Liuzza's, Clancy's just to name a few. Literally the list goes on and on and on, I'm not kidding. Just east of the city in St. Bernard Parish (or The Parish as referred to by locals), five Sicilian immigrant brothers-in-law open a little restaurant over 50 years ago on St. Bernard Highway in Chalmette. The five had worked together at another bar just down the street but wanted to offer more food items than a bar usually did, so in 1965 Rocky and Carlo's Resturant and Bar opened its doors. They wanted more of a restaurant than a bar, so they opened the doors to men and women with the proud declaration and their everlasting motto..."Ladies Invited". 
Typical of New Orleans area Creole restaurants, the influence of Sicilian and Italian immigrants is apparent on the menu. Lots of pasta and red gravy among the poboys, seafood and Creole classics commonly available in South Louisiana...jambalaya alongside lasagna, gumbos and shrimp creole alongside meatballs and spaghetti, eggplant dressing, veal parmesan, and poboys to die for. This mosaic menu is pretty typical in New Orleans area restaurants, but the menu at Rocky and Carlo's also includes their signature Macaroni and Cheese. It's just a 20-minute Uber ride from downtown, so don't pass up an opportunity to try this masterpiece made with perciatelli, a long, thick noodle with a hole running through the middle and more cheese than you need in a lifetime. If you can't make it to Chalmette as often as you would like, Sweet Daddy D has you covered right here. Simple to make, this Rocky and Carlo's style Macaroni and Cheese is comfort food from The Parish, which is a good place to be!  
Here's what you need
Long macaroni.  You want a thick noodle with a hole running through the middle, like perciatelli or bucatini. See the Hints and Tips below.

Long macaroni, like perciatelli or bucatini

Bechamel Sauce made with:

whole milk

butter

A/P flour

Sharp cheddar cheese

More butter (for the pan and the top)

Kosher salt and fresh ground pepper

Here's what you need
Baking Pan about 12 X 10 X 3 (approximately-these exact dimensions aren't critical, it just needs to be big enough to hold all the noodles and deep enough so you can make 2 or 3 layers).

Aluminum foil
Sign up for my email notifications of new recipes and posts right HERE.
Here's what you do
First...you have a beer. If you are getting ready to make macaroni and cheese, a' la Rocky and Carlo's, you are probably already in the right frame of mind, maybe even giddy, but pop off the top of a beer, relax and read through the recipe from top to bottom. The mise en place for this is simple, the hardest part is grating the cheese.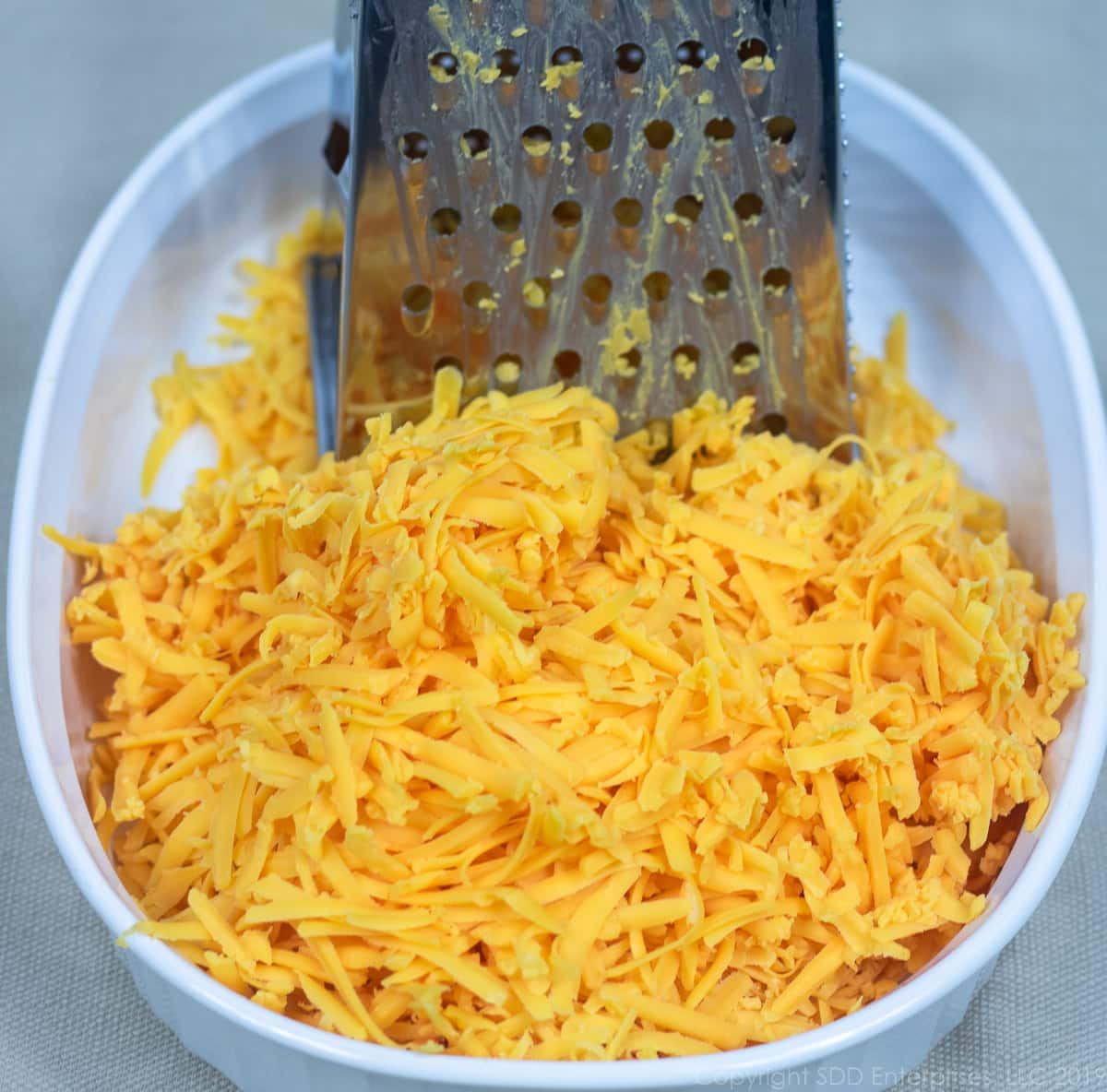 See the Hints and Tips about using pre-grated cheese. Make sure you have all your ingredients and know what you are going to do with them. Warm the milk in the microwave and smear some softened butter generously on the inside of your baking pan and set it aside. Preheat the oven to 350 degrees F.
Cook the noodles
You will do this according to the directions on the noodle package but basically it's bringing a pot of water to a rapid boil, then add a generous amount of kosher salt and the noodles. Once they soften just a little, give them a good stir and cook them to al dente, which will take around 8 to 9 minutes.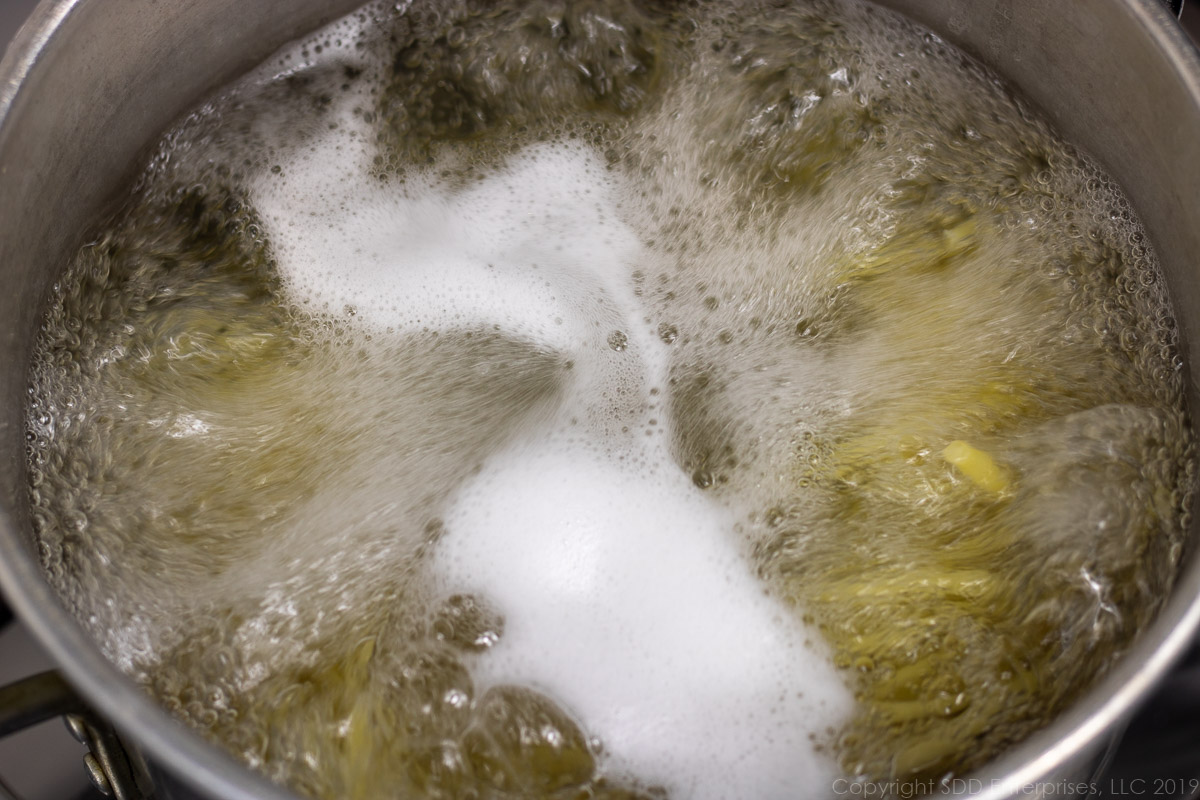 Make a cheesy sauce
Do this while the noodles are cooking, it's basically a bechamel sauce with a bunch of grated cheddar cheese added. To make the bechamel, melt 4 tablespoons (half a stick) of butter then make a blond roux by whisking in 3 tablespoons of all-purpose flour. Read this article for an in-depth look at making a bechamel sauce.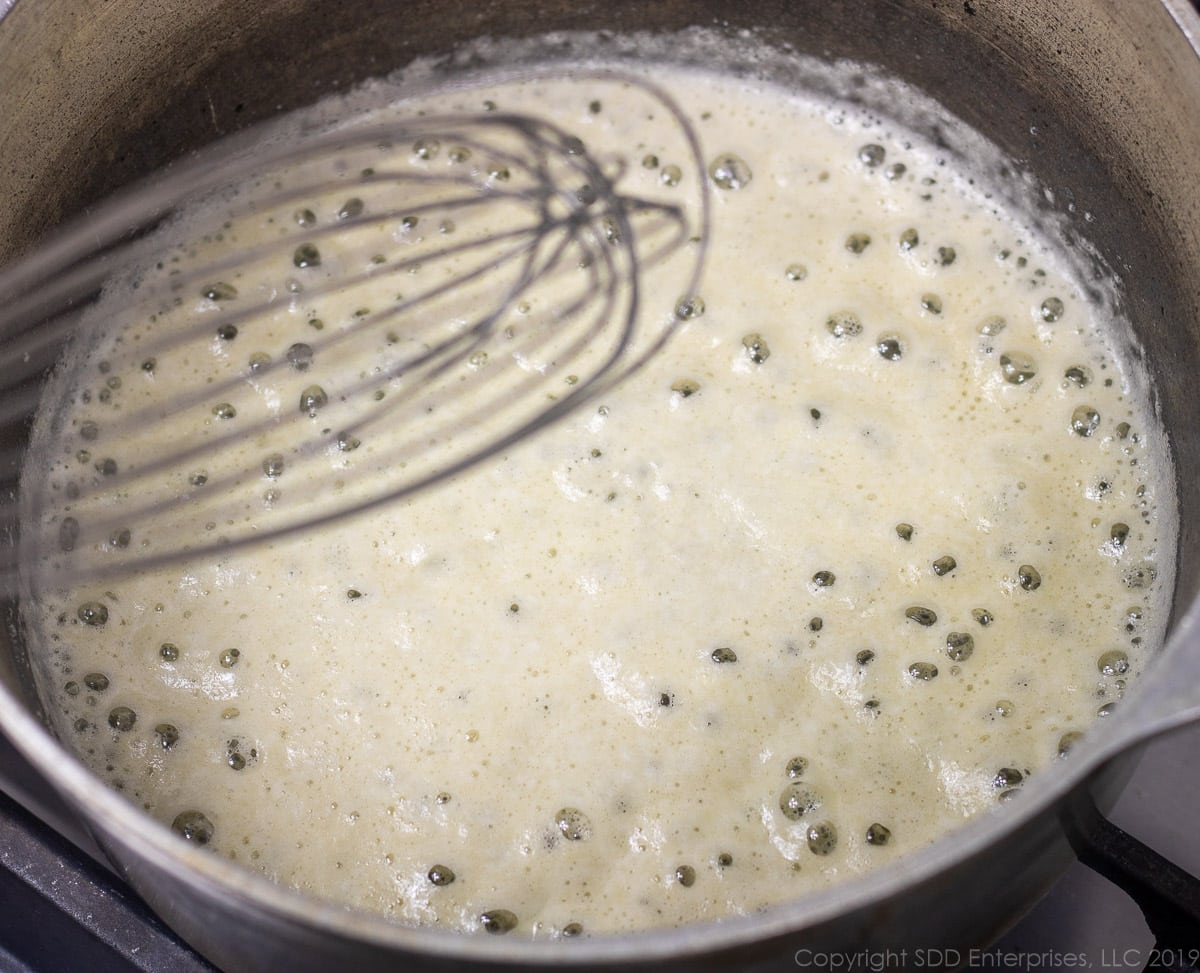 After about 3 minutes which helps the flour taste cook away, remove the pan from the heat. Start adding 2 cups of warmed milk a little at a time, whisking it all together into a smooth paste (at first) before adding more milk.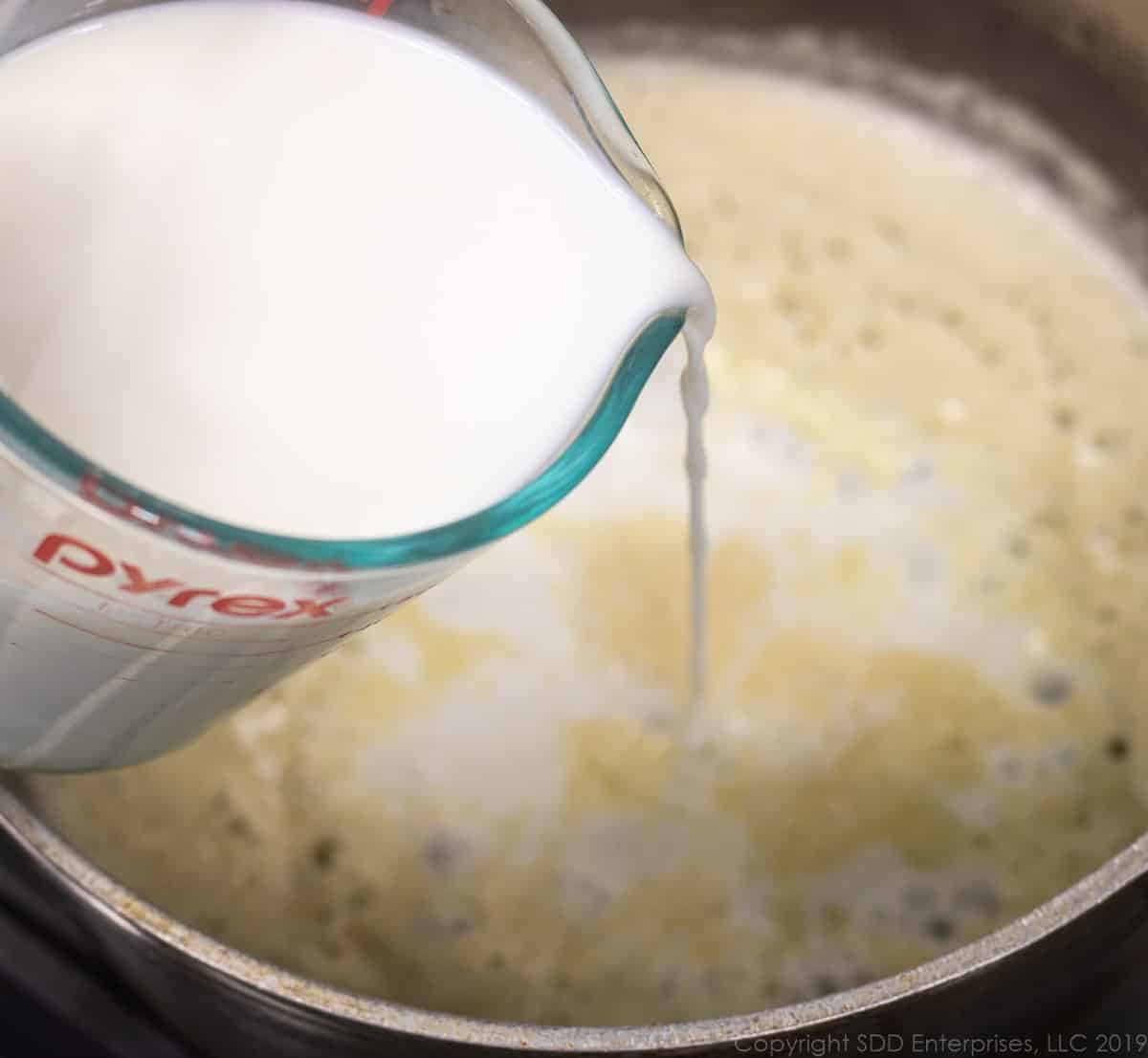 When you have about half the milk added, whisk the sauce well and add the remaining milk. Once all the milk is whisked into a smooth sauce, return the pan to the fire. Bring it to a steady simmer, whisking almost constantly for about 3 or 4 minutes, until the sauce can coat the back of a spoon.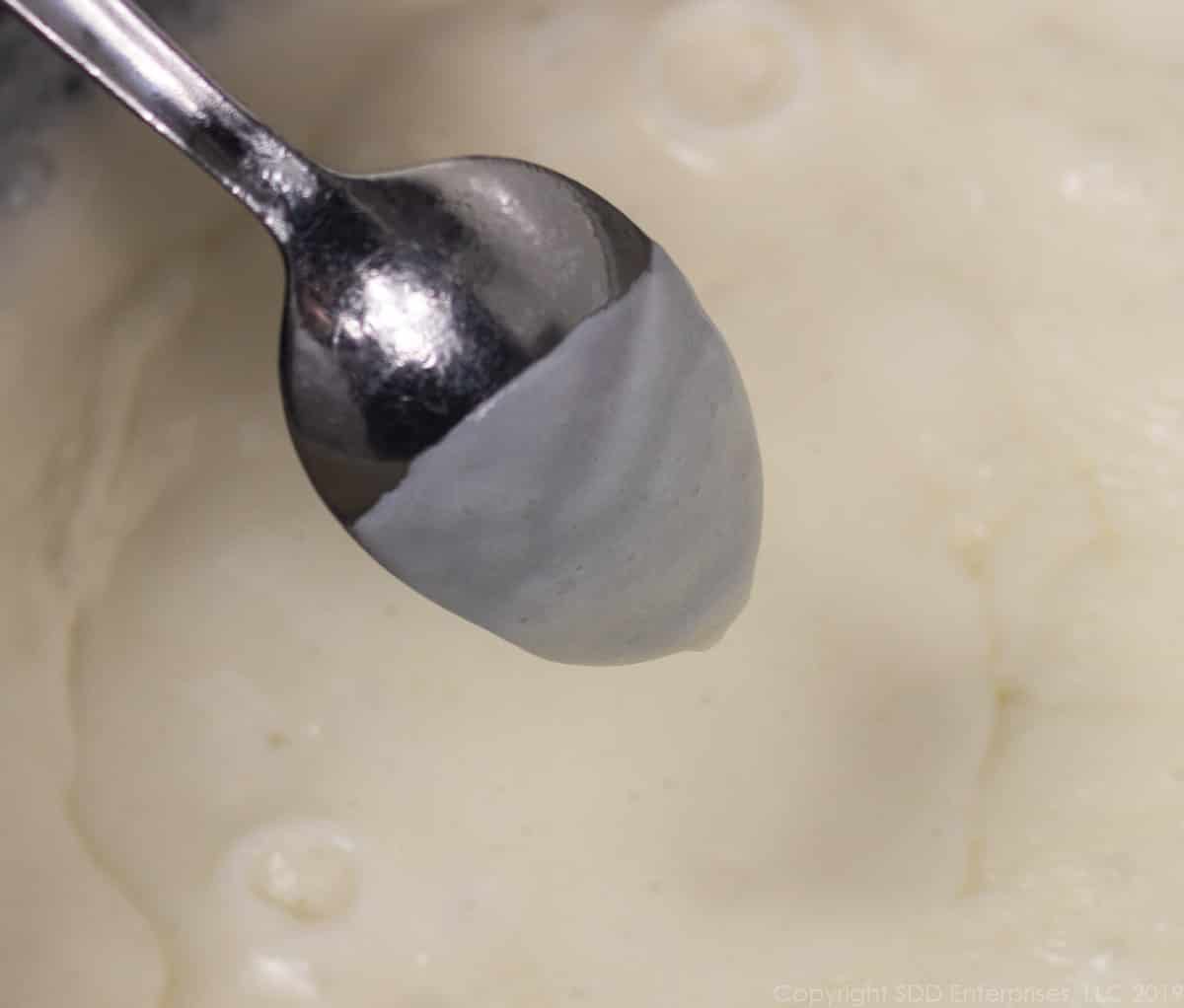 Next blend in about ⅓ of the grated cheese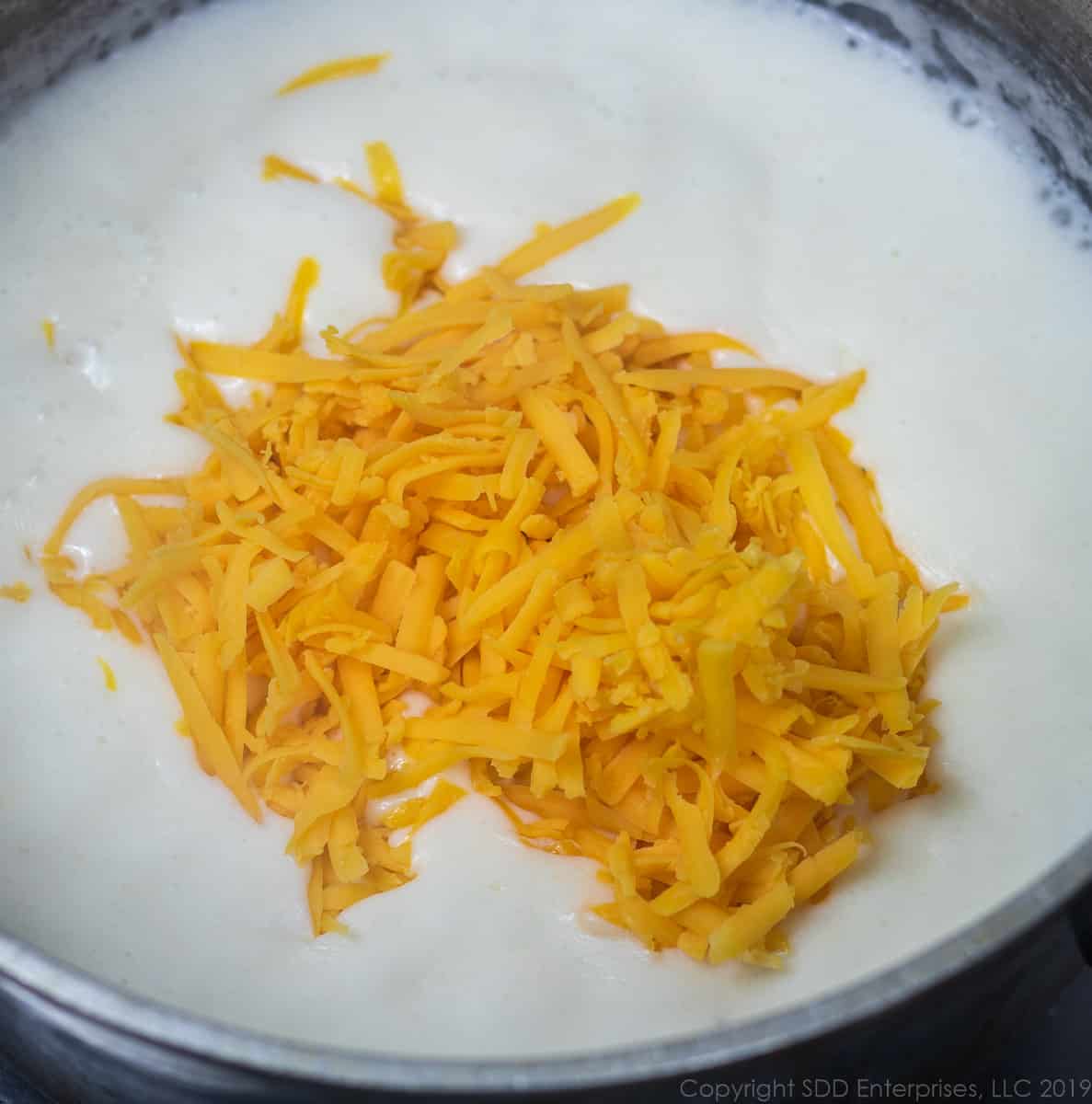 and stir until it's a smooth cheese sauce. Add some salt and pepper to taste and set it aside until the noodles are ready.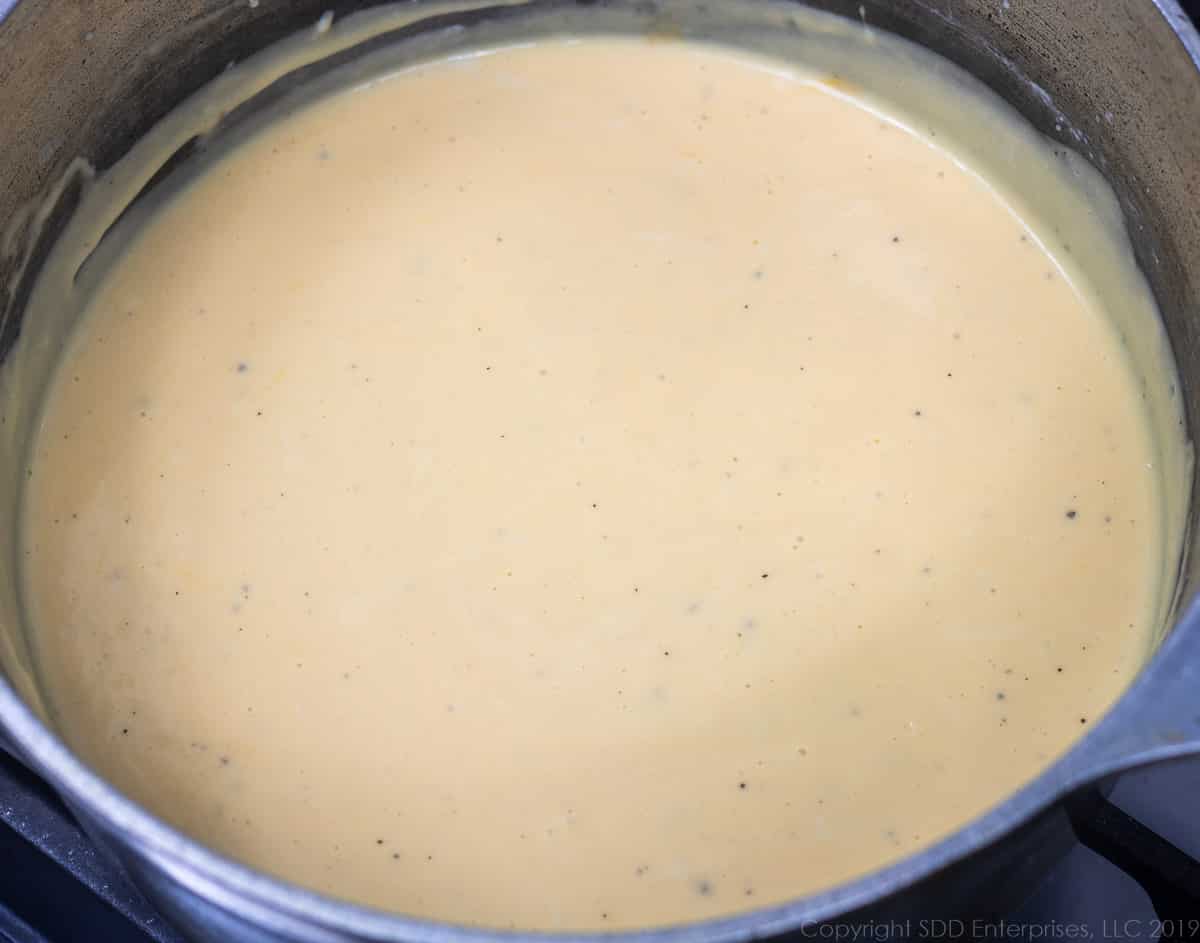 Mix everything together
Drain the noodles (but reserve about ¼ cup of the pasta water first) and return them to the pot you cooked them in. Mix in the cheese sauce thoroughly and add the ¼ cup of reserved pasta water.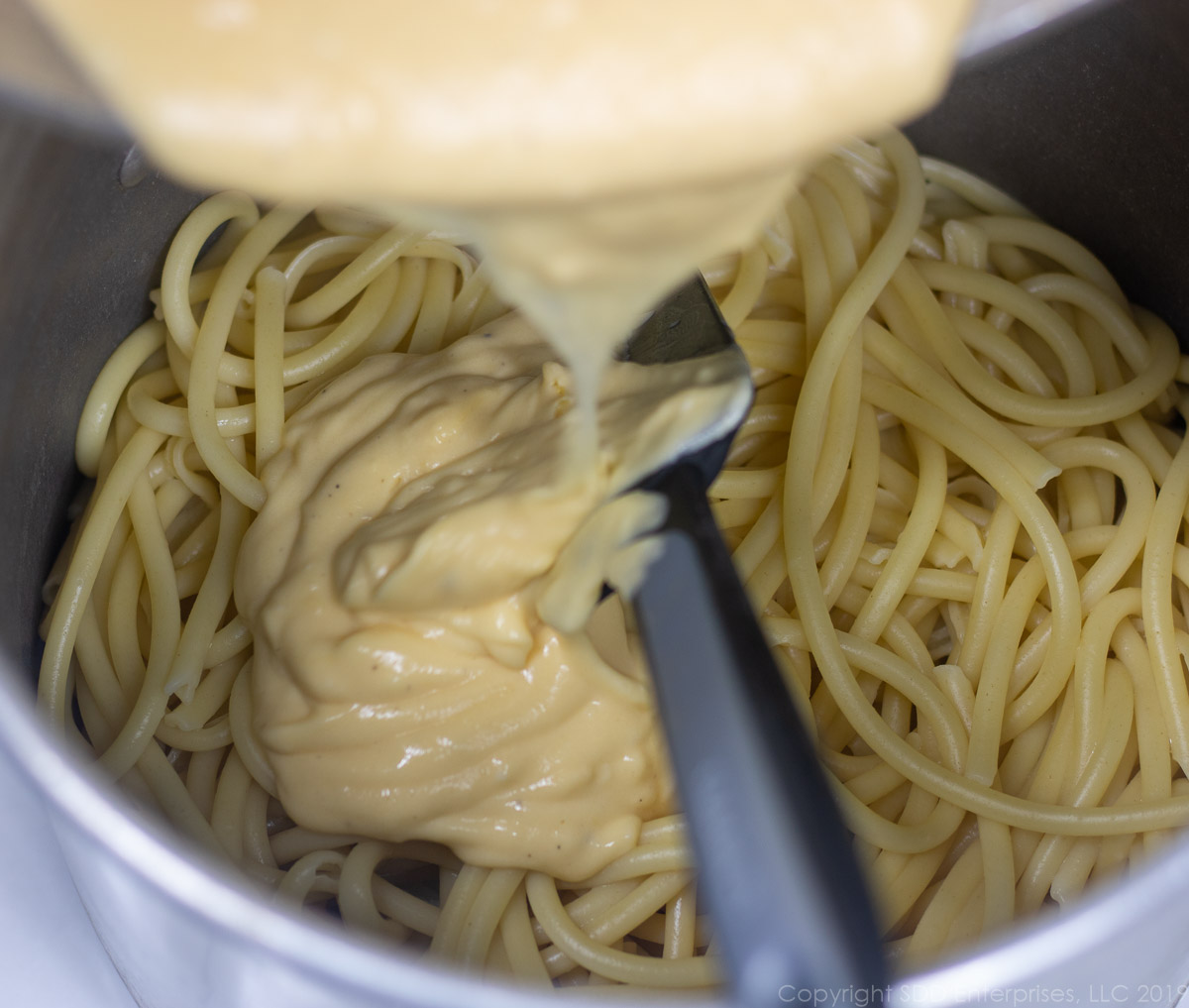 Next, in your prepared baking pan add about ⅓ to ½ of the sauced noodles and smooth out. Sprinkle on about half of the remaining grated cheese to cover the entire pan.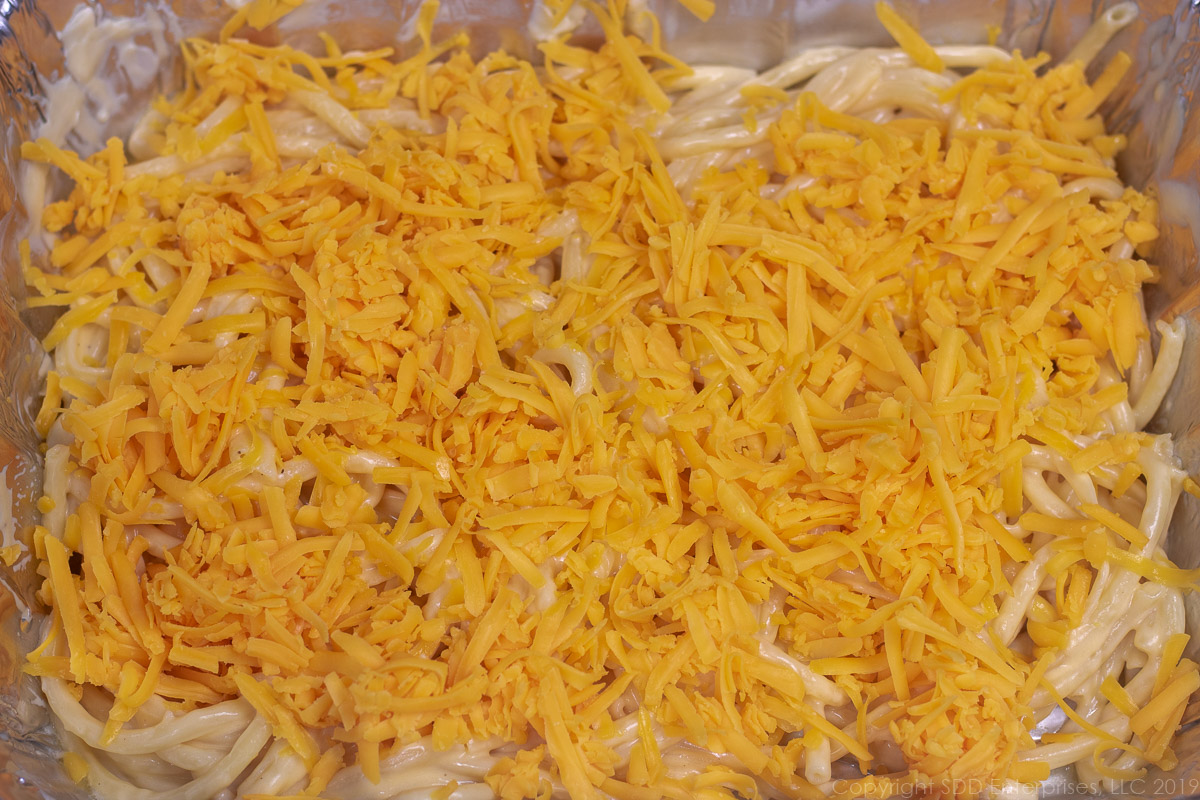 Repeat this step again for at least one more layer, and two more if the pan is deep enough as long as the top layer is all cheese. Place about 4 tabs (about ½ tablespoon each) of butter on top.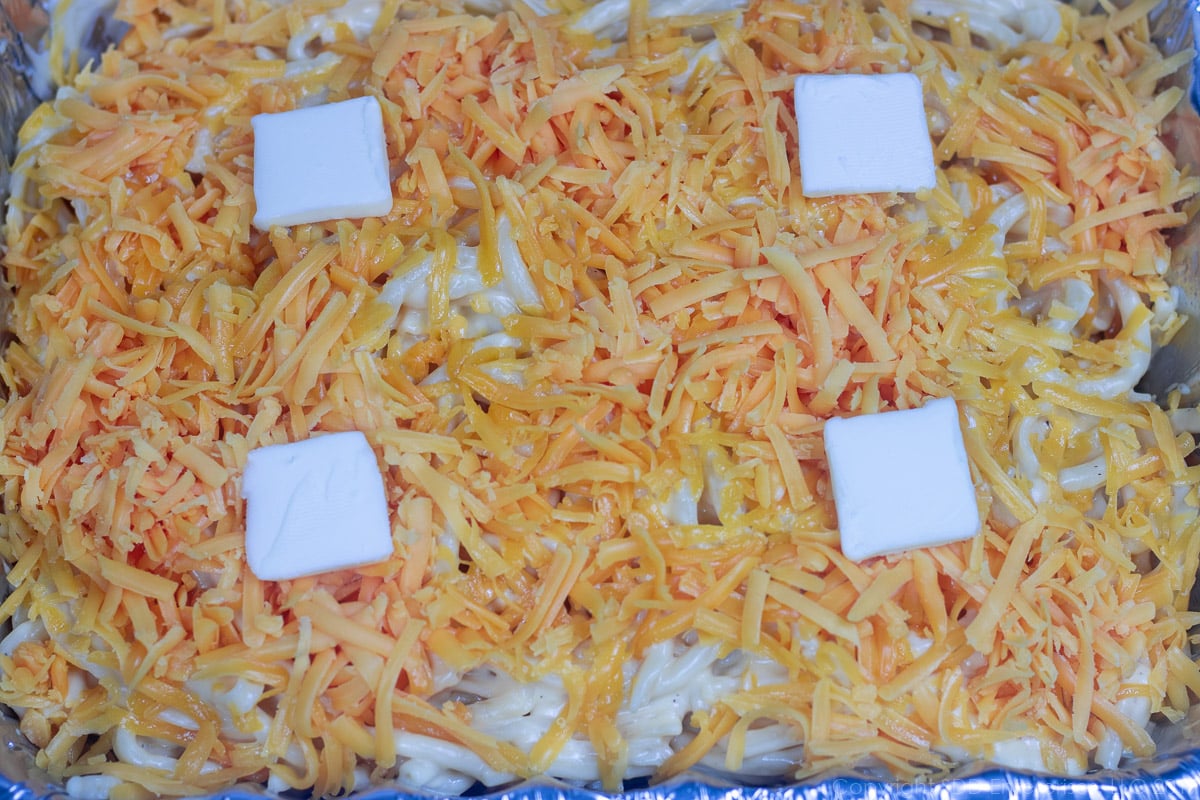 Bake and serve
Cover the baking pan with aluminum foil and bake for about 20 to 25 minutes at 350 degrees.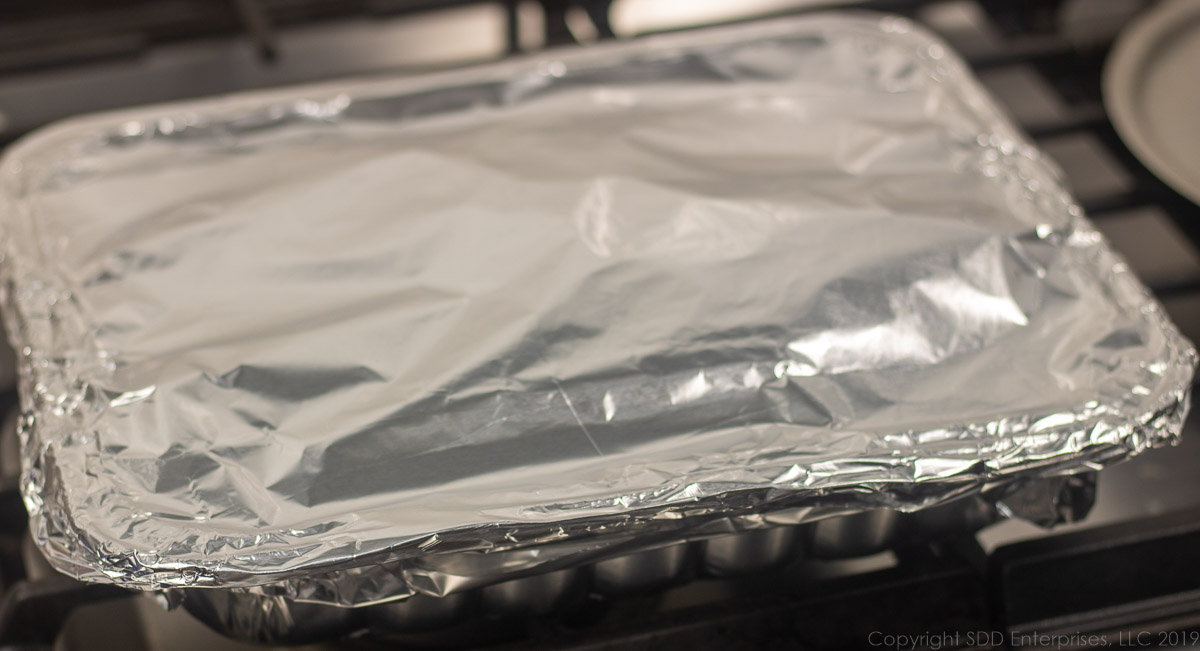 Remove the foil and increase the heat to about 400 to 425 and return the uncovered baking pan to the oven for about 5 to 10 minutes or until it starts to brown on top.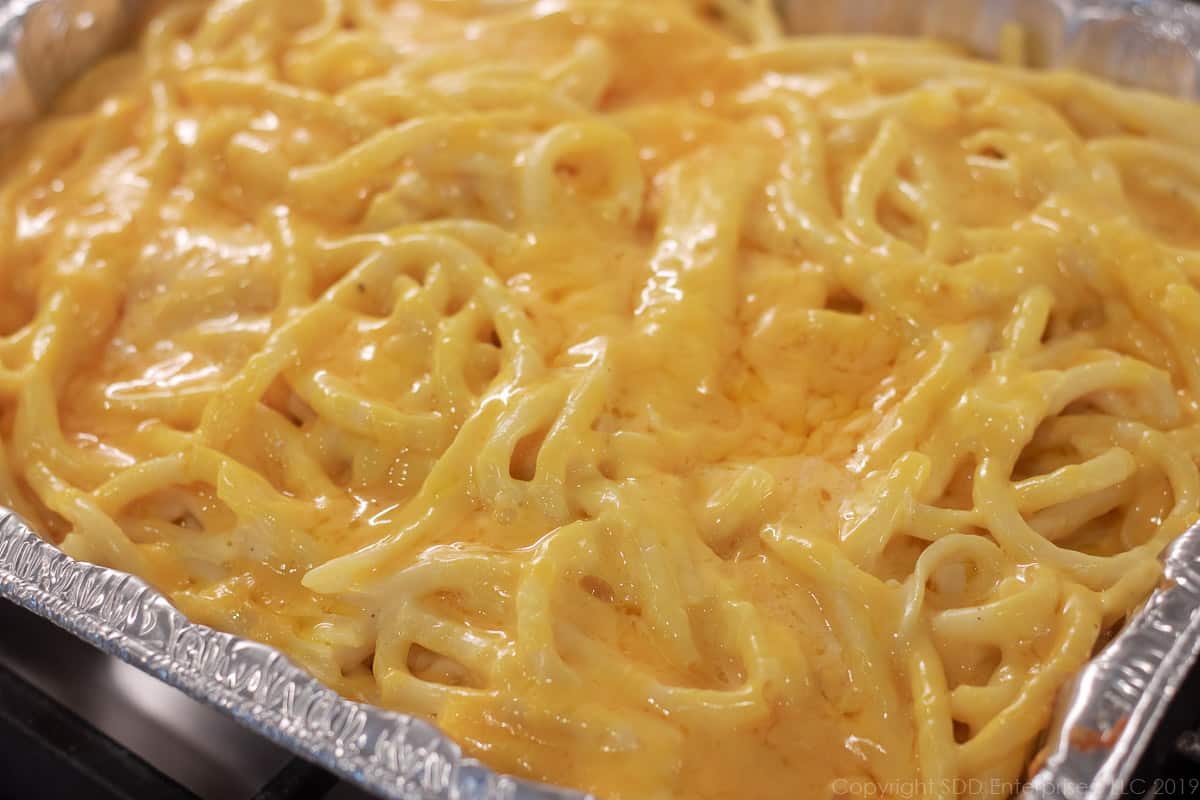 Remove the pan from the oven and let it sit for about 5 minutes. Then, serve it up.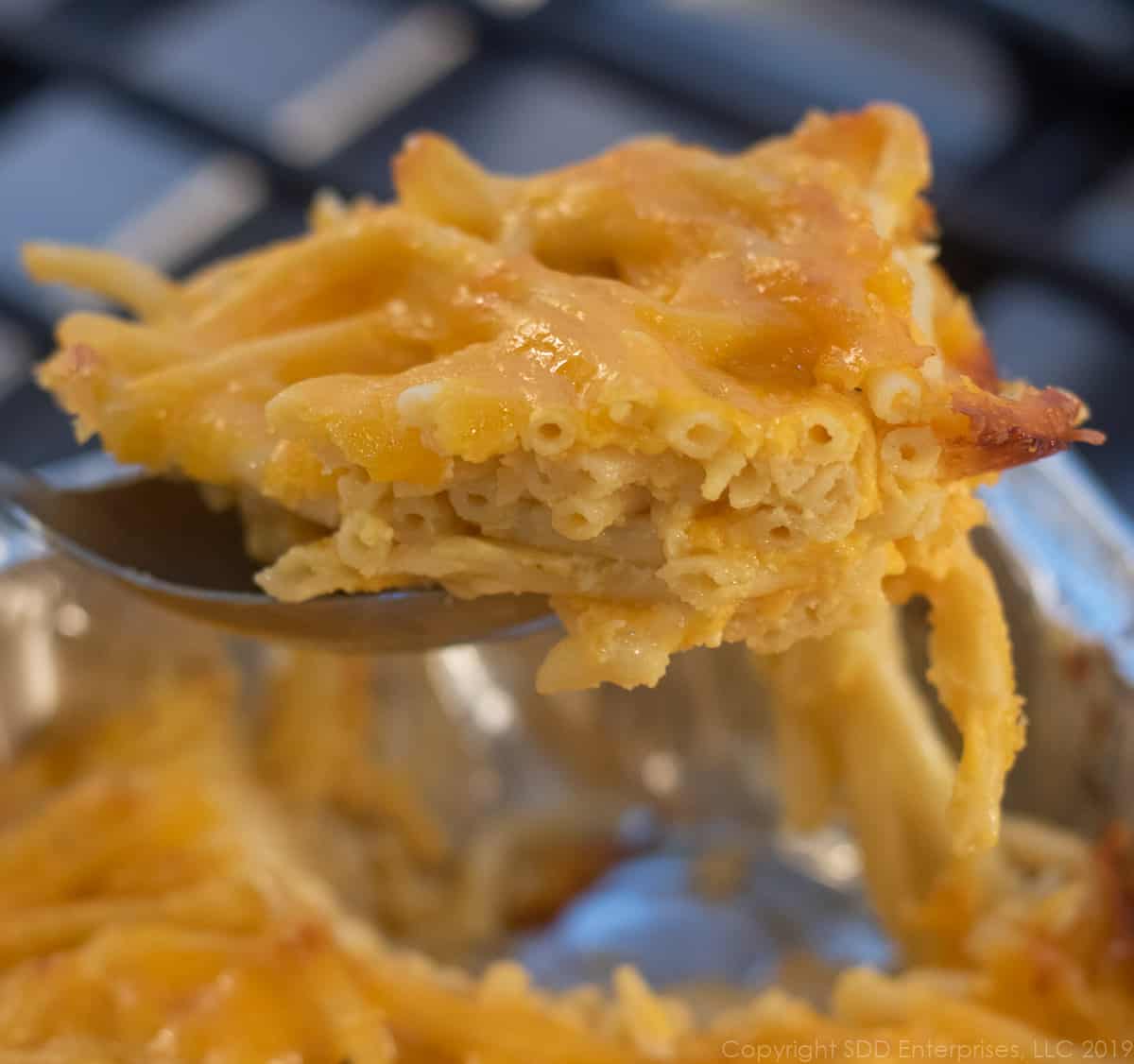 That's it, all there is to it.
Hints and Tips
Any kind of melty cheese works well in macaroni and cheese, but for a Rocky and Carlo's style, sharp cheddar cheese is what you need. However, if you want to change things up, try some gruyere or even some smoked gouda or a mixture of two or three of your favorites.

Yes, you can buy the sharp cheddar cheese already grated, but pre-grated cheese has the tendency to be a little dryer than freshly grated but works just the same. One thing about pre-grated cheese...it certainly saves time!

Use a long macaroni noodle. This will be a little thicker than thick spaghetti and have a hole running down the middle which apparently helps the thick pasta cook consistently all the way through. It's basically perciatelli or bucatini pasta.

Luxury Brand offers a long macaroni

, which is what I use (I have no affiliation with Luxury) but if that's not available where you live,

perciatelli

and

bucatini

are available through Amazon (which I do have an affiliation with!).  
Leftover macaroni and cheese can be refrigerated in an airtight container for 3 or 4 days. Don't leave it out on the counter too long before refrigeration, about 2 hours after cooking is the max, and make sure to cover it airtight with plastic wrap or an airtight lid.
Leftover macaroni and cheese can be kept in the freezer up to 60 days for best quality. Make sure to store it in an airtight container or freezer bags. It's a good idea to separate the leftovers into portion sizes so that you can defrost only what you plan to eat.
Before reheating, defrost the mac and cheese in the refrigerator overnight or you could use your defrost setting on the microwave. Macaroni and cheese can be reheated in a microwave. Place the portion you plan to eat in a microwavable bowl and add a little milk (or water) and mix it together. Cover and microwave it slowly, stopping to stir after a short while until heated through. The time it will take will depend upon your microwave, but don't get in a rush. The cheese and butter have a tendency to separate, which is why you are adding milk and stirring it up.
If your leftover Macaroni and Cheese ain't looking or smelling just right, or maybe has a little mold developing, it is best to toss it. Please don't take a chance on food poisoning. Develop good food storage habits! 
If you want to read more about making a bechamel sauce, check out this article.
These are perfect recipes from Sweet Daddy D to go with this mac and cheese:
Classic Meatloaf-Original
Major comfort food! This homogeneous blend of three different ground meats with herbs and spices combine to form a tender loaf of goodness that goes best with creamy mashed potatoes or mac and cheese-the sauce even makes a tangy gravy to smother those classic side dishes! Add some peas or green beans and you have a meal that's sure to warm the heart and the tummy!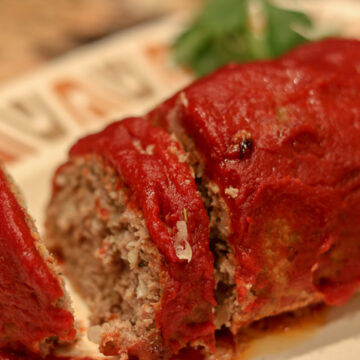 Sweet Daddy D's Essential Tomato Sauce
A long simmer makes this is a thick and rich sauce-you can keep it simple and serve over your favorite pasta or match it up with just about any meat. Its the natural mate for Sweet Daddy D's Tasty Meatballs, but if you start with this sauce there are many options. It can also be the base for some great parmigiana dishes-its the essential tomato sauce!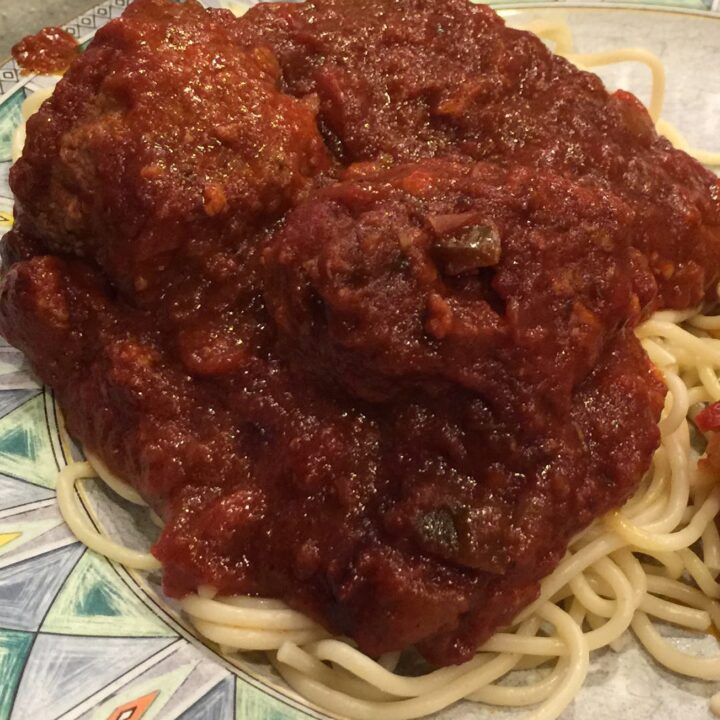 Stuffed Bell Peppers
Stuffed bell peppers-the ultimate comfort food! Every cuisine has a version of stuffed peppers, this recipe uses beef. pork and veal with a Creole and Cajun flair. A staple in South Louisana cooking, these Stuffed Bell Peppers make a great main dish or a fabulous side dish!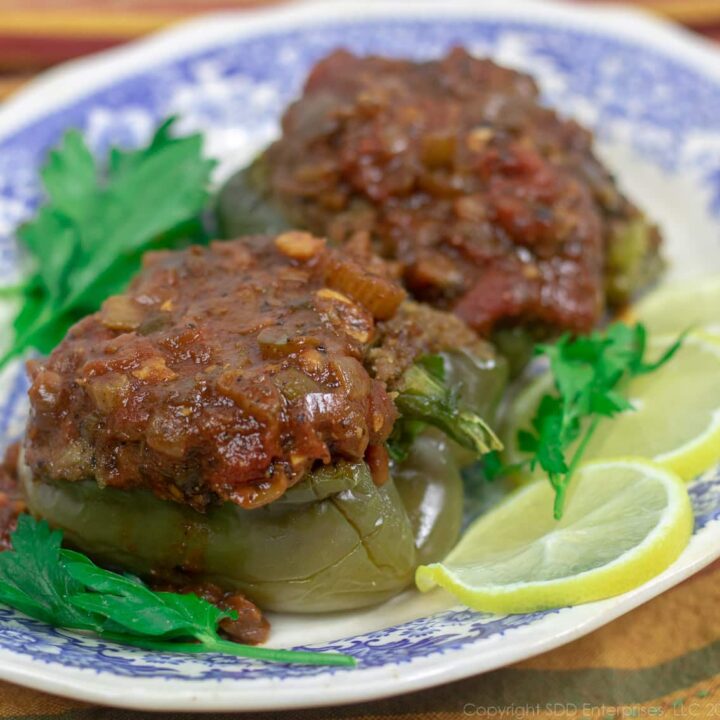 If you make this recipe, please tell us about it in the Comments section below and make sure to LEAVE A RATING ON THE RECIPE. Post a picture on our Facebook page or on Instagram with a #firstyouhaveabeer. Make sure to Pin it on Pinterest.  Follow us on Facebook, Instagram, Twitter and Pinterest and make sure to share this with your friends…they will love you for it. SIGN UP FOR OUR EMAIL UPDATES below so you don't miss anything!
Sign up for my email notifications of new recipes and posts right HERE.
Yeah, You Right!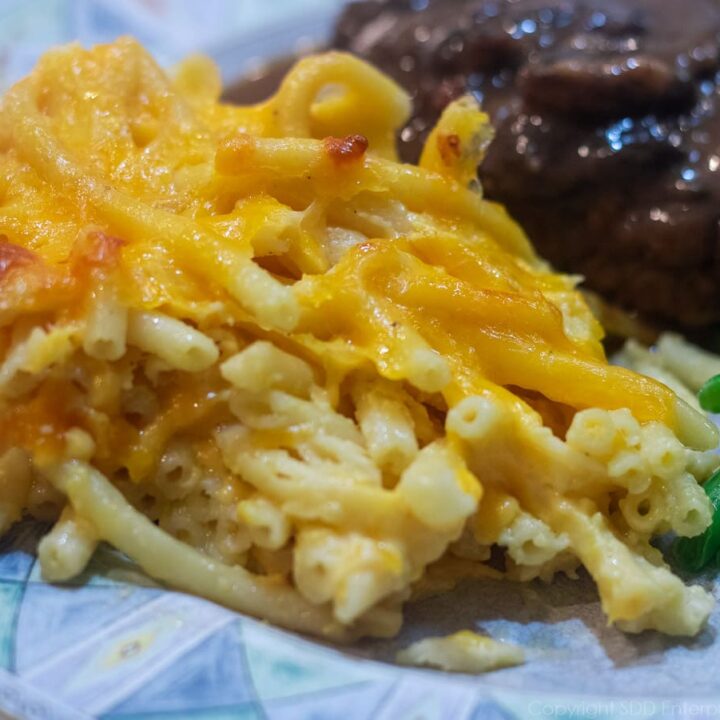 Macaroni and Cheese
Macaroni and Cheese is the most comforting of comfort food, but try this recipe, patterned after Rocky and Carlo's famous mac and cheese.
Print
Pin
Rate
Here's What You Need
1

pound

long macaroni

See Notes

2

cups

whole milk

4

tablespoons

butter

3

tablespoons

A/P flour

32

ounces

sharp cheddar cheese

Grated-See Notes

Kosher salt

Fresh ground pepper

4

tablespoons

softened butter for pan

For pan and topping-See Notes
Here's What You Do
Cook noodles according to the package directions, while you make the cheese sauce.

Prepare a baking pan by coating the inside with softened butter.
To make the cheese sauce
Warm the milk in the microwave.

Melt butter in a saucepan over medium-high heat.

Add the A/P flour and whisk constantly until it forms a white roux, about 3 minutes.

Remove the pan from the heat and slowly whisk in the warmed milk. Starting with about ¼ cup of milk at a time, thoroughly whisk it to a thick cream sauce before adding another ¼ cup of milk.

Repeat this process until about half the milk has been whisked into the roux, then add the remaining milk.

Whisk thoroughly and return the saucepan to a medium heat. Bring this to a simmer and whisk constantly until the sauce thickens and can coat the back of a spoon, about 3 minutes.

Add kosher salt and pepper to taste, then add about ⅓ of the grated cheddar cheese.

Blend this together completely and set aside until the pasta is cooked.

Once the noodles are cooked, reserve about ¼ cup of the pasta water, drain the noodles and return them to the pot.

Add the cheese sauce and the reserved pasta water to the noodles and mix well.

Add one (of 3) layers of noodles to the pan and smooth out.

Add a thick layer of grated cheese evenly over the noodles.

Repeat 2 more layers. See Notes

Place tabs of butter on top of finished pan
To Bake
Cover the baking pan with aluminum foil.

Bake at 350 degrees F for 20 minutes.

Increase the oven temperature to 400 degrees F, remove the aluminum foil and finish baking for 5 to 10 minutes until golden brown on top.

Remove the baking pan from the oven and allow it to sit for 5 minutes.
Recipe Notes
You can use sharp cheddar cheese already grated, but pre-grated cheese has the tendency to be a little dryer than freshly grated but works just the same. One thing about pre-grated cheese...it certainly saves time!

Use a long macaroni noodle. This will be a little thicker than thick spaghetti and have a hole running down the middle which apparently helps the thick pasta cook consistently all the way through. It's basically perciatelli or bucatini pasta.

Luxury Brand offers a long macaroni

, which is what I use (I have no affiliation with Luxury) but if that's not available where you live,

perciatelli

and

bucatini

are available through Amazon (which I do have an affiliation with!).  

Leftover macaroni and cheese can be refrigerated

in an airtight container for 3 or 4 days. Don't leave it out on the counter too long before refrigeration, about 2 hour after cooking is the max, and make sure to cover it airtight with plastic wrap or an airtight lid.

Leftover macaroni and cheese can be kept in the freezer

up to 60 days for best quality. Make sure to store it in an airtight container or freezer bags. It's a good idea to separate the leftovers into portion sizes so that you can defrost only what you plan to eat.

Before reheating, defrost the mac and cheese in the refrigerator overnight or you could use your defrost setting on the microwave. Macaroni and cheese can be reheated in a microwave. Place the portion you plan to eat in a microwavable bowl and add a little milk (or water) and mix it together. Cover and microwave it slowly, stopping to stir after a short while until heated through. The time it will take will depend upon your microwave, but don't get in a rush. The cheese and butter have a tendency to separate, which is why you are adding milk and stirring it up.

If your leftover Macaroni and Cheese ain't looking or smelling just right, or maybe has a little mold developing, it is best to toss it. Please don't take a chance on food poisoning.

Develop good food storage habits
Nutrition
Calories:
463
kcal
|
Carbohydrates:
16
g
|
Protein:
23
g
|
Fat:
34
g
|
Saturated Fat:
22
g
|
Cholesterol:
104
mg
|
Sodium:
554
mg
|
Potassium:
144
mg
|
Fiber:
1
g
|
Sugar:
3
g
|
Vitamin A:
1057
IU
|
Calcium:
596
mg
|
Iron:
1
mg