Recipe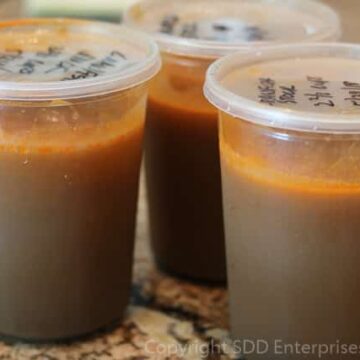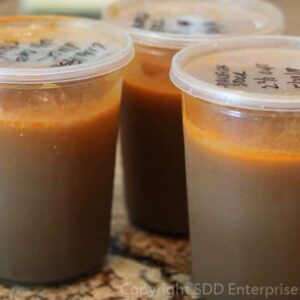 Homemade Crawfish Stock
Any crawfish dish is great, but they taste best when made with homemade crawfish stock. Learn how to use those leftover shells and claws to make a rich crawfish stock you can use to make ettoufee, bisque, gumbo and many more Cajun classics.
Print
Pin
Rate
Here's What You Need
4 to 6

quarts

crawfish shells and claws

¼

cup

margarine or butter

1

large

onion

quartered

1

large

bell pepper

quartered

5 or 6

stalks

Celery

with leaves

2

heads

garlic

sliced in half

1

bunch

parsley

tied together

30

peppercorns

in spice bag

16 to 20

cups

cold water
Herb and Spice Blend-Tied in a Bouguet Garni
1

ounce

fresh thyme

1

ounce

fresh basil

1

ounce

fresh oregano
Here's What You Do
Prepare the Ingredients
Preheat oven to 450 degrees.

Place the margarine or butter in a pyrex measuring cup and melt in microwave.

Spread crawfish shells and claws in a single layer on a lined baking sheet. (Use two baking sheets if necessary).

Pour melted margarine over the shells and claws and mix together so some margarine gets on all the shells.

Place baking sheets in preheated oven and let roast for about 20 minutes.

Quarter the onion and bell pepper-no need to peel or de-seed. Chop the celery into halves. Tie the herbs together in a Bouquet Garni and tie the bunch of parsley together. Place peppercorns in a small spice bag.
Make the Stock
Remove the shells from the oven and add them and the resulting juice into a large stock pot. (If using two baking dishes, place shells from one in the stock pot, then add vegetables before adding remaining shells)

Add all the cut vegetables, parsley, garlic, Bouquet Garni and pepper to the stock pot and mix together with shells.

Add the cold water, making sure to cover the shells by about 2 inches.

Place the stock pot over high heat and bring to a heavy boil.

Reduce heat to a high simmer, cover the pot and simmer for about 1 ½ hours, stirring occasionally to keep things mixed up.

Remove the cover and maintain a high simmer for 2 to 2 ½ hours until the liquid has reduced down to about half of original volume.

Turn off the heat and allow to cool so it will be easier to handle and the flavors continue to blend. Place a strainer or colander over a large bowl. Using a slotted spoon, place the solids into the strainer and allow to drain.

Continue this until all the solids have been removed from the stock pot.

Discard all the solids and return the drained stock back into the stockpot.

Place some cheese cloth in the strainer or colander, or use a very fine mesh strainer, and pour the liquid through to remove any remaining solids.

This can be used immediately or stored in the refrigerator for a couple of days.

If the stock will not be used within a couple of days, place the strained stock in freezer containers, label and freeze for put to six months.
Recipe Notes
Roasting the shells prior to making the stock intensifies the flavor.
Use fresh herbs if you can. If you tie them together using butcher twine it will be easier to pull them out when you're done.  If you are using dry herbs, place those, along with the peppercorns in a cheese cloth bag. Bundling your herbs and spices like this is called Bouguet Garni
I never add salt when making stock. In this case, the crawfish shells may have some remaining salt from the boiling spices. You'll want to salt the final dish you are making with the stock, so you don't want the stock too salty.