Ella Brennan, the matriarch of New Orleans Cuisine, has died at the age of 92.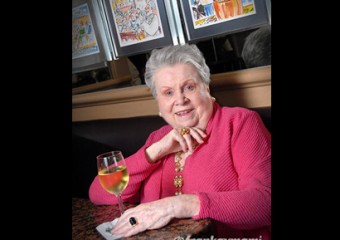 Why is New Orleans Cuisine so great and world famous?  The reasons are many-a confluence of geography, history, culture and people. Positioned at the bottom of the Mississippi River Delta, among the swamps of South Louisiana and close proximity to the Gulf of Mexico provide a natural bounty of agriculture, seafood, wildlife and game. Historically, the French, Spanish, Italian, German and American people that populate the story of the development of this unique region welcomed and adopted the people and cultural influences of places like Africa and the Caribbean and fused them with their own. The result is the unique Cajun and Creole culture that loves and is loved by all and comes through in many ways-music, art, traditions and cuisine, to name a few.  This melting pot gets its flavor from many influences and chief among those influences are it's people.  Ella Brennan is one such person.
Ella Brennan has been the Queen Mother of New Orleans Cuisine for most of the last 75 years and a driving force in introducing it to the world. Her influences are too many to mention. Known as a visionary in the hospitality industry, her achievements include the development and success of two of the world's most famous and beloved restaurants, Brennan's  and Commanders Palace, although there are many more. Starting in her brother Owen's restaurant at the age of 17 and right out of high school, she ultimately created much of what today is regarded as the metric by which fine dining restaurants are measured, even though she had no business degree and was not a chef.  Approaching her kitchens as an incubator for talent, she discovered and fostered the careers of many world class Chefs, some of the first Celebrity Chefs-Paul Prudhomme, Emeril Lagasse and Jamie Shannon are only a few.
The matriarch of the famed Brennan Family, she has left her mark and influence on generations of restaurateurs, not only in New Orleans, but the world. See some great images of Ella through the years right here. Learn more about the storied life and career of Ella Brennan in this article in the Advocate. A great documentary on the life of Ella Brennan is simply entitled Ella Brennan, Commanding the Table. Read about it here and check it out on Netflix.   
"I think my legacy is being absolutely, extremely happy in what I do every day. That's the truth, I'm the luckiest person in the world to have lived in New Orleans and lived among so many characters all my life. I mean, when you look back at it, how lucky can you be?"
Ella Brennan
(2015 The New Orleans Advocate)
**All images used with permission