First….you have a beer
Where I come from, most recipes start out with First you make a roux, but I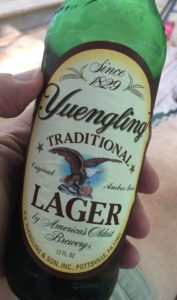 take a little different approach. It's amazing how life can stress you out and unless you're a fairly experienced cook, by the time you need to make that roux, you could be so worked up that everything spirals downhill in a hurry. I realized a while ago that life was too stressful, but it didn't have to be. The important things were family and friends and doing something that you loved and meant something to you-and food seems to be at the center of that for me-cooking it, learning about it, serving it and above all-eating it. It's that one passion that kindles the creative juices. I decided that I was going for a no angst or at least minimal angst approach to life and focus on those things that I have a love for. But, everyday life does tend to get in the way, so before we start, take a deep breath, relax and I suggest that First…you have a beer.
It ain't rocket science, we're cooking. There are all sorts of reasons that we cook, but many times trying to figure out what we even want to eat and then trying to cram it into our daily schedules is enough to cause more than a little anxiety. So, I try to come at
it from a very relaxed point of view. Food is at the center of all things good …mostly family and friends, gathering and making memories-let's try to chill and enjoy it.
As Thomas Jefferson said, "…but though an old man, I am but a young gardener", well I am but a young cook. I am a self taught, actually still learning, wannabe chef, a post-60 year old father of two and lucky husband of one. I started cooking when I was about 12 or 13, influenced by my mother (The Mother Unit) and cooking shows on Public TV. Of course the first one was Julia Child, but growing up in New Orleans I was also lucky enough to watch Chef Paul Prudhomme on TV and there are many, many others. I'm not sure why, but I was always fascinated with great chefs. I've also been lucky enough in life to run across many other great cooks who have influenced me in one way or another. Being born and raised in New Orleans and South Louisiana, I am heavily influenced by the cuisine of that region, but I am also fascinated with many other cuisines and lots of various ways of cooking. My appreciation for South Louisiana's culture grew when I spent twenty years on the East Coast. Back home now, I look forward to sharing some of the South Louisiana culture with all those who live elsewhere. We'll be talking about all of this as we go.
Join me as I learn more about all things food, try to share it with you and hopefully show you a few recipes that you'll like and make your own. I may even come up with a little lagniappe for you! I'd love some feedback from you in the ratings and comments, and if you feel like it, shoot me an email at [email protected].
Yeah You Right!