Way down yonder in New Orleans…it's Jazz Festival time! Over its 50 year run (so far) it has grown to be a world-renown celebration of Louisiana and New Orleans Culture, rivaling Mardi Gras in popularity. The music is culturally diverse and plentiful, but do not overlook the food. Long recognized as the most popular Jazz Fest nosh is succulent crawfish tails smothered in a rich and spicy cream sauce and blended with pasta. Crawfish Monica was developed in 1981 by a local pasta maker to help sell pasta. Now it's a Jazz Fest tradition. To get a real taste of the Jazz Fest, all you have to do is try some Crawfish Monica. Here's my no-angst recipe for this New Orleans tradition.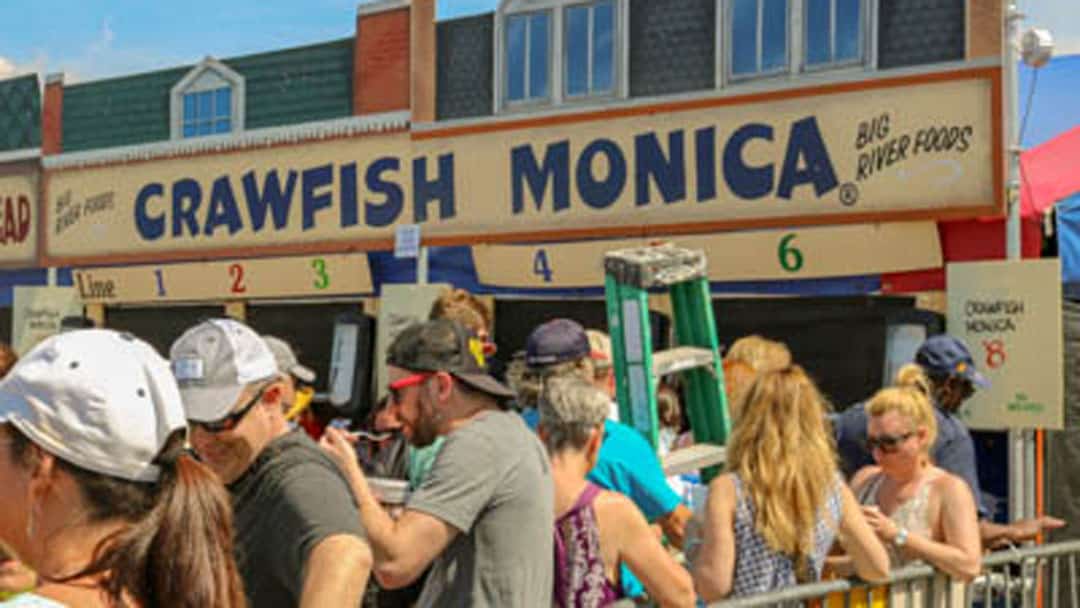 Sign up for my email notifications of new recipes and posts right HERE.
This post is not sponsored, but you will find affiliate links on this page. As an Amazon Associate, I earn from qualifying purchases. The price you pay as a consumer does not change, but I may make a small commission based on your purchase.
Here's What You Need
The original served at the Jazz Fest uses Rotini or Fusilli pasta. These little spirals really grab on to the cream sauce and seem like they were made for this dish. If you don't have Rotini or Fusilli, try some fettuccine or Farfalle (bowtie) pasta. Louisiana Crawfish Tails (available here at Amazon) are a must for this dish. If you have to use imported crawfish, I recommend rinsing the tails-the "fat" can be a little bitter on the imported mudbugs, but oh, so sweet on those homegrown crawdaddies! Crawfish Monica gets kicked off with butter, yellow onions and garlic, spiced up with creole seasoning, dry white wine and fresh lemon juice. Rich heavy cream thickens everything and green onions and parsley are used to give a little bite and freshness. All this clings to the pasta and the grated Parmesan cheese brings it all together. But don't forget the beer!!
Here's What You Do
First…you have a beer. Something this good, shouldn't be this easy. Doing a little mise en place makes it even easier, so pop a top on the beer, read the recipe all the way through and gather up your ingredients. Basically, it's a cream sauce built on top of some onions and garlic, seasoned with creole spices. The dry white wine reduces down with the onions and spices and really concentrates the flavor before you add the cream. When the sauce thickens a little, the tails are added just before the pasta is mixed in. Once you get the hang of this no-angst process, you'll be making it all the time.
Mise en place
Dice the onions and garlic; measure out the creole seasoning, wine and cream. Cook the pasta according to the package directions. You'll want the pasta to be a little al dente, just a bit of a bite when you mix it all up. Reserve about ¼ cup of the cooking liquid and mix that and some olive oil back into the drained pasta…then set it aside until the sauce is ready.
Sign up for my email notifications of new recipes and posts right HERE.
Saute the onions and garlic in the butter
Melt the butter in a heavy bottom saute pan over medium-high heat. When the butter is frothy, throw in the onions. Stir around frequently until they are soft, about 5 to 8 minutes, then toss the garlic in there. Shake the pan around until they are all mixed up and you catch that great garlic aroma. That will only take a minute or two.
Add the creole seasoning and wine
Once the garlic is aromatic, add the Creole seasoning. Stir that in and let it saute for about two minutes. Toasting the spices a little like this helps bloom the flavors. Add the wine next, bringing it to a simmer until it is almost evaporated. This will concentrate the flavors.
Add the cream and lemon juice
The cream goes in and the lemon juice follows right behind. Stir and shake the pan to make sure that everything is mixed together well. When the sauce begins to boil, turn the heat down a little and let it simmer for a few minutes, just until it starts to thicken. Don't let it thicken too much, you want it to coat all the pasta later.
Time for the crawfish tails, green onions and parsley
Using your hands, add the tails a few at a time, making sure to separate them as you go, treating them tenderly. Stir them gently into the sauce. These tails are already cooked so you only need to warm them through, which should only take a couple of minutes. Once they are warmed through, add the green onions and parsley and stir it all together.
Sign up for my email notifications of new recipes and posts right HERE.
Blend in the pasta and Parmesan
Give the pasta a good stir before you start to add them so it's not clumped together. You may not use all of the pasta, so add a little at a time, blending it all in before you add more. Start with about half, then add half of what's left. You'll need to judge how much to add because you want to make sure that all the pasta is well coated. You don't have to and probably won't use all of the cooked pasta. Once all the pasta is coated, add in ½ cup of the Parmesan cheese and stir it together to incorporate all the ingredients.
There you have it. When you dish it up, have the remaining Parmesan cheese out so people can sprinkle more on top. Pair this with a green salad, maybe a Sensation Salad and some hot, crispy french bread.
If you make this recipe, or had it at the Jazz Fest, please tell us about it in the Comments section below and make sure to LEAVE A RATING ON THE RECIPE. Post a picture on our Facebook page or on Instagram with a #firstyouhaveabeer. Make sure to Pin it on Pinterist. Follow us on Facebook, Instagram and Pinterest and make sure to share this with your friends…they will love you for it. SIGN UP FOR OUR EMAIL UPDATES below so you don't miss anything!
Try these other special Crawfish dishes from Sweet Daddy D:
Sign up for my email notifications of new recipes and posts right HERE.
Yeah You Right!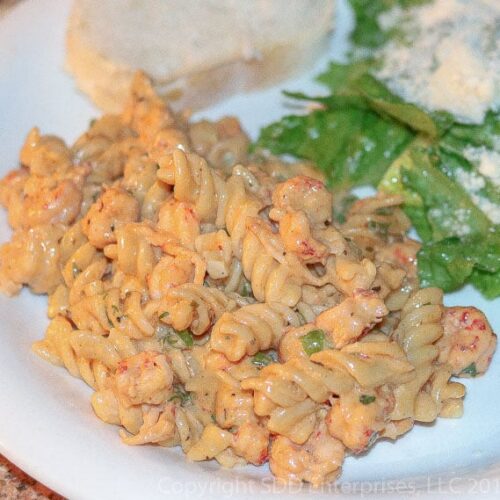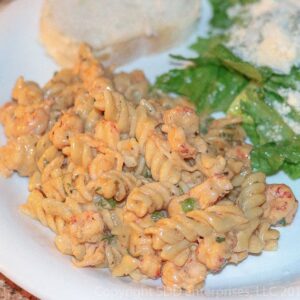 Crawfish Monica
Crawfish Monica is succulent crawfish tails cooked in spices and a rich cream sauce then tossed with pasta. This is the most popular dish at the New Orleans Jazz Festival. Great with Rotini or Fusilli pasta but also goes well with Fettuccine or Farfalle. This dish was created in the early-1980's and has become a New Orleans classic in a short period of time. Try it with some warm and crispy french bread and a nice green salad.
Print
Pin
Rate
Here's What You Need
1

pound

rotini pasta

2

tablespoons

olive oil

6

tablespoons

Butter

1

medium

yellow onion

chopped

4

cloves

garlic

chopped

1

tablespoon

creole seasoning

1/2

teaspoon

cayenne

optional

1/2

cup

Dry White Wine

2

cups

Heavy Cream

1

tablespoon

fresh lemon juice

1-2

pounds

crawfish tails

1

bunch

green onions

chopped

1/2

cup

parsley

chopped

1

cup

Parmesan cheese

grated
Here's What You Do
Cook the pasta to al denté according to the package direction.

Reserve about 1/4 cup of the pasta cooking water before you drain the pasta. Drain but do not rinse, return the pasta to the pot, add the cooking liquid and about 2 tablespoons of olive oil and mix well. Set aside, covered to keep warm.

In a large sauté pan, melt the butter over medium high heat until frothy.

Add the yellow onions and saute until soft, about 8 to 10 minutes.

Add the garlic and continue to saute until aromatic, about 2 minutes.

Add the creole seasoning and cayenne (if using) and stir well. Saute another two or three minutes.

Add the wine, bring to a heavy simmer and allow the wine to evaporate almost completely.

Add the cream and lemon juice, stirring and shaking the pan until well blended.

Simmer on low for a few minutes until it begins to slightly thicken.

Add the crawfish tails a few at a time and stir well to blend completely.

Allow the crawfish tails to only warm through, then add the green onions and parsley.

Mix well and simmer about two minutes.

Add in the cooked pasta a little at a time. Stir completely until all the pasta is coated with the sauce and the crawfish are distributed throughout. You may not use all the pasta because you want it to be creamy with a good coating of sauce over all the pasta.

Stir in about 1/2 cup of the Parmesan cheese and mix well.

Remove from the heat. When serving, sprinkle more parmesan cheese on top.
Recipe Notes
Great with Rotini or Fusilli pasta but also goes well with Fettuccine or Farfalle.
Louisiana Crawfish tails are the very best because they contain some sweet crawfish "fat" which adds a great depth of flavor. You can usually find them frozen at the seafood market or better grocery stores or online at

Amazon

.  If you have to use imported crawfish tails, I strongly suggest rinsing them before using. Often the imported crawfish will be slightly bitter unless rinsed.
Nutrition
Calories:
588
kcal
|
Carbohydrates:
23
g
|
Protein:
29
g
|
Fat:
43
g
|
Saturated Fat:
23
g
|
Polyunsaturated Fat:
1
g
|
Monounsaturated Fat:
6
g
|
Cholesterol:
279
mg
|
Sodium:
627
mg
|
Potassium:
168
mg
|
Fiber:
2
g
|
Sugar:
2
g