The list of culinary "musts" when you visit Louisiana is long-poboys, Muffalettas and beignets are just the tip of the gastronomical iceberg. Maybe not as familiar as some of the other iconic dishes, there's one that doesn't have anything to do with roux or gravy or fried seafood or any of those wonderful things. In fact, it's a salad-yep, a salad, but one that's so sensational, it's called the Sensation Salad. The first time I ate one, I was hooked. This is a special treat and a genuine signature of Louisiana cuisine.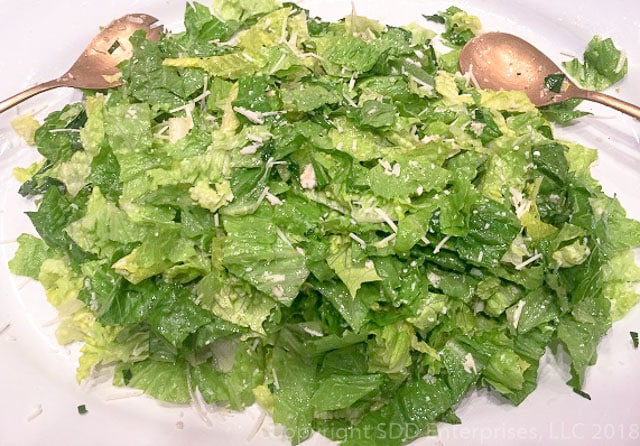 The Sensation Salad
This post is not sponsored, but you will find affiliate links on this page. The price you pay as a consumer does not change, but I may make a small commission based on your purchase.
Originally developed in Baton Rouge, this rich and zesty salad has become very popular in South Louisiana restaurants. Along with Cajun and Creole cuisines, the influences of Italian immigrants can be seen in many restaurants in South Louisiana, where its common to see offerings from all three cuisines on the same menu. Although maybe not strictly Italian, a Sensation Salad easily spans the cuisines.
A Sensation Salad stands out for its simplicity. The dressing gets its characteristics from prominent lemon and garlic flavors along with the sharp and salty contribution of Romano cheese. Combined with simple, light oils, these flavors make plain old iceberg or romaine lettuce stand out as truly sensational. If there ever is a no-angst recipe, this is it. Here's how you can throw this wonderful salad together to the delight of your friends and family.
Sign up for my email notifications of new recipes and posts right HERE.
Here's What You Need
Everything about this recipe is a true example of the whole being greater than the sum of its parts. Unlike a lot of salads you encounter in restaurants which can't cram enough ingredients in the salad bowl, the Sensation Salad excels in its simplicity by using icy-cold, crisp and fresh iceberg or romaine lettuce, or a combination of both, accented with some simple flat-leaf (Italian) parsley, which not only adds a bright color but also donates its slightly bitter herbal crunch. The flavor is derived from three things-fresh garlic, fresh lemon juice and finely grated Romano cheese. There is a touch of white vinegar that rounds out the tang and won't disturb the neutral color or simplicity of the dressing. Some kosher salt and fresh ground peppers round out the edges. All of this will ride on the oils, which need to be light and somewhat bland. We're not looking for the oil to add much flavor, so a blend of light vegetable-based oil and extra virgin olive oil will do the trick. Blue Cheese is optional but it does add a sharp edge that is interesting but shouldn't be overused.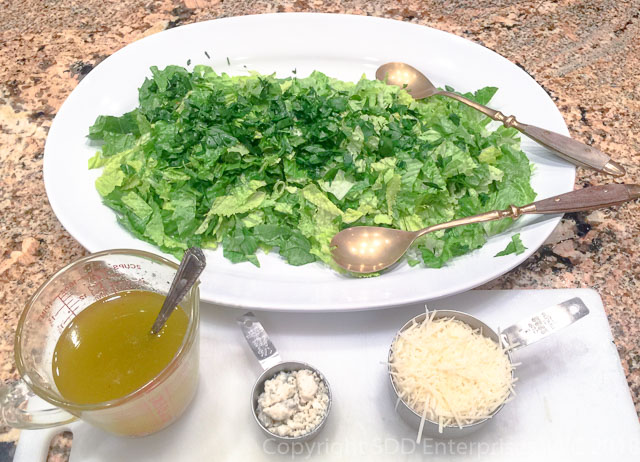 Here's What You Do
First...you have a beer. Even though we're just throwing a salad together, you're probably cooking some other dishes and already have a beer going. But remember, it's not just drinking a beer, its all about getting in the right frame of mind and the right preparation. So, turn up the tunes, recite your mantra, take a swig.
Make the Dressing First
I usually make this dressing in a glass measuring cup, like this two-cup or this four-cup. Afterward, I transfer it to a jar where its easy to keep and shake up when you want it-leftover dressing will last a couple of weeks in the fridge and just gets better with time. Measure the vegetable oil and the olive oil in the large measuring cup first. Squeeze the lemons into a small bowl and measure out the three tablespoons into the oils. Add a tablespoon of white vinegar. I usually use a press for the garlic because that will really draw out the garlic juices, but you could use a mortar/pestle or the blade of a chef's knife to smash the garlic cloves into a juicy glob. A little chop with the knife may be needed to separate the garlic into tiny pieces. After a good pinch of kosher salt and a few grinds of the black pepper mill, give it a good stir with a fork, spoon or small whisk and set it in the fridge while you get everything else ready.
Sign up for my email notifications of new recipes and posts right HERE.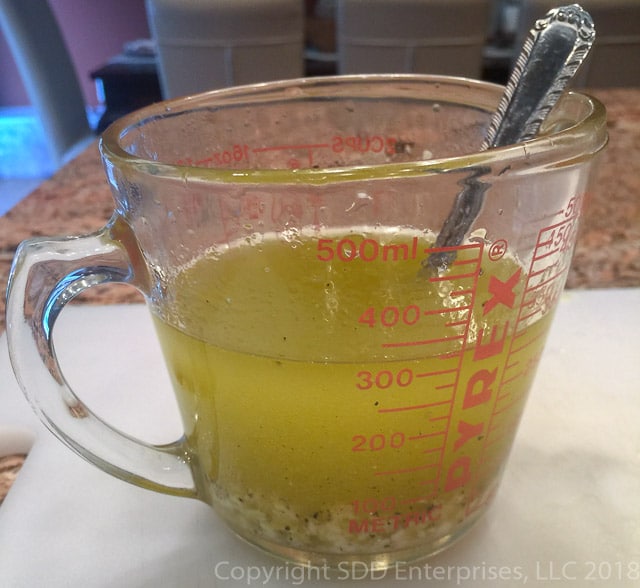 Sensation Salad Dressing
Get the Cheese Ready
Grate the Romano cheese and set it aside in a small bowl. If you're using some blue cheese, measure out ¼ cup and set aside. I wouldn't add much more than that, but it does add a nice dimension you'll enjoy if you're a blue cheese fan.
Prepare the Lettuce
In restaurants, iceberg lettuce is what you will usually find used for this salad and what I usually go with, but Romaine or a combination of both are very good here. Whichever you use, strip out all the tough, white stem sections and wash it well. Dry it in a salad spinner (here's the one I use) or using paper towels. The lettuce should be very fresh and crisp and cold!
Build the Salad
Using your hands, tear the leaves into bite-size pieces and lay them on a platter or a large salad bowl. Rough chop a couple of tablespoons or so of flat-leaf parsley and scatter on top of the lettuce. Next, sprinkle at least a cup of grated Romano cheese all over the top-now's the time for the blue cheese, if you are using it. Now for the dressing. Shake it or stir it to get the garlic disbursed, then ladle or pour it over the Romano cheese. Start with about half of the dressing and toss the salad, parsley, cheese and dressing completely, making sure that every single piece of lettuce gets some dressing and the cheese is incorporated throughout the salad. The fine grate will form some small lumps throughout and will really spread the flavor. Add a little more dressing if you like it a little heavier.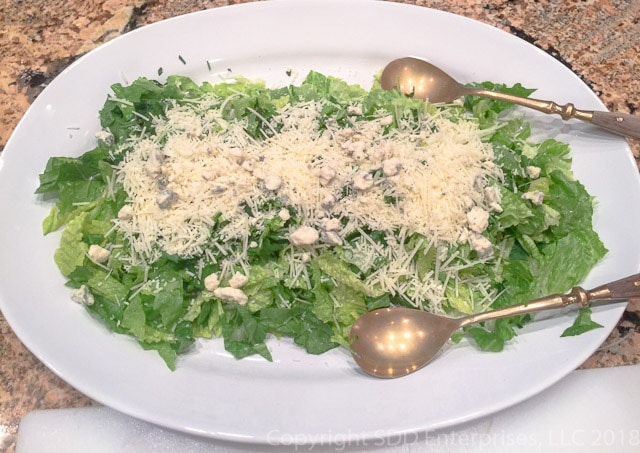 Lay the cheeses on top of the lettuce and parsley
That's it, all there is to it, simple as that!
Hints and Tips
It's best if you grate the Romano yourself

right before using it, but you can often find grated Romano in the grocery store-many of the better grocers grate and package the Romano in the store. It may seem that one cup of Romano is a lot for this size recipe, but don't skimp-the sharp, salty flavor along with the consistency of the fine grate are keys to this dressing.

Optional Preparation:

adding the grated Romano cheese to the dressing instead of spreading it on top of the lettuce. I have done it both ways and think they are both great, so like most things cooking-wise, it's a personal preference.

I'd suggest sticking to the recipe the first time, but after that, you may want to tweak the lemon, garlic and Romano to get the flavor where you want it. I wouldn't decrease any of these three ingredients, but you may want to bump them up a bit depending on your personal preference.

The garlic should be pressed, finely chopped or smashed and chopped to get as much of the garlic juices released. This really adds to the profile, along with the fresh lemon juice.

Make the dressing ahead.

The dressing can be made the day before, just cover it tightly and store it in the fridge. The garlic will infuse with the oil and benefit from the time. If you do, just take it out about 30 minutes before you want to use it.
The garlicky and lemony aroma make this a great starter or side salad for these other recipes from
Sweet Daddy D:
and lots of other things. It's also great as an entree served with grilled chicken or shrimp. Try it once and you'll be looking for reasons to serve it. After you've made this once or twice, you may decide to increase the Romano, garlic or lemon juice, or all three. Make the tweaks you need to make this your own. The lingering garlic-lemony taste is a real Louisiana treat.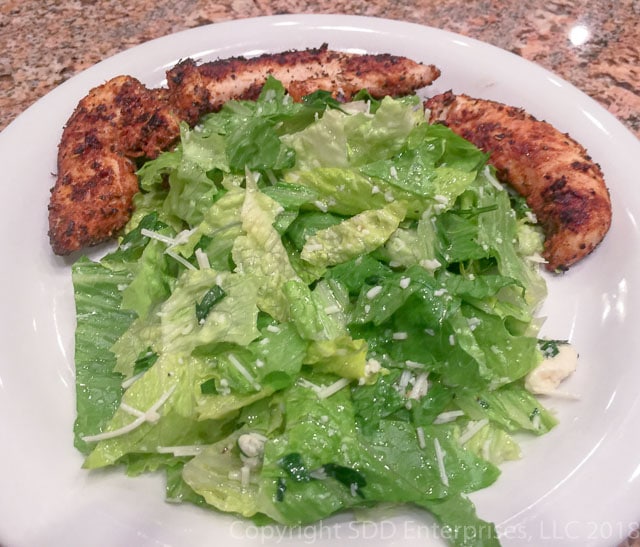 Here's a recap of some handy tools:
If you make this recipe, please tell us about it in the Comments section below and make sure to LEAVE A RATING ON THE RECIPE. Post a picture on our
Facebook page
or on Instagram with a
#firstyouhaveabeer.
Make sure to Pin it on Pinterest. Follow us on
Facebook
,
Instagram
and
Pinterest
and make sure to share this with your friends…they will love you for it. SIGN UP FOR OUR EMAIL UPDATES below so you don't miss anything!
Yeah You Right!
Recipe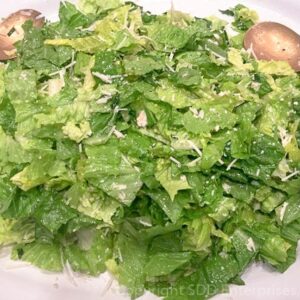 Sensation Salad
The distinct flavors of garlic, lemon juice and Romano cheese combined with light oils are tossed with simple iceberg or romaine lettuce, making this a true Louisiana "sensation"!
Print
Pin
Rate
Here's What You Need
For the Dressing
½

cup

salad oil

½

cup

olive oil

3

tablespoons

fresh lemon juice

1

tablespoon

white vinegar

5-6

cloves

garlic

pressed or chopped fine

Kosher salt and fresh ground pepper to taste
For the Salad
18 - 20

ounces

iceberg or romaine lettuce

1

cup

Romano Cheese

grated

2

tablespoons

parsley chopped

¼

cup

blue cheese

optional
Here's What You Do
Mix the ingredients for the Dressing together in a jar or a small bowl and set aside.

Trim the hard, white centers from the lettuce. Wash and dry the lettuce, then tear or chop it into bite size pieces and place on a large platter or in a large salad bowl.

Sprinkle chopped parsley and Romano cheese on top of the lettuce.

Sprinkle on the blue cheese (if using).

Shake or whisk the dressing to mix well and ladle as much as you like on the lettuce.

Toss the lettuce, cheese and dressing until all the lettuce leaves are well coated.
Recipe Notes
This makes a great side salad for jambalaya, etouffe or gumbo or an entree salad with some grilled chicken or shrimp. Any leftover dressing can be kept in the refrigerator for a couple of weeks. Just pour it on lettuce topped with Romano cheese for a quick treat.
Nutrition
Calories:
298
kcal
|
Carbohydrates:
5
g
|
Protein:
10
g
|
Fat:
27
g
|
Saturated Fat:
7
g
|
Polyunsaturated Fat:
2
g
|
Monounsaturated Fat:
15
g
|
Cholesterol:
22
mg
|
Sodium:
403
mg
|
Potassium:
302
mg
|
Fiber:
2
g
|
Sugar:
1
g