Gumbo…that small word packs a lot of punch. Recognized as the Official State Dish of Louisiana, gumbo epitomizes the melding of the various cultural heritages of South Louisiana.
I've seen gumbo defined as "a soup-like dish featuring two or more meats or seafood and served with rice". That simple, textbook definition doesn't even come close to defining what gumbo is. Although there are two basic types of this Cajun and Creole classic…chicken and sausage gumbo and seafood gumbo, there are many varieties of each…even varieties that don't have any meat or seafood at all. Mostly they start with a roux, but there are some that don't even do that. Regional and family traditions result in many variations of gumbo and there is little consensus as to what exactly goes into gumbo or the best way to make it. All I know is that I've never had a gumbo I didn't love and this Chicken and Andouille Gumbo is my favorite kind and I'm glad to share my no-angst recipe and methods with you..
Here's What You Need
This is a two pot dish, so you'll need a nice cast iron frying pan and a heavy stockpot.
Rich chicken stock is important to blend the various flavor levels you will build. There are good commercial chicken stocks available in the grocery and this is what I usually use. You can also use chicken bouillon cubes or you can make your own. Here's my recipe for good homemade chicken stock. Just don't use plain water! This recipe calls for about one pound of chicken. Thighs are the best because their higher fat content will add more flavor. I normally use about ½ to ¾ pound of boneless/skinless thighs and about 1/4 to 1/2 pound of boneless skinless breasts. All thighs or all breasts are fine if you have a preference for one or the other. Throwing in a couple of whole chicken wings adds some dynamic flavor. The andouille sausage has a big impact on the flavor profile of this gumbo. Andouille is a smoked pork sausage using coarsely cut pork and spicy seasoning brought to Louisiana by the French or Germans and closely associated with Cajun cuisine. It's usually pretty spicy and used primarily for the flavor it imparts. In South Louisiana, there's a large selection of andouille and with the increased popularity of Cajun foods, it's common to find andouille all over the country. If you can't find it, substitute a good smoked kielbasa. Of course, you'll need the trinity: yellow onions, green bell peppers and celery plus some green onions and garlic. This will be cooked down in a dark roux made from AP flour and vegetable oil. The Herb and Spice Blend combines oregano, basil, thyme, Creole seasoning, kosher salt, white pepper, fresh ground black pepper and bay leaves. You'll serve this with white rice and of course, you'll need some beers.
Here's What You Do
First…you have a beer.   With the delicious and rich way this recipe turns out you may think it's complicated. We're going to make it no-angst by being prepared, practicing some mise en place and that starts with the chef.
Preparation
Chop your chicken into bite-size pieces, add creole seasoning. If you make your own homemade stock, pull about a pound of dark and white meat off the chicken carcass, chop into bite-size pieces; sprinkle on a generous amount of creole seasoning and set aside until needed. Resist the temptation of adding too much chicken-it can take over the gumbo and all you are eating is chicken. If you are using boneless/skinless chicken, chop those into bite-size pieces, sprinkle on the creole seasoning and set those aside.
Chop all the veggies. Chop the onions, celery and bell peppers and place those in a bowl. In a separate bowl, set the chopped green onions aside and put the chopped garlic in a small ramekin. Its OK to rough chop all of these as they will be cooked down in the stock.
Slice Sausage. Slice the sausage into medallions about ¼ inch thick, set aside. Measure out the stock, oil and flour.  
Combine spices. Place the Herb and Spice Blend in a separate ramekin. Put the salt in a different ramekin and leave it out until you taste it later-the stock and the creole seasoning may contain salt so you want to over do it.
Let's Start Cooking:
Cook the Rice. Cook about 2 cups of raw rice according to the package instructions. This will yield about 6 cups cooked rice.  Set aside.
Heat Stock. Place the stock into the stock pot, cover and set over a low heat.
Fry Sausage. Place the cast iron frying pan over medium high heat. When it's hot, fry the sausage until it starts to brown and render some of its fat. Take the sausage out of the pan and set aside but leave all that delicious fat.
Make the Roux. Add the vegetable oil and let it get pretty hot. Sprinkle in the flour and whisk constantly, blending all the oil and sausage fat with the flour to make a nice dark brown roux. Pay close attention during this stage, keep whisking or stirring with a wooden spoon. You can turn the fire down a little so that it does not cook too fast. The only thing that can go wrong is that you burn the roux. If you do, just throw it out, have another beer and start over. Combining a dark roux with the sausage fat is the first important layer of flavor and color that will start to define this dish.
Saute' the Trinity. When the roux is ready, add the trinity and keep stirring until all the onions, bell peppers and celery are coated with the roux. Keep stirring over a medium to medium high heat, scrapping up the fond (browned bits of roux and veggies that stick to the bottom of the pan-ultra flavor tidbits!) off the bottom of the pan. Once everything is coated, stir occasionally not to let it burn until all the veggies are cooked down and look moist as their sugars and juices combine with the roux. This should take about 15 to 20 minutes. (Here's a little trick-if you're having a lot of sticking to the bottom of the pan, try covering the pan for a few minutes…this will keep some of the moisture in the pan to add some steam that will help moisten and un-stick the bottom. If that doesn't work, use a small amount of the stock to deglaze the pan. Make sure to mix all this together..too much flavor to leave in the pan!) 
Add garlic, green onions, spices and sausage. Throw in the garlic and green onions and mix well until the garlic is aromatic-about 2 minutes. Add about ½ of the Herb and Spice Blend, including all the Bay Leaves, plus the sausage. Mix to combine everything. Simmer over medium heat for about 5 minutes while you bring the stock to a full rolling boil in the stock pot.
Mix Veggies into the Stock. Now it's time to mix the veggie, roux and sausage mix into the stock. You can turn the heat off under the veggies and get the stock to a full, rolling boil. With a slotted spoon, mix one spoon full of the veggies into the boiling stock, stirring until all the veggie/roux mixture is dissolved into the stock. Repeat this, one slotted spoonful at a time, until all the veggies are blended into the stock, making sure to return the stock to a full boil between spoonfuls.
Short Boil-Add Chicken. Keep the stock at a high boil for 5 to 10 minutes which encourages all the flavors to come together. If you are using raw chicken, add it in slowly now, much like you did the veggie mix, stirring in between adding bits of chicken. If you are using chicken from making the stock, hold off on adding it in for a while. Add about half of the remaining Herb and Spice Blend.
Simmer 1-Hour Covered. After about 10 minutes, turn the heat to low, cover the pot and simmer for about 1 hour. Stir occasionally so that it doesn't stick. If you are using the cooked chicken, add it after about 30 minutes, then continue to simmer, covered.  After an hour, taste the gumbo for any additional seasoning. Let it sit, covered for about 10 minutes, then dip some of the fat that has risen to the top.
There you have it. The stock has thickened and the chicken and sausage have fused their delicious flavors with the rich roux and vegetables. Remove the bay leaves, mound about ½ cup of white rice in the middle of the bowl and ladle the gumbo right on top. For a true Cajun experience, sprinkle a little File' (ground sassafras leaves) right on top.
I'd like to hear from you…leave me any questions or comments you may have below. If you make this Gumbo, post a picture on Instagram and use #firstyouhaveabeer. Share this recipe on Facebook and Google+ and like and follow us on Facebook and Instagram. If you haven't already, sign up for our email list so we keep you in the loop.   Enjoy!
Yeah You Right!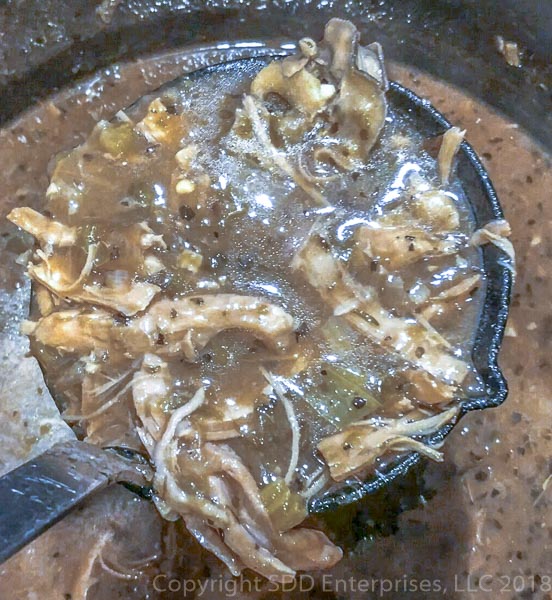 Chicken and Andouille Gumbo
Of all the different types of gumbo, this rich stew made with chicken and andouille sausage seasoned with spicy Cajun flavors is the consummate Creole/Cajun victual.
Print
Pin
Rate
Here's What You Need
8

cups

Chicken Stock

See Recipe Notes

1/2

pound

chicken breasts

See Recipe Notes

1/2

pound

chicken thighs

See Recipe Notes

1

pound

Andouille Sausage

3/4

cup

vegetable oil

3/4

cup

all purpose flour

2 to 3

large

Yellow Onions

diced

2

bunches

green onions

diced

3 to 5

stalks

Celery

diced

1

large

green pepper

diced

5

cloves

garlic

2

whole

chicken wings

optional
Herb and Spice Blend
2

tablespoons

Oregano

2

tablespoons

Basil

1 1/2

teaspoons

Thyme

1

tablespoon

creole seasoning

plus a little more for the chicken

1

tablespoons

White Pepper

1

tablespoon

ground black pepper

1 1/2

teaspoons

kosher salt

2

bay leaves
Here's What You Do
Slice the andouille sausage into medallions, set aside. Cut chicken into bite size pieces, place in a bowl and mix in Creole seasoning and set aside.

Measure out the flour and vegetable oil.

Mix the Herb and Spice Blend in a small bowl and set that aside.

Chop the vegetables and set aside. Chop the garlic and set aside in a small bowl

Place the chicken stock in a stock pot and start heating it on low. Keep it covered and on low so it does not reduce.

In a large frying pan over medium high heat sauté the sausage until browned and rendering some of its fat. Scrape the brown bits off the bottom. When the sausage is nicely browned, remove it from the pan back to its bowl, leaving the renderings in the pan.

Maintaining the medium high heat, add the vegetable oil to the frying pan. When the oil is shimmering whisk in the flour to make a dark roux.

As soon as the roux is dark enough add the veggies in about half or a third at a time and stir to completely mix the veggies with the roux.

Continue to cook over medium high heat, stirring frequently and scrapping the bits off the bottom, careful not to let it burn or scorch. This will take at least 10 to 15 minutes.

Add in the garlic and green onions and continue to cook until aromatic, usually a couple of minutes.

MIx in about half the spice mix and the 2 bay leaves; add back the sausage, mix well and cook for another five minutes.

Turn up the heat on the stock pot and bring the chicken stock to a rolling boil.

Using a slotted spoon, mix in the veggie/sausage mix, one spoonful at a time, stirring each spoonful until everything is blended and mixed with the stock, making sure it returns to a rolling boil in between each spoonful. Continue this, one spoonful at a time until all the veggie/sausage mix has been added to the stock.

While still at a rolling boil, add the chicken pieces a few at a time, stirring them into the stock in a similar fashion as you did the veggies, letting it come back to a rolling boil between each spoonful. If you are going to throw in a couple of chicken wings, now is the time.

Add a little more spice mix, stir well.

Turn the heat down to low, cover the pot and simmer for about an hour, stirring occasionally.

Prior to serving, take a spoon and skim off the grease which has floated to the top. Give the gumbo a good stir then taste for seasoning-add a little more of the spice mix or some more salt and black pepper, if needed.

Remove the bay leaves and serve over white rice.
Recipe Notes
If you have time, making your own chicken stock makes this gumbo really great. Check out my recipe for homemade stock here.  Use the chicken from making the stock; pull and shred about 1/2 pound of both white and dark meat, disgard the skin.  You'll be tempted, but don't use more than about a hlaf-pound of each. If you don't have time to make fresh chicken stock, this recipe is still great if you use commercial chicken stock and a couple of boneless/skinless chicken breasts and and a couple of boneless/skinless chicken thighs cut into cubes.
Many commercial creole seasoning mixes contain high levels of salt. Make sure to adjust your added salt according to the creole seasonong.
Nutrition
Calories:
477
kcal
|
Carbohydrates:
30
g
|
Protein:
24
g
|
Fat:
30
g
|
Saturated Fat:
7
g
|
Polyunsaturated Fat:
9
g
|
Monounsaturated Fat:
7
g
|
Cholesterol:
73
mg
|
Sodium:
1053
mg
|
Potassium:
725
mg
|
Fiber:
5
g
|
Sugar:
5
g