The cool, crisp bite of this Sweet and Savory Creamy Coleslaw is a perfect companion for so many dishes. Whether its a backyard BBQ or a plate of fried catfish, it counters spicy offerings and compliments summer-y fare. The key to great homemade coleslaw is fresh cabbage, onion, carrots and apples brought together with a creamy and sweet dressing, but the secret ingredient is a sprinkle of celery seeds...you'll know it when you taste it.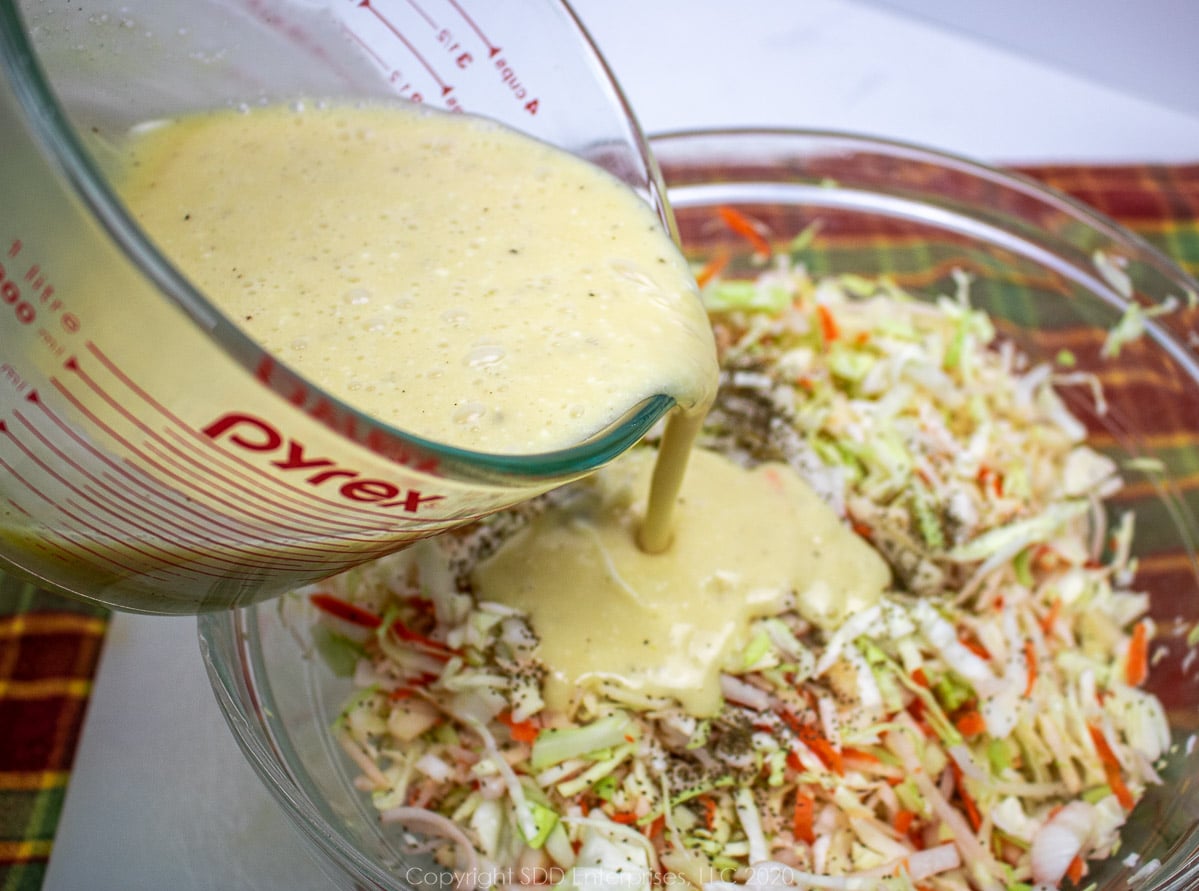 This post is not sponsored, but you will find affiliate links on this page. As an Amazon Associate, I earn from qualifying purchases. The price you pay as a consumer does not change, but I may make a small commission based on your purchase.
If you want to just skip to the recipe, click the "Jump To Recipe" button above or the Recipe link below and you'll go right there without having to scroll through my article.
Jump to:
Coleslaw in South Louisiana
Coleslaw likely originated in the Netherlands as the name is derived from the Dutch word koolsla. Kool translates to "cabbage" and "sla" to salad. It appeared on the American table around 1770 and is generally thought of as a southern thing. In Louisiana, German immigrants settling mostly on the German Coast along the Mississippi River cultivated many vegetables, including cabbage and most likely provided it to the South Louisiana market places. My recipe is derived from my sister Sally's recipe.
Homemade coleslaw is a versatile dish with many variations. It's not uncommon to see a nice helping of coleslaw alongside some fried catfish or fried shrimp and oysters. It's perfect for large gatherings and covered-dish dinners, which is what we do!
Here's What You Eed
Here are some of the key ingredients for this recipe: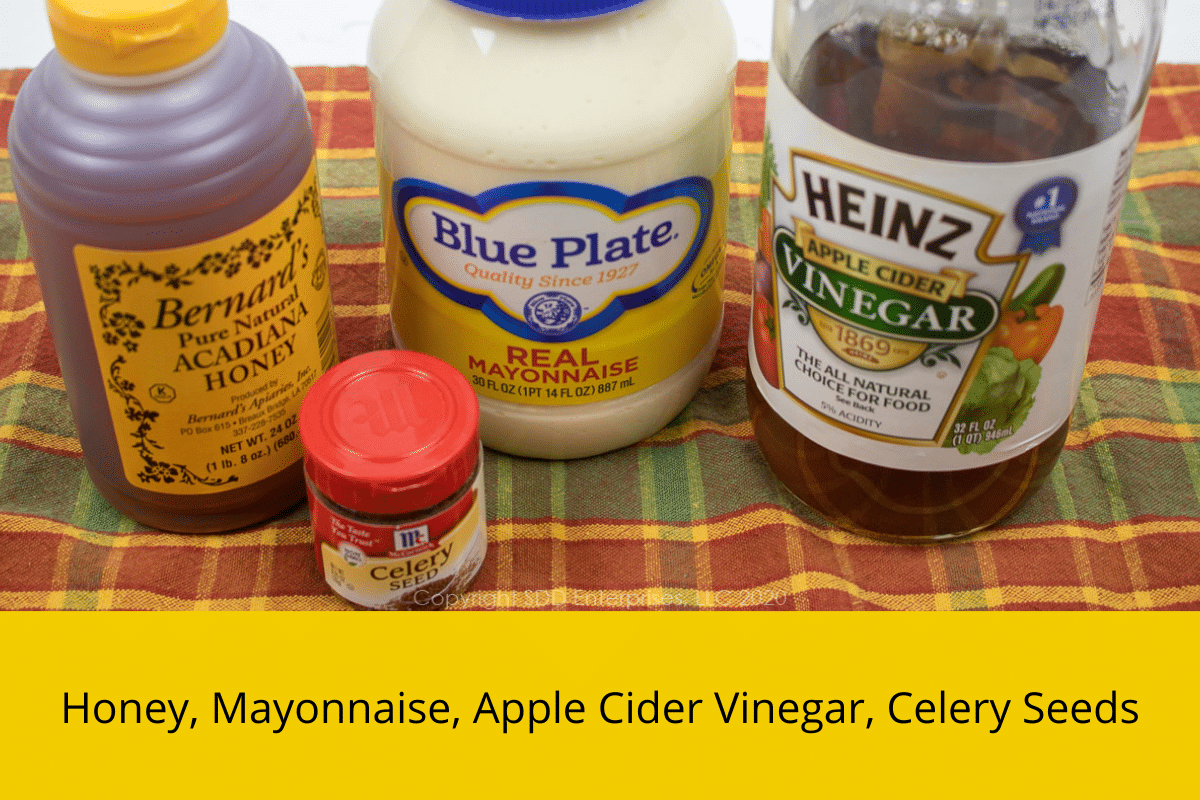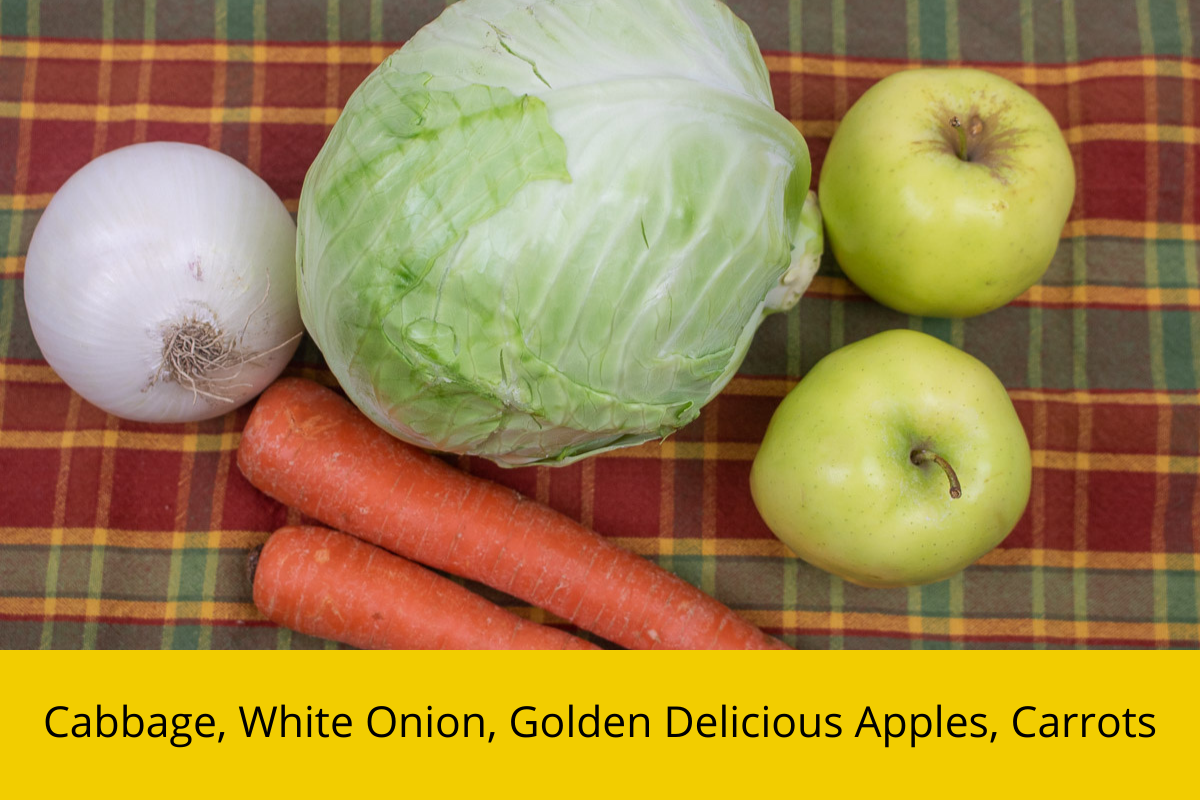 Equipment
Cutting Board, Chef's Knife, Glass Prep Bowl, Glass Measuring Cups, Measuring Cups, Mandoline, Food Processor
Here's What You Do
First...you have a beer. Get in your cooking zone, its more fun that way. You'll benefit from reading the recipe all the way through first. So grab a beer, sit down and read the recipe carefully. Find out what you need and what you'll do with each ingredient.
Mise En Place
Spend some time up front preparing the ingredients.
Before you shred or chop the cabbage, remove the hard white core from the cabbage. Here's the easy way to do that: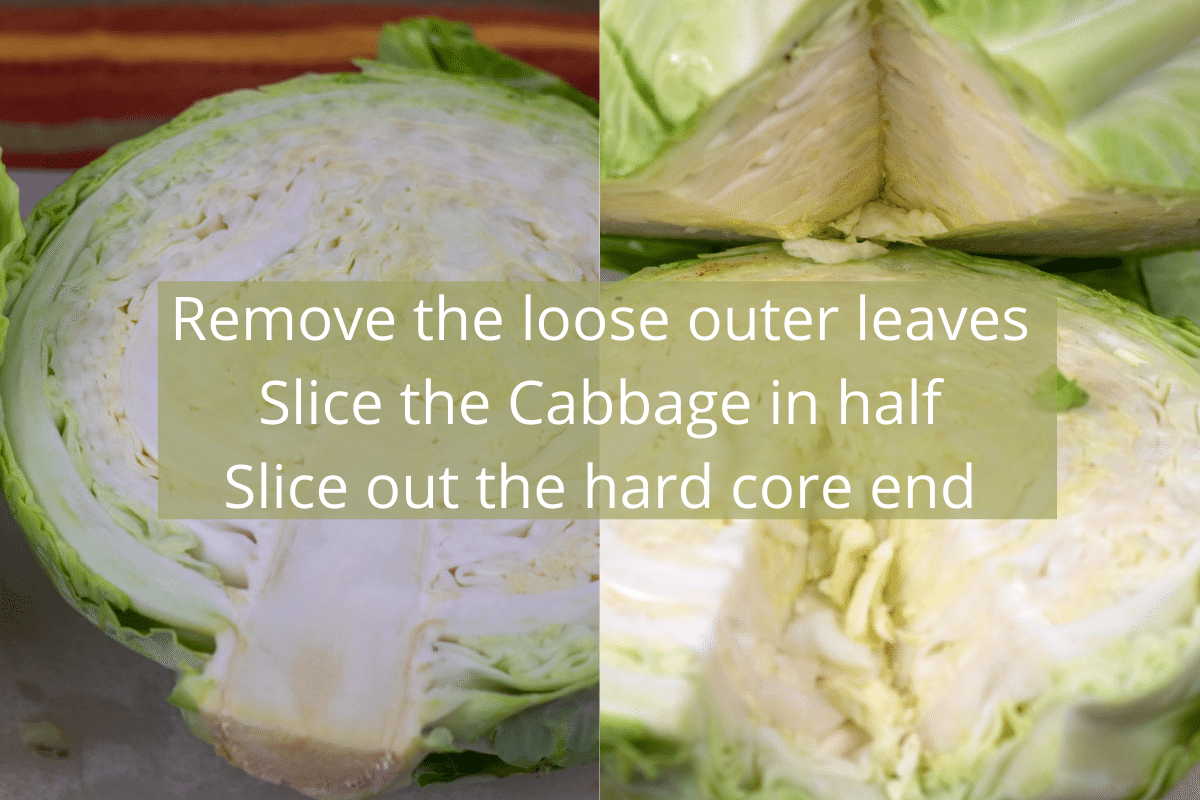 For the Slaw: The vegetables need to be shredded or finely chopped. The cabbage can be shredded with a food processor, mandolin or a grater. It can also be finely chopped with a chef's knife. Make sure to remove the hard white core from the cabbage before shredding. You don't want those hard little pieces of cabbage core in your slaw! Shred or chop the carrots and apples in the same manner. Make sure to peel and core the apple before shredding. The white onion should be sliced very thinly, then the rings cut into about 1 inch crescents. Measure the celery seeds.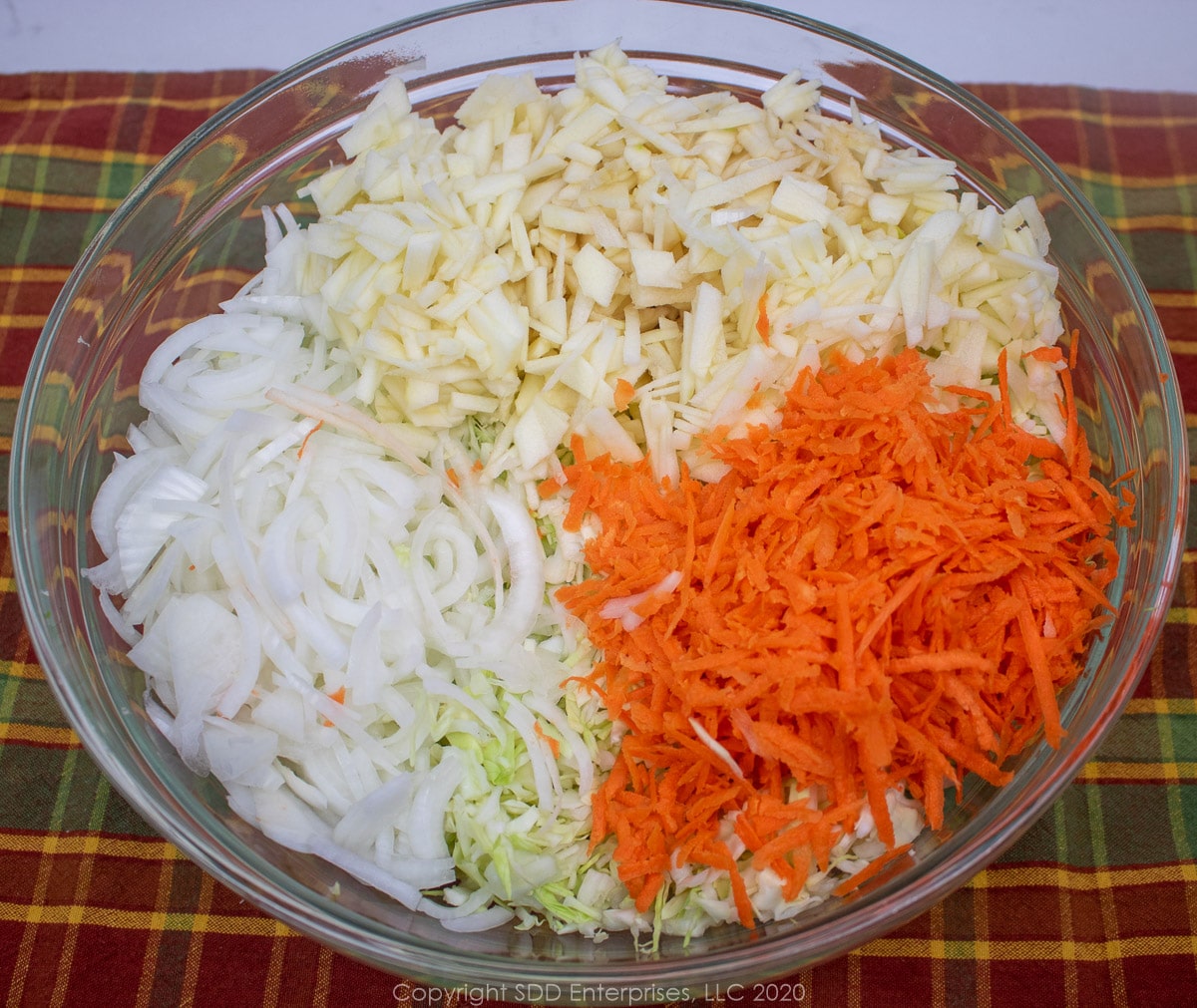 For the dressing: Measure each of the wet ingredients and combine them in a large measuring cup. Add the kosher salt and pepper to the measuring cup.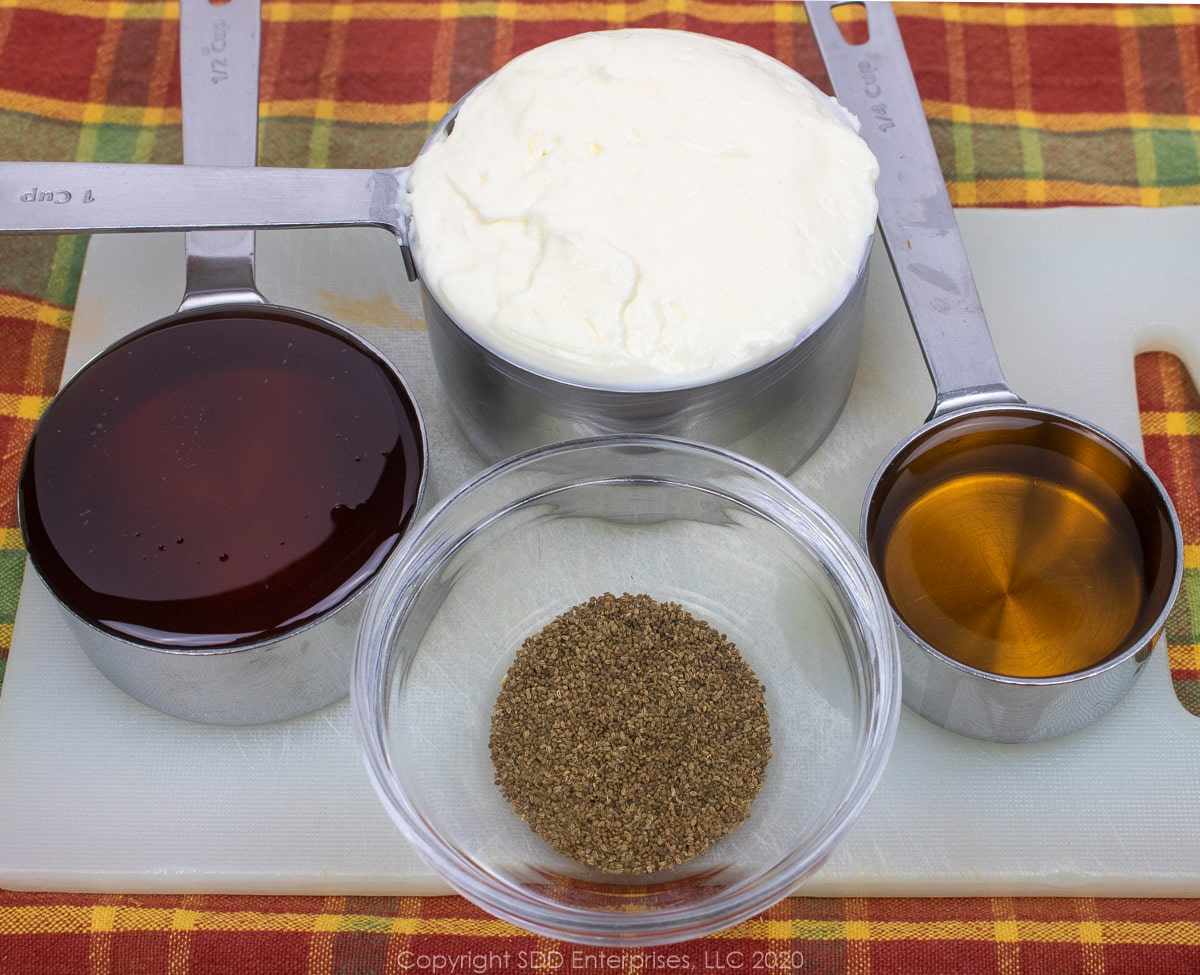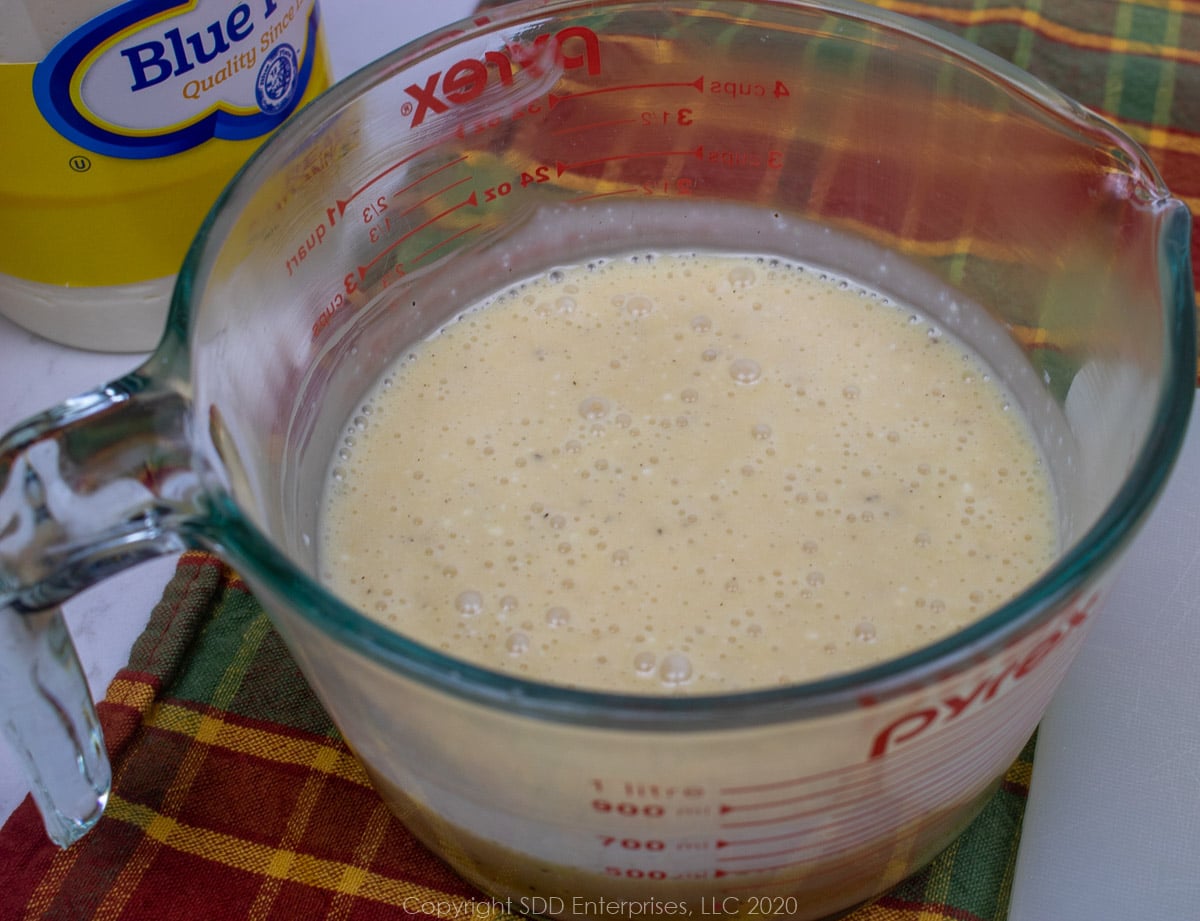 Combine and toss
Place the shredded cabbage, carrots, apples and sliced onion into a large glass bowl and gently toss together. Salad tongs are good for this but mostly I use my hands.
Sprinkle the celery seeds right on top.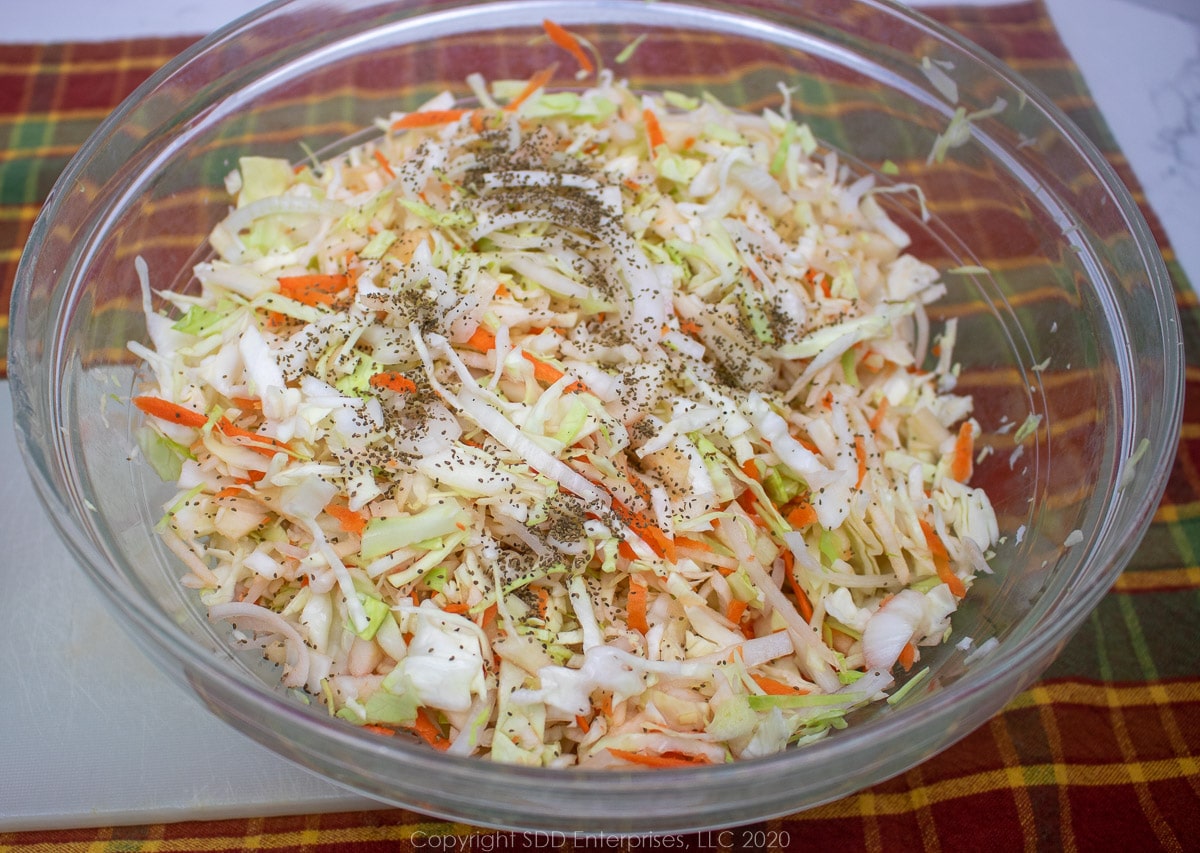 Next, pour the creamy dressing onto the combined veggies. Start with about ¾s of what you have and add more later if you need it.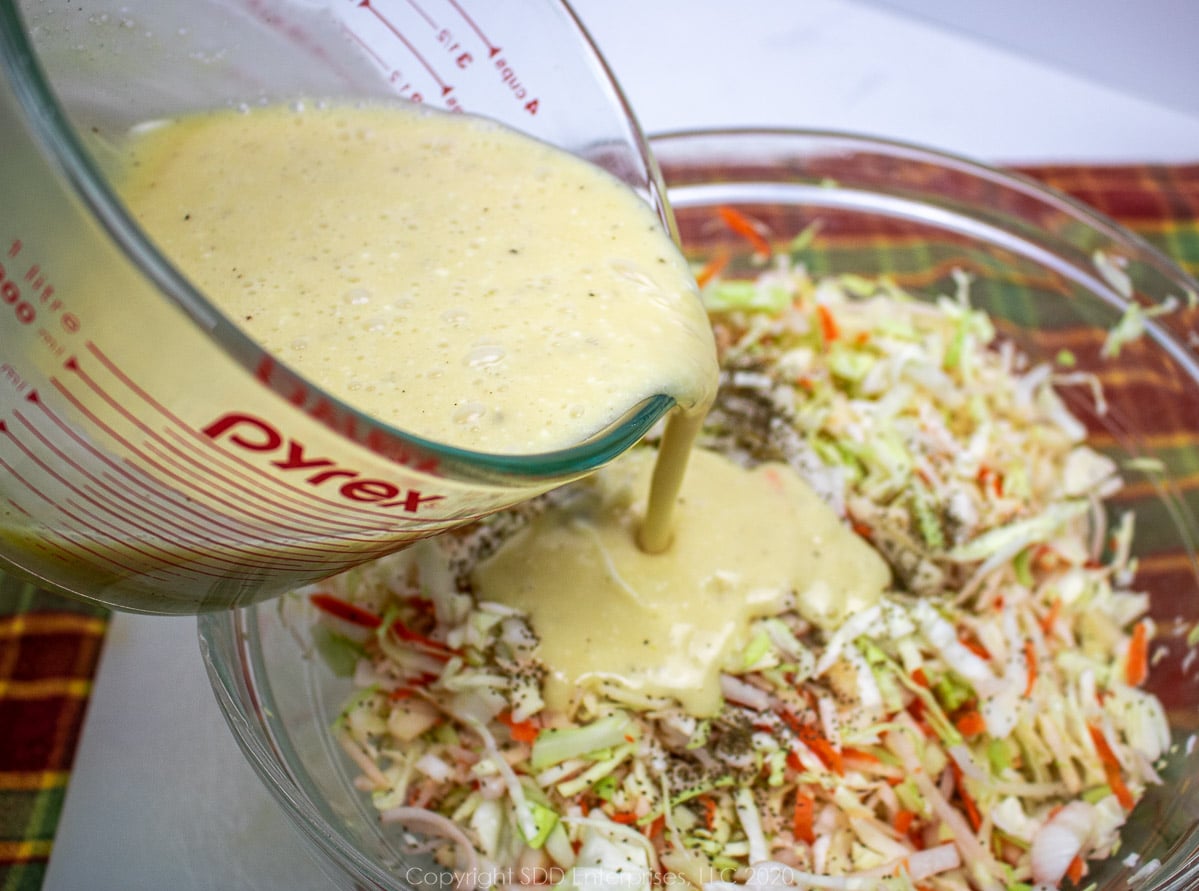 Give the whole thing a toss. Taste for seasoning and make adjustments as needed.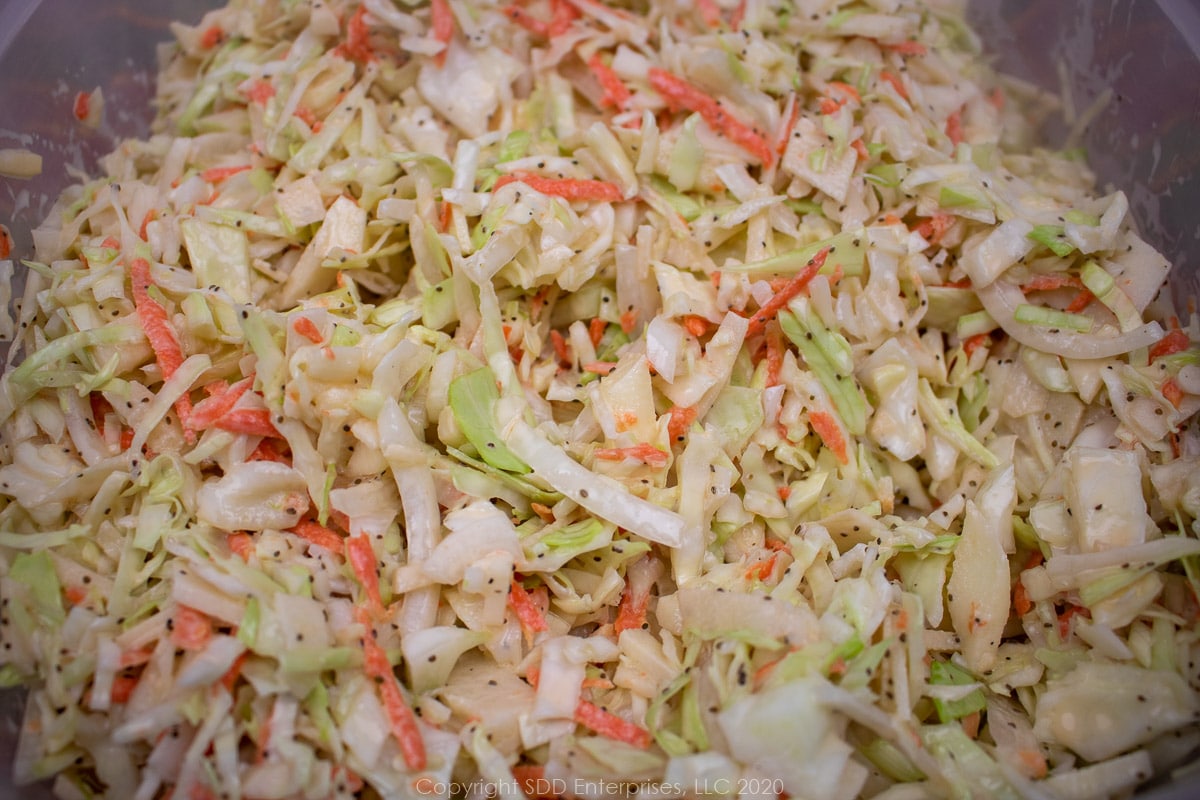 That's it, simple as that.
Hints and Tips
Leftovers?
Leftover homemade coleslaw can be kept in the fridge for 3 to 5 days. The important thing about keeping anything in the fridge is to make sure it's sealed in an airtight container. Coleslaw does not freeze well, so just eat it up in 3 to 5 days.
How long can I leave coleslaw unrefrigerated?
Like many dishes, particularly with mayonnaise, you should be careful not to leave them unrefrigerated for more than 2 hours.
What kind of cabbage should I use?
I generally use green cabbage in this recipe, but you can substitute purple cabbage or use a combination.
What kind of apple should I use?
This recipe was developed using great juicy, all-purpose Golden Delicious Apples. Like Golden Delicious, Fuji and Galas are also sweet and crisp and make good substitutes. Granny Smiths are crisp and juicy, but are more tart than the others. If this is what you're looking for, Granny Smiths will be great. Can't decide? What looks fresh at the grocery store? Get the freshest crisp apple that will stand up to it's veggie companions.

What kind of onion should I use?
Fresh, raw White Onions are crisp and have a little bite. This makes them a perfect balance to the cool mild flavor of the cabbage and counters the sweet, creamy dressing. You could also substitute purple onions or any of the sweet onion variety. 
Want to Cajunize this?
If you want something spicy for your tongue, thinly slice a jalapeno pepper and add that with the veggies. A touch of cayenne pepper or Creole seasoning is also a great way to add a little kick.


Got a cook-out going? Don't forget these other great sides from Sweet Daddy D: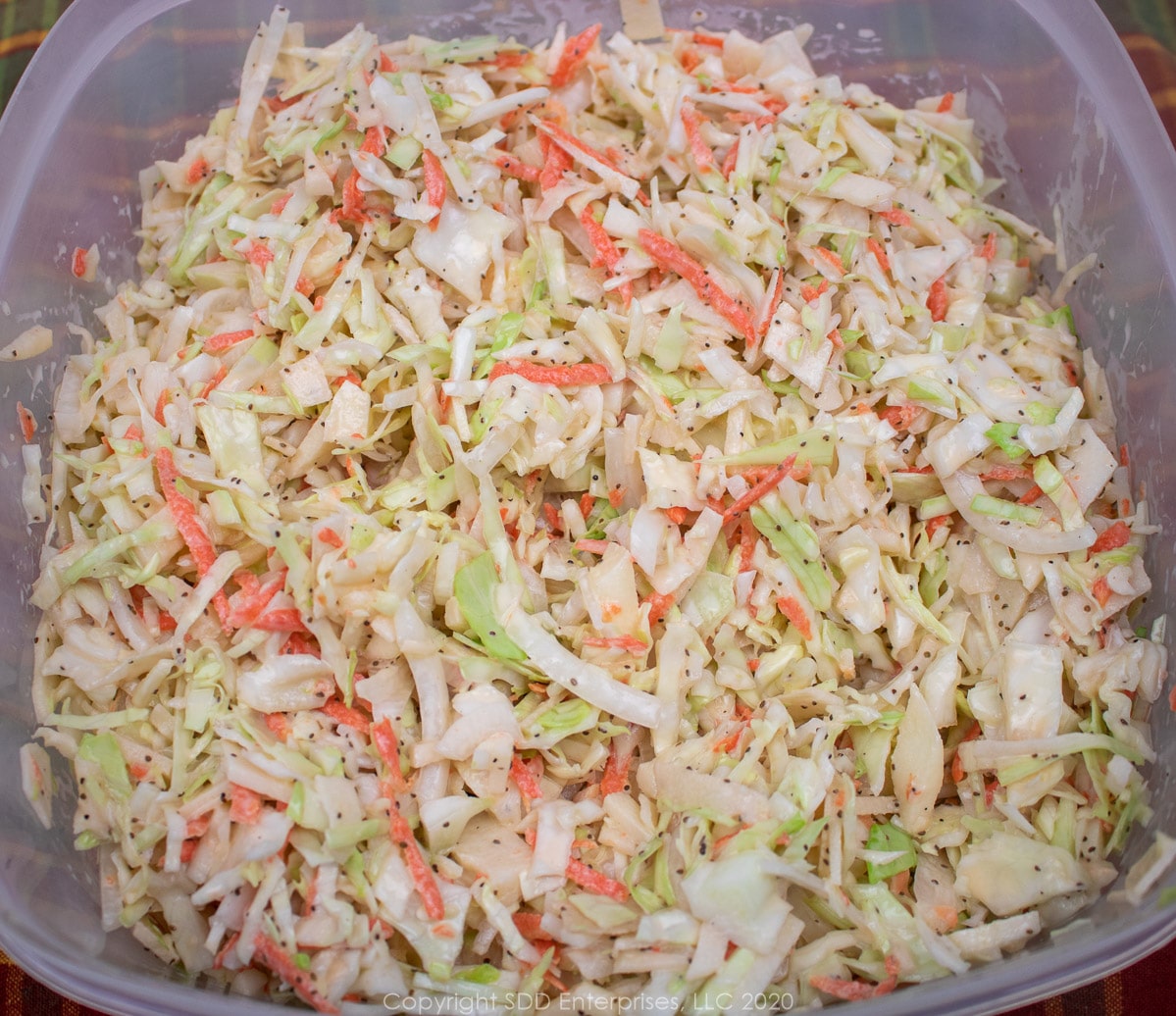 If you make this recipe:
Tell us about it in the Comments section below
LEAVE A RATING ON THE RECIPE-worthy of 5-Stars?
Questions or Comments? that's the place!
SIGN UP FOR OUR EMAIL UPDATES so you don't miss anything!
Post a picture and share it with your friends on our Social Media:
Yeah You Right!
Recipe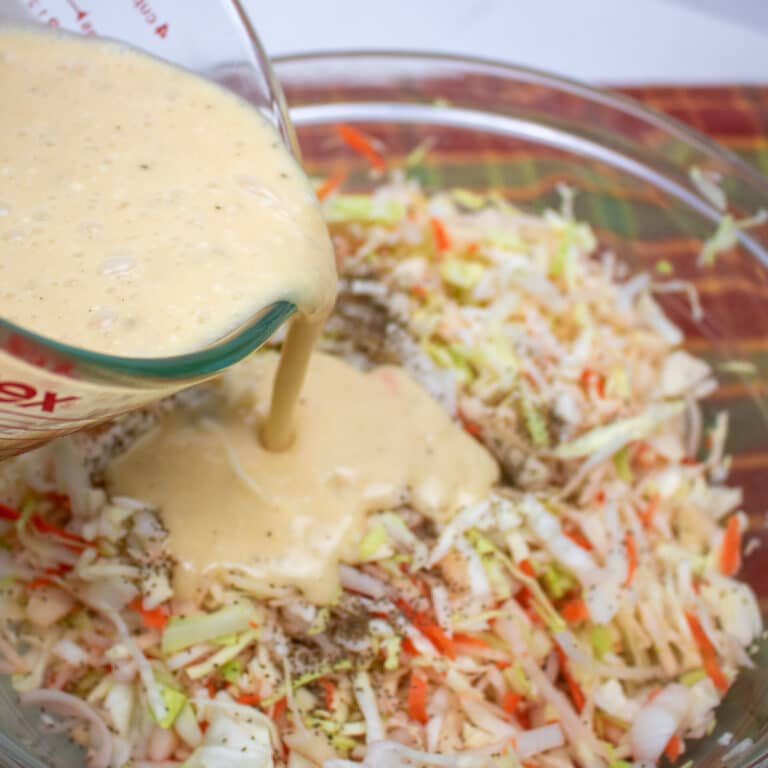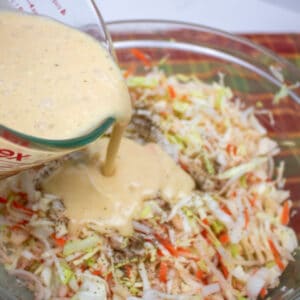 Sweet and Savory Creamy Coleslaw
Shredded crisp, cool cabbage, onions, carrots and apples in a creamy sweet and savory dressing. The perfect side for burgers, dogs, BBQ and fried seafood. In fact, its perfect with just about anything.
Print
Pin
Rate
Here's What You Need
For the Dressing
1

cup

mayonaise

¼

cup

apple cider vinegar

½

cup

honey

Kosher salt and cracked black pepper to taste
For the Slaw
1

head

green cabbage

shredded-about 8 cups

2

carrots

shredded-about 1 cup

1

small

white onion

sliced thin then quartered

2

golden delicious apple

peeled, cored and shredded-about 2 cups

1

teaspoon

celery seed
Here's What You Do
Remove the hard, white core from the cabbage

Shred or finely chop the cabbage and apple

Peel, core and shred or chop the apple into small pieces.

Slice the white onion very thin, then cut the rings into quarters or 1" pieces

Mix mayo, vinegar, honey and salt and pepper together in a small bowl and set aside. Let sit about 30 minutes.

Place shredded cabbage, carrots and apple in a bowl, add sliced onion and celery seed and gently toss together.

Sprinkle the celery seed on top of the mixed slaw.

Add dressing a little at a time and mix well until you have the consistency you want.
Nutrition
Calories:
214
kcal
|
Carbohydrates:
22
g
|
Protein:
1
g
|
Fat:
14
g
|
Saturated Fat:
2
g
|
Polyunsaturated Fat:
8
g
|
Monounsaturated Fat:
3
g
|
Trans Fat:
1
g
|
Cholesterol:
8
mg
|
Sodium:
141
mg
|
Potassium:
217
mg
|
Fiber:
3
g
|
Sugar:
18
g
|
Vitamin A:
1800
IU
|
Vitamin C:
29
mg
|
Calcium:
42
mg
|
Iron:
1
mg