It's finally time to get the grills and BBQ pits going.
I love grilled or smoked food...beef, pork, poultry, seafood or anything else you can imagine. It's about good food and fun times with family and friends and a chance to show off all those creative side dishes you love to make...but nothing beats everybody's traditional favorite....Baked Beans..... Here's my no-angst recipe for some Darn Good Baked Beans that will be the rave of the BBQ, so don't expect any leftovers! Plus, I'll share a few shortcuts so you can enjoy these even if you don't have a lot of time.
Here's What You Need
Just about any can of pork 'n beans will do and I'm sure you have a favorite. If you look in the grocery store aisle where beans live, you'll notice there are just too many choices. Bean makers try to outdo each other with specialty offerings…Honey Baked Beans, Brown Sugar Hickory Baked Beans, Molasses with Pork Baked Beans, Maple Cured Baked Beans, etc., etc., etc.!!!. In my opinion, none of those "special" recipes add much flavor to the beans and may get in the way of the flavor you're looking for. I try to find just plain ole pork 'n beans without a bunch of stuff added to them-that way, you get to add all the flavor your way! You'll build your flavor profile with thick cut, smoked bacon, sweet onions, green peppers and garlic. The great flavors we all associate with sweet and smoky Baked Beans will come from a blend of dark brown sugar, ketchup, prepared yellow mustard and Worcestershire sauce. A pinch of kosher salt brings all that together.
Here's What You Do
First…you have a beer. Hopefully you're getting ready for a big gathering and getting the pit set up, so you probably already have a beer. But even if you're just having a weeknight family dinner, go ahead and pop a top while we get all this goodness going.....it's a lot easier if you get the onions, bell peppers and garlic chopped at the beginning. Place the onions and peppers together because they go in at the same time and set the garlic aside in a small bowl. Chop the bacon into about 1 or 2 inches pieces. Next, mix the brown sugar, ketchup, mustard, Worcestershire sauce and a pinch of salt in a large measuring cup, or something similar. Mix that together very well so the brown sugar dissolves in the ketchup and mustard.
You'll want to use a nice dutch oven with a heavy lid that can go in the oven safely. (If you don't have that, just use an oven safe casserole with a cover for the baking part.) It's going in a low oven, so preheat the oven to 300 degrees. You'll start on top of the stove then move to the oven. Set the Dutch oven over medium high heat and when it's, hot fry the bacon until it's crispy and most of the fat has rendered into the pot. Remove the bacon from the dutch oven and drain on paper towels. This could be a snack treat while you're cooking, but you should add them back to the beans before they go in the oven. Add the sweet onions and green bell peppers to the bacon grease, lower the heat to medium and let the onions start to caramelize. This is important step in building the sweetness of the beans. Stir often so they don't stick and burn. This could take 15 or 20 minutes but it's worth the time. (see the shortcuts below if you don't have a lot of time) When the onions are browned, add in the garlic and stir well. When it's aromatic, usually about 2 minutes, it's time to add the beans. Add all the liquid and the beans. When that's all added , fill up one of the empty cans with water, swirl around and pour into the other cans, one at a time so that last can has all the juices from all the empty cans. Stir well and just as it started to come to a simmer, mix in the fixins (brown sugar/ketchup mix) and stir to combine completely. Let that simmer for a couple of minutes so that its about the temperature of the oven. Then, put the lid on and place it in the oven.
Best case you want it to stay in that slow oven for three hours. Stir it well every hour. Add some of the water in your can if you think it's getting too thick. Likewise, if its too watery, take the cover off the last 30 minutes. These are going to be some Darn Good Baked Beans.
Tips and Shortcuts:
These Darn Good Baked Beans, cooked slowly in a low oven are absolutely delicious. You can make them as thick or as thin as you would like. But sometimes you just don't have the time to stick these in the oven for three hours so here's a few tips and suggestions that can shorten that time and still turn out some darn good beans.
Save the bacon grease next time you fry some bacon. You should never throw away your bacon grease-you can store it in a jar the fridge for many months and you can just scoop out what you need (use about 3 tablespoons for this recipe)

. Keep it handy, it will save lots of time by not having to fry bacon for this recipe and others.
Use vegetable or olive oil instead of bacon grease.

Although smoked bacon and the bacon grease lend some serious and special flavor to this recipe, sauteing the onions and pepper in vegetable oil or olive oil if you don't have bacon grease will save some time. It may not be bacon, but it's still pretty darn good.
Saute until the onions are just starting to get clear.

Caramelizing the onions slowly over medium heat imparts the natural sugars in the onions and adds to the sweetness and body of these beans, but again, it takes time you may not have. Whether you use bacon grease or oil, this can save you at least 10 minutes.
Cook them covered over low heat on top of the stove.

Three hours in the oven...who's got that much time. Doesn't work for you? Well you can still have delicious beans by just cooking them on top of the stove, covered, over low heat. Go as long as you can, I'd go at least 30 minutes, but as long as they are completely warmed through you can enjoy them. Maybe they aren't "baked" Baked Beans, but I won't tell anyone!
Cook them a day in advance.

If you don't have about 4 hours the day you need them, cook them fully or partially the day before. They will keep well in the fridge, then just warm them on top of the stove or finish cooking them in the oven before you serve them.
There you have it. This is a simple, no-angst recipe that produces some serious and Darn Good Baked Beans. These go well with just about anything off the grill or smoker...like a Double Smoked Ham. Try these out and leave me a comment. Post a picture of your beans on your Instagram with #firstyouhaveabeer. Leave a rating on the recipe-turn the stars into beer mugs. Sign up for our email updates if you haven't already-follow us on Instagram and Facebook and share us with a friend.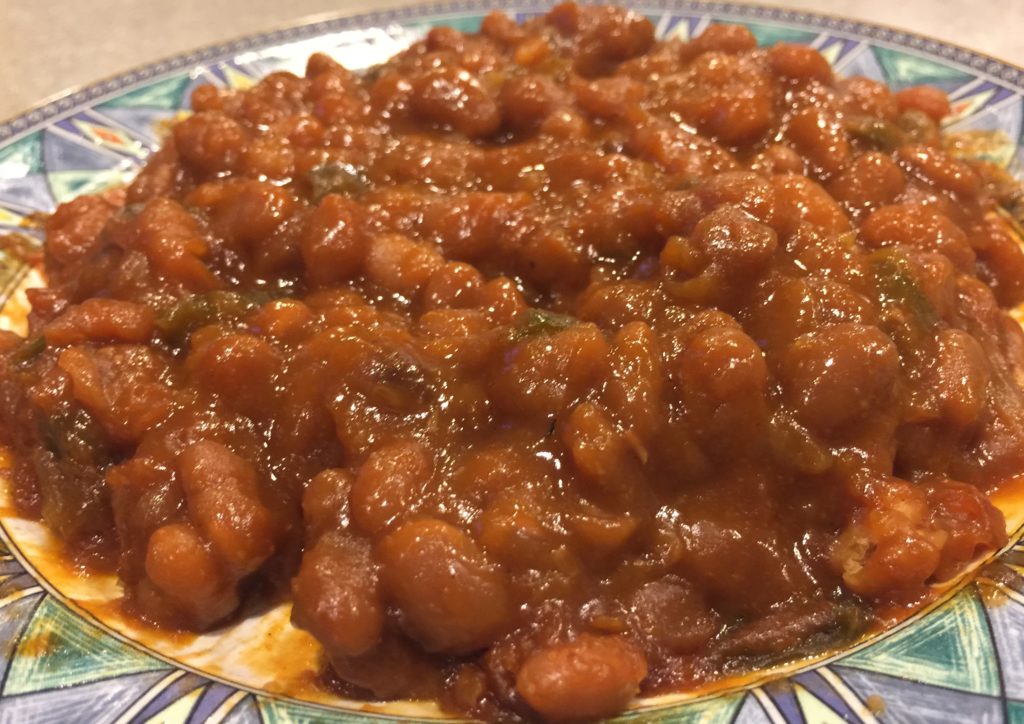 Yeah You Right!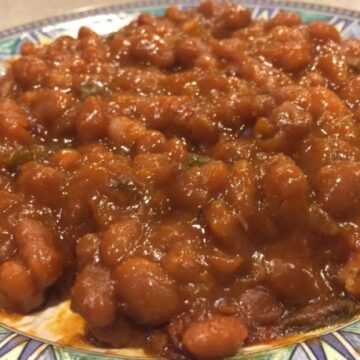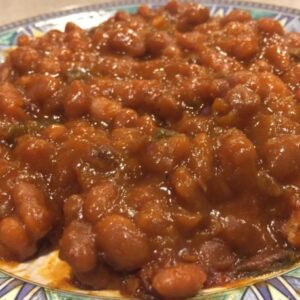 Darn Good Baked Beans
These baked beans will be the hit of the back yard BBQ or just a weeknight burger or hot dog night. Sweet and tangy sauce, made from dark brown sugar, ketchup and mustard, doctors up plain ole' pork and beans into something memorable. Bring these the next time you have to bring a "side" to the party, everyone will rave!
Print
Pin
Rate
Here's What You Need
4 @ 15 ounce

cans

pork and beans

3

slices

smoked bacon

sliced into 1" pieces

1

medium

yellow onion

chopped

½

green pepper

chopped

3

cloves

garlic

minced

½ to 1

can

water
Fixins'
½

cup

dark brown sugar

½

cup

ketchup

2

tablespoons

yellow mustard

2

tablespoons

Worcestershire Sauce

Pinch

kosher salt
Here's What You Do
Preheat the oven to 300 degrees.

Chop all the vegetables and set aside. Mix the fixins' in a small bowl making sure to break up any lumps from the brown sugar. Set the fixins' aside.

In an oven-safe heavy dutch oven with a lid, fry the bacon over medium high heat until almost crispy and plenty of fat has been rendered, then remove from the pan leaving the bacon grease. Lower the heat to medium low and sauté the onions and peppers in the bacon grease until starting to caramelize. Add the garlic and stir until aromatic.

Add the beans and mix all together. Increase the heat until it comes to a simmer for a few minutes.

While it's simmering, fill one of the cans with water, and pour from can to can to get all the juice out, then set it aside.

Mix in the fixins' and combine completely. Add about ½ can of the water and increase the heat to bring it to a boil, set the remaining water aside. Cook on a slow boil for about 5 minutes. Add back the bacon.

Place in a 300 degree oven, covered for about three hours total. Stir every hour or so making sure to scrape the beans off the side and bottom, Add more water from the reserved can depending on how thick you like your beans.
Recipe Notes
To save time:
1.) use saved bacon grease from prior cooked bacon
2.) you can use vegetable or olive oil instead of bacon
3.) saute' onions and bell peppers just until clear, don't take them all the way to caramelization.
4.) skip the baking-just simmer on low, 

covered

 

on top of the stove for 30 minutes or however long you have.
5.) cook fully or partially a day in advance.
Nutrition
Calories:
261
kcal
|
Carbohydrates:
51
g
|
Protein:
11
g
|
Fat:
3
g
|
Saturated Fat:
1
g
|
Cholesterol:
16
mg
|
Sodium:
962
mg
|
Potassium:
669
mg
|
Fiber:
10
g
|
Sugar:
14
g
|
Vitamin A:
84
IU
|
Vitamin C:
10
mg
|
Calcium:
111
mg
|
Iron:
3
mg