Sweet Daddy D's Sloppy Joes, delicately browned ground beef infused with a sweet and tangy tomato-based sauce that's slowly simmered with onions, peppers and Cajun-style seasonings until the flavors fuse into one. Perfect on your favorite (of an almost endless variety of) fresh buns or rolls. This simple, no-angst recipe results in a sandwich that's heavy on the "sloppy" and the delicious. Sloppy Joes are loved by all and make a great, quick meal that just seems to add a little fun to tonight's dinner. Watch their eyes light up when you tell them you're making Sweet Daddy D's Sloppy Joes tonight.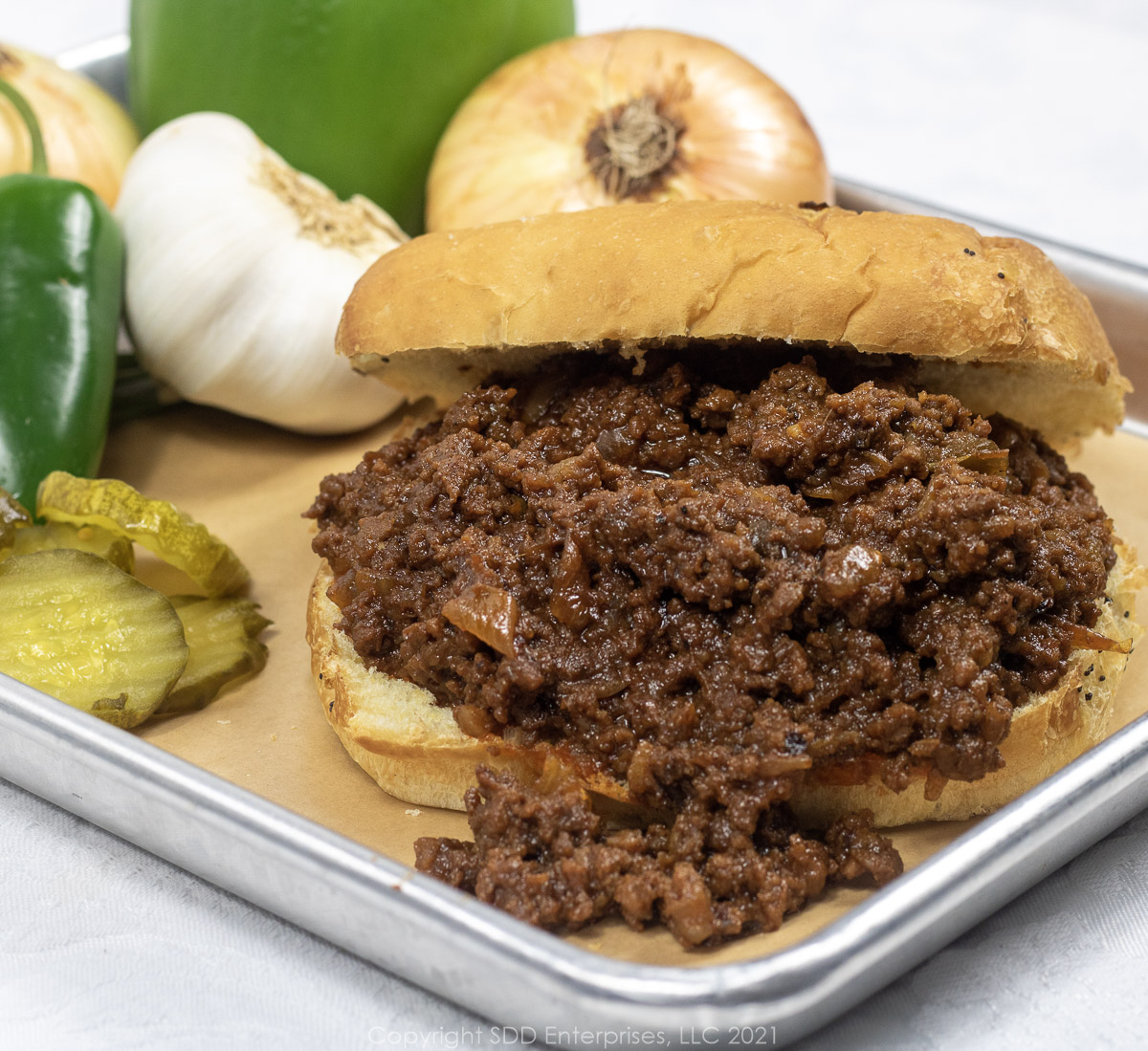 This post is not sponsored, but you will find affiliate links on this page. As an Amazon Associate, I earn from qualifying purchases. The price you pay as a consumer does not change, but I may make a small commission based on your purchase.
If you want to just skip to the recipe, click the "Jump To Recipe" button above or the Recipe link below and you'll go right there without having to scroll through my article.
Jump to:
This Ain't Cajun!
For a food-nerd like me, stories of the origins of the Sloppy Joe sandwich are pretty interesting. Sloppy Joe lore starts out in as diverse of places as Iowa and Cuba, but none seem to originate in the swamps and prairies of Southern Louisiana. That doesn't mean that a properly made Sloppy Joe can't have characteristics a Cajun cook would love. This recipe uses an inexpensive cut of meat mixed with flavorful ingredients and cooked in one pot. With the addition of some piquant spices common to South Louisiana, like Creole or Cajun seasoning blend, a little jalapeno pepper and a touch of cayenne, you'll think you're sitting on the banks of the Teche. There are almost endless tweaks that give this a Cajun or Creole flare, so let me know your favorites in the comments section below.
Here's What You Need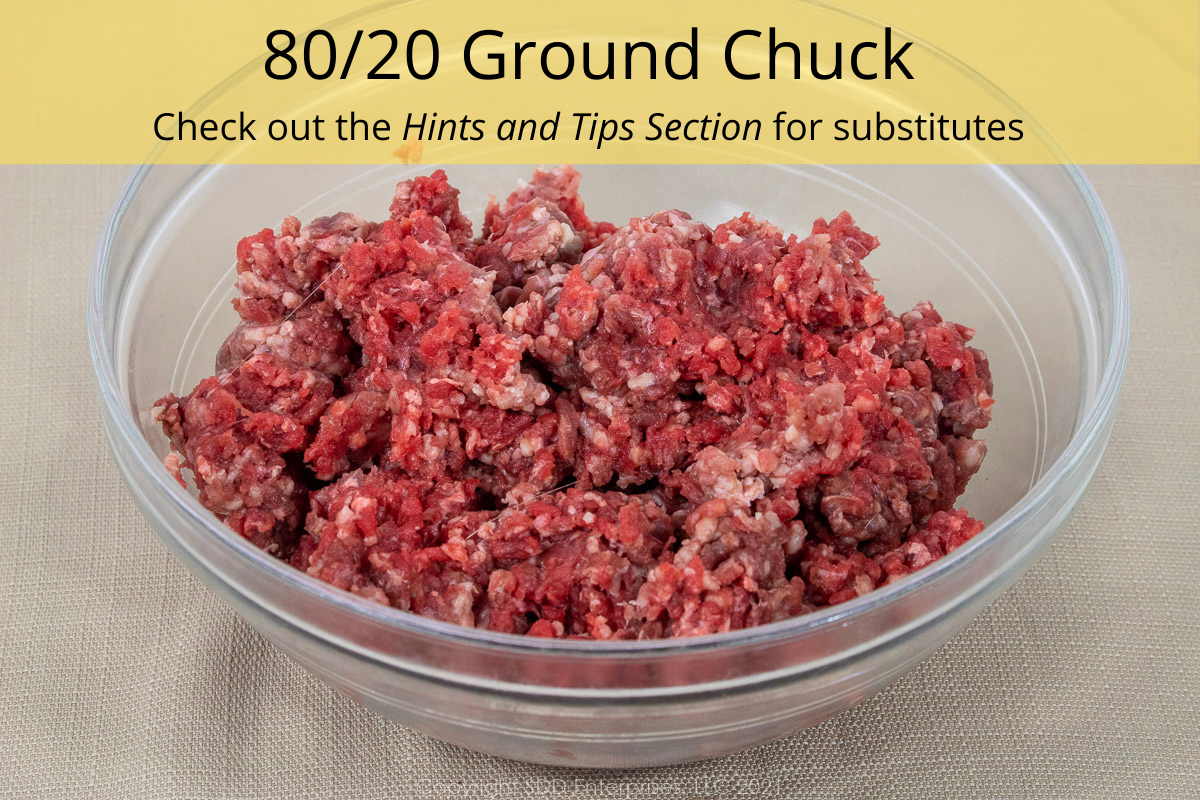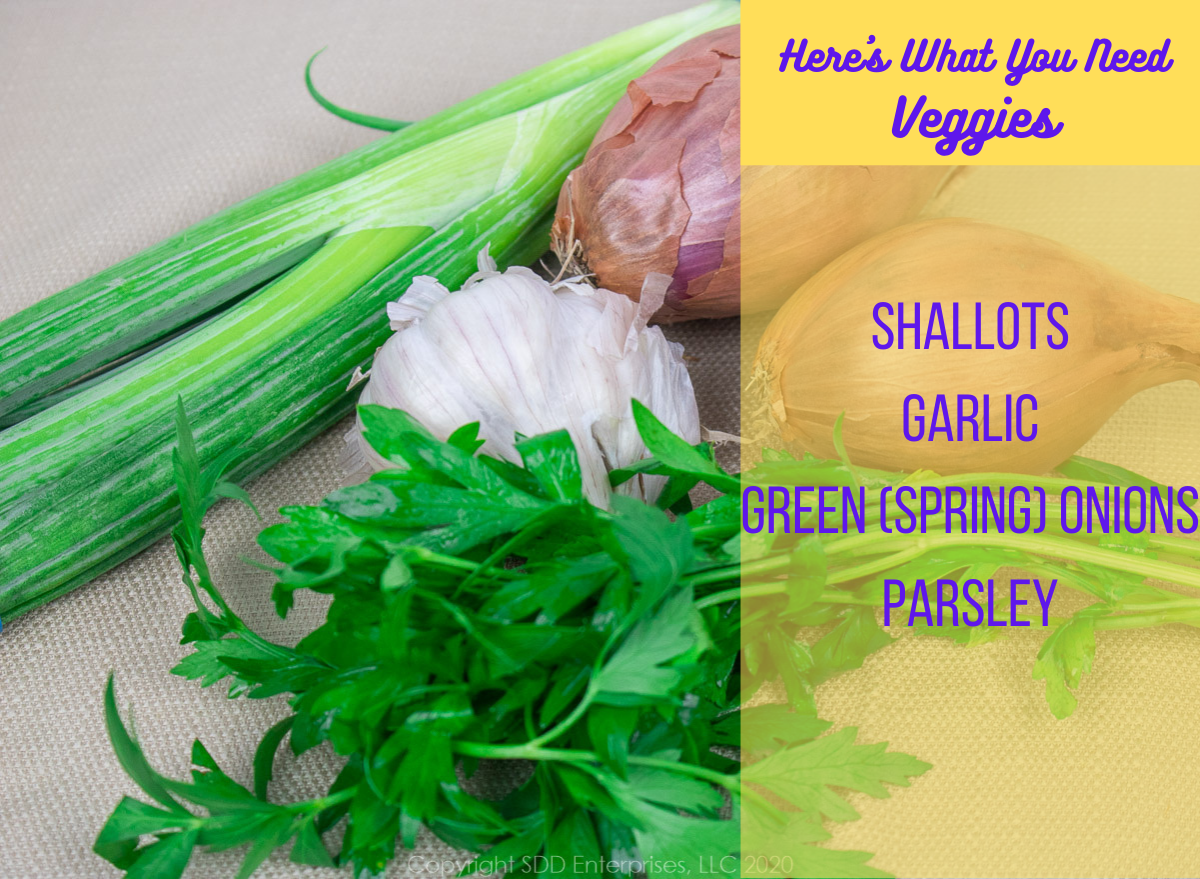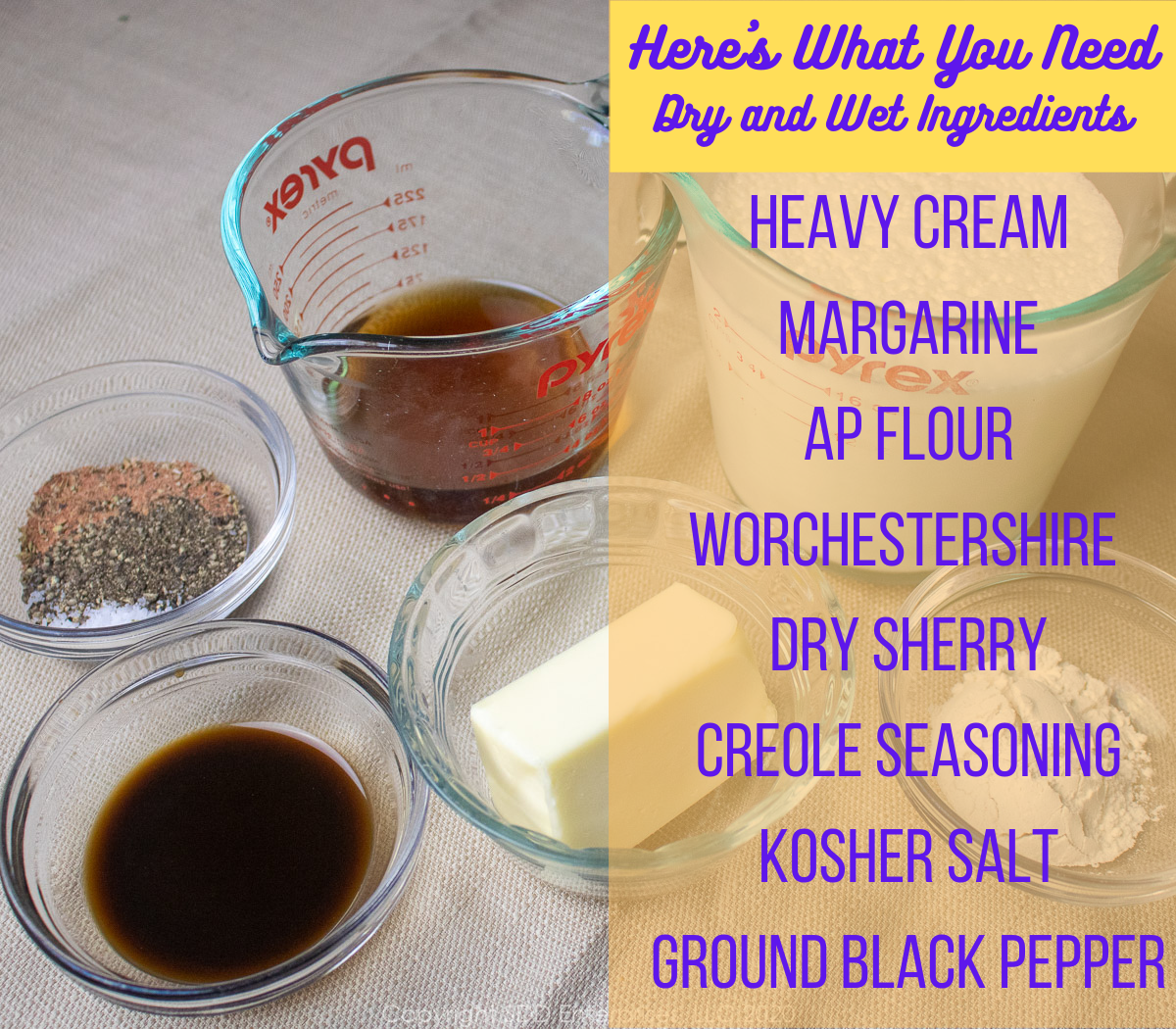 Equipment
Here is some of the equipment I used to prepare this recipe:
As an Amazon Associate, I earn from qualifying purchases. The price you pay as a consumer does not change, but I may make a small commission based on your purchase. These items from Amazon will help you with this recipe:
Cast Iron Skillet, Cutting Board, Chef's Knife, Measuring Cups, Prep Bowls-Glass, Prep Bowls-Cambro
Here's What You Do
First...you have a beer. This recipe should be as fun to make as it is to eat. Sloppy Joe's should not be a high anxiety endeavor. Sit down with a beer and read the recipe all the way through. The secret to no-angst cooking is to know what you need and what you're going to do with each ingredient. With proper mise en place, you'll have all the ingredients prepped and ready to go so all you have to do is assemble the recipe. Get the kids involved, they can't wait to dig in any way!
Mise En Place
What happens in this step? This is when you make sure you have what you need, prepared and laid out next to the stove ready to go once you start.
Combine all the wet ingredients in a prep bowl, then combine the brown sugar and dry mustard in another prep bowl.
Mix the Creole seasoning, kosher salt and ground black pepper in a small bowl. If you are using the cayenne pepper, that can go in too, but you may want to keep it separate so you can judge how much heat you want.
A rough chop on the yellow onions and bell peppers is perfect and they can go together in the same prep bowl.
Chop the garlic and the jalapeno (if using) and place those in separate prep bowls.
Place the bacon grease in a small prep bowl or chop 2 or 3 slices of smoked bacon into about ½ to 1" pieces.
Crumble the ground beef into its own bowl.
Lay everything within reach of your stove or cooktop and you are ready to go.
How's your beer?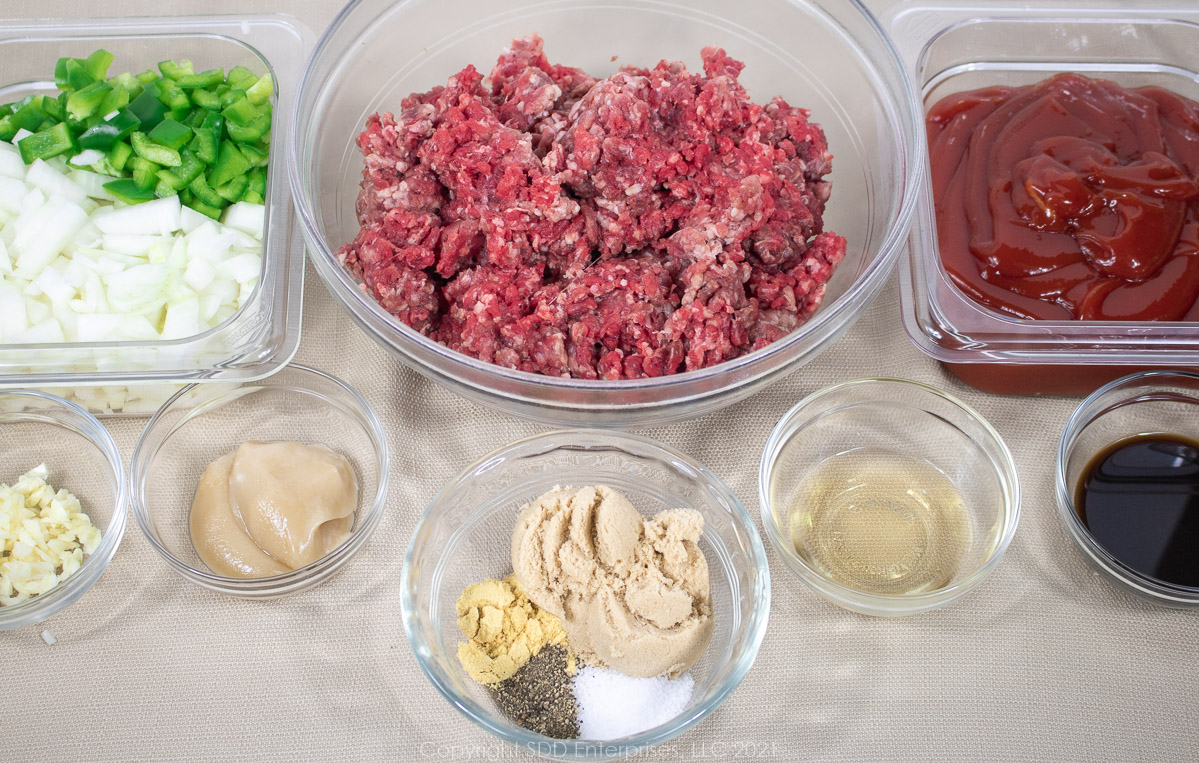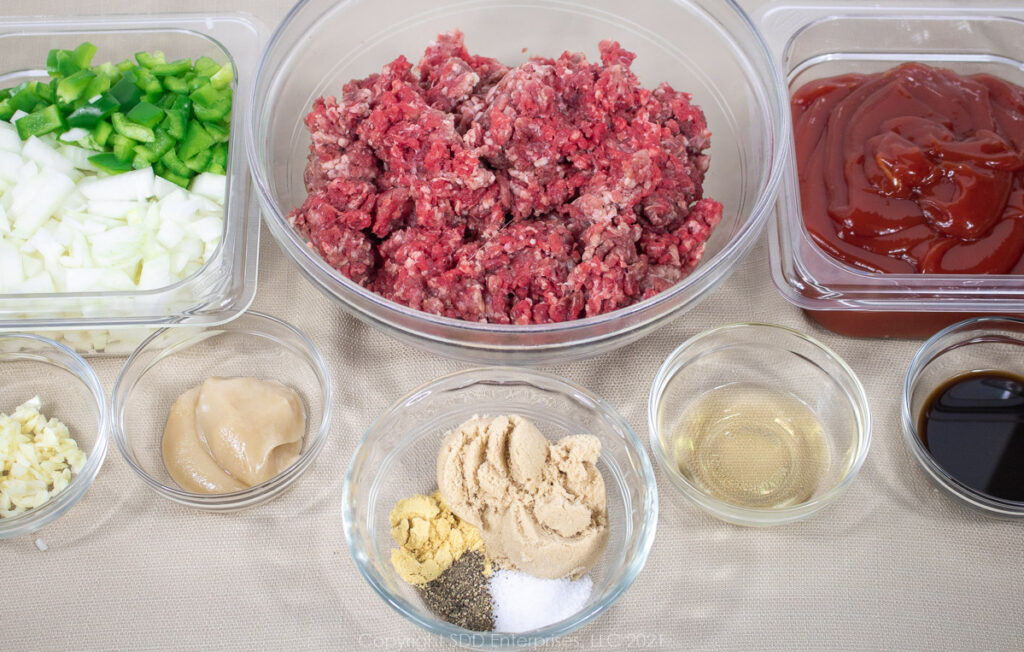 Start with all the dry stuff
What happens in this step? This is where we build the foundation of flavor and substance to this dish. We coax the sweetness from the veggies, lightly start to cook the beef, which renders it's flavorful fat before we add the first sweet yet piquant layer.
This recipe works great in a cast-iron skillet. Place it (or other heavy bottom frying pan) over medium-high heat and melt the bacon grease or fry the bacon pieces until all the fat has been rendered. If you go with bacon, you can either leave it in the pan to be cooked along with the other ingredients or take it out and eat it or add it back later. Once the fat is hot, add the yellow onions and bell peppers and saute them until the onions begin to caramelize and brown. This will take about 12 to 13 minutes.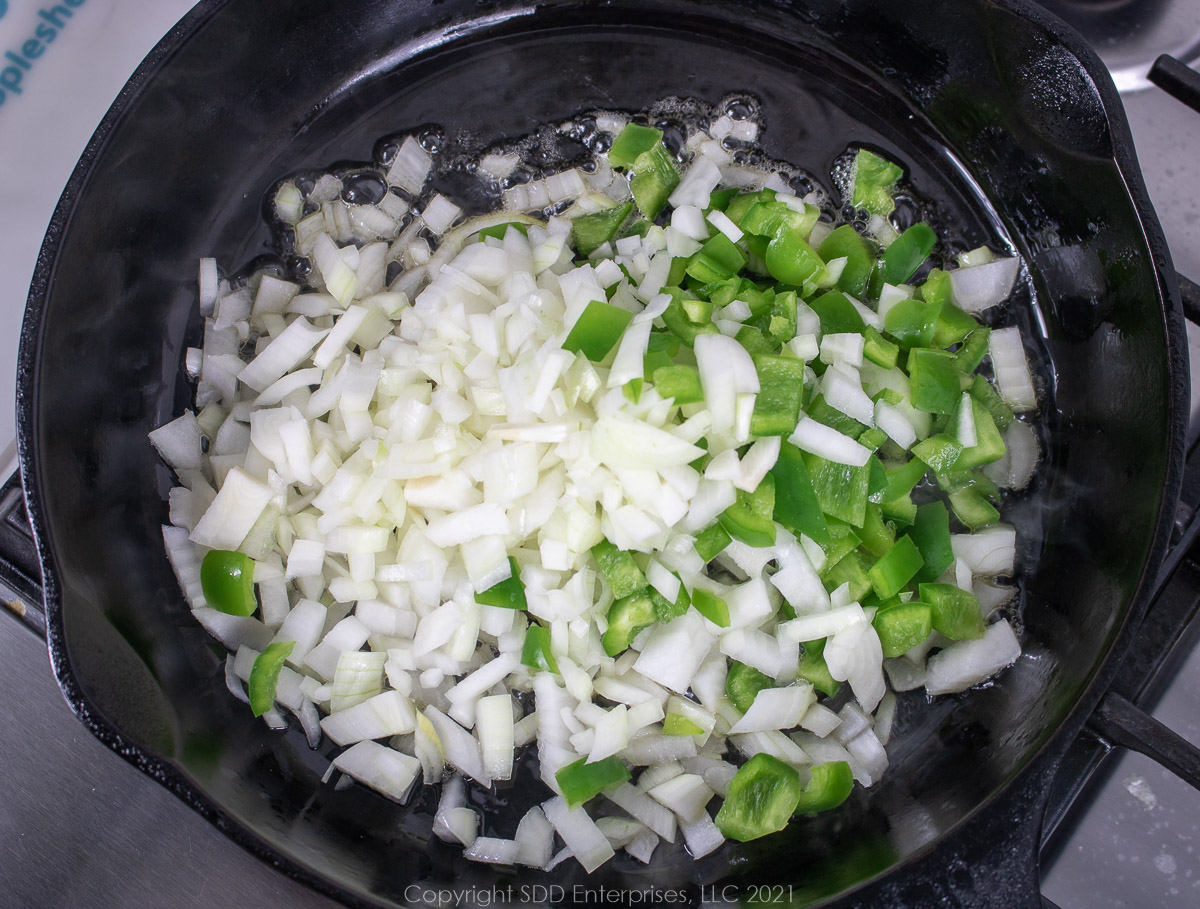 Add the garlic and jalapenos (if using). Continue to saute another couple of minutes until the garlicky fragrance can not be denied.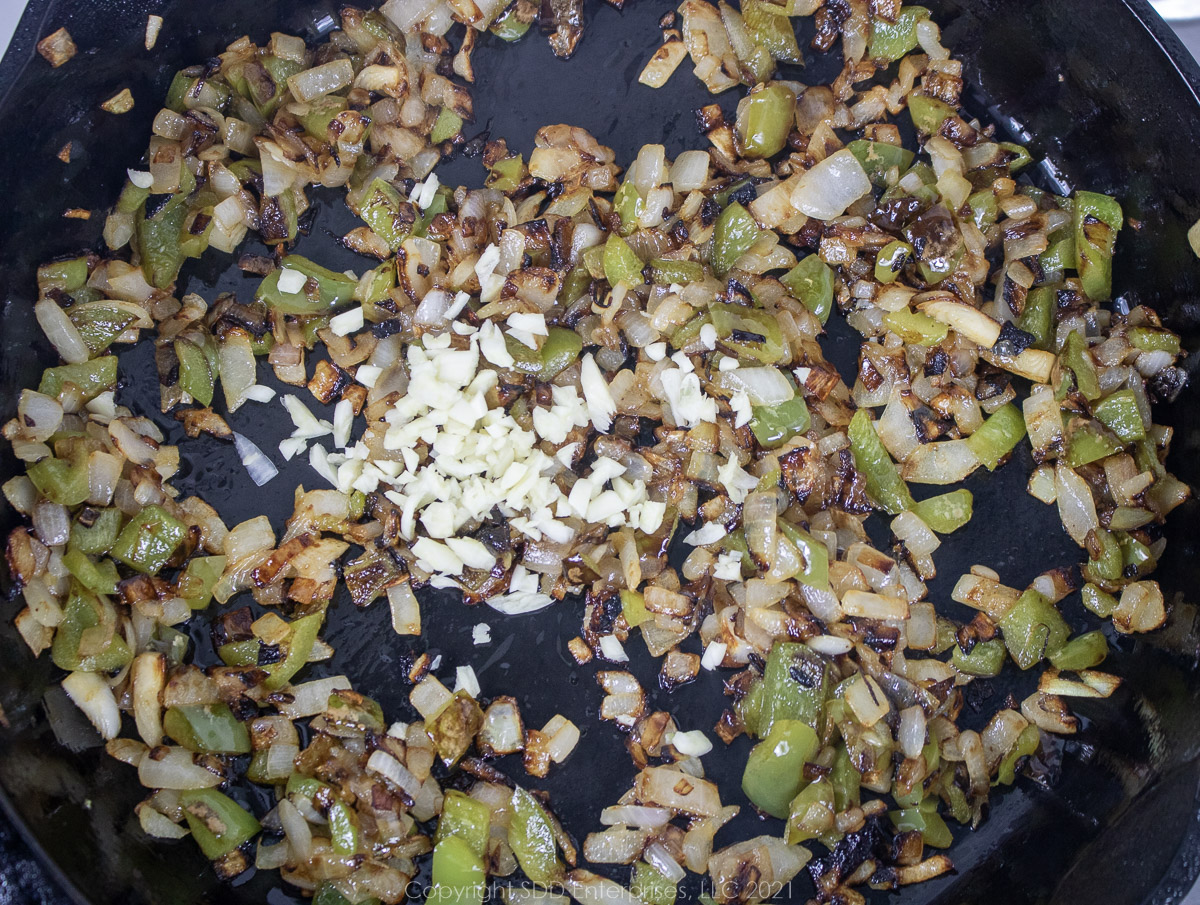 Crumble the beef into the onions and garlic and saute slowly until the pink is just cooked away. You want a consistency free of lumps. This will take about 8 minutes.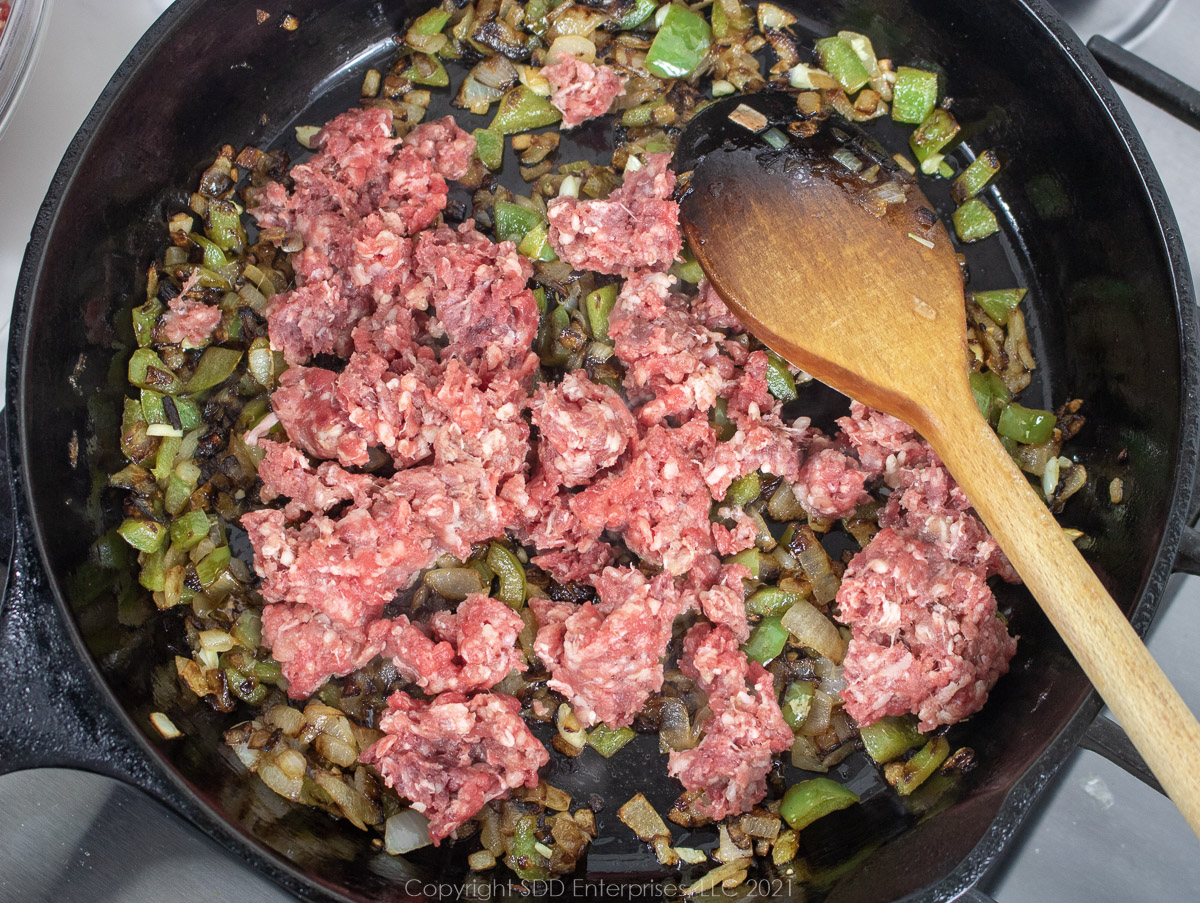 This step renders a good bit of liquid (fat and water) from the beef. You could mix this all together, but I like to remove most of it so the flavor of the wet ingredients isn't altered.
Here's a tip: Simply use a large spoon or a turkey baster (which is what I use) to remove most of the fat to be discarded. If you tilt the skillet so the fat accumulated in one spot it will be easier.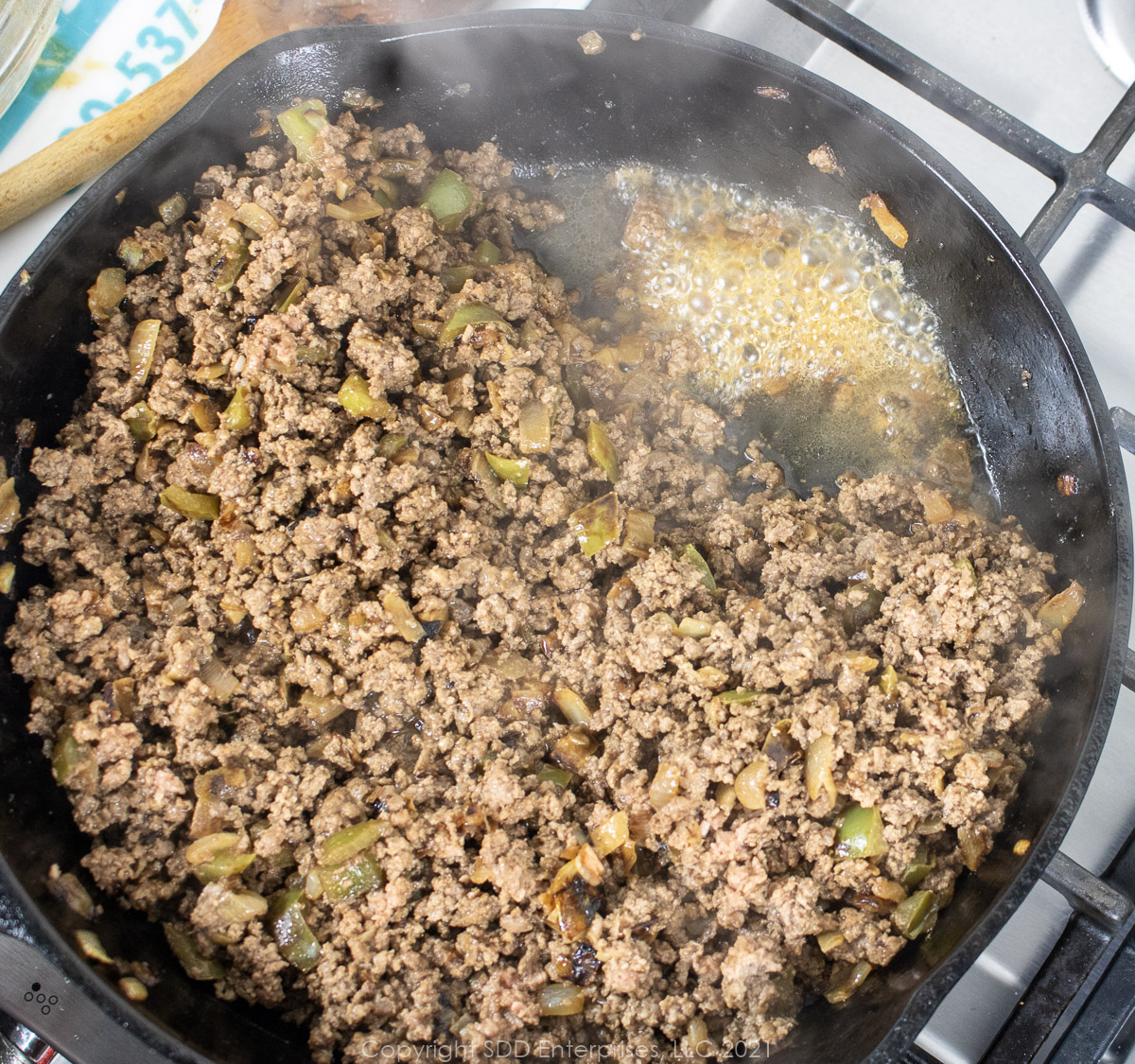 Now is the time to add the dry ingredients. Add the brown sugar, dry mustard, and the herbs and spices and stir thoroughly for 2 or 3 minutes.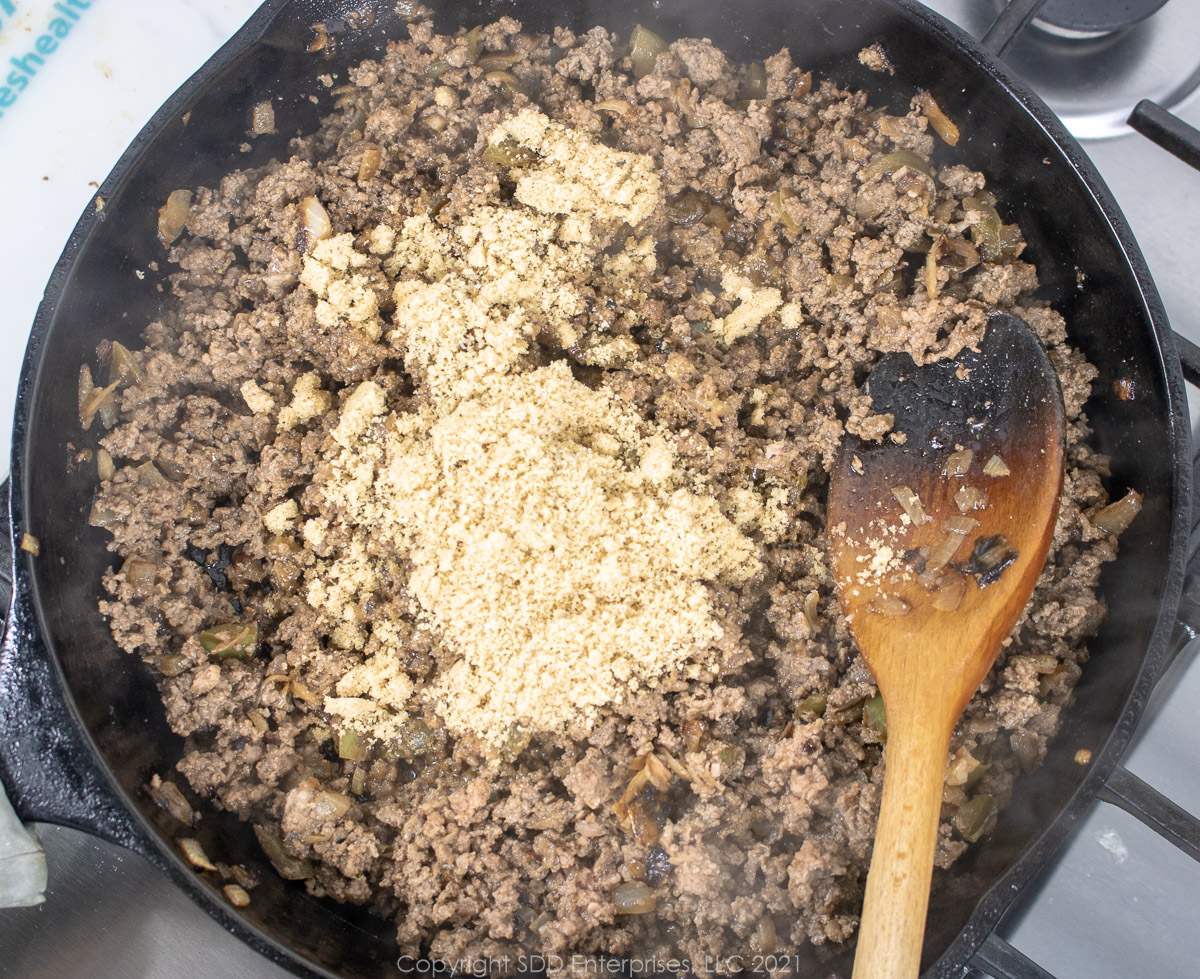 Now comes the wet stuff
What happens in this step? This is when we bring everything to a smooth and homogenous consistency. The apple cider vinegar, Worcestershire and ketchup all bring their specific characteristic to the party, but a relatively long simmer will transform the individual flavors of the sauce with the flavors of the beef and veggies into the singular flavor we seek.
Give the bowl of wet ingredients another big stir before adding it to the ground beef mixture. Keep stirring until it starts to simmer, then reduce the heat and let it go on a low simmer for 15 minutes. Continue to stir fairly often so it doesn't stick.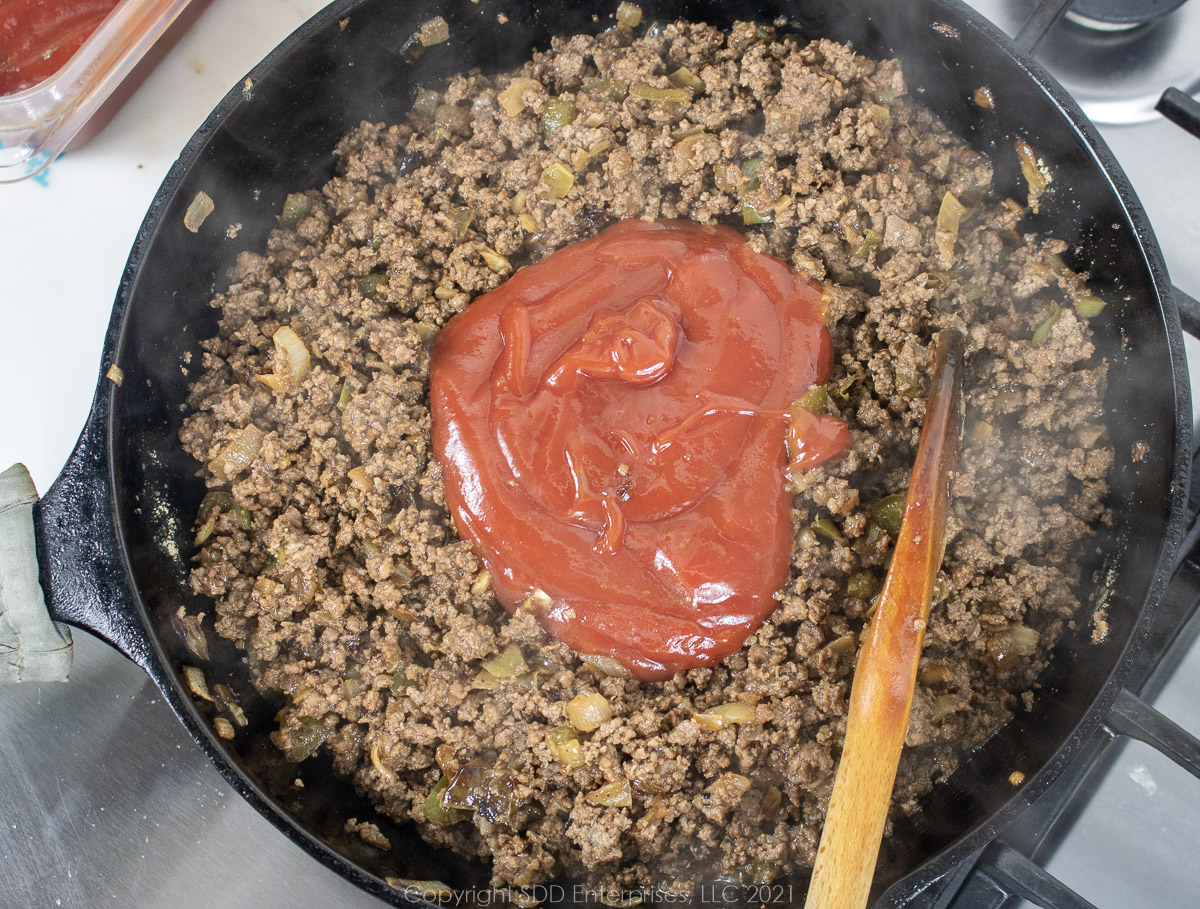 Here's a tip: If you taste this at this point you'll think someone spilled too much ketchup in it. Just allow it to slowly simmer and as it thickens and the ketchup taste transforms into the sweet and tangy sauce we are looking for.
After about 15 minutes, taste it and adjust for seasonings. Serve it on your favorite bun or roll with some pickles and you are ready to enjoy! My favorite thing is to have some Frito Corn Chips on the side!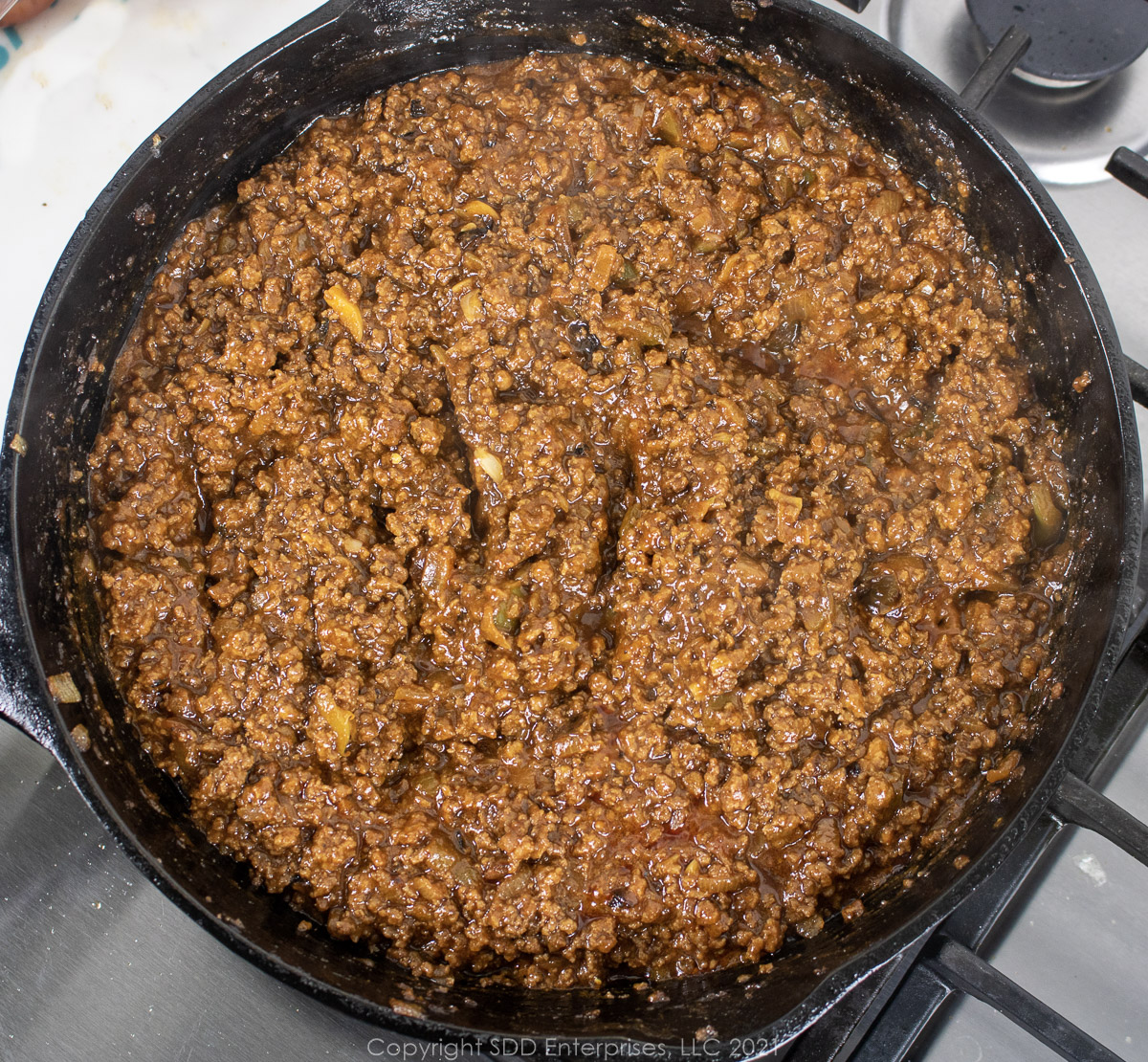 Hints and Tips
How do I make it not so sweet?
I find the balance between sweet and savory in this recipe is pretty good. The sweetness comes from the brown sugar as well as the ketchup. If it's just too sweet, try reducing the amount of brown sugar and maybe decrease the ketchup a little. (You can always add more if it's too dry). Make sure you taste it a few times while it's simmering as you may find that the initial overt sweetness is countered by the savory ingredients as they simmer together.
Can I substitute ground turkey or chicken for the beef?
Yes, ground turkey or ground chicken can be substituted for ground beef. The flavor, texture and color of the final dish may change slightly, but it will still be delicious. Ground beef is supplying some amount of fat which adds a creamier consistency and flavor, so you should choose ground turkey or chicken that has a higher fat content. All that means is that there is a higher percentage of dark meat in with the white meat when it is ground. Watch the skillet closely when it's browning so that it doesn't dry out too much. The ketchup and other wet ingredients should be enough to carry it through, but you could always add a splash of chicken stock if you think it's needed. 
What type of ground beef should I use?
I like a high-fat content, at least 80/20. That's 80 percent lean and 20 percent fat. The fat will contribute some great flavor while the beef is browning. You'll be removing most of the fat before you add the remaining ingredients, so I wouldn't worry about notifying your cardiologist. If you want, use a 90/10 or 85/15 blend and it will still be delicious.
What if I don't have dry mustard?
You can substitute prepared yellow mustard if you don;t have dry. Substitute 1 tablespoon of prepared mustard for each teaspoon of dry in the recipe. Dry mustard is one of those spices that you should keep on hand, so grab a can next time you're at the market, you'll be glad you have it when you need it.
Can this be made ahead?
Yes, these Sloppy Joes will last 3 to 4 days in the refrigerator if stored properly in an airtight container. When you make the recipe, simmer it just a bit shorter than called for (maybe 5 or 10 minutes vs 15 minutes). Let the mixture come to room temperature before placing it in an airtight container, then reheat it in a saucepan, letting it simmer the remaining 5 or 10 minutes after getting to temperature. 
Can this be kept in the freezer?
Yes, properly stored Sloppy Joe will maintain its optimal quality for up to 6 months, if stored properly. Let the mixture cool to room temperature before placing it in an airtight container. When you are ready to eat it, simply let it thaw overnight in the fridge and reheat it on the stove. Two hints: try packaging it in 2 serving-size containers so that you have a ready supply in the freezer and secondly, follow the same tip on reducing the simmer time (as stated above) before you freeze it. Just make sure to simmer it until the consistency and texture meet your desire.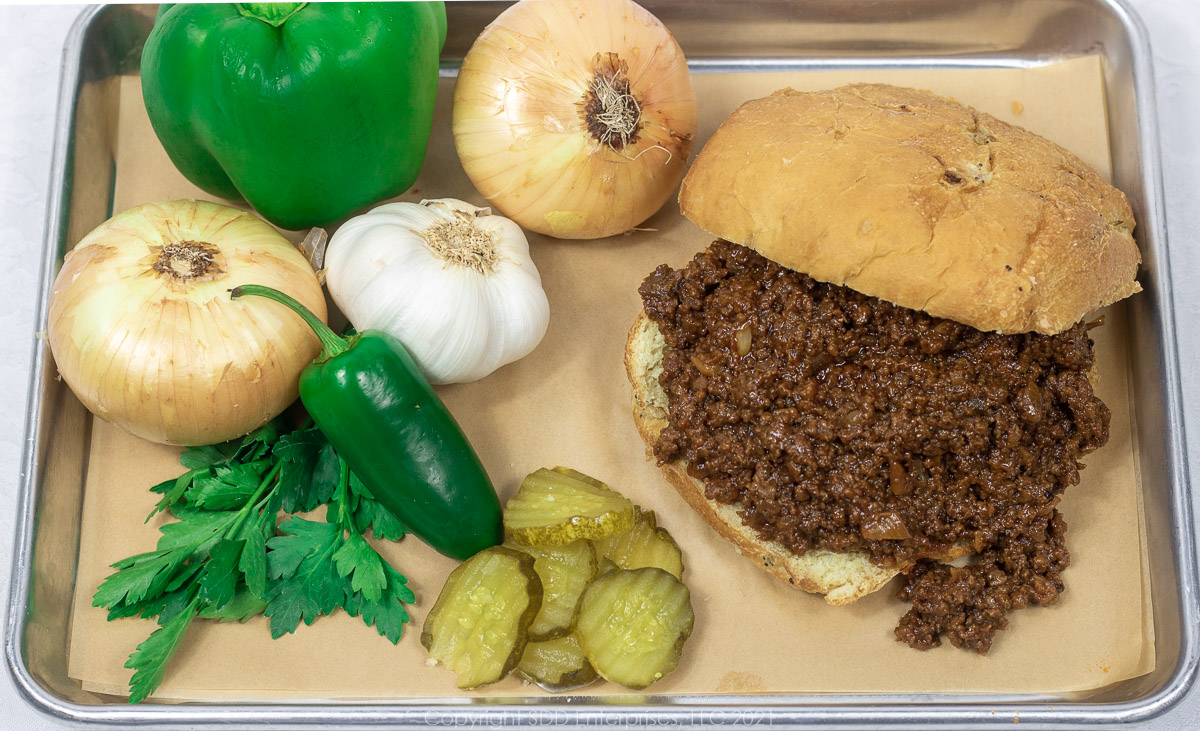 If you make this recipe:
Tell us about it in the Comments section below
LEAVE A RATING ON THE RECIPE-worthy of 5-Stars?
Questions or Comments? that's the place!
SIGN UP FOR OUR EMAIL UPDATES so you don't miss anything!
Post a picture and share it with your friends on our Social Media:
Yeah You Right!
Recipe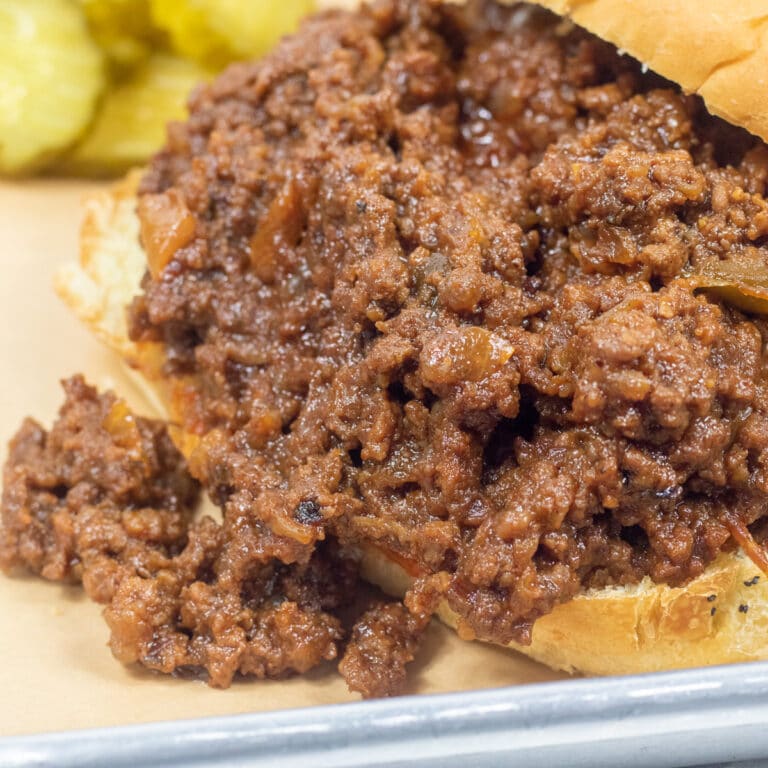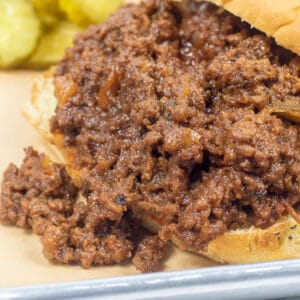 Sloppy Joes
Ground beef with a hint of Cajun seasonings simmered slowly in a sweet and savory sauce. Looking for some excitement at meal time? Everyone will love these Sloppy Joes and you'll love this no-angst recipe.
Print
Pin
Rate
Here's What You Need
2

tablespoons

bacon grease

See Notes

2

pounds

ground chuck

80/20

2

cups

yellow onion

chopped - 1 large onion

1

cup

green pepper

chopped - 1 small pepper

1

tablespoon

garlic

chopped - about 3 cloves

2

tablespoons

jalapeno pepper

chopped - Optional
Dry Ingredients
3

tablespoons

light brown sugar

1

tablespoon

Creole seasoning

1

teaspoon

dry mustard

See Notes

1

teaspoons

kosher salt

½

teaspoon

ground black pepper

½

teaspoon

cayenne pepper

Optional
Wet Ingredients
1 ½

cups

ketchup

2

tablespoons

Worcestershire Sauce

1

tablespoons

apple cider vinegar
Rolls
8

hamburger buns

See Notes
Here's What You Do
Combine all wet ingredients together and set aside. See NOTES: Mix these together very well in case you end up not using all of this.

Mix all dry ingredients together and set aside.

Melt the bacon fat in a large cast-iron skillet over medium-high heat.

Sauté the onions and bell peppers in the bacon grease until the onions are starting to clear and brown.

Add garlic and stir until aromatic, about 2 minutes.

Next, add the ground beef by crumbling it into the onions. This will help brown the beef completely. Sauté the onions and beef until the pink is gone from the beef. Drain off excess fat.

Add the dry ingredients to the beef and onions and mix together thoroughly.

Now you will add the wet ingredients-starting off with about half. Mix this together very well before adding more. You may find that you don't need all of the wet ingredients to get the consistency you want. Set aside any that you have left over to add if needed.

Reduce the heat to low and simmer the mixture for about 15 minutes while the sauce thickens. Stir regularly. Taste for seasoning. See NOTES.

Serve on hamburger buns or rolls.
Recipe Notes
You can refer to my article on Sloppy Joes for more detail about the ingredients, process steps and these Notes.
If you don't have bacon grease on hand, fry 2 or 3 slices of smoked bacon. The bacon can be crumbled back into the beef mixture, or removed to be used in something else.  You can also substitute 2 tablespoons of vegetable or olive oil if you prefer.
Depending upon your personal preference and the density of your beef mixture, you may not use the entire 1 ½ cup (plus 3 tablespoons) of wet ingredient. I rarely do. Start by adding only half of the wet ingredients, mix thoroughly and decide if you want more.  Reserve the remainder in case you want to add more later.
You can substitute 1 tablespoon of prepared yellow mustard for the dry mustard.
You can substitute ground turkey or ground chicken in place of the ground beef. It will be delicious but the flavor, color and texture may change a little.
Reduce the amount of brown sugar if this is sweeter than you like.
Make sure to simmer the beef mixture for at least 15 minutes. Right after adding the wet ingredients, it will taste very ketchup-ey. As it simmers, the flavors will meld and the ketchup-ey taste will develop into a sweet sauce.
Leftovers can be refrigerated for 3 or 4 days or frozen for up to 6 months provided they are stored in an airtight container.  
Nutrition
Calories:
536
kcal
|
Carbohydrates:
44
g
|
Protein:
25
g
|
Fat:
28
g
|
Saturated Fat:
11
g
|
Polyunsaturated Fat:
2
g
|
Monounsaturated Fat:
12
g
|
Trans Fat:
1
g
|
Cholesterol:
84
mg
|
Sodium:
1041
mg
|
Potassium:
667
mg
|
Fiber:
2
g
|
Sugar:
20
g
|
Vitamin A:
658
IU
|
Vitamin C:
26
mg
|
Calcium:
126
mg
|
Iron:
4
mg