Homemade BBQ Sauce is such a game changer, it shouldn't be this easy. Sweet Daddy D's Cajun BBQ Sauce uses the sweetness and tang of Cane Syrup to balance the flavors of ketchup and mustard. Add a savory Herb and Spice Blend and you have something special. The kick from Creole seasoning and the optional jalapeno and cayenne will land you on the other side of the bayou! And worry not, there's no angst here!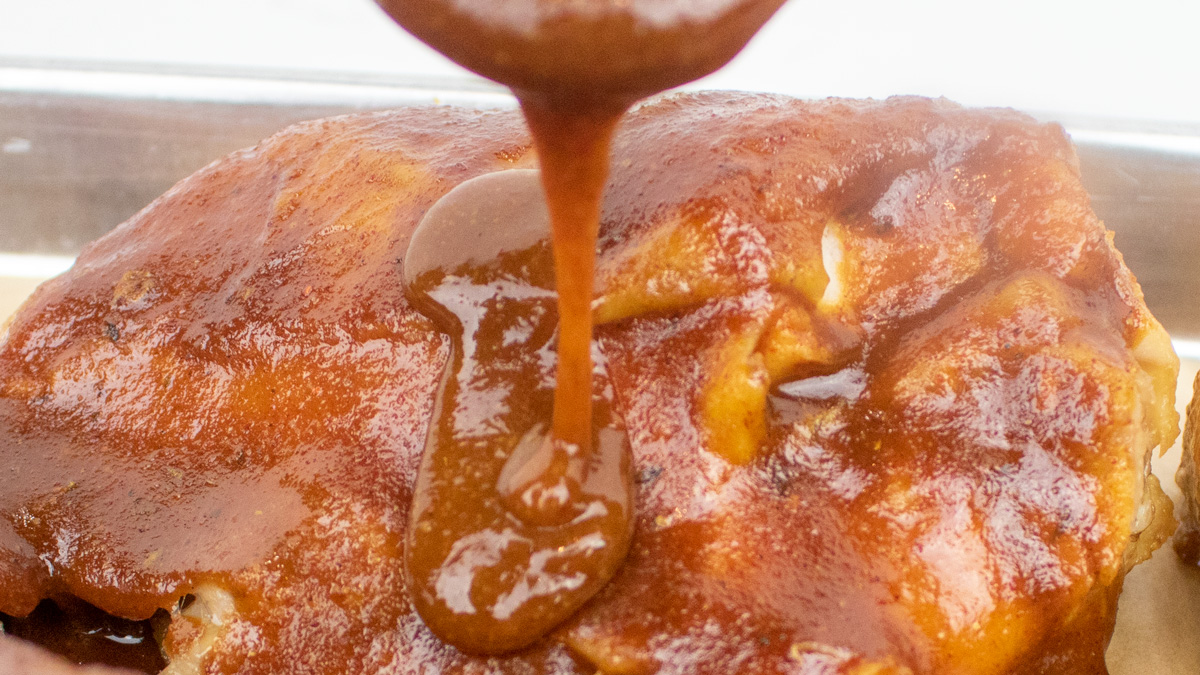 This post is not sponsored, but you will find affiliate links on this page. As an Amazon Associate, I earn from qualifying purchases. The price you pay as a consumer does not change, but I may make a small commission based on your purchase.
If you want to just skip to the recipe, click the "Jump To Recipe" button above or the Recipe link below and you'll go right there without having to scroll through my article.
Jump to:
Can this be Cajun?
Maybe not, but smoking and grilling meats of all varieties is well-represented in Cajun cuisine. If your inner Cajun is crying out for some BBQ, you don't want to throw on just any sauce. Keeping the vibe calls for a smoky sauce that has a little spice for the tongue. These are the flavors that link the old and the new and keep you thinking of what to grill next! 
Here's What You Need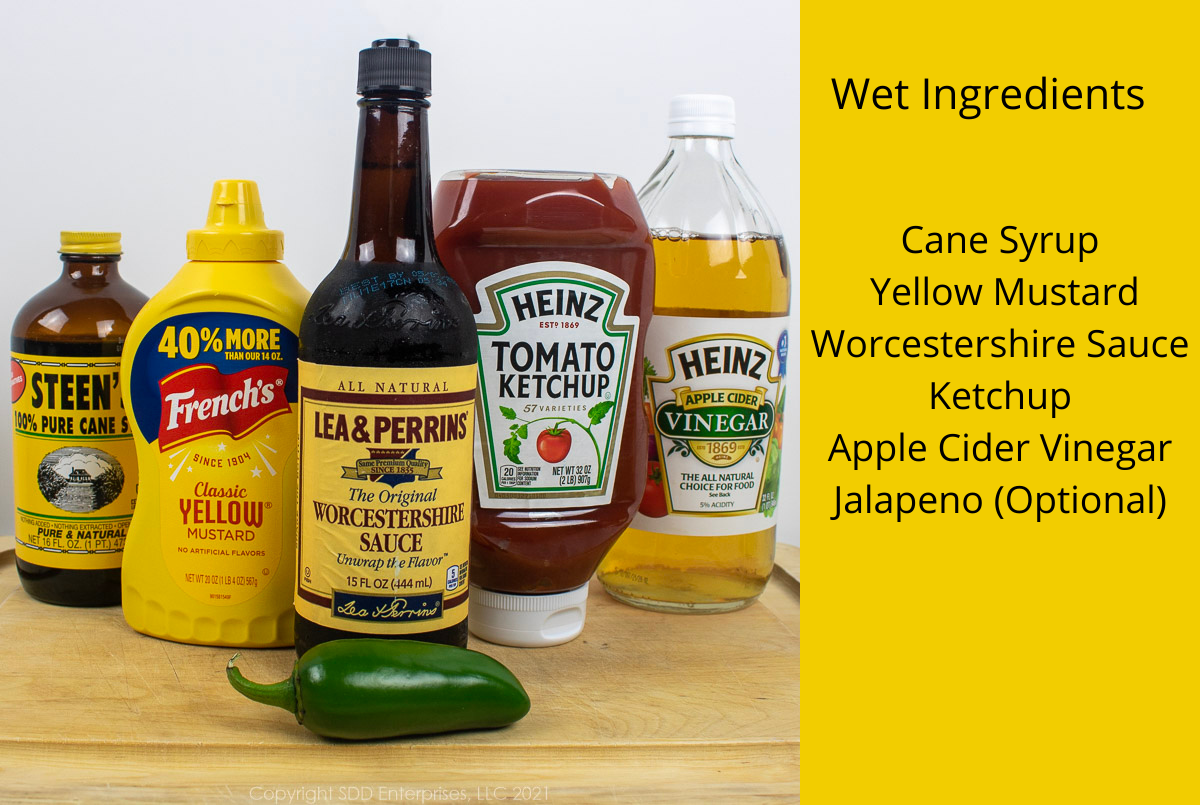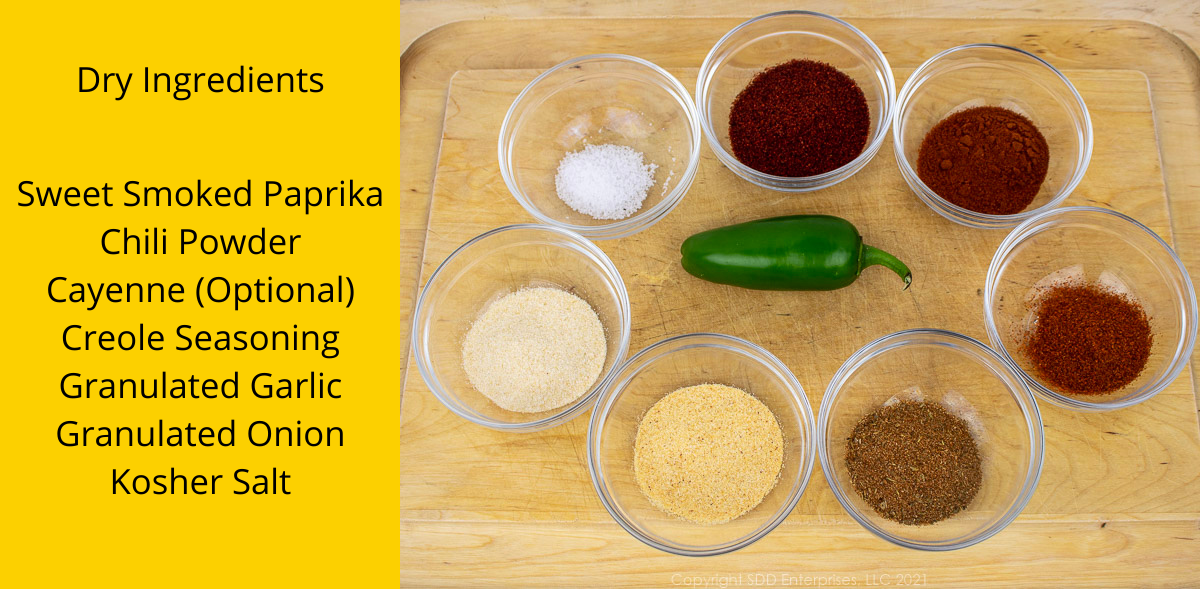 Equipment
Here is some of the equipment I used to prepare this recipe:
As an Amazon Associate, I earn from qualifying purchases. The price you pay as a consumer does not change, but I may make a small commission based on your purchase. These items from Amazon will help you with this recipe:
Glass prep Bowls, Cambro Prep Bowls, Glass Measuring Cups, Measuring Cups, Saucepan, Whisk.
Here's What You Do
First...you have a beer. This is the type of recipe you make for a cookout or a family gathering. It's fun, so making it should be fun. Pop the cap off a beer and sit down to read the recipe all the way through. Make sure you have all the ingredients and you know what you are going to do with them.
Mise en place
Talk about simple! Measure each of the wet ingredients into their own prep bowls or right into the saucepan. Next, measure the dry ingredients into separate prep bowls or into one prep bowl for all. If you are using the jalapeno, chop it very finely. Remove the seeds for less heat, and leave the seeds in for more heat. You can throw the chopped jalapeno raw or sauté it with a touch of vegetable oil before adding it to the wet ingredients.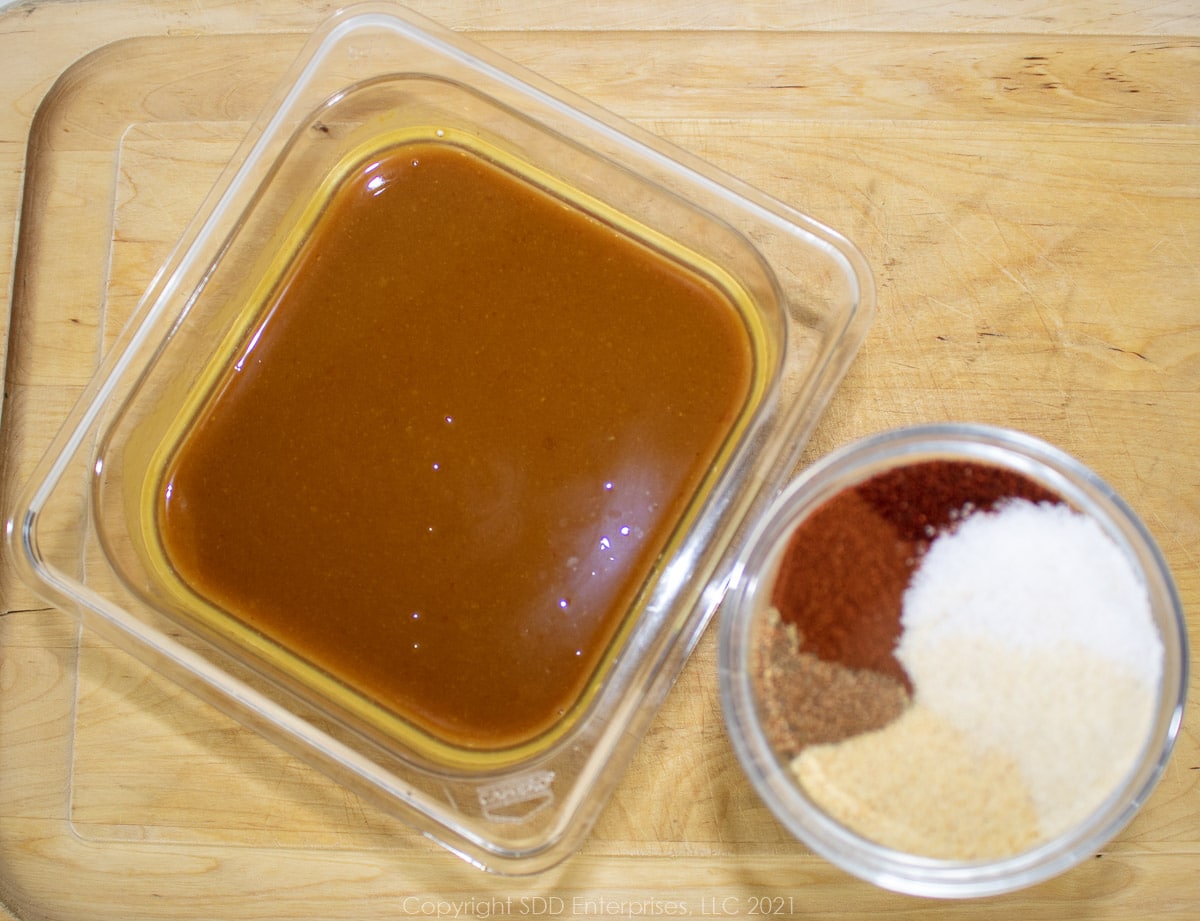 Combine the Ingredients and Simmer
Add all the wet ingredients along with the jalapeno (if using) to a saucepan. Place the saucepan over medium-high heat and bring it to a simmer. Slowly whisk the dry ingredients into the wet ingredients. Continue to whisk until all the dry ingredients are blended completely into the sauce.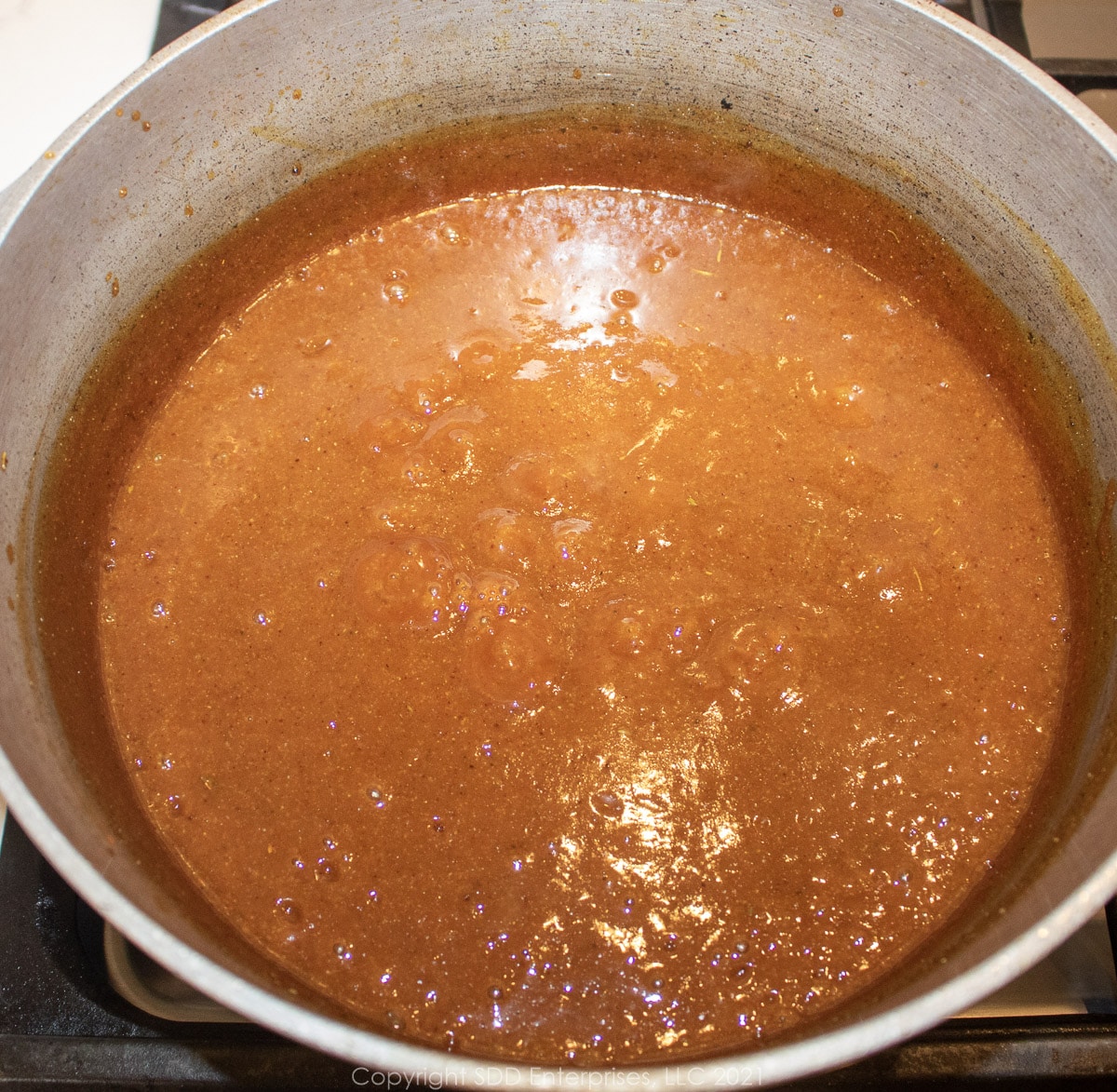 When you reach a high simmer, lower the heat and simmer low, uncovered, for 15 to 20 minutes. That's it, you're done. Is this simple and no-angst or what?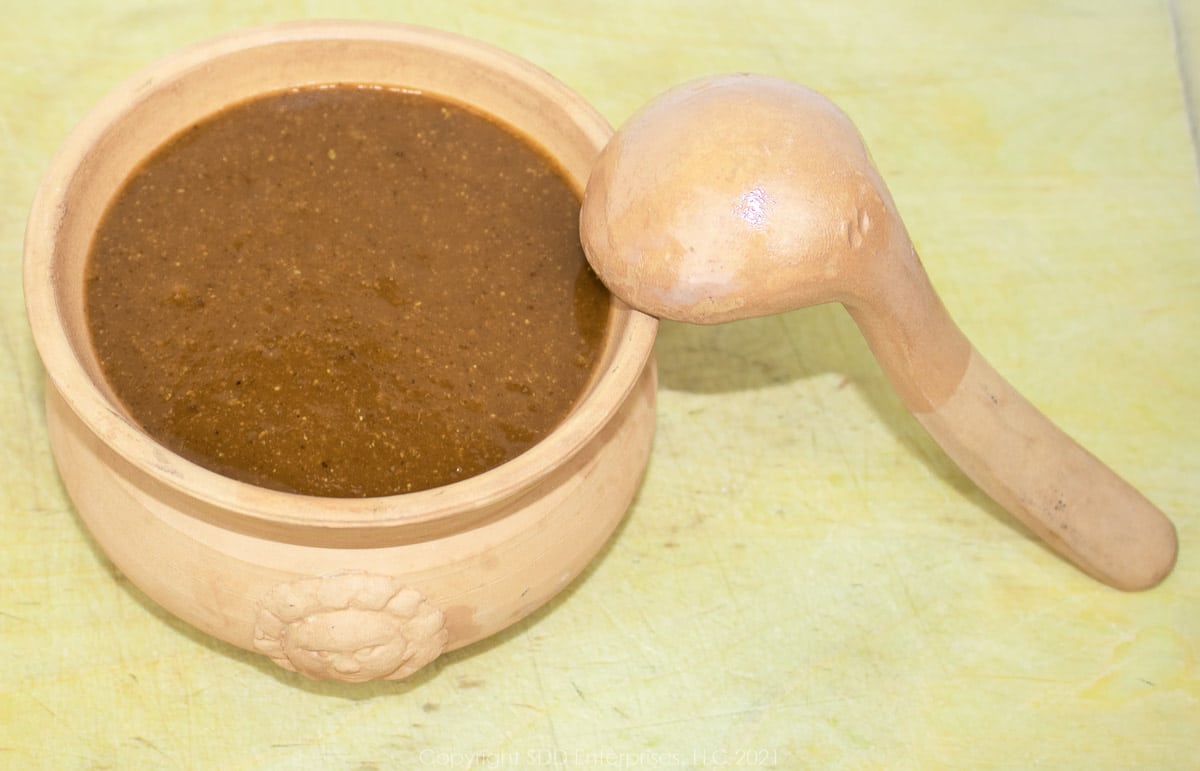 Hints and Tips
What if I don't have cane syrup?
No worries, there are some good substitutes that should be readily available. Try molasses, dark brown sugar, corn syrup, honey, or maple syrup. Each one of these has different sweetness levels and flavor profiles, so I'd suggest starting with a little less than a cup, then adding more after tasting until you get it just the way you want.
What does this BBQ Sauce go on?
Actually anything. I particularly like it on pork and chicken, it's also great on burgers, sausage, and grilled and broiled fish.
How can I use leftover BBQ Sauce?
Brown some ground beef, or finely chop leftover beef roast or pork tenderloin. Throw it in a saucepan and add some of this Homemade Cajun BBQ Sauce and warm through. Serve it on a bun with onions and pickles and enjoy!
How do I store leftovers?
This BBQ Sauce can be kept in the fridge for about 2 weeks if tightly sealed in an airtight container. You can reheat it on the stove or serve it cold or at room temperature. 

You can also freeze this sauce for up to six months. Again, it must be sealed tightly in an airtight container. Make sure to leave some headroom for expansion. Defrost it in the fridge overnight and reheat on the stove, or serve it cold or at room temperature. 
What's the best way to add this to grilled food?
If you add the BBQ Sauce too early in the grilling process, the sugars will burn. That could be unpleasant. Brush this BBQ sauce on your chicken, ribs, hamburgers, or whatever you are grilling about 10 minutes before they are ready. Be careful placing the food directly over the heat. We want the sauce to glaze without burning. For something like pulled pork, add some warmed sauce just after pulling. Place the remaining sauce in a small bowl so people can add more while eating.
Got a cookout going? Don't forget these other great sides from Sweet Daddy D:
Check out these other great recipes from Sweet Daddy D:
If you make this recipe:
Tell us about it in the Comments section below
LEAVE A RATING ON THE RECIPE-worthy of 5-Stars?
Questions or Comments? that's the place!
SIGN UP FOR OUR EMAIL UPDATES so you don't miss anything!
Post a picture and share it with your friends on our Social Media:
Yeah You Right!
Recipe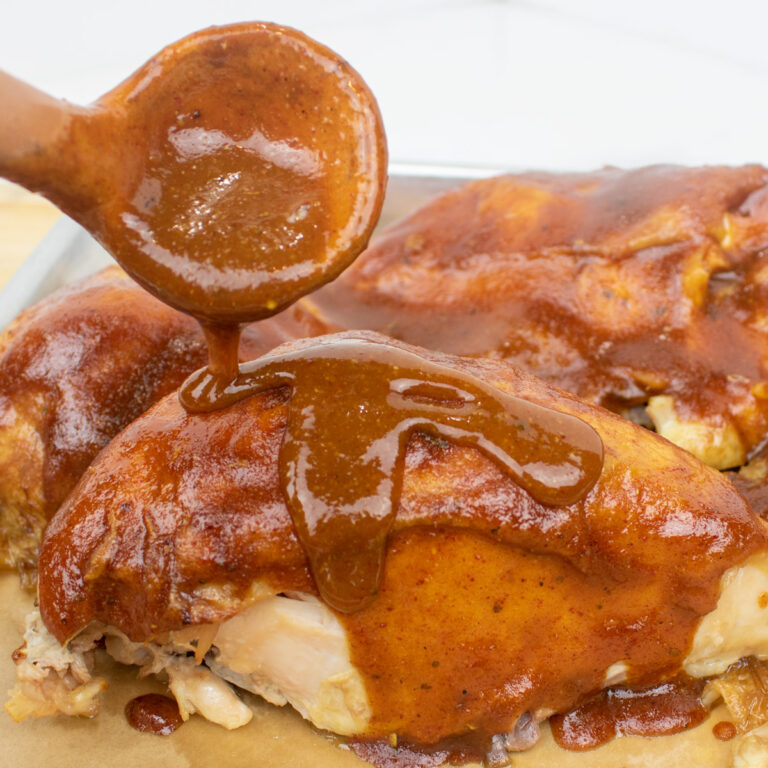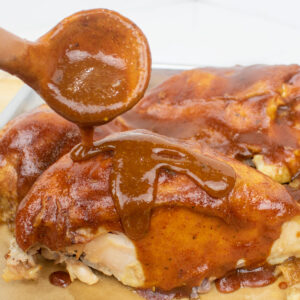 Cajun BBQ Sauce
Tasty and tangy sauce with a Cajun kick perfect on grilled and smoked foods.
Print
Pin
Rate
Here's What You Need
1

cup

ketchup

1

cup

cane syrup

1

cup

prepared mustard

¼

cup

Worcestershire sauce

½

cup

apple cider vinegar

1

tablespoon

jalapeno

finely chopped (Optional-See Notes)
Herbs and Spice Blend
1

tablespoon

sweet smoked paprika

2

tablespoons

chili powder

1

tablespoon

granulated garlic

1

tablespoon

granulated onion

1

tablespoon

Creole seasoning

½

teaspoon

kosher salt

1

teaspoon

cayenne

optional
Here's What You Do
Finely chop the jalapeno (if using); combine the Herb and Spice Blend together thoroughly.

Whisk all the wet ingredients together in a saucepan over medium heat and bring to a simmer. Add the Jalapeno (if using) and the Herb ad Spice Blend, whisk to incorporate all the all ingredients.

Return the sauce to a simmer. Reduce the heat to maintain a low simmer for about 15 to 20 minutes.

This can be served right away or kept in an airtight jar in the refrigerator for 2 weeks.
Recipe Notes
This recipe makes about 3 ½ cups of BBQ Sauce. 
Cane syrup substitute? Try molasses, corn syrup, dark brown sugar, honey or maple sugar.  Each will offer a different sugar level and flavor profile, so start with a little and adjust for taste,
If you want a little more kick, finely chop a jalapeno pepper. For extra spicy, leave the seeds in, for less heat, remove the seeds. You can throw them in raw or do a quick saute' to soften the peppers. A substitute for the jalapenos would be red pepper flakes. 
If you want no heat, leave out the jalapeno and the cayenne pepper. 
Leftover BBQ Sauce can be stored in the refrigerator for about 2 weeks.
This BBQ Sauce can be frozen. Make sure to let the sauce cool completely, then place it in an airtight container with a little headroom for expansion. This sauce will maintain its quality for up to 3 months in the freezer.
To defrost, set in the fridge overnight, or submerge in cold water until defrosted.
Nutrition
Calories:
117
kcal
|
Carbohydrates:
26
g
|
Protein:
1
g
|
Fat:
1
g
|
Saturated Fat:
1
g
|
Polyunsaturated Fat:
1
g
|
Monounsaturated Fat:
1
g
|
Trans Fat:
1
g
|
Sodium:
518
mg
|
Potassium:
535
mg
|
Fiber:
2
g
|
Sugar:
23
g
|
Vitamin A:
909
IU
|
Vitamin C:
3
mg
|
Calcium:
76
mg
|
Iron:
2
mg
Yeah You Right!