Talk about simple and no-angst, this is it. And best of all, these Sweet 'N Savory Green Beans will be such a hit with the family that you'll get lots more credit than you deserve-but, don't worry, we won't tell them how easy they are to make!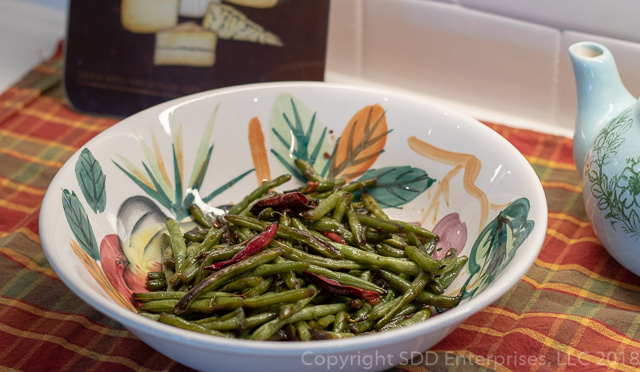 Here's What You Need
Fresh or frozen whole green beans are the best for this recipe. If fresh, just snip off the ends, if frozen, get the kind that can be steamed in the microwave right in their bag. If you can't get either fresh or frozen, canned green beans will work, just make sure to rinse them thoroughly. We're going to use both real butter and olive oil so that we can get the butter flavor and still use a high temperature. Fresh garlic is a perfect companion for green beans. The sweet and the savory comes from real honey and dried chile peppers. You can use whole dried red peppers, like Thai peppers for real hot or something milder like anchos, or you could just use some dried pepper flakes. If you don't want the heat, the peppers are optional, but we only use enough to add a slight earthy dimension. It is important to use a saute pan that can distribute the heat evenly. My favorite pan for this is a wok...the sloped sides help keep the green beans, garlic and peppers moving and helps mix the butter and honey all over.  
Here's What You Do
First...you have a beer. This is such a simple dish that it doesn't take long to get everything ready. A few sips of beer while you're reading the recipe, then the mise en place almost takes care of itself.
Mise en place. What kind of green beans are you going to use? If it's fresh, then snip off the ends, set them in a steamer for about five minutes of steam, then a quick dunk in an ice bath. I find the frozen green beans that can be steamed right in their bag in the microwave are the most convenient, and since frozen green beans are so close to fresh that it's a great way to go.  Whether you can steam in the bag or not, just microwave them according to the instructions, but for only about half the time it calls for. We just want them a little supple and defrosted, not all the way ready to eat. For fresh or frozen, prep them, then set them aside. If you're going with canned, we won't judge...truth be known, I've done that many times. Just rinse them thoroughly to remove any unneeded sodium, then drain. No need to soften the canned beans any further. Next, set the butter and olive oil out, chop the garlic, then get your peppers or pepper flakes ready and handy. Now you're ready to go.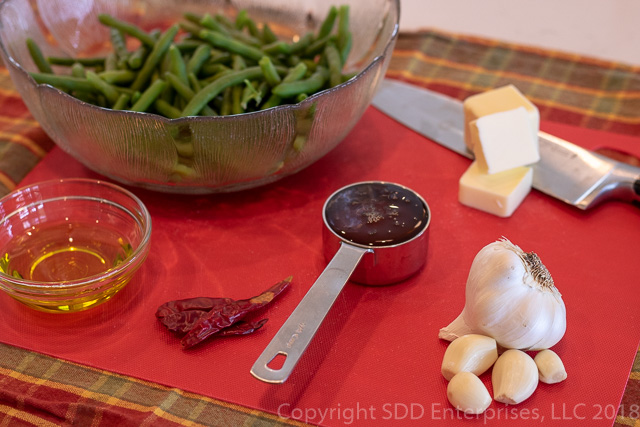 Saute the garlic and chile peppers. Get the saute pan or wok real hot and add the olive oil, followed by the butter. It will only take a couple of seconds for that to be nice and bubbly. Throw in the garlic and the chile peppers or flakes and stir them constantly for a minute or two. The garlic will brown quickly and the chiles will start to roast a bit. That will give them both optimal flavor, just don't let them burn!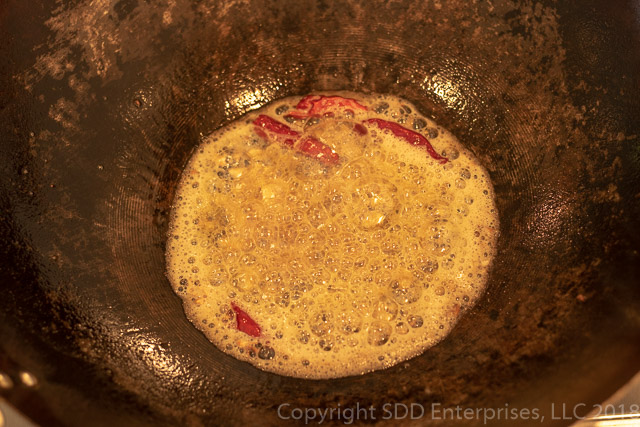 Saute the green beans. Now it's time to throw in the green beans. Make sure the pan is still really hot. Once they hit the pan, the temperature will decrease, so give it a minute or two, then start moving the green beans around. Add some kosher salt and pepper, then just keep stirring and shaking the pan until you notice they start to wilt and brown a little on the edges. The charring action really brings out the natural sugars in the beans and develops a wonderful flavor. This part of the process may take five to eight minutes, but it will take as long as it takes to get them looking the way you want them.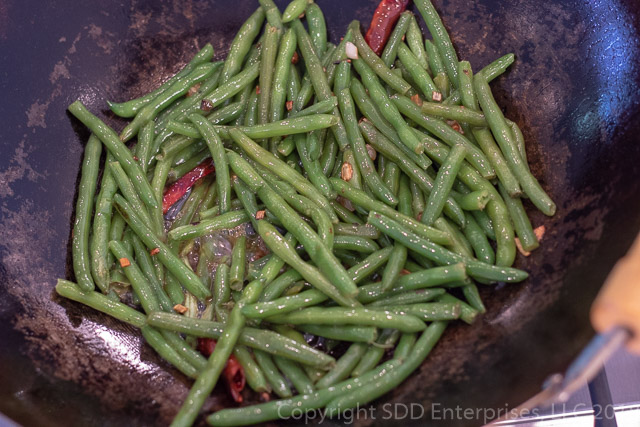 Finish with the honey and serve. Once you have a little char on the green beans, move the pan off the fire and add the honey. Mix and stir thoroughly so that all the beans have a nice coating of honey. Back on the fire for just a minute or two while you mix it all up. Remove the whole chile peppers if you want and serve the beans while they are hot.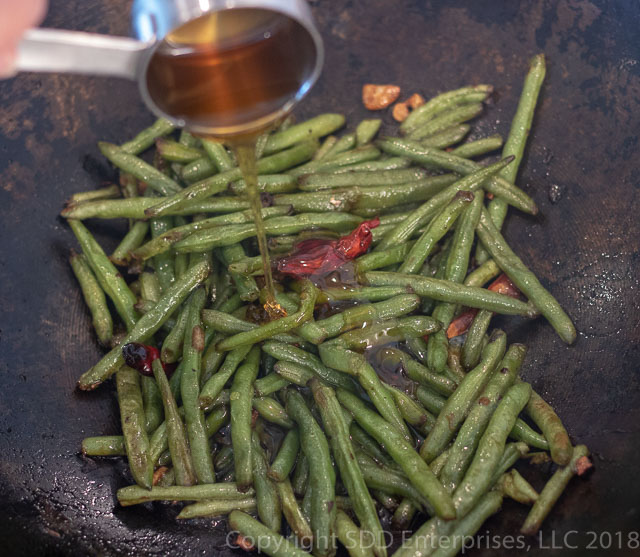 That's it, all there is to it.   
⇒ Sign up for my email notifications of new recipes and posts right HERE or below. ⇐
Tips and 

Hints
Green beans, snap beans and string beans are the same thing

, just referred to differently. There are over 130 varieties of green beans, but the

Blue Lake

variety is the most common and most available.

Green beans contain vitamins A, C, and K and are a good source of folic acid and fiber

. A diet that includes plant foods like green beans can help reduce obesity, diabetes and heart disease.

Honey ain't exactly bad for you either,

although it is high in sugar. Honey contains some antioxidants that provide lots of health benefits.

Fresh green beans or fresh-frozen green beans are the most nutritious. If you use canned beans, make sure to rinse them thoroughly because the packing liquid can contain sodium. The canned beans aren't as high in vitamins as the fresh variety, but they still taste good in this recipe.  

The char makes a difference in the taste of this dish. Full disclosure, I learned about that by nearly burning them once, but I found out that it opened up a great flavor dimension. Just don't go crazy! I've found that a wok works great for this, but any heavy bottom saute-pan will do nicely.

The chile peppers are optional, but they add such a great flavor dimension. Control the heat by choosing the type and quantity of the pepper. Real hot ones are thai chiles and cayenne peppers. In the medium range are guajillo and Fresnos. Keep it mild with pasillas, anchos and anaheim chiles.
Here are some other green bean recipes from Sweet Daddy D:
Cajun Smothered Green Beans
Green Beans smothered slowly with bacon and onions, ham and South Louisiana seasonings. Amazing depth of South Louisiana flavor.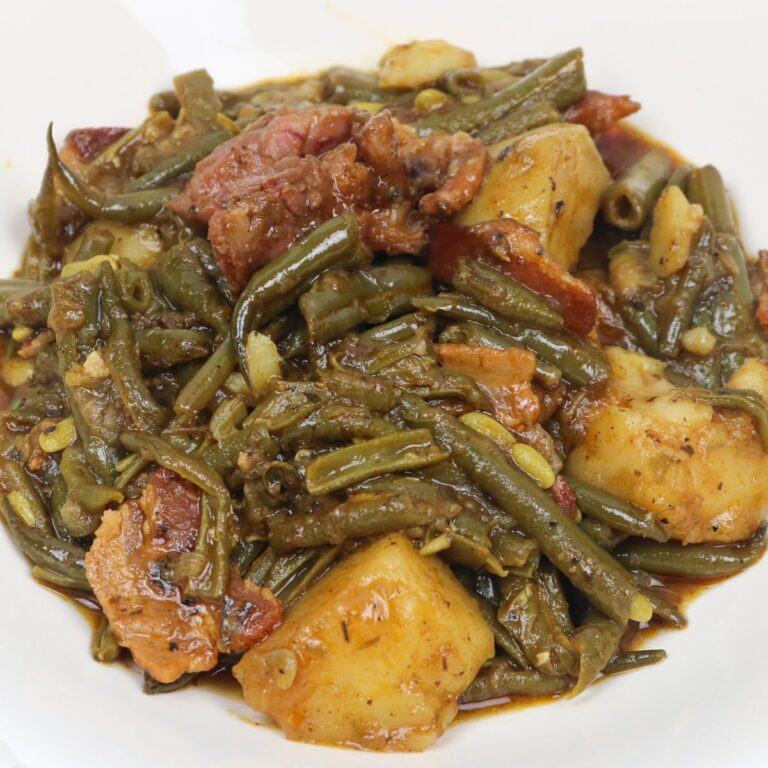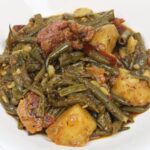 Creole Green Beans
Awesome Creole Green Beans...fresh green beans smothered with bacon, onions, tomatoes and seasoning in a rich stock and just a hint of Louisiana cane syrup sweetness.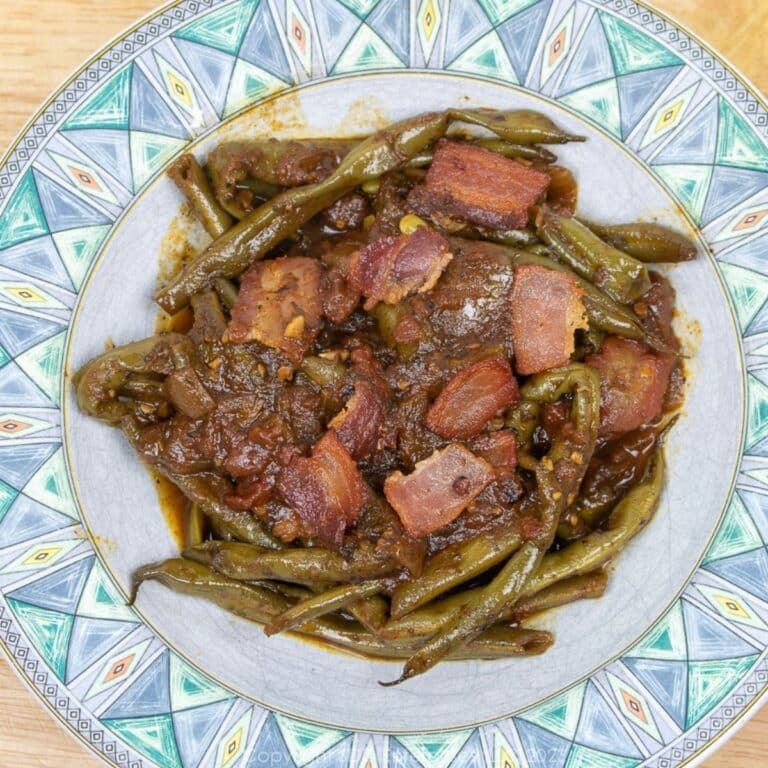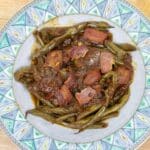 Charred Green Beans with Herbs
This is a delicious but simple side dish which will really impress your guests. Its amazing how putting a little char on these green beans really helps intensify their flavor while the smoked bacon and herbs add a comfortable earthiness.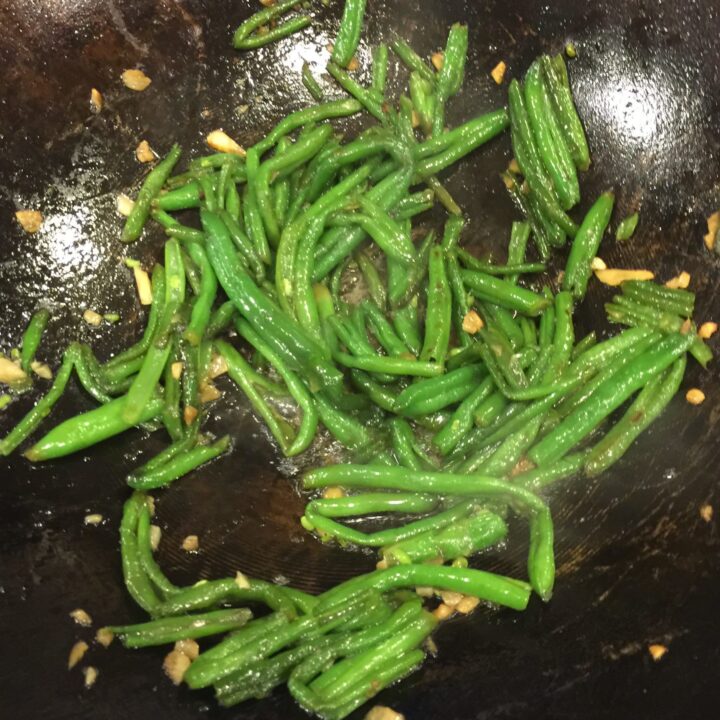 ⇒ Sign up for my email notifications of new recipes and posts right HERE or below. ⇐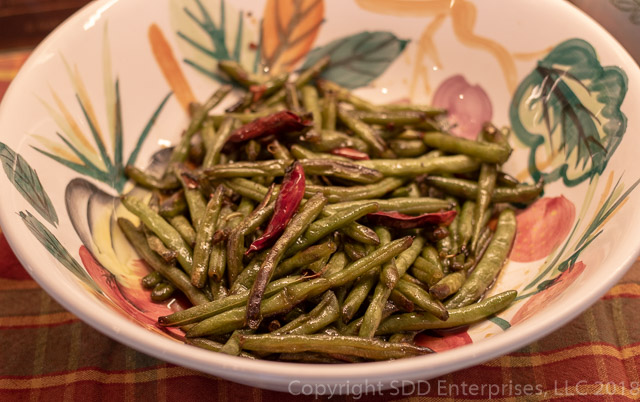 If you make this recipe, please tell us about it in the Comments section below and make sure to LEAVE A RATING ON THE RECIPE. Post a picture on our Facebook page or on Instagram with a #firstyouhaveabeer. Make sure to Pin it on Pinterest.  Follow us on Facebook, Instagram and Pinterest and make sure to share this with your friends…they will love you for it. SIGN UP FOR OUR EMAIL UPDATES below so you don't miss anything!
Yeah You Right!
Recipe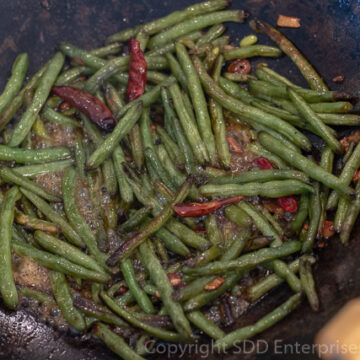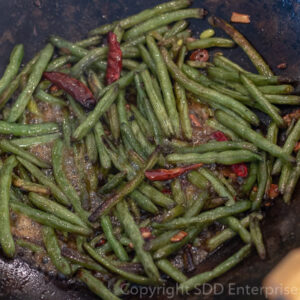 Sweet n' Savory Green Beans
Sauteed green beans with butter, garlic and honey. Put a little char on them and add some hot pepper flakes! A flavor that can't be beaten.
Print
Pin
Rate
Here's What You Need
1

pound

whole green beans

stems clipped

2

tablespoons

Butter

2

tablespoons

olive oil

4

cloves

garlic-chopped

4

tablespoons

honey

3

dried red chili peppers

optional

To taste kosher salt and ground black pepper
Here's What You Do
Clean the beans and steam for 5 minutes (until just getting supple). Set aside.

In a wok or other large saute pan, heat the butter and olive oil over high heat, until butter is starting to foam.

Add the garlic and chili peppers (if using). Saute about 30 second getting the butter full of garlic flavor but, not letting the garlic burn.

Keeping a high heat, add the green beans and saute by keeping the beans moving in the pan until they are starting to wilt and char a little on the edges, about 5 to 8 minutes.

Add salt and pepper to taste.

Pour the honey over the beans and continue to shake the pan until all the beans are coated.

Remove the pan from the heat. Discard the chili pepper and serve immediately.
Recipe Notes
This recipe is great with frozen or fresh whole green beans. If using frozen, try to get the steam-able in the bag kind, but either way, just warm them in the microwave until they are getting slightly supple. If using fresh, snip off the stems and steam them for about 5 minutes until slightly supple.
A wok works very well for this recipe, but if you don't have a wok, any saute pan will do.
A little char on the green beans is the key to making this dish delicious and special. High heat is a must. Make sure to keep the pan moving because you want to cook these up hot and fast and get some char without burning the beans.
If you don't have dried chili peppers, substitute a couple of tablespoons of red pepper flakes.  If you want to leave those out, this will still be a super delicious dish.
Nutrition
Calories:
145
kcal
|
Carbohydrates:
15
g
|
Protein:
1
g
|
Fat:
9
g
|
Saturated Fat:
3
g
|
Polyunsaturated Fat:
1
g
|
Monounsaturated Fat:
5
g
|
Cholesterol:
11
mg
|
Sodium:
31
mg
|
Potassium:
64
mg
|
Fiber:
2
g
|
Sugar:
11
g