This is a very simple sauce, but it is considered in French cuisine as a foundation or Mother Sauce.
Once mastered, and it's easy to do, the Bechamel Sauce can be the foundation for many other sauces. Let's take a look at Sweet Daddy D's version...simple and no-angst.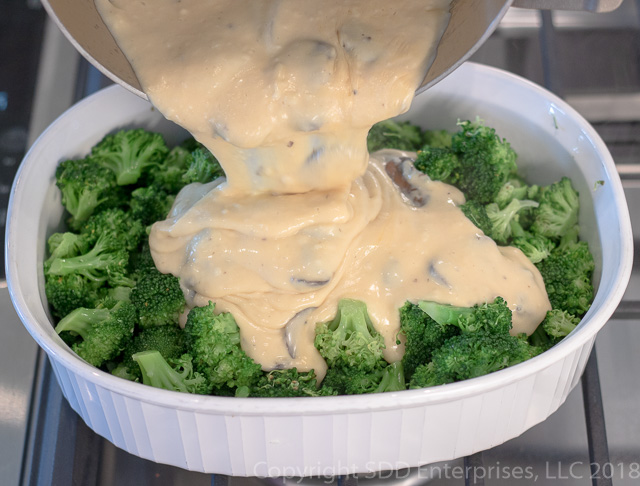 Bechamel is the foundation of many flavorful sauces, like this mornay.
This post is not sponsored, but you will find affiliate links on this page. As an Amazon Associate, I earn from qualifying purchases. The price you pay as a consumer does not change, but I may make a small commission based on your purchase.
Here's What You Need
This could not be more simple, just remember 4-3-2 and a pinch of salt and pepper. The basis for this white sauce is a white roux. That's the same as a brown roux but you don't cook the butter and flour as long.
You'll need:
Real butter (4 tablespoons)
All-purpose flour (3 tablespoons)
Whole milk (2 cups)
Also, you'll add kosher salt and ground white (or black) pepper to taste. It's also optional but not uncommon to add some freshly ground nutmeg, depending on how the sauce will be used.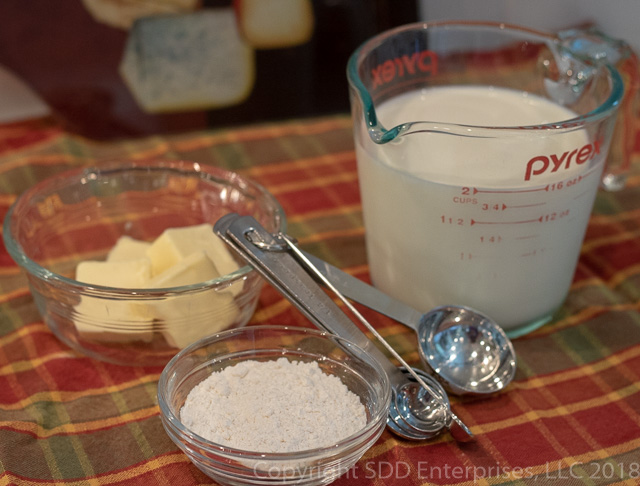 Here's what you need for a bechamel
Here's What You Do
First...you have a beer. I'm sure you will be making this Bechamel Sauce as an ingredient to some other dish you are making, so you likely already have your beer. Take a sip, read the recipe and get your mise en place on!
Mise en place
Simple and basic ingredients and easy to remember. It's just 4-3-2. Four tablespoons of butter, three tablespoons of all-purpose flour and two cups of whole milk, so get those all measured out and set aside. Warm the milk in the microwave or in a separate saucepan on the stove, but don't boil. Have the salt and white pepper handy, as well as the nutmeg if you are going to use it. You'll want to use a heavy bottom enamel dutch oven or stainless steel saucepan. The heavy bottom will help distribute the heat to avoid scalding.
Make the roux
Melt the butter in the saucepan until it's bubbly, then add the flour and whisk it together until it's blended together. Keep it moving by whisking for a couple of minutes, but don't let it start to color or brown.
Add the milk
Remove the pan from the heat before adding the milk. Add in the warm milk a little at a time-around ¼ cup intervals. Whisk it together thoroughly before the next batch of milk gets added and repeat this process until all the milk has been added. By using warm milk a little at a time, it helps avoid any lumps.
Simmer on low to thicken
Place the pan over moderate heat and continue to whisk until the sauce returns to a light simmer. Simmer on low for a couple of minutes and it should be done. You'll be able to coat the back of a tablespoon with the sauce when it's done. Add some kosher salt and pepper and the nutmeg, if you are using that.
That's it, all there is to it.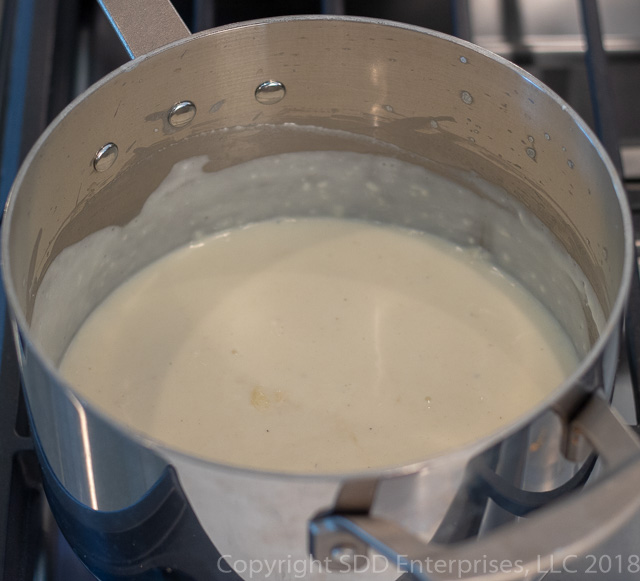 Bechamel Sauce-Mother Sauce
Hints and Tips
It's best if you use the sauce right away, but if you can't do that, keep it warm by placing the pan inside another pan with slightly boiling water. Re-whisk before using.

This sauce can be made a day or so in advance and will keep in the refrigerator for about 4 or 5 days. Cool the sauce quickly and place a piece of cling wrap directly in contact with the surface of the sauce to prevent a film from forming.

The sauce can be frozen in a suitable container.

To warm the sauce up, place it back in a heavy bottom saucepan over medium-low heat and whisk vigorously until it reaches the consistency you want. Once warmed, if its too thick add a small amount of warm milk, maybe a tablespoon or so and whisk until it is smooth and warm. If it gets lumpy, continue to whisk until it smooths out and if necessary. If it's extremely lumpy, push the sauce through a sieve or strainer to eliminate the lumps.

A roux is at the base of this and many sauces and dishes. Cooking the flour in the butter will eliminate the raw taste of the uncooked flour while preparing the flour particles to absorb liquid. This is what thickens dishes that start with a roux.

The sauce has many uses, it holds together many of our favorite dishes-see what you can come up with. Adding some cheese will turn it into a mornay sauce. I use bechamel as the base sauce for mac and cheese, lasagna and other casserole dishes.
As a Mother Sauce, it is a foundation. One of my favorite ways to use Bechamel is to add grated cheese which turns it into Mornay Sauce. Sweet Daddy D uses a Mornay Sauce in the broccoli casserole-check it out: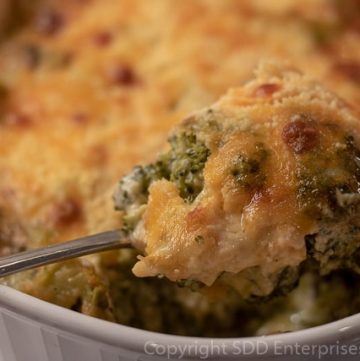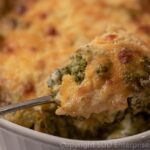 If you make this recipe, please tell us about it in the Comments section below and make sure to LEAVE A RATING ON THE RECIPE. Post a picture on our Facebook page or on Instagram with a #firstyouhaveabeer. Make sure to Pin it on Pinterest. Follow us on Facebook, Instagram, Twitter and Pinterest and make sure to share this with your friends…they will love you for it. SIGN UP FOR OUR EMAIL UPDATES below so you don't miss anything!
Yeah You Right!
Recipe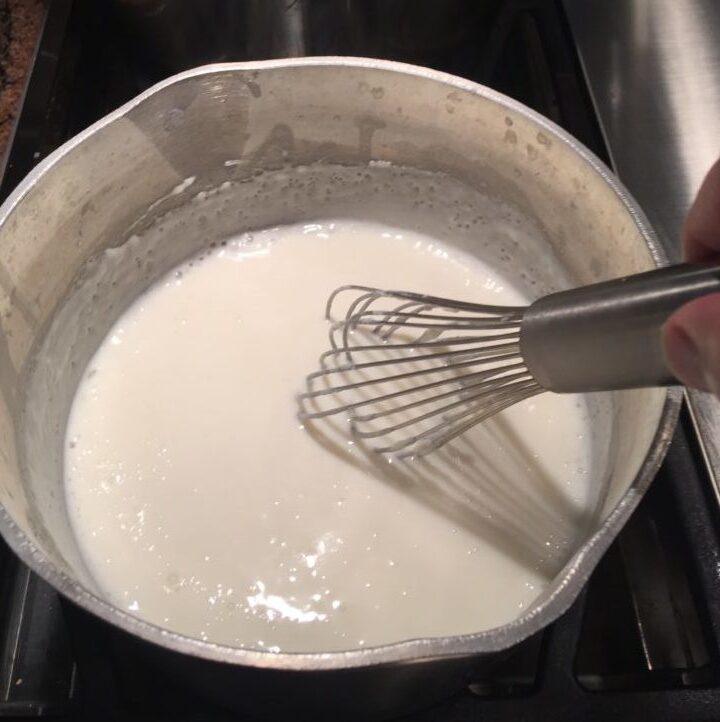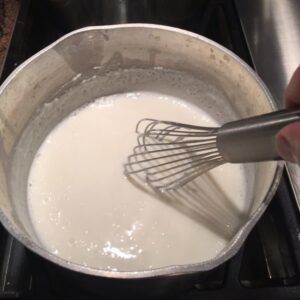 Bechamel Sauce
One of the basic Mother Sauces which are the foundation for many dishes. A white roux made with butter and AP flour and whole milk.
Print
Pin
Rate
Here's What You Need
4

tablespoons

Butter

3

tablespoons

all purpose flour

2

cups

whole milk

warmed

kosher salt

fresh ground pepper

optional

Grated nutmeg

optional
Here's What You Do
Just before you start, warm the milk in a saucepan or the microwave but don't let it boil. Set aside.

In a large sauce pan over low heat, melt the butter until bubbly. Add the flour.

Make a blond roux by whisking the flour and butter until smooth and thick but not browned, about 2 minutes.

Turn off the heat and slowly add the warmed milk, about ¼ cup at a time, continue whisking until smooth, waiting until the milk is fully incorporated into the roux before adding the next ¼ cup of milk.

Once all the milk has been incorporated in this manner, add a pinch of salt and return the heat to low.

Continue to whisk the sauce while on a low boil. The sauce will thicken the more you cook it. It is ready when the sauce is like thick cream and will coat the back of a soup spoon when dipped in the sauce.

As an option, grind some white pepper and/or grate about ⅛ teaspoon of nutmeg into the sauce.
Recipe Notes
For a thinner sauce, don't cook it long, for a thicker sauce, cook longer.
This recipe makes about 2 ½ cups of sauce
This sauce can be stored in the refrigerator for a short while. To reheat, place over a low fire and whisk constantly until it reaches the desired consistency.
Nutrition
Calories:
49
kcal
|
Carbohydrates:
3
g
|
Protein:
1
g
|
Fat:
4
g
|
Saturated Fat:
2
g
|
Cholesterol:
11
mg
|
Sodium:
38
mg
|
Potassium:
40
mg
|
Fiber:
1
g
|
Sugar:
2
g
|
Vitamin A:
137
IU
|
Calcium:
35
mg
|
Iron:
1
mg