All side dishes are not created equally. Creamy Spinach with Mushrooms is one that will really elevate any meal. Simple enough to go with chicken or pork chops or Salisbury Steak and elegant enough to stand up to a prime steak. Spinach cooked down in a creamy sauce with the earthy flavors of mushrooms and the bite of Romano cheese. You won't believe how simple and no-angst this is to make…you definitely get back a lot more than you put into it.
Here's What You Need
Spinach…but I think you guessed that. Fresh spinach is good as is the spinach frozen in those ice blocks, but let's keep the angst out of this and use frozen spinach that comes in the bags that can be steamed in the microwave. Easy and you don't have to worry about shrinkage! Butter, garlic, shallots and dry white wine set the tempo for this dish but the crimini mushrooms and the grated Romano cheese give it it's personality. I usually use the Baby-Bella Mushrooms if I can find them, but really just about any mushroom will do just fine, particularly portobellos. I try to find sliced mushrooms if I am cooking this the same day, if not it's better to get whole mushrooms. Just a little lemon-pepper seasoning and creole seasoning really compliments the mushrooms and cheese. Heavy cream brings it all together and gives it the distinctive body and cohesion you want. And of course some beer for the cook.
Here's What You Do
First…you have a beer. This is so easy-basically sauté the onions, garlic and mushrooms, add the seasonings, wine and cream and then throw in the spinach and cheese. No-angst and you're done in a flash.
Mise en place. This is the key to an angst free experience. Get everything together and ready to go. Prepare the spinach according to the package directions and set it in a colander to drain, chop the shallots and garlic pretty fine and slice the mushrooms, then measure out the seasonings and liquids. Lay it all out so all you have to do is assemble the recipe. A nice sautée pan is all you need.
Melt the butter and saute the shallots and garlic. Use a medium high heat and melt 2 tablespoons of butter until its foaming, then add the shallots. Sauté, stirring frequently because these will burn fast. Once they are soft and clear, add the garlic. It's only a couple of minutes before they are aromatic, which is what you want.
Add the Mushrooms. You'll want to sauté the mushrooms until they are soft and getting a little brown on the edges. This should take at least 5 minutes.
Add a little more butter and the spices. I like to add the Herbs and Spices before any liquids if that's possible. This gives them a chance to get sort of roasted and that really sharpens the flavors. So, add another tablespoon of butter and just as its melted, throw in the Herb and Spice Blend. Shake the pan back and forth until you can smell the spices.
Time for the Wine. Splash a little of the wine in first to deglaze the pan, make sure to mix in all the tasty morsels of fond, then add all the wine. Let this simmer and reduce to about half to really concentrate the flavors.
Time for Butter and Cream. Another tablespoon of butter goes in. As its melting, add the heavy cream and stir to combine everything. Bring it to a simmer until it starts to thicken and the butter has melted.
Add the spinach and Romano Cheese. Once the butter is all melted, add in the spinach a little at a time so that it blends in with the cream sauce easily. Keep it on a simmer while it thickens. Add in the Romano Cheese and stir well to combine. Once its at the consistency you like, turn off the heat and taste for salt and pepper and add some if you need it.
There you have it. This is so good, you'll want to eat it right out of the pan, but resist the temptations. This goes well with just about anything…chicken, pork, fish and especially steak. Enjoy!
If you have made this recipe, please tell me about it in the comments. Make sure to leave a rating on the recipe. Follow us on Facebook and Instagram and make sure to share this with your friends…they will love you for it. Make sure to sign up for our email updates so you don't miss anything.
Yeah You Right!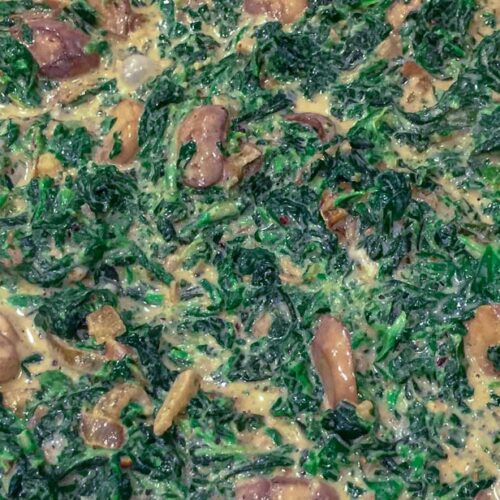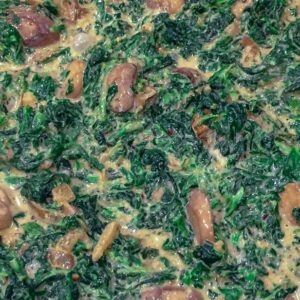 Creamy Spinach with Mushrooms
Spinach is the ultimate side dish-it's rich and flavorful and goes well with many things. Its great by itself but can be dressed up in unbelievable ways. It also freezes well and is great fresh. This recipe takes a nice creamed spinach and blends in sauted mushrooms for a wonderful side dish-rich and flavorful and goes great with steak, pork chops, chicken, etc., etc.
Print
Pin
Rate
Here's What You Need
10

ounces

Frozen Spinach

cooked according to directions on package

4

tablespoons

Butter

Divided

4

ounces

Crimini Baby Bella Mushrooms

Sliced

3

cloves

garlic

Chopped fine

1

small

Shallot

sliced

½

cups

Dry White Wine

½

cups

Heavy Cream

3

teaspoons

Romano Cheese

Grated
Herb and Spice Blend
1

teaspoons

Lemon pepper

No salt kind

1

teaspoons

Creole seasoning

½

teaspoons

kosher salt

½

teaspoon

ground black pepper
Here's What You Do
Add 2 TBS butter to sauté pan over medium heat

Add shallots to pan when butter has begun to foam and sauté until starting to clear.

Add garlic, sauté until aromatic-about 1 to 2 minutes

Add mushrooms and sauté for about 5 minutes

Add 1 TBS of butter and the Herb and Spice Blend and mix well.

Continue sautéing mushrooms and spices until starting to brown, stirring often so it doesn't stick.

Deglaze with white wine, mixing well and getting the fond off the bottom of the pan. Allow to reduce to about half.

Add remaining 1 TBS butter and the cream, mix well and bring to a simmer.

When butter is melted, add the spinach. Mix well and simmer until thickened.

Add Romano cheese and mix well.

Taste for seasoning and add salt and pepper as needed.
Recipe Notes
Using the frozen spinach which can be steamed in the bag (in the microwave) really makes this easy. Once steamed, place the spinach in a colander or strainer to let any liquid run out. If you use regular frozen spinach, drain all the liquid then squeeze the excess liquid out.
Many commercial creole seasonings (and lemon pepper) have a lot of salt, so keep that in mind when you use these products.