Meatloaf…can you say comfort food? It's a food group all by itself!!
Meatloaf has been around forever and transcends cuisines. Minced meats date back to the 5th century Roman days and there is the traditional meat-centric traditions of Germany, Scandinavia and Belgium. It showed up in American cookbooks as early as the 1870's when some recipes used "whatever cold meat you have". Sounds like a great way to use up the entire cow or pig or deer or goat you just butchered….in 1870. Today, it's not unusual to see Meatloaf glamorized and revered. My no-angst Classic Meatloaf recipe does just that.
Here's What You Need
Beer…you need a beer. That's for you but if some spills in the meat mixture it won't hurt a thing. What makes this meatloaf special is using a blend of ground chuck, ground pork and ground veal. The chuck will have 20% fat content and combine well with the pork and tenderness of the veal. The beef and pork fat content will help bind the loaf as well as keep it moist. Finely chopped or grated sweet onion and garlic add great flavor and are natural partners for the meats. To get the loaf part of the equation, a couple of whole eggs and some bread crumbs do the trick. I use seasoned bread crumbs but plain or panko can be used if you prefer. The Herb and Spice Blend is made up of oregano, basil, thyme and kosher salt and ground black pepper. I usually add in a little cold water to help with the mixing, ut if you spilled your beer in it you may not need the water. The sauce or glaze is simple: tomato paste, tomato sauce, brown sugar, apple cider vinegar and a pinch of salt.
Here's What You Do
First…you have a beer. Take a sip and do a little inventory to make sure you've read through the recipe from start to finish and you have everything you're going to use.
Mise En Place. Preheat the oven to 425 degrees. I usually use a food processor or a grater for the onion and garlic because I like to generate as much juice I can from those two ingredients. Get them ready and set aside, measure out the Herbs and Spice Blend and the breadcrumbs. Grab the eggs, a little water and the three meats. Now all you will need to do is assemble.
Combine the Meats with the Other Ingredients. In a large bowl, mix the three meats partially, then add the onions and garlic and mix a little more. Add the Herbs and Spices, about half or ⅔ of the bread crumbs, the eggs and a splash of water. Now get your hands in there and mix it together thoroughly until it is completely blended-add more bread crumbs and water if needed.
Form a Loaf. I usually form two loves but you can do three or even one big one.
Bake. Place the loaves on a greased and foiled line cooking sheet with sides or a baking dish.
1st Phase: 425 degrees – 30 minutes – uncovered
2nd Phase: 325 degrees – 45 minutes – covered with foil.
Add Sauce/Glaze. After 45 minutes, remove from oven, pour off any grease if necessary, then pour the sauce/glaze on top of the loaves. Use as much or as little glaze as you would like.
3rd Phase: 425 degrees – 15 to 20 minutes – uncovered and glazed
Remove from Oven and Serve. Take the loaves out of the oven and let them rest for about 5 minutes.
There you have it. Serve with some mashed potatoes or mac and cheese and make sure to have a little of the sauce on top.
This special mac and cheese is a perfect partner for our meatloaf:
Macaroni and Cheese
Macaroni and Cheese is the most comforting of comfort food, but try this recipe, patterned after Rocky and Carlo's famous mac and cheese.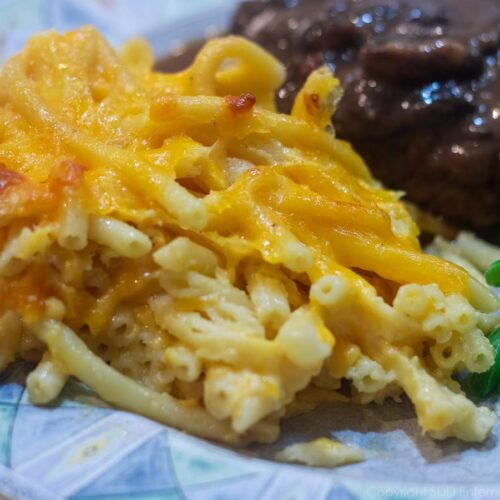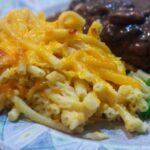 Here's some tips and a wrap-up:
What's in it? Meatloaf is best when its a blend of various meats with a high fat content. Here we have ground chuck, pork and veal. Plenty of fat to keep it moist plus the tenderness of veal.
Milk? Some recipes call for milk (yeah, milk). That's good when using chunks of bread as a binder because it can steal the moisture out of the meat-soaking the bread in the milk adds back some of that moisture. We're using high fat meats and adding a little water for extra moisture, so we only add bread crumbs, which won't soak up as much of the natural moisture and don't need to be pre-soaked.
How long do you cook it? This is a pretty substantial hunk of meat goodness, so to make sure we cook it through without drying it out, we'll go in phases. Phase 1 is high heat (425 degrees), uncovered to get the outside nice a brown. Next, Phase 2 is lower (325 degrees) covered in aluminum foil to slowly cook all the way through. Finally, after we add the sauce we raise the heat (425 degrees) , uncover it again to put a glaze on it.
Why not cook the veggies first? Some recipes cook the veggies-onions, carrots, etc. to soften them. I keep it simple with only onions. I run them through a food processor or better yet, a grater, because that brings out the moisture and makes them easier to cook. I think this lets the flavors of the meat come to the forefront.
Let it rest! Make sure to let the meatloaves rest for about five minutes after baking. This will redistribute the moisture and be nice and juice when you slice them.
I hope you give this a try, if you do, please tell us about it in the Comments section below. Make sure to leave a rating on the recipe. Follow us on Facebook and Instagram and make sure to share this with your friends…they will love you for it. Sign up for our email updates below so you don't miss anything!
Yeah You Right!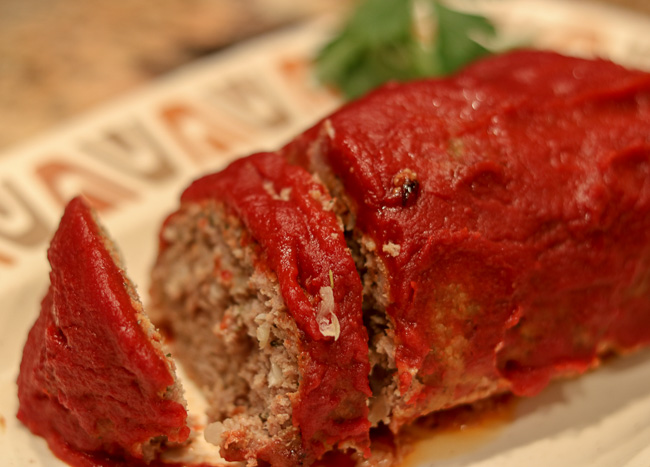 Classic Meatloaf
Major comfort food! This homogeneous blend of three different ground meats with herbs and spices combine to form a tender loaf of goodness that goes best with creamy mashed potatoes or mac and cheese-the sauce even makes a tangy gravy to smother those classic side dishes! Add some peas or green beans and you have a meal that's sure to warm the heart and the tummy!
Print
Pin
Rate
Here's What You Need
1

pound

ground chuck

1

pound

ground pork

1

pound

ground veal

2

medium

Yellow Onions

4

cloves

garlic

2

whole

eggs

1/4

cup

water

1

cup

seasoned bread crumbs
Herb and Spice Blend
1

teaspoon

Oregano

1

teaspoon

Basil

1/2

teaspoon

Thyme

1

teaspoon

kosher salt

1

teaspoon

ground black pepper
For the Sauce/Glaze
6

ounces

tomato paste

8 - 16

ounces

Tomato Sauce

3

tablespoons

light brown sugar

2

tablespoon

apple cider vinegar

To Taste

Kosher Salt and Ground Black Pepper
Here's What You Do
Preheat the oven to 425 degrees.

Make the sauce by mixing all the ingredients for the sauce together in a small bowl and set aside. This sauce will benefit from sitting for a while.

Process the onion and garlic in a food processor until they are very fine-set aside and make sure to save all the liquid with them.

In a large glass bowl mix all the meats together by hand to integrate completely.

Add the onions, garlic, eggs, herbs and spices and water to the meats and continue to mix together by hand until thoroughly combined.

Mix in about 2/3 of the breadcrumbs. This will tighten the meat mixture up so you can form it into loaves. Add the remaining breadcrumbs and more water if needed so that it makes a firm loaf.

Form into a loaf or loaves. Since its 3 pounds of meat, this will make a very large loaf or two or three smaller loaves depending on your needs. Extra loaves can be frozen before cooking or after baking, and saved for another meal.

Spray a roasting pan with non stick spray and set meatloaf on it.

Place the meatloaf in the preheated oven, uncovered, for 30 minutes. After 30 minutes, remove from oven and lower the oven temp to 325 degrees.

Pour off the excess grease from the roaster, cover with aluminum foil and return to the 325 degree oven for 45 minutes.

After 45 minutes, take the meatloaf out of the oven and uncover. Increase the oven temp to 425 degrees.

Pour the sauce over the meatloaf and return to the 425 degree oven, uncovered. Roast for another 15 to 20 minutes, the sauce should be bubbly and starting to brown. Remove the meatloaf from oven and rest for about 10 minutes before slicing.
Nutrition
Calories:
335
kcal
|
Carbohydrates:
18
g
|
Protein:
23
g
|
Fat:
19
g
|
Saturated Fat:
7
g
|
Cholesterol:
86
mg
|
Sodium:
816
mg
|
Potassium:
719
mg
|
Fiber:
2
g
|
Sugar:
8
g
|
Vitamin A:
481
IU
|
Vitamin C:
9
mg
|
Calcium:
60
mg
|
Iron:
3
mg