Meatloaf...can you say comfort food? It's a food group all by itself!! Ground meats and vegetables with Cajun-style herbs and spices pressed into a loaf and baked to golden perfection. Add a sweet and savory sauce on top and you have something special. Here's a close up of how to make this simple, no-angst meatloaf recipe.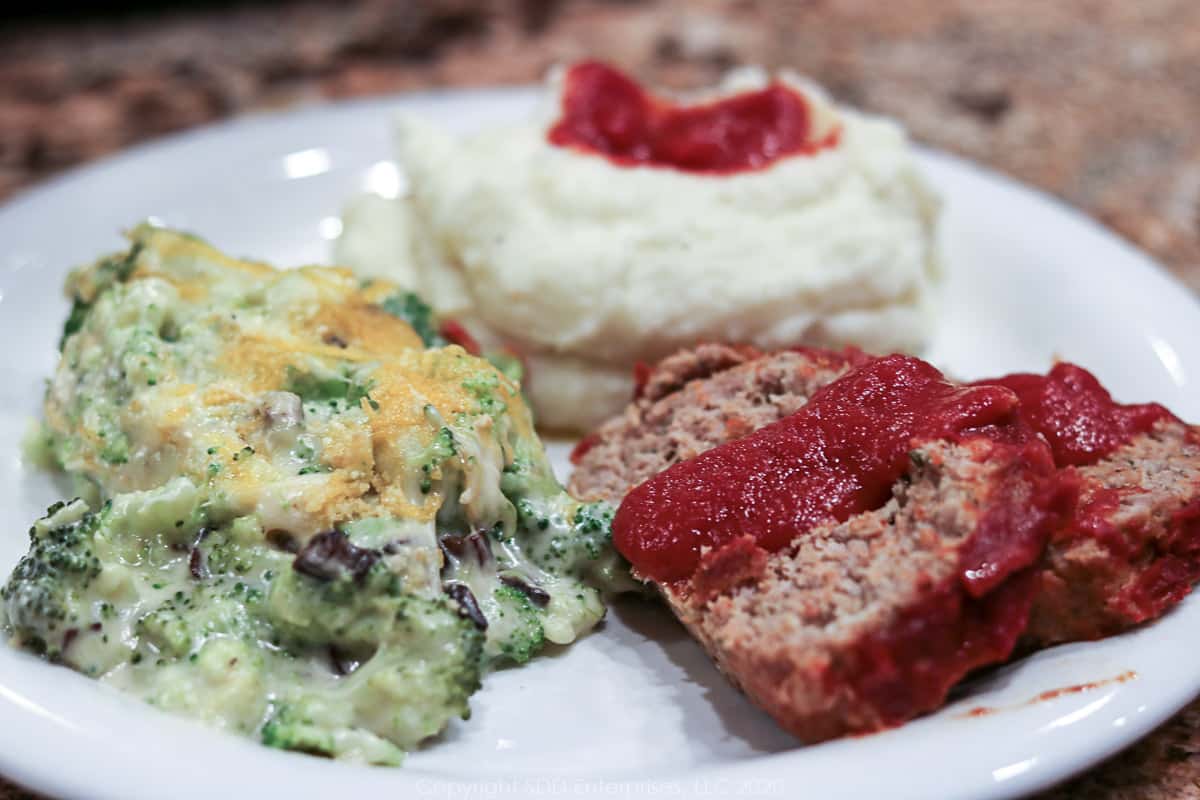 This post is not sponsored, but you will find affiliate links on this page. As an Amazon Associate, I earn from qualifying purchases. The price you pay as a consumer does not change, but I may make a small commission based on your purchase.
If you want to just skip to the recipe, click the "Jump To Recipe" button above or the Recipe link below and you'll go right there without having to scroll through my article. 
Jump to:
[Publishers Note: I originally published this article in May 2018. I am publishing this update to provide some clarifications with step-by-step instructions and web-friendly photographs of each step. Let me know what you think.]
What's up with meatloaf?
Meatloaf has been around forever and transcends cuisines. Minced meats date back to the 5th century Roman days and there is the traditional meat-centric traditions of Germany, Scandinavia and Belgium. It showed up in American cookbooks as early as the 1870's when some recipes used "whatever cold meat you have". Sounds like a great way to use up the entire cow or pig or deer or goat you just butchered….in 1870.
Cajun and Creole cooks have always been known for their ability and desire to use the whole of their resources. This shows up in traditional recipes for boudin and andouille, jambalaya, dirty rice and of course gumbos but let's not forget meat pies and cochon de lait! Traditional cooking methods in South Louisiana mean everything gets used and no parts get wasted! As a result, the meatloaf is a perfect Cajun dish. By using all cuts of meat, ground and mixed with vegetables and seasonings, a flavor is developed that is not beef or pork or veal, but unique. That is the magic of Sweet Daddy D's Classic Meatloaf.
Here's What You Need
Here are some of the key ingredients for this recipe. The recipe card below has a complete list of these ingredients.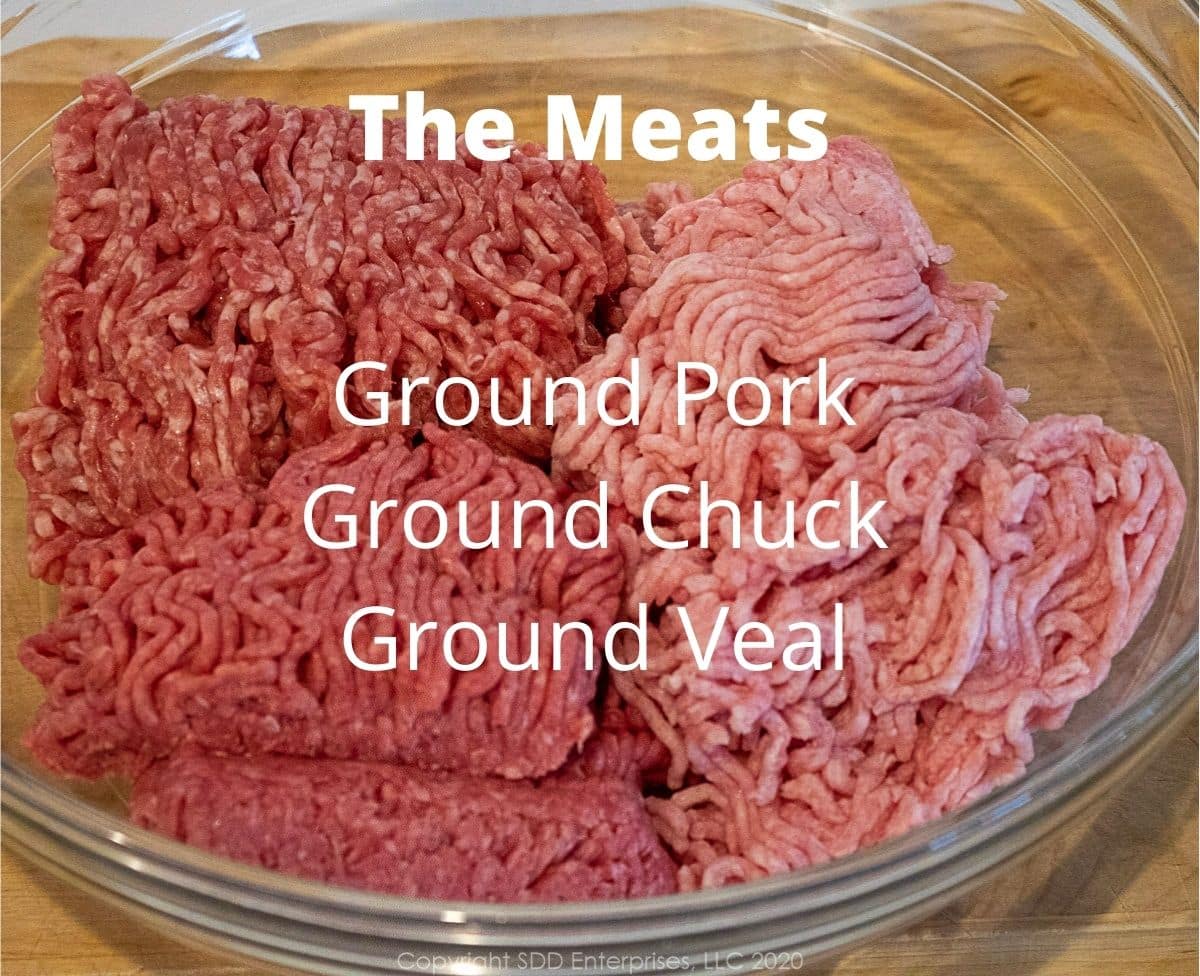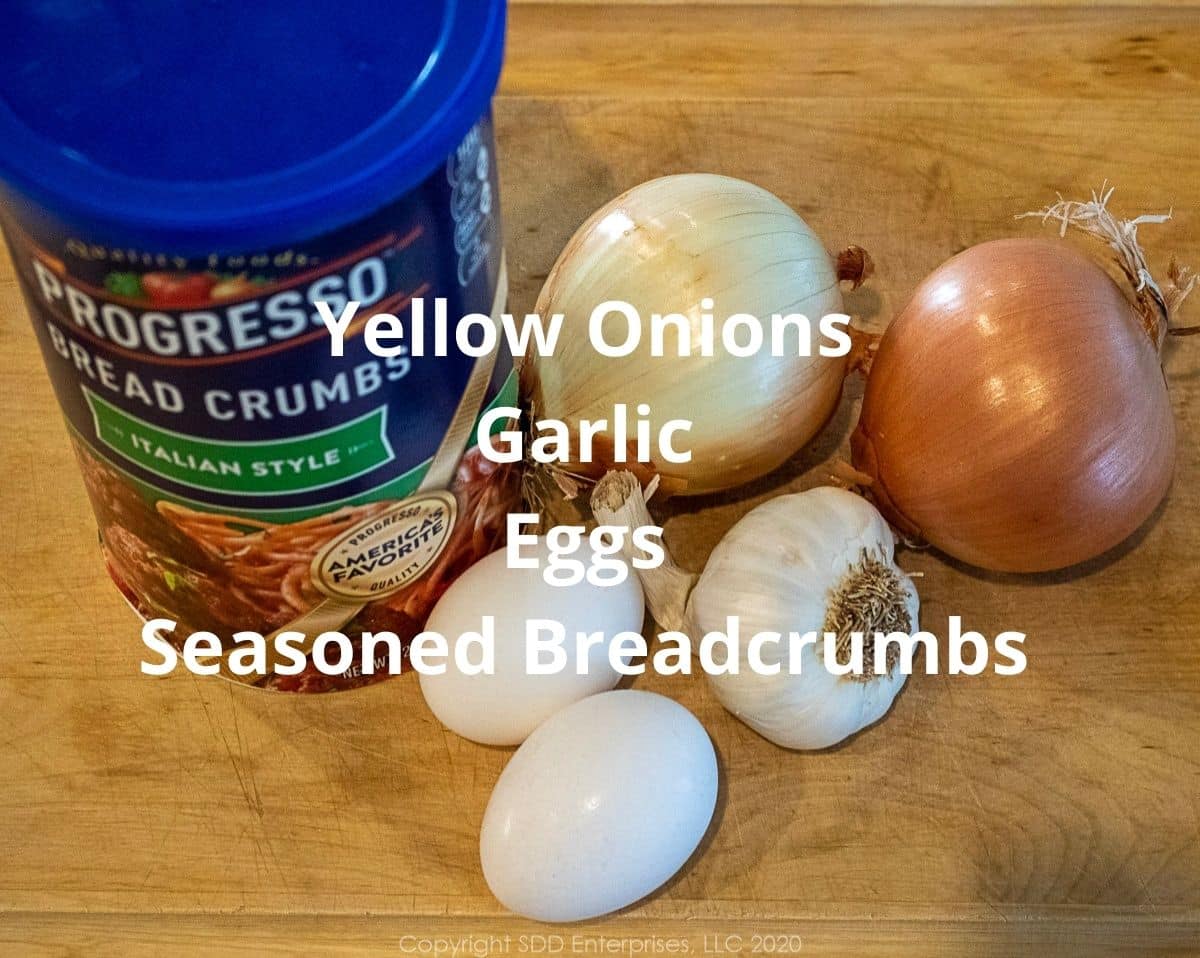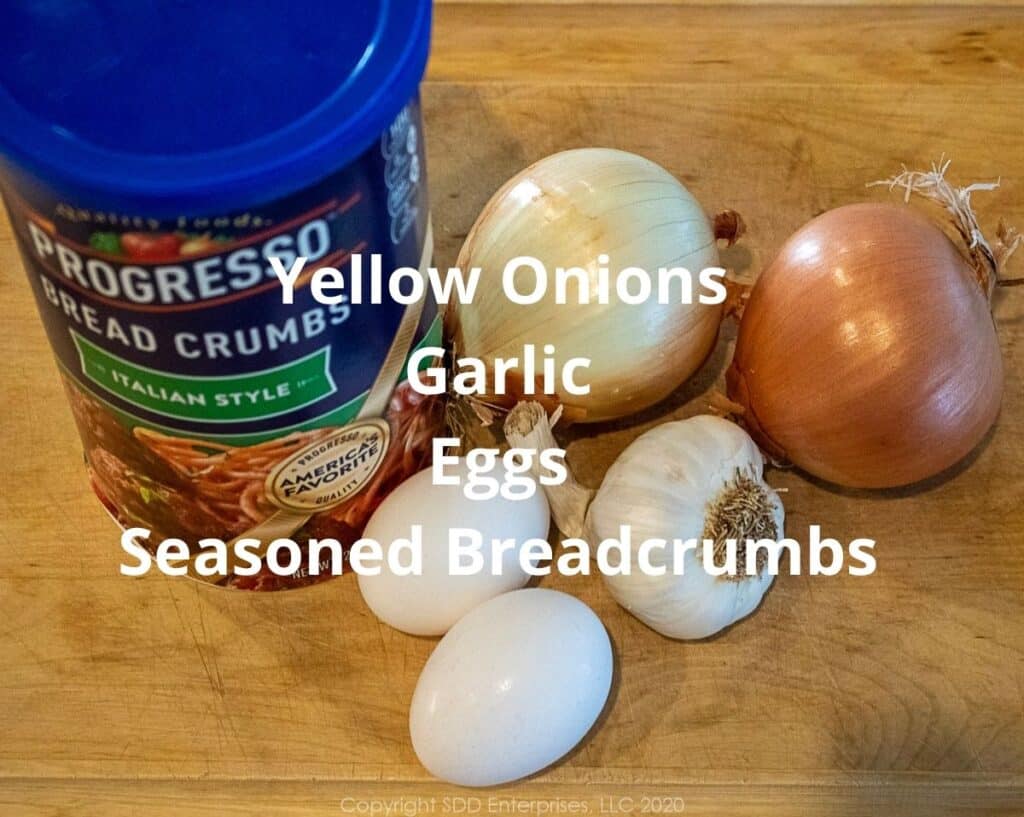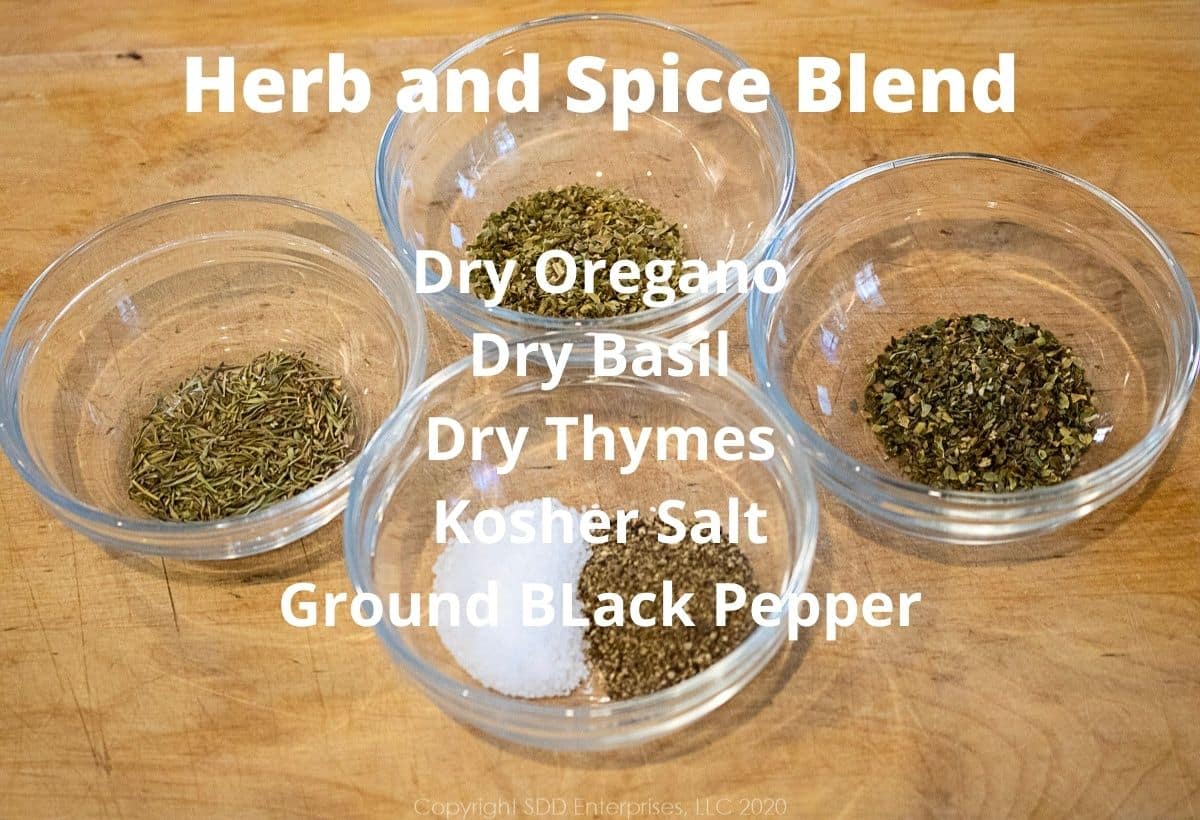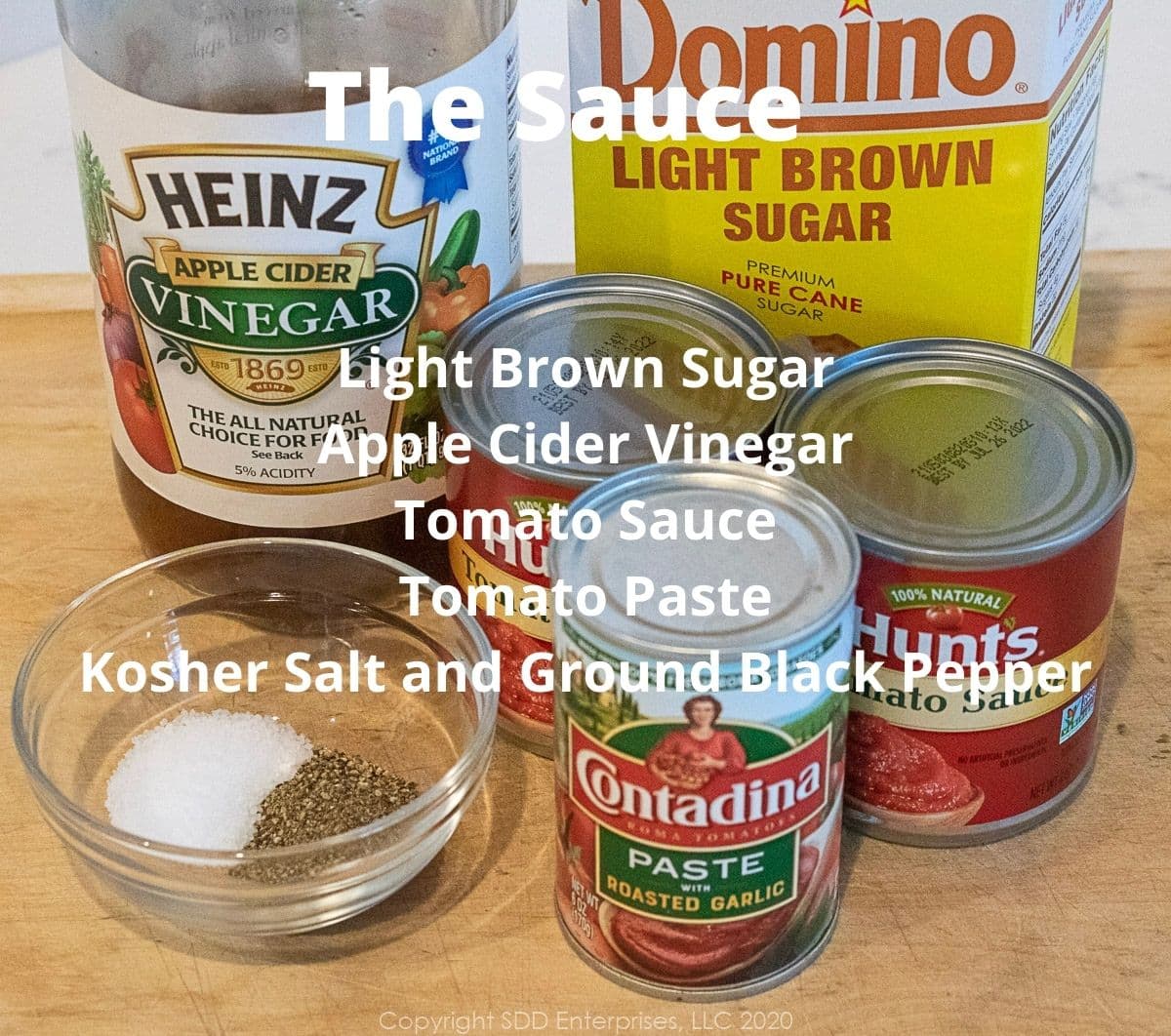 Equipment
As an Amazon Associate, I earn from qualifying purchases. The price you pay as a consumer does not change, but I may make a small commission based on your purchase. These items from Amazon will help you with this recipe:
Here's What You Do
First...you have a beer. Prepare the cook and prepare the ingredients. The mise en place is pretty basic and starts by sipping a beer and reading the recipe from start to finish. Familiarize yourself with what you need and what you will do with each ingredient. The objective is to blend three different types of ground meat into a product that is greater than the sum of its parts, then adding seasonings and binders that create a homogenous, moist loaf of meaty goodness. So let's go.
Mise En Place
Set the meats out about an hour before you are going to mix everything together. It will be easier to blend the meat completely if it is not very cold.
Preheat the oven to 425 degrees Fahrenheit. Prepare a baking pan with sides by spraying nonstick spray all over the inside.
Run the onions and garlic through a mini food processor or a grater to generate as much juice as possible. If you don't have a food processor or a grater you can use a blender or chop them very finely.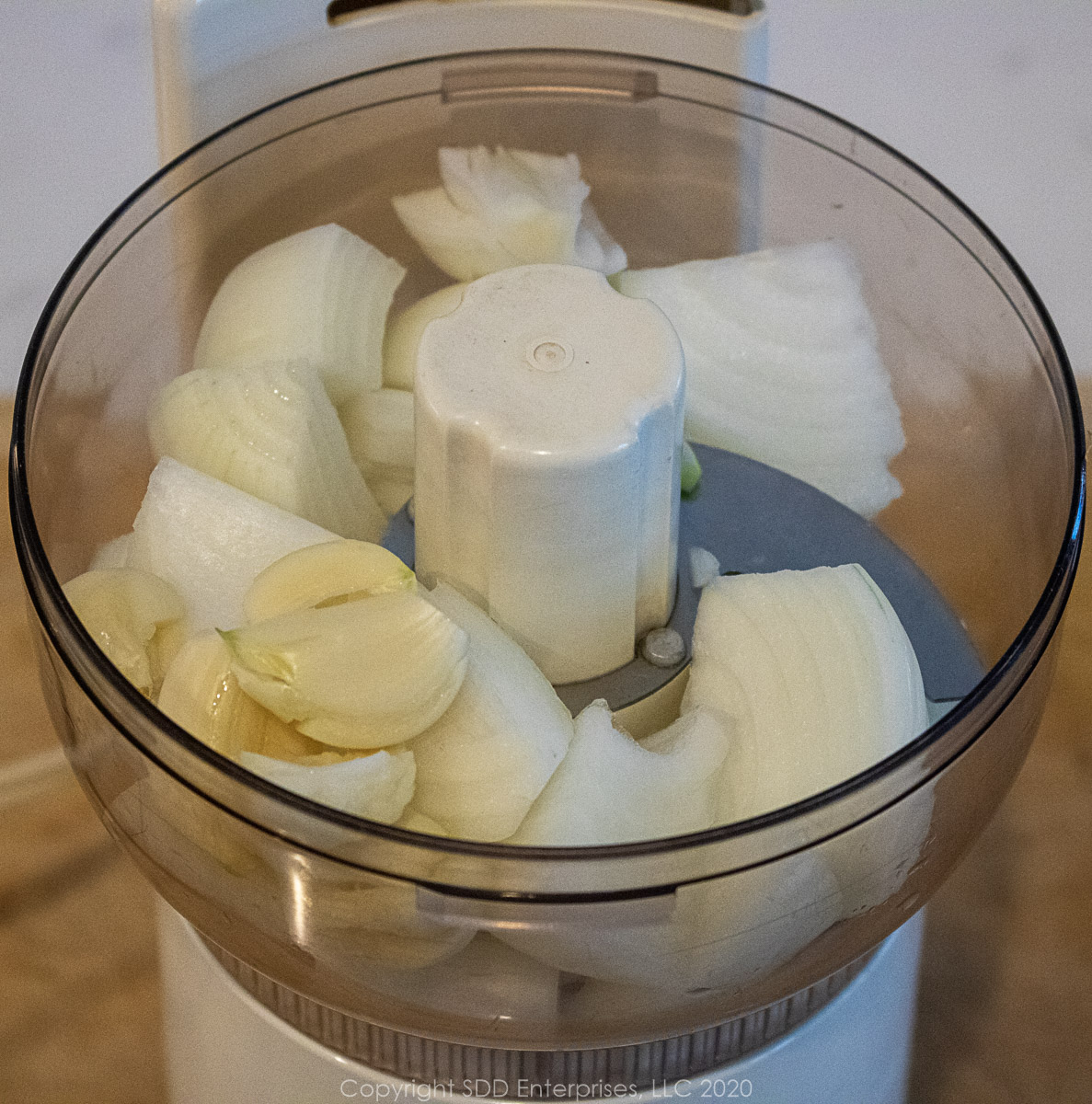 Measure the Herbs and Spice Blend and the breadcrumbs. Grab the eggs, a little water and the meat. Now all you will need to do is assemble. You are looking for a homogenous, somewhat sticky meat blend.
Make the sauce
For the sauce, combine all the sauce ingredients in a large measuring cup and combine with a whisk. Set the sauce aside until ready to use.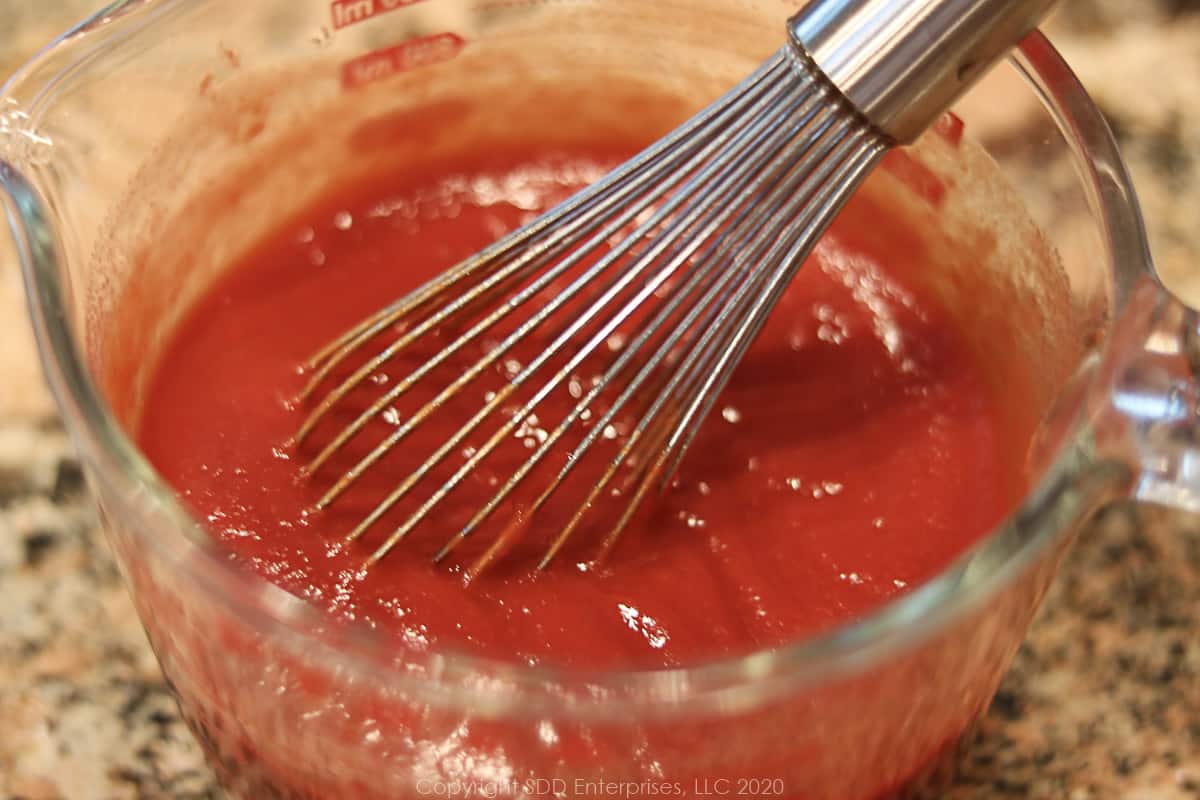 Combine the Meats with the Other Ingredients
Crumble the three types of meat into a large glass bowl.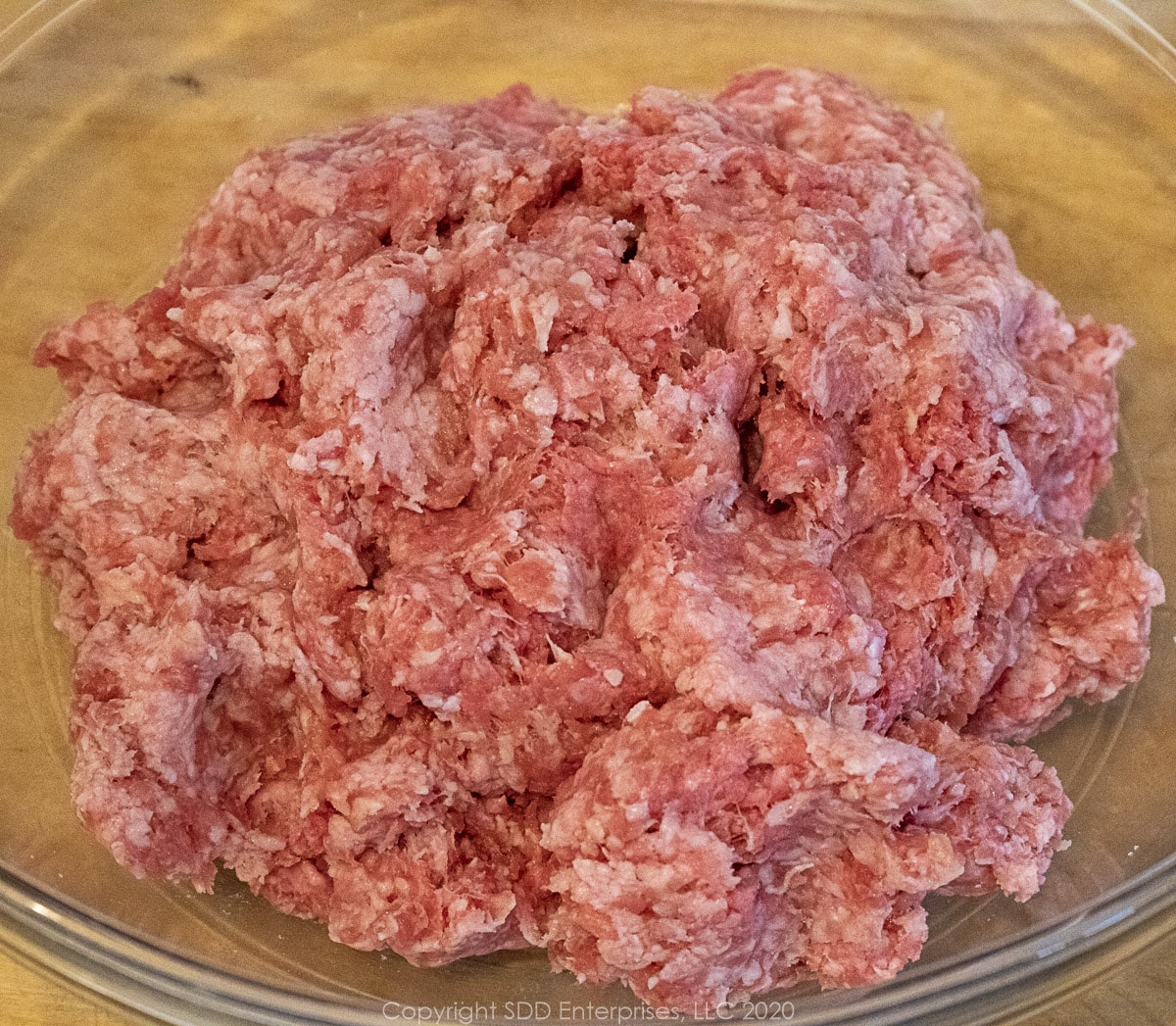 Use your hands to gently mix the meat together completely, then add the remaining ingredients: ground onions, garlic, the Herbs and Spices, breadcrumbs, eggs and a splash of water. You may want to start with about ¾ of the breadcrumbs and add more as needed.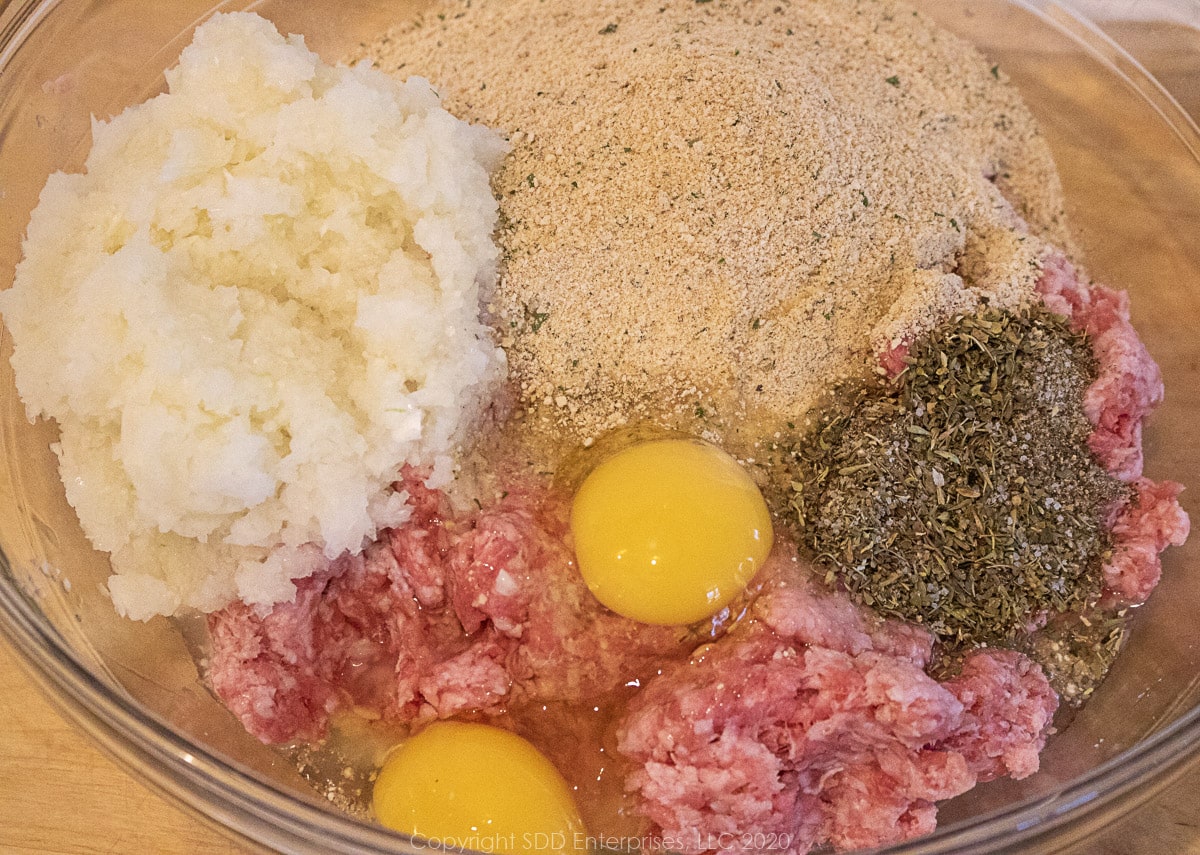 Now get your hands in there and mix it together thoroughly until it is completely blended. Add more bread crumbs to get a sticky, homogenous blend.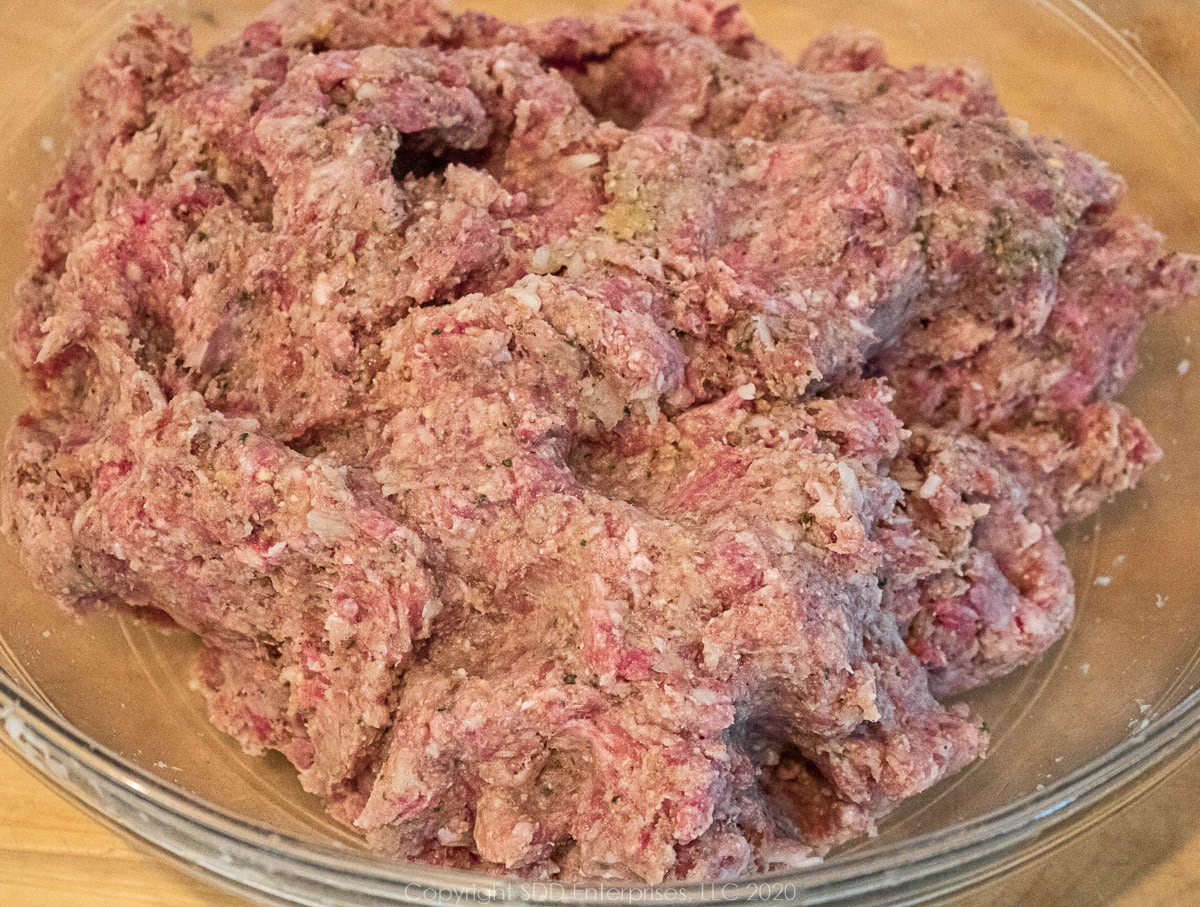 Form a loaf
There is enough meat to make two nice size meatloaves. While still in the glass bowl in which it was mixed, divide the meat mixture into two equal parts. Each meatloaf can be shaped by hand, but I have found using a loaf pan as a mold is the best way to do this.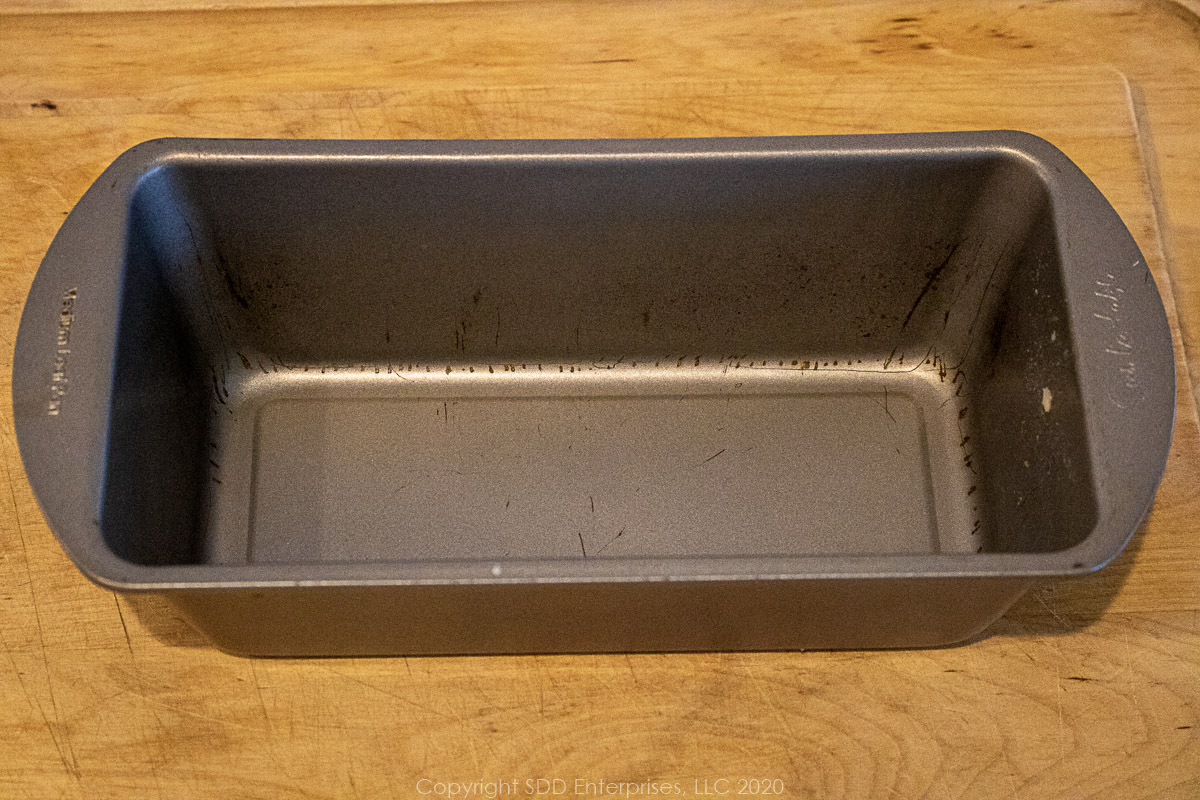 Line a loaf pan with wax paper or parchment paper. Place about half of the meat mixture in the pan. Press down gently, but firmly, making sure that all the voids are removed and the top is relatively flat.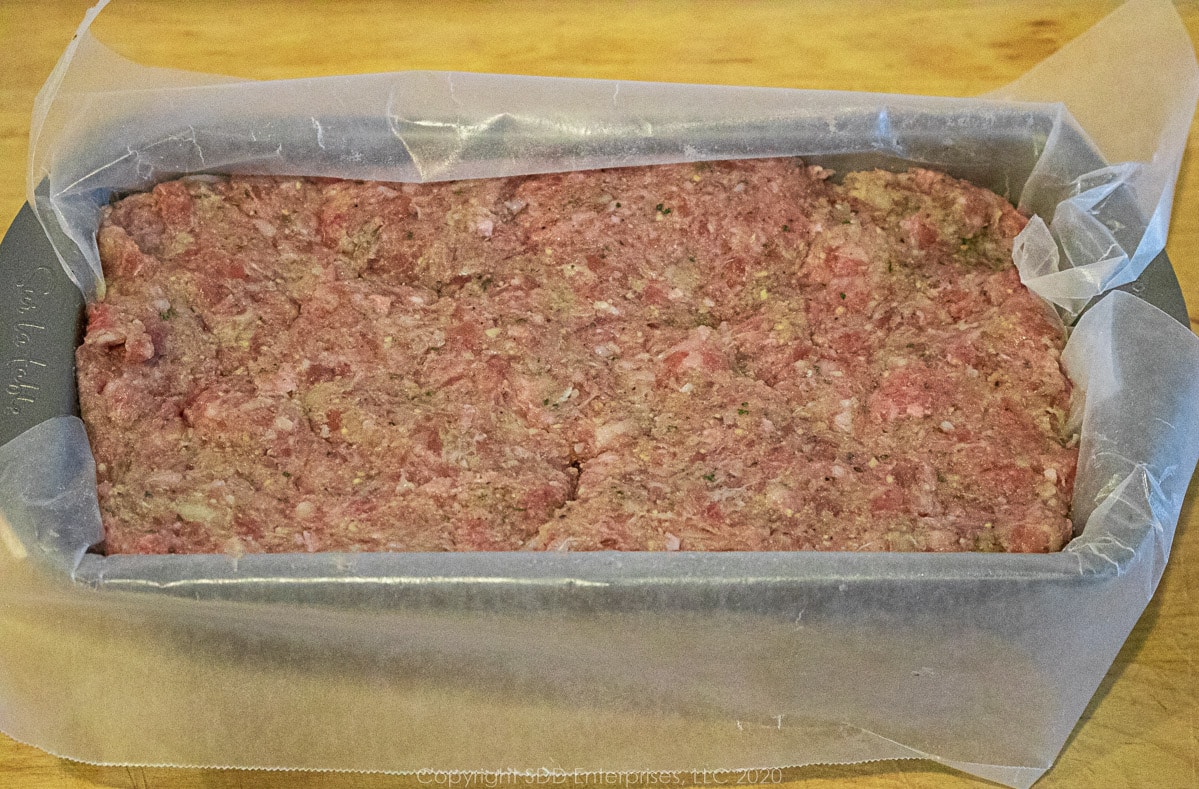 Turn the loaf pan over onto the prepared baking pan and remove the meatloaf. Finish forming the meatloaf with your hands. Repeat that process with the remaining meat mixture.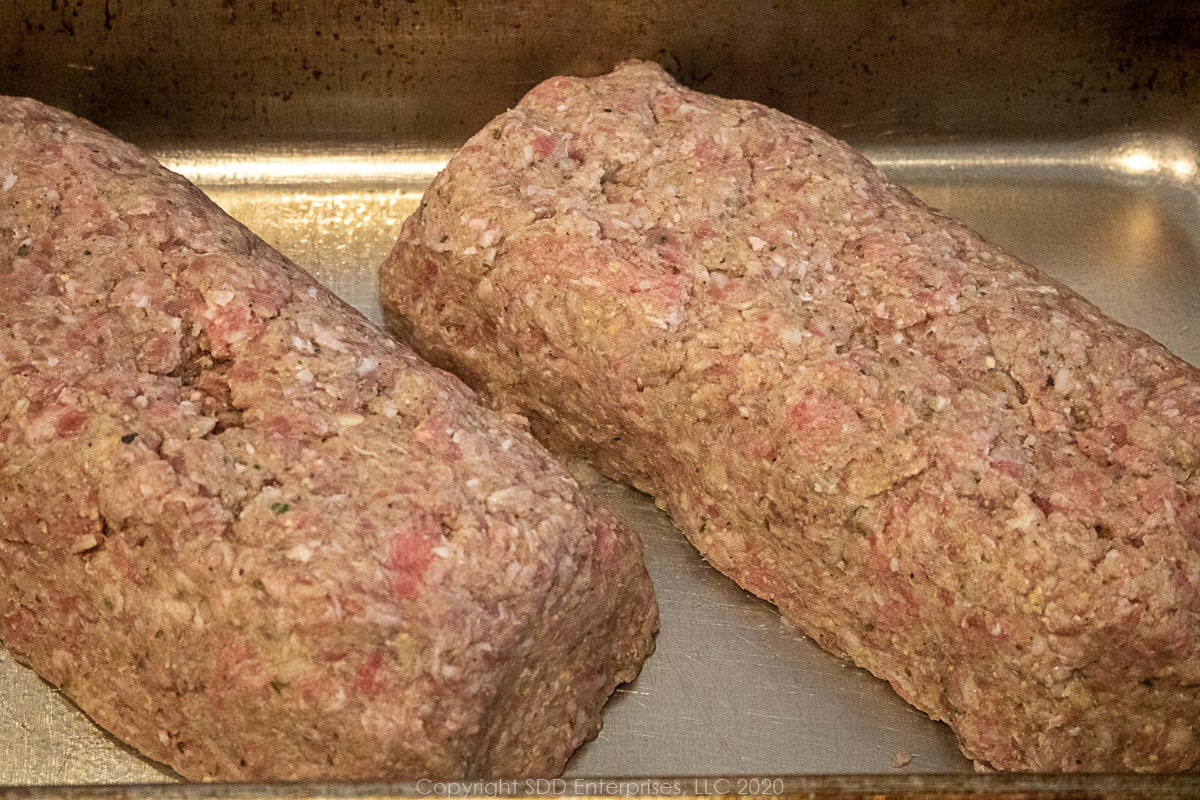 Bake
Place the baking pan into the preheated 425 degrees Fahrenheit oven for 30 minutes, uncovered.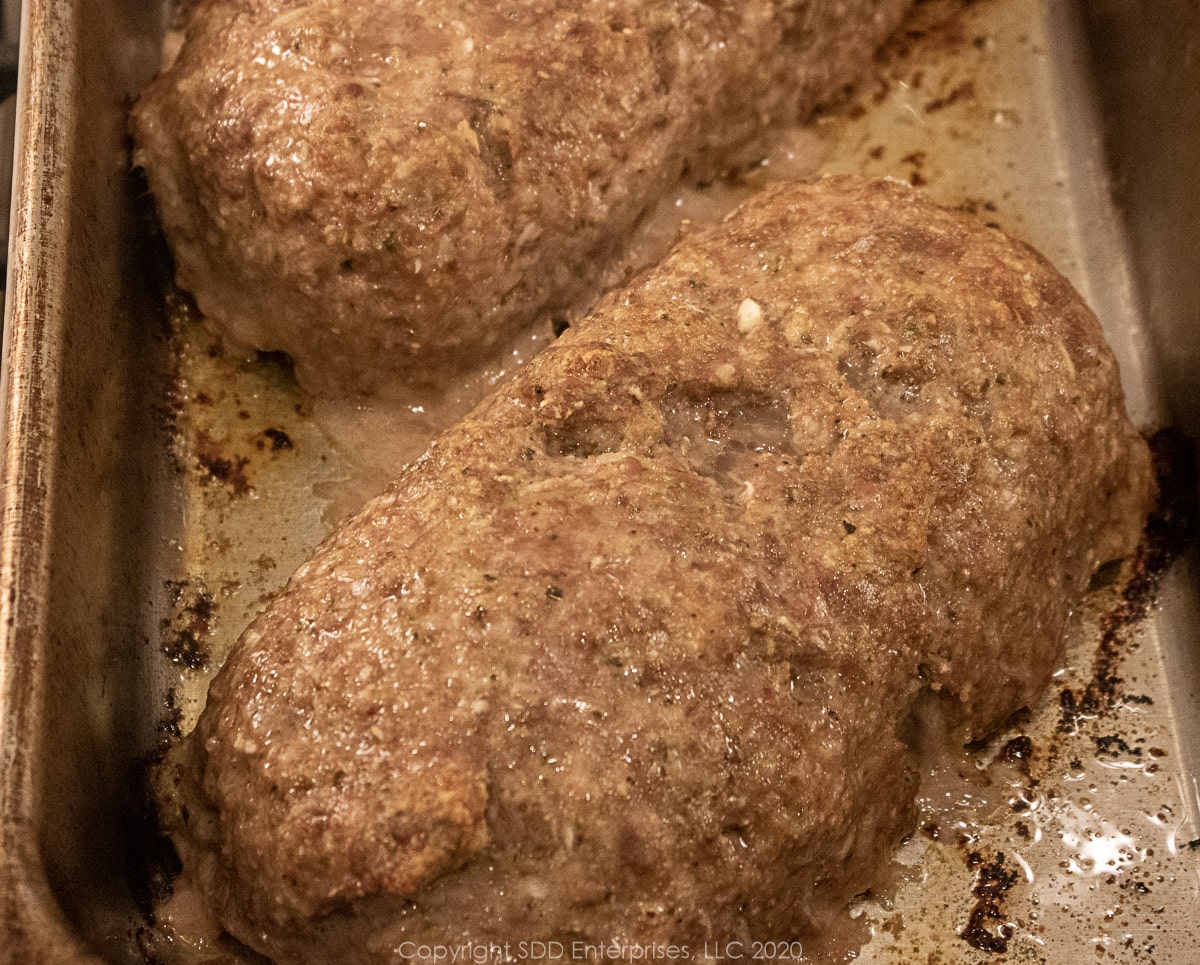 After 30 minutes at 425 degrees Fahrenheit, remove it from the oven and decrease the oven temperature to 325 degrees Fahrenheit. Cover the pan with aluminum foil and place back in the oven for 45 minutes.
Add the Sauce
After 45 minutes, remove the baking pan from the oven. Increase the oven temperature to 425 degrees Fahrenheit.
Discard any excess grease from the baking pan using a turkey baster or a spoon. Pour the sauce on top of the meatloaves and spread evenly with a brush or a spatula. Use as much or as little glaze as you would like, saving any extra to add later.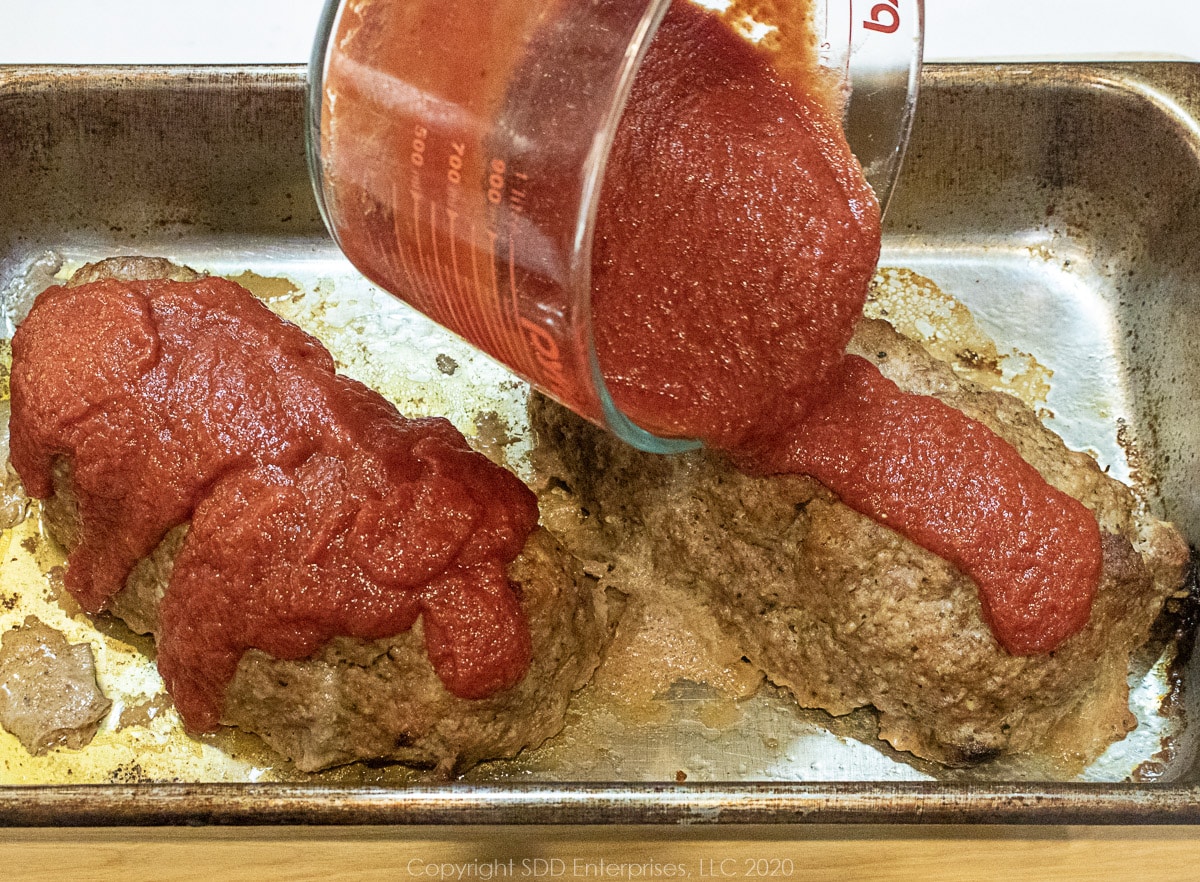 I recommend not using too much sauce at this point and save the extra sauce to be used when serving. I think the sauce cooks better when there is not too much. Admittedly, I don't always take my own advice and sometimes just pour all the sauce on at one time! Any extra sauce can be simmered on the stove and added when serving. Try some on your mashed potatoes or mac and cheese!
Return the baking pan to the oven, uncovered. Bake for 15 minutes until the sauce is beginning to glaze.
TIP: It's important not to overcook the meatloaves and now is the time to be careful. It would be easy to bake it for more than 15 minutes at this point and really sear the sauce, however, I have found that the meatloaf will dry out quickly after 15 minutes (believe me, I've done it).
Remove from Oven and Serve
Take the meatloaf out of the oven and let them rest for about 10 minutes. Slice and serve with mashed potatoes or mac and cheese. Here are some suggested side dishes: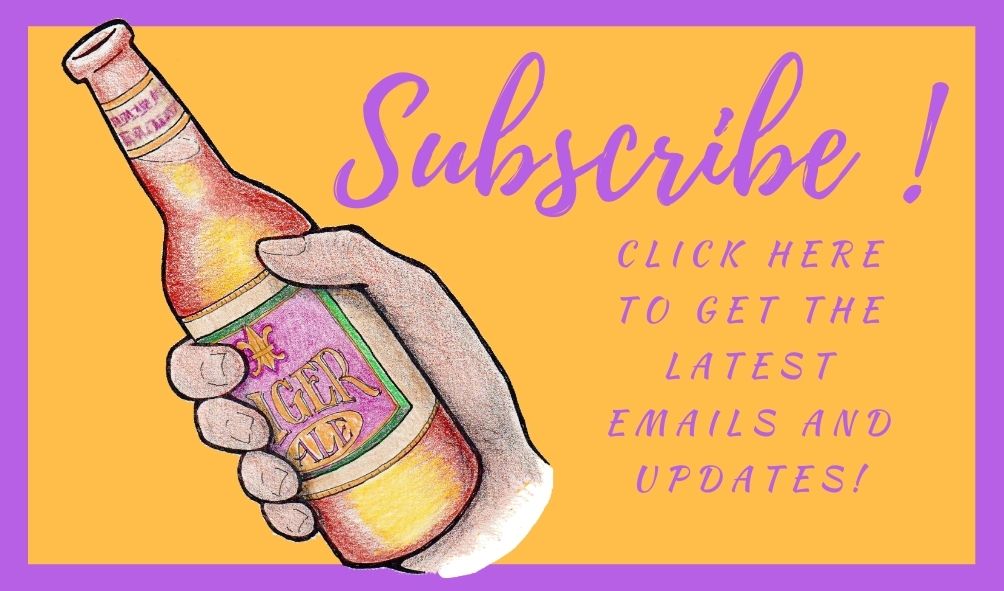 Serve Sweet Daddy D's Classic Meatloaf with: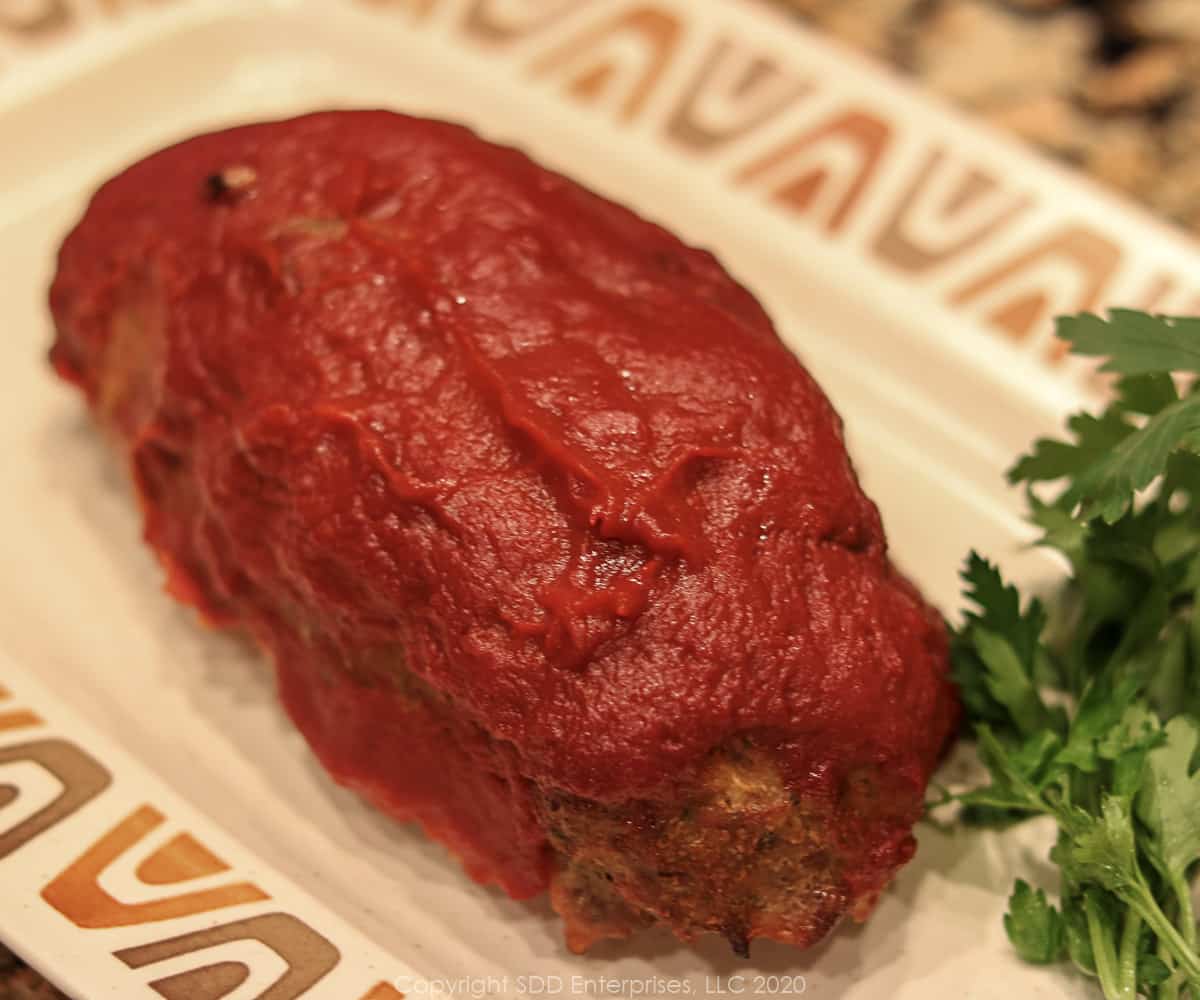 Hints and Tips
How Do I Keep Leftovers?
Leftover meatloaf can be kept in the refrigerator for 3 to 4 days in an airtight container. It can also be stored in the freezer for 3 to 4 months, again in an airtight container. Thaw the meatloaf completely before reheating. It can be reheated in the microwave or in a 350 degree Fahrenheit oven for about 15 minutes or until warmed completely through.

Can this be made ahead?
Yes, this recipe can be made up to the point of baking, then frozen to be enjoyed later. You can make 2 loaves and freeze one for later. I recommend placing the unbaked meatloaves on a lined baking sheet and placing that into the freezer. Once the loaf or loaves have been frozen solid, place each frozen loaf into an airtight container or vacuum sealer bag. If airtight, the loaves will maintain their quality for 3 to 4 months. Defrost completely before baking as directed in the instructions.
What's in this meatloaf? 
The best meatloaf is moist and deep in flavor. It's dense, but not heavy. It sticks together but melts in your mouth. These traits are achieved by combining different kinds of meat which add specific characteristics. Ground chuck provides a hearty beef flavor with its high-fat content (20%). Ground pork also has a high-fat content with great texture and soft fat. Remember, fat is flavor. Veal is a young calf that adds a mild flavor but its high collagen content helps blend the three types of meat together in a more homogenous manner. Eggs and breadcrumbs are used as binders that help hold everything together. Yellow onions and garlic along with basic herbs complete the taste which should not be like beef or pork, but a unique flavor with contributions from each ingredient. 

How long do you cook it?
This is a pretty substantial chunk of meat goodness, so to make sure we cook it through without drying it out, we'll go in phases. 
Phase 1 is high heat (425 degrees), uncovered to get the outside nice a brown.
Phase 2 is lower (325 degrees) covered in aluminum foil to slowly cook all the way through. 
Phase 3 add sauce and higher heat (425 degrees). Uncover it again to put a glaze on it.
Why not cook the veggies first?
Some recipes cook the veggies-onions, carrots, etc. to soften them. I keep it simple with only onions and garlic. Running them through a food processor or a grater provides moisture from the onions. Since they are so fine, they are easier to cook. I think this lets the flavors of the meat come to the forefront.

How do I use leftovers?
Meatloaf sandwiches, to me, rank up there with turkey sandwiches after Thanksgiving. Those alone almost make it worth cooking meatloaf. Other uses for leftover meatloaf are stuffed peppers, tacos, soup and chili. What are your favorite uses for leftover meatloaf? Let us know in the comment section below.
How can I gussie up this recipe up?
This recipe is excellent as is, but if you want to use it as a jumping-off spot, here are some ideas: 
Use Creole Sauce instead of the sauce in this recipe
Use Sweet Daddy D's Cranberry BBQ sauce instead of the sauce in this recipe.
Add cayenne pepper and/or Creole seasoning to the Herb and Spice Blend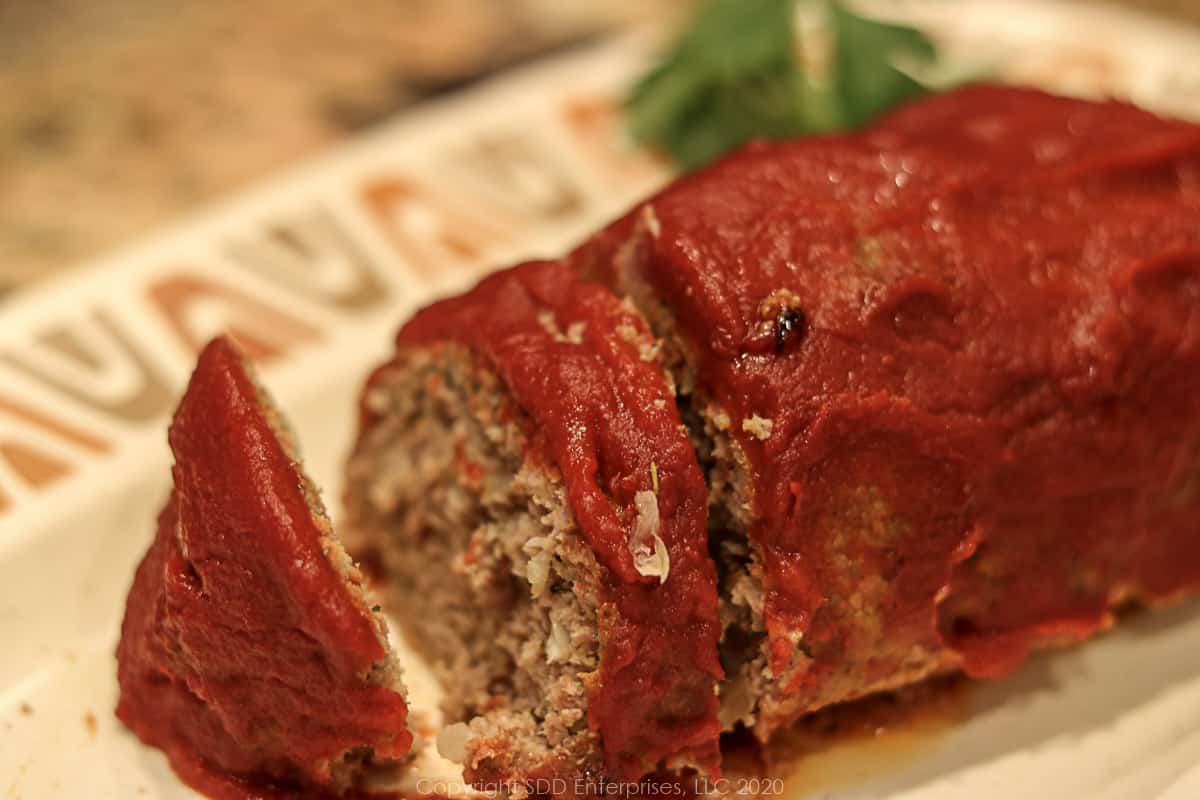 As an Amazon Associate, I earn from qualifying purchases. The price you pay as a consumer does not change, but I may make a small commission based on your purchase. These items from Amazon will help you with this recipe:
If you make this recipe:
Tell us about it in the Comments section below
LEAVE A RATING ON THE RECIPE-worthy of 5-Stars?
Questions or Comments? that's the place!
SIGN UP FOR OUR EMAIL UPDATES so you don't miss anything!
Post a picture and share it with your friends on our Social Media: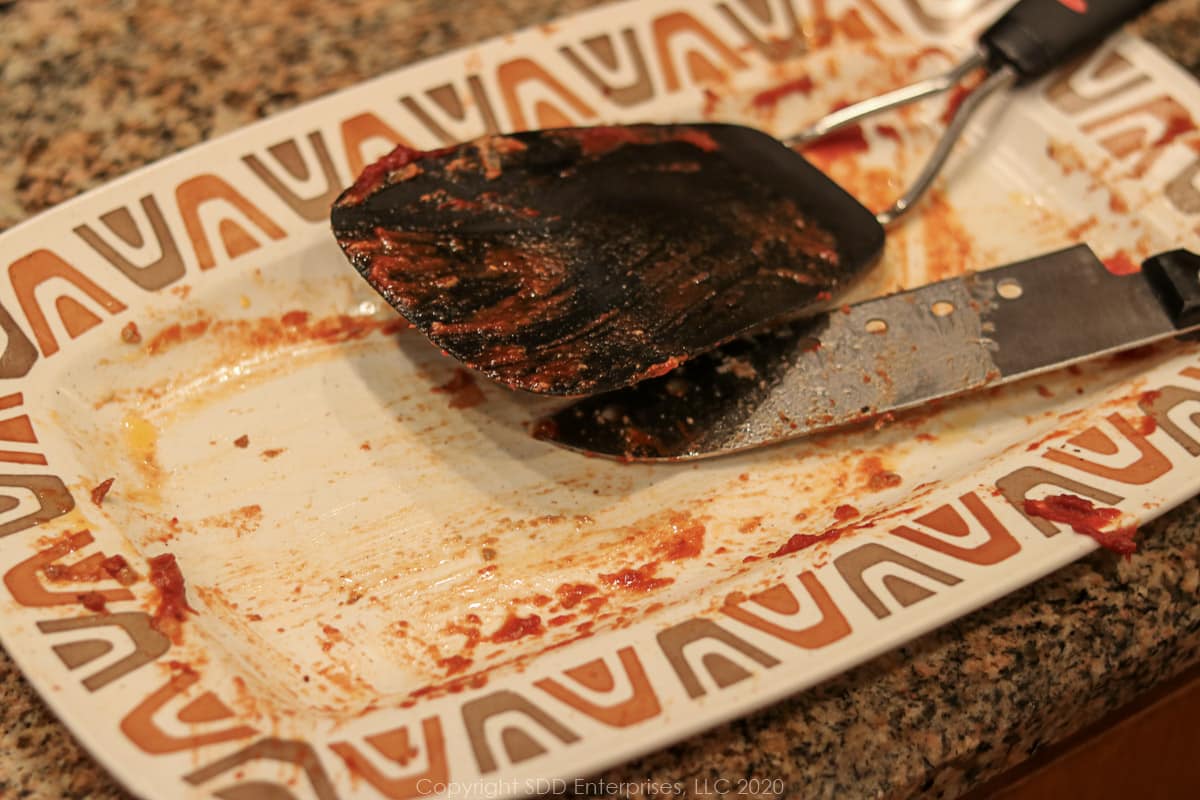 Recipe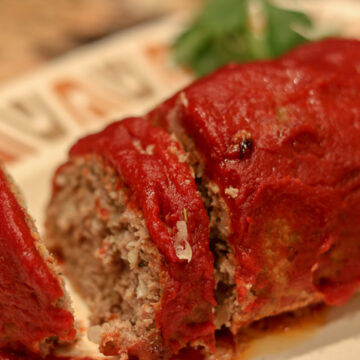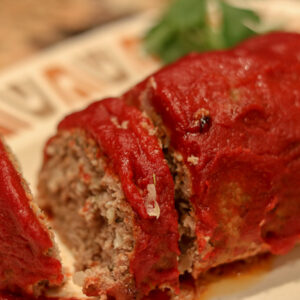 Classic Meatloaf
Major comfort food! A homogeneous blend of ground beef, pork and veal with seasonings, herbs and spices that combine to form unique flavor is in a tender loaf of goodness.
Print
Pin
Rate
Here's What You Need
1

pound

ground chuck

1

pound

ground pork

1

pound

ground veal

2

medium

Yellow Onions

4

cloves

garlic

2

whole

eggs

¼

cup

water

1

cup

seasoned bread crumbs
Herb and Spice Blend
1

teaspoon

Oregano

1

teaspoon

Basil

½

teaspoon

Thyme

1

teaspoon

kosher salt

1

teaspoon

ground black pepper
For the Sauce/Glaze
6

ounces

tomato paste

12

ounces

Tomato Sauce

3

tablespoons

light brown sugar

2

tablespoon

apple cider vinegar

To Taste

Kosher Salt and Ground Black Pepper
Here's What You Do
Preheat the oven to 425 degrees. Set the meats out to reach room temperature,

Make the sauce by mixing all the ingredients for the sauce together in a small bowl. Set aside. This sauce will benefit from sitting for a while.

Process the onion and garlic in a food processor (or grater) until they are very fine-set aside and make sure to save all the liquid with them.

Crumble each meat by hand into a large glass bowl. Gently combine the meats to integrate completely.

Add the onions, garlic, eggs, about ⅔ of the breadcrumbs,the herbs and spices and water to the meats and continue to mix together by hand until thoroughly combined.

Add the remaining breadcrumbs to tighten the meat mixture until it is sticky and dense. Add more water if needed.

Spray a roasting pan with non stick spray and set meatloaf on it.

Press about half of the meat mixture into a lined loaf pan used as a mold. Roll the formed meatloaf onto a prepared baking pan and finish forming by hand. Repeat for the second loaf.

Place the baking pan with the meatloaves in the preheated oven, uncovered, for 30 minutes. After 30 minutes, remove it from the oven. Lower the oven temp to 325 degrees.

Cover with aluminum foil and return to the 325-degree oven for 45 minutes.

After 45 minutes, take the meatloaf out of the oven and uncover. Discard any excess greas in the baking pan. Increase the oven temp to 425 degrees.

Pour the sauce over the meatloaf and return to the 425-degree oven, uncovered.

Roast for another 15 minutes, the sauce should be bubbly and starting to brown. Remove the meatloaf from the oven and rest for about 10 minutes before slicing.
Nutrition
Calories:
335
kcal
|
Carbohydrates:
18
g
|
Protein:
23
g
|
Fat:
19
g
|
Saturated Fat:
7
g
|
Cholesterol:
86
mg
|
Sodium:
816
mg
|
Potassium:
719
mg
|
Fiber:
2
g
|
Sugar:
8
g
|
Vitamin A:
481
IU
|
Vitamin C:
9
mg
|
Calcium:
60
mg
|
Iron:
3
mg