Simple? Four basic ingredients combine to make a sweet and subtle side that will get everyone's attention. Roasted Carrots with Cane Syrup…the natural sweetness of carrots and creamy butter is intensified through roasting, cane syrup, made from Louisiana sugar cane, adds its tangy, sweet complexity without overpowering its partners, then it's all punctuated with the fragrant and penetrating flavor of the thyme. Simple to make, but nothing simple about its flavor, here's a look at how to make Sweet Daddy D's Roasted Carrots with Cane Syrup.
Sign up for my email notifications of new recipes and posts right HERE.
Here's What You Need
This is really a simple recipe, basically four ingredients, but the way they tie together is special. Fresh carrots are the key. The roasting will bring out the natural sweetness. The carrots are mixed with butter and dried thyme before they are roasted. During roasting, sprigs of fresh thyme are placed on the carrots and provide a rich, intensified thyme flavor. Cane syrup, made from Louisiana sugar cane, compliments the roasted carrots with its simple, sweet richness that creates a magical deliciousness….taste them and they all suddenly disappear. The only other things you'll need is some sugar, kosher salt and fresh ground pepper and beer…don't forget the beer.
Here's What You Do
First…you have a beer. This is a side dish, so you probably already have that vibe going. Anyway, even though this is a simple recipe, we still need to prepare properly to make it no-angst. So, take a swig of beer and read the complete recipe. Your mise en place will be as simple as this recipe, but its still integral in your enjoyment of this process. Preheat the oven to 425 and bring a large pot of water to a boil.
Prep and parboil the carrots
Peel the carrots and cut them into about 1″ pieces, halving or quartering the larger pieces so that they are all about the same size. Place the carrots in heavily boiling water with a couple tablespoons of sugar. Once the boil returns, pull them out after three minutes and drain them. You don't want to overlook these, just looking for a slight softening.
Add butter and dry thyme
While the carrots are draining, add the butter back to the same pot, which should still be very warm. Add back the drained carrots and the dry thyme and stir well to combine and coat all the carrots in butter.
Sign up for my email notifications of new recipes and posts right HERE.
Roast the carrots
Spread the buttery carrots in a single layer on a lined sheet pan. Place a few sprigs of fresh thyme on top and place in the 425 degree oven.
Stir in the cane syrup
After 15 or 20 minutes, check the carrots and if they are starting to slightly brown on the edges, pour the cane syrup all over and mix well so that all the carrots are coated in the cane syrup. Place the baking sheet pan back in the oven for 5 to 10 minutes to achieve a sweet glaze.
There you have it, that's all there is to it. This is such a simple recipe that it shouldn't taste this good…but it does.
Hints and Tips
If you don't want to parboil the carrots first, just roast them a little longer. Melt the butter and pour over the carrots right on the sheet pan and add the dry thyme before mixing well. Throw the fresh thyme on top and stick it in the oven. Check after 20 minutes to make sure they are starting to get soft.

No cane syrup? Substitute some molasses or try this version of the same recipe but with honey or maple syrup.

This recipe is a variation of an earlier recipe-Sweet Roasted Carrots with Thyme. Same delicious roasted carrots and thyme, but made with honey which gives it a milder profile. See the link below.

Carrots are a good source of beta-carotene, fiber, potassium, antioxidants and Vitamins K and A. Cane Syrup comes from cooking down sugar cane juice so, of course, it's high in sugar which should be a consideration in your overall sugar intake depending on your diet.
Sign up for my email notifications of new recipes and posts right HERE.
Here's some other recipes that you may love:
Sweet Roasted Carrots with Thyme
These Roasted Carrots with Cane Syrup would go well with these dishes:
If you have made this recipe, please tell us about it in the Comments section below and make sure to leave a rating on the recipe. Post a picture on our Facebook page or on Instagram with #firstyouhaveabeer-you can even Pin it to Pinterest! Follow us on Facebook and Instagram and make sure to share this with your friends…they will love you for it. Sign up for our email updates below so you don't miss anything!
Yeah You Right!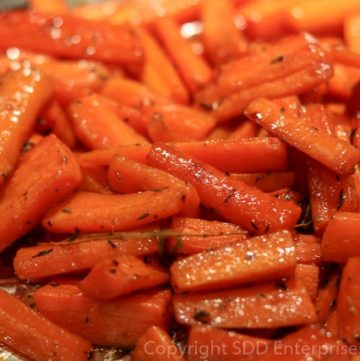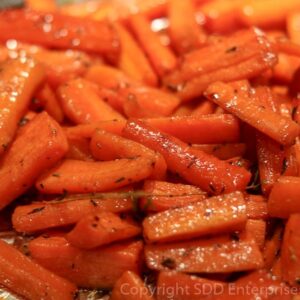 Roasted Carrots with Cane Syrup
Roasting brings out the natural sweetness of the carrots. Add some butter and cane syrup and sprinkle in a little thyme and you have a wonderfully special side dish that's perfect for any entree.
Print
Pin
Rate
Here's What You Need
2

pounds

fresh carrots

2

tablespoons

sugar

1/2

cup

Butter

1

teaspoon

dry thyme

4-5

sprigs

fresh thyme

1/3

cup

cane syrup

Kosher salt and Fresh Ground Pepper taste
Here's What You Do
Preheat oven to 425 degrees. Prepare a shallow baking sheet by covering with aluminum foil and a coating of non-stick oven spray.

Clean and slice carrots in about 1 to 1 1/2 inch lengths; half or quarter thicker pieces.

Add the carrots to about 4 to 5 cups of boiling water with a pinch of salt and the sugar. Parboil for about 3 minutes (after water comes back to a heavy boil) until they just start getting soft.

Drain off the water but leave the parboiled carrots in the same pot. The pot should still be warm, so add the butter and mix well until all the carrots are liberally coated. Don't skimp, use a little more butter if you need to.

Add the thyme, kosher salt and fresh ground pepper and mix well.

Pour the carrots onto the prepared baking sheet; spread out until the carrots are in a single layer, add the fresh thyme sprigs on top of the carrots.

Place the baking sheet in the preheated oven and roast for 15 to 20 minutes or until the carrots are beginning to brown and the butter is getting a little bubbly.

Remove them from the oven and pour the cane syrup over all the carrots and mix well with a rubber spatula or spoon, careful not to break the carrots.

Return the carrots to the oven and roast for 5 to 10 minutes, until the cane syrup and butter begin to form a glaze.
Recipe Notes
Roasting really brings out the natural sweetness in the carrots, adding sugar to the parboiling water and the honey at the end really plays well against the thyme.
If you choose not to parboil the carrots, increase the roasting time-start out the first 10 minutes or so covered with aluminum foil to get a little steaming action going. Make sure to check them for tenderness after about 20 minutes.
If you don't have cane syrup, you can substitute maple syrup or honey.
Nutrition
Calories:
269
kcal
|
Carbohydrates:
31
g
|
Protein:
1
g
|
Fat:
16
g
|
Saturated Fat:
10
g
|
Polyunsaturated Fat:
1
g
|
Monounsaturated Fat:
4
g
|
Cholesterol:
43
mg
|
Sodium:
342
mg
|
Potassium:
288
mg
|
Fiber:
4
g
|
Sugar:
21
g