Hearty, earthy, and stick-to-your-bones goodness. Not to mention all the beef! Hand-cut chuck roast, slowly simmered in a rich stock alongside carrots and potatoes. Rustic and not overcrowded with vegetables, the beef will melt in your mouth...serve this over rice or grits or ladled right over some biscuits. Sweet Daddy D's Beef Stew recipe is simple and no-angst and has a touch of South Louisiana seasoning that makes it seriously comforting.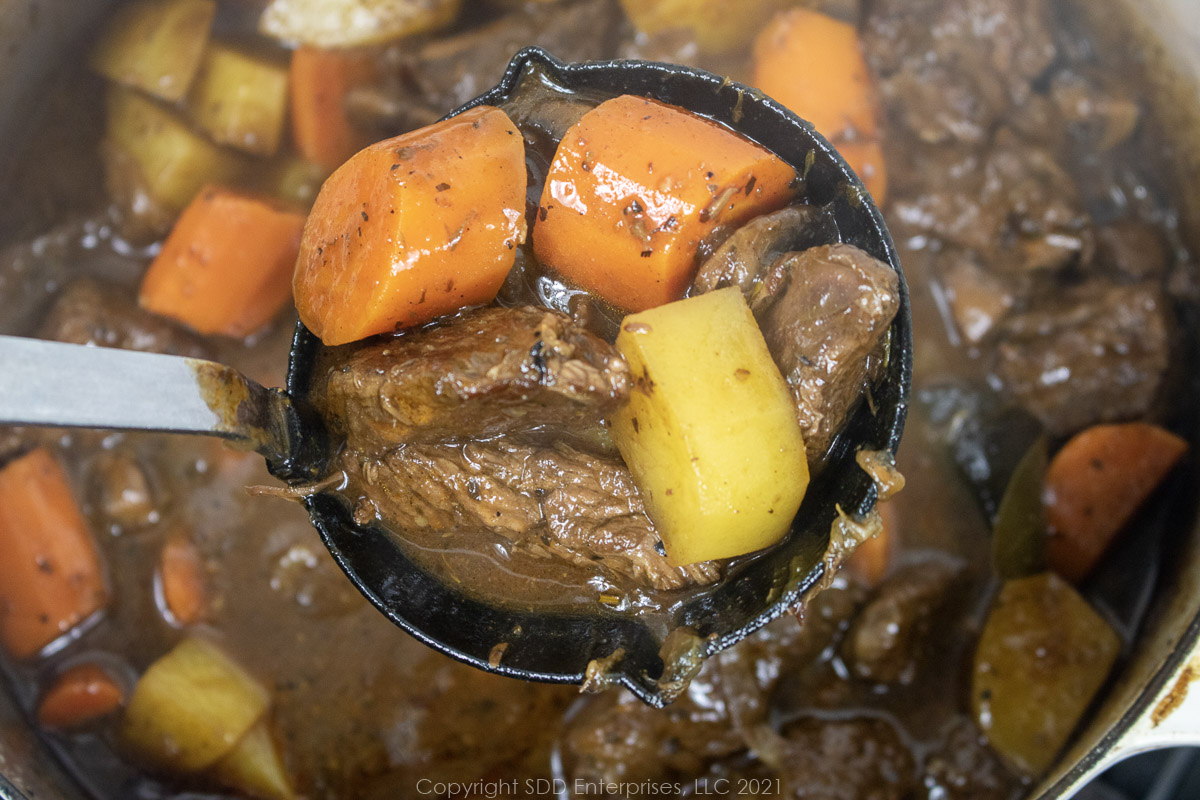 This post is not sponsored, but you will find affiliate links on this page. As an Amazon Associate, I earn from qualifying purchases. The price you pay as a consumer does not change, but I may make a small commission based on your purchase.
If you want to just skip to the recipe, click the "Jump To Recipe" button above or the Recipe link below and you'll go right there without having to scroll through my article.
Jump to:
What Makes this Beef Stew So Good?
The first thing that stands out about this recipe is the richness and tenderness of the beef. By hand cutting the beef, you can trim off the hard fat and any other excess fat. You can make sure to cut across the grain which gives more tender meat. The combination of a rich gravy laced with a tangy touch of tomato paste creates a rich braising liquid that helps infuse the hearty flavor of the vegetables and beef. Onions, garlic, and mushroom form the first layer of flavor. Hearty vegetables are always an important part of a beef stew but here we don't block out the beefy goodness by adding too many vegetables. It's a beef stew, but the carrots and potatoes are great companions. You may choose to add some more mushrooms in the latter stages but don't crowd out the beef flavor by adding too many vegetables. When classic Creole and Cajun spices weave through all the ingredients, you know you have a homey, satisfying bowl of goodness.
Here's What You Need
Here are some of the key ingredients for this recipe: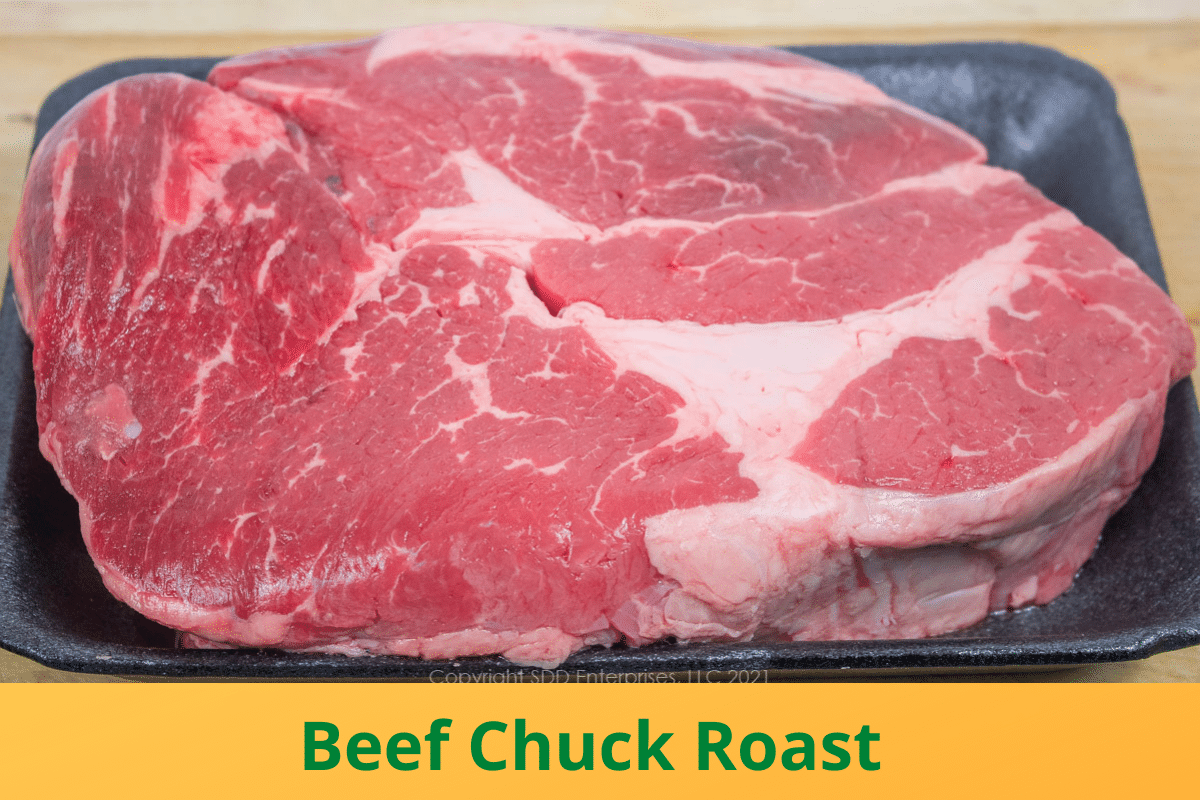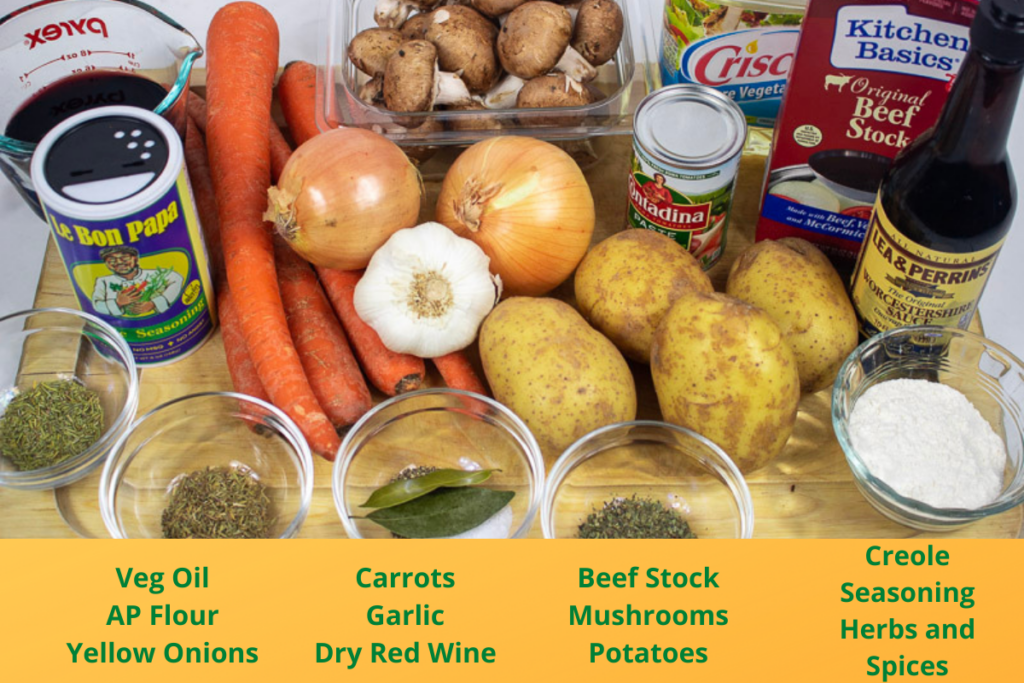 Equipment
Here is some of the equipment I used to prepare this recipe:
Dutch oven, cutting boards, glass measuring cups, metal measuring cups, measuring spoons, glass prep bowls, cambro prep bowls, chef's knives


Here's What You Do
First...you have a beer. Preparation applies to the cook as well as the ingredients. Start with a beer while you read the recipe all the way through. This is all part of your mise en place. What do you need? Do you have everything? If you are prepared and all the ingredients are prepared before you start, all you have to do is assemble the recipe and concentrate on the process.
Mise en Place
What happens in this step? We want to prepare all the ingredients prior to starting to cook and place them in individual prep bowls.
Start by cutting the beef by hand. Check out the Hints and Tips section below for more on what type of beef to use. Trim off any hard fat and other fat that seems excessive to you. By cutting across the grain, the beef will be more tender. Mix in some Creole Seasoning and set the beef aside.
The yellow onion and garlic should get a very rough chop. I usually quarter or eighth the onion depending on how big it is. Rinse the mushrooms and pat them dry just before preparation, then cut them into quarters. The carrots and Yukon Potatoes (see Hints and Tips) should be cleaned and peeled, then cut into approximately 1-inch pieces. Measure the remaining ingredients, including the Herb and Spice Blend. Now you're ready to go, how's your beer?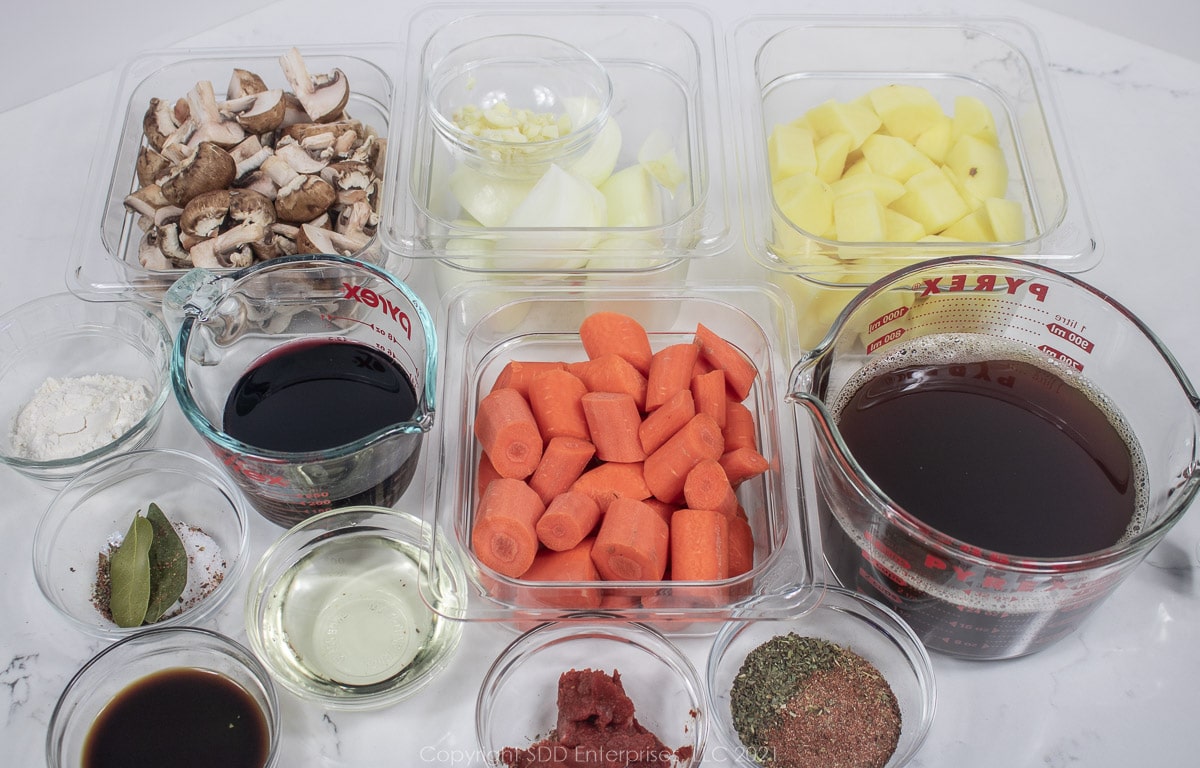 Brown the beef and build the first layer of flavor
What happens in this step? If we want a deep, rich flavor, this is where it starts. The beef is browned, leaving some tasty fond. When you add the onions, garlic and Herbs and Spices to the fond and fat, the flavor base is developed.
Place a heavy-bottomed Dutch oven over high heat and add some vegetable oil. When the oil is hot, sear the beef for about 3 or 4 minutes on each side. Remove the beef and sear the next batch.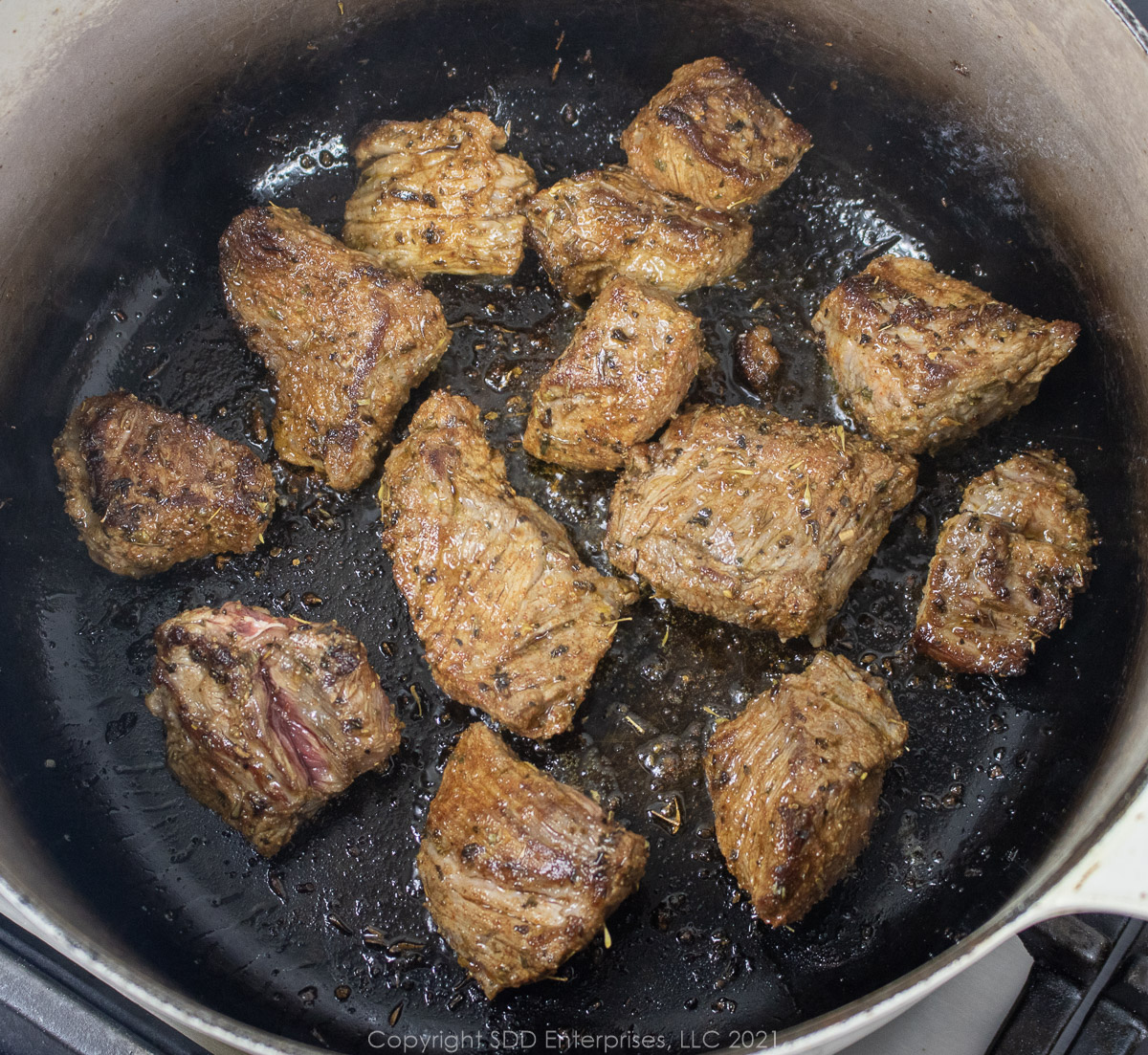 Important tip: Brown the beef in batches (it may take three batches) so that the pot is not overcrowded. An overcrowded pot will greatly reduce the temperature and the beef will have the tendency to steam. If it steams, the beef won't sear and you will not have as much beef flavor and fond.
Once all the beef has been seared and set aside, add a little enough vegetable oil to make about 2 tablespoons. With the heat on high or medium-high, bring the oil to a shimmer. Throw in the mushrooms. Saute, stirring a couple of times, for a few minutes.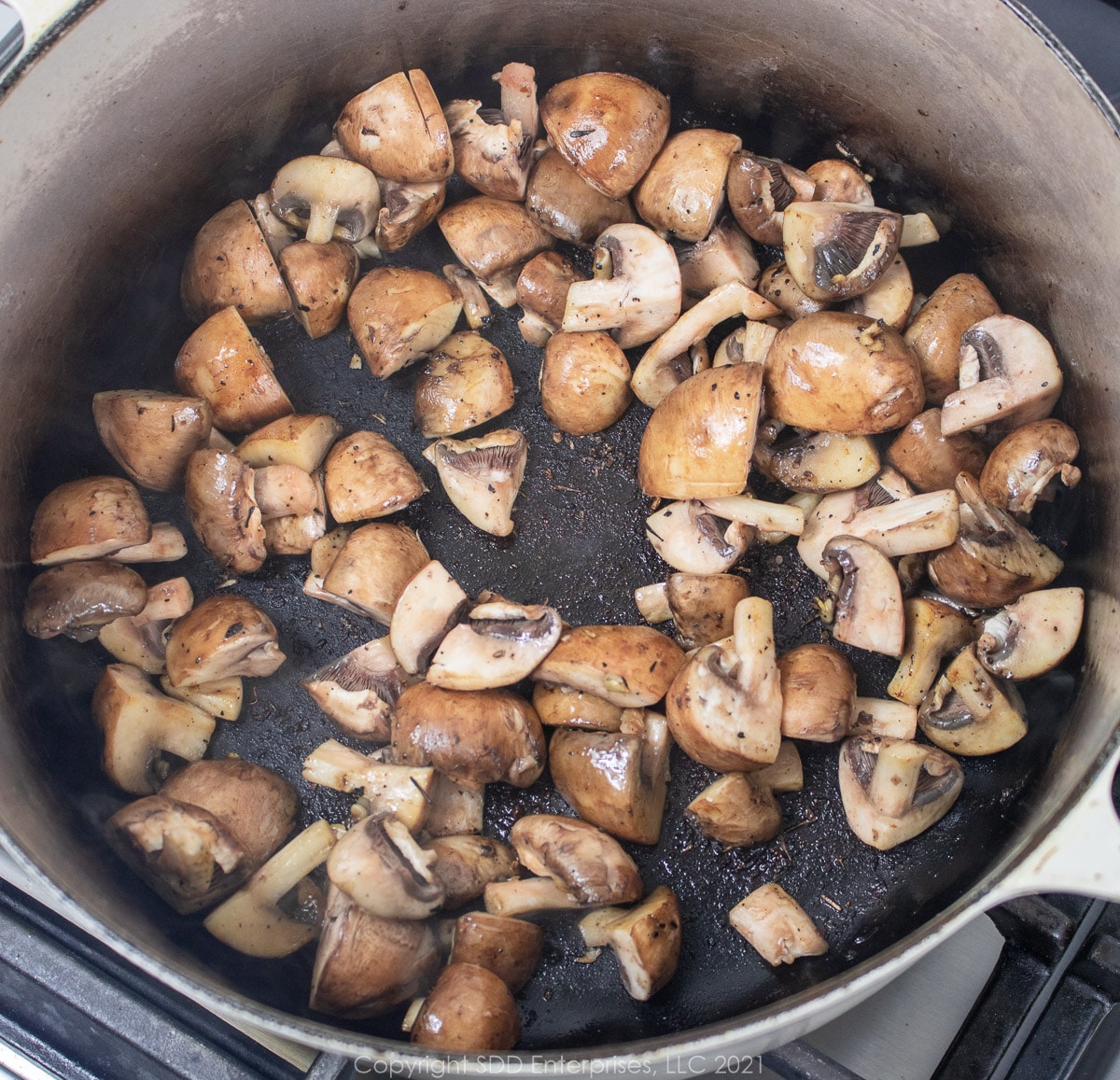 Here's a tip: mushrooms have a high water content so when they start to saute in the hot Dutch oven they will begin to lose water. This helps to deglaze the fond from searing the beef. Make sure to stir all that goodness together while the mushrooms start to brown and the liquid evaporates.
Add the onions, stir well into the mushrooms and saute for about 5 minutes until the onions are starting to brown.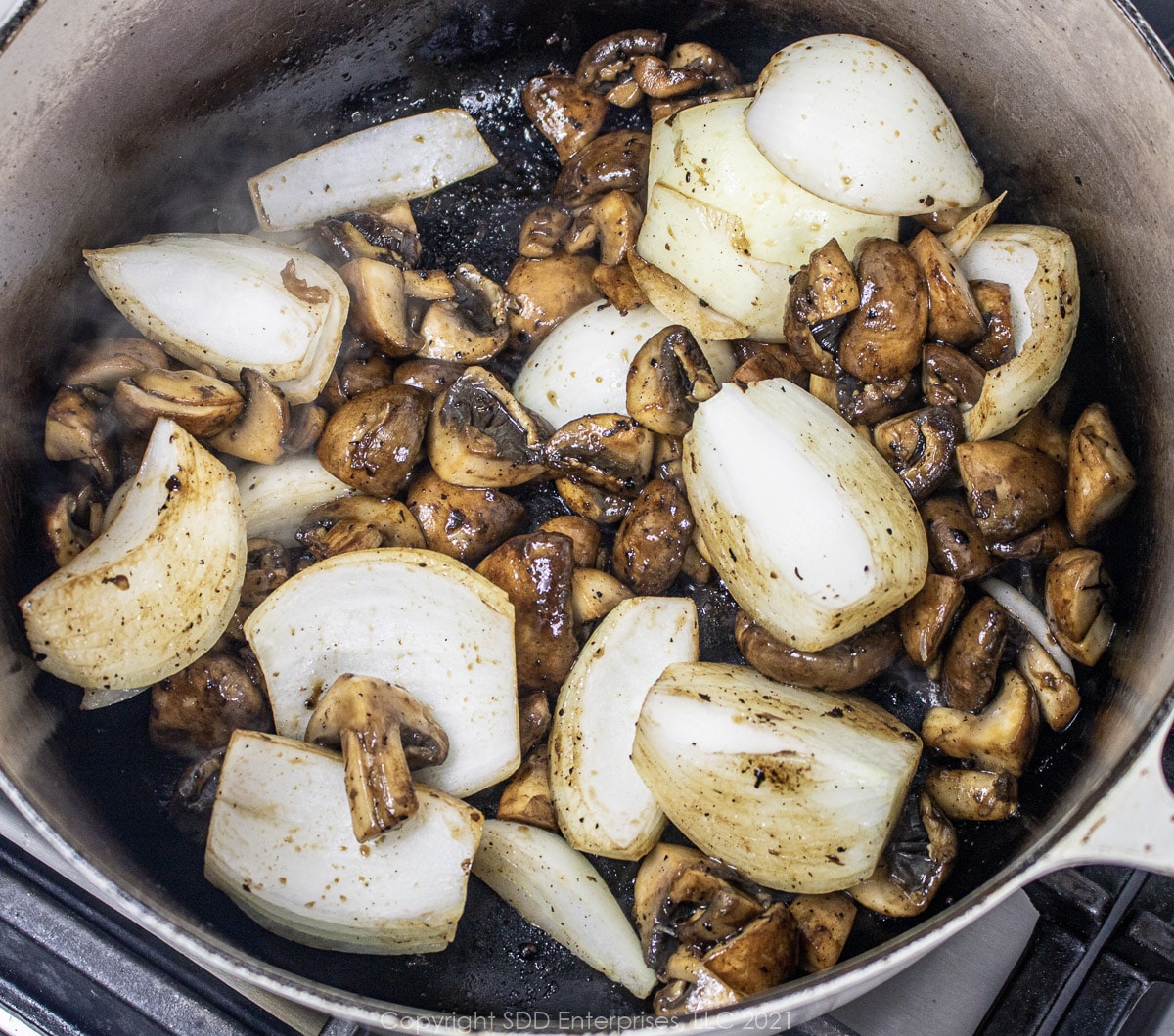 Next comes the garlic and about half of the Herb and Spice Blend (hold off on the bay leaves for now). Stir this around for a couple of minutes until the garlic is very aromatic.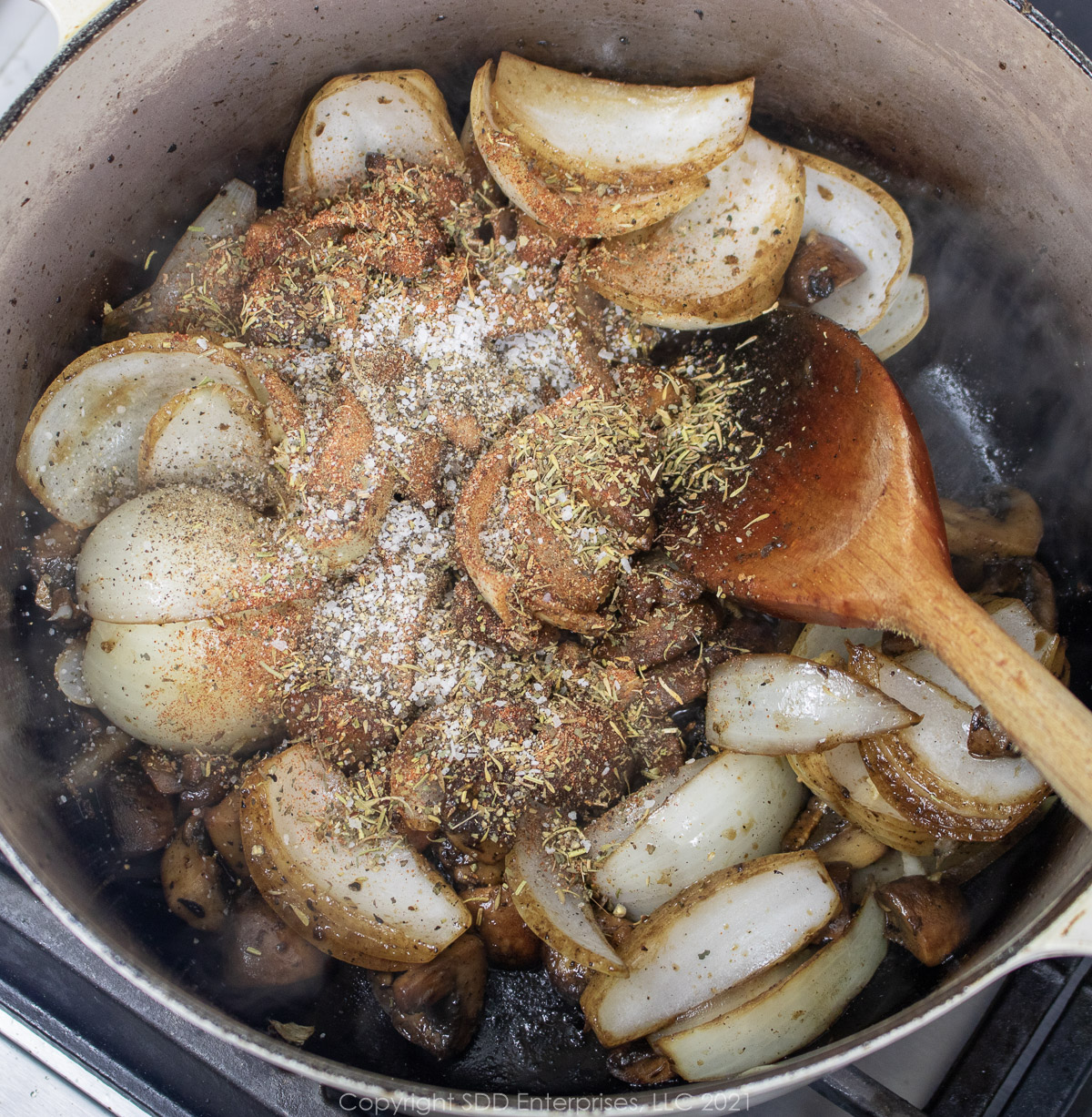 Build a rich gravy
What happens in this step? Here we will start with the flavorful foundation we just built with the beef fond and foundation vegetables and build it into a rich braising liquid or gravy.
Lower the heat to medium or even medium-low, Sprinkle a little all-purpose flour into the vegetables and stir constantly for a couple of minutes. We are not trying to make a dark roux, we just want to use the flour to help bind all the other flavors together. Only cook this for a couple of minutes while the raw flour flavor is cooked out.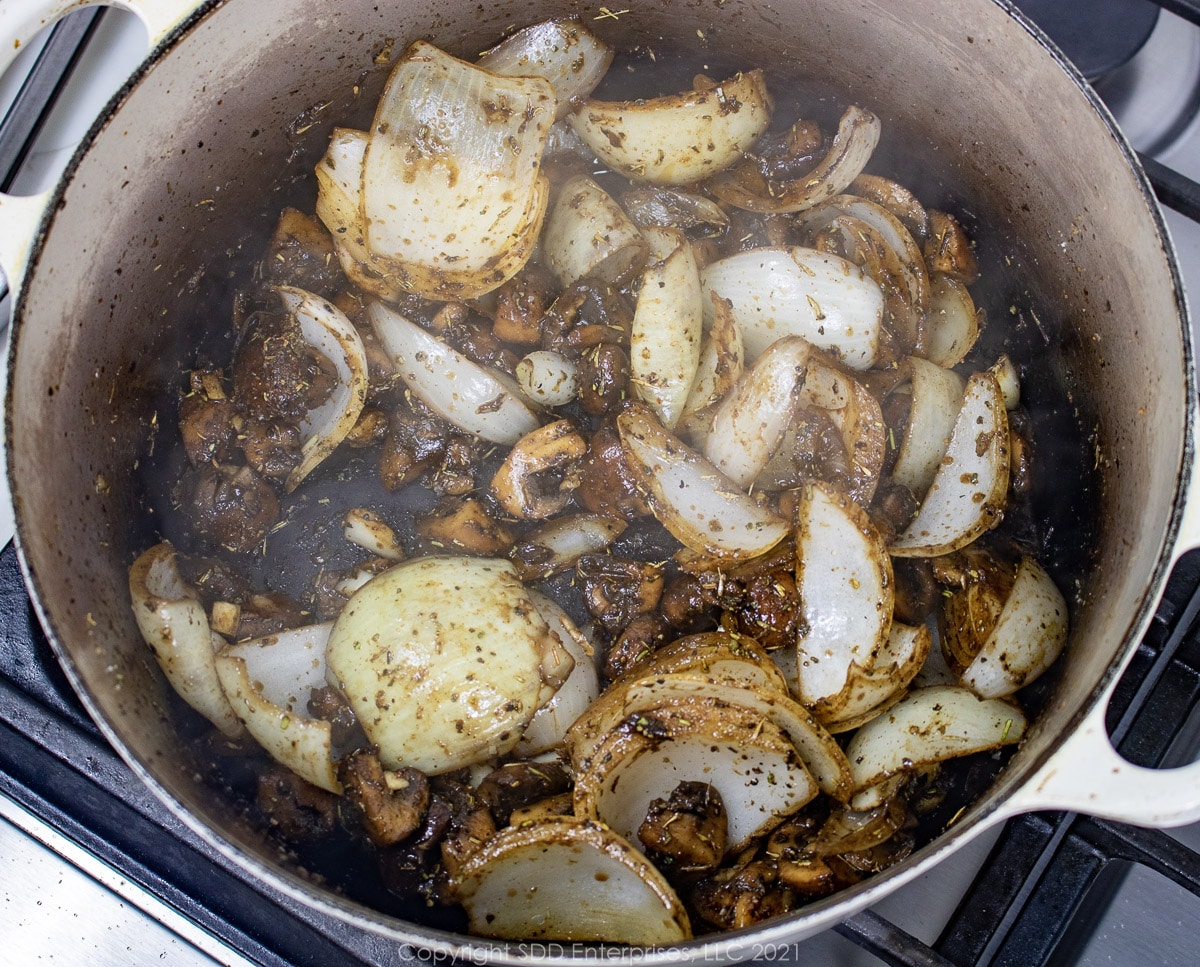 You'll probably need to deglaze the Dutch oven. Use a little of the wine to help lift all the flour and fond off the bottom of the pan. Mix together very well. Return the heat to medium-high and add the remaining wine along with the Worcestershire sauce and tomato paste. Stir together. Add about 2 cups of the stock (reserve the remaining stock). Bring this to a high simmer for about 5 minutes.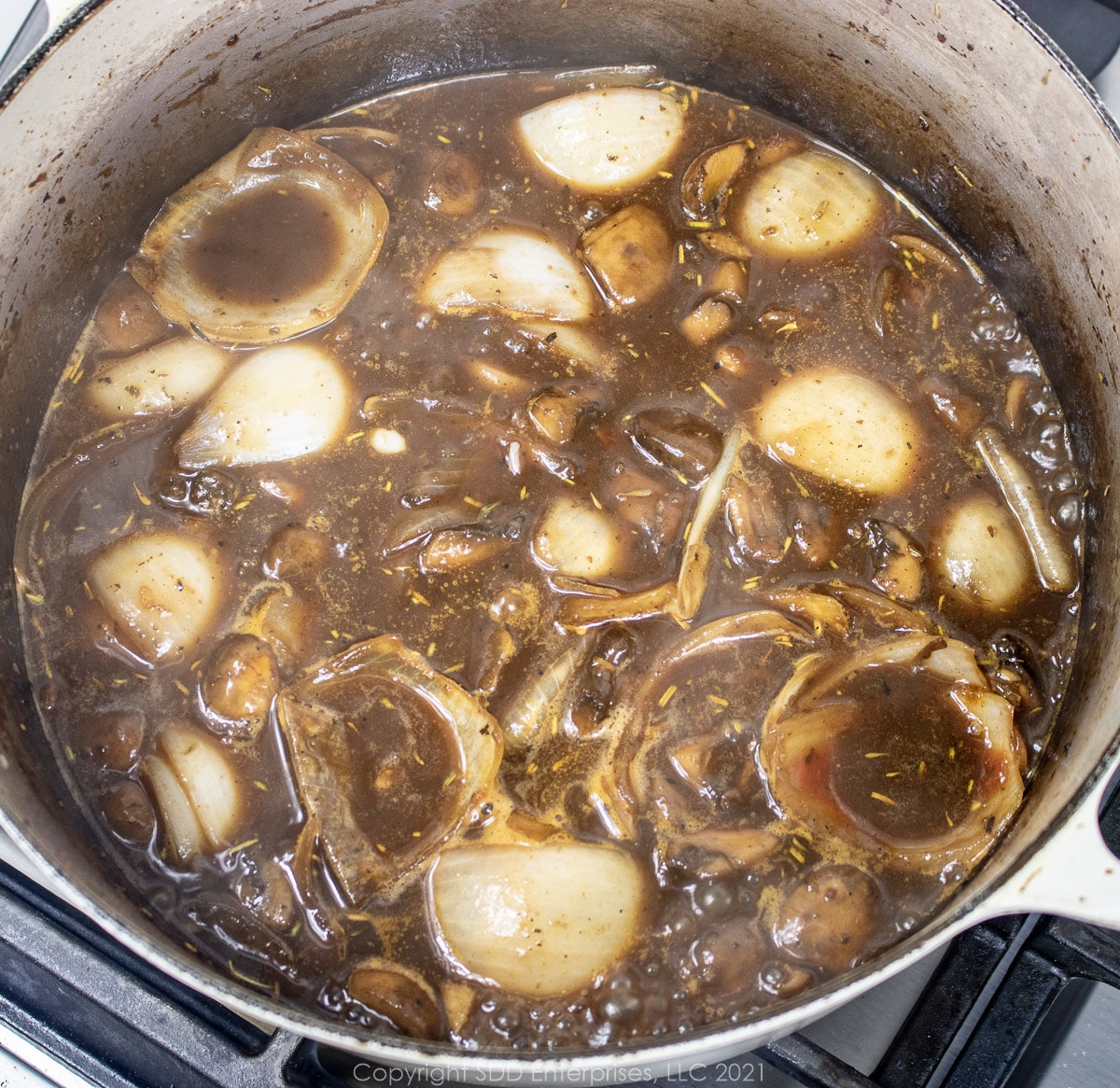 Next, add back the beef (along with any juice that has accumulated) and remaining Herb and Spice Blend along with the bay leaves. Stir to mix. Add a little more stock if needed to just cover the beef.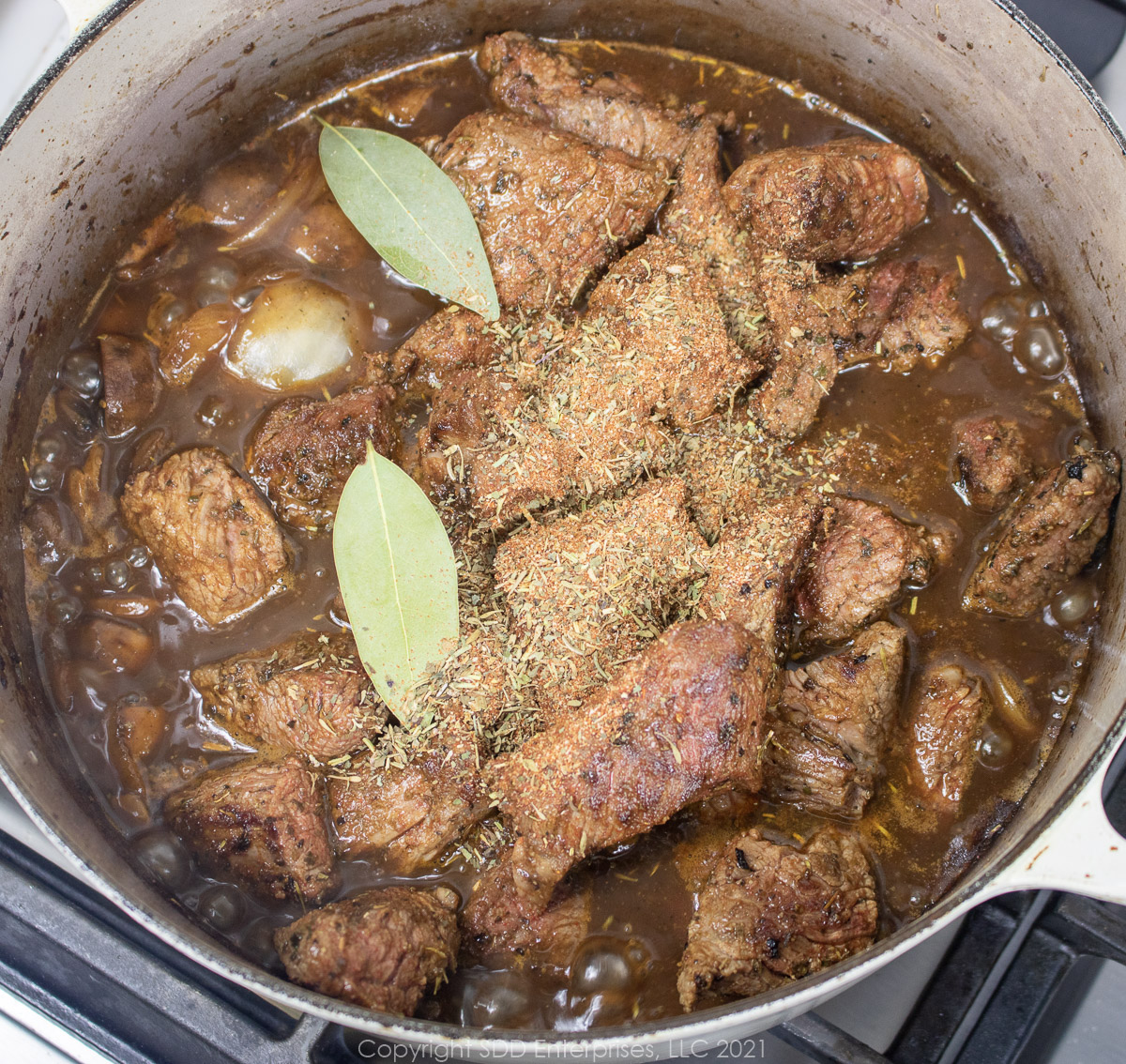 Simmer to blend and tenderize
What happens in this step? This is when we meld the various flavors into one and cook the beef until it is super tender.
After stirring in the beef and remaining ingredients, allow the Dutch oven to return to a high boil before you lower the heat to a low simmer. Allow this to simmer slowly for about 30 minutes, uncovered.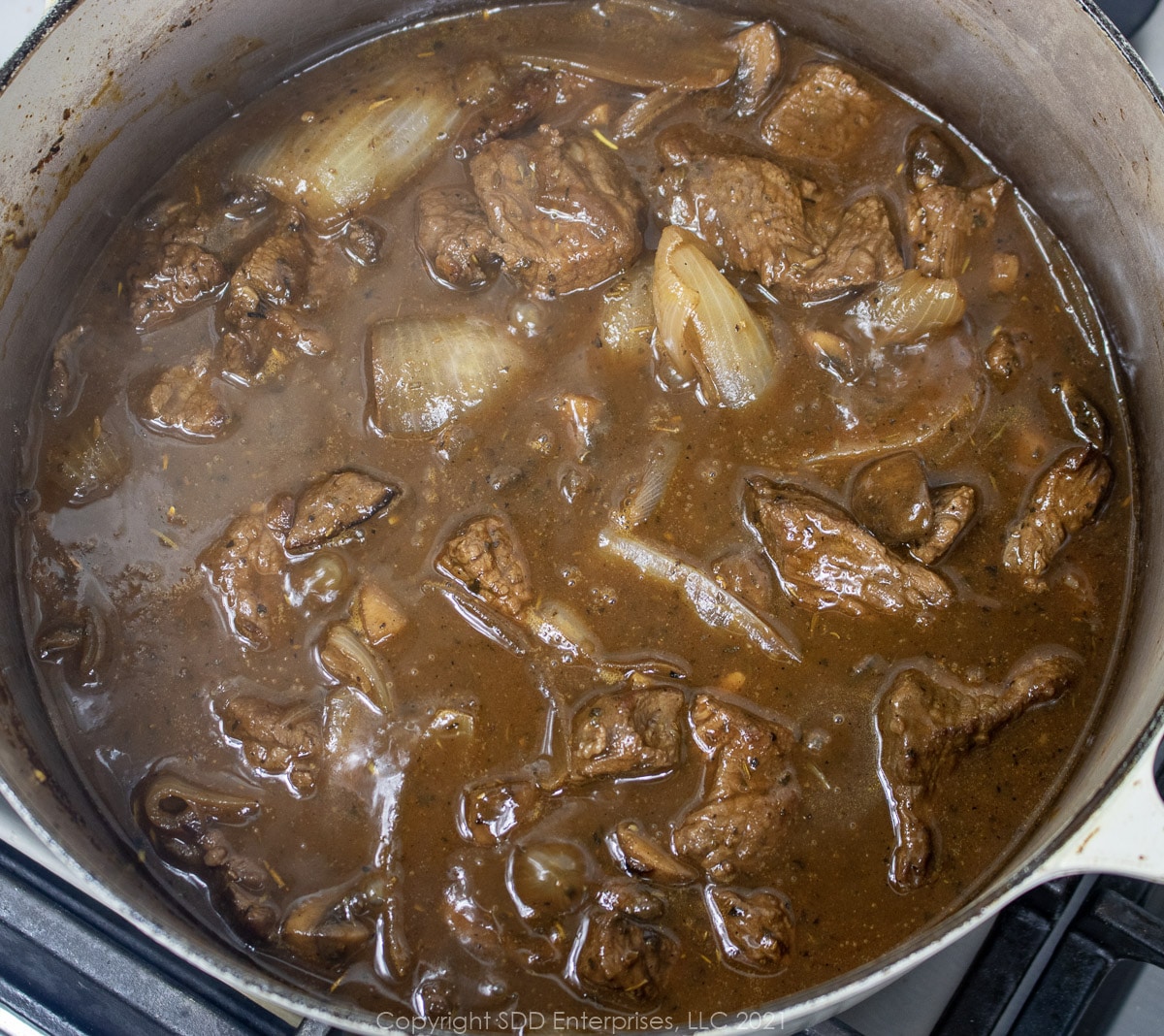 After 30 minutes, cover the Dutch oven and simmer for an additional 30 minutes, stirring regularly. Make sure not to allow the beef to stick to the bottom.
The beef should not be tender enough yet, but it's good to check it at this point to see where we are. I use a wooden skewer, but a fork is also good. If there is still a lot of toughness, continue to simmer the beef for up to another 30 minutes.
At this point, the beef should be getting tender, but still have a ways to go. Add the carrots and stir well. Cover the Dutch oven and bring it back to a simmer. Add some reserved stock if needed to keep the beef just covered.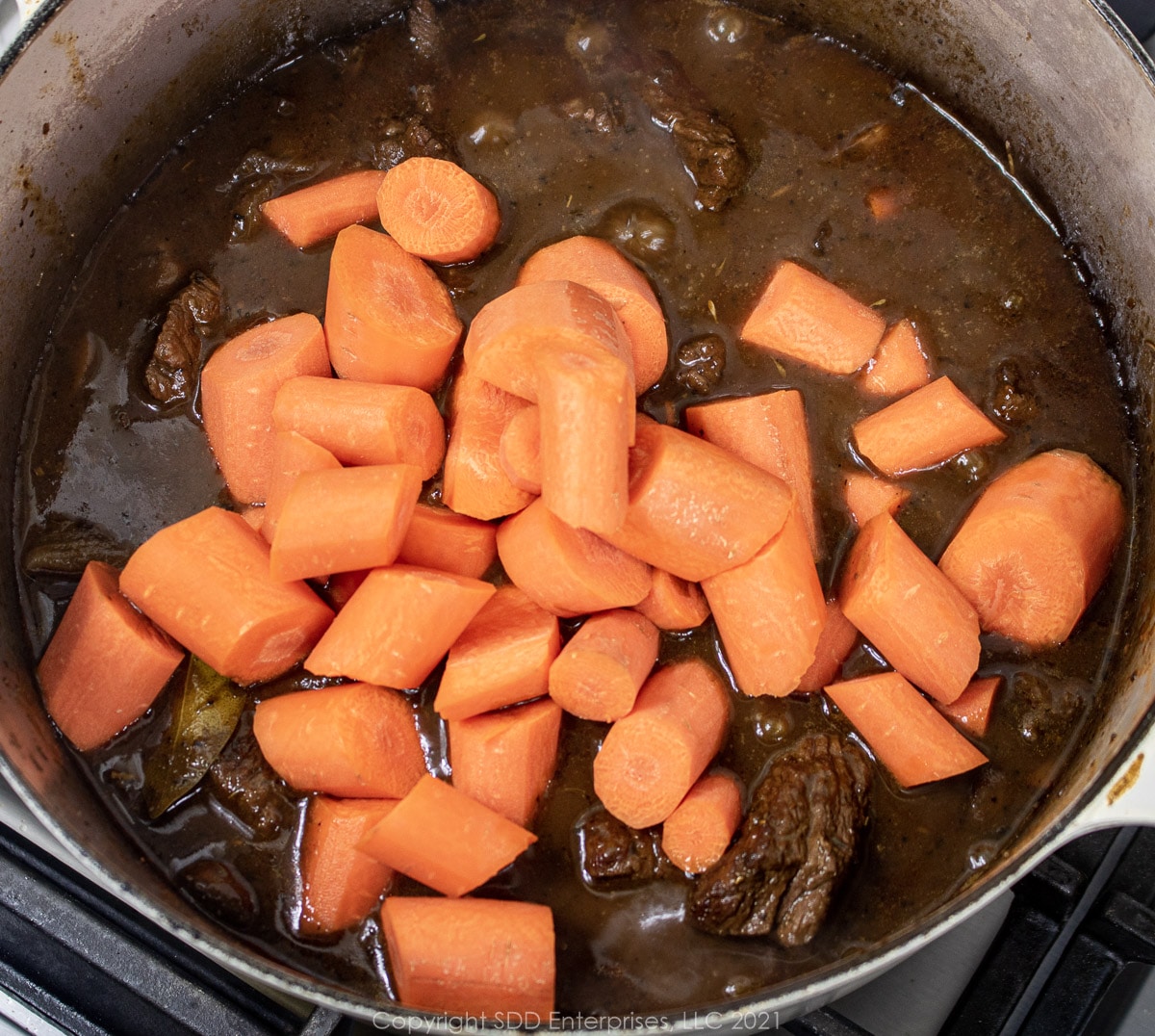 After 30 minutes, check the beef and carrots for tenderness. Add the potatoes and some more stock if needed. Try to keep the liquid at the same level as the beef. Cover the Dutch oven and continue to simmer for another 30 minutes.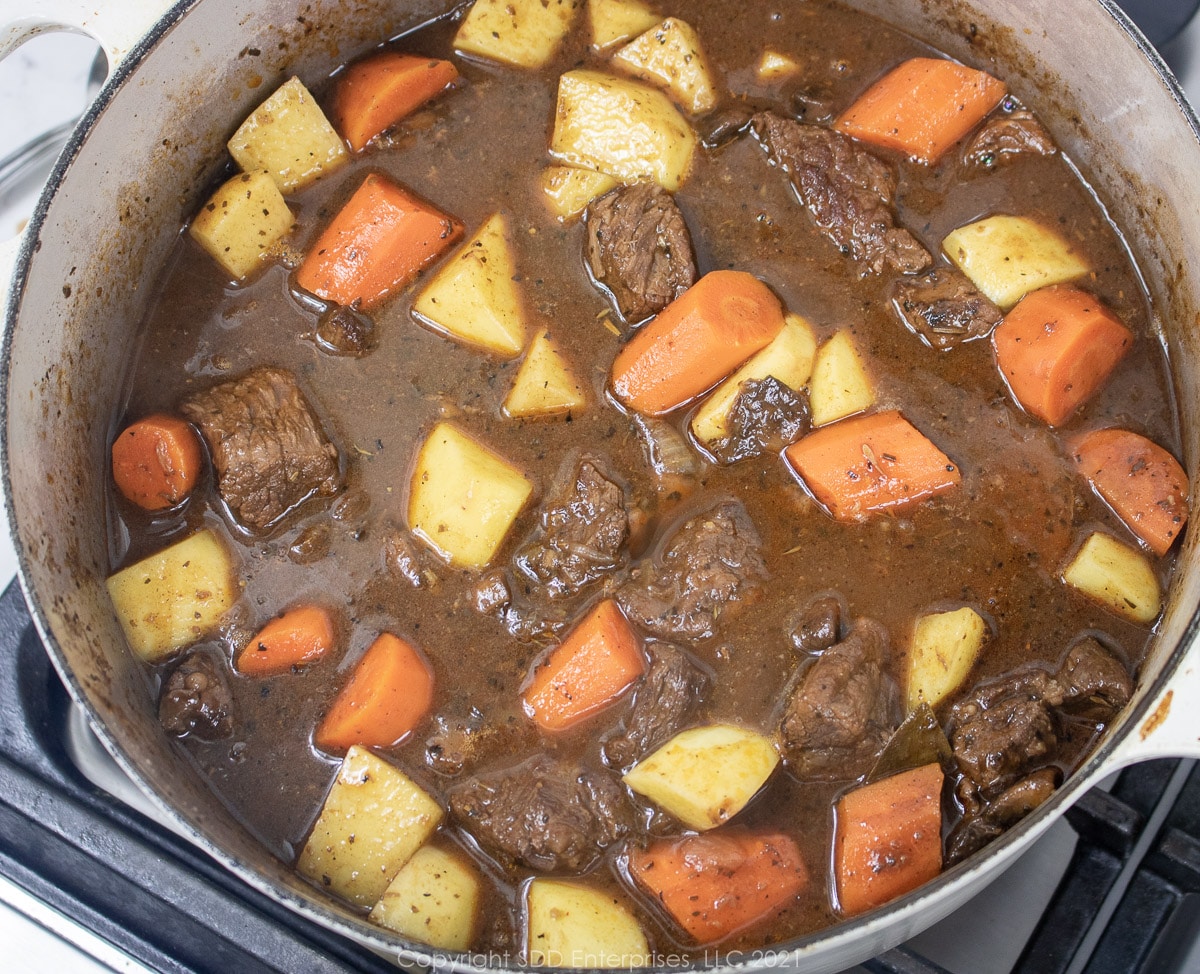 Uncover the Dutch oven and check for tenderness. The beef should be close to falling apart, fork-tender. If not, simmer with the cover on for a little while longer. When the beef is very tender and the carrots and potatoes are tender, simmer for another 10 minutes or so with the cover off. The gravy should thicken slightly and it will be ready to go.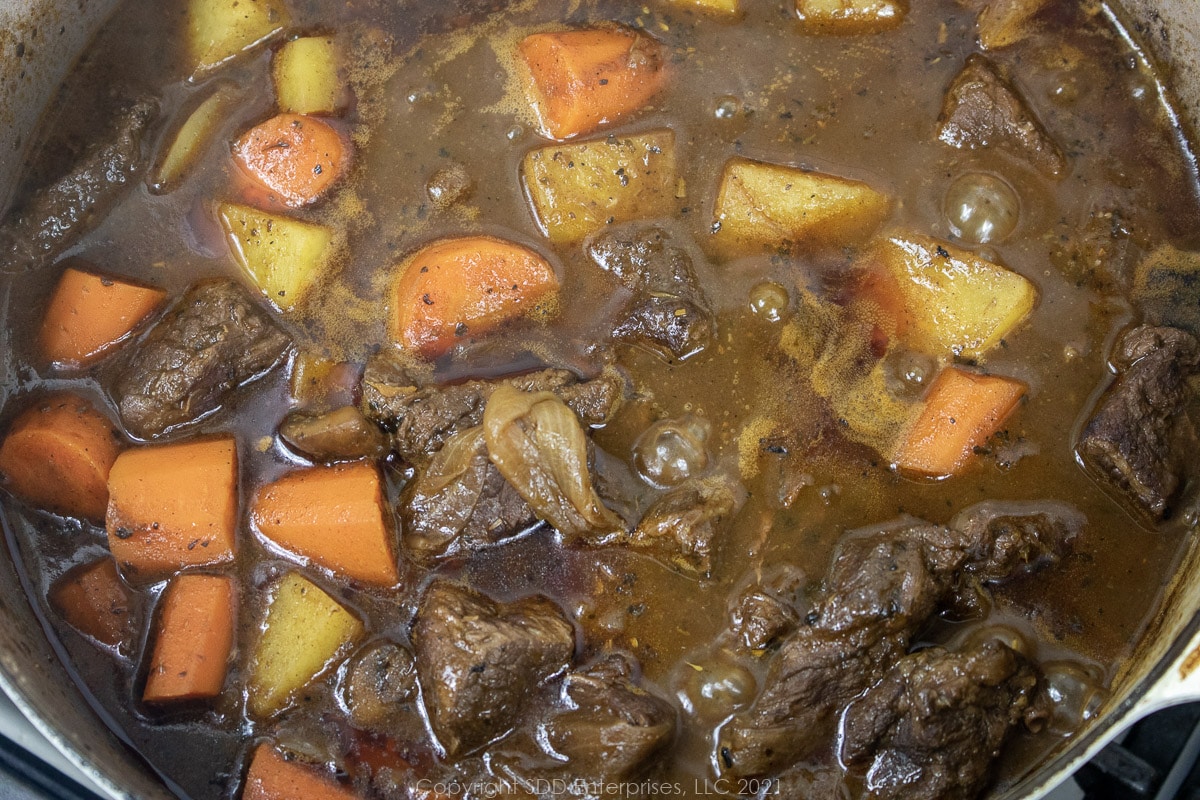 Hints and Tips (FAQs)
How do I serve this beef stew?
Traditionally Hearty Beef Stew is served over cooked rice. For a change of pace, it goes well over cheese grits. Lay it alongside some Macaroni and Cheese and you approach nirvana. 
How long do leftovers last?
Properly stored in an airtight container, the beef stew will last 3 to 4 days in the fridge and about 6 months in the freezer. Defrost frozen leftovers in the fridge overnight. It's best to reheat the stew on the stovetop until warmed through. Using the microwave will work but it is easy to overcook the beef and make it very tough.
What type of beef should I use?
The best cut of beef for beef stew is a boneless chuck roast. There is plenty of fat and connective tissue in a chuck roast that will render down while simmering and leave very tender meat. You can also use nice beef short ribs or a brisket point. Both of those cuts have sufficient fat and connective tissue that will produce a very tender stew.
Do I have to cut my own meat?
Well, no, there is no rule that says you can't buy precut "stew" meat at the grocery store. The problem with this is that it's kind of mystery meat because you really don't know what cut of beef they are using. It's best to buy a large piece of beef so that you know what cut you are getting. If there is not enough fat or connective tissue, the result will likely be some very tough chunks of meat. If you cut the meat yourself, you can eliminate any hard fat or silver skin and make sure that the cut is against the grain, exposing smaller sections of beef that will be more tender when eaten. Of course, if all you can find is pre-cut "stew" meat, go for it. Trim off any hanging or hard fat and watch it closely as it simmers. 
What type of potatoes should I use?
This is best with a starchy potato. The starch in the potato will aid in slightly thickening the gravy as the potatoes cook. I recommend Yukon Golds or Russet. Red or white potatoes will work if that's all you have. It is not necessary to peel the potatoes if you want a more rustic look.
Should my stew be soupy?
In my opinion, not so much. I like a beef stew that has a nice gravy, slightly thickened from the starchy potatoes, and a bit of AP flour and tomato paste. If you like your stew on the soupy side, just add some of the reserved stock to get your desired consistency.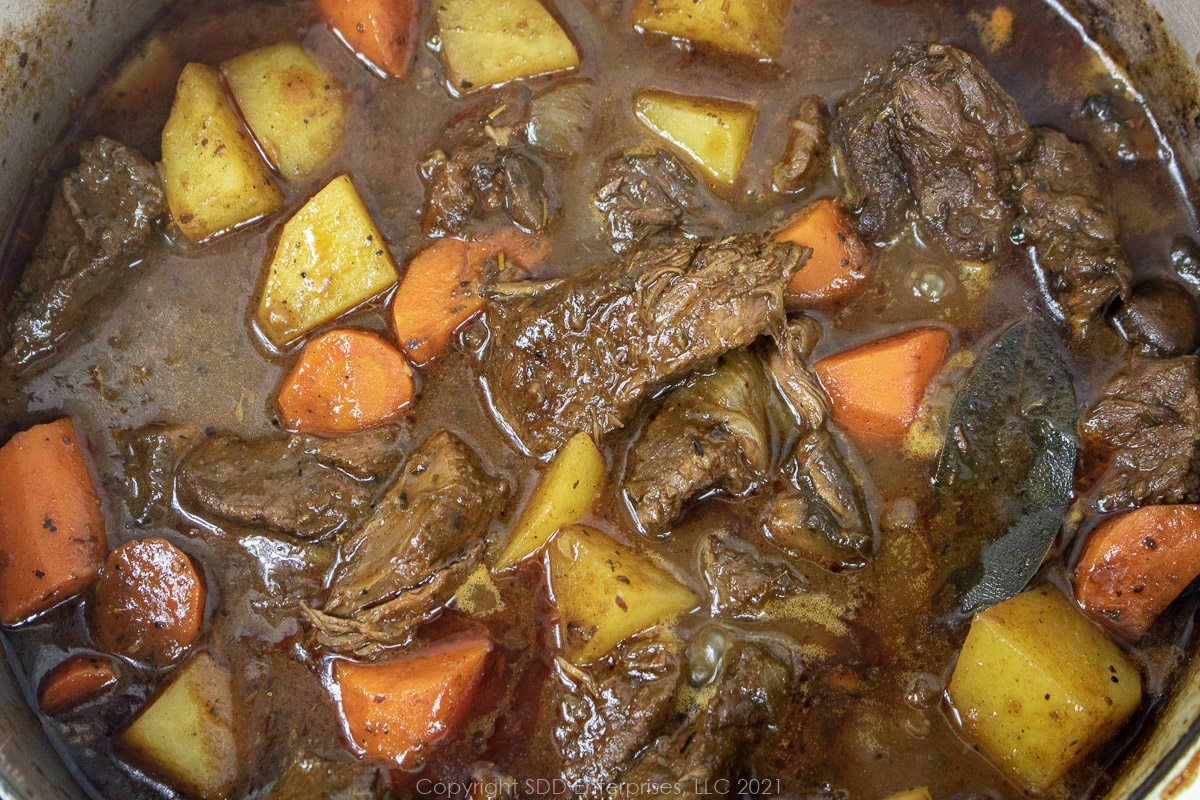 In the mood for more Cajun and Creole delights? Check these out:
If you make this recipe:
Tell us about it in the Comments section below
LEAVE A RATING ON THE RECIPE-worthy of 5-Stars?
Questions or Comments? that's the place!
SIGN UP FOR OUR EMAIL UPDATES so you don't miss anything!
Post a picture and share it with your friends on our Social Media:
Yeah You Right!
Recipe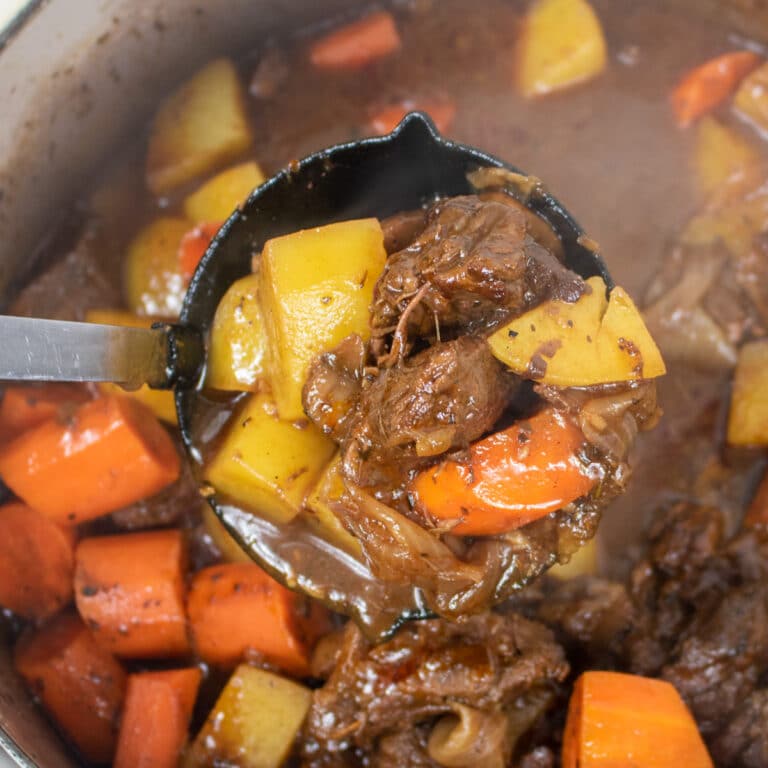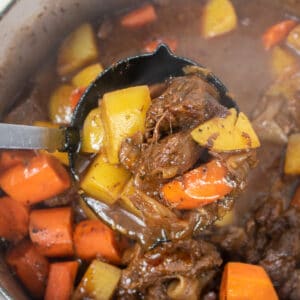 Creole Beef Stew
Hearty, earthy and stick to your bones goodness. Hand-cut chuck roast, slowly simmered in a rich stock alongside mushrooms and potato and laced with South Louisiana seasonings. Seriously comforting.
Print
Pin
Rate
Here's What You Need
3

pounds

boneless chuck roast

2 ½ to 3 ½ pounds

2

tablespoons

vegetable oil

8

ounces

baby Bella mushrooms

quartered

1

large

yellow onion

cut into 8ths

3

cloves

garlic

rough chop

3

tablespoons

all purpose flour

½

cup

dry red wine

3

cups

beef stock

6

carrots

sliced in 1" pieces

4

Yukon Gold Potatoes

cubed

2

tablespoons

tomato paste

3

tablespoons

worcestershire sauce
Herb and Spice Blend
1

tablespoon

Creole Seasoning

Plus some for beef

1

teaspoon

dried rosemary

1

teaspoon

dried basil

1

teaspoon

dried thyme

2

bay leaves

1

teaspoon

kosher salt

Plus some for beef

1

teaspoon

ground black pepper

Plus some for beef
Here's What You Do
Trim fat and silver skin from chuck roast, cut into 1" cubes against the grain. Place the cubes in a bowl and sprinkle with kosher salt, fresh ground black pepper and creole seasoning; mix well and set aside.

Prepare the remaining ingredients and set aside.

In a Dutch Oven heat about 2 Tbs of vegetable oil over high heat. Sear the cubed beef in batches (see Notes); remove from the pot and set aside.

Depending upon how much oil and fat has been rendered from the beef, add a little more oil-up, to 2 talespoons.

When the oil is shimmering, add the mushrooms and saute until starting to brown, about 2 minutes..

Add onions and saute over medium-high heat until starting to clear; , about 5 minutes.

Add the garlic and about half of the Herb and Spice Blend (less the Bay Leaves), stir together until aromatic-a minute or two.

Add the flour. Stir vigorously to combine the flour with all the ingredients.

Deglaze the Dutch Oven with a little of the wine (if needed).

Add the remaining wine, Worcestershire and tomato paste. Stir well, increase the heat to a high simmer for about 5 minutes.

At this point add about 2 cups of the stock (reserve the rest); bring to a boil. Stir well making sure everything is mixed together; lower the heat to a simmer and cover the pot.

Add back the beef cubes and add the remaining Herb and Spice Blend plus the Bay Leaves; mix well.

Lower the heat to simmer, uncovered, for 30 minutes, stirring occasionally. Don't let it stick to the bottom of the pot.

After 30 minutes, cover the Dutch oven and continue on a low simmer for another 30 minutes.

Check the beef for tenderness by probing with a wooden skewer. If very tender, add the carrots as instructed below. If the beef is not tender, continue to simmer, covered, for up to another 30 minutes.

Add carrots and mix well; return to a simmer; cover pot and simmer for 30 minutes, stirring occasionally. Add more stock if needed just to keep the beef covered.

Add the potatoes and mix well; cover the pot and return to a simmer for about 30 minutes, stirring occasionally. Add more stock if needed.

Uncover the pot and stir well; continue to simmer uncovered until the gravy reaches your desired thickness and the vegetables are tender.

Serve over rice, grits or biscuits.
Recipe Notes
When searing the beef cubes, make sure to use high heat and add the beef cubes in batches so you don't overload the dutch oven. If you have too much beef in at one time, it has the tendency to steam the beef and not sear it.
The secret is to keep it simple-not too many ingredients. If you like more vegetables in your stews, serve them on the side. Also, cutting up a chuck roast yourself against the grain and the long simmer time will make the meat very tender. You may be tempted to add more red wine but just a little will gives the stew just the right hint of wine flavor but not overwhelming.
Most commercial creole seasoning contains salt, so keep that in mind when using it. This recipe was developed with salt-free creole seasoning, so you may not need as much salt depending on your creole seasoning.
Leftovers can be kept in an airtight container in the refrigerator (3-4 days) or the freezer for up to 6 months. Reheat on the stove until warmed through.
Nutrition
Calories:
452
kcal
|
Carbohydrates:
29
g
|
Protein:
38
g
|
Fat:
20
g
|
Saturated Fat:
9
g
|
Polyunsaturated Fat:
2
g
|
Monounsaturated Fat:
10
g
|
Trans Fat:
1
g
|
Cholesterol:
117
mg
|
Sodium:
741
mg
|
Potassium:
1509
mg
|
Fiber:
4
g
|
Sugar:
6
g
|
Vitamin A:
8002
IU
|
Vitamin C:
23
mg
|
Calcium:
89
mg
|
Iron:
6
mg