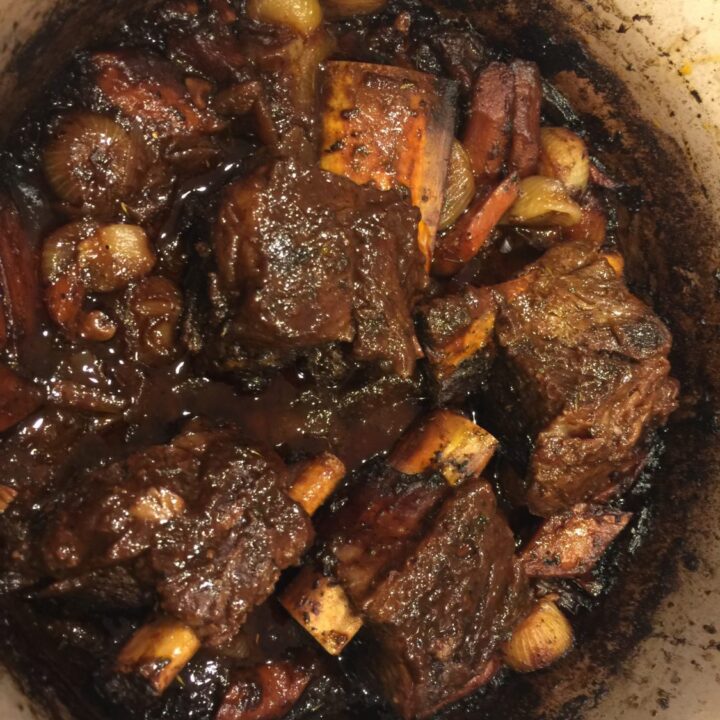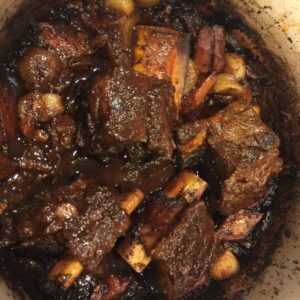 Here's What You Need
2

pounds

beef short ribs

2-3

tablespoons

bacon grease

3

carrots

sliced

10

ounces

pearl onions

peeled and left whole

4

cloves

garlic

rough chop

1 ½

cups

dry red wine

1

cup

beef stock

2

tablespoons

brown sugar

2

tablespoons

tomato paste
Herb and Spice Blend
½

teaspoon

Oregano

½

teaspoon

Basil

¼

teaspoon

Thyme

1

teaspoon

smoked paprika

2

whole

bay leaves

To taste

Kosher salt and ground pepper
Here's What You Do
Rinse the ribs under cool water and pat dry with a paper towel; place on a platter and sprinkle all sides with kosher salt and ground black pepper and set aside for about 30 minutes.

Preheat the oven to 325 degrees. Clean and slice the carrots into 1 to 2" lengths, peel the pearl onions but leave them whole and place both in a small bowl and set aside. Rough chop the garlic and set aside.

Place a heavy cast iron dutch oven with a lid over medium high heat.

Sear the ribs for 3 or 4 minutes on each side until a crust begins to form. Remove the ribs from the dutch oven and set aside.

Add the bacon grease to the dutch oven and when it starts to shimmer, add the whole pearl onions and carrots.

Sauté the onions and carrots for about 10 minutes until starting to brown.

Add the garlic and saute about 2 minutes, until aromatic.

Add the tomato paste, stirring constantly to brown for about 2 or 3 minutes.

Add the herb and spice blend and the brown sugar; mix well.

Deglaze the pan with a little of the beef stock, scrapping to get all the fond off the bottom of the pot

Add the remaining beef stock and wine and maintain a low simmer until the liquid reduces by about ⅓.

Add the short ribs back to the dutch oven, make sure to add in all the juice that accumulated while they rested. Coat each rib well with the sauce.

Cover dutch oven and place in the oven for 1 ½ to 2 hours. Check on them every 30 minutes to make sure that they are not sticking and to baste the ribs with some of the sauce. Add a little more beef stoick if you think its reducing too much.

The ribs are ready when they are probe tender and starting to fall apart. Take a wooden skewer and probe several places on the ribs until there is very little resistance and the ribs are very tender.

Remove from the oven and let rest, covered, for about 5 to 10 minutes.

Remove the bay leaves and serve with mac and cheese or saffron rice, or mashed potatoes.
Recipe Notes
As an option, if the sauce needs thickening, remove ribs and thicken sauce over medium high heat. If needed make a slurry with 1 tablespoons flour and water and stir into the sauce. If it gets too thick, add some beef stock. Add the ribs back to the pot and coat well.