A beautifully roasted turkey, a classic baked ham! These Holiday Turkey and Ham recipes are the traditional centerpieces of our Holiday tables. Not only do they make a heartwarming presentation, but the extraordinary aroma that fills the home for hours as they roast is a major part of our holiday memories. This is what brings us home and this is what we strive to reproduce each year.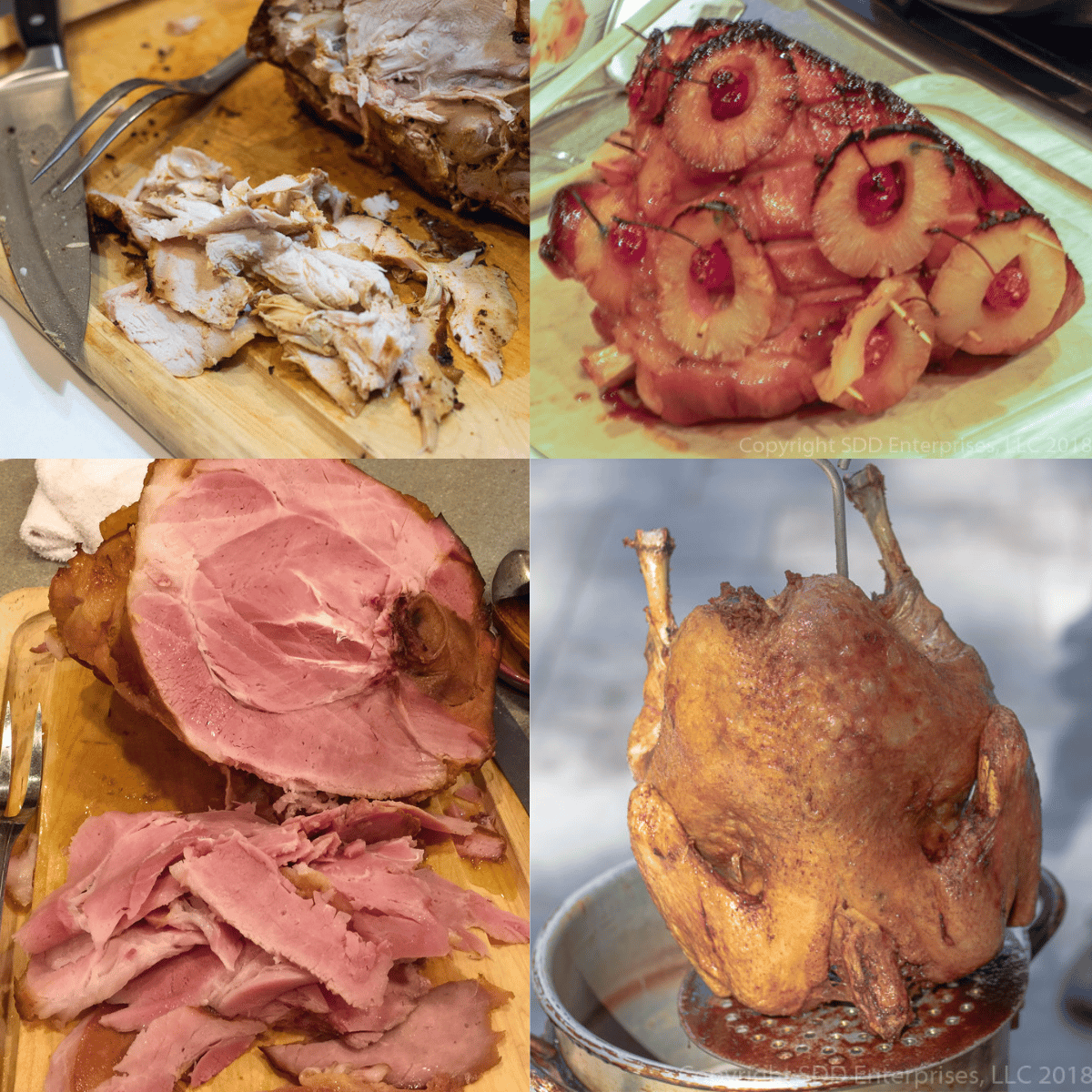 Jump to:
Turkey
Turkey is the traditional centerpiece for many holiday tables in the United States. It's the iconic symbol of early Thanksgiving feasts that ties us to our history and reminds us that it's important to pause and give thanks for our blessings.
Turkeys are beautiful and delicious but can be somewhat daunting to take on if you haven't prepared one before. Like most things we learn to cook, it's much easier if we prepare. Of course that includes the cook, so First...You Have a Beer, then you read the recipes all the way through and prepare your mise en place. You'll be amazed how easy it is to prepare a turkey!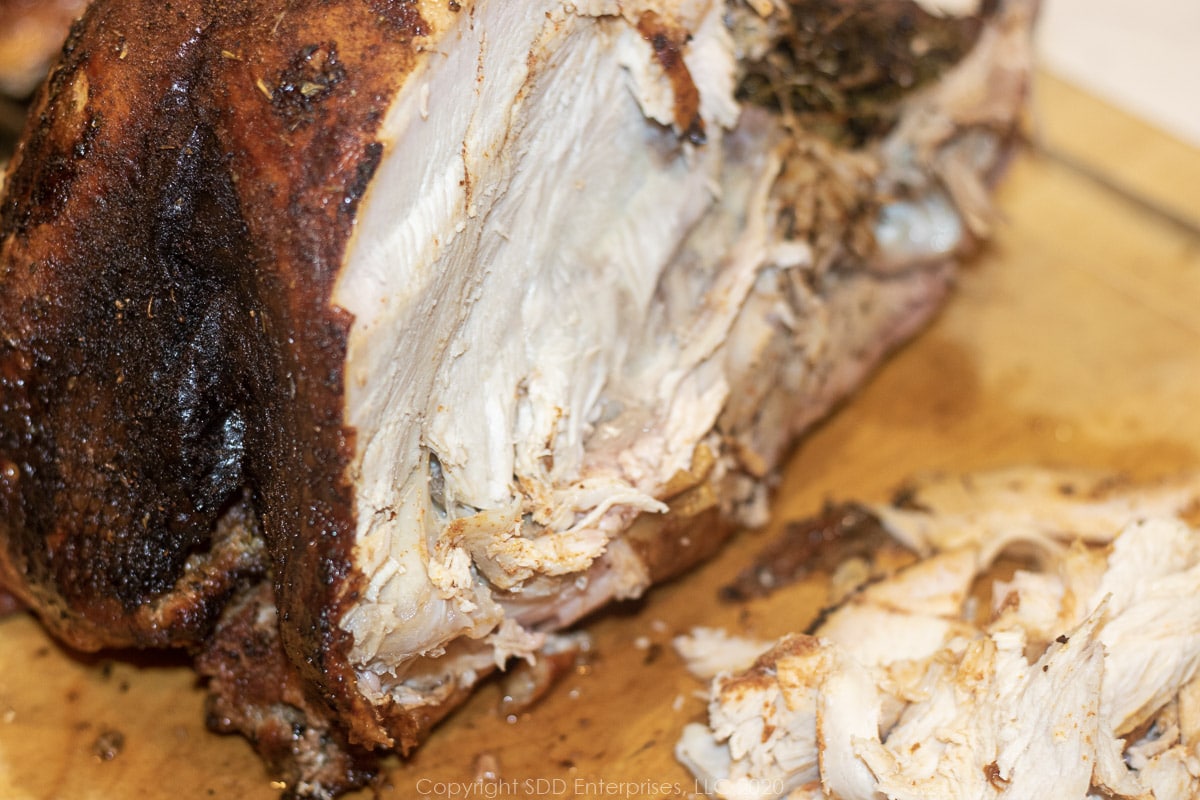 Three Styles of Turkey
You realize how versatile a turkey is when you are deciding how to prepare it. Here are three methods from Sweet Daddy D that are common in South Louisiana and produce an outstanding bird that you will be proud to present to family and friends.
Traditional Roasted Turkey with Herb Butter. You'll end up with a roasted bird that not only looks great but the butter and herb bath produces a perfectly balanced bird with crispy and delicious skin.
The subtle flavor of smoke enhances and perfectly partners with the mild, sweet meat of our bird. Sweet Daddy D's Smoked Turkey is not only fun to cook, but will have your guests clamoring for seconds!
No South Louisiana Holiday is complete without a Cajun Fried Turkey. Perfect, crispy skin and perfect Cajun flavors place this bird in a class all by itself.
Check out these links below and learn how to prepare each of these fantastic turkey recipes.
Turkey Resources
The thing about turkeys is that they start bothering you well before you get to eat them:
What size turkey do I need?
How do I defrost a frozen bird?
How do I know when it's done?
How do I carve this thing?
A great resource for all things Turkey, particularly covering all the safety concerns, is the US Department of Agriculture (USDA). Here's a great article from the USDA covering some Turkey 101 topics. This is another essential USDA article if you are thinking about stuffing your turkey.
For all these things and more, I also turn to the experts at Butterball. Check out their website for great articles on How To Thaw, How To Roast, How To Carve, and How To do just about anything related to turkeys. There are even calculators for what size bird you need, how long it will take to thaw, and how long it will take to roast it. I have found this a valuable resource when I have questions.
Turkey Frying Safety
Before you decide to fry a turkey, understand that it is not like frying catfish or shrimp. Most of all, you need to know that it is extremely dangerous if you don't know what you are doing. You need the proper equipment and the proper area in which to fry. Before you undertake this fun, but perilous technique, check out this article from State Farm Insurance called Tips on How to Deep Fry a Turkey Safely. Here's a sheet you can download from FEMA with safety tips for frying Turkey. Please be safe!
Sign up for my email notifications of new recipes and posts right HERE.


Holiday Hams
A beautiful baked ham is also a common offering at our Holiday tables. In some regions of the country, it's the go-to headliner of the family tradition. Like a turkey, Hams are versatile and delicious, but a lot simpler to handle. The natural flavors of smoked ham are perfect partners for seasonings and flavors we readily associate with the Holidays.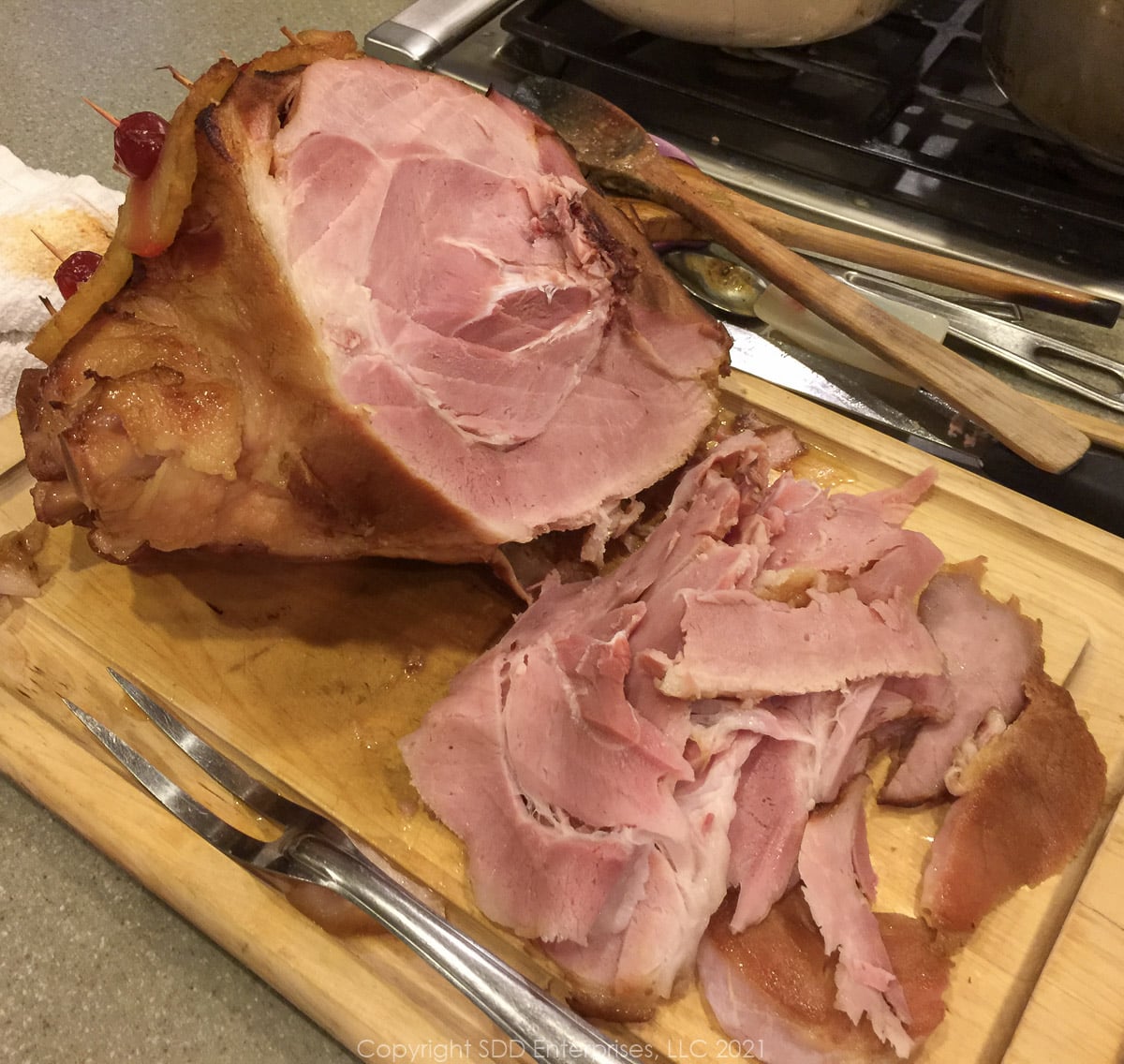 Two Styles of Ham
Here are two ways to prepare your Holiday Ham, baked and double-smoked.
Sweet Daddy D's Baked Ham, slowly roasts a smoked ham for a few hours and tops it with pineapple, cherries, and cloves before coating it in a sweet mustard glaze.
Sweet Daddy D's Double Smoked Ham takes a store-bought smoked ham and slowly cooks it on a smoker infusing a rich, smokey flavor.
Click these photos to get the recipes:
Lagniappe on Ham: Although not as confusing as a turkey (and certainly not as troublesome from a food safety angle) hams can be a little confusing as well. Read my article, Get to Know Your Ham, to learn more about hams and how to buy them.
Follow us on Social Media and be sure to sign up HERE and we will deliver new recipes right to your inbox!
What To Do With Leftovers
I've mentioned that hams and turkeys are very versatile. That's not restricted to ways in which to cook a ham or turkey, but also to what to do with leftovers. This may be where their versatility is at its best. There's no better breakfast than ham and eggs made with leftover baked or double-smoked ham. Turkey Pot Pie, Ham or Turkey Hash? You get the idea.
Leftover Turkey
A late-night Turkey sandwich is a must. I like mine on white bread, untoasted, with mayonnaise and cranberry relish. Add a side of leftover Oyster Dressing and you have got yourself something to savor. Use your imagination and there are lots of ways to use leftover turkey. Brunswick Stew comes to mind. My favorite use of leftover turkey has become a household tradition for us. First I strip the carcass of all the meat, then I use the bones to make rich turkey stock. That stock is then used to make Sweet Daddy D's Turkey and Oyster Gumbo. Now we are talking.
Leftover Ham
Leftover ham is also a good thing to have. Here are a few ideas:
A ham sandwich, just like the turkey sammy I just described, is also a wonderful thing to devour.
Ham and eggs or fried ham on the side of anything is wonderful.
You can run your leftover ham through the grinder and use it as part of a filling to stuff peppers, zucchini, and mirlitons.
The ham bone MUST be saved and used in Red Beans and Rice.
Here are a few recipes that the addition of the ham bone or chunks of ham makes a superb and memorable dish.
If you make this recipe:
Tell us about it in the Comments section below
LEAVE A RATING ON THE RECIPE-worthy of 5-Stars?
Questions or Comments? that's the place!
SIGN UP FOR OUR EMAIL UPDATES so you don't miss anything!
Post a picture and share it with your friends on our Social Media:
Yeah You Right!