Mirlitons...mirla-what? Mirlitons. You may know them by their other names, chayote or vegetable pear, but these wrinkly, light green pear shaped members of the gourd family are yet another star of Creole cuisine.
Sweet Daddy D's Mirlitons Stuffed with Shrimp and Creole Tomatoes is a no-angst recipe that shows what makes Creole and Cajun cuisines so special.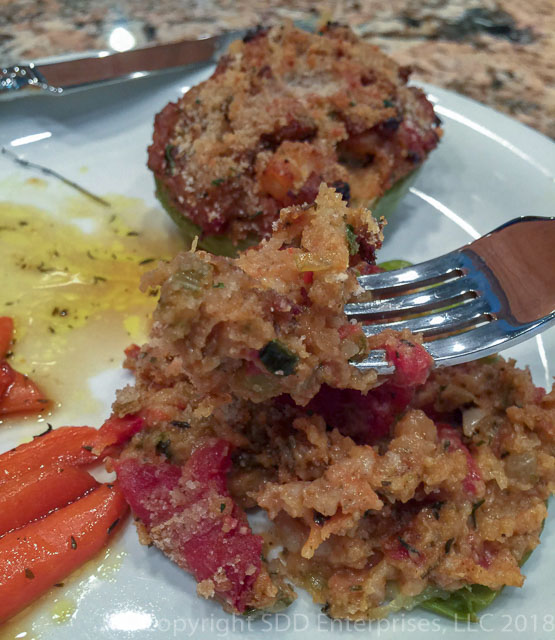 Introduced to Louisiana in the 18th century by the Spanish, these natives of South America, Central America and Mexico adapted well to the alluvial soils of the Louisiana delta. On their own, they are mild in flavor, but when mixed or stuffed with seafood and seasonings, they bloom into mind-blowing deliciousness. Creole cooks love to stuff things (it's a great way to stretch out expensive meat and seafood, a la gumbos and jambalaya) and these stuffed mirlitons will show you why.
Here's What You Need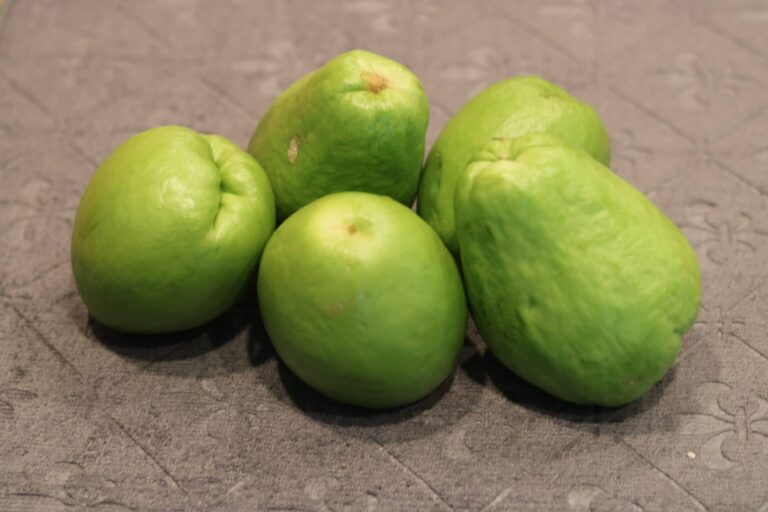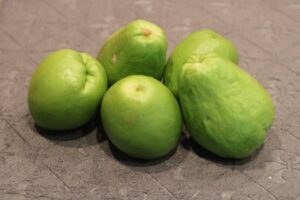 Mirlitons, also known as chayote-are a peculiar looking light green, pear-shaped squash, called vegetable pears by some because of their shape, but these are indeed Mirlitons to the locals in New Orleans and South Louisiana. It's not hard to find them in grocery stores all over the US. The entire mirliton will be used except the seed-the fruit will be scraped out and mixed with the other ingredients leaving the the hollowed out shells just dying to be stuffed. Creole Tomatoes are also a main ingredient in these Stuffed Mirlitons-grown in the alluvial soils of the river parishes in Louisiana, these vine ripened natives add a certain sweetness and texture to the dish. You can easily substitute any home grown or other fresh, ripe tomato, or even canned tomatoes. It will still be delicious. Next, fresh or frozen shrimp, the trinity-yellow onions, celery and bell peppers along with green onions and garlic are the vegetables. The Herb and Spice Blend is dried oregano, basil, thyme and bay leaves, plus some Creole Seasoning, kosher salt and black pepper and a little sugar to counter the acidity in the tomatoes. Butter starts it off and seasoned bread crumbs provide the binder, then a little Romano cheese on top finishes it up!


Here's What You Do
First...you have a beer. There is some prep time involved to get the mirlitons soft and ready to scoop out the meat and leave a hollow shell ready for stuffing and then the tomatoes need to be peeled and seeded (unless you are using canned). So, pop a cold beer, read the recipe all the way through and begin your mise en place.
Mise en place. Place the whole mirlitons in about 10 cups of rapidly boiling water until they soften. This will take between 30 and 40 minutes-plenty of time to finely chop the onions, celery and bell peppers; place those together in a bowl. Chop the green onions and set them aside, then chop your garlic. Put the Herb and Spice Blend together in a ramekin along with the bay leaves; place the sugar in a separate ramekin. Measure out the breadcrumbs and the butter-4 tablespoons to saute the trinity plus another to place on top of the prepared mirlitons with some Romano cheese before they go in the oven. Peel and devein the shrimp. Rinse them well under cold water, then pat them dry with a paper towel and place them in a bowl. Sprinkle some creole seasoning on them and mix well before you set them aside.
Remove the meat from the mirlitons. Once the mirlitons are soft, remove them from the boiling water and let them cool so they will be easier to handle. Once cool, slice them long-ways along the widest part of the pear-shape. Using a spoon, scoop out the seed and discard, then carefully scoop out the meat, leaving about ¼" of the shell, which will be very soft. Place the meat in a colander that has been placed over a bowl so that the excess water will drain. Once drained, chop the mirliton meat and return to the strainer to continue to drain. Place the empty shells aside.
Peel and Seed the Tomatoes. With a sharp knife, cut a shallow cross on the stem end of the tomato and place in about 10 cups of rapidly boiling water. Boil for about 3 minutes once the water returns to a boil. Immediately remove the tomato from the boiling water and place it in an ice bath to halt the cooking. After 5 or 10 minutes, the tomatoes should be easy to peel-grab some of the loose skin between your thumb and the flat of a knife blade and pull. Once peeled, cut the tomato in 2 or 3 sections around the equator and squeeze out the seeds. A few remaining seeds won't hurt anything. Chop the tomatoes.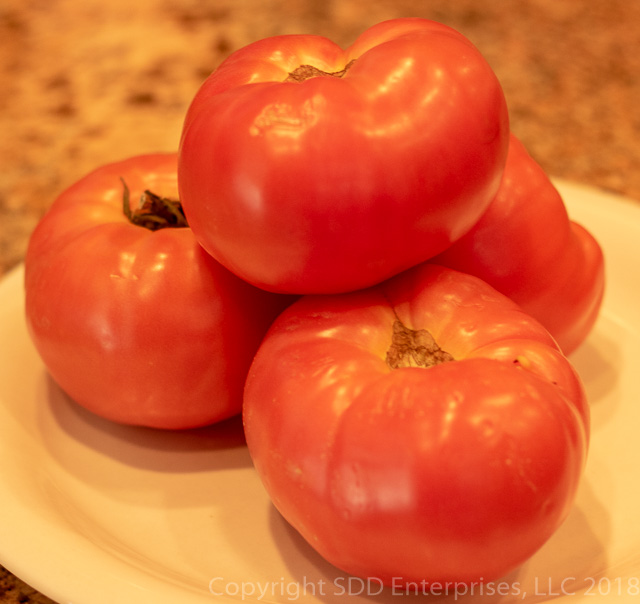 Saute the Trinity. Melt the butter over high heat in a heavy bottomed dutch oven until its frothy. Add the yellow onions, bell peppers and celery and saute, stirring frequently until the onions are starting to clear, which will probably take about 8 minutes.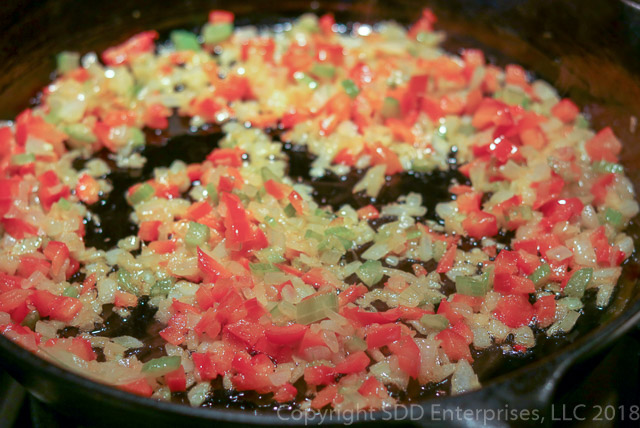 Add in the aromatics. Next throw in the garlic and the Herb and Spice Blend with some fresh ground pepper but not the salt or the sugar yet. Stir these into the veggie mix, then add the green onions. Keep stirring until everything is nice and aromatic-only about 3 or 4 minutes.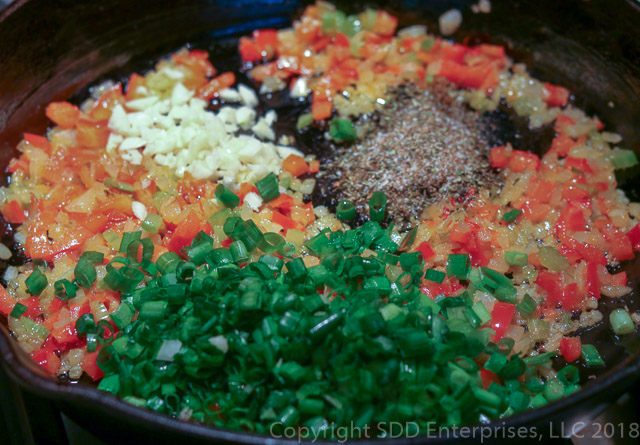 Add the tomatoes and mirliton meat. Mix in the tomatoes and whatever tomato juice has accumulated and saute for about 5 minutes, making sure the fire is high. Don't let it burn! Next add the mirliton meat, without any extra liquid (reserve the mirliton juice for later if its needed). Continue to stir thoroughly, combining all the ingredients and cooking out some of the excess liquid. Smash the larger mirliton pieces with the back of your spoon. Stir in the sugar. All this should be about another 5 minutes.
Add the binder. Now it's time to add the breadcrumbs to bind everything into a stuffing. Start with about half of the breadcrumbs-mix everything together very well. If it looks like it needs some more breadcrumbs, add about half of what's left. I usually use about ¾ cup total breadcrumbs in the stuffing, but you should use whatever it takes to get the consistency you are looking for. If you end up adding too many breadcrumbs, just add in a little of the reserved mirliton juice and that should thin it out. Make sure to mix all of this together very well-taste and add kosher salt if needed, then set it aside and allow it to cool slightly.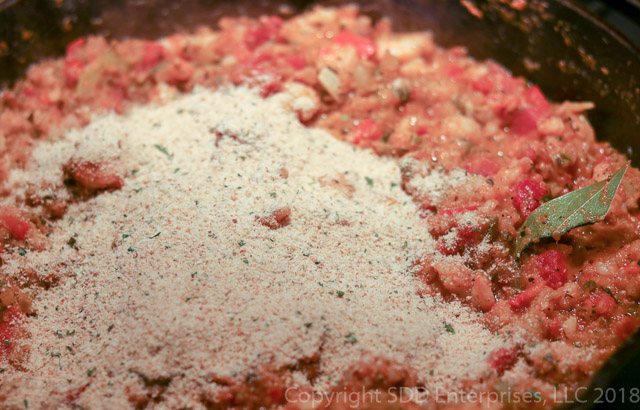 Stuff the shells. Remove the bay leaves. Now, holding a mirliton shell in your left hand (if you're right handled), use a spatula in your right hand to stuff some of the filling into the shell. Make sure to press down and get filling in all the voids. Place the stuffed mirlitons on the prepared baking sheet or baking pan. Once all the mirlitons have been stuffed, sprinkle some of the remaining breadcrumbs, a little Romano cheese and finally place a small tab of butter on top of each one.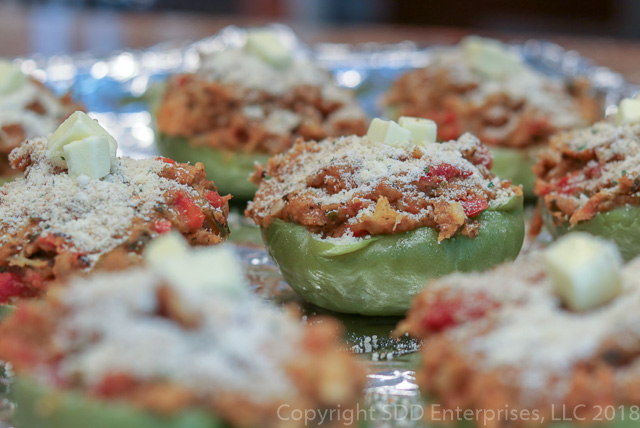 Bake. After 30 minutes in a 375 degree oven, they should be starting to brown on top. Since ovens differ, check them after 20 minutes to get an idea how it's going. Of course if they still haven't browned after 30 minutes, give them a little more time.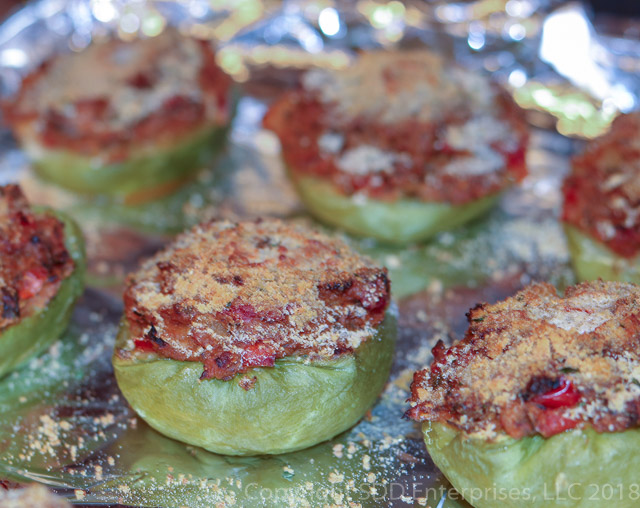 That's all there is to it. Simple as that.
Tips and Hints
Mirlitons are mild in flavor, enhancing the flavors of the ingredients with which they are mixed. When these stuffed mirlitons are ready, the skin will be very soft and can be eaten along with the stuffing-very delicious.

Mirlitons have a high water content. Once you have scooped out the meat, put it in a colander placed over a bowl. Let it drain while you are doing other things, then rough chop the mirliton and return it to the colander until you're ready to add it to the cooking. It will seem like it's still making water, but you'll cook most of it out.

Make sure you don't rush the softening operation. If the mirlitons are not softened enough they will be very difficult to scoop out. Use a toothpick to test them. If they end up too soft-no worries, just be careful not to tear or poke a hole the skin. If you do and it's not too bad, you can still mold them together. Worst case scenario-just make a casserole!

If you don't have Creole tomatoes, use any ripe tomato-homegrown are best, but the important thing is that they be ripe. If you don't have any fresh tomatoes available, using diced canned tomatoes is a great substitute-best thing...they are already peeled and seeded, talk about no-angst!!

Crawfish tails are also a great substitute for the shrimp. Everything remains the same, just swap your crustacean. Don't like, can't get or can't eat shellfish? No worries..experiment with some spicy sausage-saute some fresh sausage before you add the butter and trinity, then just follow the rest of the steps.

Remember that most commercial creole seasonings have a high salt content,

so make sure that you taste the stuffing before you add any more salt.
If you like this recipe, you'll love what Sweet Daddy D has here:
Mirliton Shrimp Dressing
Mirliton Shrimp Dressing combines the mild flavors of mirliton with Gulf Shrimp and Creole seasonings with bread stuffing.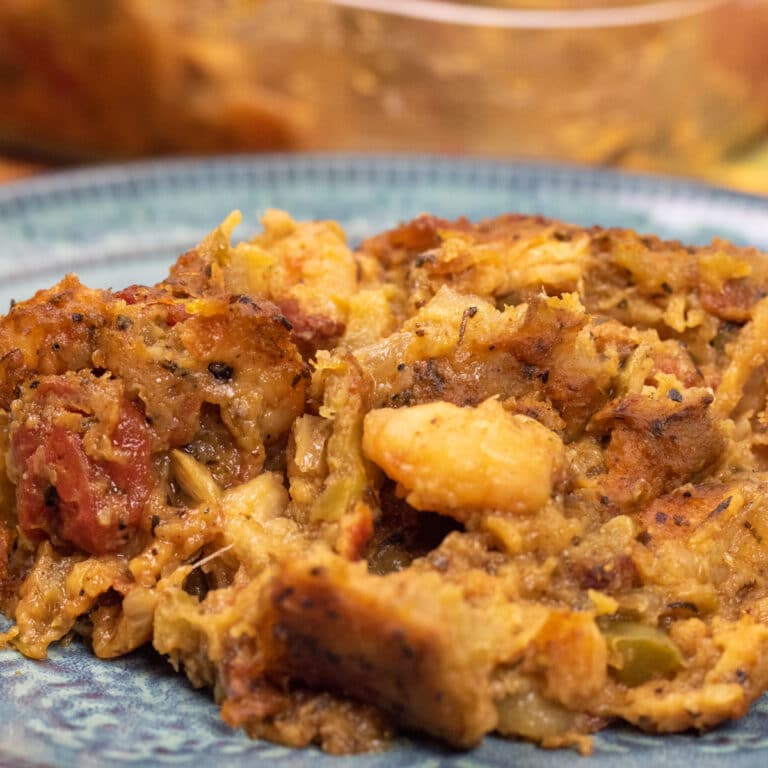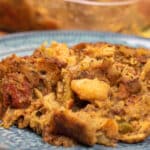 Mirliton Crab Bisque
Mirliton Crab Bisque-the mirliton's mild flavor is a perfect vehicle for the succulent and rich crab meat and unique spice blend of nutmeg, allspice and cardamon in a creamy, rich bisque. Perfect for an appetizer or the main course, served with crisp french bread and a green salad.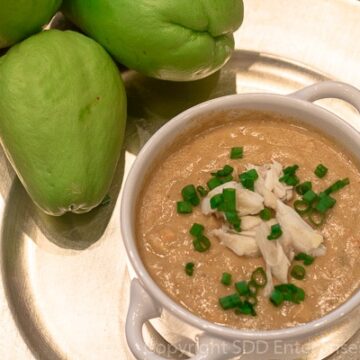 Shrimp Stuffed Eggplant
Commonly referred to as Eggplant Pirogues-eggplant hollowed out like the ubiquitous Cajun boat (pirogue), these eggplants are stuffed full of a mixture of smothered eggplant, vegetables and shrimp in Louisiana seasonings. They're baked to a golden brown and deliver an unparalleled South Louisiana treat. This is so delicious, you'll never believe how simple it is.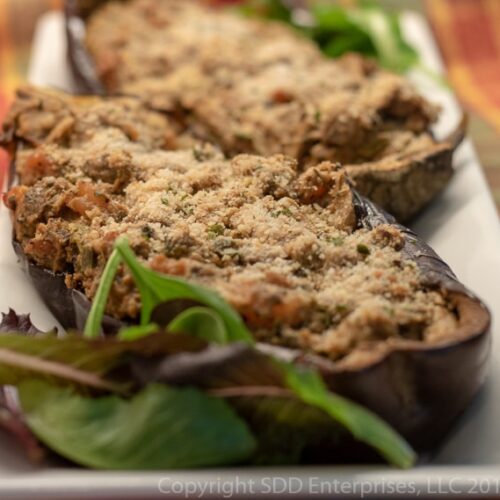 Creole Green Beans
Awesome Creole Green Beans...fresh green beans smothered with bacon, onions, tomatoes and seasoning in a rich stock and just a hint of Louisiana cane syrup sweetness.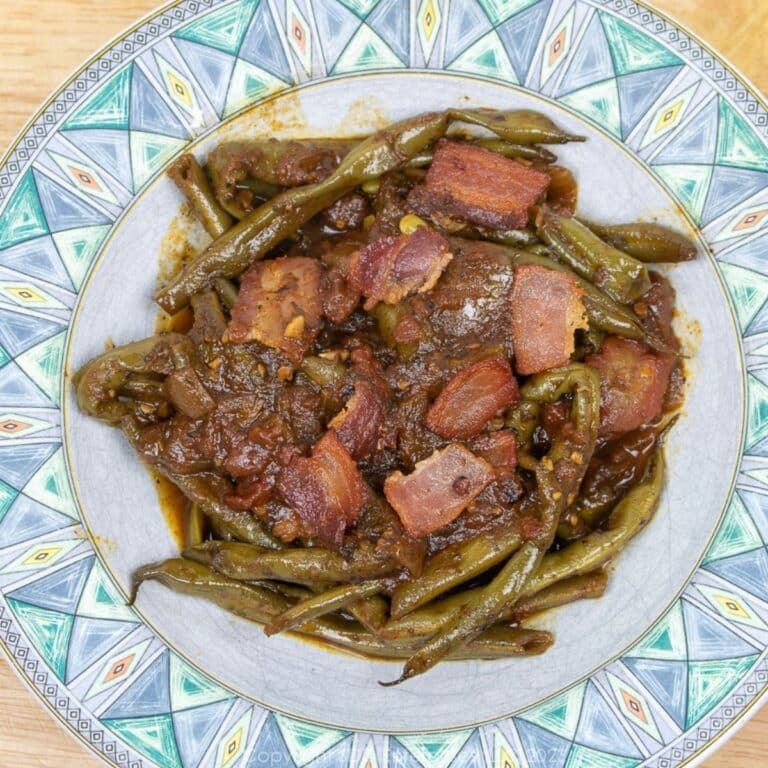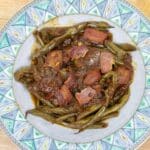 Roasted Carrots with Cane Syrup
Roasting brings out the natural sweetness of the carrots. Add some butter and cane syrup and sprinkle in a little thyme and you have a wonderfully special side dish that's perfect for any entree.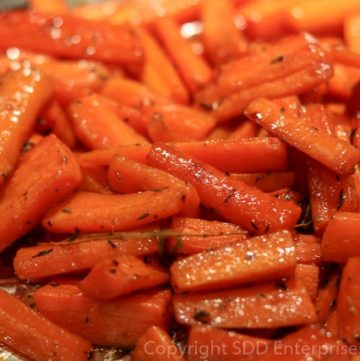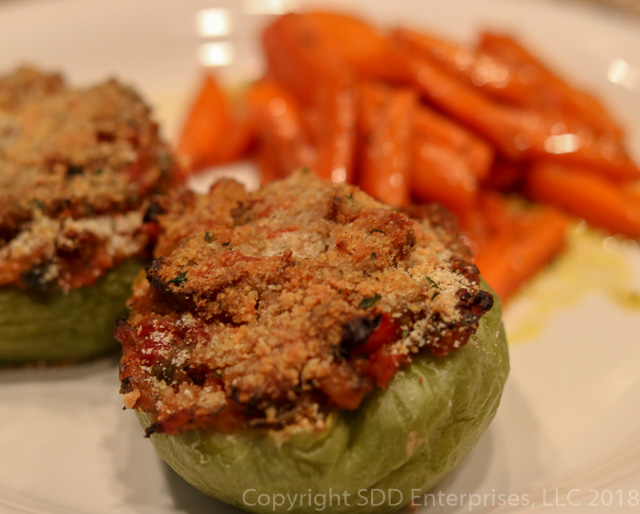 I sure hope you try these Mirlitons Stuffed with Shrimp and Creole Tomatoes and when you do, please tell us about it in the Comments section below and make sure to leave a rating on the recipe. Post a picture on our Facebook page or on Instagram with a #firstyouhaveabeer. Pin it for later. Follow us on Facebook and Instagram and make sure to share this with your friends…they will love you for it. Sign up for our email updates below so you don't miss anything!
Yeah You Right!
Recipe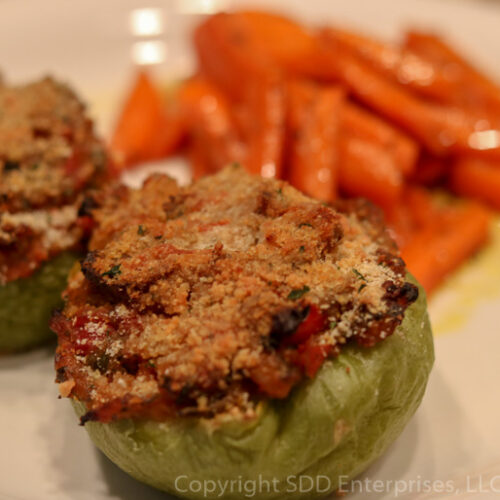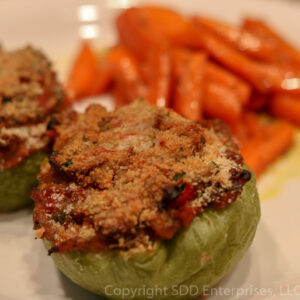 Mirlitons Stuffed with Shrimp and Creole Tomatoes
Mirlitons, stuffed with a shrimp filling made from sauteing the trinity (onions, celery and bell peppers) along with the mirliton fruit and sweet Creole tomatoes blended with fresh shrimp and creole seasoning. South Louisiana comfort food-hearty and delicious! Mirlitons, a peculiar looking squash, also known as Chayote or Vegetable Pear, is a Louisiana favorite-try this recipe and they will also be a favorite of yours!
Print
Pin
Rate
Here's What You Need
5

mirlitons

see Notes

1

medium

yellow onion

finely chopped

½

large

bell pepper

finely chopped

1

stalk

Celery

finely chopped

1

bunch

green onions

sliced

4-5

cloves

garlic

finely chopped

2

cups

creole tomatoes

peeled, seeded and chopped. see Notes

1

cup

seasoned bread crumbs

1

pound

shrimp

peeled, deveined and rinsed

¼

cup

Butter

plus some for the topping

⅛

cup

Romano Cheese

for topping

1

tablespoon

sugar
Herb and Spice Blend
½

teaspoon

Oregano

½

teaspoon

Basil

¼

teaspoon

Thyme

1

teaspoon

Creole seasoning

2

whole bay leaves

Kosher Salt and Fresh Ground Black Pepper to taste
Here's What You Do
Preheat oven to 375 degrees.

Boil whole mirlitons for 30–45 minutes until tender. Remove from water and allow to cool.

When cooled, slice in half lengthwise at widest point and remove the seed; scoop out to the meat leaving about ¼ inch of shell. Set Aside. (See Notes)

Chop the mirliton meat and set in a colander over a bowl to allow the water to drain, retain the liquid.

Peel, devein and rinse the shrimp. Pat dry.

Coarse chop the shrimp, mix in some creole seasoning and set aside.

Parboil the tomatoes then place in an ice bath. Peel, remove the seeds then chop the tomatoes. (See Notes)

Melt butter in a heavy bottom dutch oven over high heat until frothy.

Add the trinity-yellow onions, celery and bell peppers and saute until the onions are clear, about 8 minutes.

Add the aromatics-garlic, green onions and the Herb and Spice Blend (not the sugar).

Stir and saute until aromatic, about 4 minutes.

Add the tomatoes and saute a couple of minutes.

Add the chopped mirliton meat and sugar, continue to sauté, cooking most of the water out of the mirlitons. Mash mirliton meat with a spoon as it cooks-its OK to have some chunks. About 5 minutes.

Add the chopped shrimp and stir to mix well.

Sauté until the shrimp have turned pink, about 5 to 6 minutes.

Add about half the bread crumbs and mix well.

Add more breadcrumbs until the mix tightens up-cook about 5 more minutes.

Remove the dutch from the heat and allow it to cool-about 15 to 30 minutes.

Remove the bay leaves from the filling and stuff the filling into the mirliton shells, pressing to make sure all the voids are filled.

Place the stuffed mirlitons onto a prepared baking sheet or oven-proof baking dish. When they are all stuffed, sprinkle some breadcrumbs and a little Romano cheese on top of each one. Place a small tab of butter on the top of each one.

Bake for about 30 minutes in the preheated oven until golden brown.
Recipe Notes
A mirliton is a peculiar looking squash that is commonly known as a Chayote or Vegetable Pear outside of Louisiana. Once it's all cooked, the skin will be very soft-it's fine to eat, in fact, it's delicious!
To prepare the mirlitons, add them to about 10 cups of boiling water and boil until soft-for about 30 minutes. Check them by probing with a tooth pick. If they are soft and offer little or no resistance, they are done.  If they are still a little tough, continue to boil and check every 5 to 10 minutes.  Make sure to let them cool before handling-it will be much more pleasant.  Once cooled, slice the mirliton in half lengthwise at the widest part. Scoop out the seed and the white part around it, then carefully spoon or scrape out the fruit into a bowl, leaving about ¼ inch of the shell. The soft skin is easy to pierce or tear-but even if it gets torn, it will still be good for stuffing!
If you start with 5 mirlitons, you'll end up with 10 halves (no extra charge for the math lesson!). However, stuff as much filling as you can in them even if you don't have enough for all 10 halves. I usually end up with 8 or 9.
If you don't have Creole tomatoes, use any ripe tomato-home grown are the best. The important part is to use ripe tomatoes, but if there are none available, canned diced tomatoes will work perfectly!
The easy way to peel and seed the tomatoes is to parboil them. Cut a shallow cross with a very sharp knife on the top, crisscrossing the stem.  Bring about 10 cups of water to a heavy boil. Working with one or two tomatoes at a time, place them in the boiling water.  Boil them for about three minutes after the water returns to a boil. (placing the cover over the pot will help bring the water back to a boil quicker). Remove the tomatoes immediately into an ice bath (a large bowl filled with ice and cold water).  This will stop the cooking process and make them easy to peel. Let them sit in the ice bath about 10 minutes. When you remove them, grab a piece of the curling skin between your thumb and the flat of a knife blade and pull. Continue until the entire tomato has been peeled. To get the seeds out, slice in half or threes across the tomato's equator and scoop the seeds out with your fingers or a small spoon. Sometimes you can squeeze the seeds out. Its OK if you don't get every single seed out. Next, chop the peeled tomatoes and they are ready for use.
Some commercial creole seasonings have a lot of salt, so make sure you taste the filling before you add more salt to it.
Nutrition
Calories:
236
kcal
|
Carbohydrates:
25
g
|
Protein:
17
g
|
Fat:
8
g
|
Saturated Fat:
4
g
|
Polyunsaturated Fat:
1
g
|
Monounsaturated Fat:
2
g
|
Cholesterol:
103
mg
|
Sodium:
370
mg
|
Potassium:
597
mg
|
Fiber:
5
g
|
Sugar:
9
g