Jazz Fest 2018......it was a hell of a show. Let's take a Lagniappe look at this years Festival...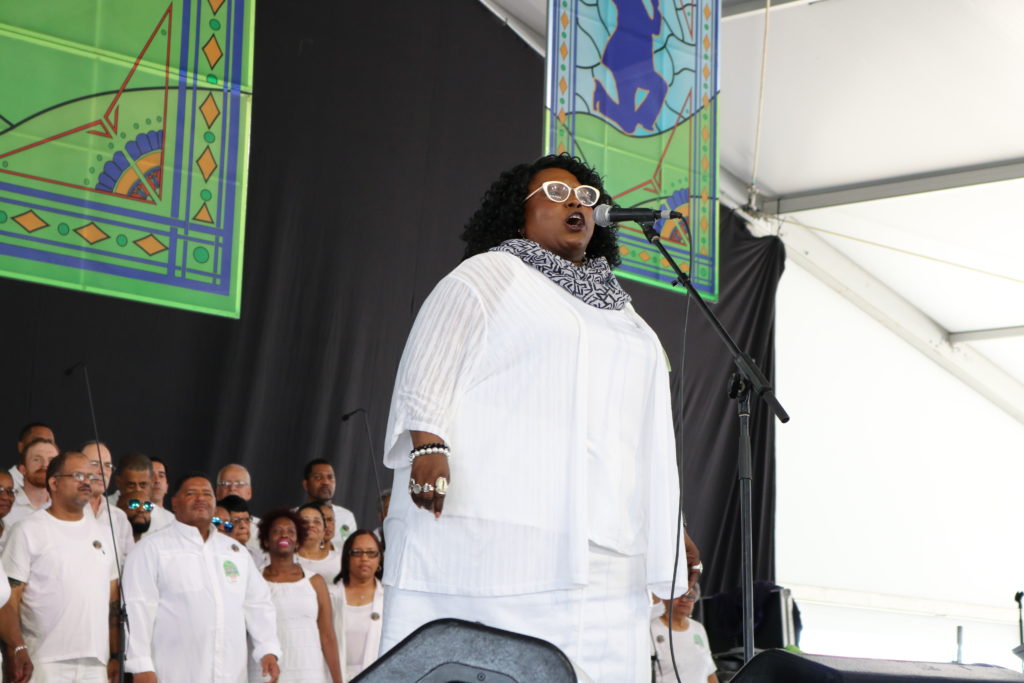 For seven days over two weekends in April and May each year, the New Orleans Fair Grounds, usually a thoroughbred racetrack, is converted to a celebration of the fun, food, culture and music of our New Orleans and Louisiana. Over 500 bands, artist and entertainers join local artisans and culinary vendors to display the things that make this region so special. This party is huge, but like most things in Louisiana, there is a reason for the party-and that's to keep our heritage alive. A nonprofit organization, The New Orleans Jazz & Heritage Festival and Foundation, Inc. owns the world-famous New Orleans Jazz & Heritage Festival. The Foundation uses the proceeds from Jazz Fest and other fund raising activities, to support year-round programs in education, economic development and cultural enrichment in support of the Foundation's Mission:
"To promote, preserve, perpetuate and encourage the music, arts, culture and heritage of communities in Louisiana through festivals, programs and other cultural, educational, civic and economic activities."
The Foundation's work directly supports music education, songwriting workshops, cultural workshops, community partnership grants, cultural festivals, film festivals and many, many more endeavors. Check this out to see what they have going on-it's pretty impressive.
The 2018 Festival was no exception to the decades of successful Jazz Fests. Let's take a quick look back to some of the music, food, culture and people that made 2018 so special.
Music
There is music everywhere. Five large stages plus huge tents dedicated to the Blues, Gospel, New Orleans Jazz, and more Jazz all have non-stop entertainment from 11:00 in the morning until 7:00 each evening. The 2018 headliners were huge...Sting, Lionel Richie, Anita Baker, Rod Stewart, Beck, Bonnie Raitt and Aerosmith are just a few of the big names and world renowned entertainment. These are all great shows on the big stages, but to me the local and regional musicians and singers that may not be known world wide, are the true stars of the festival.
Food
New Orleans and Louisiana are certainly known for their culinary offerings, so it's only fitting that food should take center stage at the Jazz Fest. If its a Louisiana thing, its at the Fest. Jambalaya, Gumbo, Crawfish Monica and much more go on and on and on.
Arts, Crafts and Heritage
Booth after booth of handmade creations, art and cultural artifacts, cultural demonstrations are on full display and available for sale to all the Fest-goers. Here's a tip...the official Jazz Fest posters are collector's items.
People
The Jazz Fest is people-watching at its best. Laissez les bon temps rouler...everyone is definitely letting the good times roll.
This has been just a very small sample of the 2018 Jazz Fest's people, music, crafts, food and spirit. Next year the Jazz Fest will be 50 Years Old!!!! I can't wait to see what the Foundation will come up with. The artists will be announced in January 2019....don't worry, I'll let you know what and who is coming.
Follow us on Facebook and Instagram and share this with a friend. If you've been to the Jazz Fest, leave me a comment and tell me about it below. Make sure to sign up for our emails, you don't want to miss anything!!
Yeah You Right!