Shrimp and Andouille Sausage in a Creole Mustard Cream Sauce tossed in penne pasta. The amazing flavors that come from this creamy shrimp and sausage pasta dish belie its simplicity. A cream sauce made memorable by adding tangy, spicy creole mustard is the perfect match for two of South Louisiana's natural treasures-fresh Gulf shrimp and andouille sausage. This is Sweet Daddy D's Shrimp David...you'll find this Creole treat an instant hit with your friends and family.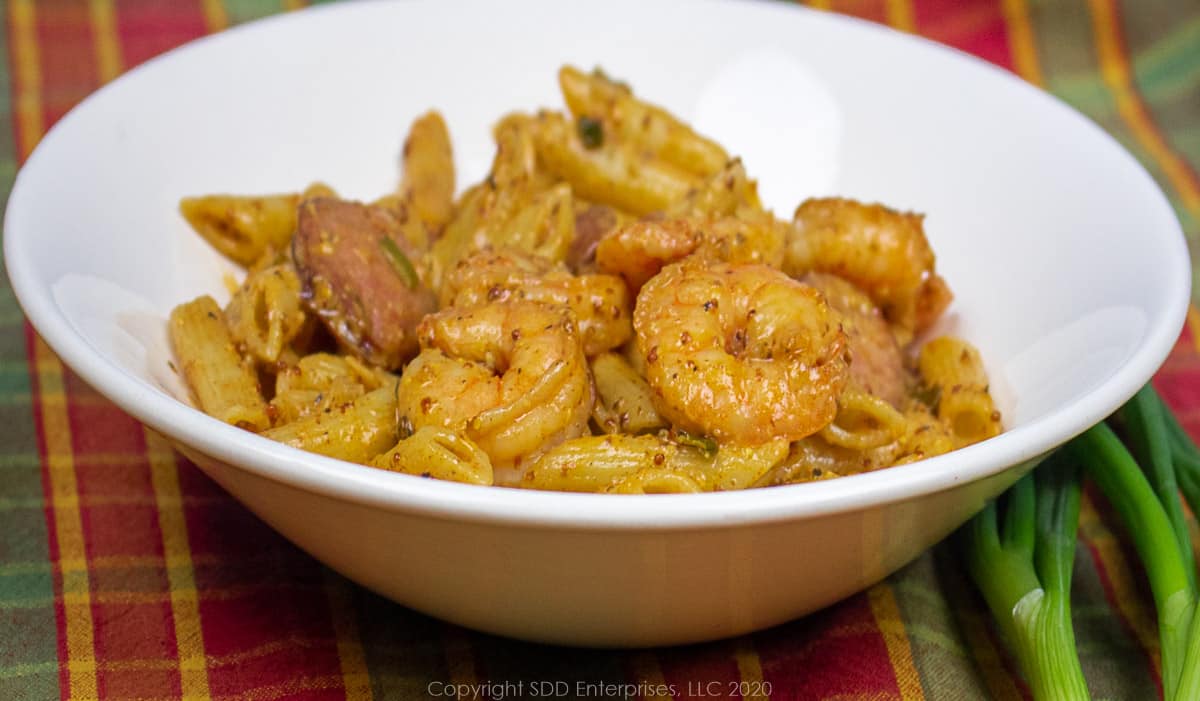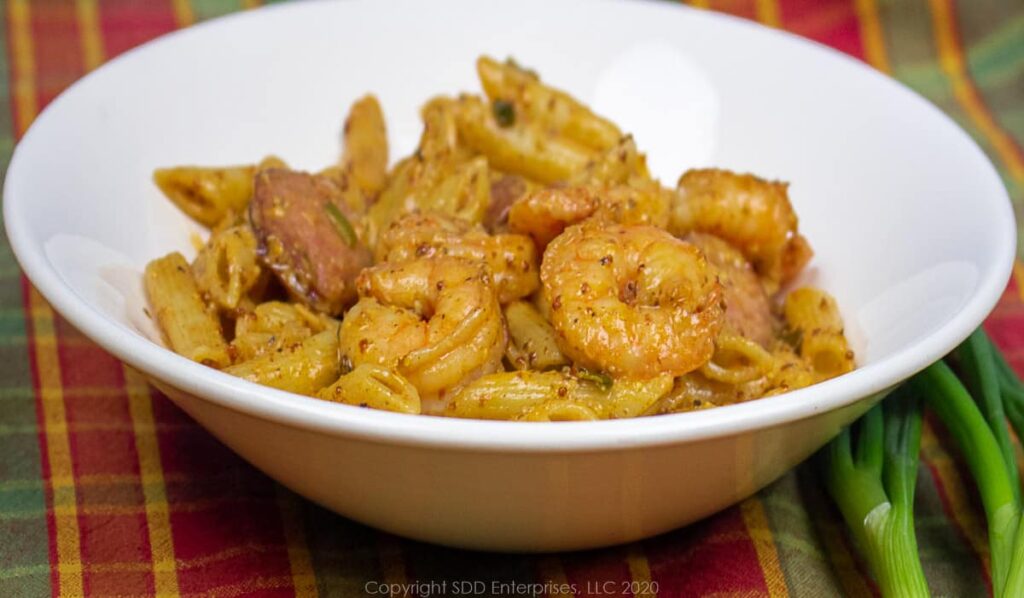 This post is not sponsored, but you will find affiliate links on this page. As an Amazon Associate, I earn from qualifying purchases. The price you pay as a consumer does not change, but I may make a small commission based on your purchase.
Jump to:
Where Did This Recipe Come From?
The idea for this recipe came from a lunch I had with my son at the Palace Cafe, one of the Brennan restaurants in New Orleans. My son noticed a pasta dish with a creole cream sauce that looked good to him, but it had shrimp, which he didn't like. He asked for it with chicken, and of course, they were glad to accommodate him. He enjoyed that dish so much that it wasn't long before he was asking me to make that for him at home. Through trial and error, I finally came up with a cream sauce powered by Creole mustard and served it with chicken, andouille and pasta, which became an instant hit at our house. I named that dish Pasta Davidrecipeafter him, and I still get requests to make that Palace Cafe knock-off for family and friends. Now getting back to the original intent of the recipe, I've developed this creamy shrimp and sausage pasta with a wonderful Creole vibe, more like the original at the Palace Cafe.
Here Is What You Need
Gulf Shrimp. You can use either fresh or frozen shrimp in this recipe. See more about the shrimp in the Hints and Tips section below. Check out the Cajun Grocer for an online source of some great Gulf shrimp if you can't find them at your local grocery store or seafood market.
Andouille Sausage. Common in South Louisiana recipes, Andouille is a smoked pork sausage, typically highly spiced and often made from coarsely ground pork. I use a mild andouille sausage for this recipe. It will still add a great flavor but not clash with the mustard. Check out the Hints and Tips section below for more about Andouille.
Creole Mustard. This is the real flavor driver for this recipe. Creole Mustard is spicy, Dijon-style grain mustard with a bit of horseradish. Check out the Hints and Tips section below for substitutes.
Penne Pasta. Penne pasta is ideal for this dish because the sauce will cling to it very well and its structure stands up and will not be overwhelmed by the rich flavors of the sauce, shrimp and andouille. Check out the Hints and Tips section below for substitutes.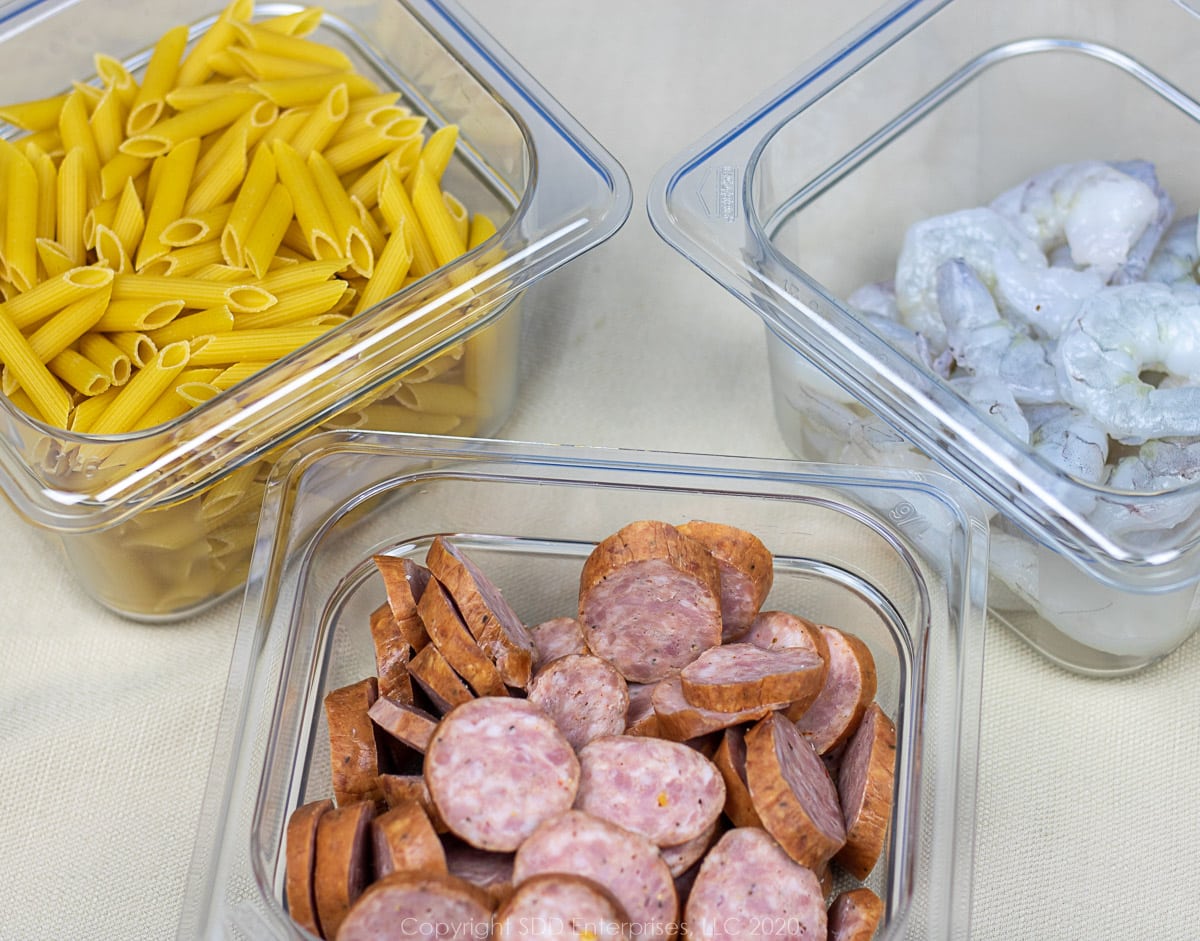 Other ingredients:
Heavy Cream

Shallots

Garlic

Green Onions

Lemon Juice

Butter

Olive Oil

Kosher salt and ground black pepper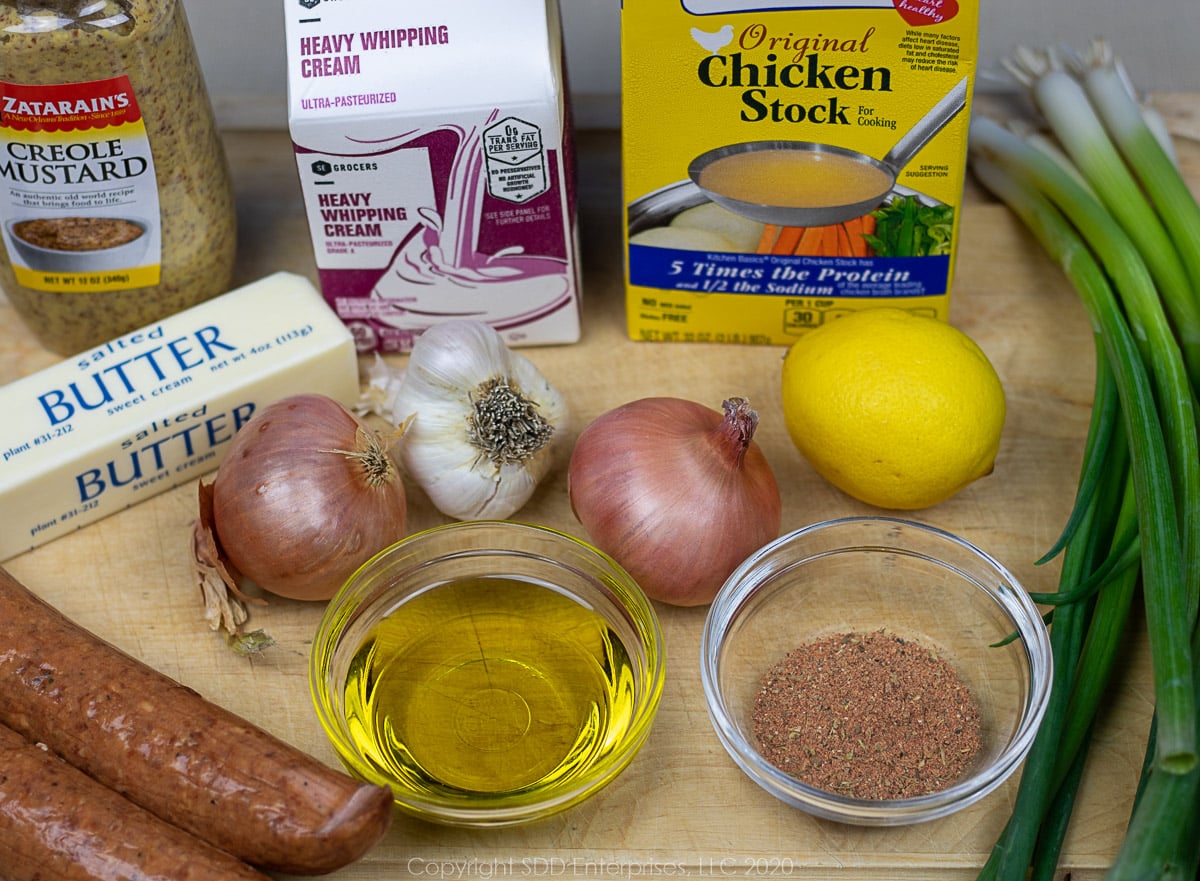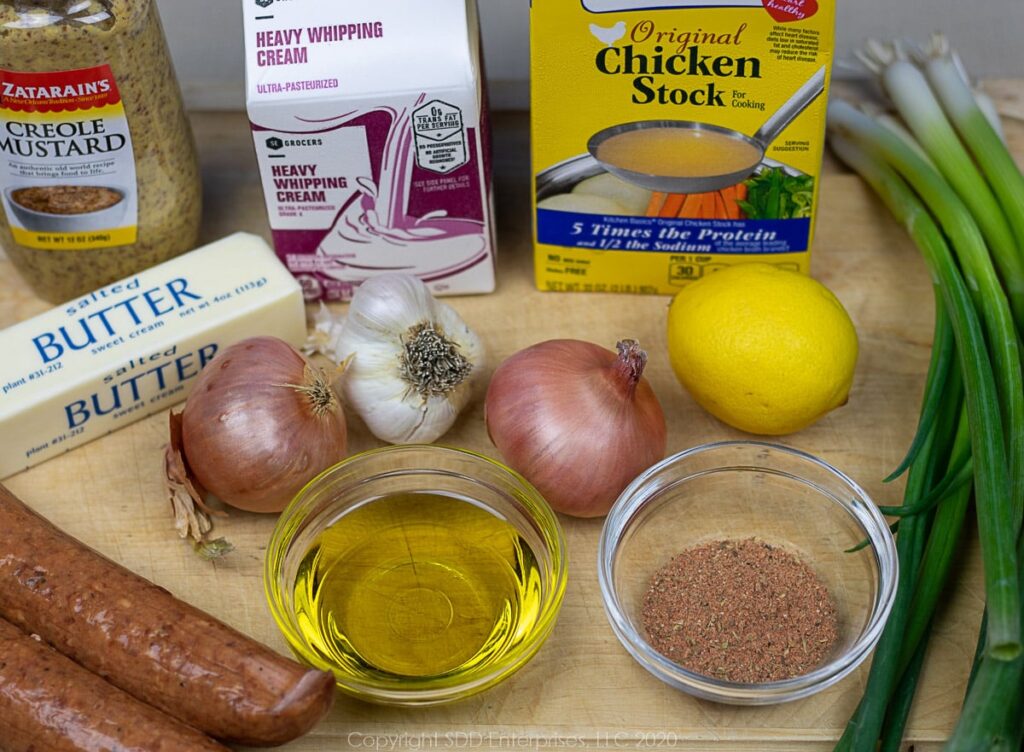 Equipment:
And don't forget the beer.
These items will help you with this recipe:
Here Is What You Do
First...you have a beer. Preparation starts with the cook! This recipe is really quite simple and can be done in an hour if you prepare properly. Your mise en place starts with a beer and while you're sipping that, read the recipe thoroughly to make sure you have all the ingredients and you know what to do with them. Peel, devein and rinse the shrimp, then mix in some Creole seasoning and set them aside. After prepping (chopping, measuring, sipping) all the ingredients, you should cook the pasta according to the directions on the box for al dente. The pasta should take about 9 to 11 minutes, so you can start the sauce when that gets going. Like most recipes, this one is a lot easier if you have everything prepped and placed in their own prep bowls so all you need to do is assemble the recipe.
Brown the sausage and shrimp
This creamy shrimp and sausage pasta starts with the first layer of flavor. Heat the olive oil in the pan over medium-high heat until the oil is shimmering. Add the sausage and allow it to brown for about 5 minutes, stirring occasionally. Allow some fond to develop which brings great color and flavor.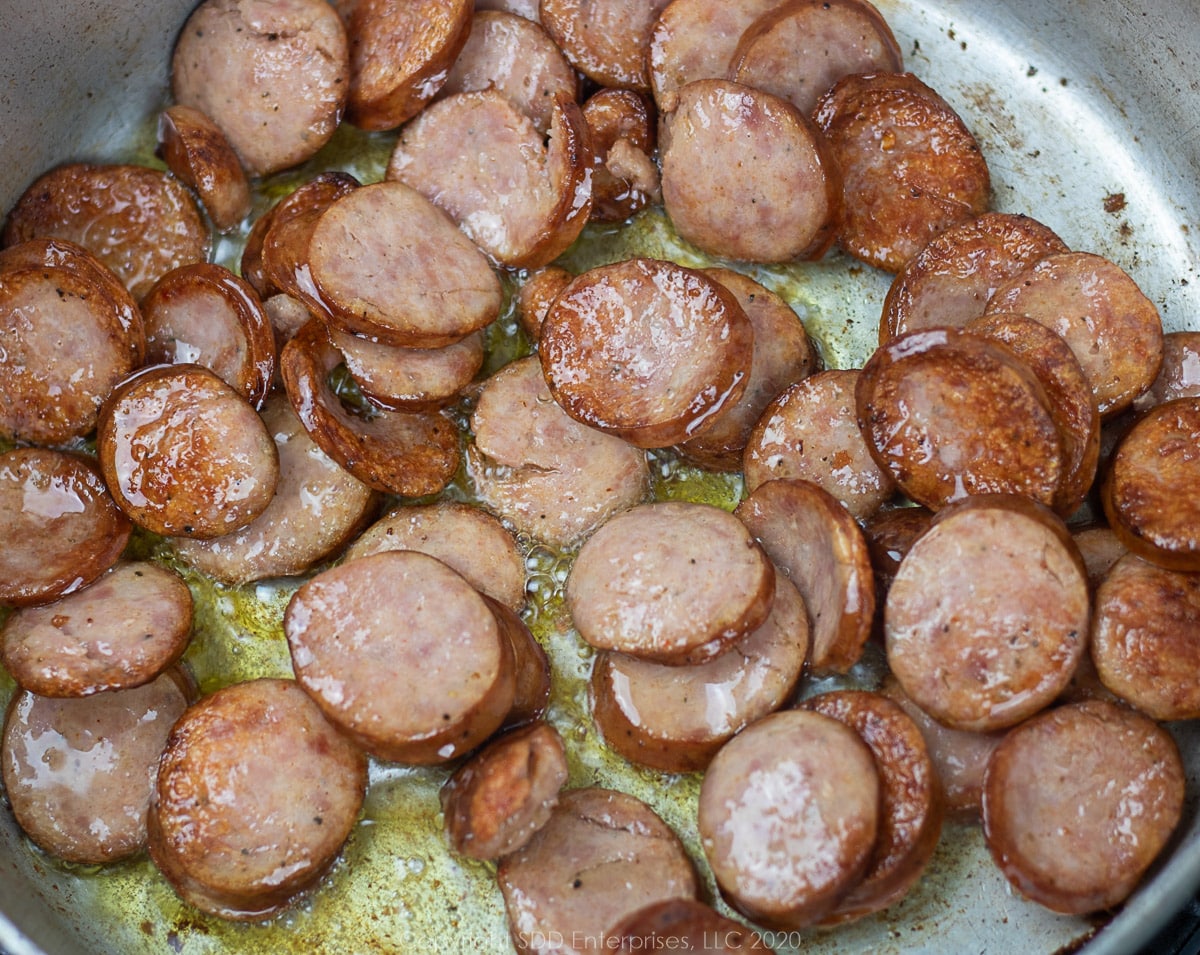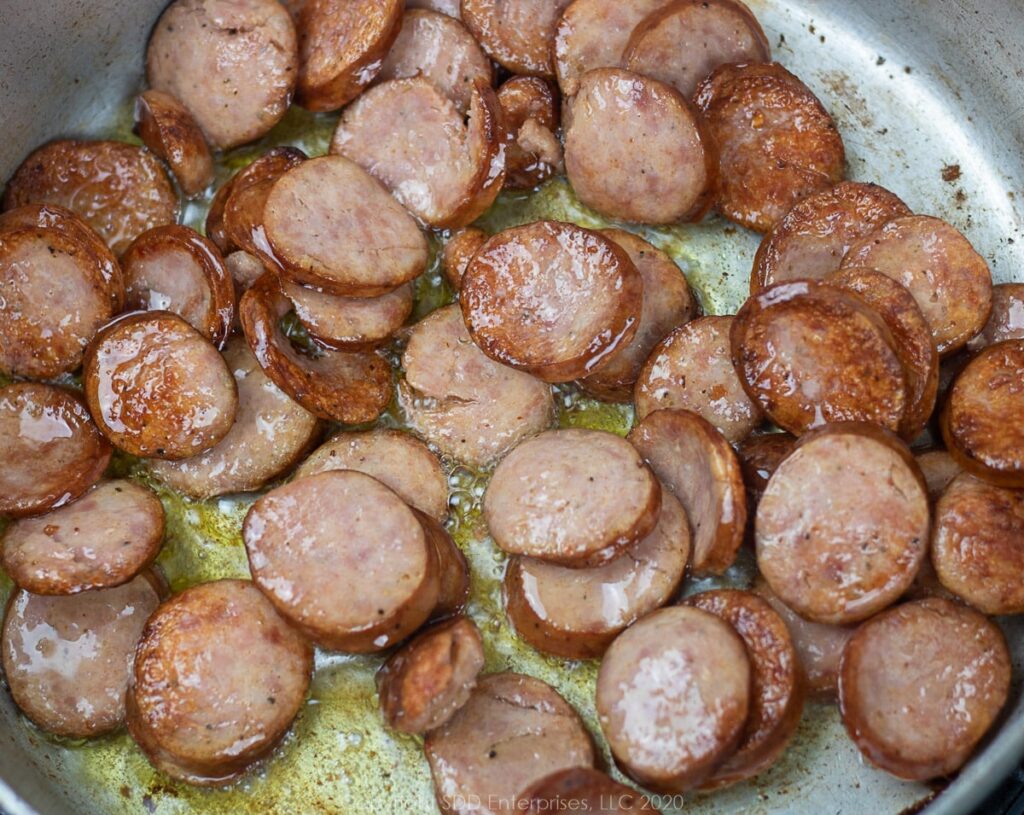 Remove the sausage from the pan and set aside, leaving as much oil and rendered fat as possible. Next, saute the shrimp on both sides for about 2 ½ minutes. Turn the shrimp over halfway through the process so each side browns. (See the Hints and Tips section below about overcooking the shrimp). Remove the shrimp from the pan and set aside.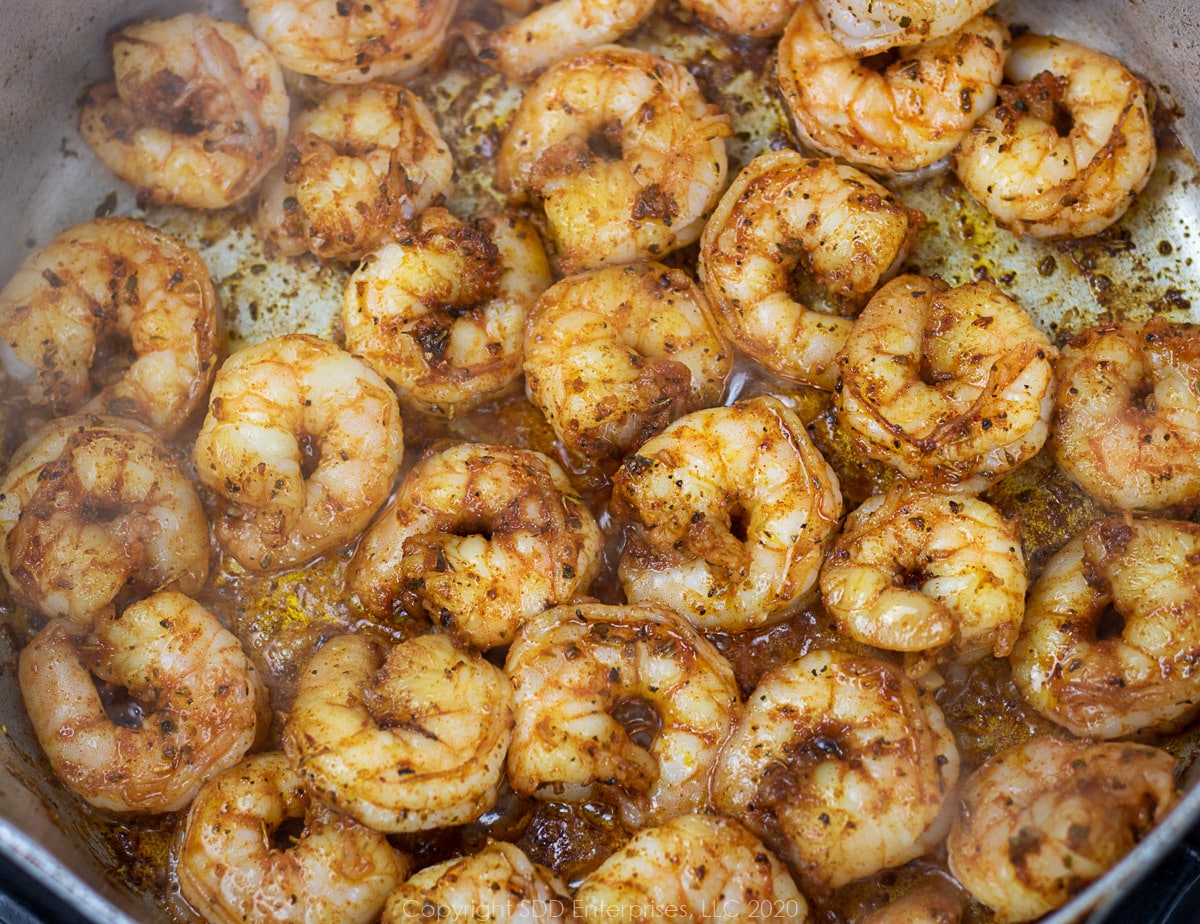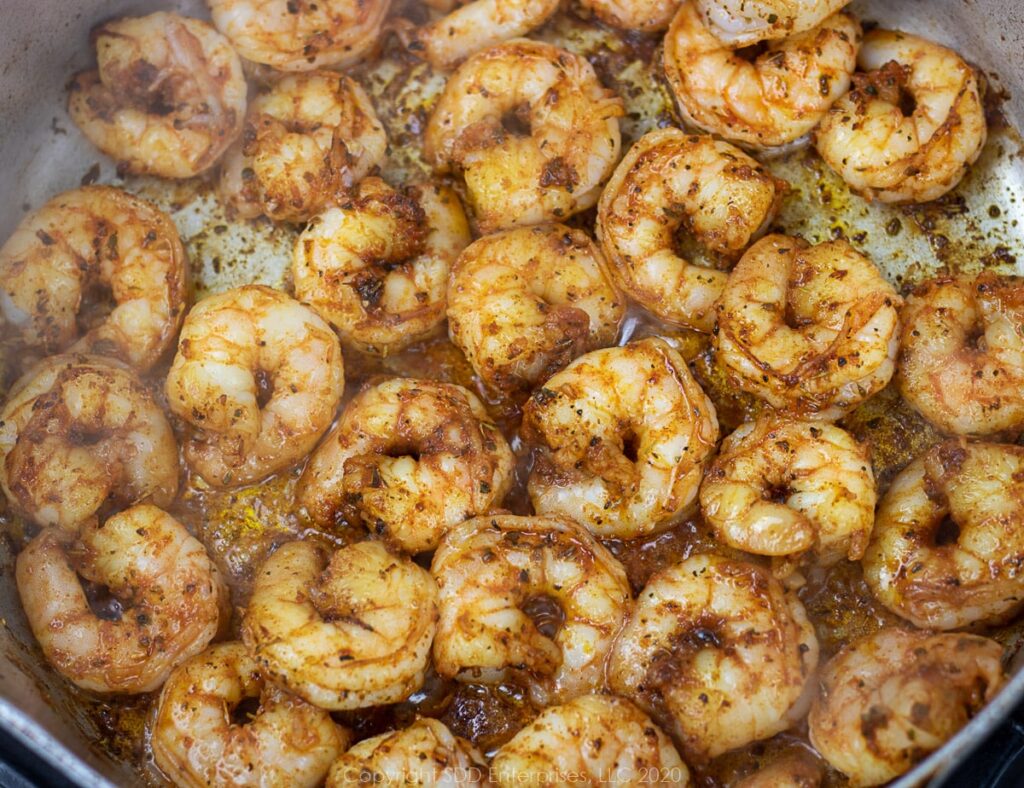 Build the foundation for the sauce
How's your beer? After removing the shrimp, add the butter and when it is nearly melted and foaming, add the shallots. Saute the shallots for about 3 minutes stirring frequently.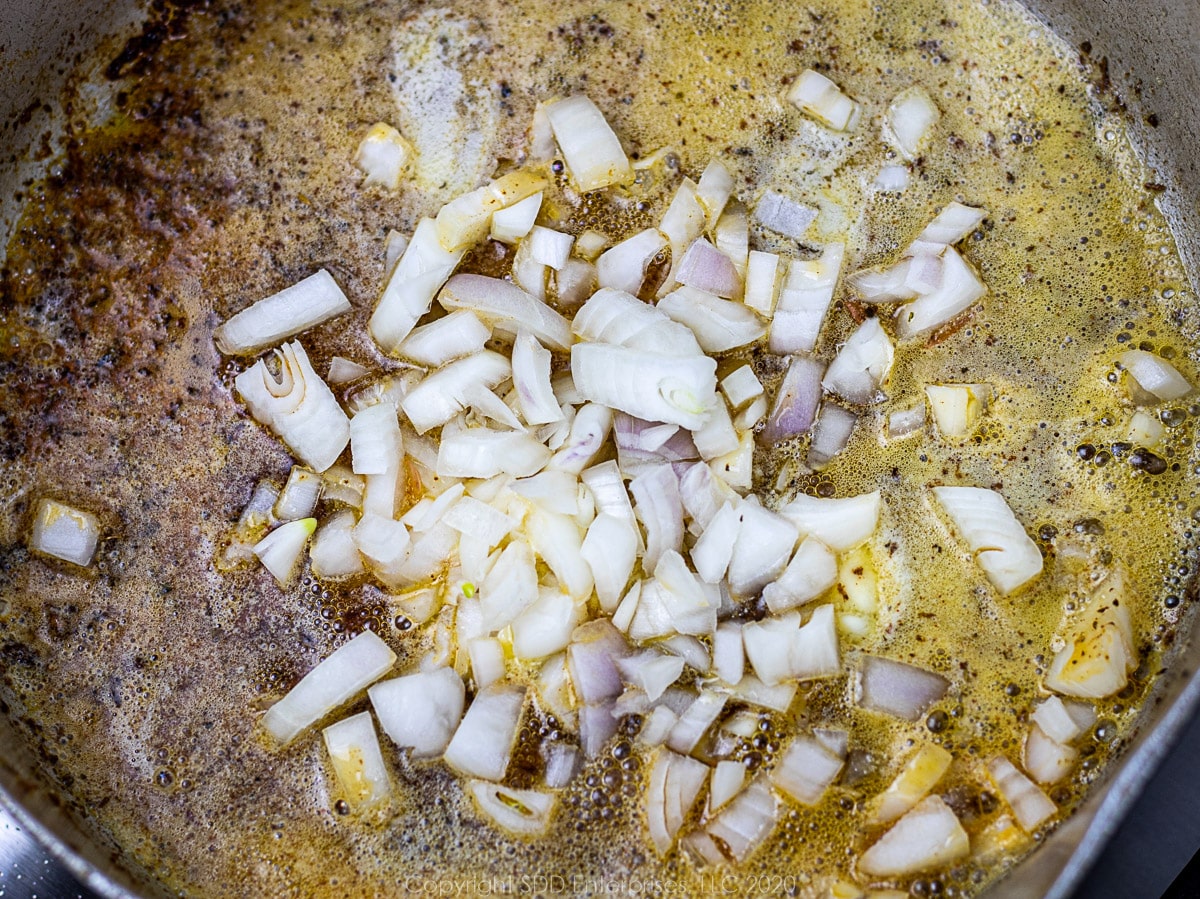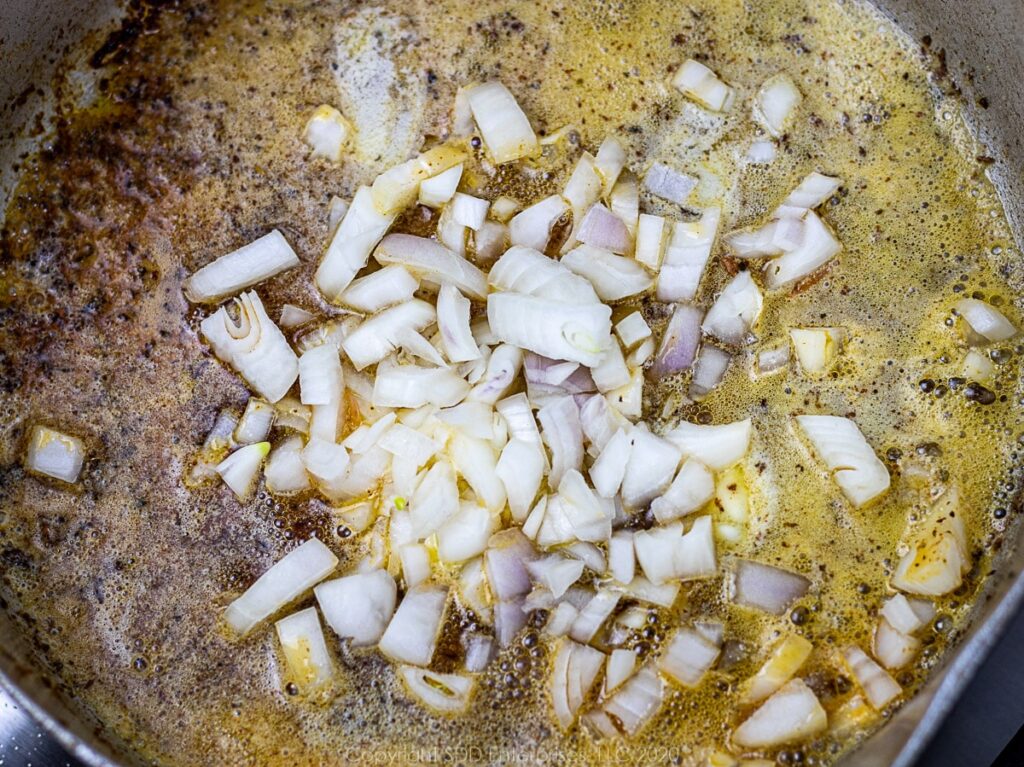 Add the garlic and stir for about 2 minutes until aromatic, then mix in about half of the Creole seasoning.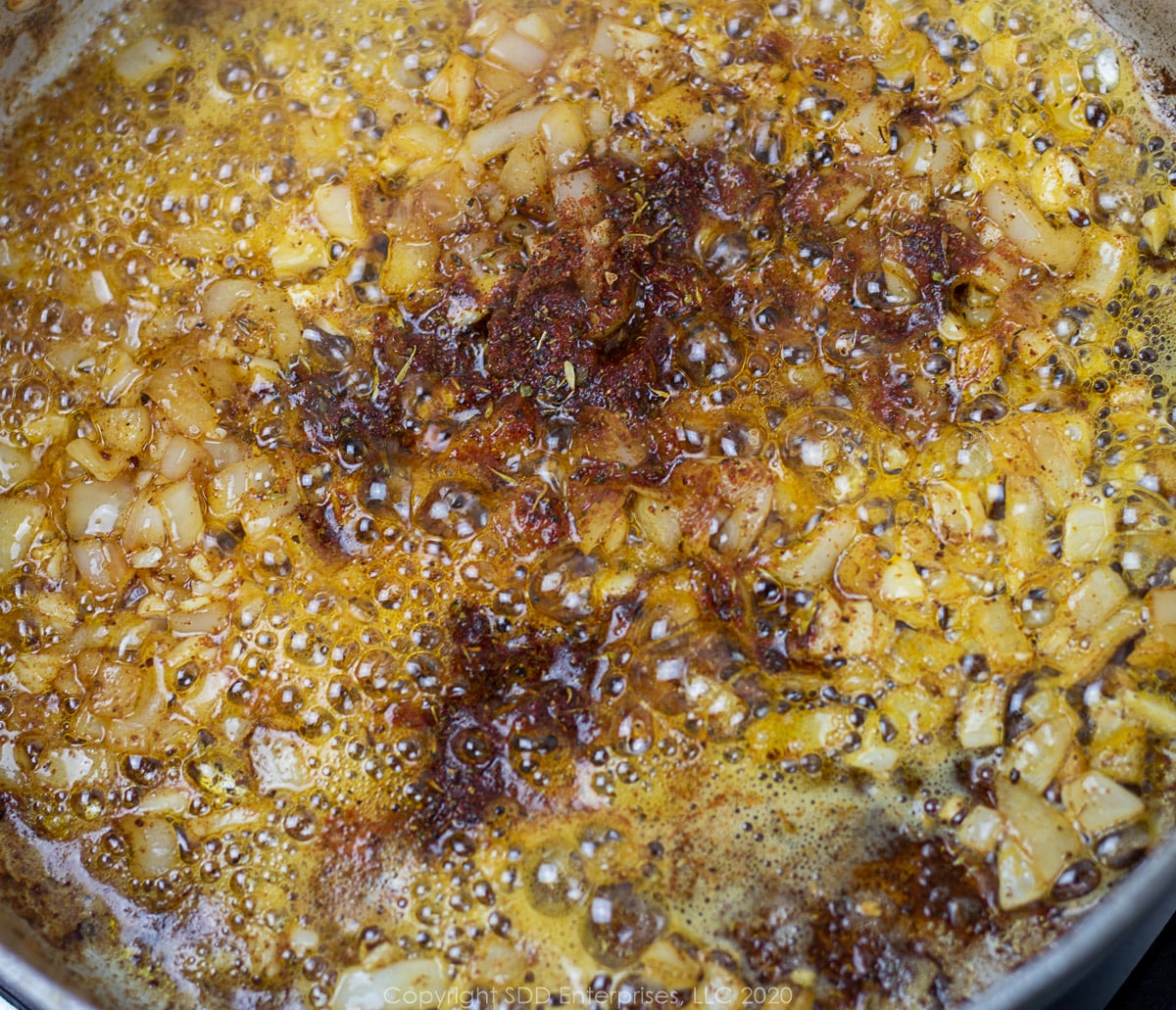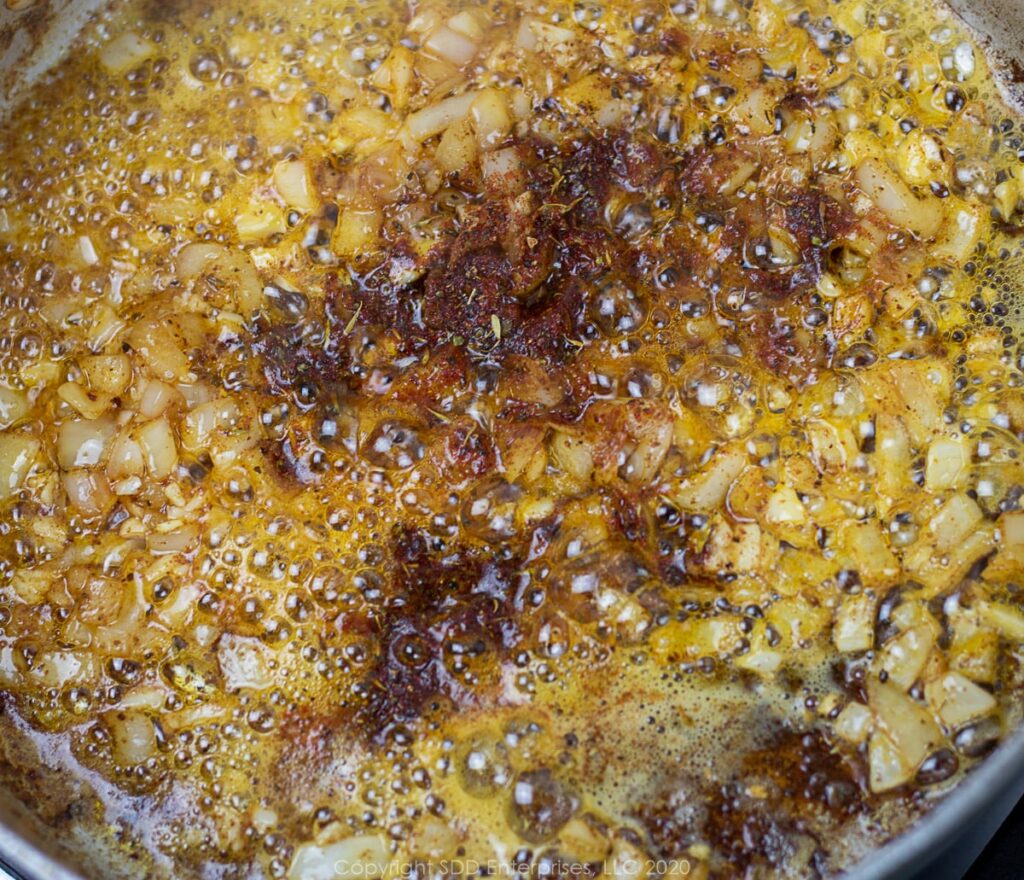 Next, deglaze the pan with a little of the stock and blend all the loosened fond into the sauce. Add the remainder of the stock and the lemon juice.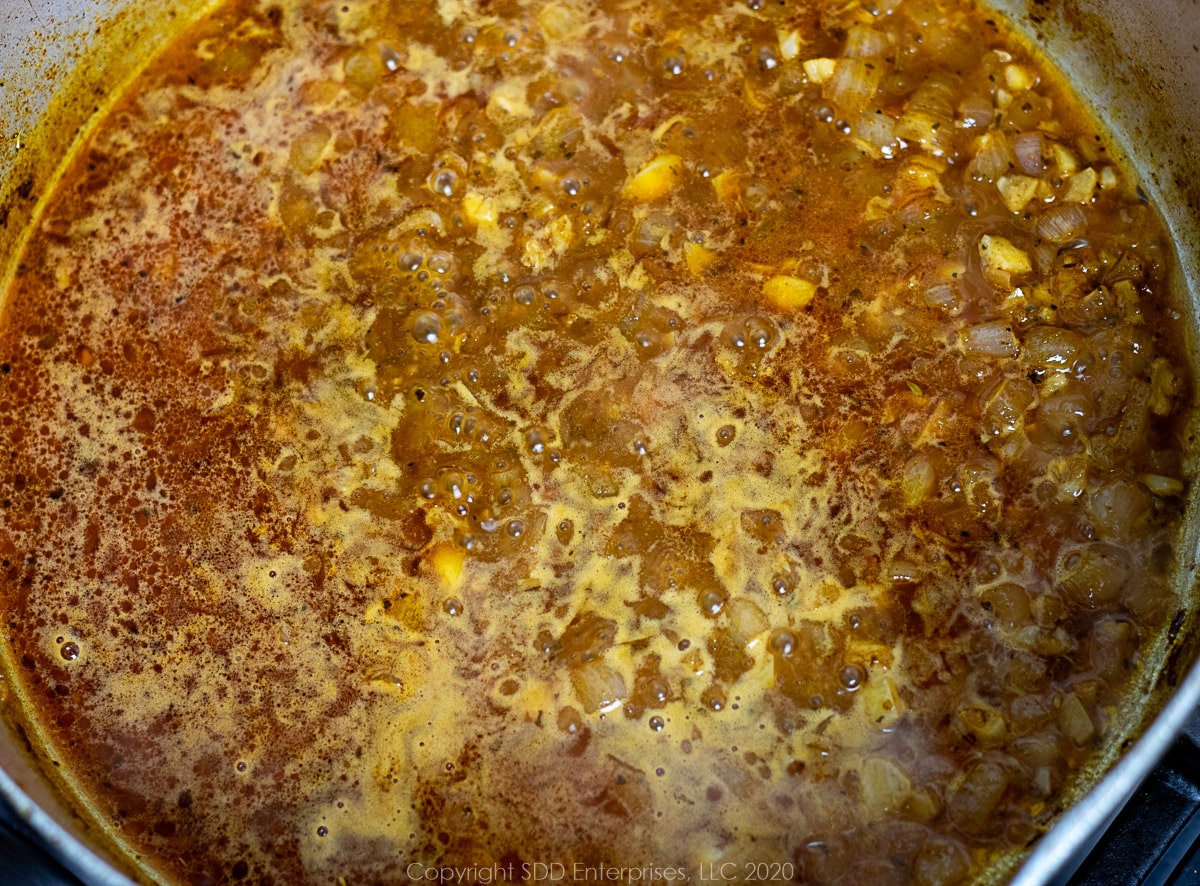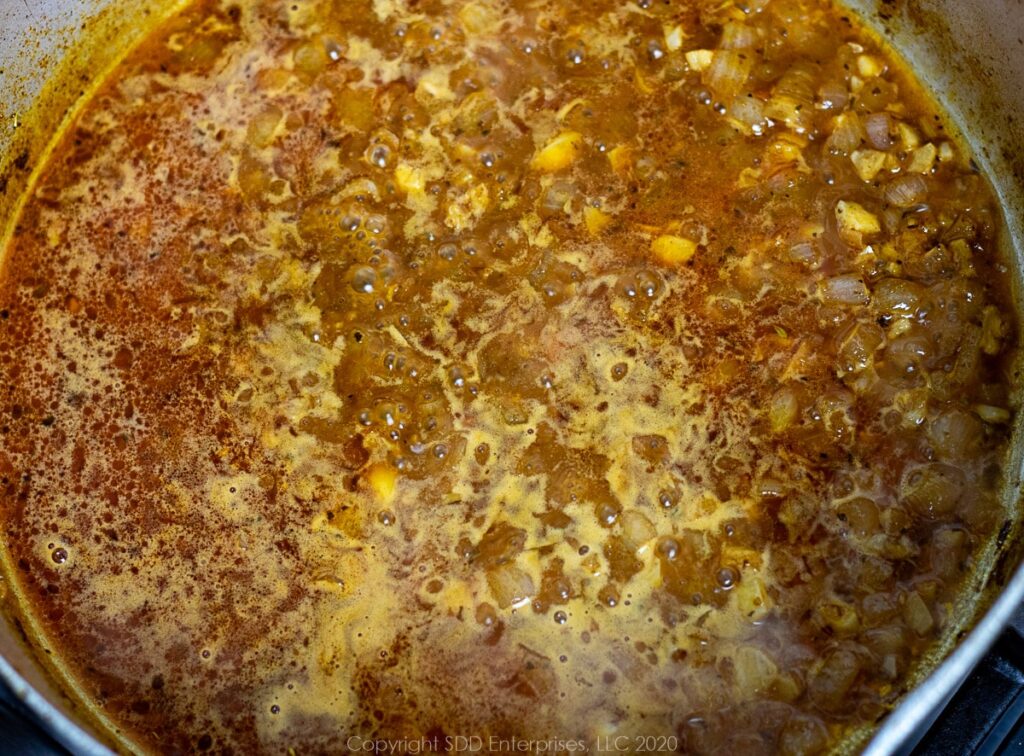 Lower the heat to a simmer and allow it to simmer for about 5 minutes until the stock has reduced by about half.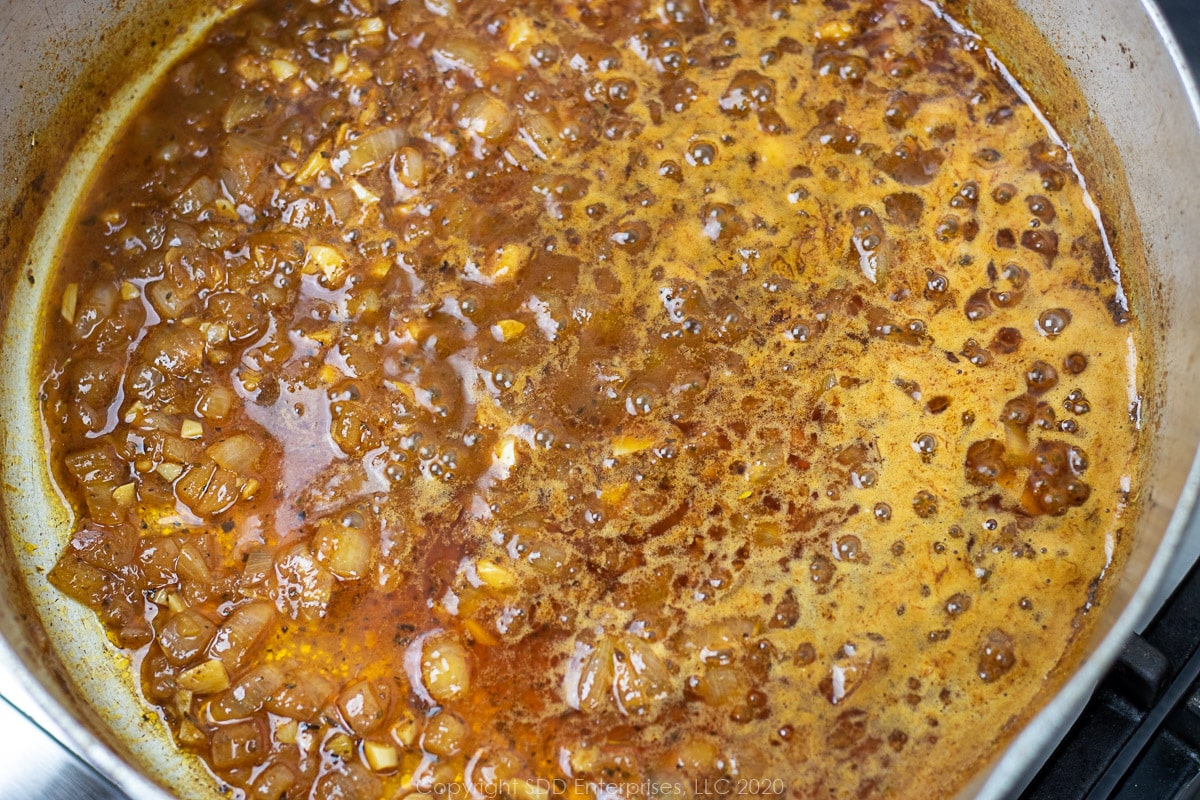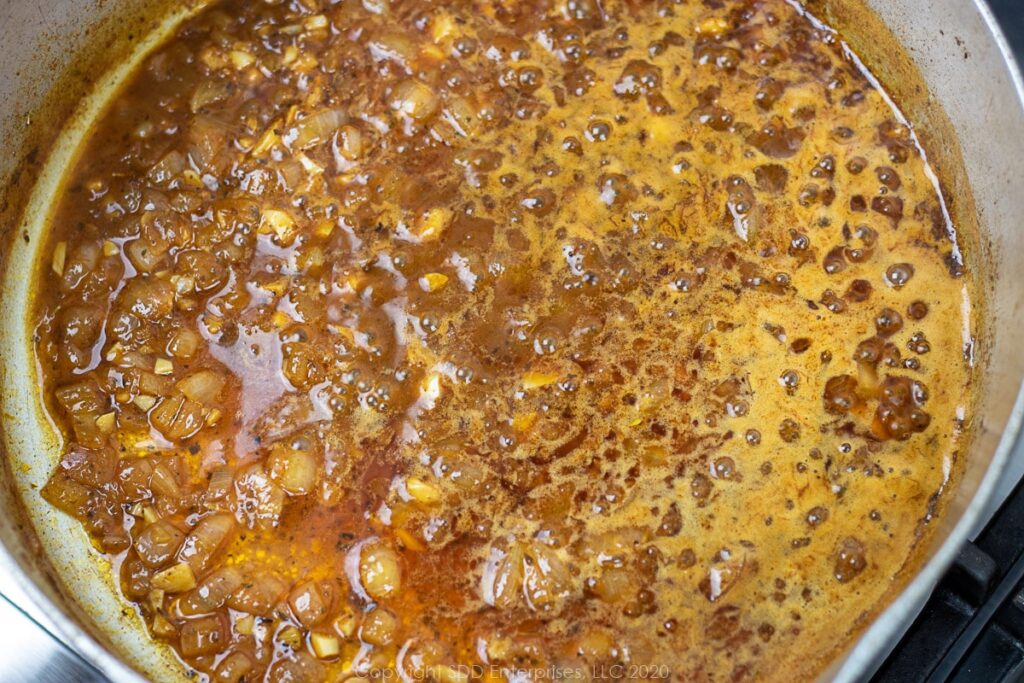 Build the sauce
Add the heavy cream and mix well, increasing the heat to a heavy simmer.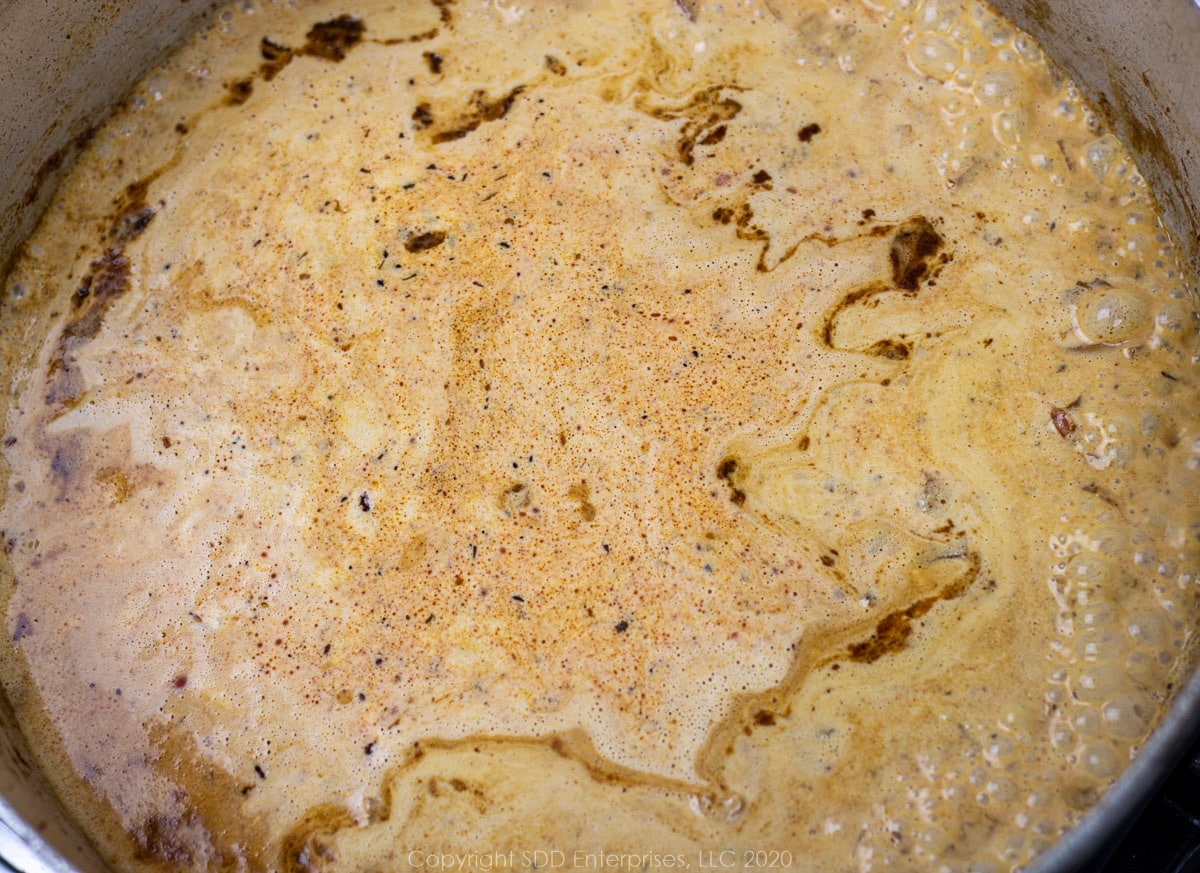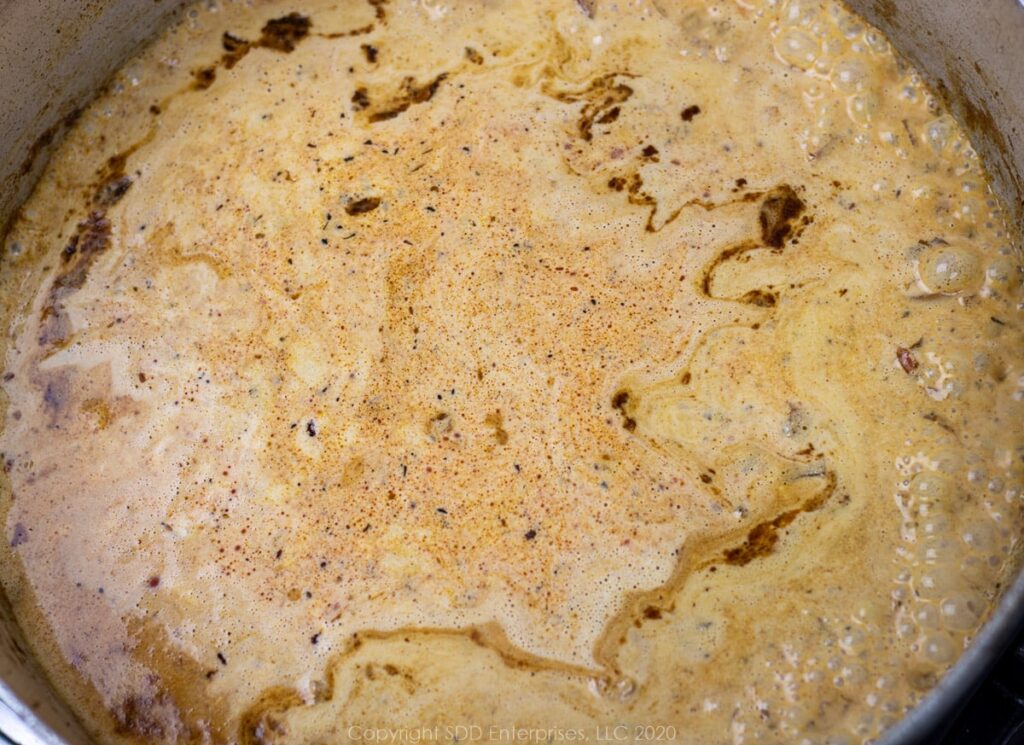 Add the green onions, then lower the heat and simmer on low for about 5 minutes, then stir in the creole mustard.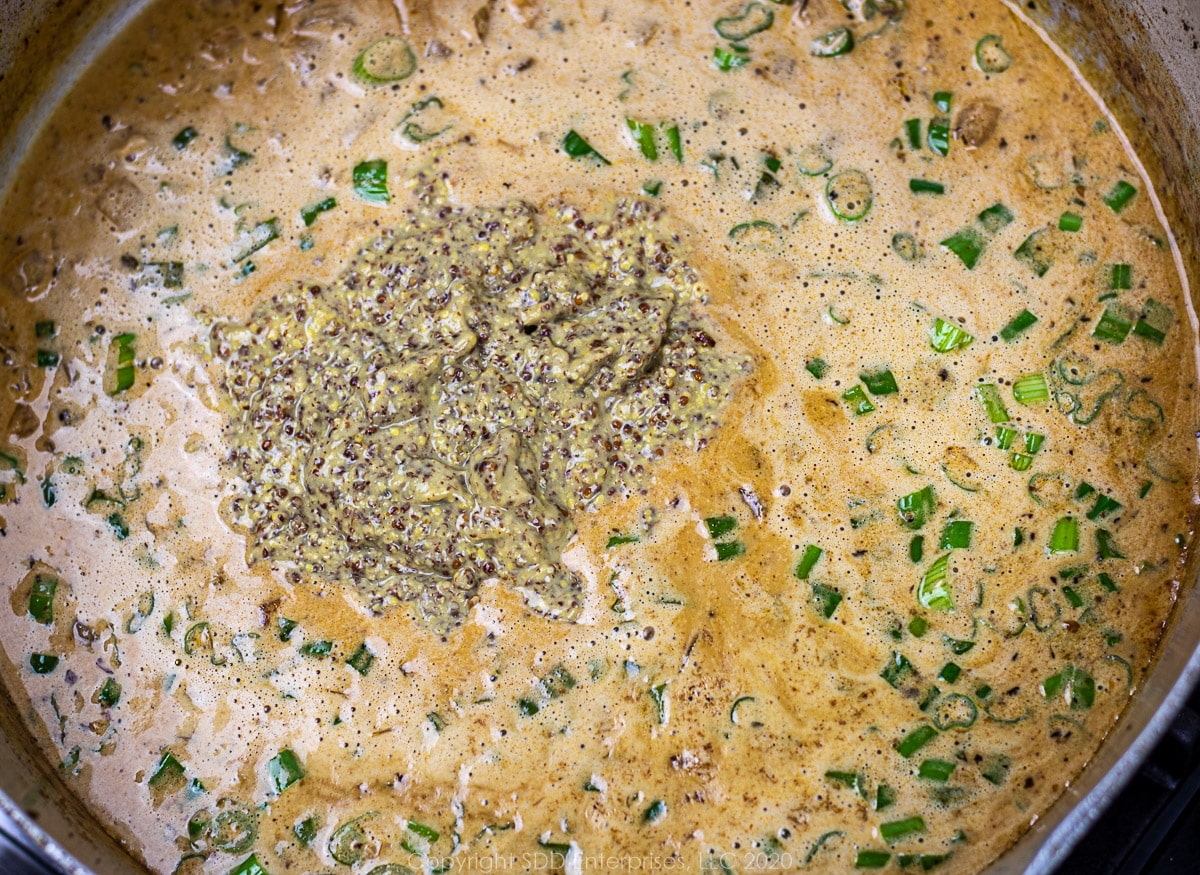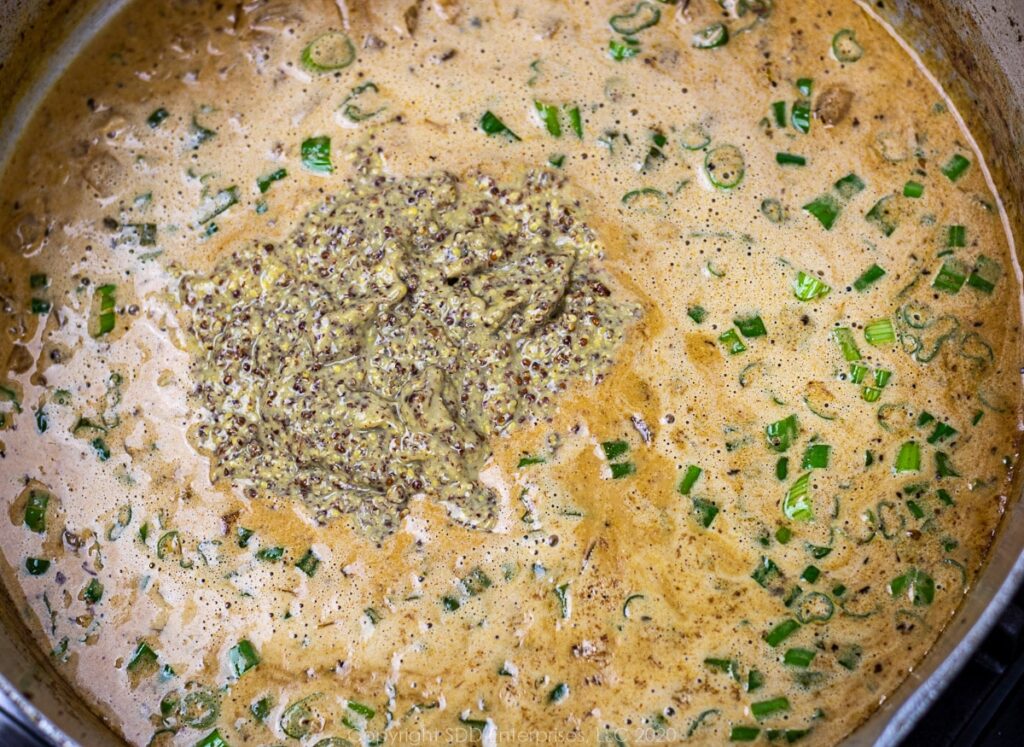 Add back the sausage, stir completely and simmer for 2 to 3 minutes.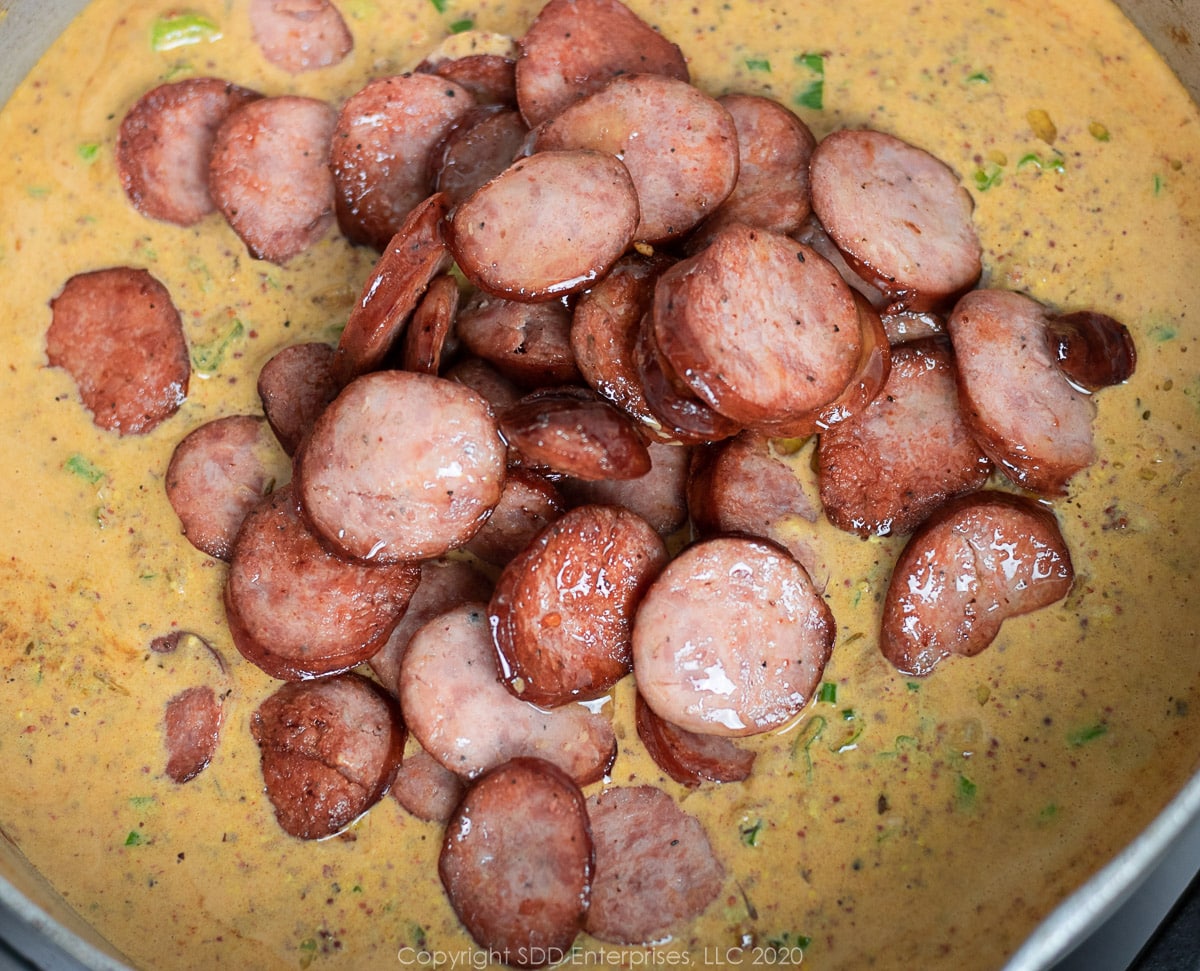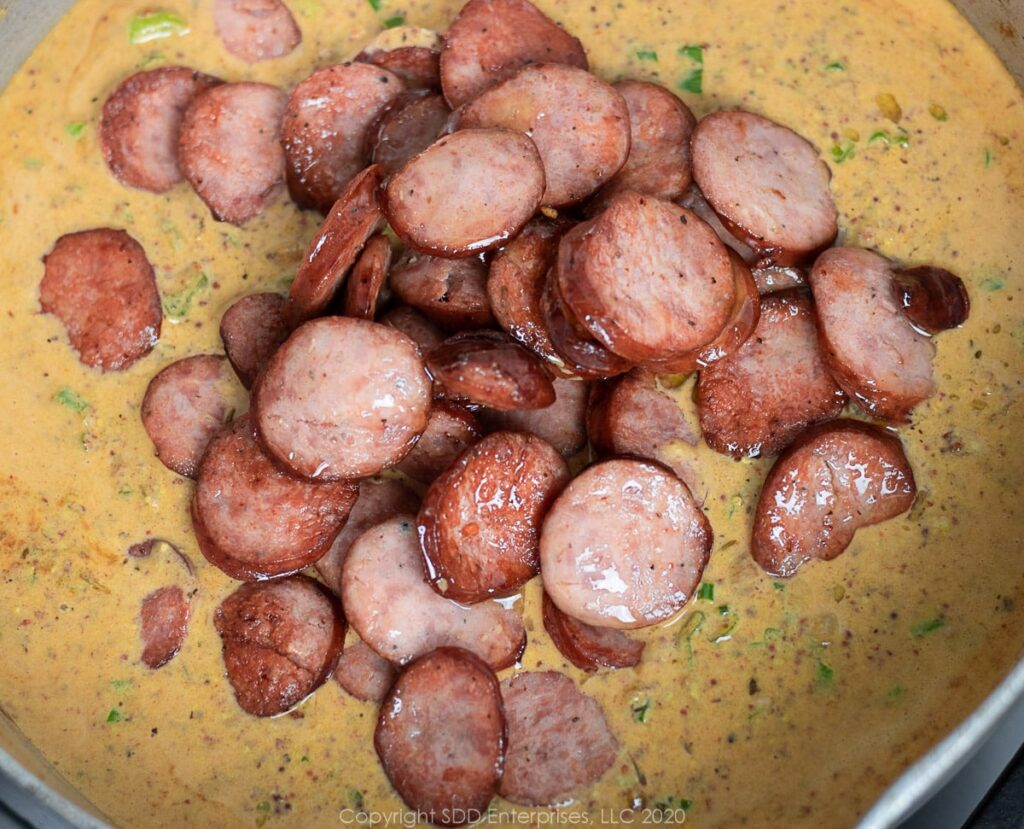 Next, add the shrimp, mix well, then cover the pan and simmer on low for about 3 minutes. Be careful not to overcook the shrimp.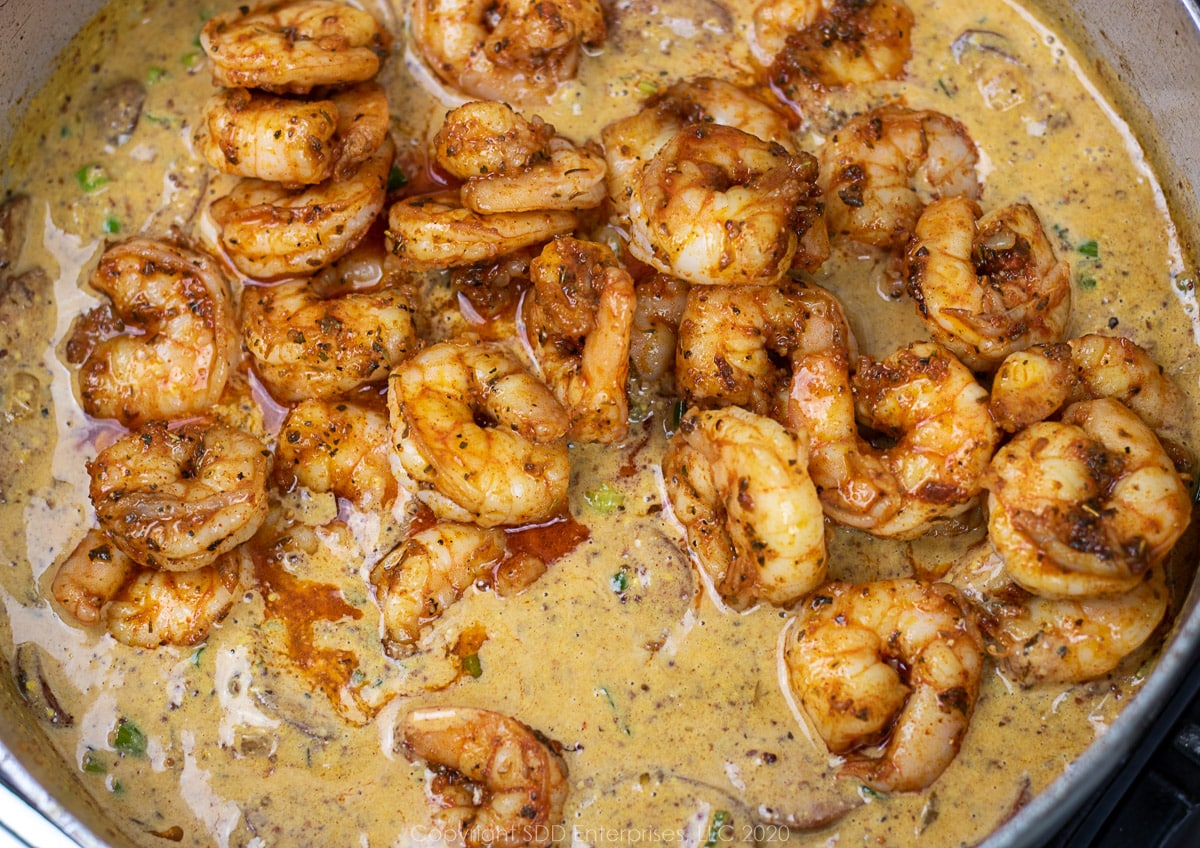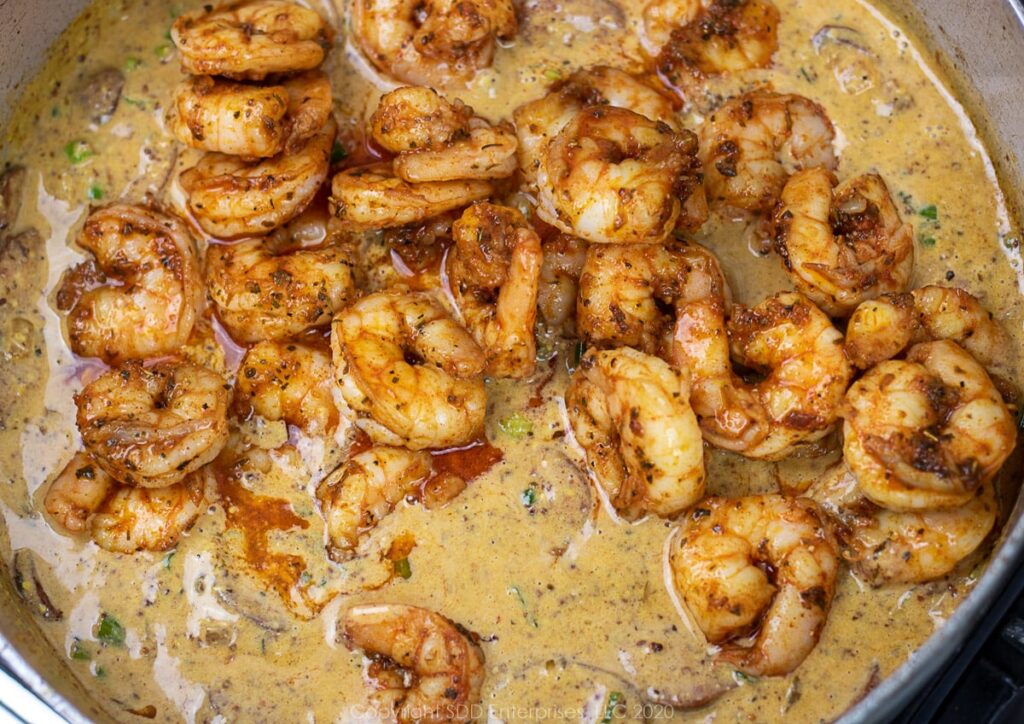 Mix in the pasta and finish
Blend in the cooked pasta starting with about half of the pasta and about ¼ cup of the cooking liquid.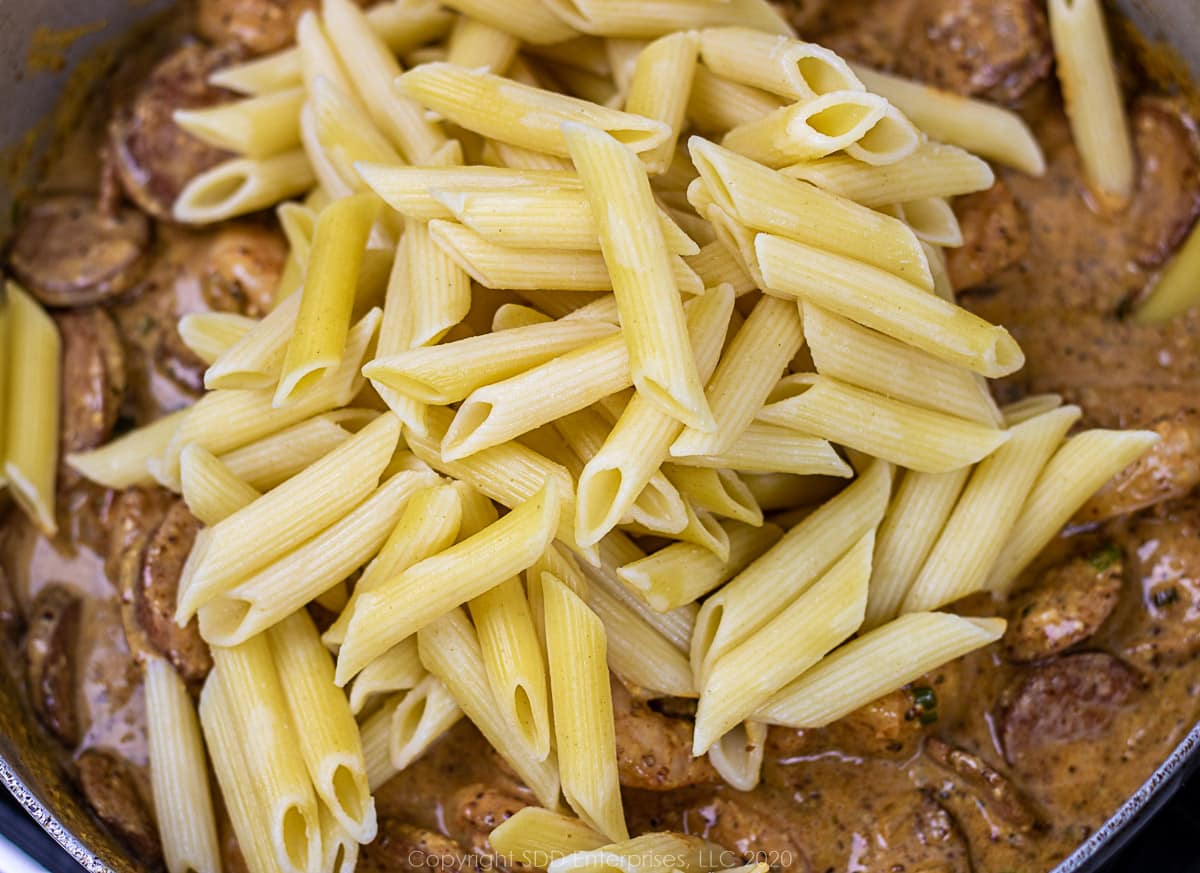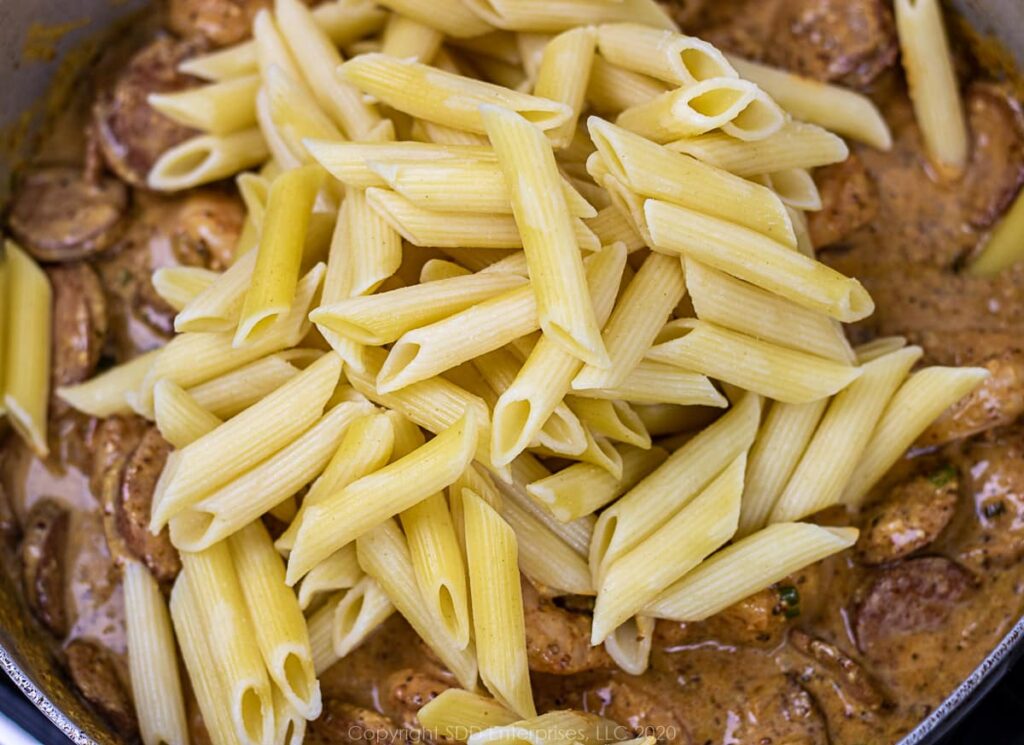 Mix that thoroughly, then add more pasta a little at a time blending completely before you add more pasta. It's important not to add so much pasta that it does not get completely coated with the sauce, so it's likely that you will not use the entire pound of cooked pasta. When the pasta is all mixed in, cover the pan and remove it from the heat. Let it sit for about 5 minutes, then serve immediately.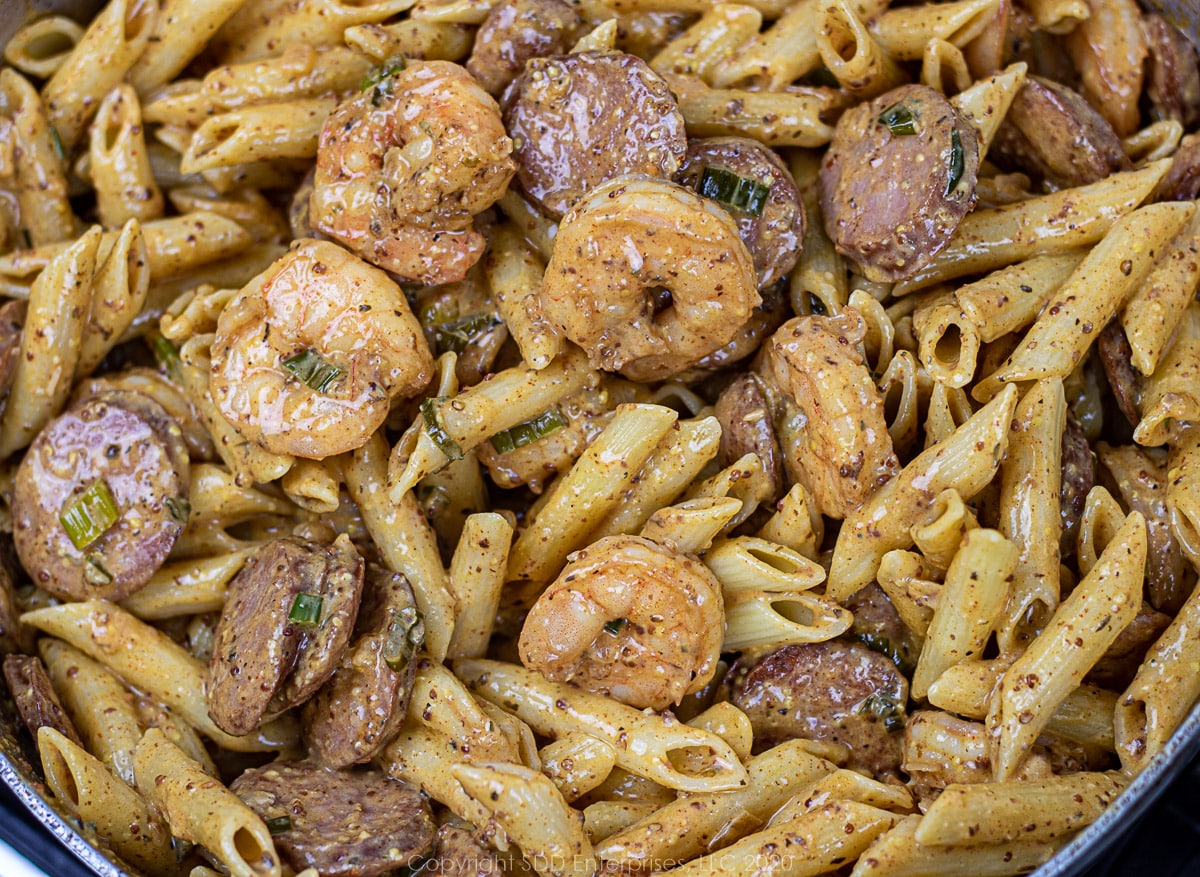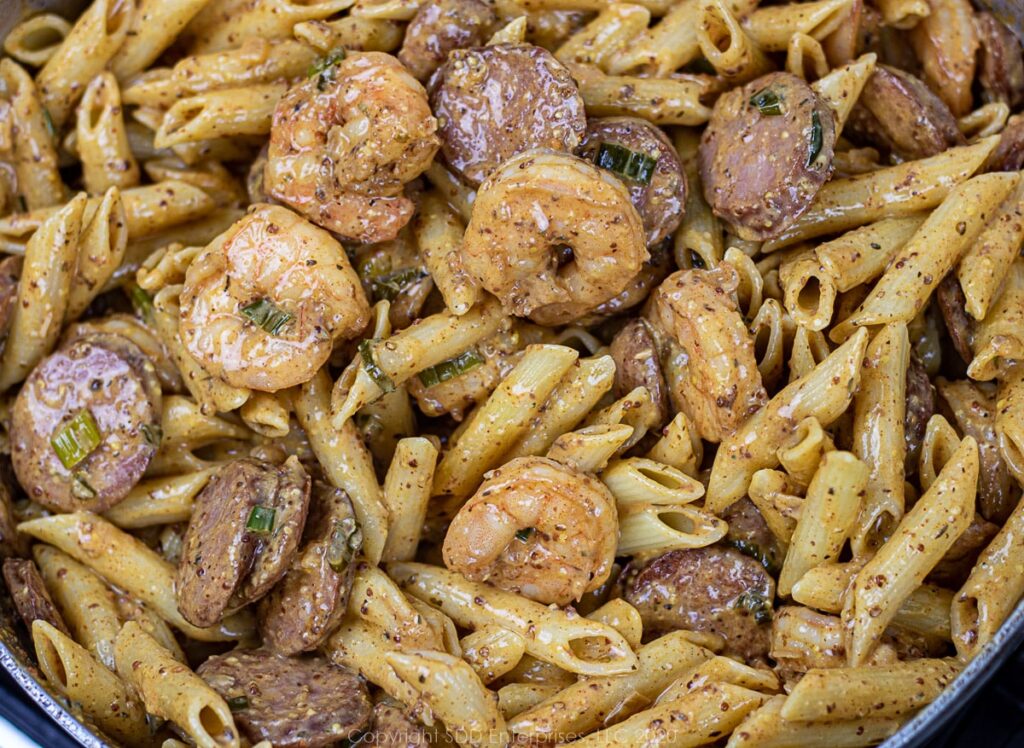 That's it, simple as that.
Serve this with any of these Sweet Daddy D favorites:
Sensation Salad
The distinct flavors of garlic, lemon juice and Romano cheese combined with light oils are tossed with simple iceberg or romaine lettuce, making this a true Louisiana "sensation"!

Creole Green Beans
Awesome Creole Green Beans...fresh green beans smothered with bacon, onions, tomatoes and seasoning in a rich stock and just a hint of Louisiana cane syrup sweetness.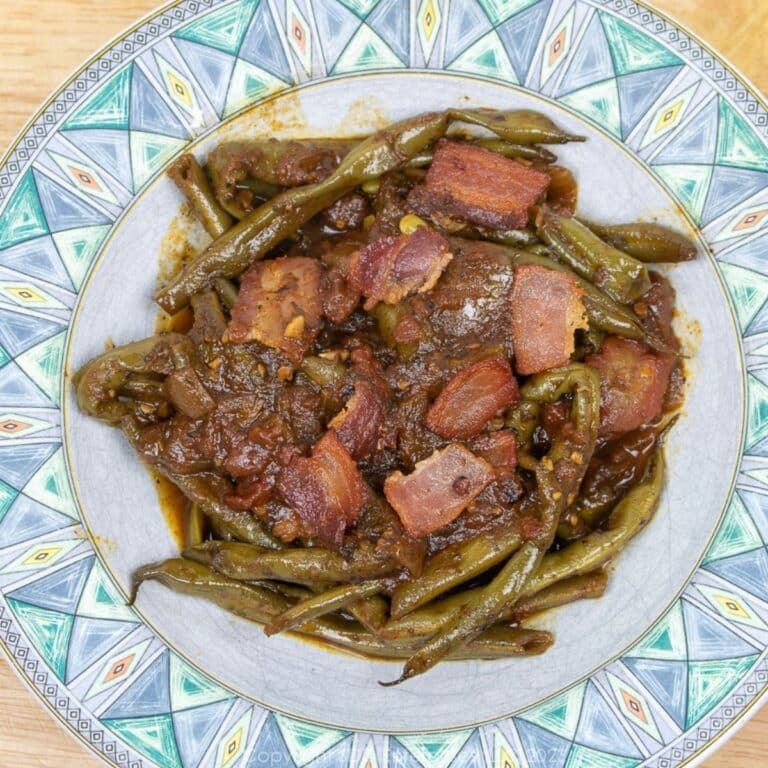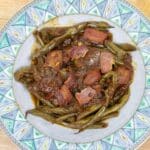 Sweet n' Savory Green Beans
Sauteed green beans with butter, garlic and honey. Put a little char on them and add some hot pepper flakes! A flavor that can't be beaten.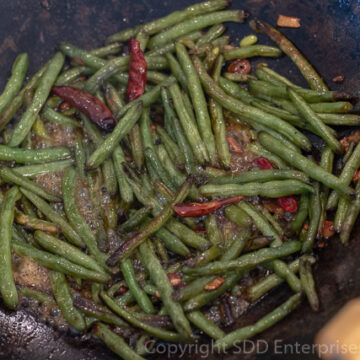 Roasted Carrots with Cane Syrup
Roasting brings out the natural sweetness of the carrots. Add some butter and cane syrup and sprinkle in a little thyme and you have a wonderfully special side dish that's perfect for any entree.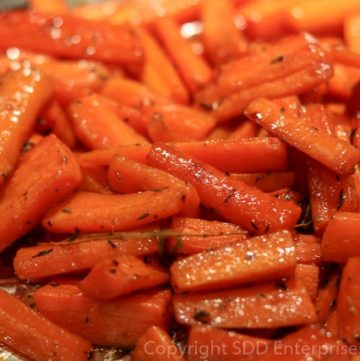 Hints and Tips
Can I use frozen shrimp for this?
Yes, I often use frozen shrimp for this recipe. Check out your grocery's seafood department freezer case to see if they have frozen shrimp. They should already be peeled and washed and normally flash frozen so they are hard to distinguish from fresh when defrosted. I use either medium or large shrimp for this, but small shrimp would be fine as well.

To defrost, place the frozen shrimp in the refrigerator overnight. For a quicker method, place the frozen shrimp in a colander inside of a large bowl. Fill the bowl with cold water and change the water every five minutes or so until the shrimp are defrosted, which should take between 15 and 20 minutes.

Fresh shrimp are absolutely great for this recipe. If you can get some fresh shrimp in the shell with heads, use the shells to make a homemade shrimp stock. You'll need to buy about 1 ¾ to 2 pounds (depending on if they have heads on or not) to yield a pound of shrimp after you peel them. Here is a recipe for Homemade Shrimp Stock, which can be substituted for the Chicken Stock.
If you can't find shrimp near you, check out the Cajun Grocer (dot-com). They have some great shrimp and other seafood. I do not have an affiliation with these folks, but I have used them and highly recommend them.
This is a simple recipe, but I have messed it up before. Here's what I've learned.
First, don't over-cook the pasta. Not many recipes are at their best with mushy, overcooked pasta. Cook the pasta according to the package directions for al dente

(meaning to cook until it gives a slight resistance when bitten-not overcooked or undercooked; meaning "tooth" in Italian.) A little "bite" in the pasta will make sure it won't be overcooked after you blend it into the sauce.

I've messed this up by not making is "saucy" enough. The two ways to do that is to cook the sauce down too much or by adding too much pasta to the sauce. You want the finished dish to be "saucy", so if you add too much pasta or don't have enough sauce, you won't have enough sauce to handle all the pasta. When you first make this recipe, add the sausage back in when a little earlier than you think you should. Believe me, it will thicken up. Also, add the pasta a little at a time, starting with about half. Mix that amount completely before you add a little more pasta. Make sure you blend in the pasta completely before adding more and stop when it's a nice saucy look-you probably won't use all of the pasta.
Finally, don't overcook the shrimp. It is so easy to do this and you really have to pay attention. Saute the shrimp only a couple of minutes in the beginning and don't add them back until just before you are ready to serve. If it looks like there will be a delay in serving, just hold the recipe at the point after you add the sausage. When you are ready to serve, bring the sauce to a slight simmer, add the shrimp and finish according to the instruction. Overcooked shrimp can be hard and rubbery and certainly distract from the recipe.
What if I can't find Creole mustard?
I recommend Zatarain brand Creole Mustard, which can be bought on Amazon if you don't have it in your grocery store. There are other brands of Creole mustard that are excellent as well and you should use what you can get. If you cannot get Creole mustard, use a dijon or brown grain mustard and add a dash of Worcestershire and about ½ to 1 teaspoon of prepared horseradish to ½ cup of mustard.
Do I need Andouille Sausage?
A

ndouille sausage

is highly seasoned (that doesn't mean it's always spicy) coarse-grained, smoked pork sausage which is very common in Cajun and Creole recipes. Any smoked pork sausage, like kielbasa, can be substituted for the andouille, but keep in mind that the andouille adds a lot of authentic flavors that other sausages do not.
Do I have to use penne pasta?
I find that penne pasta is an excellent choice for this because it is stout and latches onto the sauce well. However, this recipe goes well with other types of pasta as well, like farfalle (bowtie), rotini and even fettuccini.
How long will leftovers last?
Leftovers can be stored in the fridge for up to 5 days in an airtight container. To reheat, use the microwave or slowly warm in a saucepan over low heat, stirring often. I do not recommend freezing leftover pasta in cream sauce.
Is this the same as Shrimp Creole?
The answer to that is no, they are completely different. Shrimp Creole is a traditional Creole dish made with a spicy tomato-based sauce with shrimp and served over rice. The base for this dish is a cream sauce made with Creole mustard, blended with shrimp and tossed with pasta.
Don't care for shrimp? Try it with chicken...I call that recipe Pasta David.
Check out these other Cajun and Creole Recipes from Sweet Daddy D:
If you make this recipe, please tell us about it in the Comments section below and make sure to LEAVE A RATING ON THE RECIPE-worthy of 5-Stars? Questions or Comments? that's the place! Post a picture and share this recipe with your friends on our Social Media pages and Pin it on Pinterest. SIGN UP FOR OUR EMAIL UPDATES below so you don't miss anything!
Follow us on Social Media and be sure to sign up HERE and we will deliver new recipes right to your inbox!
These items will help you with this recipe:
Yeah You Right!
Recipe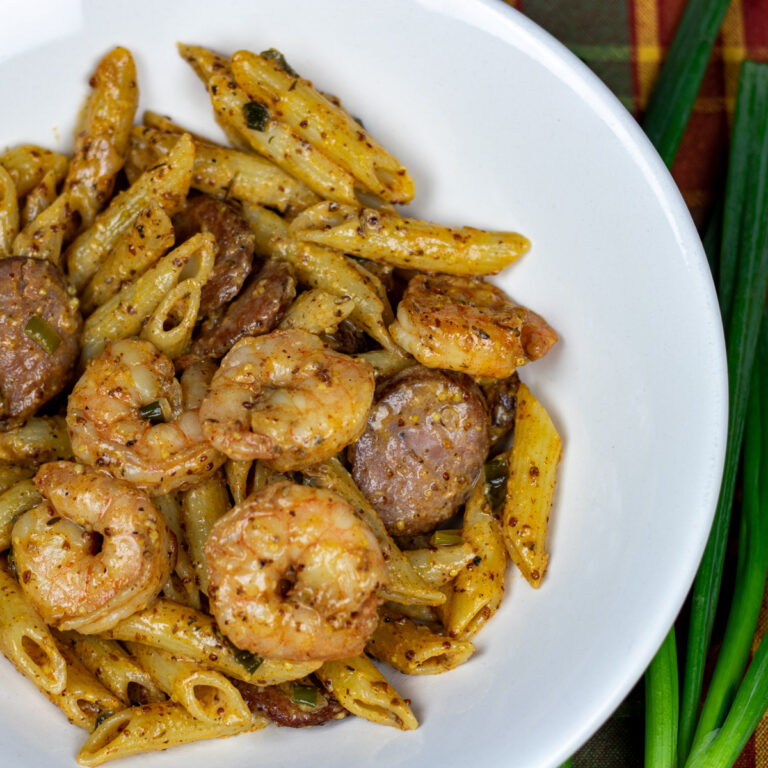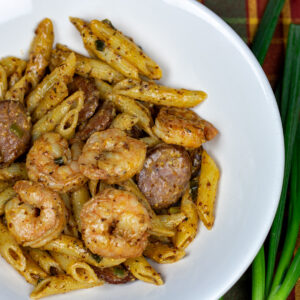 Shrimp David
Plump shrimp and andouille sausage in a creole mustard-cream sauce and tossed with pasta.
Print
Pin
Rate
Here's What You Need
1

pound

penne pasta

cooked according to directions on package

1

pound

Gulf Shrimp

peeled, rinsed and pat dry

1

pound

Andouille Sausage

sliced in rounds

2

tablespoons

olive oil

4

tablespoons

Butter

½

cup

Shallots

chopped

4

cloves

garlic

chopped

½

cup

green onions

chopped

½

cup

creole mustard

3

teaspoons

lemon juice

2

teaspoons

Creole seasoning

plus some to season shrimp

1

cup

Chicken Stock

¾

cups

Heavy Cream

to taste

kosher salt & fresh ground pepper
Here's What You Do
Cook pasta according to the instructions on the box. Set aside. Reserve ¼ cup of the pasta boiling liquid.

Peel, devein and rinse the shrimp, pat dry with paper towels and mix in 1 Tablespoon of creole seasoning-then set aside in a bowl.

Slice sausage into medalions, chop shallots, garlic and green onions. Measue butter, stock, heavy cream, lemon juice and creole seasoning. Set aside.

To begin, sauté the sausage in the olive oil over medium high heat for about 5 minutes. Remove the sausage from the pan and set aside.

Add the shrimp to the frying pan and saute for about 2 ½ minutes, total. Turn the shrimp over once to make sure you catch both sides. Remove the shrimp from the pan and set aside. Leave the oil and browned bits of sausage and seasoning in the pan.

Next add the butter.When the butter is just melted and starting to bubble, add the shallots and sauté for about 3 minutes.

Add the the garlic and stir until just aromatic - a minute or two. Add about half the creole seasoning, mix well.

Deglaze the pan with a little chicken stock, scraping all the browned bits off the bottom. Add the remaining chicken stock and mix well.

Add the lemon juice. Mix everything together well and bring to a low boil before lowering the heat. Simmer with the pan uncovered for about 5 to 8 minutes, until the stock has reduced by about half.

Add in the heavy cream and mix well. Increase the fire and bring everything to a boil, then lower the heat to maintain slight simmer. Stir in the green onions. Keep it at a simmer for about 5 minutes then stir in the creole mustard and mix well.

Add back the sausage and stir to combined completely.Simmer about 2 to 3 minutes,

Add back the shrimp and the remaining creole seasoning and salt and pepper. Mix well, cover the pan and simmer about 3 minutes.

Now is the time to add in the cooked pasta. Start with about half of the pasta and ¼ cup of pasta water and mix thoroughly. Add more as you mix it together but don't add so much that the sauce doesn't coat all the pasta. You may not use all of the pasta as it should be creamy and all the pasta should be coated with the sauce.

Remove from the heat and let sit about 5 minutes then serve.
Recipe Notes
This is also great with chicken.  Check out the recipe for Pasta David.
When adding in the cooked pasta, start with just a little-maybe half and mix it all together. Add more as needed but you want the finished product to be very creamy, so don't over due the pasta.
Most commercial creole seasoning contains salt, so keep that in mind when using it. This recipe was developed with salt free creole seasoning, so you may not need as much salt depending on your creole seasoning.
Nutrition
Calories:
655
kcal
|
Carbohydrates:
49
g
|
Protein:
33
g
|
Fat:
36
g
|
Saturated Fat:
15
g
|
Cholesterol:
237
mg
|
Sodium:
1233
mg
|
Potassium:
491
mg
|
Fiber:
3
g
|
Sugar:
4
g
|
Vitamin A:
808
IU
|
Vitamin C:
7
mg
|
Calcium:
139
mg
|
Iron:
3
mg