Tangy, healthy and quick? That sounds like a great combination and it sounds like dinner. Baked Salmon or Grilled Salmon. Either way, it's one of the most popular seafood dishes in the country. When it's marinated in a sweet and savory blend on creole mustard, cilantro, honey, lemon and spice, then grilled or baked...you have the makings of a very popular dish.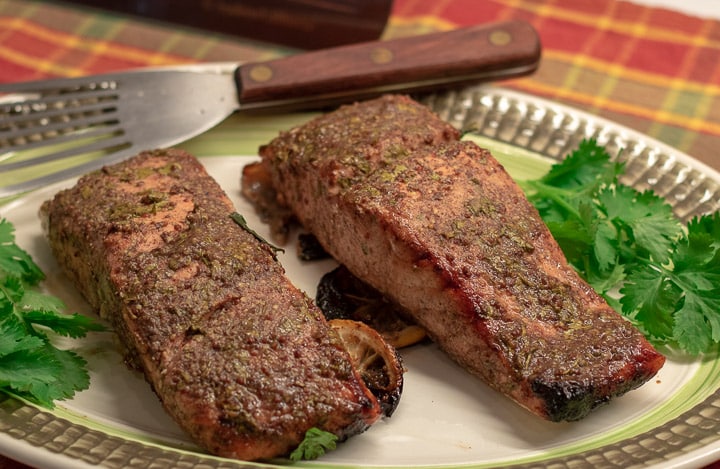 Grilled Cilantro-Creole Mustard Marinated Salmon
[Publishing Note-I originally published this article in March 2018. In this republication, I have provided more information and clarifications of the step-by-step process of making this dish, improved the images and inserted some ads for things that will help you make this dish. Hopefully, you will find all of this helpful. One thing I did not do is change the recipe in any way. I'd love to hear your feedback on what you think.]
This post is not sponsored, but you will find affiliate links on this page. As an Amazon Associate, I earn from qualifying purchases. The price you pay as a consumer does not change, but I may make a small commission based on your purchase.
Sign up for my email notifications of new recipes and posts right HERE or below.
Here's What You Need
Fresh Salmon fillets with the skin on is perfect for this recipe, either farm-raised or wild-caught will be fine. You'll need about 1 ½ to 2 pounds for four servings.
Marinade ingredients:
fresh cilantro

-the recipe calls for 2 tablespoons of chopped cilantro, but if you are a real cilantro fan, you could bump it up to ¼ cup (4 tablespoons).

lemon juice
honey
ground allspice
creole mustard

-unless you have more than 2 pounds of Salmon, don't go over ¼ cup of the creole mustard as it tends to push its weight around and dominate everything.

kosher salt and fresh ground black pepper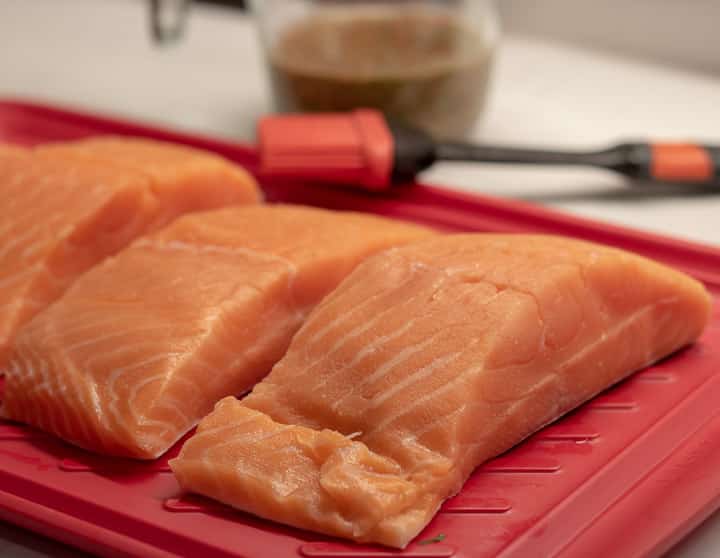 Fresh salmon filets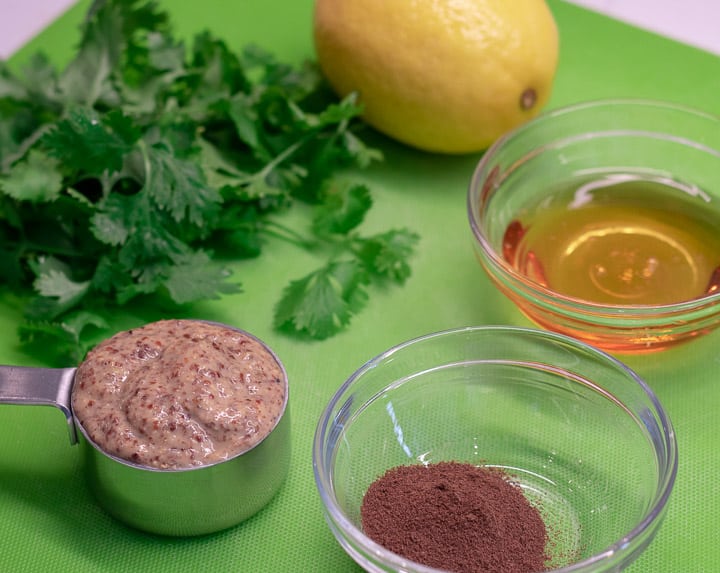 Here's what you need
This Salmon is great grilled or baked in the oven. If grilling, you'll want some cherry or alder wood. Use chunks on the charcoal grill or chips on the gas grill, these are woods will give a delicate hint of sweetness and are perfect for the salmon. You won't be sorry. Oh, and beer.....you'll need some beer.
What is Creole Mustard?
Creole mustard is creamy, spicy mustard with a grainy consistency that distinguishes it from other kinds of mustard. It's a Louisiana staple, so it's no surprise that its rather spicy flavor reflects German, African, French, and Spanish influences. Growing up, we just called it hot mustard. I use Zatarain's Creole Mustard, but if you can't find that in the grocery store, you can substitute a whole grain Dijon or other grain mustard, adding just a touch of prepared horseradish for the right flavor.
These are the items I mention in this article-I highly recommend each one:
Here's What You Do
First…you have a beer. This recipe is so simple, just a little preparation will get you going. Sip on a beer while you read the recipe all the way through so you know what you need and what you will do with everything. There is some passive time with this recipe, so you have time to sip on a beer, or the beverage of your choosing, while the Salmon marinates and you fix the side dishes.
Prepare the marinade
Chop the cilantro, squeeze the lemon, add the honey and allspice to a small bowl or large measuring cup and mix in the creole mustard. Add a pinch of kosher salt and a couple of grinds of black pepper. Combine all the ingredients well and set the bowl in the fridge for about 30 minutes so the flavors meld.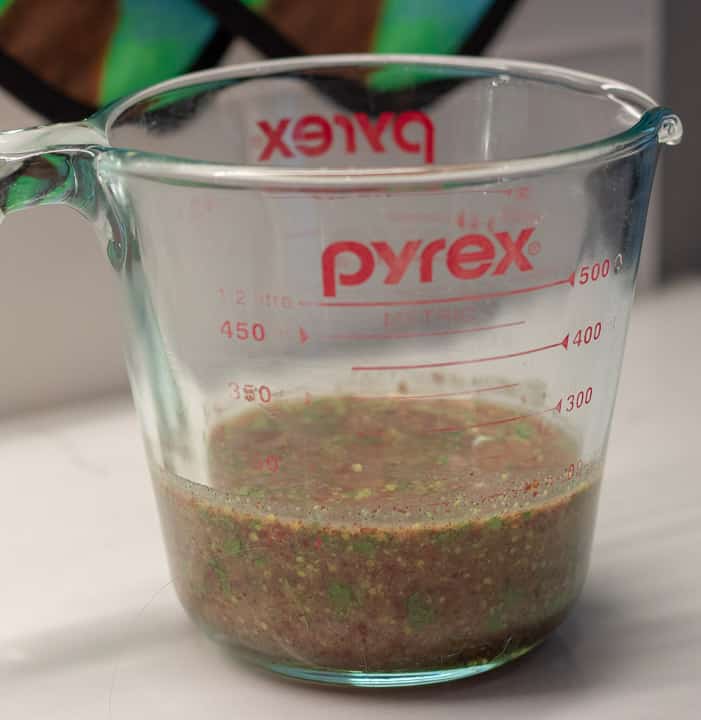 The marinade
Prep the salmon
Meanwhile, rinse the fish under cold water and pat dry with paper towels. Check for bones by gently passing your hand over the meat side of the fish. If you find any bones, make sure you pull them out, small fish tweezers are perfect for this, every kitchen should have one. If you have a large piece of fish, place it skin side down on a cutting board and slice across into about 2-inch pieces. Set the fish, skin side down, on a grill prep tray. After the marinade has been in the fridge for 30 minutes, spoon or brush it on to the fish, covering the top and sides. Place the fish back in the fridge to let it marinate for 30 minutes while you prepare the grill or preheat the oven.
Sign up for my email notifications of new recipes and posts right HERE or below.
Marinate the salmon about 30 minutes
For Grilling
Salmon is great on the grill, and if you are going that route, set the grill up for a medium-high (about 425 degrees) indirect heat. How's your beer? Grill preparation usually goes better with a cold beer. Throw some cherry or Adler wood on the coals or the gas grill-this will add a great smoky dimension. When the fire is ready, place the salmon, skin side down on a soaked plant, an oiled grill basket or on several lemon slices laid side by side, away from the heat. Cover the grill and check after 10 to 15 minutes.
For Baking
Similarly, if you don't want to use the grill, salmon is great when baked uncovered, in a 425-degree oven. Place the marinated salmon on a parchment paper-lined baking sheet and place it in the preheated oven. Bake for 15 to 20 minutes or until it reaches your desired level of doneness.
When is the salmon done?
While the salmon cooks, it changes from a somewhat translucent red meat to pinkish meat that will start to flake when probed with a knife. The USDA recommends it be cooked to 145 degrees internal temperature (IT), but that may be overcooked for some. Cooking to an IT of 125 to 130 degrees will render medium to medium-well salmon. Salmon is delicious medium-rare, but it's also delicious medium or medium-well, depending on your personal preference. It's a good idea to have a reliable instant-read thermometer in your arsenal, here's what I use: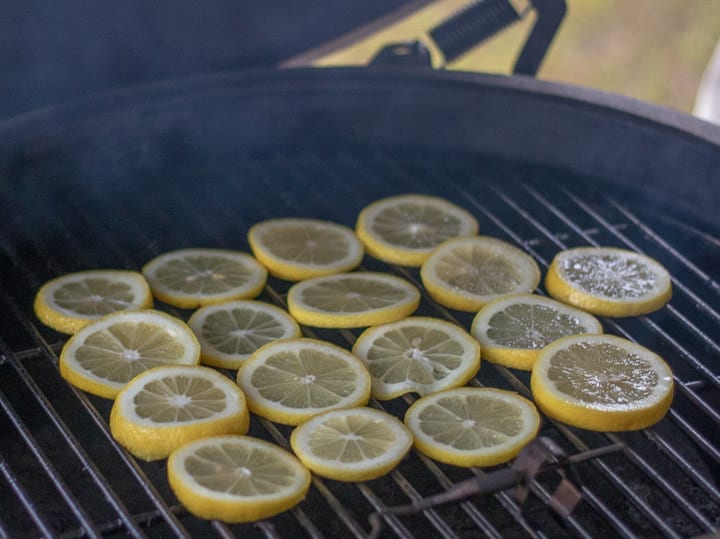 Lay some lemon slices right on the grill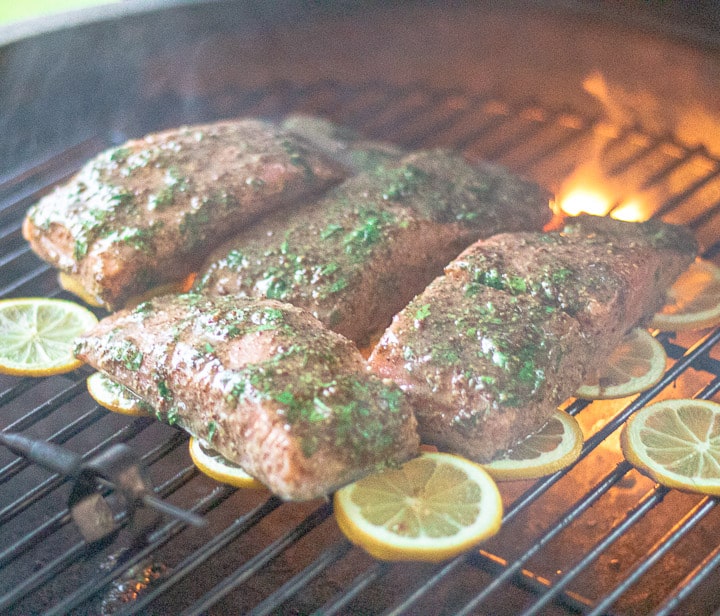 Place the salmon skin-side down on the lemons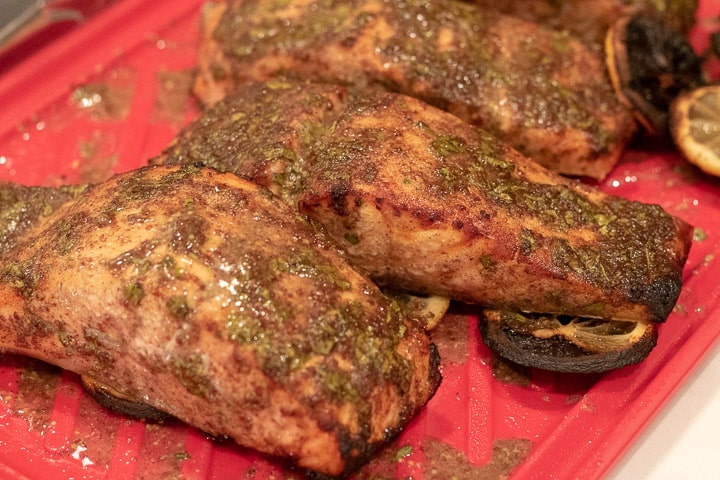 Right off the grill
Serve it up
Once it's off the grill or out of the oven, let it rest for about 5 minutes. Salmon is very versatile and goes well with just about anything. It's great with just some simple sautéed spinach and your favorite rice or potato dish. The marinade transforms into a glaze while cooking and really adds a sweet and savory tanginess to the always delicious Salmon. Its good for you, it's delicious and its simple-everyone will love it!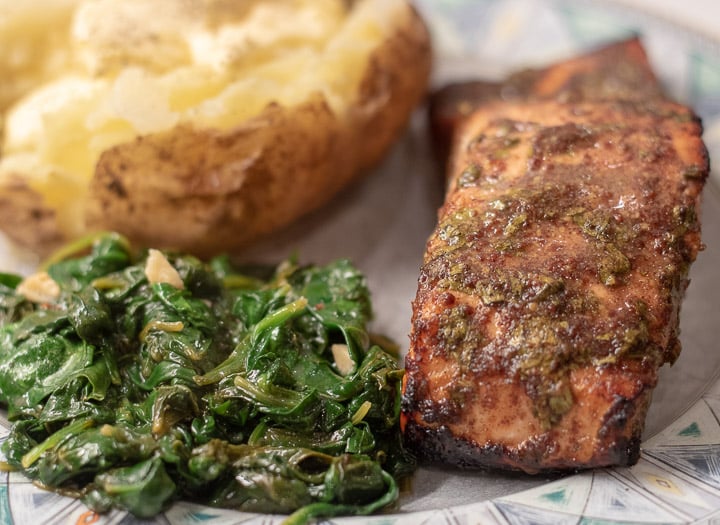 It's delicious
Hints and Tips
About the only way to mess this up is to overcook it. Farm-raised salmon is a little more forgiving due to it's higher fat content, but once you cook this a couple of times, you will know exactly how you like it. The USDA recommends 145 degrees internal temperature, but most people like it cooked medium, so 125 to 130 degrees works for them. Use the butter knife trick-a light jab with a butter knife and if the fish starts to flake, it's probably ready.
The cooked salmon can be stored in the refrigerator for 3 to 4 days or in the freezer for 2 to 3 months. Wild-caught salmon may last a little longer in the freezer than farm-raised due to the lower fat content, but the longer any of it stays frozen, the more it is likely to lose flavor. The key to storage is to make it airtight, so a vacuum sealer is perfect for freezing fish. Thaw it in the refrigerator for about 24 hours, then reheat in a low oven (275 degrees) in a covered baking dish for about 15 minutes. Reheating too hot or too long will dry out the salmon.
Salmon is great grilled, baked, smoked and ground into burgers. Leftover salmon can be used without reheating by flaking it into a salad or dip. Use your imagination!
Salmon contains nutrients, including minerals, vitamin D and omega-3 fatty acids. There is some debate over which is healthier-wild caught or farm-raised and it's common to hear that wild-caught is better, however, farm-raised salmon ranks near the top of the scale for protein and omega-3 fatty acids and on the low end when it comes to mercury. Farmed salmon, mostly from the Atlantic Ocean will have a higher fat content which is a result of their feed, which adds calories, and the confined area in which they grow, which adds fat. These farming techniques are controversial to some because of the use of antibiotics and food coloring, but these practices also increase their resistance to pathogens. This is partly why the color of the meat is lighter than with Alaskan wild salmon, which eat a natural diet and get more exercise than their farmed cousins. Much of the disagreement about which type of salmon is better centers on one's thoughts on the environmental impact of harvesting the fish, a discussion on potential contaminants in the fish, cost and ultimately taste and availability. Here is a really interesting article if you want to nerd-out about Salmon.
These are the items I mention in this article-I highly recommend each one:
Here are some recipes from Sweet Daddy D that would go great with this salmon:
Cajun Twice Baked Potatoes
This cheesy, creamy Cajun staple is the ultimate side to go along with steak, fish, seafood platter...just about anything! Once you try Cajun Twice Baked Potatoes, its the only way you'll want to eat a baked potato...don't say I didn't warn you!

Brabant Potatoes
Brabant Potatoes are the New Orleans french fry. Tender and creamy on the inside and crunchy on the outside, drizzled with garlic butter and seasonings, this is the Grande Dame of side dishes. Found in many New Orleans restaurant-from the classic creole to the neighborhood restaurant.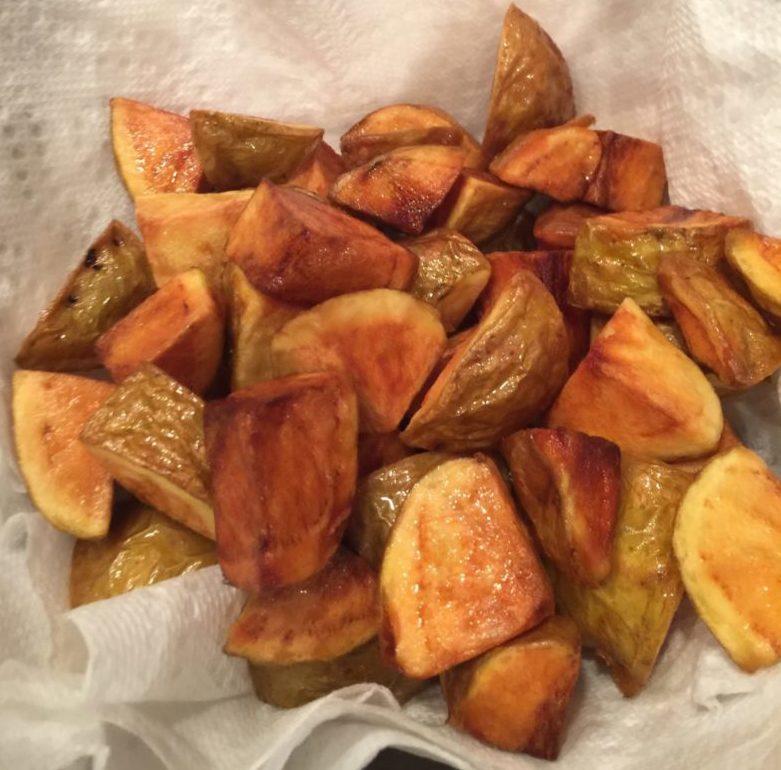 Roasted Carrots with Cane Syrup
Roasting brings out the natural sweetness of the carrots. Add some butter and cane syrup and sprinkle in a little thyme and you have a wonderfully special side dish that's perfect for any entree.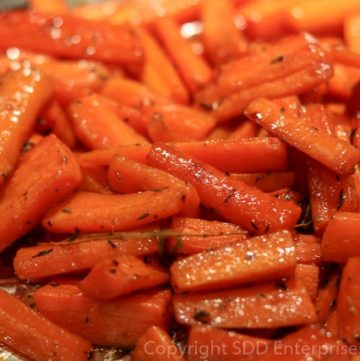 If you make this recipe, please tell us about it in the Comments section below and make sure to LEAVE A RATING ON THE RECIPE. Post a picture on our Facebook page or on Instagram with a #firstyouhaveabeer. Make sure to Pin it on Pinterest. Follow us on Facebook, Instagram, Twitter and Pinterest and make sure to share this with your friends…they will love you for it. SIGN UP FOR OUR EMAIL UPDATES below so you don't miss anything!
Yeah You Right!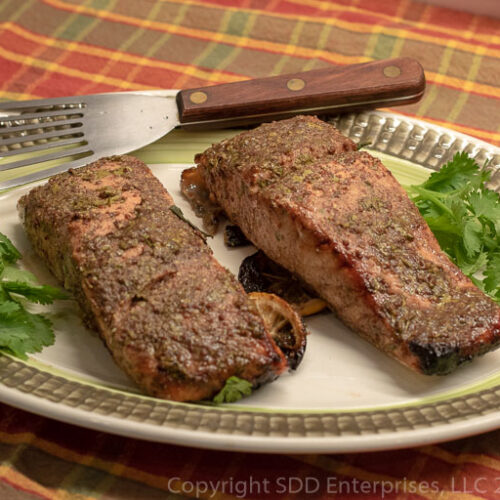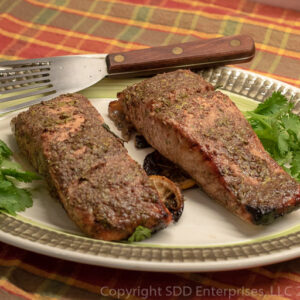 Cilantro-Creole Mustard Marinaded Salmon
Salmon, not from Louisiana, but when marinated in a sweet and savory blend of cilantro, creole mustard, honey, lemon juice and spice, its got that Creole kick! Best of all, it's healthy, it's simple and it's delicious! It can be baked, roasted or my favorite...right on the grill.
Print
Pin
Rate
Here's What You Need
Marinade
¼

cups

creole mustard

3

tablespoons

honey

2

tablespoons

cilantro

chopped

1

teaspoons

ground allspice

Juice of 1 Lemon

Kosher salt and ground black pepper to taste
Here's What You Do
Mix all the marinade ingredients together in a bowl and set aside for about 30 minutes.

Rinse salmon filets and remove any bones you find. Pat dry and slice cross ways into about 4 equal size pieces.

Coat salmon filets all over with marinade and set in an oven-safe flat glass bowl for another 30 minutes.

Cook in a 425 degree oven for 15 to 20 minutes or your desired level of doneness.
Grilling Method
Prepare a grill for med/high heat (425 degrees) with a chunk of cherry or Adler wood-or another flavor wood you like. Pecan may be a nice choice.

Place the salmon filets, skin side down, on a plank or lemon slices over indirect heat

Grill for 15 to to 20 minutes or your desired level of doneness.
Nutrition
Calories:
301
kcal
|
Carbohydrates:
14
g
|
Protein:
35
g
|
Fat:
11
g
|
Saturated Fat:
2
g
|
Cholesterol:
94
mg
|
Sodium:
253
mg
|
Potassium:
855
mg
|
Fiber:
1
g
|
Sugar:
13
g
|
Vitamin A:
82
IU
|
Vitamin C:
1
mg
|
Calcium:
33
mg
|
Iron:
2
mg