If the term "New Orleans" is in the name, it better be special. New Orleans BBQ Shrimp is an indulgent feast of flavor that happens when butter, pepper, garlic, lemon and Worcestershire sauce are mixed with Creole flair into large, fresh Gulf Shrimp. Quickly cooked with the shells and heads on, the act of peeling and eating these South Louisiana crustaceans takes on a familiar joie de vivre that is a common theme in much of New Orleans and Creole cuisine. Here is Sweet Daddy D's simple, no-angst take on this delectable iconic Creole dish that has earned its name!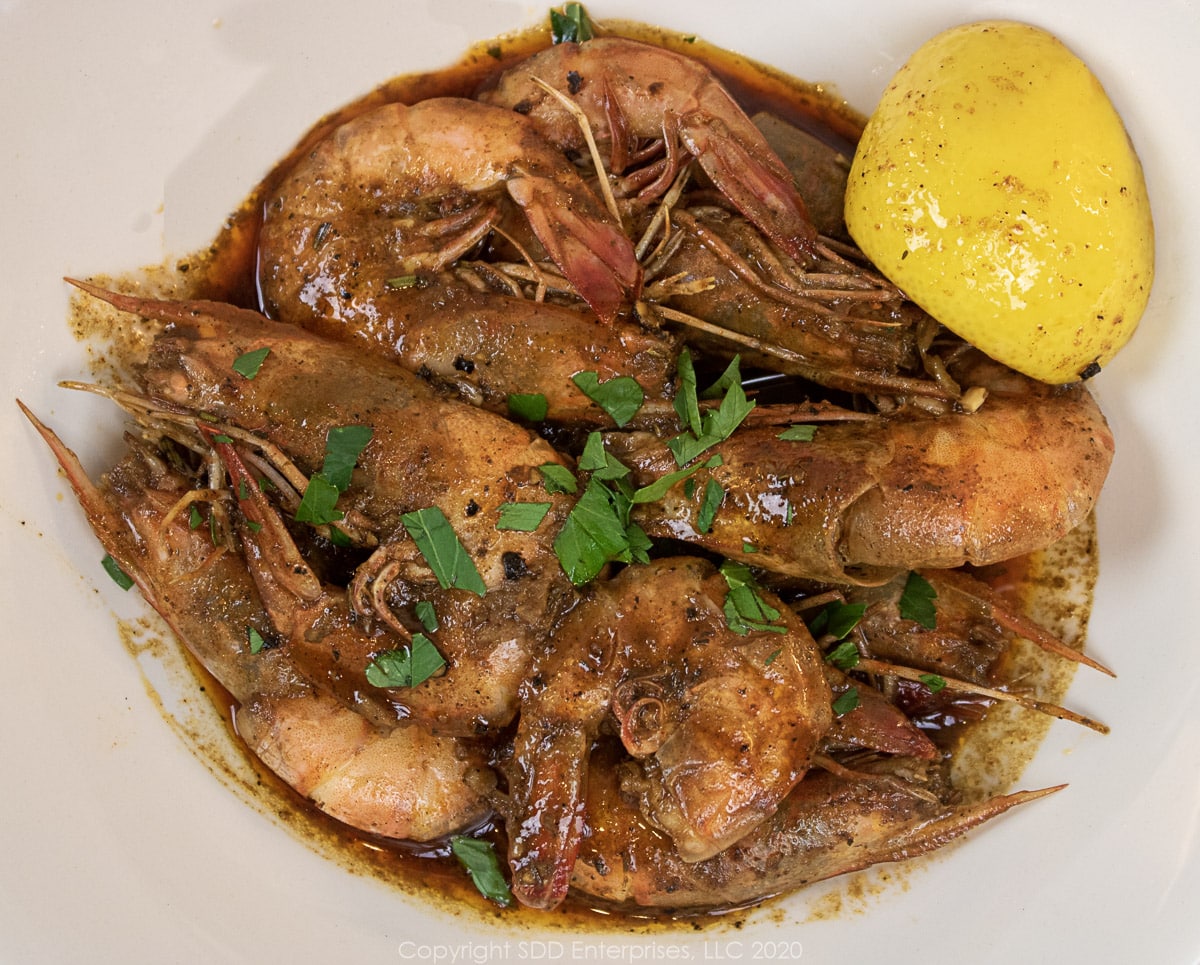 This post is not sponsored, but you will find affiliate links on this page. As an Amazon Associate, I earn from qualifying purchases. The price you pay as a consumer does not change, but I may make a small commission based on your purchase.
Jump to:
What is BBQ Shrimp?
One thing it's not is barbecued. No charcoal or wood, no hours smoking at low temperatures, no syrupy BBQ sauce from Kansas City or Memphis. What it is, is big ol' shrimp with the heads and shells still on, quickly sauteed in the perfect combination of butter, pepper, Worcestershire sauce, garlic and lemon and Creole herbs and spices. Best eaten with your fingers and lots of New Orleans french bread to sop up the incredible sauce.
What's its Origin?
These days, most menus throughout New Orleans and the region offer their own twist on this famous New Orleans dish. It all started in Uptown New Orleans on the corner of Napolean Avenue and Dryades Street, just three blocks on the lake-side (as we say in New Orleans) of St. Charles Avenue. The place is Pascal's Manale Restaurant. Not exactly on the beaten path of New Orleans tourism, this restaurant is the worst kept secret of New Orleans cuisine and it's creation, BBQ Shrimp, is a bucket list item for many travelers to the Cresent City. Originally known as an outstanding oyster bar featuring classic Italian fare, the original Manale's Restaurant is a perfect example of the influence that Italian and Sicilian immigrants have had on traditional Creole cuisine in New Orleans. Since it's founding in 1913 by Sicilian immigrant Frank Manale, Manale's has continued as a family-run business until being sold recently. After Frank's death in 1937, management of the restaurant went to Frank's nephew, Pascal Radosta. Pascal eventually changed the restaurant's name to its current, often misspoken form, which honors Uncle Frank. In the 1950s Pascal's brother, Jake, created the iconic BBQ Shrimp dish after a long-time customer named Vincent Sutro raved about a shrimp dish he had in Chicago. Jake added his Creole twist to Vincent's description of the Chicago dish and the result was even better than the original, admitted Vincent. Pascal loved it so much he added it to the menu. And just like that, another icon of Creole cuisine was born.
Here's What You Need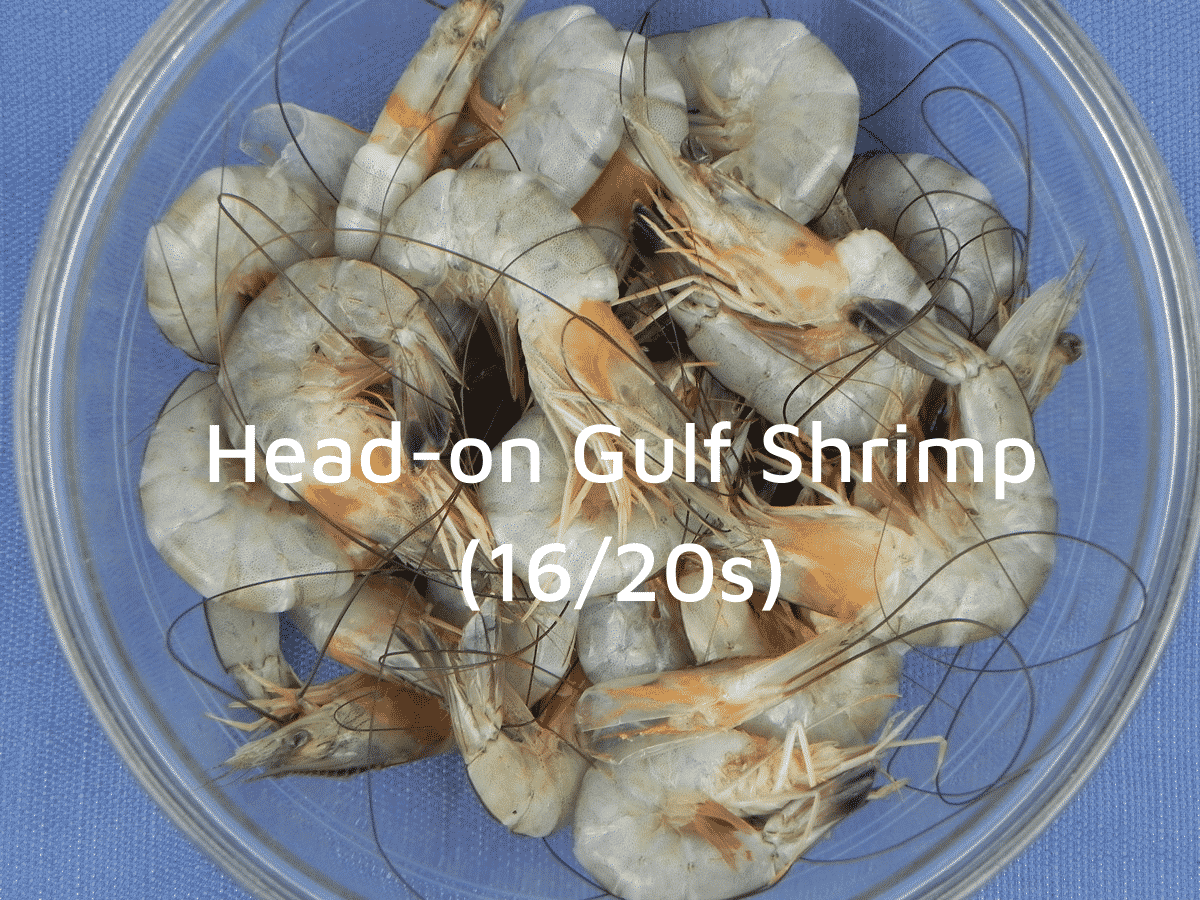 Lagniappe-Sizing Shrimp
Shrimp are generally sold by the pound, but that doesn't tell you how big they are. If you have two packs of shrimp that weigh one pound each, but one of the packs has 15 shrimp and the other has 30 shrimp you know there are different size shrimp in each pack. A quantitative unit of measurement for shrimp referred to as "count per pound" or simply "count" is used to indicate the size of the shrimp. As an example, "16/20-count" shrimp means each shrimp is of such a size that a pound has between 16 and 20 shrimp. "36/40's" have between 36 and 40 shrimp per pound, so they are much smaller. To simplify things, the sizes are grouped by descriptive categories such as "Medium" or "Large" or "Jumbo". Honestly, you may find some inconsistency in the count in each category, but this chart is a good guide for the different sizes:
Shrimp Size
Extra Colossal
Super Colossal
Colossal
Extra Jumbo
Jumbo
Extra Large
Large
Medium Large
Medium
Small
Extra Small
Count Per Pound
U/10
U/12
U/15
16/20
21/25
26/30
31/35
36/40
41/50
51/60
61/70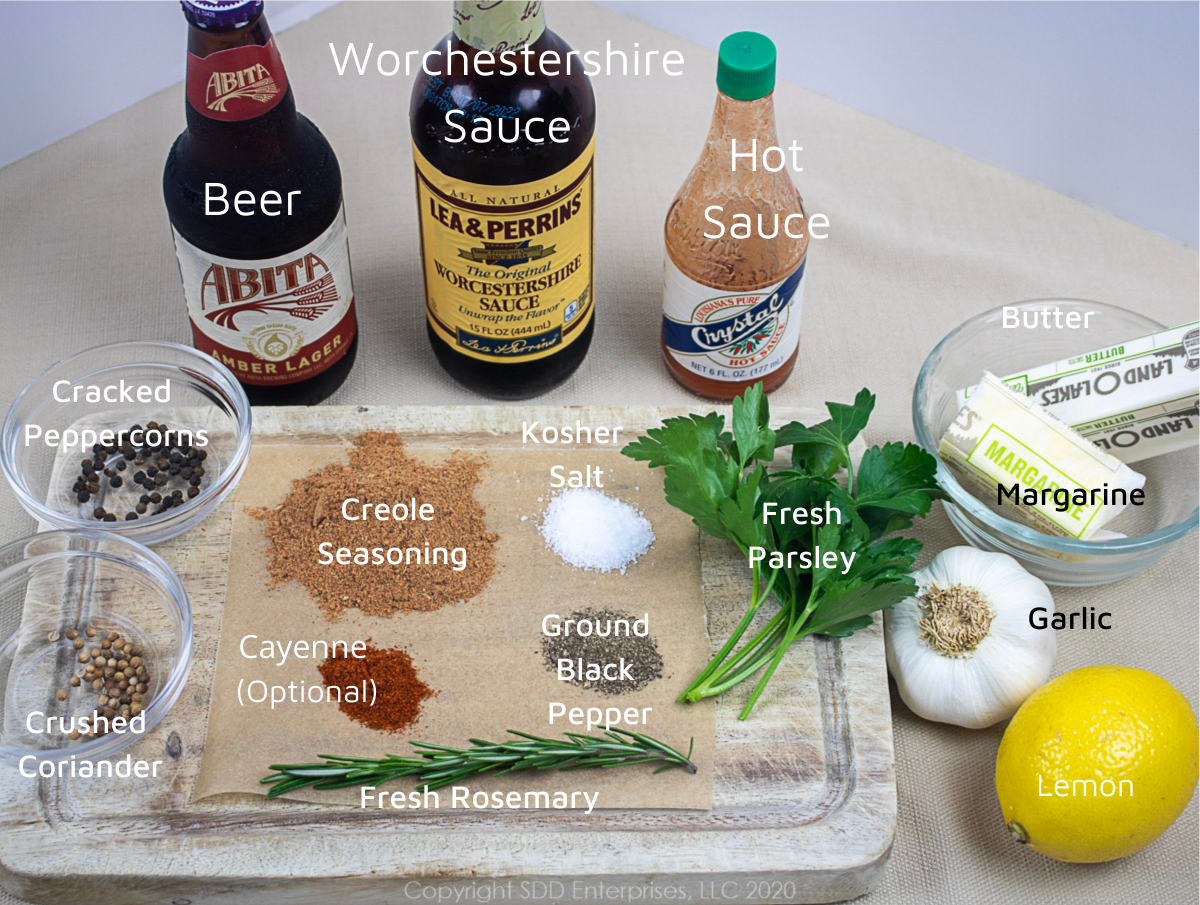 Equipment
Here are some of the kitchen tools I used to make this recipe:
12" Cast-iron Skillet, Prep Bowls (cambro), Prep Bowls (glass), Cutting Board, Mortar and Pestle, Coffee Grinder, Measuring Spoons, Measuring Cups, Citrus Squeezer
Here's a tip: Use at least a 12" skillet for this so that the shrimp do not crowd the pan. If you don't have a 12" skillet, consider doing it in batches.
As an Amazon Associate, I earn from qualifying purchases. The price you pay as a consumer does not change, but I may make a small commission based on your purchase. These items from Amazon will help you with this recipe:
Here's What You Do
First...you have a beer. The great thing about this recipe is that it starts with a beer, just like all my recipes, but with this one, you actually get to use some of the beer in the recipe, not just the cook. So, pop the cap and pour about half a cup of beer in a measuring cup and set it aside. While you enjoy the rest of the beer, read the recipe all the way through so you know what you need to have and what you will do with each ingredient, including that beer. This is a quick-cooking recipe, so preparation is vital for a good outcome.
Here's a tip: This recipe is perfect for two servings. If making more than two servings, do it in batches. It's important to cook the shrimp fast and making too large of a batch will hinder that and the shrimp will not be cooked perfectly.
Prepare the shrimp
You want to use large (16-20 count) shrimp with the shell and head still on. To prepare the shrimp, make a quick trim of the eyestalk and eyes along with some of the antenna. If you take a close look at the shrimp head, you'll see a spike sticking forward from the head. Upon close examination, this gives the shrimp a prehistoric look, but I'm sure that spear comes in handy in the rough and tumble world of underwater survival. Anyway, leave that spike on there (it's called the rostrum for us food nerds) and snip off just behind the weirdly arranged eyes. This step is optional, but even though you won't eat the eyes I find it oddly comforting not to have a bowl full of shrimp eyes staring back at me. 
Rinse the shrimp in cold water and pat them dry with a paper towel. Place them in a bowl and mix in about 1 or 2 tablespoons of Creole seasoning. Set the shrimp aside until needed.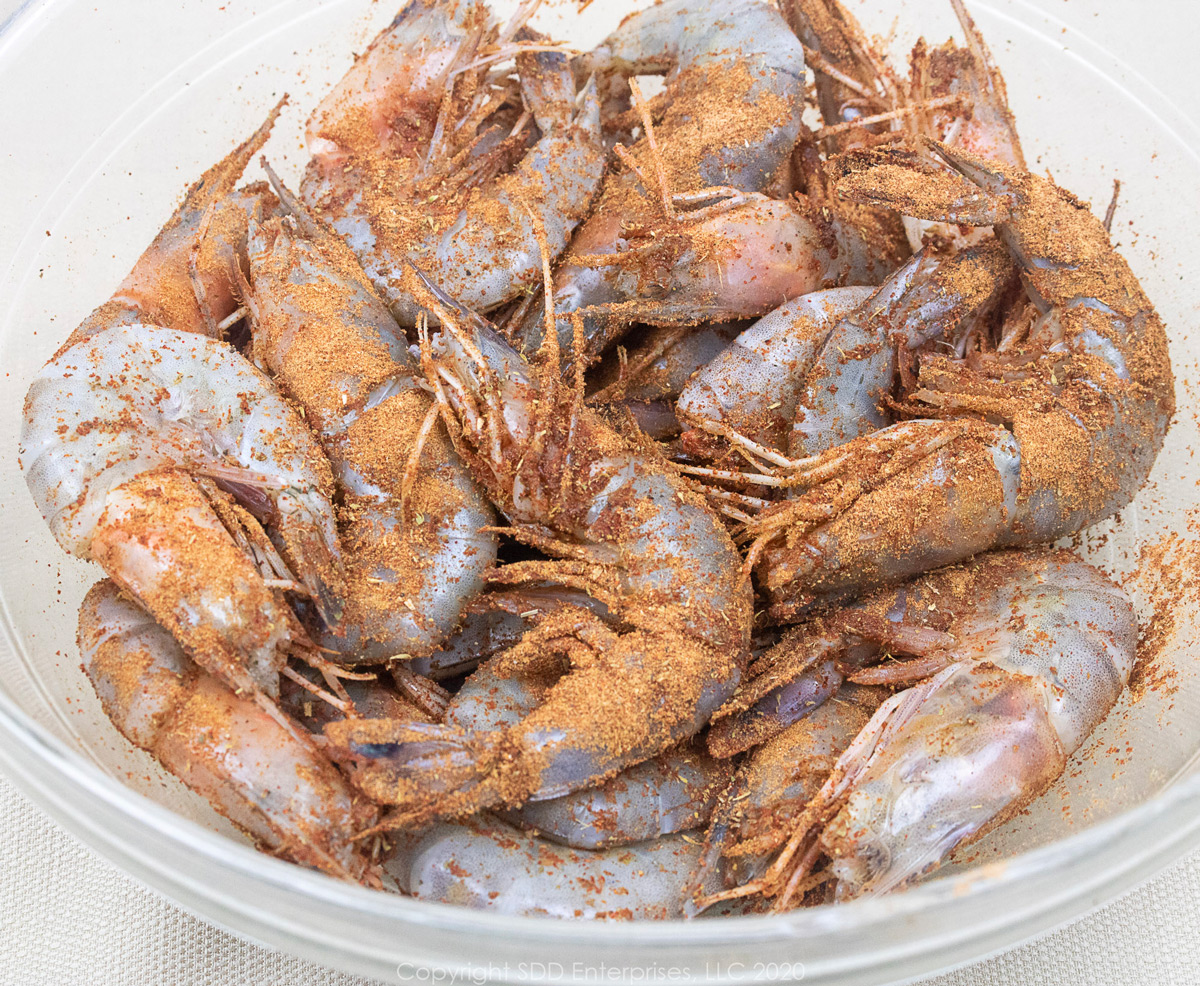 Prepare the remaining ingredients
Take a half stick (¼ cup) of the butter and cut it into approximate ½ tablespoon pieces and place them in the refrigerator so they are very cold when you need them.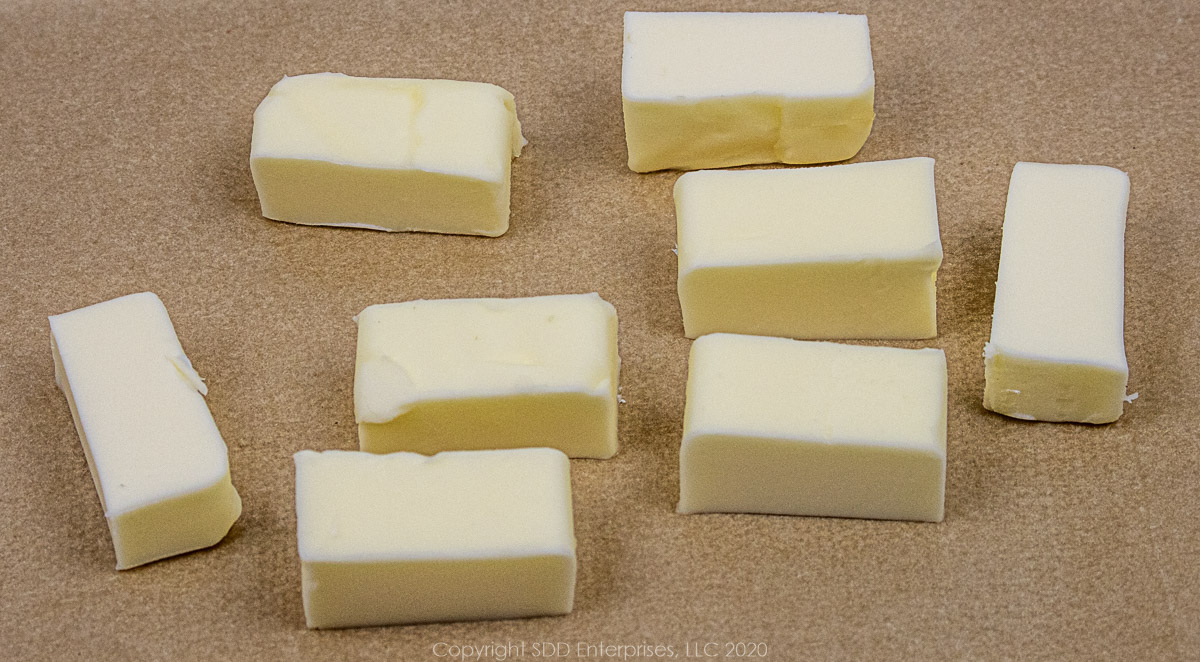 Cut the rest of the butter and the margarine into 1 to 2 tablespoon-size pieces so it melts quickly. Set them aside to get to room temperature. Use a mortar and pestle or coffee grinder to crack some black peppercorns and smash the coriander seeds. The mortar and pestle are also great for smashing the garlic cloves, or you can smash them with your chef knife and give them a rough chop. Chop the fresh rosemary, then mix the black peppercorns and coriander with all the other Herbs and Spices and set them aside. Squeeze the lemon juice, then quarter the lemon (after being juiced). Chop the parsley and measure all the other ingredients. Make sure the french bread is ready to go. Place all the ingredients near the stove so they are easy to reach. How's your beer? Make sure it's within reach, too.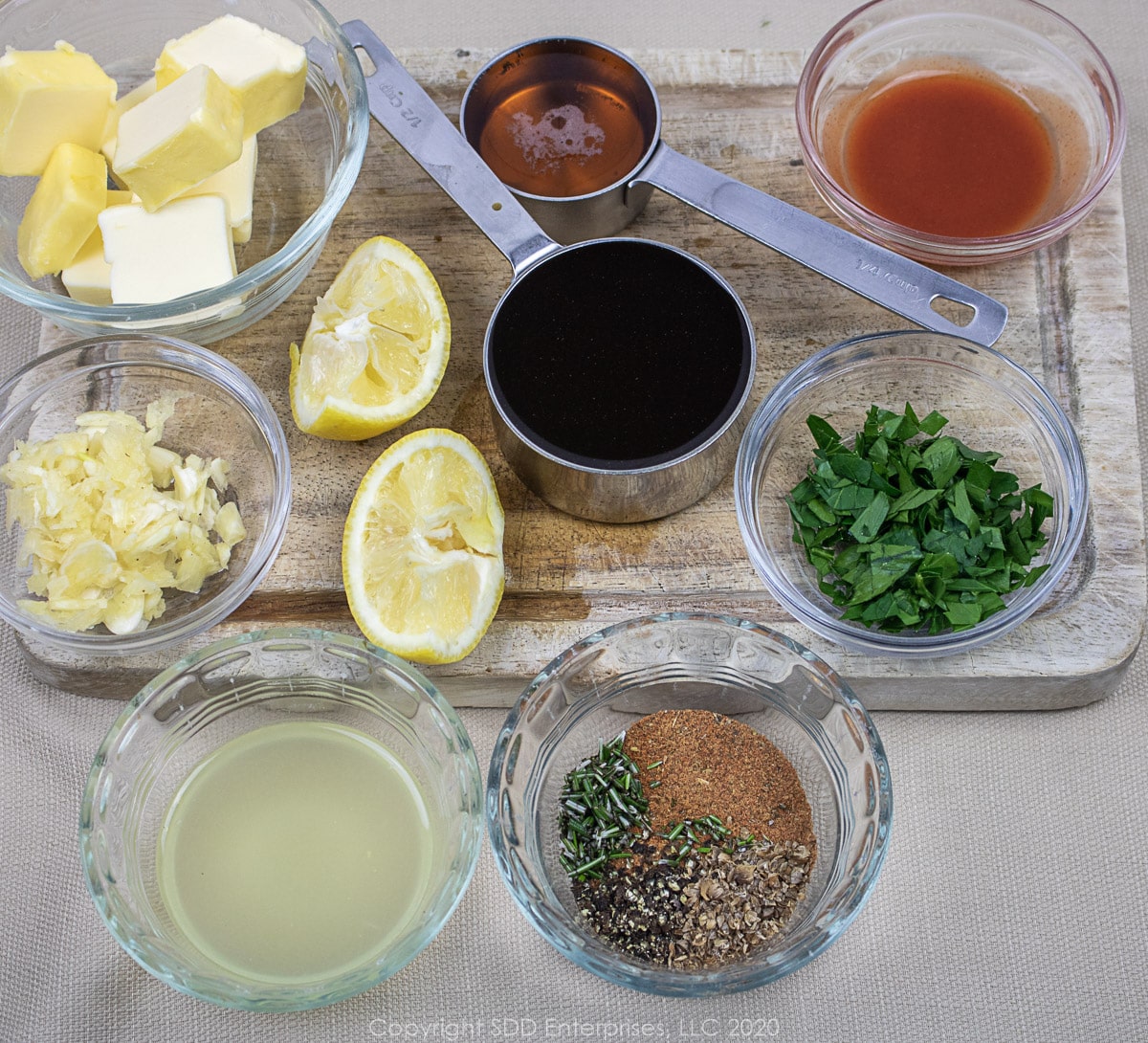 Start the sauce
Place a large (at least 12") cast-iron skillet over medium heat and melt 1 stick of butter and the margarine. When the butter and margarine are frothy, add the garlic, Worcestershire sauce, lemon juice and the Herb and Spice Blend. Stir well to combine all the ingredients.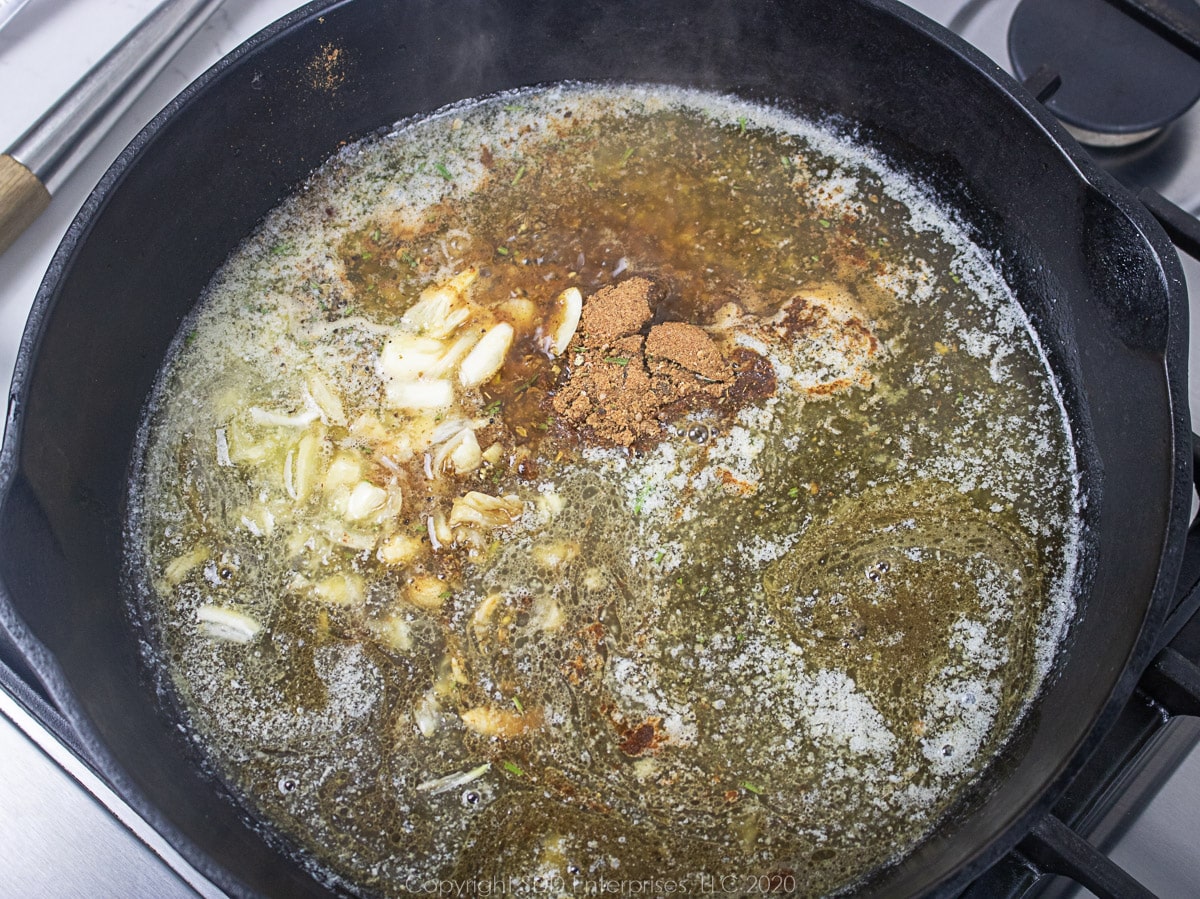 Next, increase the heat to high and bring the butter mixture to a high simmer.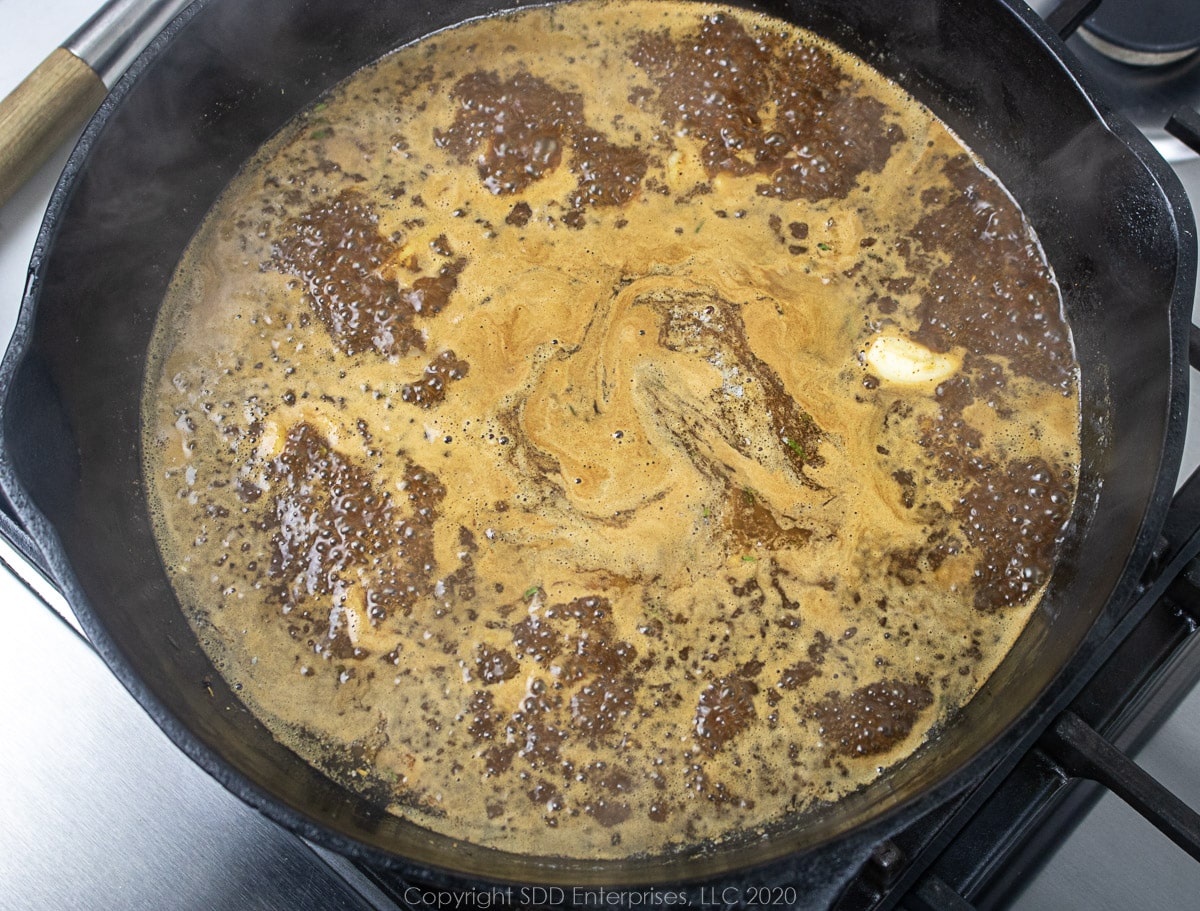 Quickly cook the shrimp
Add the shrimp to the cast-iron skillet, spreading them out on the bottom as best as possible.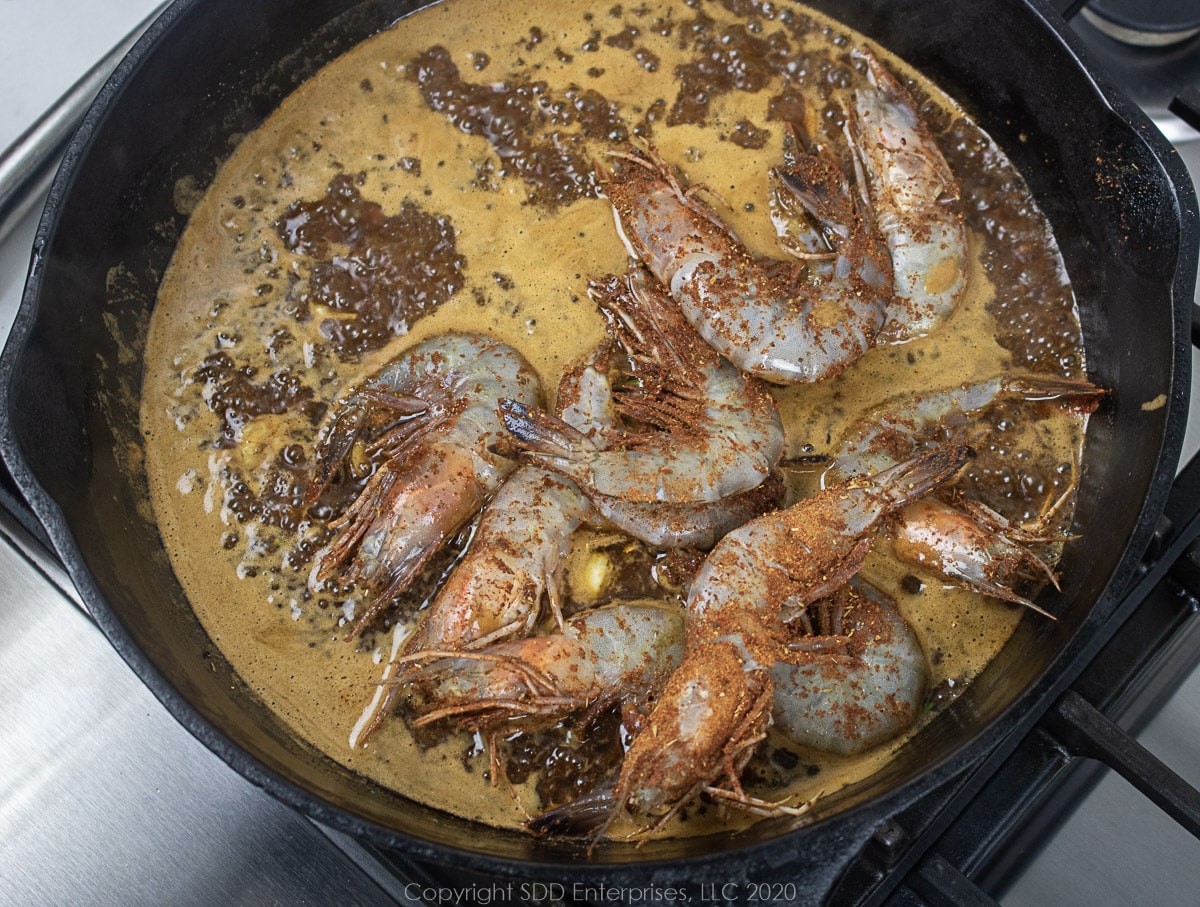 Saute the shrimp for about 2 minutes, shaking the pan in a back and forth motion. Halfway through (at 1 minute), turn the shrimp over to cook on the other side.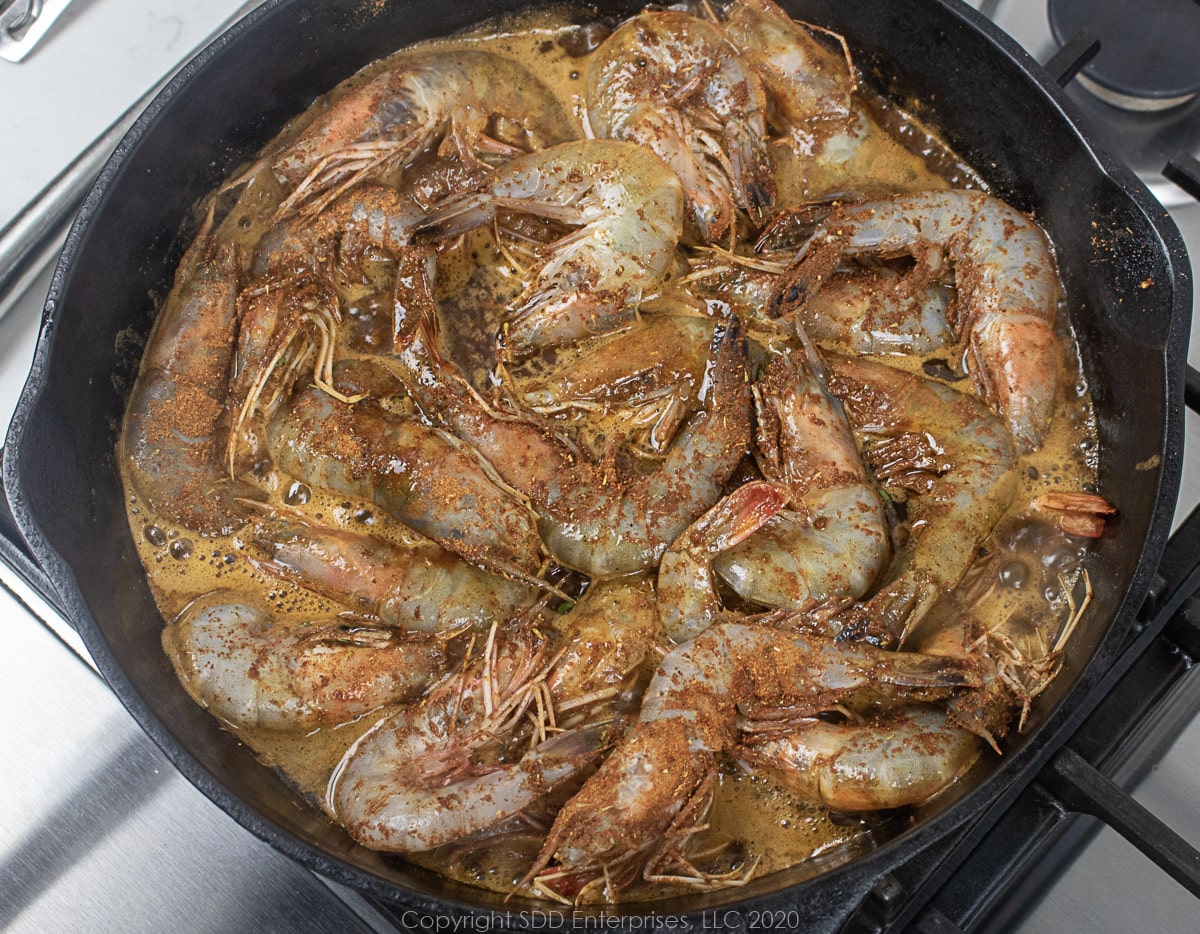 Next add the beer, lemon quarters and the hot sauce and bring everything to a low boil, continuing to shake the pan and turn the shrimp as needed for another 2 to 3 minutes.
At this point, remove the skillet from the heat and add the cold butter a few chunks at a time. Continue to shake the pan, adding more butter as the chunks melt.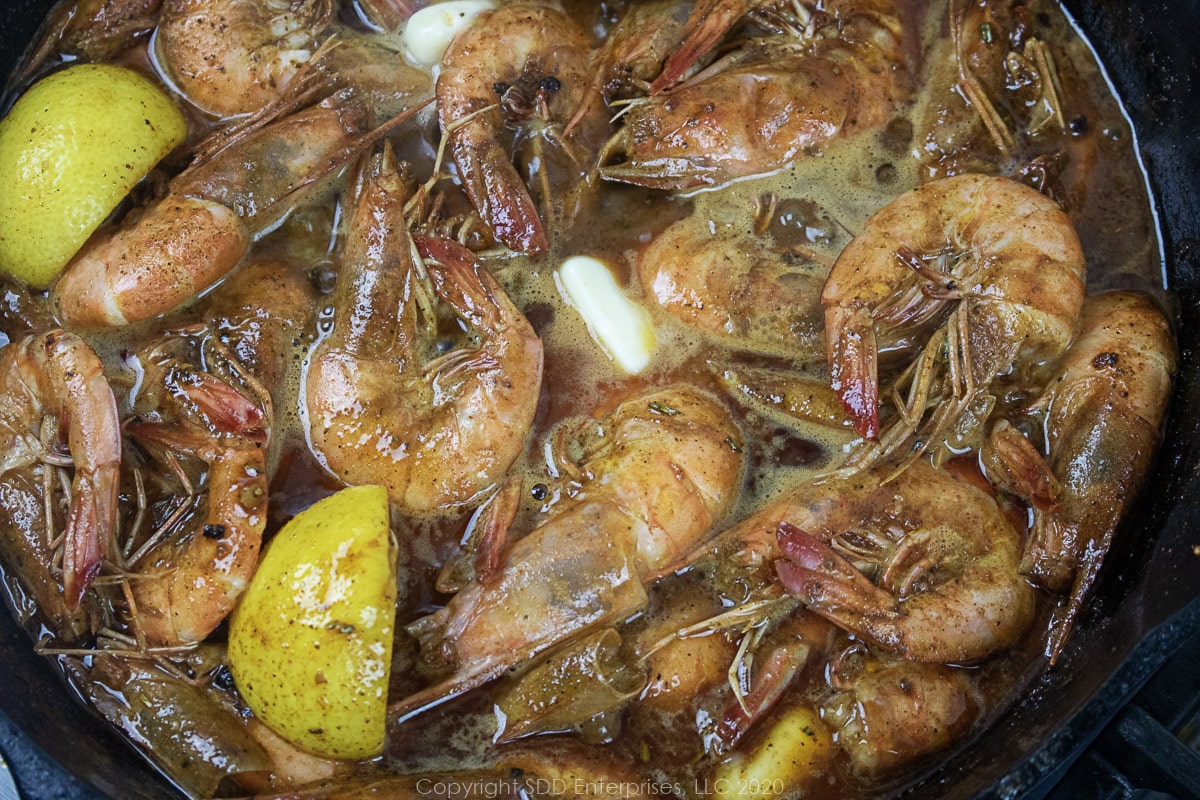 Serve the BBQ Shrimp
This dish should be served immediately by placing about half the shrimp into separate bowls and ladling a generous amount of sauce on top of each bowl. You probably need more than that! Sprinkle some parsley on top and serve it with a couple of pieces of crispy french bread to sop up some sauce.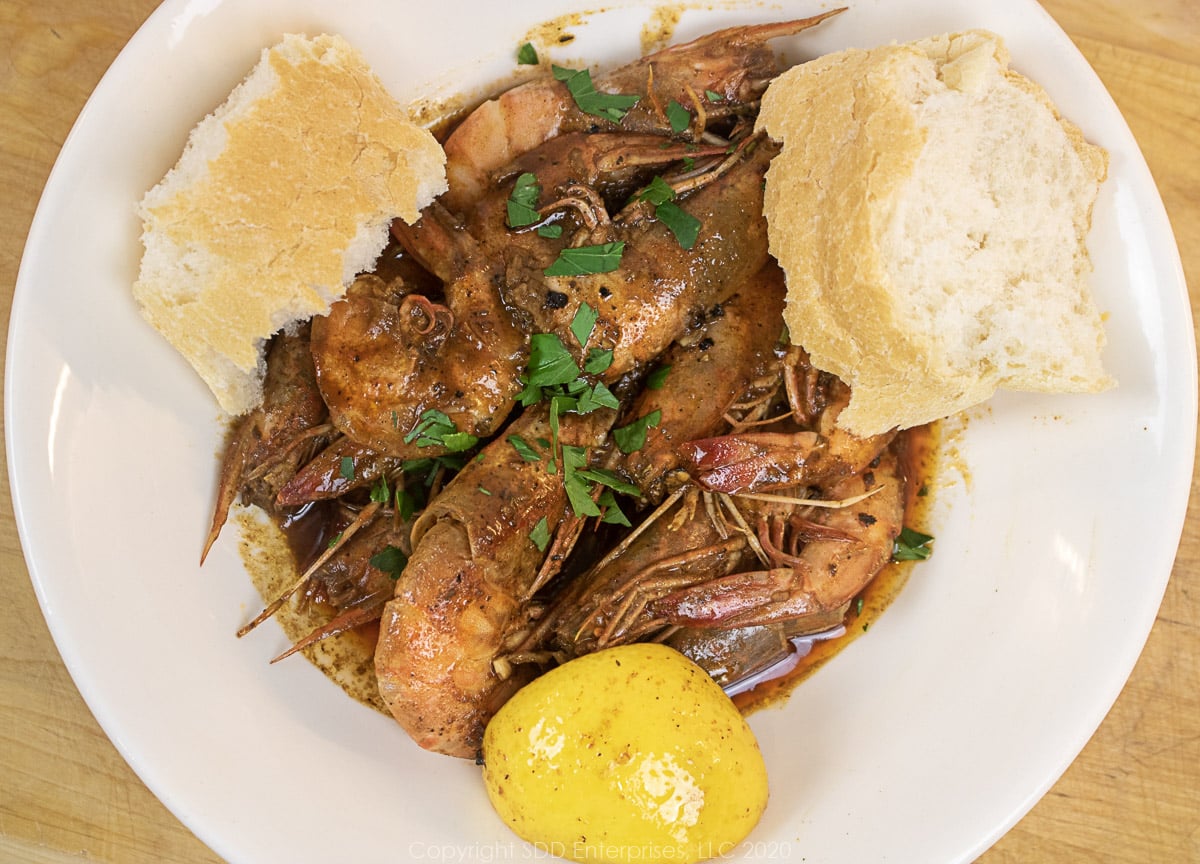 Hints and Tips
How do you eat BBQ Shrimp?
Enjoying BBQ shrimp is an event. Use your fingers. It's messy so a bib is recommended. First, snap off the head, then peel the shrimp by pulling the bottom (where the legs are) open and pulling off the tail to release the meat. You will get the hang of it in exactly one shrimp. Dip the shrimp into the sauce and have at it. Dip some french bread into the sauce and take a bite of Creole heaven.
Why is it called BBQ?
Well, it's not called BBQ because it's slow-cooked on a grill and doused with heavy, ketchup BBQ sauce. Quite the opposite. The ingredients and quick cooking method yield a reddish sauce that perhaps resembles BBQ sauce to some. The butter-lemon-garlic-Worcestershire sauce flavor combination may remind some folks of a BBQ sauce, but it is likely just the overall appearance of the dish that gives it its name.
Do I have to use shrimp with heads and shells on?
The heads and shells add a great deal of flavor to the dish because of the fat content contained by the shells. It also makes it fun to sit around with friends and family and peel and eat the shrimp. I highly recommend cooking the shrimp with the heads and shells on, at least the first time. Nevertheless, it is fine to make this with headless shrimp or even peeled shrimp. Be mindful that peeled shrimp will cook a little faster and will be susceptible to overcooking.
How can you mess this up?
Overcooking the shrimp! Shrimp cook very fast and will turn hard and rubbery and be hard to peel if overcooked. A perfectly cooked shrimp will take only minutes to cook and become an opaque white with some pink and red accents. For this recipe, you should cook the shrimp no more than 5 minutes, then remove them from the heat. Shrimp will continue to cook after you remove the pan from the heat due to carryover cooking, so once the butter is melted, serve them up.
What do you serve with BBQ Shrimp?
Cajun Twice Baked Potatoes
This cheesy, creamy Cajun staple is the ultimate side to go along with steak, fish, seafood platter...just about anything! Once you try Cajun Twice Baked Potatoes, its the only way you'll want to eat a baked potato...don't say I didn't warn you!

Macaroni and Cheese
New Orleans Baked Macaroni and Cheese is the most comforting of comfort food. Try this recipe, patterned after Rocky and Carlo's famous mac and cheese.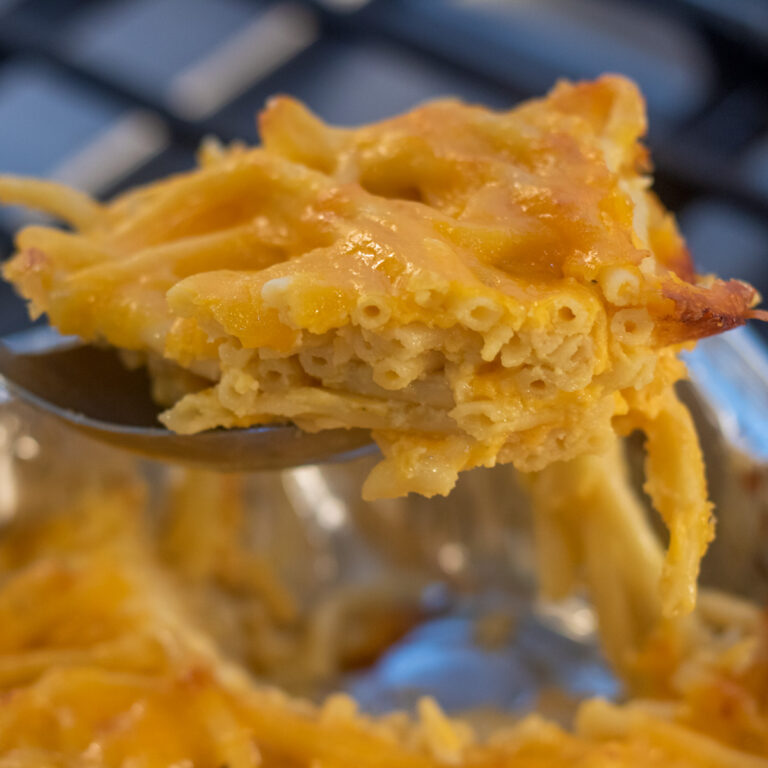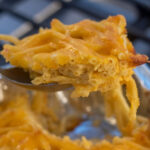 Sensation Salad
The distinct flavors of garlic, lemon juice and Romano cheese combined with light oils are tossed with simple iceberg or romaine lettuce, making this a true Louisiana "sensation"!

In the mood for more Creole and Cajun dishes?? Check these out:
As an Amazon Associate, I earn from qualifying purchases. The price you pay as a consumer does not change, but I may make a small commission based on your purchase. These items from Amazon will help you with this recipe:
If you make this recipe:
Tell us about it in the Comments section below
LEAVE A RATING ON THE RECIPE-worthy of 5-Stars?
Questions or Comments? that's the place!
SIGN UP FOR OUR EMAIL UPDATES so you don't miss anything!
Post a picture and share it with your friends on our Social Media: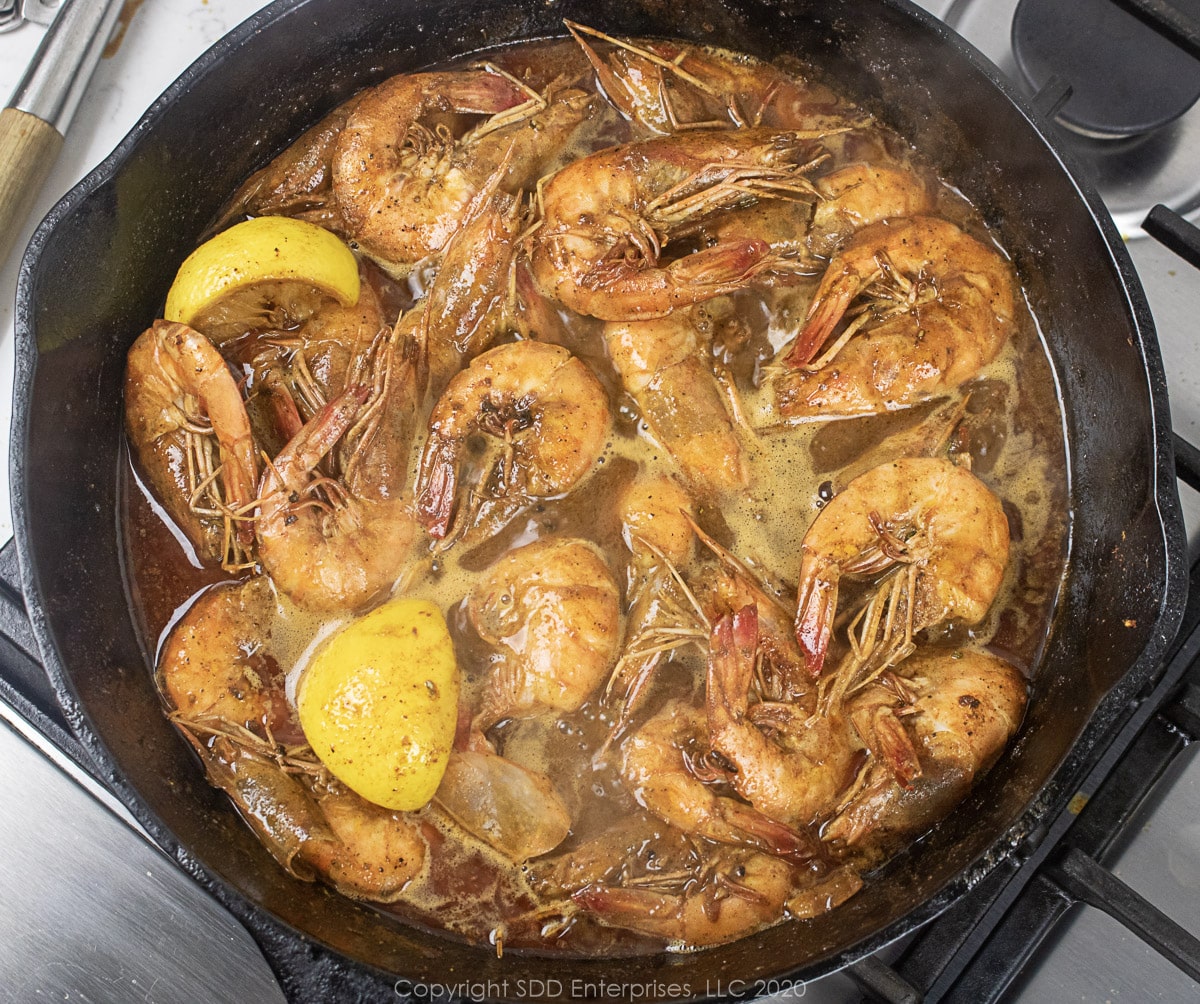 Yeah You Right!
Recipe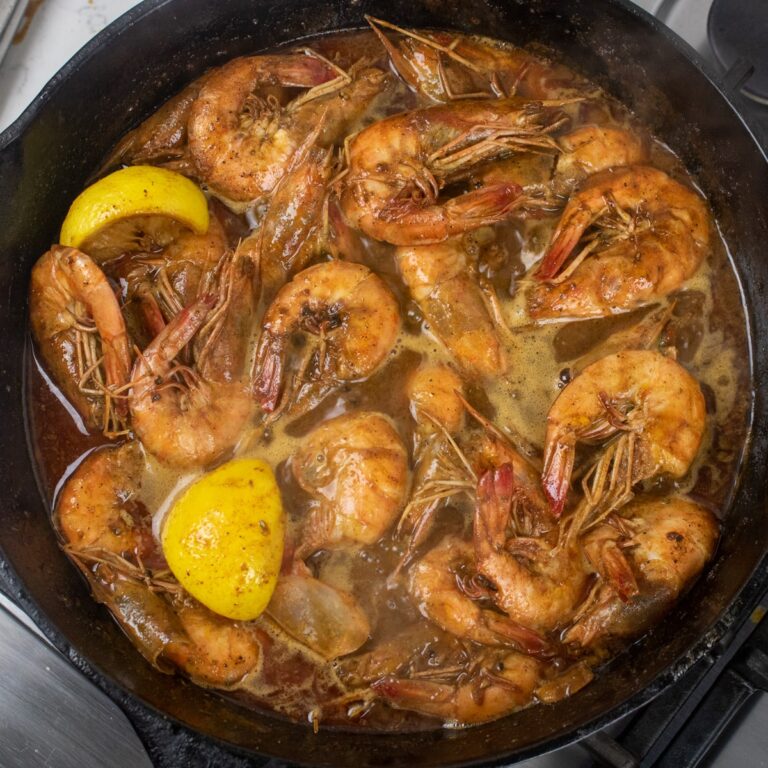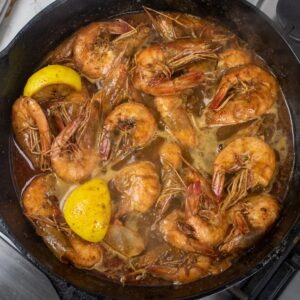 New Orleans BBQ Shrimp
Creole indulgence. Large shrimp sauteed in a butter, garlic, lemon sauce is a New Orleans institution.
Print
Pin
Rate
Here's What You Need
1 ½

pounds

Shrimp

with shells and heads

¾

cup

Butter

in all

¼

cup

Margarine

5

cloves

Garlic

crushed

2

Lemon

juiced and quartered

¾

cup

Worchestershire

¼

cup

Beer

1

tablespoon

Fresh Parsley

2

teaspoon

Hot Sauce
Herb and Spice Blend
1

Tablespoon

Creole seasoning

Plus some for the shrimp

½

teaspoon

Cayenne

Optional

½

teaspoon

Ground Black Pepper

½

teaspoon

Cracked Black Pepper

½

teaspoon

Kosher Salt

1

teaspoon

Fresh Rosemary

1

teaspoon

Coriander Seeds

crushed
Here's What You Do
Preparation
Snip off the eyestalk and eyes of the shrimp, leaving the long spike which protrudes from the head and sticks out over the eyes. This should remove most of the antenna as well.

Rinse shrimp in cold water and pat dry with a paper towel. Sprinkle 1 to 2 tablespoon Creole seasoning on the shrimp and set aside.

Slice ½ stick of butter into ½ tablespoon-size pieces and set in the refrigerator to stay cold. Cut the remaining butter and margarine into approximately 2 tablespoon size chunks.

Smash the garlic, crush the coriander and the black peppercorns. Mix the Herb and Spice Blend and measure the remaining ingredients.
Cook the shrimp
Place a cast-iron skillet over medium heat and melt 1stick of butter and ½ stick margarine.

When frothy, add the garlic, Worcestershire sauce, lemon juice and The Herb and Spice Blend. Stir well to combine all the ingredients.

Increase heat to high and bring the mix to a boil.

Immediately add the shrimp, trying to keep it to one layer if possible. Shake the pan in a back and forth motion for a total of 2 minutes, turning shrimp once halfway through (after 1 minute). You will notice the shrimp turning a nice reddish color as they cook.

After 2 minutes, add the beer, lemon quarters and hot sauce. Bring to a low boil and shake pan for 2 to 3 minutes.

Lower heat to medium and add the reserved cold butter pieces a few at a time. Continue to shake the pan back and forth so that the sauce will incorporate as the butter melts. This should be no more than 1 or 2 minutes.

Serve immediately in a bowl with plenty of sauce. Sprinkle some chopped parsley on top and serve with crispy french bread for dipping.
Recipe Notes
This dish is intended to be served with the shells and heads still on the shrimp. Each diner typically peels the shrimp by hand, dips the shrimp into the sauce and enjoys. Make sure to have a plate or bowl for the shells and heads and a bib is highly recommended.
Nutrition
Calories:
1316
kcal
|
Carbohydrates:
39
g
|
Protein:
73
g
|
Fat:
98
g
|
Saturated Fat:
49
g
|
Cholesterol:
1040
mg
|
Sodium:
5224
mg
|
Potassium:
1397
mg
|
Fiber:
6
g
|
Sugar:
14
g
|
Vitamin A:
5681
IU
|
Vitamin C:
96
mg
|
Calcium:
689
mg
|
Iron:
14
mg