New Orleans Shrimp Creole is one of the most delicious dishes you'll find served throughout South Louisiana. Plump Gulf Shrimp simmered in a rich and tangy tomato-based sauce with tons of Creole seasonings and spices. Ladled over rice, this is comfort food with a Creole accent, that you can make at home. Here's Sweet Daddy D's no-angst way to make this delicious Creole recipe guaranteed to become an instant family favorite.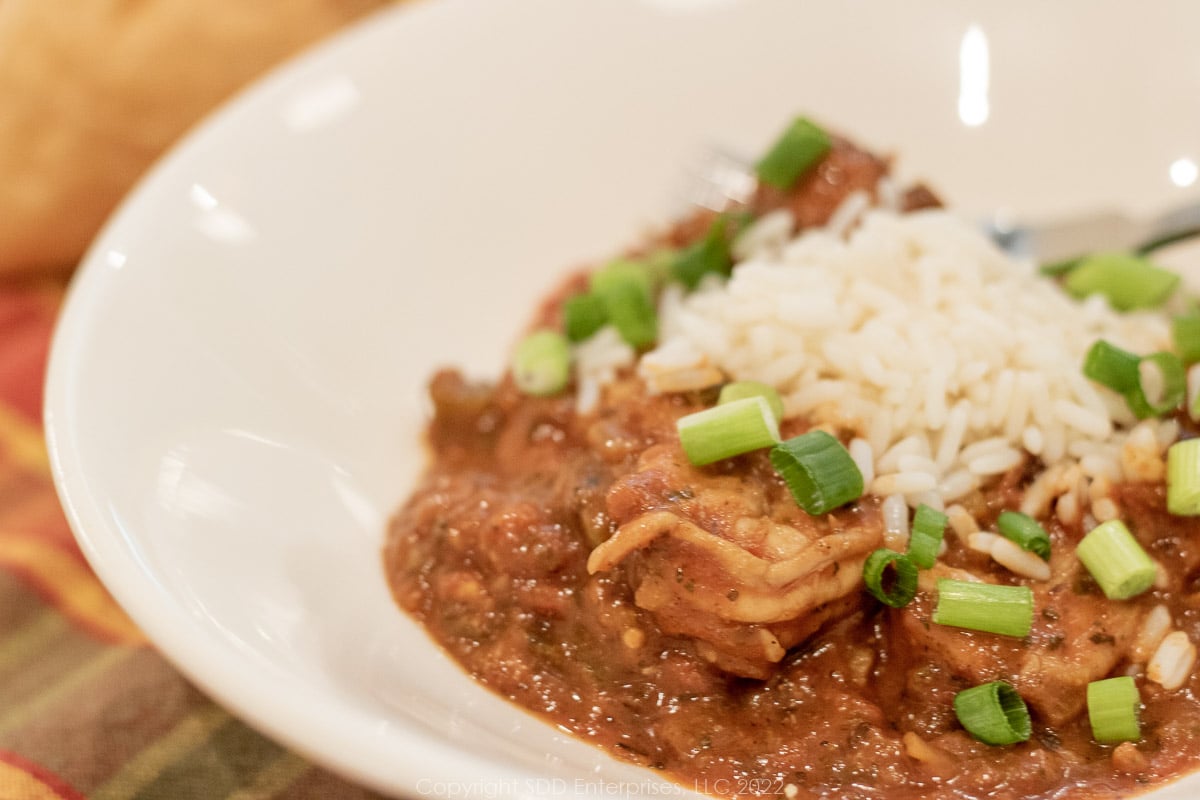 This post is not sponsored, but you will find affiliate links on this page. As an Amazon Associate, I earn from qualifying purchases. The price you pay as a consumer does not change, but I may make a small commission based on your purchase.
If you want to just skip to the recipe, click the "Jump To Recipe" button above or the Recipe link below and you'll go right there without having to scroll through my article.
[Publisher's Note: This article was originally published in August 2018. I have made some minor updates since then but I am republishing this now with technical updates, improved images, and more clarity that will make it more "search-friendly". I hope you find this helpful and look forward to your questions and comments.]
Classic Creole Cuisine
By its very nature, Creole Cuisine continues to evolve as the combination of its cultural influences continues to evolve. Historically, it's a cuisine that rose from the cultural diversity of New Orleans before spreading throughout South Louisiana. At its core, there are a handful of dishes that comprise the foundation of Creole Cuisine. I consider Shrimp Creole one of those foundation recipes. The heart of the recipe is a classic Sauce Creole, a simple, rich, red sauce with a distinctive flavor. Creole, as well as Cajun recipes, are often characterized as spicy. That's somewhat misleading as these recipes often blend layers of flavor that can result in a subtle but distinctive mild spiciness without the overriding heat. Utilizing locally available ingredients, like Creole tomatoes and other vegetables, succulent Gulf Shrimp are simmered in a delicious Sauce Creole. This traditional New Orleans Shrimp Creole recipe is an example of the melding of French, Spanish, African, and Indian cultures that define Creole cuisine.
Here's What You Need
Here are some of the key ingredients for this recipe: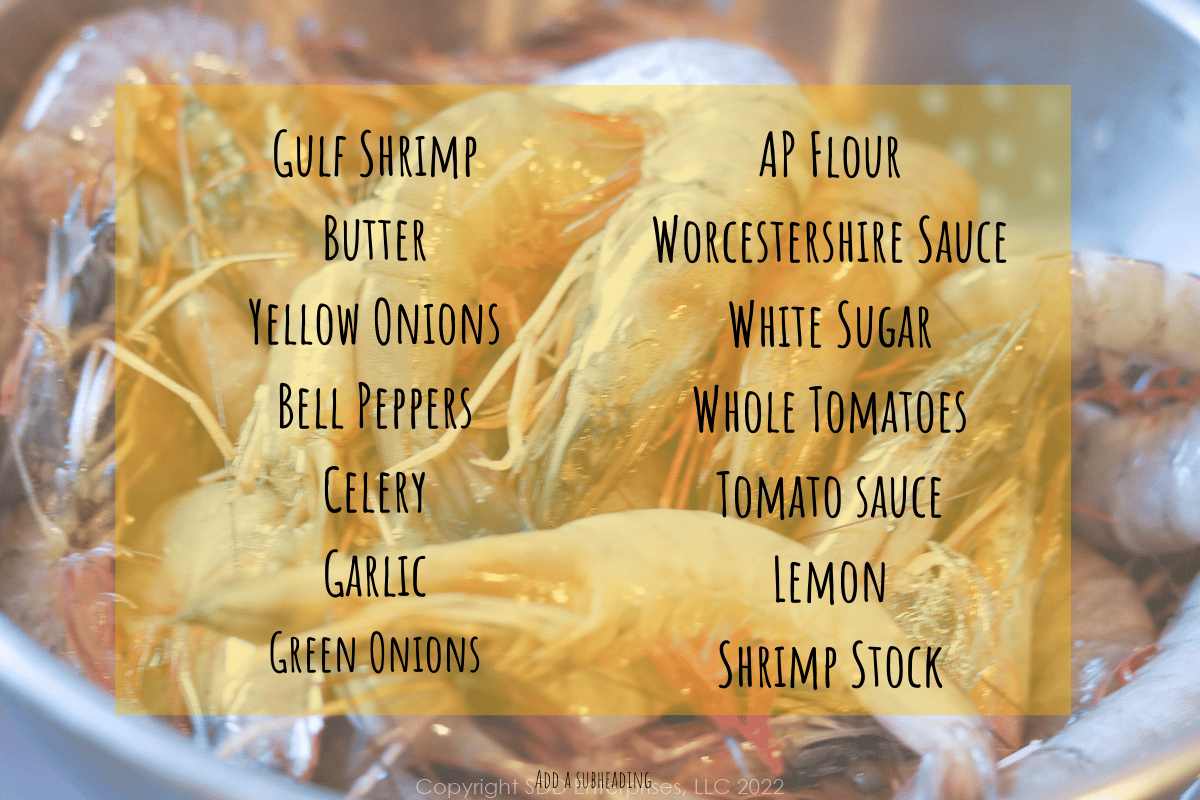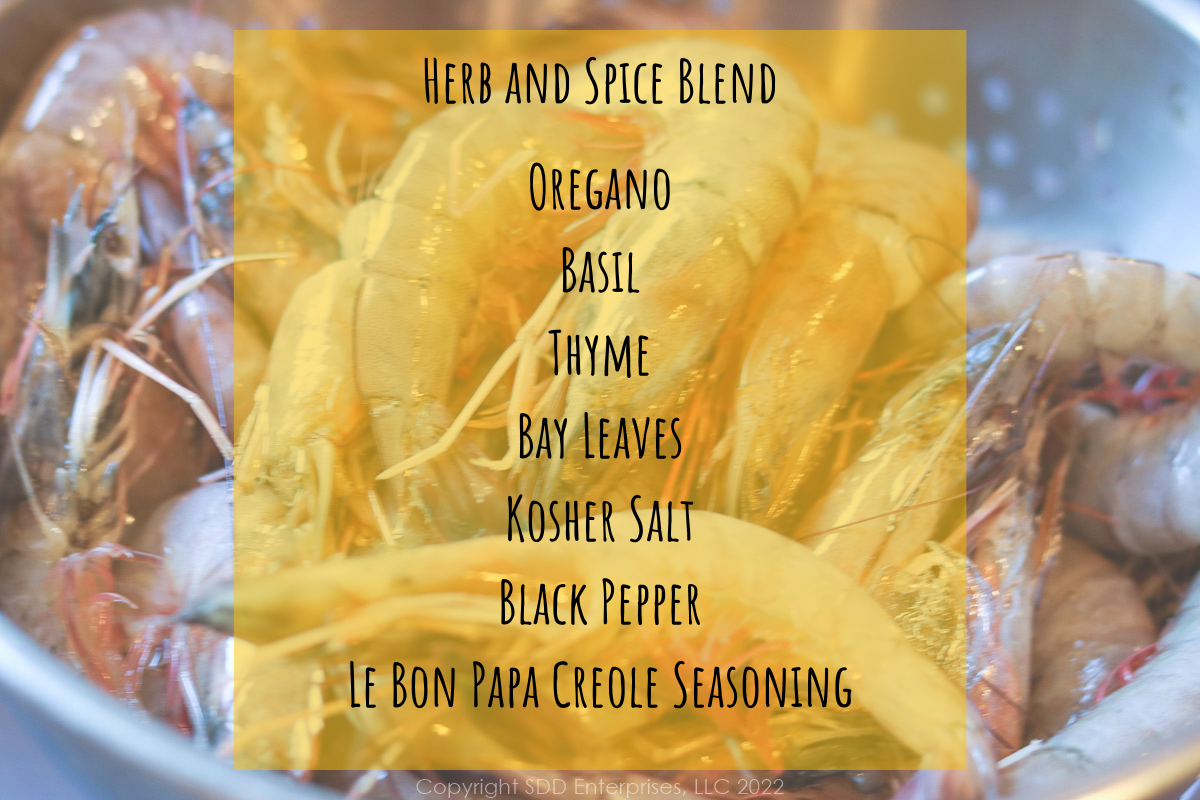 Equipment
Here is some of the equipment I used to prepare this recipe:
As an Amazon Associate, I earn from qualifying purchases. The price you pay as a consumer does not change, but I may make a small commission based on your purchase. These items from Amazon will help you with this recipe:
Here's What You Do
First...you have a beer. Let's make this recipe fun and easy by starting out in the right frame of mind. To do that, pop open a beer (some may prefer bourbon or even some classical music!) while you read the recipe all the way through. Lots of ingredients and lots of steps? It's really a lot simpler than you imagine and some basic preparation will reduce the angst of tackling this classic. Some good mise en place will do you good, and it starts with that beer!
Mise en place
Gather all the ingredients and equipment together.
If using fresh shrimp, peel, devein and rinse them. Use some paper towels to pat them dry, then toss them in Creole seasoning and set them aside.

Open the can of whole tomatoes and pour them into a strainer or colander placed over a bowl. Using your hand, crush the whole tomatoes right in the strainer and let them drain while you continue you're prep.

Reserve the liquid.
While you're opening cans, open the tomato sauce and set it aside.
Chop up the Trinity (onions, bell peppers, and celery) as fine or as coarse as you like and place them together in a bowl. I like

to use a coarse chop on the vegetables.

Chop the green onions and the garlic and place each in a separate bowl.

Squeeze the lemon juice into a ramekin, slice the other lemon,

and set the slices in the ramekin with the juice.
Place all these into separate ramekins: sugar, Worcestershire,

and flour.

Pour the stock into a measuring cup and mix the Herb and Spice Blend in a small bowl.
The idea is to combine ingredients that hit the pot at the same time or at least organize things as to how they go in the pot. Now, let's get cooking, how's your beer?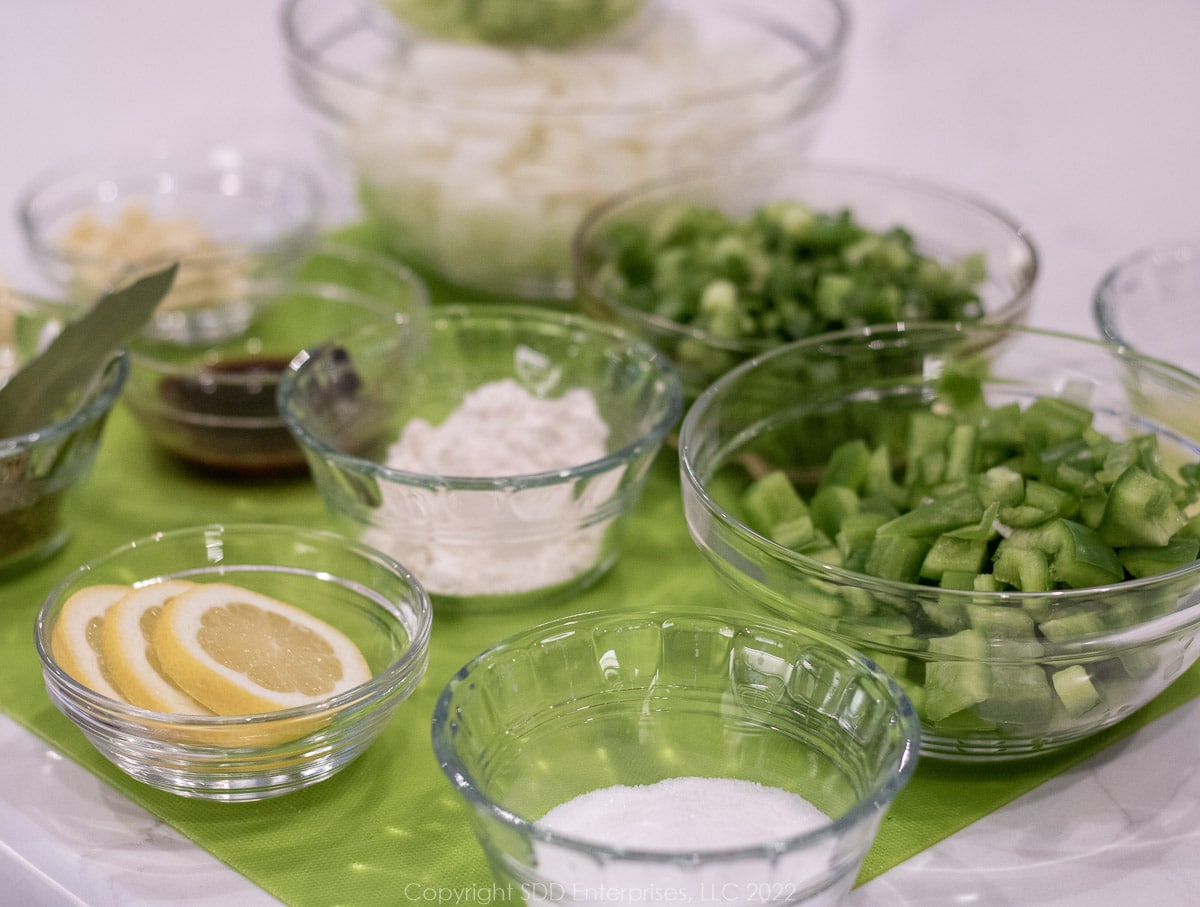 Saute the veggies in the butter
What happens in this step? The foundation layer of flavor is created by sauteeing the Trinity in butter. That is a delicious combination. Garlic and seasonings are added to create the base.
Place the Dutch oven over medium heat and add the butter. Once the butter is nice and bubbly, add the Trinity. Saute for about 15 to 20 minutes, stirring often, until they are well on the way to caramelization.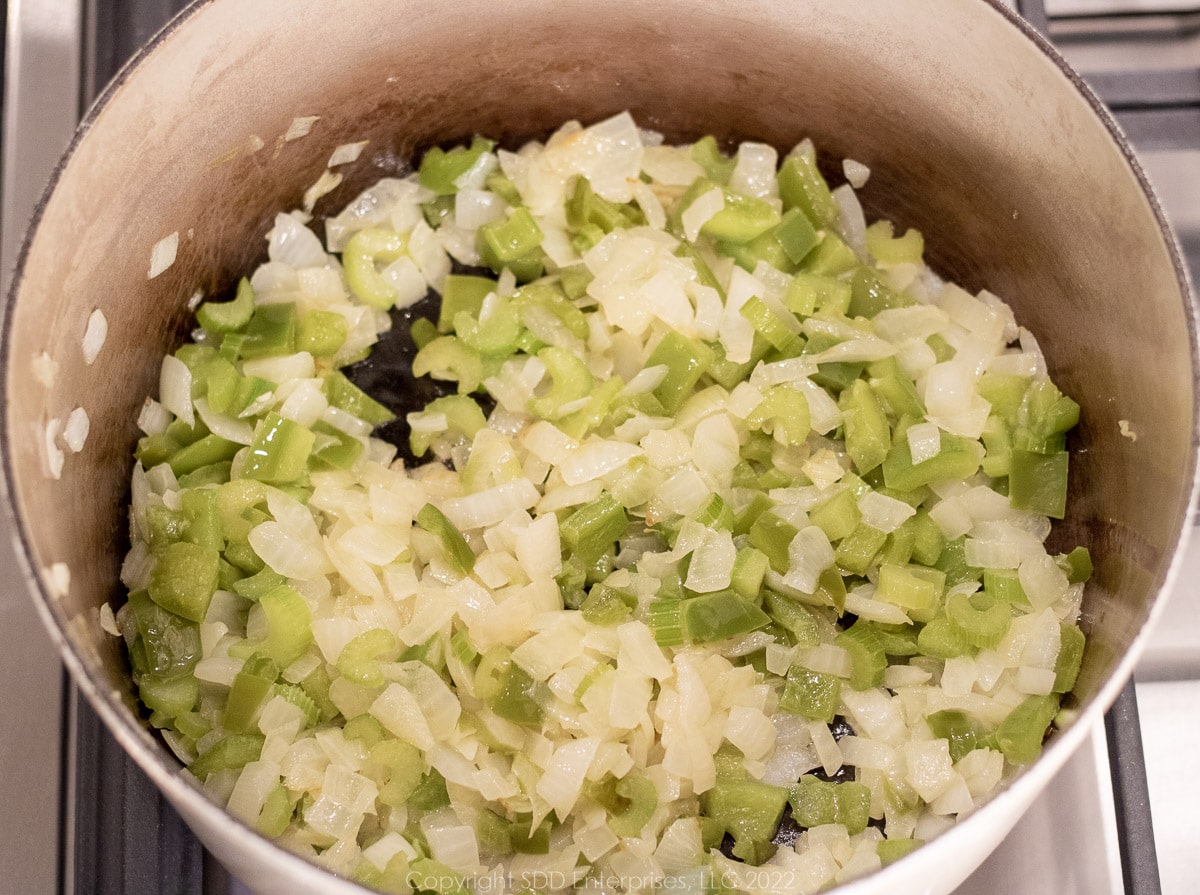 Add the garlic, and about half of the Herb and Spice Blend (not the bay leaves yet). Mix well.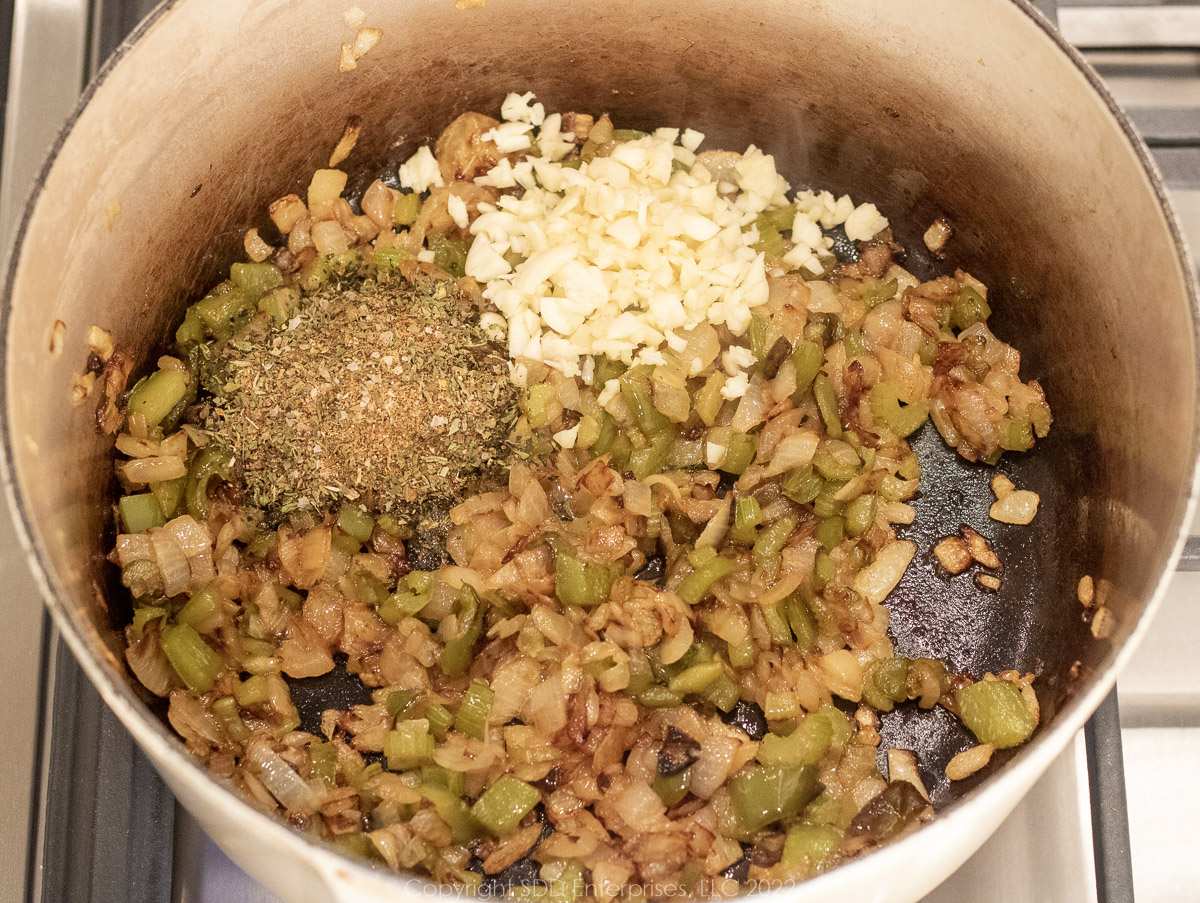 Next blend in about ⅔ of the green onions. Save the rest of the green onions to put on top when you serve. Keep sauteing that for another 2 or 3 minutes.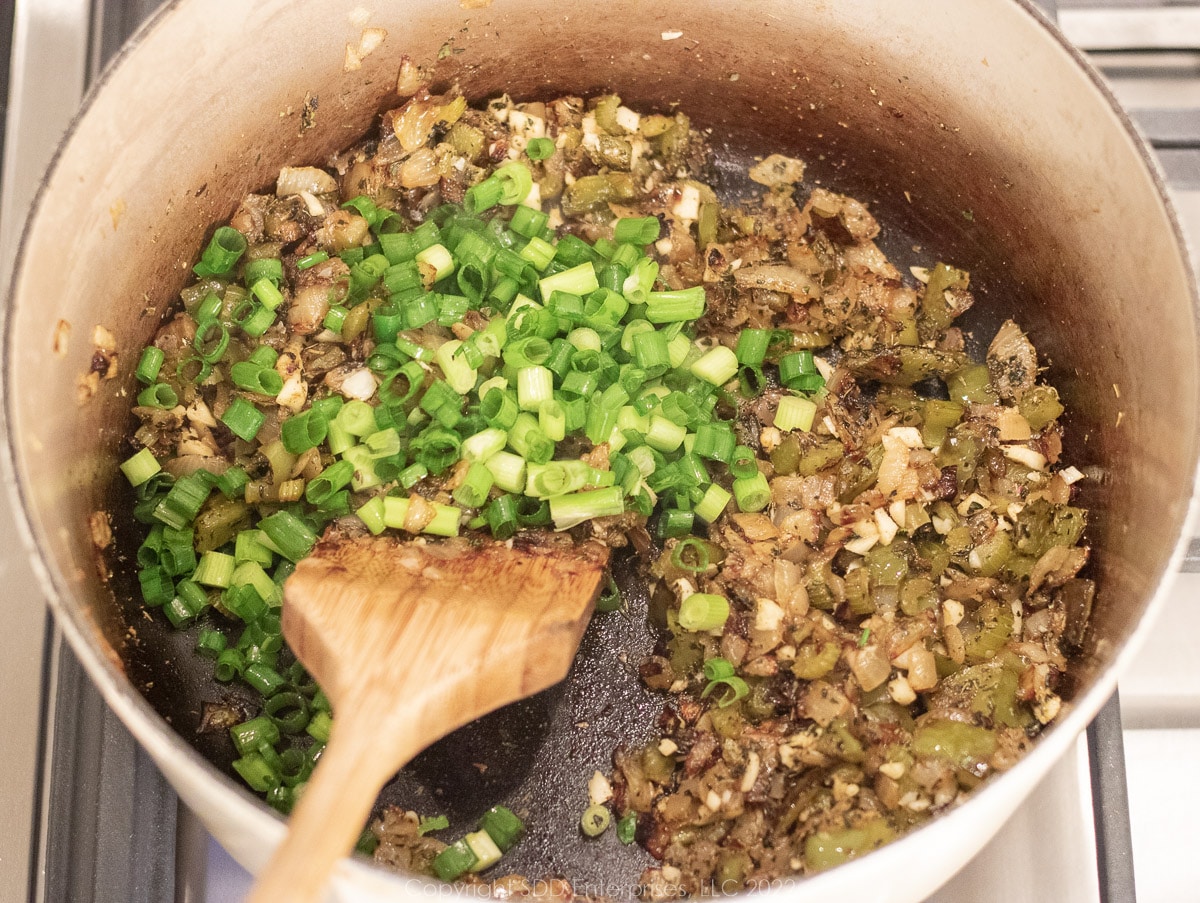 Mix in the flour
What happens in this step? We will want the sauce thickened and this is done by cooking some flour into the vegetables. Not a traditional roux as is often seen but adding flour to the sauteing vegetables will nonetheless be an effective thickener without adding color.
Sprinkle the flour into the sauteed veggies and mix it well. This will serve to thicken the sauce as it cooks. Stir for 2 or 3 minutes while the flour taste cooks out. You don't want it to brown like a traditional roux, but it will acquire the rich colors of the caramelized veggies and spices.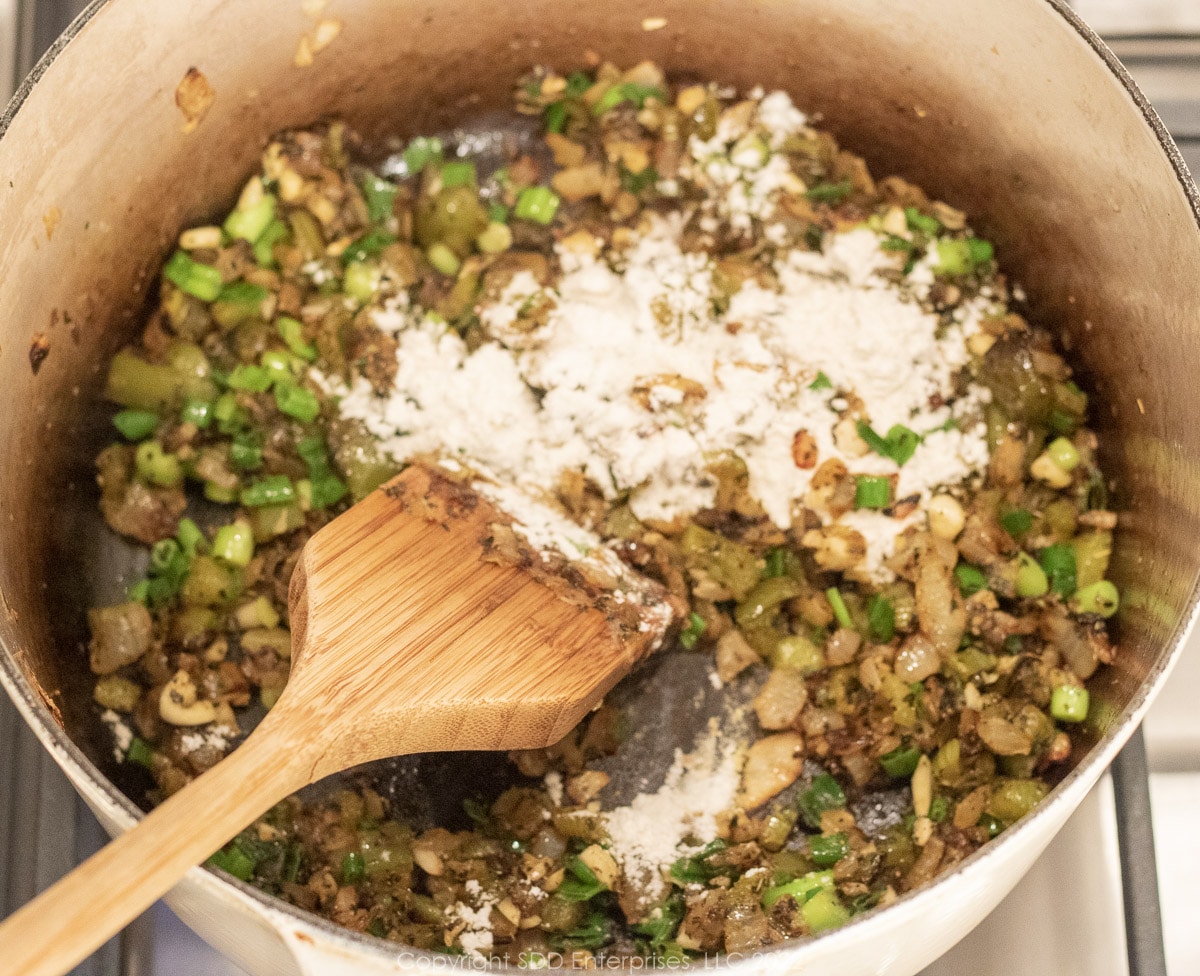 Everything else in the pot (except the shrimp)
What happens in this step? The next layer of flavor is the creation of a sauce. Tomatoes and stock are combined with aromatics and other seasonings to start building that unique taste.
Mix in the crushed tomatoes (reserving the excess liquid) and the tomato sauce.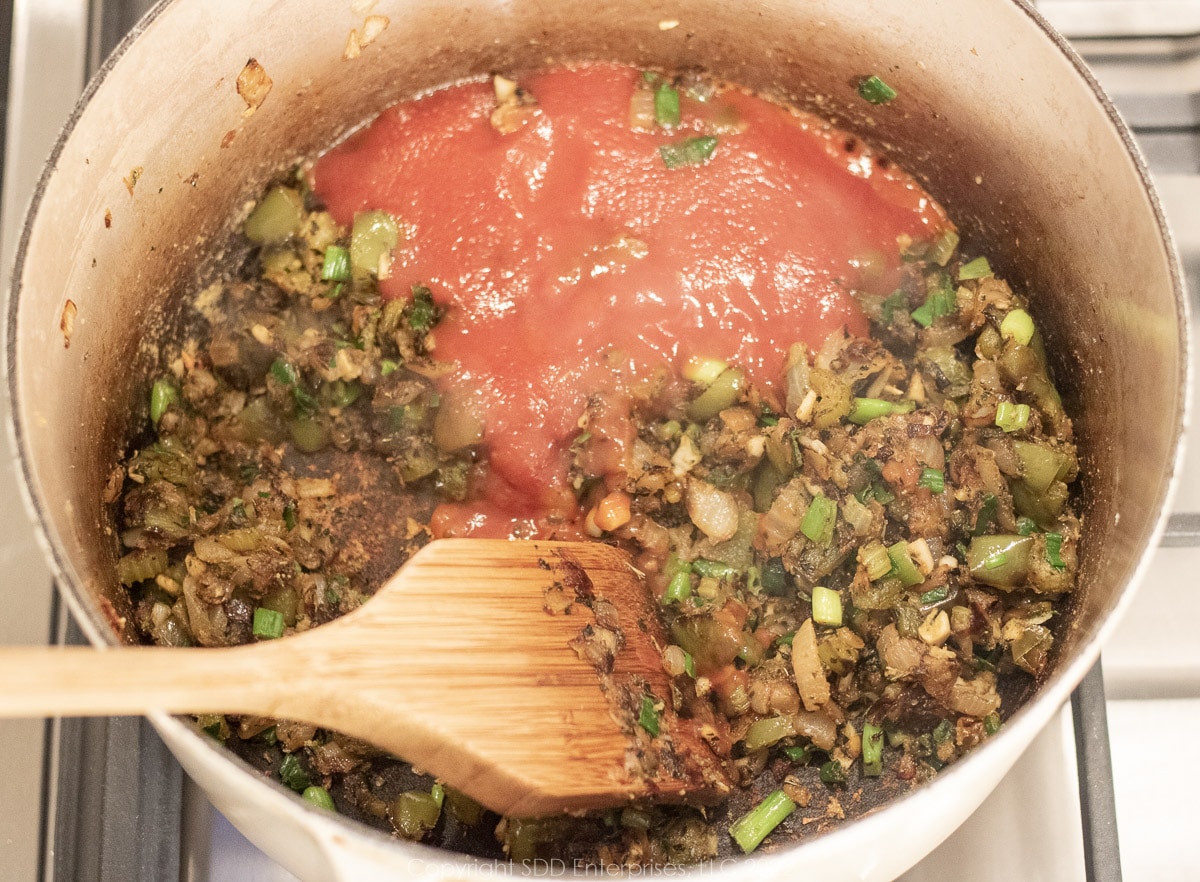 When it starts to simmer add about half of the remaining Herb and Spice Blend (so that's ¾ of the total so far), both bay leaves, the sugar, and the Worcestershire sauce.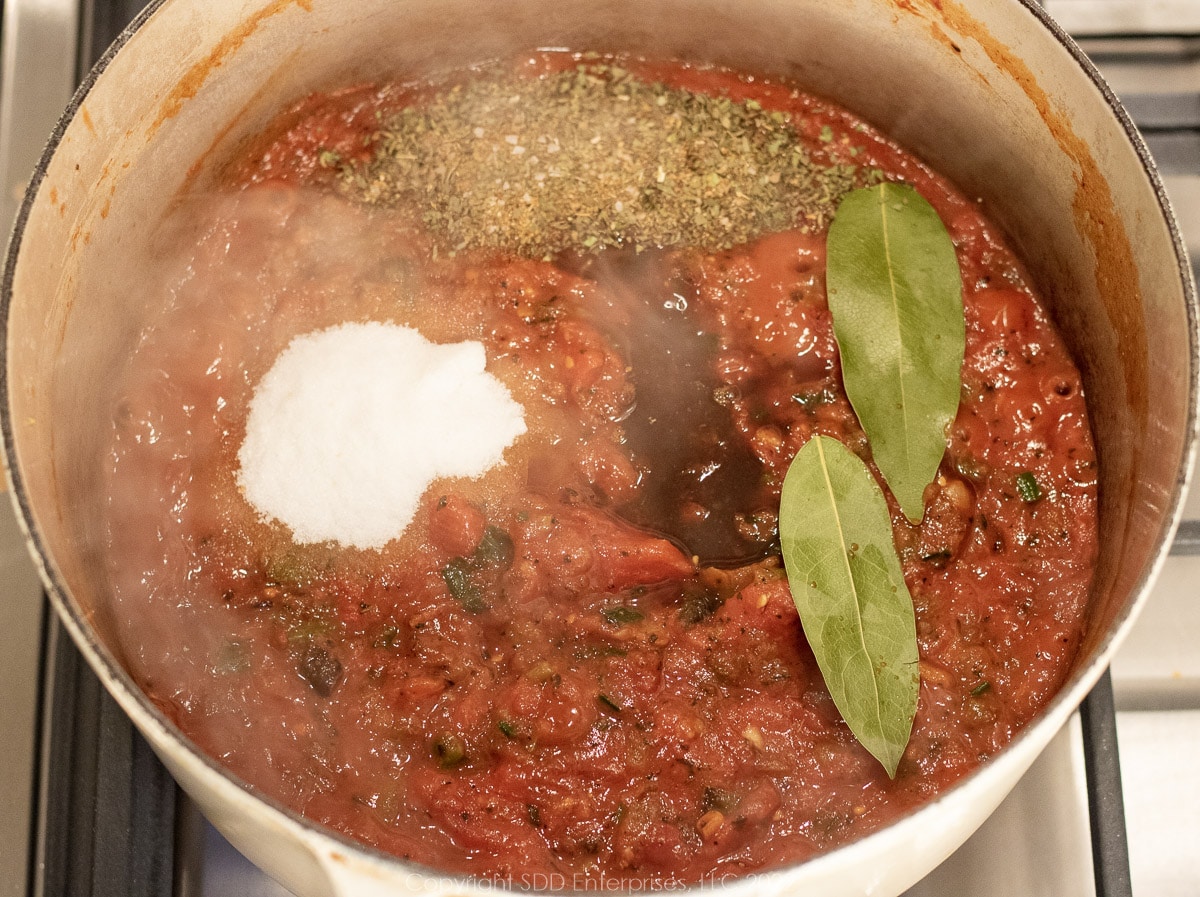 Stir to blend everything together, then add the lemon juice, lemon slices, and about 1 cup of the stock. (Reserve the remaining stock in case it gets too thick later).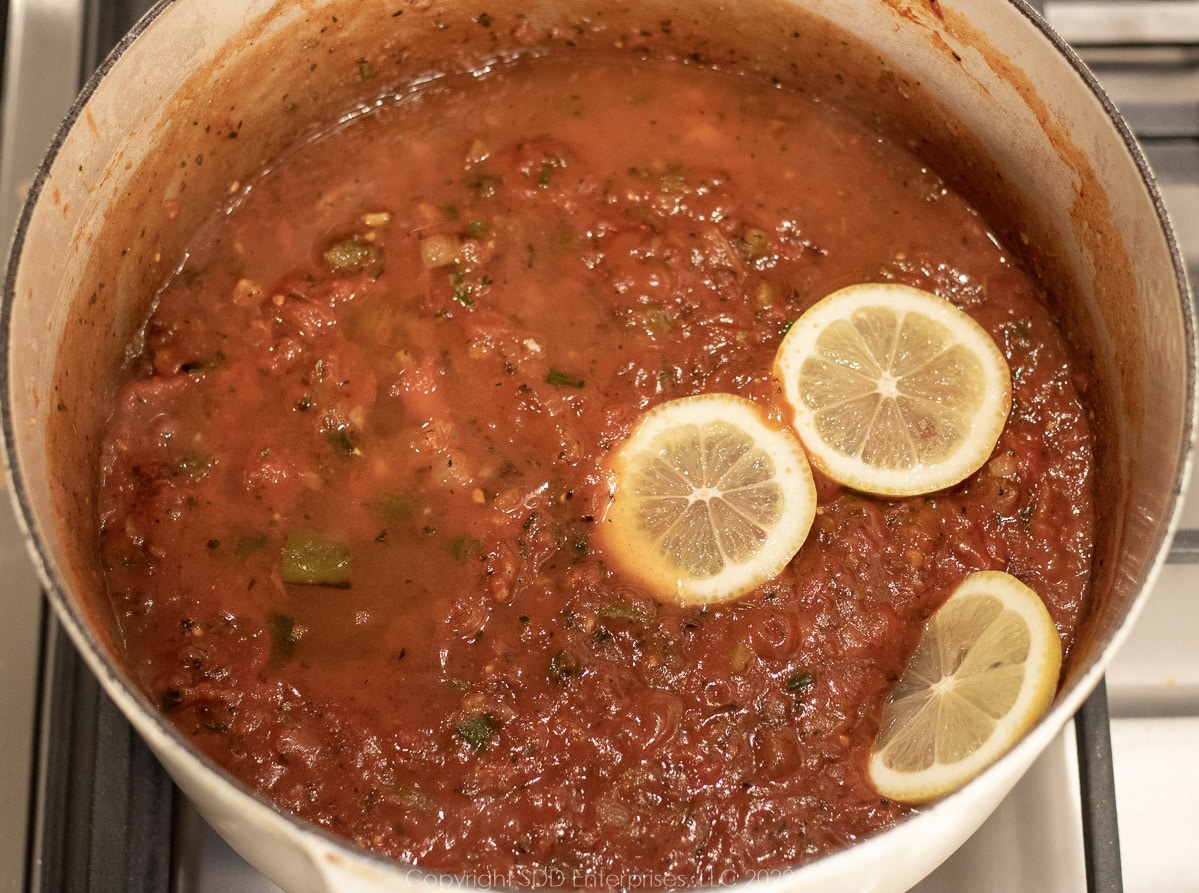 Once it reaches a heavy simmer, turn down the heat to a slow simmer for about 30 minutes, uncovered. As it starts to thicken, make sure to stir it often so it doesn't stick to the bottom. It's also a good time to cook the rice and have another beer.
What happens in this step? A slow simmer draws out the best of each ingredient, Now we'll cover the Dutch oven and continue a low simmer to meld those various flavors into one.
After 30 minutes uncovered, stir it well. Cover the Dutch oven and continue at a slow simmer for another 30 minutes. Stir it often. We're looking for a thick, smooth, chunky, sauce.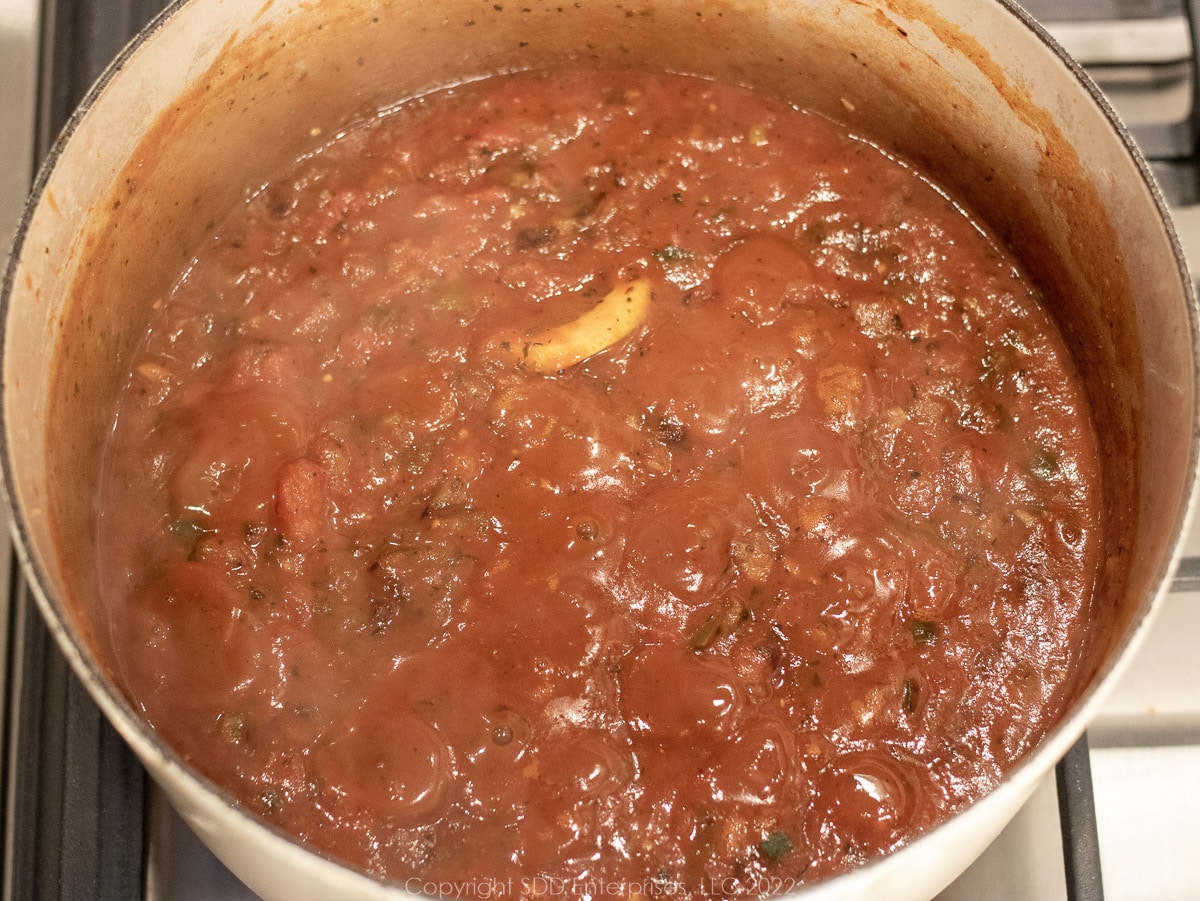 Test for seasonings and add the shrimp
What happens in this step? Now we make this Shrimp Creole by adding succulent Gulf shrimp. The shrimp will naturally absorb the seasonings.
Note on Seasoning: The shrimp will soak up a lot of seasoning and salt, so it's fine if it seems a little over-seasoned at this point. In fact, we want it a little over-seasoned at this point.
After 30 minutes, remove the lid and taste it. This is important, so it may be a good idea to cleanse your palate with another beer. Add the remainder of the Herb and Spice Blend and more salt if you think it needs it. Also, if it's too thick, add some of the reserved stock or liquid from the crushed tomatoes. Bring the heat up to a heavy simmer and add the shrimp a few at a time, mixing as you go.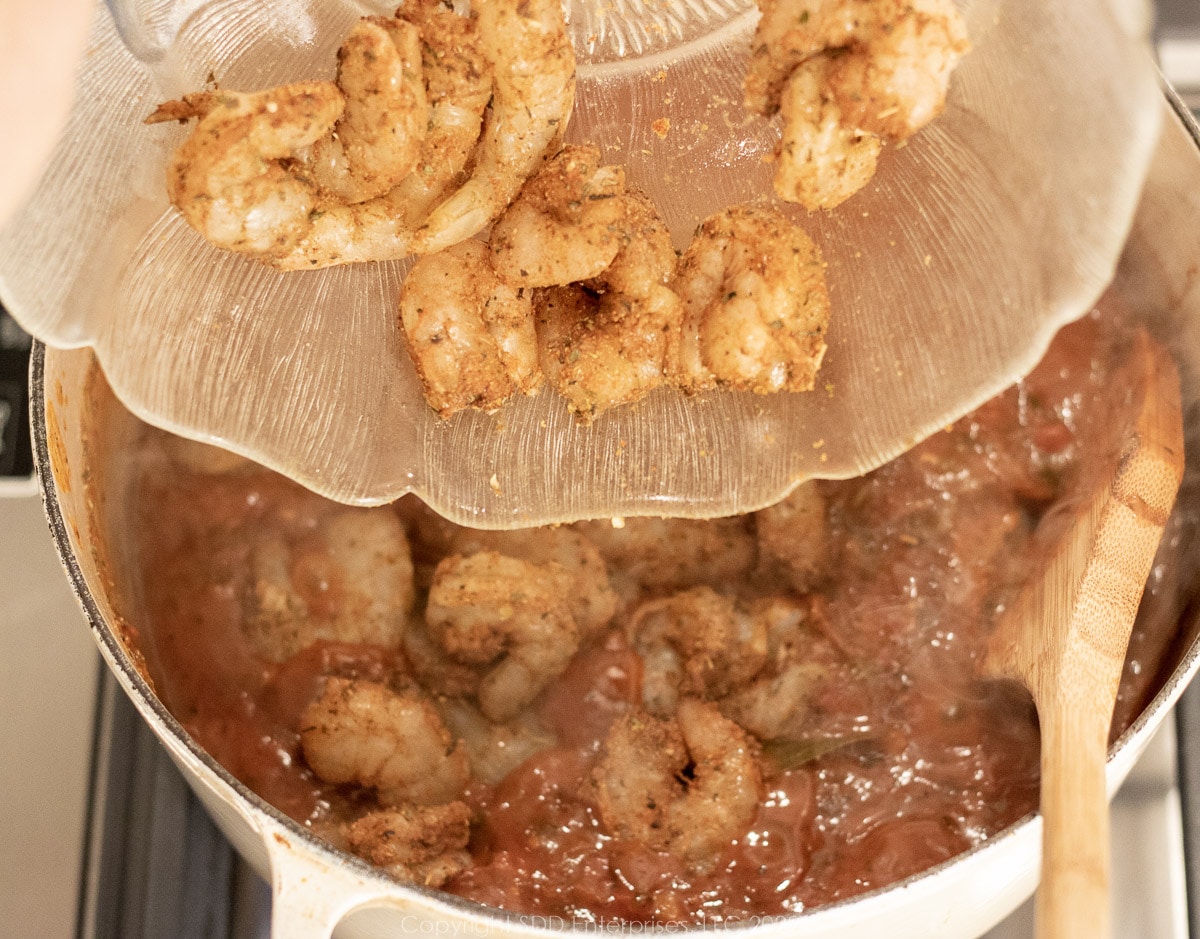 Lower the heat, cover the pot and simmer for 5 minutes, then turn the heat off and let it sit, still covered, for 5 more minutes.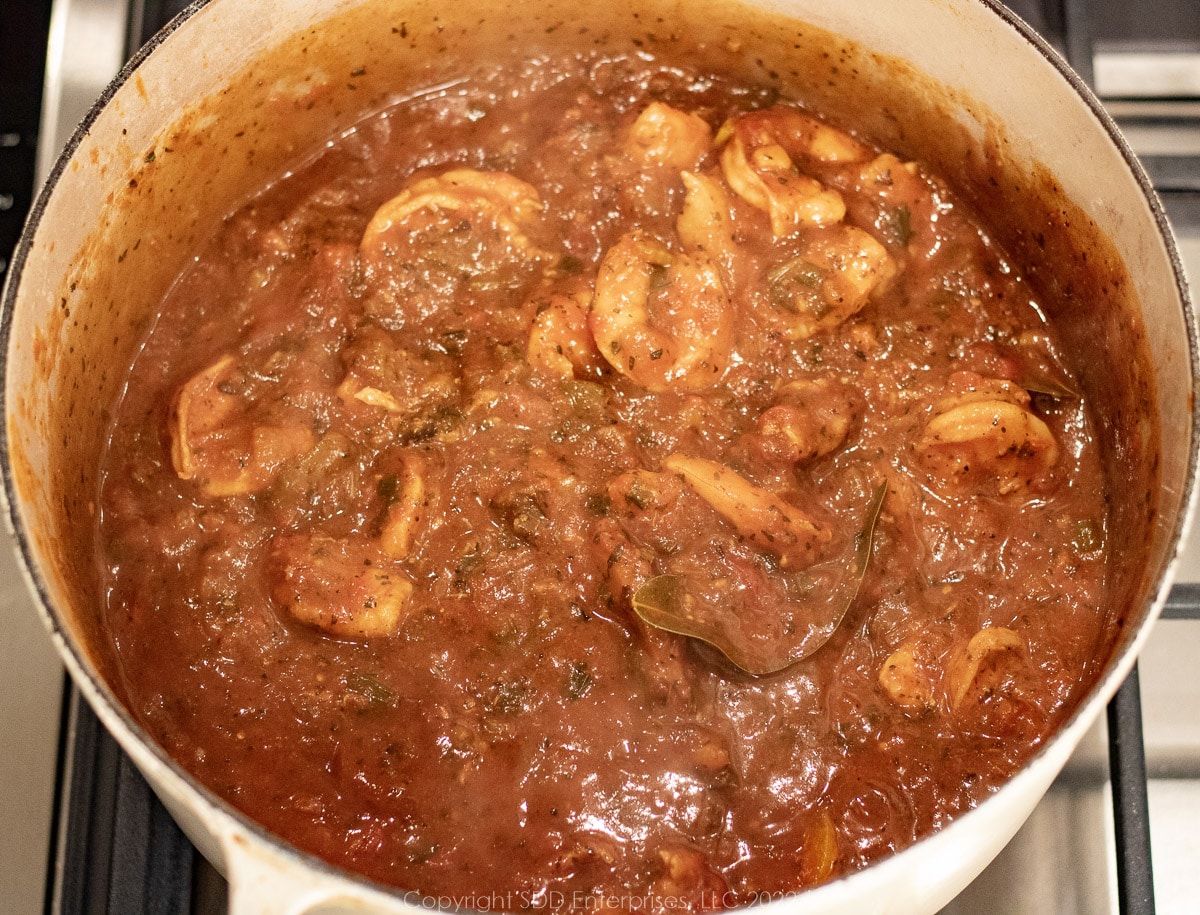 Time to serve
Remove the bay leaves and lemon slices and serve over cooked rice. Sprinkle some chopped green onions on top and serve with a Sensation Salad, some Sweet n' Savory Green Beans, and some crusty french bread.
Sign up for my email notifications of new recipes and posts right HERE.
Hints and Tips (FAQs)
What's the difference between this Creole and etouffee or jambalaya?
Like an etouffee, Shrimp Creole is served over rice, while in jambalaya, the raw rice is cooked along with the meats and seasoning so that the rice absorbs all those flavors. An etouffee is a roux-based gravy in which the seafood or chicken is smothered.
Can this be frozen?
This Shrimp Creole can be frozen in an airtight container for 3 to 4 months. To serve, thaw in the refrigerator, then simmer slowly on the stovetop. If that's your plan, make the Creole Sauce up to the point of adding the shrimp, then freeze it. When it's time to prepare, just pick up the instructions where you left off.
How long will leftovers last in the fridge?
Leftovers will keep for 3 or 4 days in the fridge in an airtight container. Reheat slowly on the stovetop just until everything is warmed through, trying not to overcook the shrimp.
Are shrimp good for you?
Shrimp is a very popular seafood, but nutritionally speaking, shrimp are a mixed bag. They are low in calories and provide some valuable nutrients and a couple of antioxidants. They are low in saturated fats and have no trans fats, but they are an allergen and could cause a severe reaction for those with shellfish allergies. They are also high in cholesterol but as long as you're not allergic to shellfish, moderate consumption of shrimp can be enjoyed will no ill effects.
What are some substitutes?
Chicken or fish could be substituted for shrimp. The sauce, without the protein, is great simply ladled over fish, chicken, game, and just about anything else. A little on top of an omelet is fabulous.

Frozen shrimp can be used in place of fresh. One of the benefits of fresh shrimp is that the shells and heads can be used to make Homemade Shrimp Stock.

Substitute vegetable stock for the shrimp stock and you've got a wonderful vegetarian sauce. Skip the butter and use margarine, vegetable oil, or olive oil with the vegetable stock and you're on to a delicious vegan treat-of course you have to leave out the shrimp! Try it served over some sauteed or roasted eggplant or zucchini.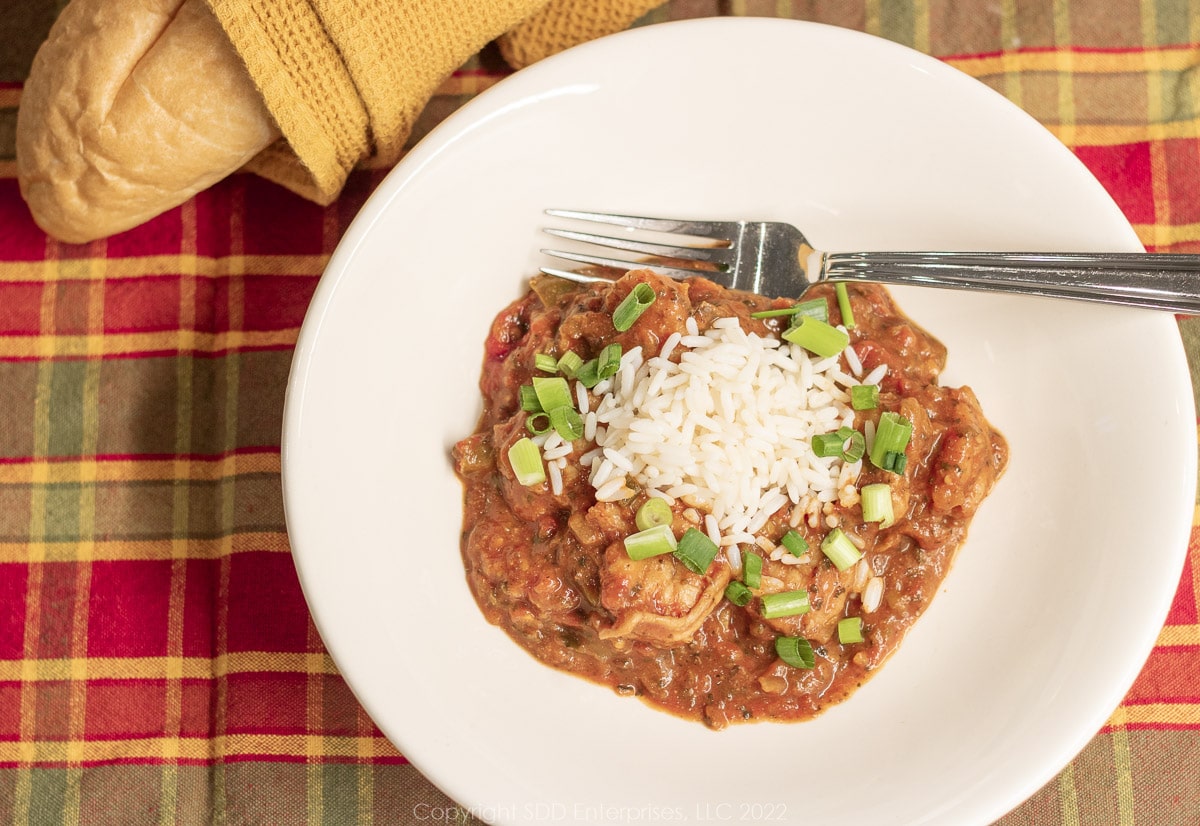 Pro Tip: Most commercial Creole seasoning contains lots of salt, so keep that in mind when using it. This recipe was developed with salt-free creole seasoning (my very own Le Bon Papa Creole Seasoning; No Salt, No MSG). The stock can also contain salt, so make sure to taste it before adding more.
Here are some more great shrimp recipes from Sweet Daddy D.
If you make this recipe:
Tell us about it in the Comments section below
LEAVE A RATING ON THE RECIPE-worthy of 5-Stars?
Questions or Comments? that's the place!
SIGN UP FOR OUR EMAIL UPDATES so you don't miss anything!
Post a picture and share it with your friends on our Social Media:
Yeah You Right!
Recipe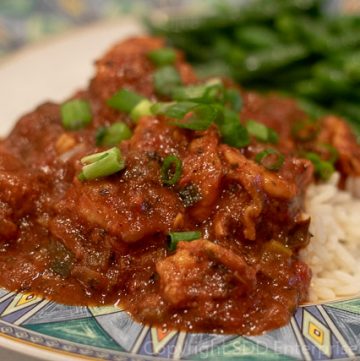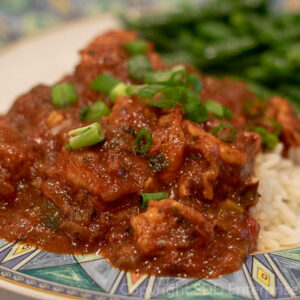 New Orleans Shrimp Creole
Classic Creole fare-fresh shrimp simmered in Creole Sauce. Tomatoes smothered with the Holy Trinity in rich stock and lots of creole herbs and spices. Louisiana comfort food, served over rice
Print
Pin
Rate
Here's What You Need
2

pounds

shrimp

4

tablespoons

Butter

2

cups

Yellow Onions

diced

1

cup

Green Bell Peppers

diced

½

cup

Celery

diced

4-5

cloves

garlic

chopped

1

bunch

green onions

2

tablespoons

all purpose flour

1

tablespoons

Worcestershire Sauce

3

tablespoons

White Sugar

28

ounces

Whole Tomatoes

8

ounces

Tomato Sauce

Juice of 1 Lemon

2-3

slices

Lemon

2

cup

Shrimp Stock
Herb and Spice Blend
1

tablespoon

Oregano

1

tablespoon

Basil

1

teaspoon

Thyme

2

bay leaves

1

teaspoons

kosher salt

1

teaspoons

ground black pepper

2

tablespoons

Creole seasoning

plus 2 tablespoons to mix on shrimp
Here's What You Do
Peel and rinse shrimp; pat dry; mix with creole seasoning; set aside. Crush tomatoes by hand and place in a strainer and set aside. Reserve liquid.

In a heavy Dutch oven, heat butter over medium heat until bubbling; add the yellow onions, bell pepper and celery. Sauté for about 20 minutes until starting to caramelize.

Add the garlic and about half of the Herb and Spice Blend (not the bay leaves yet) and about ⅔ of the green onions. Mix well and sauté until aromatic - about 2 minutes.

Mix in the AP flour and stir thoroughly. Cook about 2 to 3 minutes stirring constantly so it does not stick.

Add the crushed tomatoes and tomato sauce and mix well. When it starts to simmer, add about half of the remaining Herb and Spice Blend, both bay leaves, the sugar and Worcestershire sauce. Mix well.

Add in 2 tablespoons of lemon juice, the lemon slices and one cup of the shrimp stock (reserve the remaining stock). Mix well and bring back to a heavy simmer; lower the heat to a slight simmer and cook for 30 minutes uncovered, stirring often while it thickens.

After 30 minutes, cover the dutch oven and continue to cook on low for another 30 minutes, stirring often so it does not stick. We are looking for a thick, smooth (but chunky) sauce, so remove the cover or leave the cover on, depending on how the thickening is coming along. If it gets too thick, add some of the reserved stock, if its not thick enough simmer with the cover off.

At this point taste for seasoning. Add more if needed but remember that the shrimp will soak up a lot of the seasoning and salt so its fine if it seems over seasoned at this point. See Notes

Increase the heat to med/high until just starting to simmer then add the shrimp. Mix well. Cover the dutch oven and cook for 5 minutes then turn off the heat and let sit for 5 more minutes, still covered.

Remove the bay leaves and lemon slices. Serve over rice sprinkled with green onions on top.
Recipe Notes
Most commercial creole seasoning and stock may contain salt, so taste before adding more. Le Bon Papa Creole Seasoning is salt-free.
The shrimp will soak up a lot of seasoning so it's okay to have it a little over-seasoned before adding them.
If you are not ready to eat, before you put in the shrimp, let it sit in the pot covered. When you're ready to eat. turn up the heat and continue on to add the shrimp.
This can be refrigerated overnight, or even frozen to enjoy later. You can even freeze the sauce without the shrimp, then add those fresh when you're ready to enjoy.
Leftovers can be kept in the fridge for 3 to 4 days and in the freezer for 3 to 4 months. Make sure to store it in an airtight container. Defrost in the fridge overnight and reheat gently on the stove until warmed through.
Nutrition
Calories:
148
kcal
|
Carbohydrates:
13
g
|
Protein:
13
g
|
Fat:
5
g
|
Saturated Fat:
3
g
|
Polyunsaturated Fat:
1
g
|
Monounsaturated Fat:
1
g
|
Trans Fat:
0.2
g
|
Cholesterol:
105
mg
|
Sodium:
898
mg
|
Potassium:
454
mg
|
Fiber:
2
g
|
Sugar:
7
g
|
Vitamin A:
1346
IU
|
Vitamin C:
24
mg
|
Calcium:
87
mg
|
Iron:
1
mg