Stuffed Artichoke Casserole….easy to make and super delicious...a fitting tribute to the Italian immigrants that contributed so much to the New Orleans and Louisiana culture. Let's see how to make this no-angst recipe...you'll love it and want to make it time and time again.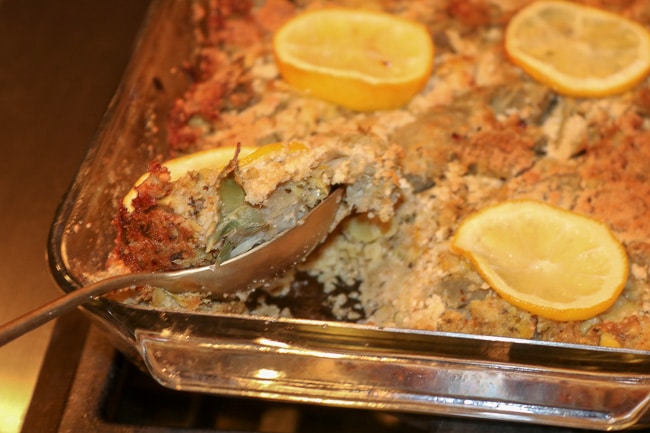 Where it all begins...Stuffed artichokes….unbelievably delicious. One of the many contributions to our culture for which we can thank our Italian immigrant ancestors. There's a certain ritualistic element in devouring one of these treasures, scraping the filling and some artichoke meat off each artichoke leaf, piling up the eaten leaves. It's fun, messy and very delicious. It's also pretty labor intensive to properly stuff one of these girls, although the distinctive and satisfying flavor is well worth the effort. But, if you don't have the time or patience to tackle that chore, Sweet Daddy D has come up with a simple, no-angst version which captures the unique flavor combination in a casserole.
Sign up for my email notifications of new recipes and posts right HERE.
Here's What You Need
Artichokes are at the heart of this dish...do you see what I did there? I couldn't resist. Fresh artichokes are great, but very time consuming to prep. The thing that makes this casserole so simple and no-angst is using a good quality canned artichoke hearts. You can get them anytime of year and keep them in the pantry until you're ready to enjoy this Italian masterpiece. I always use the ones packed in brine and not marinaded, although the marinaded ones would probably work fine since we are also using some good olive oil and Italian herbs. Use the quartered ones-half will be chopped up fine, but the other half will be used whole (well, at least a whole quarter)! Fresh garlic, seasoned breadcrumbs, Romano Cheese and lemons define the flavor of this dish. The Herb and Spice Blend also leans towards Italian flavors-dried oregano, basil and thyme, along with kosher salt and ground black pepper plus a little chopped fresh parsley for some brightness. It's simple and all ingredients add something important to the flavor profile. Beer adds something important to the chef's profile.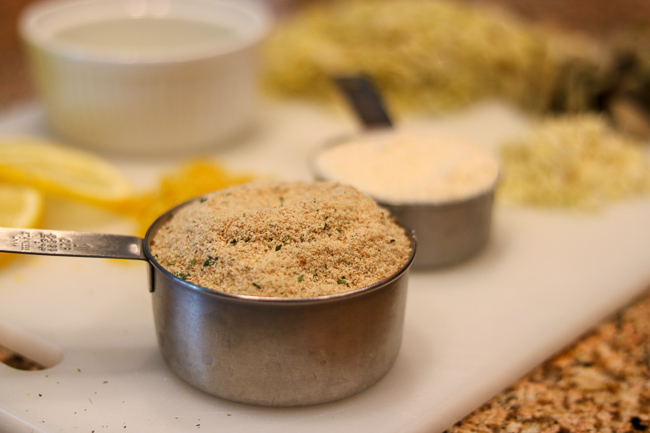 Here's What You Do
First...you have a beer. Maybe to spice things up, try an Italian Beer, maybe a Birra Moretti La Rossa-I think that would go really well while you are preparing this. (You should know that if you buy from Saucey, I will make a modest commission). Your Mise En Place practice is simple for this one. Have a beer, read the recipe, make sure you have everything, preheat the oven to 400 degrees, then prep all the ingredients.
Mise en Place
Drain the artichoke hearts, take half and chop them fine. Leave the other draining in a colander. Measure all the Herbs and Spices and place them in a ramekin. I always like to leave the salt out until I taste it later. The lemons really contribute. Zest one lemon, then squeeze the juice in a ramekin. Thinly slice the second lemon and set all that aside. Chop the garlic cloves and the parsley-fine or course, whichever is your preference. Finally, measure out the olive oil, breadcrumbs and Romano Cheese.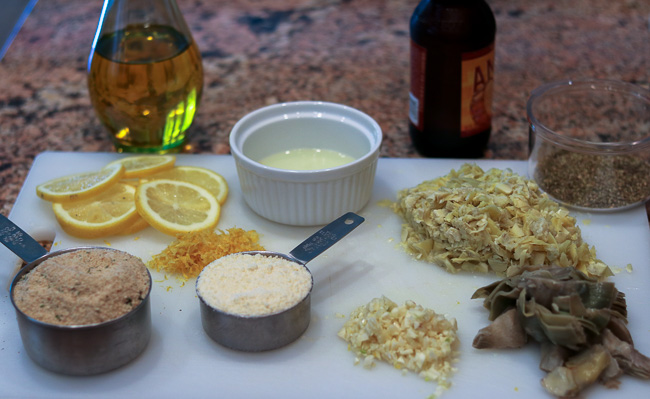 Combine all ingredients
Couldn't be simpler. In a large bowl add the chopped artichoke hearts, the breadcrumbs, Romano cheese, Herbs and Spices, garlic, parsley, lemon zest and juice. Mix them all together, then add the whole artichoke quarters-it's just makes it slightly easier to mix if you add these last.
Add the olive oil
Once all the dry ingredients and lemon juice are mixed together well, add ¼ cup of olive oil and mix it all in. This will be absorbed by the breadcrumbs and cheese but you want it to be moist and sticking together when you make a little test ball.
Sign up for my email notifications of new recipes and posts right HERE.
Place it all in a baking dish
Coat an 8 X 12 baking dish lightly with olive oil, then pour everything in and smooth it out so it's all the same thickness. How's your beer?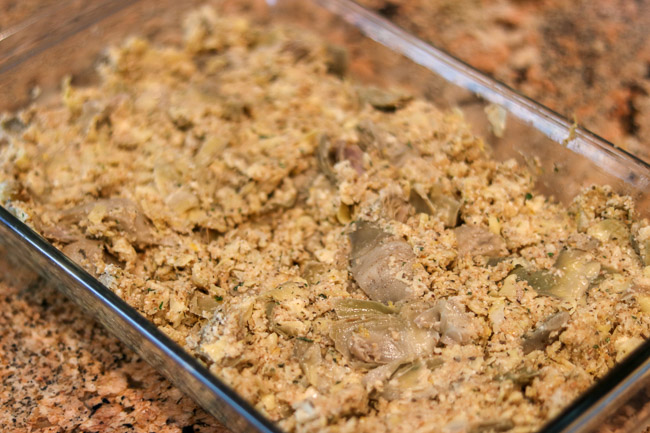 Finish it for the oven, cover with aluminum foil
Drizzle a little more olive oil all over the casserole, then sprinkle more Romano Cheese on top. Place the lemon slices on top in a single layer. Cover the whole thing tightly with aluminum foil.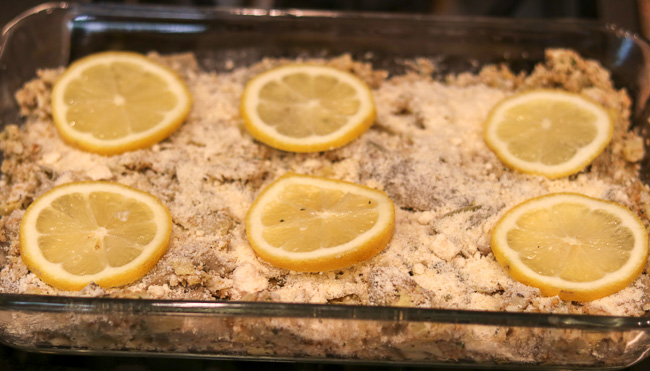 Place in the 400 degree oven
It will bake for a total of 30 to 35 minutes. Leave it covered with foil for the first 25 minutes-this will encourage a little steaming action and will help keep it moist. Take the foil off and stick it back in for 5 to 10 minutes, until its just starting to brown.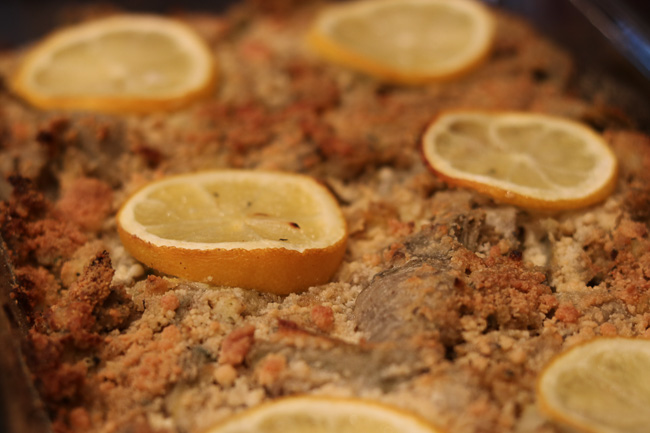 There you have it, simple as that. This casserole has such a distinctive flavor-like walking into Central Grocery on Decatur down in the Quarter...unforgettable and feels like home.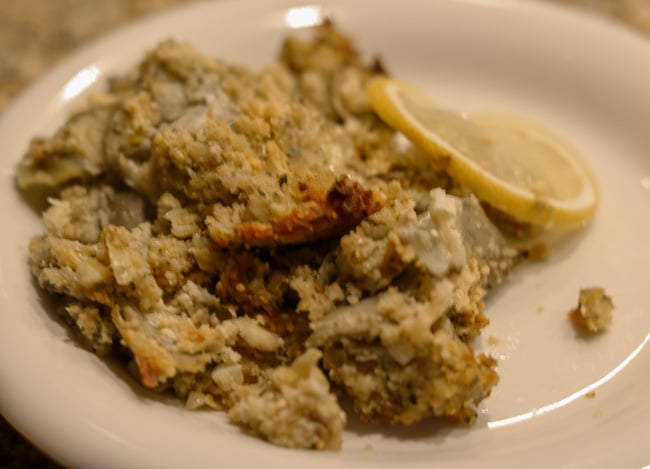 If you make this recipe, please tell us about it in the Comments section below and make sure to LEAVE A RATING ON THE RECIPE. Post a picture on our Facebook page or on Instagram with a #firstyouhaveabeer. Make sure to Pin it on Pinterist. Follow us on Facebook, Instagram and Pinterest and make sure to share this with your friends…they will love you for it. SIGN UP FOR OUR EMAIL UPDATES below so you don't miss anything!
Sign up for my email notifications of new recipes and posts right HERE.
Yeah You Right!
Recipe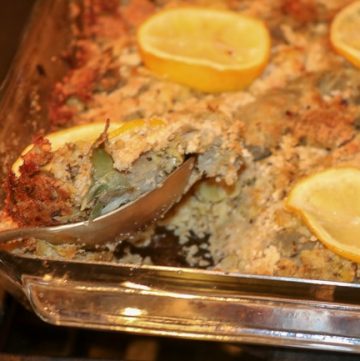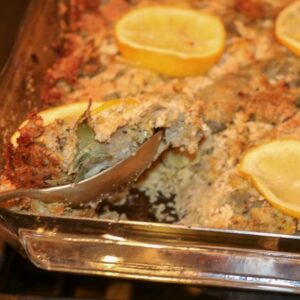 Stuffed Artichoke Casserole
Stuffed Artichokes in a simple casserole. Seasoned bread crumbs, garlic, Romano Cheese and artichoke hearts-Classic Creole-Italian!
Print
Pin
Rate
Here's What You Need
¼

cup

olive oil plus some for drizzling on top

2

lemons

lemon zest

6

cloves

garlic

28

ounces

artichoke hearts-quartered

1

cup

seasoned bread crumbs

½

cup

grated Romano cheese plus some for the top

2

tablespoons

parsley chopped
Herb and Spice Blend
1

teaspoon

dry oregano

1

teaspoon

dry basil

½

teaspoon

dry thyme

½

teaspoon

Black pepper

Kosher salt to taste
Here's What You Do
Preheat oven to 400 degrees.

Chop half of the artichoke hearts into fine pieces, set aside.

Zest and juice one lemon; slice the other lemon.

Chop the garlic and parsley.

Combine the chopped artichoke, breadcrumbs, garlic, Romano Cheese, parsley, lemon zest, lemon juice and the Herb and Spice Blend together in a bowl.

Add in the whole artichoke quarters, mix well.

Add in ¼ cup of the olive oil and mix well.

Place into a greased oven-safe casserole dish.

Drizzle more olive oil on top-about 2 tablespoons.

Sprinkle Romano Cheese on the top

Place the lemon slices on top.

Cover with aluminum foil and bake for 25 minutes in 400 degree oven.

Remove the aluminum foil and place back in the oven for 5 to 10 minutes
Nutrition
Calories:
172
kcal
|
Carbohydrates:
17
g
|
Protein:
6
g
|
Fat:
8
g
|
Saturated Fat:
2
g
|
Polyunsaturated Fat:
1
g
|
Monounsaturated Fat:
5
g
|
Cholesterol:
4
mg
|
Sodium:
601
mg
|
Potassium:
46
mg
|
Fiber:
4
g
|
Sugar:
2
g