This is a simple solution to lunch or dinner and one that everyone will love. The fact that it's on the lighter side is a little lagniappe.  This salad made from lean chicken breasts, apples and dried cranberries, tossed in a lemon-curry dressing will be a hit and something you can throw together with no-angst.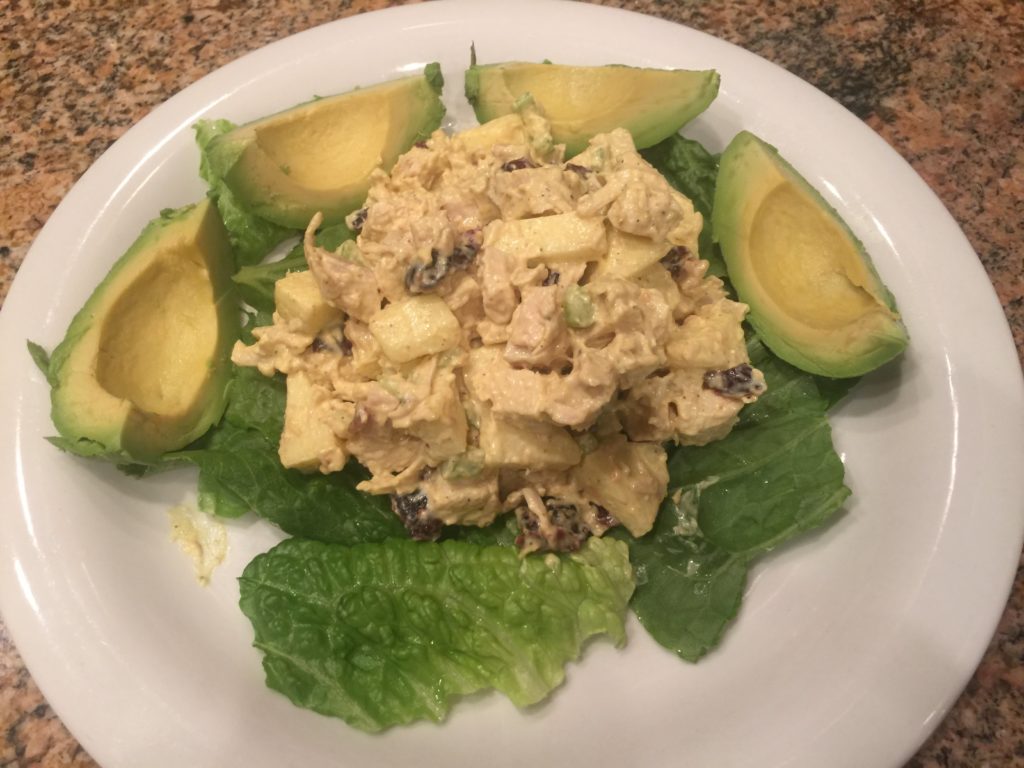 Chicken Salad with Lemon-Curry Dressing
Here's What You Need
Definitely use chicken breasts for this as opposed to thighs. I love thighs in most things, but when it comes to chicken salad, I'm definitely a breast man. Boneless/skinless is best, but if you have bone-in with skin, that's fine also, just de-bone after cooking and discard the skin. The celery and golden delicious apples give it a nice crunch and the dried cranberries add texture and
compliment the sweetness of the apple. The dressing is mayonnaise based, which blends well with the dry ingredients. Curry powder, which can vary in potency and heat, should be the dominant flavor and go well with the lemon zest and juice, which add a little tang. These ingredients in the dressing make a great counter balance to the sweetness provided by the apples and dried cranberries. These are all pretty simple ingredients that you may have on hand at any time, so it can be one of those last minute decisions.
Here's What You Do
First, you have a beer
. This recipe is really simple, so have a beer while you cook the chicken. Adding some garlic powder, a bay leaf and some kosher salt and pepper sound pretty simple, but you'll be surprised how much flavor and aroma they will produce. Add the chicken along with the spices to a stockpot and cover with cold water by about 2 inches.
Place over high heat and once boiling, lower the heat and simmer for about 30 minutes. That's all you need to do. Pull the chicken breasts out of the pot and place in the fridge for about 30 minutes so that they are cooled when you handle them. While they are cooling, zest the lemon and squeeze out the juice and slice the celery cross wise in about 1/8 inch crescents. Wash and peel the apples and discard the core. Chop the apple in to small pieces. You could take a small bit of the lemon juice and mix with the apple so it doesn't not get brown before you mix everything together.
Mix the mayonnaise with the curry powder, lemon zest and lemon juice all together in a small bowl. Give it a taste and add some kosher salt and fresh ground pepper to taste. Place this in the fridge to cool and meld while you're getting the chicken ready.
Once the chicken has cooled so you can handle it, use a sharp knife and chop it into small pieces. I'd suggest about 1/2 to 3/4 inches, but if you like it really
chunky, you can go bigger. A nice option that I have used many times is to simply shred the chicken. Add the celery, apples and dried cranberries to the bowl with the chicken and mix well. Starting with about half the dressing, pour it onto the chicken mix and blend it all together very well. You'll probably want to use more dressing, so just add some more and blend until it is dressed to your liking. I like it dressed pretty heavy!
You should place this all in the fridge for at least 15 minutes, but the longer the better, while it gets cold and the flavors meld together. Serve this on crisp lettuce with some sliced avocados or sliced tomatoes on the side and it's also great served on top of avocado halves or scooped out tomato's. Some sliced pears on the side would also be a great accompaniment.
Enjoy! If you like this simple recipe, leave me a comment and don't forget to rate the recipe. Turn those stars into beer mugs.  If you haven't already, make sure to sign up for our emails so you don't miss any no-angst recipes. Follow us and share this on Facebook, your friends will appreciate it!
Yeah You Right!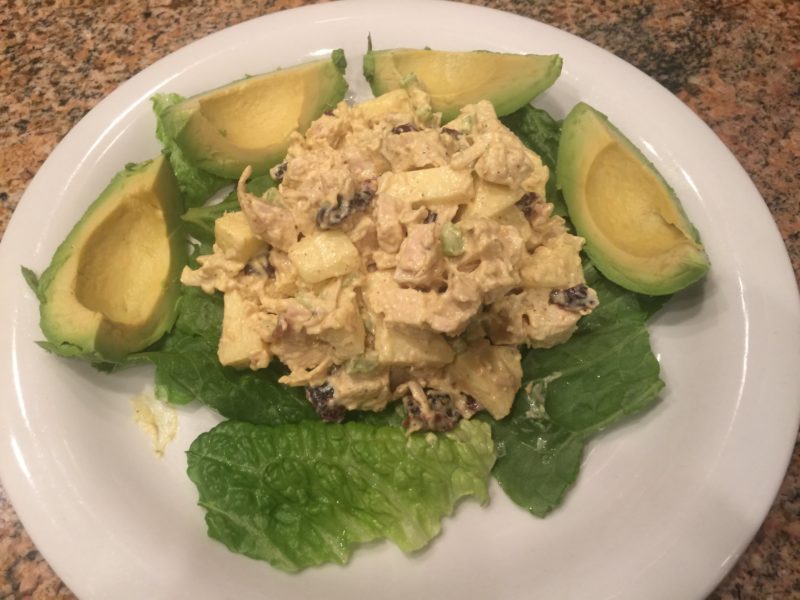 Chicken Salad with Lemon-Curry Dressing
Simple, fresh chicken salad with a curry-lemon dressing. The savory dressing compliments the sweetness added by golden delicious apples and dried cranberries. This makes a quick, no-angst lunch or dinner everyone will love.
Print
Pin
Rate
Here's What You Need
4

large

chicken breasts

Boneless/Skinless

2

tablespoons

garlic powder

2

bay leaves

2

teaspoons

kosher salt

2

teaspoons

ground black pepper

2

stalks celery

1

cup

dried cranberries

2

golden delicious apples
For the Dressing
2

cups

mayonnaise

2

tablespoons

curry powder

zest of 1 lemon

Juice of 1/2 Lemon

Kosher salt and Ground Pepper. To taste
Here's What You Do
To Cook the Chicken
Add chicken breasts and seasonings to a large stock pot and cover with cold water by about 2 inches.

Bring to a boil over high heat, lower heat to a heavy simmer for about 30 minutes or until the internal temperature of the chicken is 170 degrees.

Remove the chicken breasts from the stock pot and place in the fridge to cool completely, about 30 minutes.
To Make the Dressing
Zest the lemon and squeeze the lemon juice

Mix the mayonnaise, lemon zest, cumin and lemon juices in a bowl and mix well. Add kosher salt and ground black pepper to taste.

Refrigerate while mixing the remaining ingredients.
To Make the Salad
Peel and dice the apples and chop the celery into small pieces.

Chop the chicken breasts into small pieces, no larger than about 1/2 inch cubes. Alternately you can shred the chicken breasts.

Mix the chicken breasts, celery and apples in a bowl.

Add the dried cranberries and mix well.

Add the dressing and mix well, Start with about half the dressing and when mixed well, add more according to your taste.
Recipe Notes
Use boneless/skinless chicken breast or you can use bone-in and skin on. Just discard the skin after you de-bone.  You can also shred the chicken after cooking instead of cubing it.
Nutrition