Recipe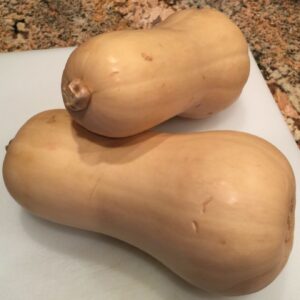 Here's What You Need
2 - 3

Butternut Squashes

½

cup

orange juice

½

cup

Butter

melted

1

cup

light brown sugar

Kosher Salt and Fresh Ground Pepper
Here's What You Do
Preheat oven to 400 degrees. Prepare a baking dish by spreading a thin layer of butter all over the inside bottom and sides of the baking dish.

Peel the squash down to the bright orange pulp; clean the seeds out of the squash with a large spoon.

Cube the squash into about ½ inch squares and spread evenly in the prepared baking dish.

Pour the melted butter over all of the squash cubes, then mix well with a spatula to coat all the cubes.

Pour the orange juice over all the cubes and mix well as before.

Crumble the brown sugar over the top of all the cubes; sprinkle with salt and pepper to taste.

Place in the 400 degree oven and roast for 50 to 60 minutes until the squash cubes are tender when probed.