Sometimes called "rice fritters", Calas are deep-fried donut-like balls made of rice, eggs, flour, baking powder, and spices. Sprinkled with powdered sugar and dipped in cane syrup, these sweet treats are commonly served as breakfast or dessert. Dating back to the early days of Creole New Orleans, Calas are an uncommon indulgence helping make Creole cuisine so special. The kids will love these, even the big kids!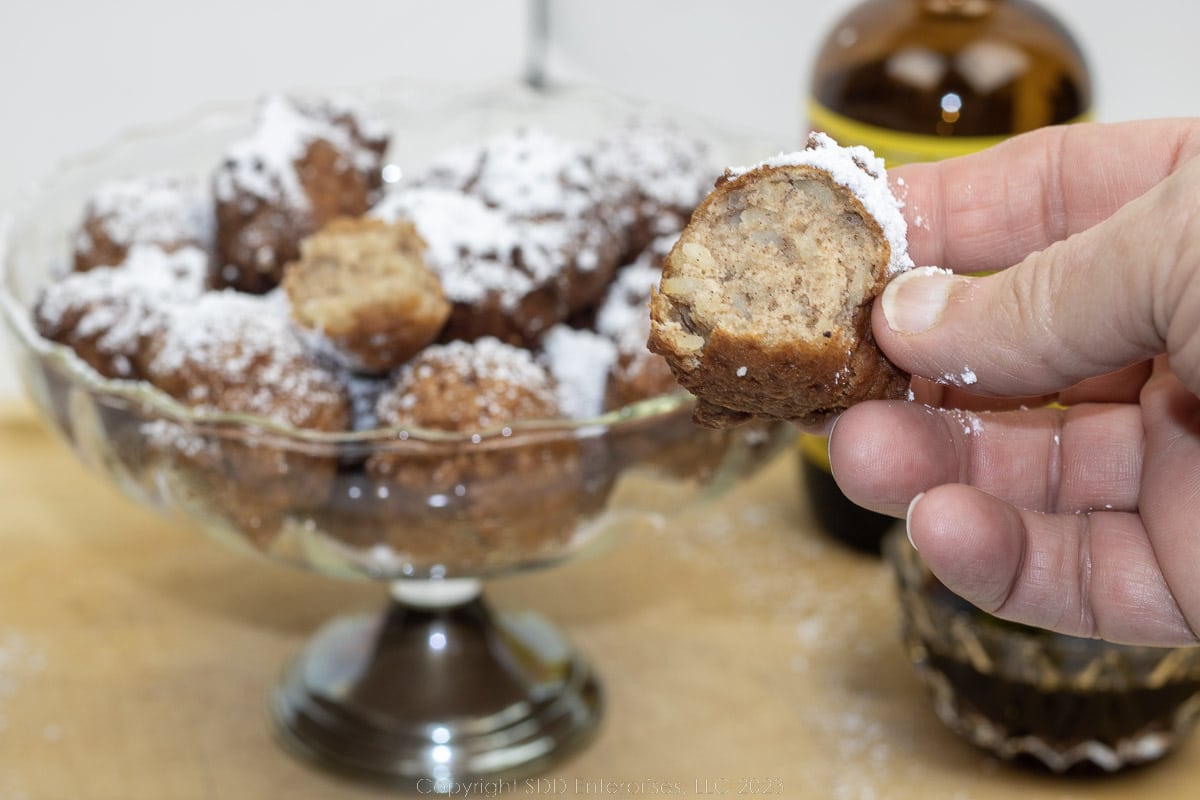 This post is not sponsored, but you will find affiliate links on this page. As an Amazon Associate, I earn from qualifying purchases. The price you pay as a consumer does not change, but I may make a small commission based on your purchase.
If you want to just skip to the recipe, click the "Jump To Recipe" button above or the Recipe link below and you'll go right there without having to scroll through my article.
Jump to:
What is Calas and Where Did it Come from?
Creole and Cajun cuisines are filled with iconic dishes that date back to early colonial days. Not many, though, have the rich and interesting history of Calas. Pronounced kah-la, its roots extend to the rice-growing regions of West Africa and were brought to New Orleans by enslaved people from that area. Owing to the entrepreneurial spirit of the Creoles, Calas became not only a highly regarded treat but also played a special role in the life of enslaved people. Today, Calas are still served for special occasions, such as christening parties and birthdays by many families.
Best consumed hot with a cup of cafe au lait (see the Hints and Tips (FAQs) below for more on cafe au lait), Calas will forever be a unique and important tile in the mosaic that is Creole New Orleans. During the days of French and Spanish rule in New Orleans, enslaved women would sell Calas in the streets of the French Quarter. Known as the Calas Women, they would stroll the streets of the French Quarter, singing out to advertise the sweet, warm rice treats they carried around on a basket perched on their heads. This played out due to unique liberties afforded enslaved people during the days of French and Spanish rule that allowed days off and the opportunity to purchase their own freedom.
Practically, Calas is a great use for leftover rice. A common characteristic of Creole and Cajun cuisines is the effort to use up everything so that nothing goes to waste. Traditional Calas is a sweet breakfast treat, but modern trends in Creole cuisine are expanding Calas to delicious savory preparations.
Here's What You Need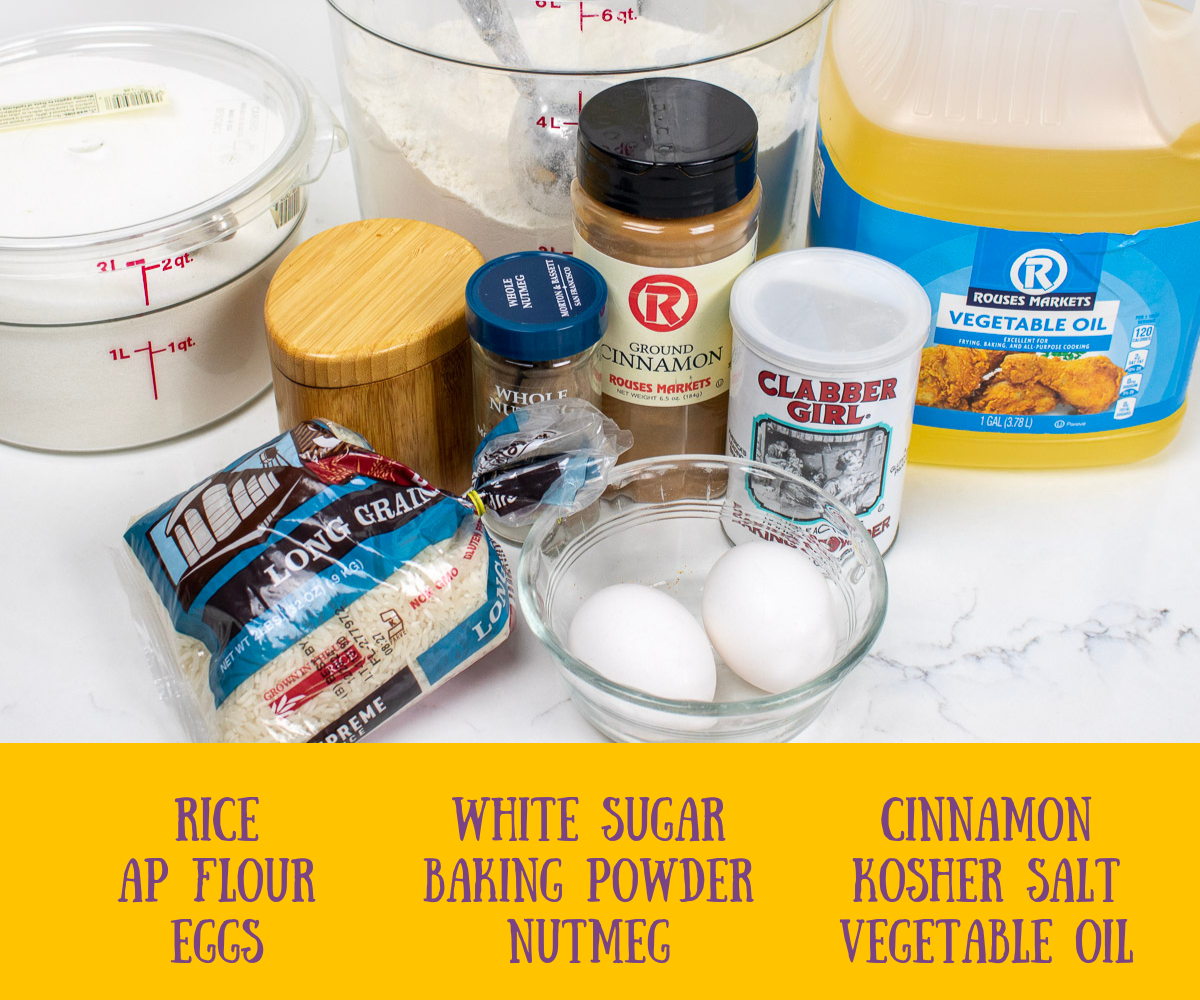 Note on the rice: User regular long-grain or medium-grain rice. Don't use converted or parboiled rice. If you start with raw rice, cook it just a little longer than you usually do, making it slightly mushy. Leftover rice is perfect for this recipe.
Note on the flour: Use AP flour. You can substitute rice flour. If you use rice flour, I suggest increasing the baking powder a little.
Note on the baking powder: This recipe can be made using dry yeast instead of baking powder.
If you want the full experience, Cane Syrup is a must!
Equipment
Here's What You Do
First…you have a beer. If you're serving these for breakfast you may not want to start with a beer. Bloody Mary? Cafe au Lait? Start on a calm note, read the recipe all the way through so you know what you need and what you're going to do with each ingredient and piece of equipment. You won't find many recipes easier than this one, but you still want to do your mise en place.
Mise en place
Cook the rice according to the instructions below. Make sure to set it aside so that it cools.
If using leftover rice, which is an excellent option, measure the desired amount.
Measure the dry ingredients (baking powder, cinnamon, nutmeg, and kosher salt) and combine them in a small bowl.
Measure the sugar into a large bowl and crack the eggs into that bowl.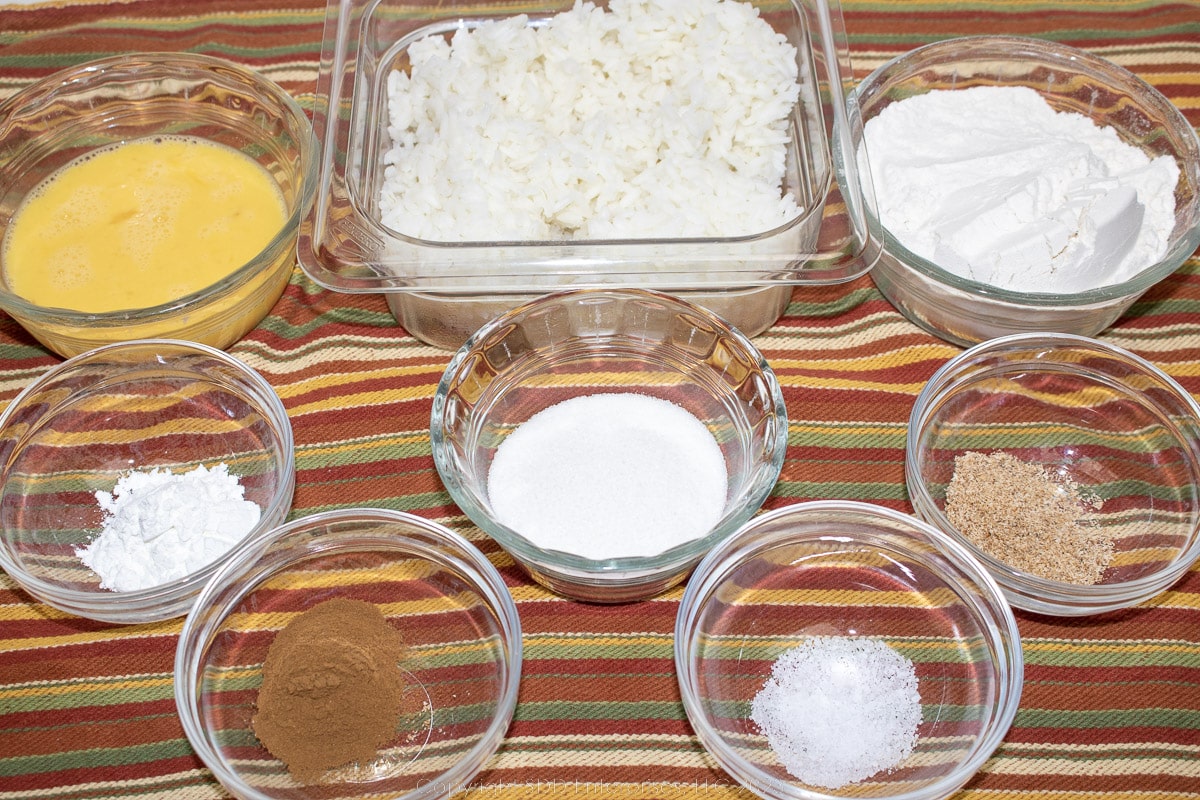 Cook the rice
What happens in this step? Rice is the most important ingredient. We want it to be just a little overcooked, softer, and not al dente. It gives the calas body and serves as a binder.
Bring 2 cups of salted water to a boil, then add 1 cup of long-grain or medium-grain rice. Give it one stir and when the water returns to a boil, lower the heat to a simmer and cover for 20 minutes. Check the rice for doneness and make sure that all the water has been absorbed. Do not stir while cooking. Replace the cover and set the pot off the heat for about 10 minutes. After that, fluff the rice and place it in a bowl to cool.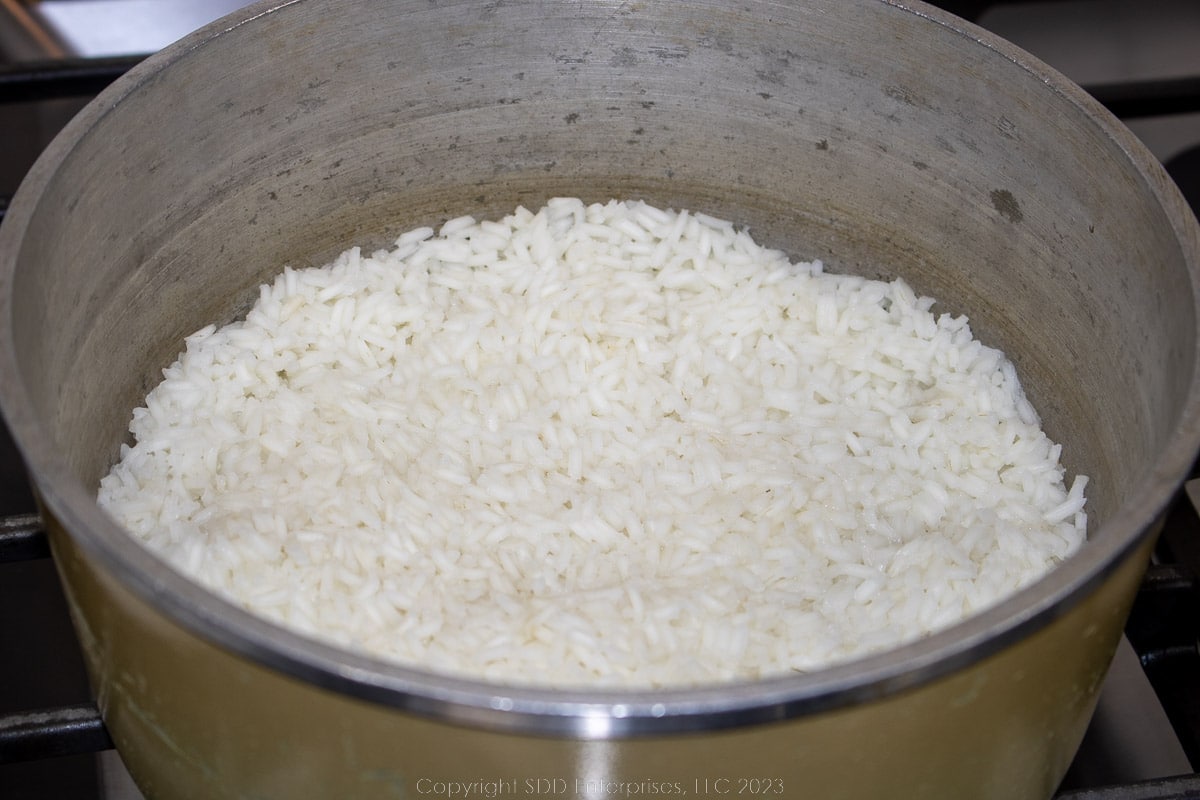 Mix together the dry ingredients and the wet ingredients
What happens in this step? Here we will combine the flavor and binding ingredients.
Combine the baking powder, salt, nutmeg, and cinnamon in a small prep bowl and mix together well. Set aside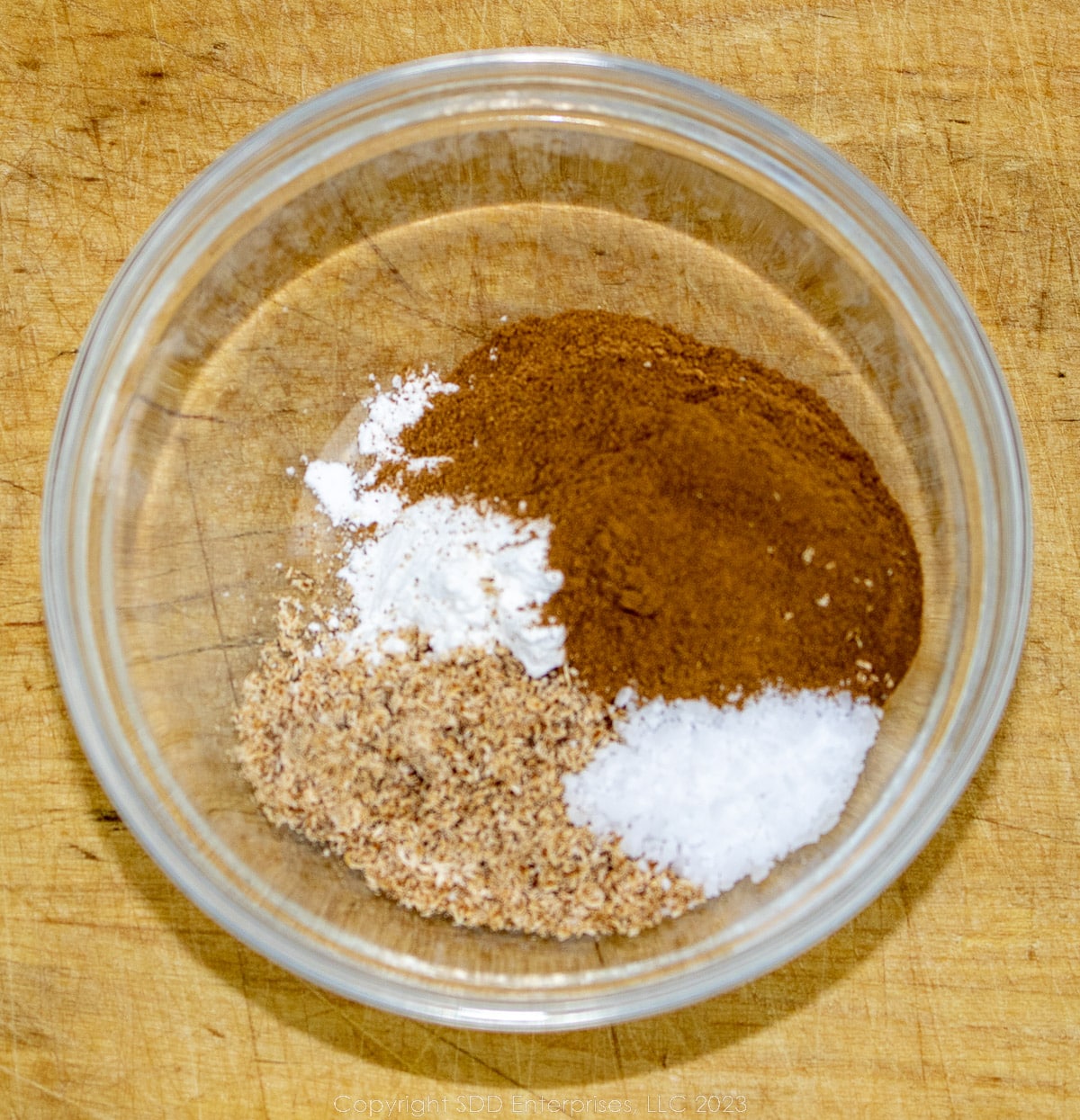 Whisk the sugar into the eggs until the sugar completely dissolves into the eggs.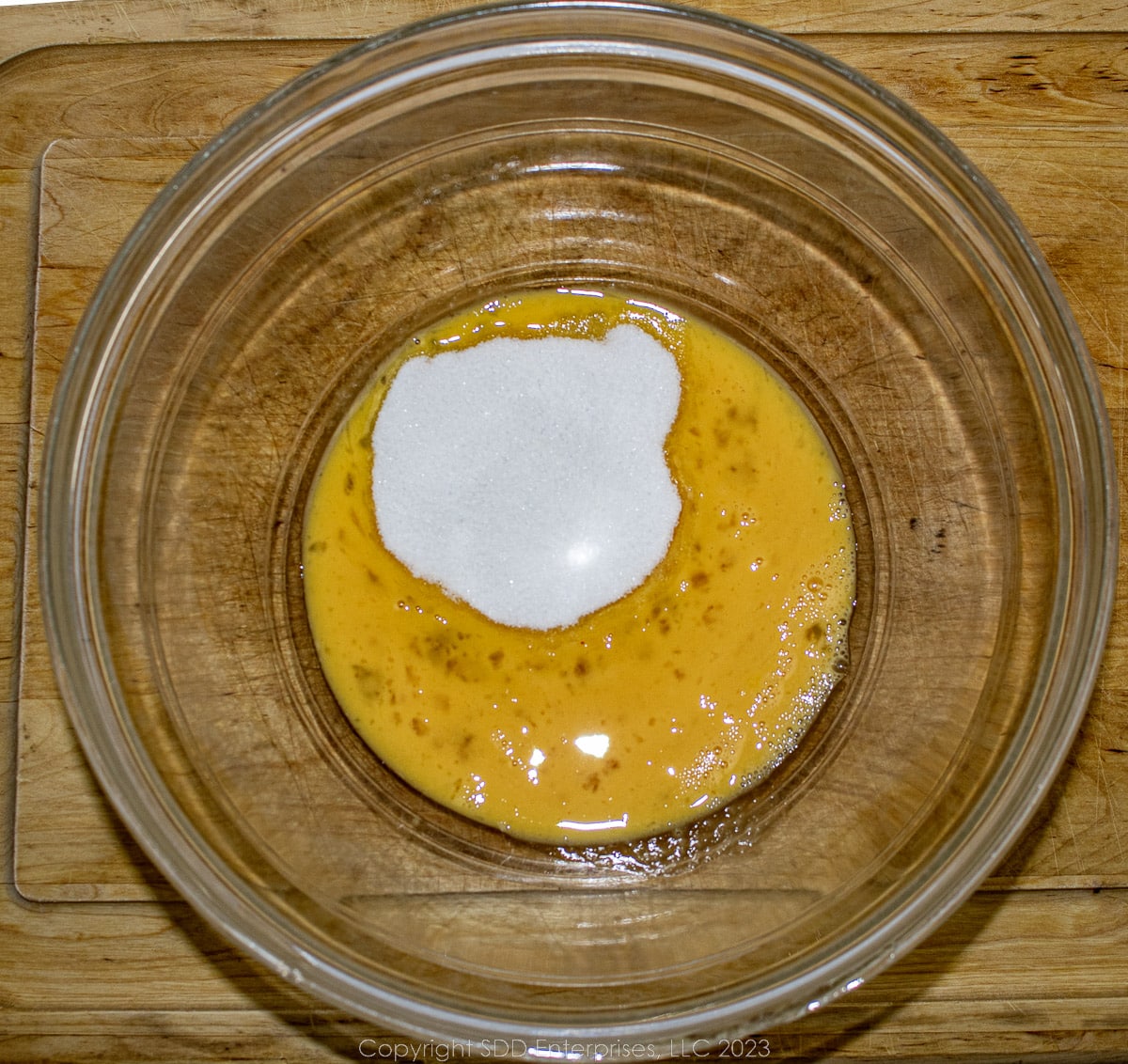 Combine the ingredients into a batter
What happens in this step? Here we will make the batter to be fried.
Mix 2 cups of the cooked rice into the egg/sugar mixture and combine thoroughly.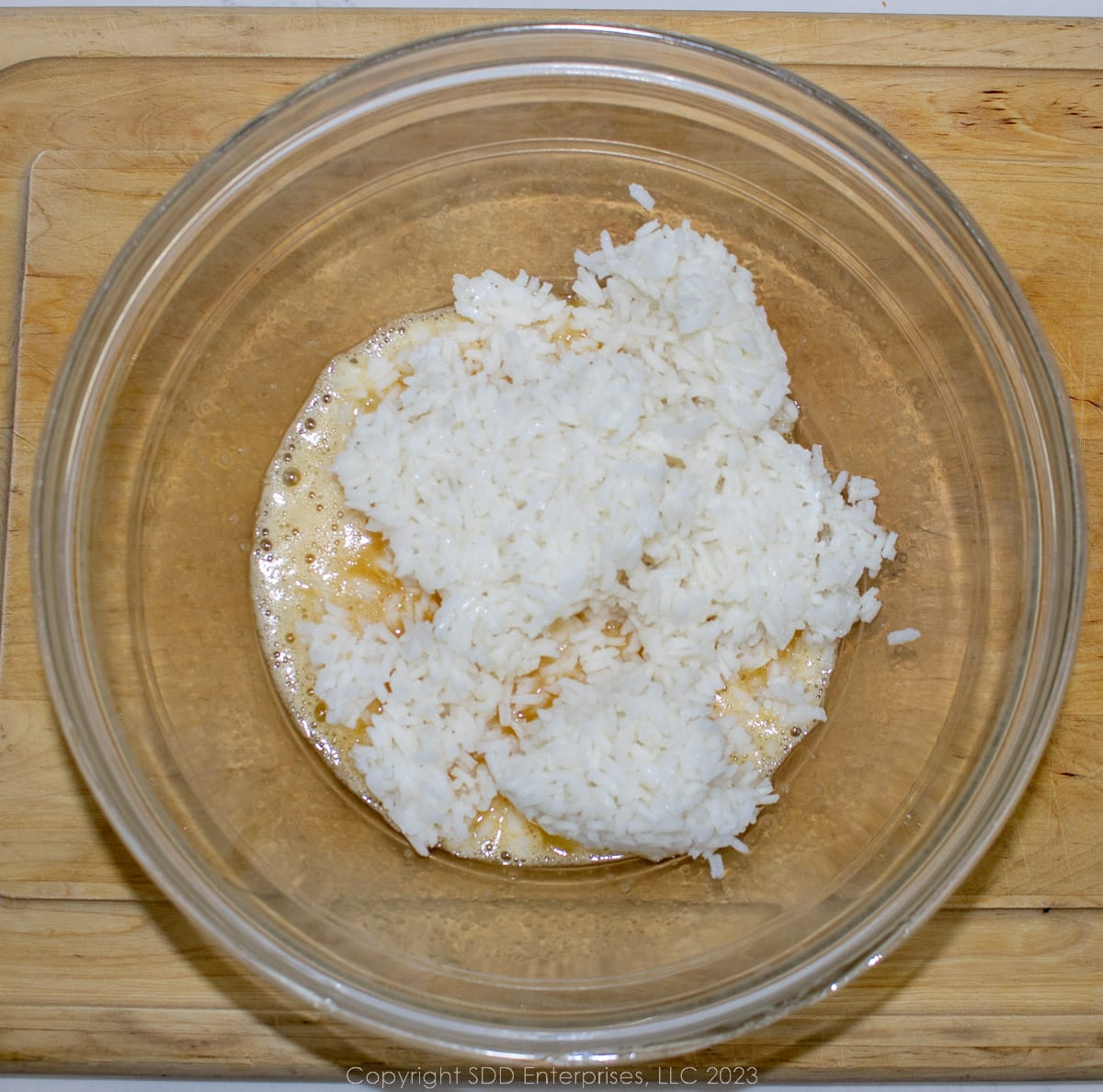 Add the baking powder mixture to the rice mixture and stir to distribute the spices evenly.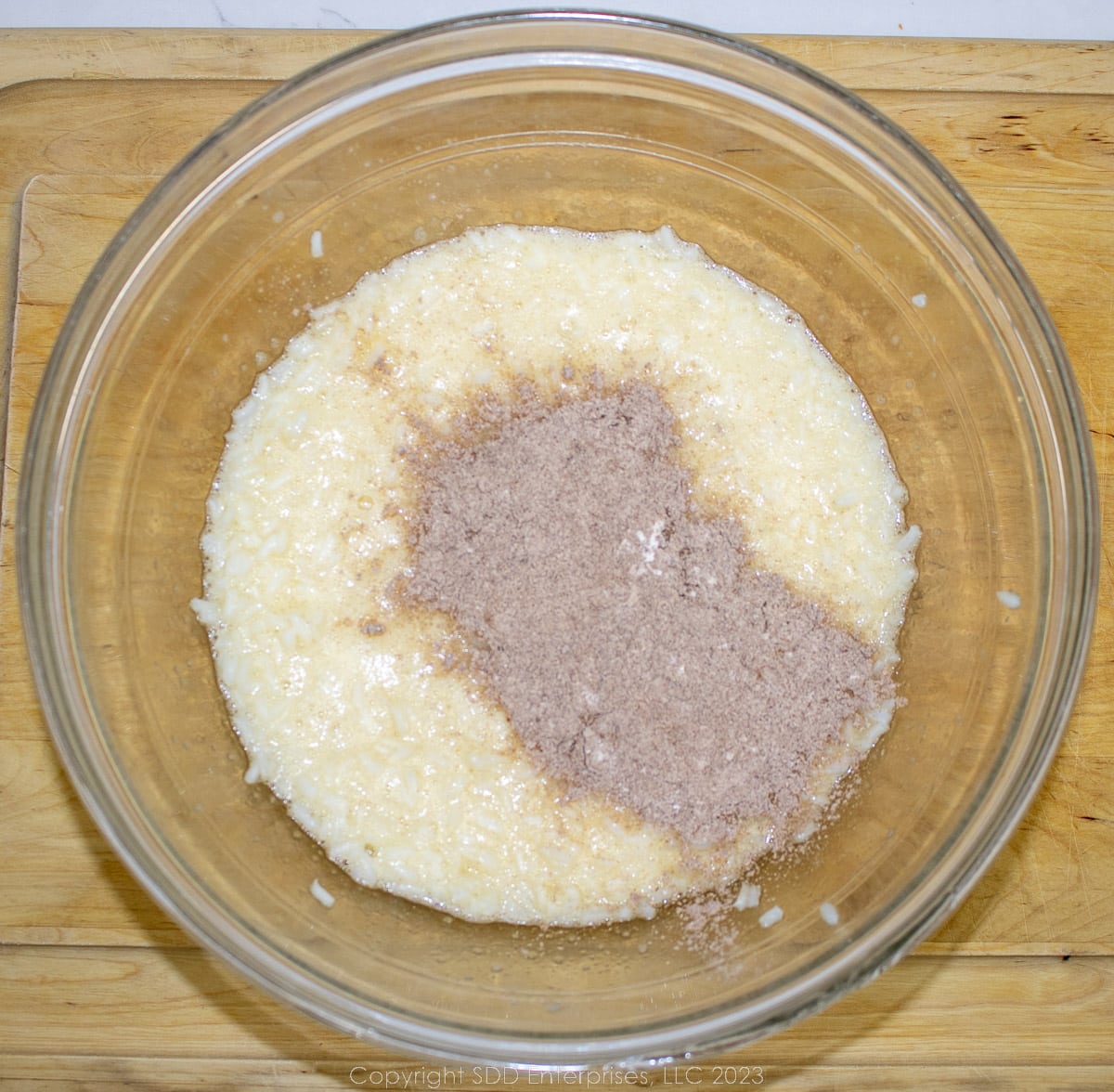 When all the spices are evenly distributed throughout the mixture, add the flour a little at a time. Start with ½ cup and thoroughly mix before adding more.
Pro Tip: You may not use all of the flour. Start with ½ cup and add it a little at a time until the right consistency is reached. The flour is more of a binder and shouldn't overpower the mixture.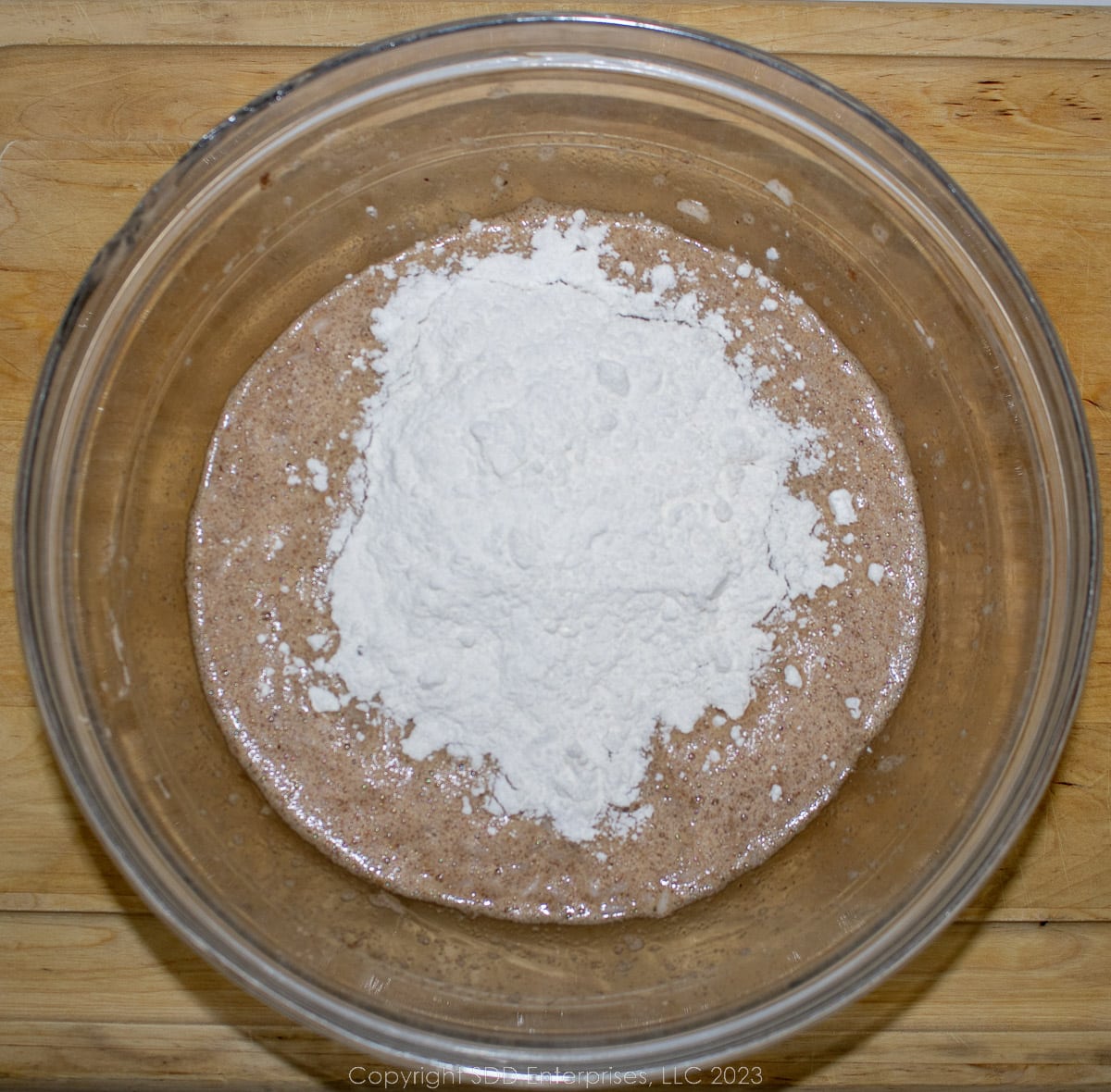 You want the consistency of a thick pancake batter. Once mixed, let the mixture sit while you heat the oil.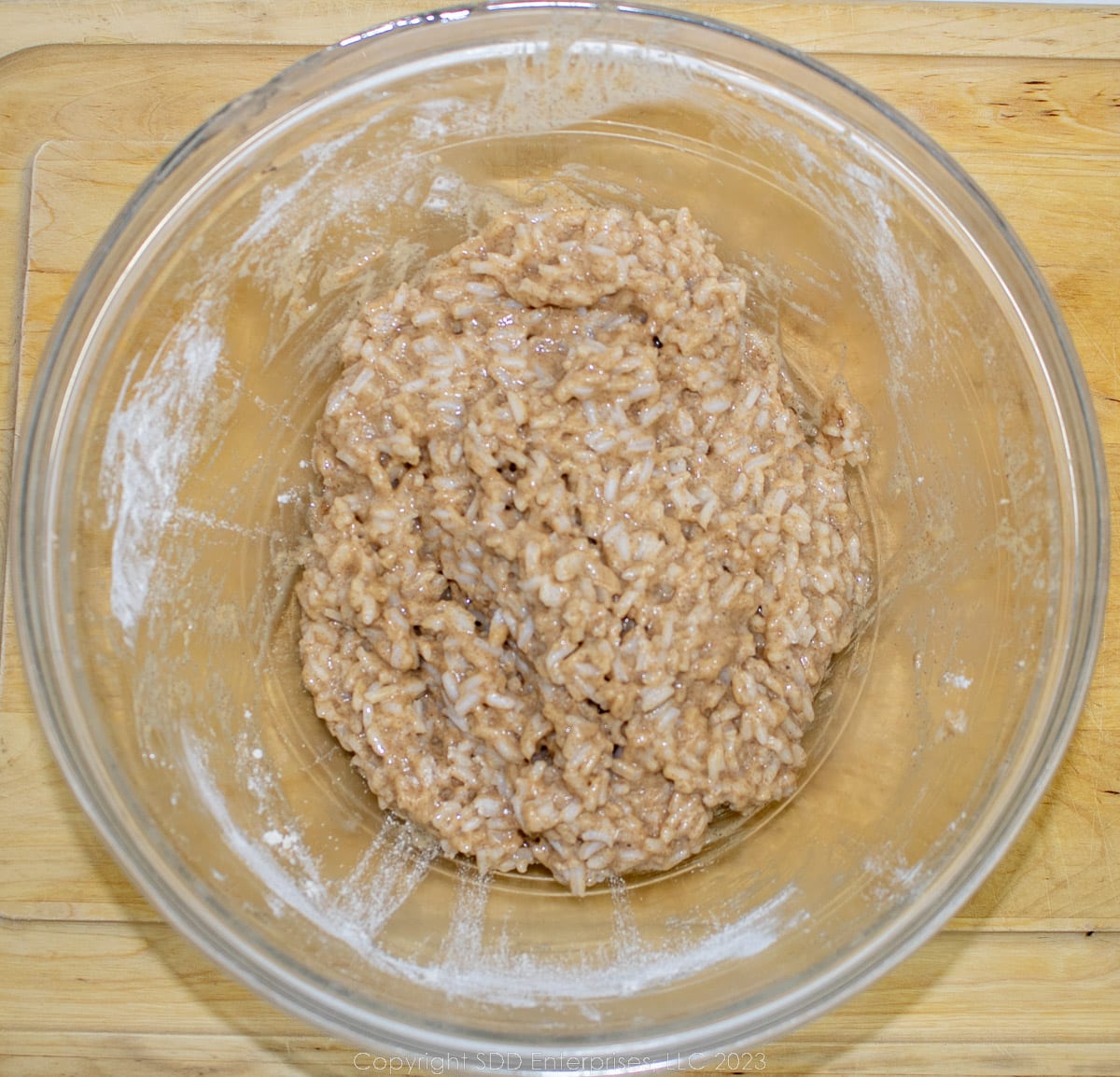 Note on consistency: You are looking for a consistency like a thick pancake or waffle batter.
Fry the Calas
What happens in this step? Here we will make this thick batter into golden brown, round "fritters".
Add enough vegetable oil to a cast iron Dutch oven to submerge and float the calas as they fry. This should be 2 to 3 inches, depending on the size of your pot.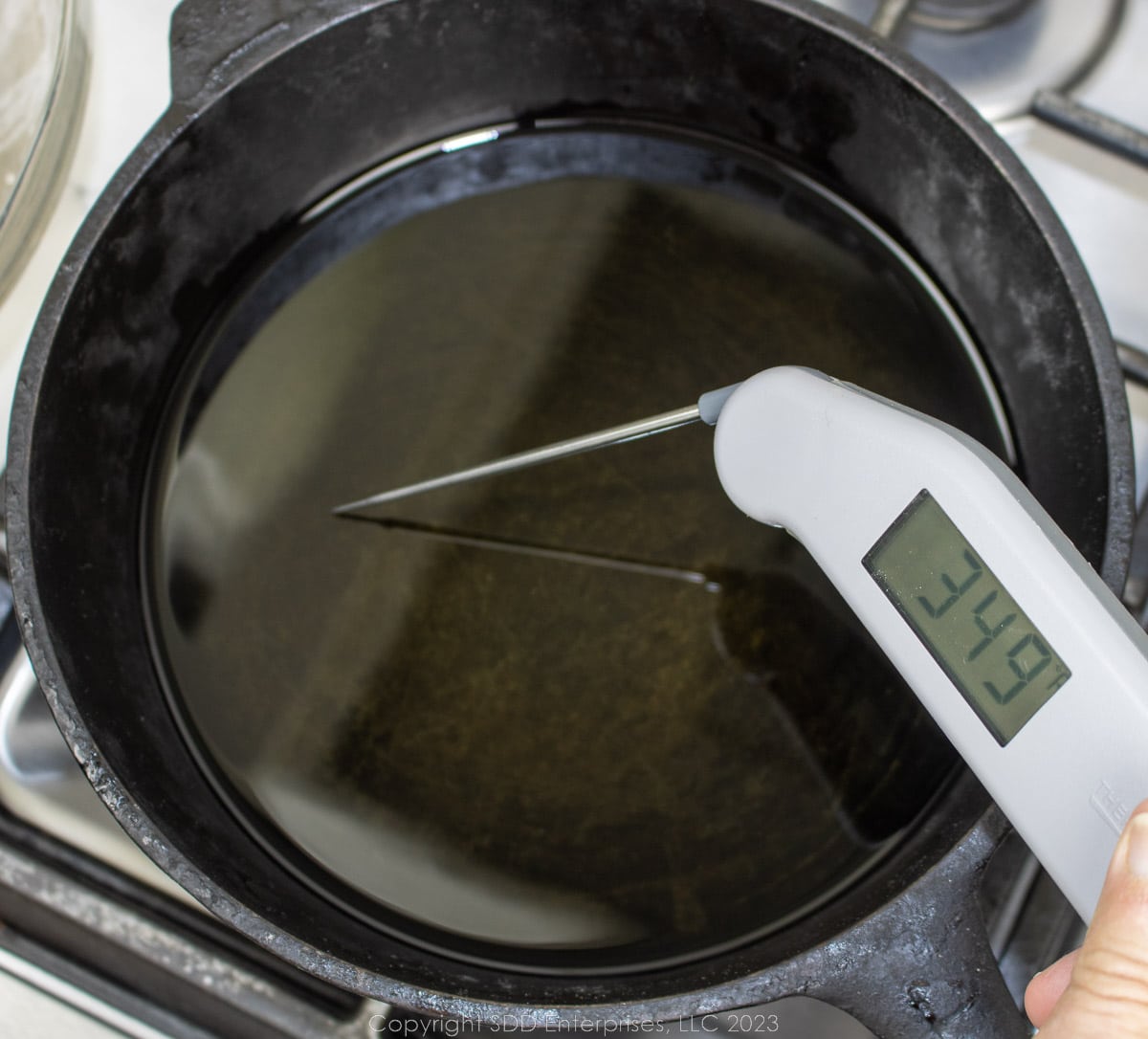 When the oil reaches 350 degrees Fahrenheit, use a tablespoon or similar-sized spoon to drop the batter into the hot oil. Fry until golden brown, usually about 3 to 4 minutes, turning the balls often so that all sides cook evenly.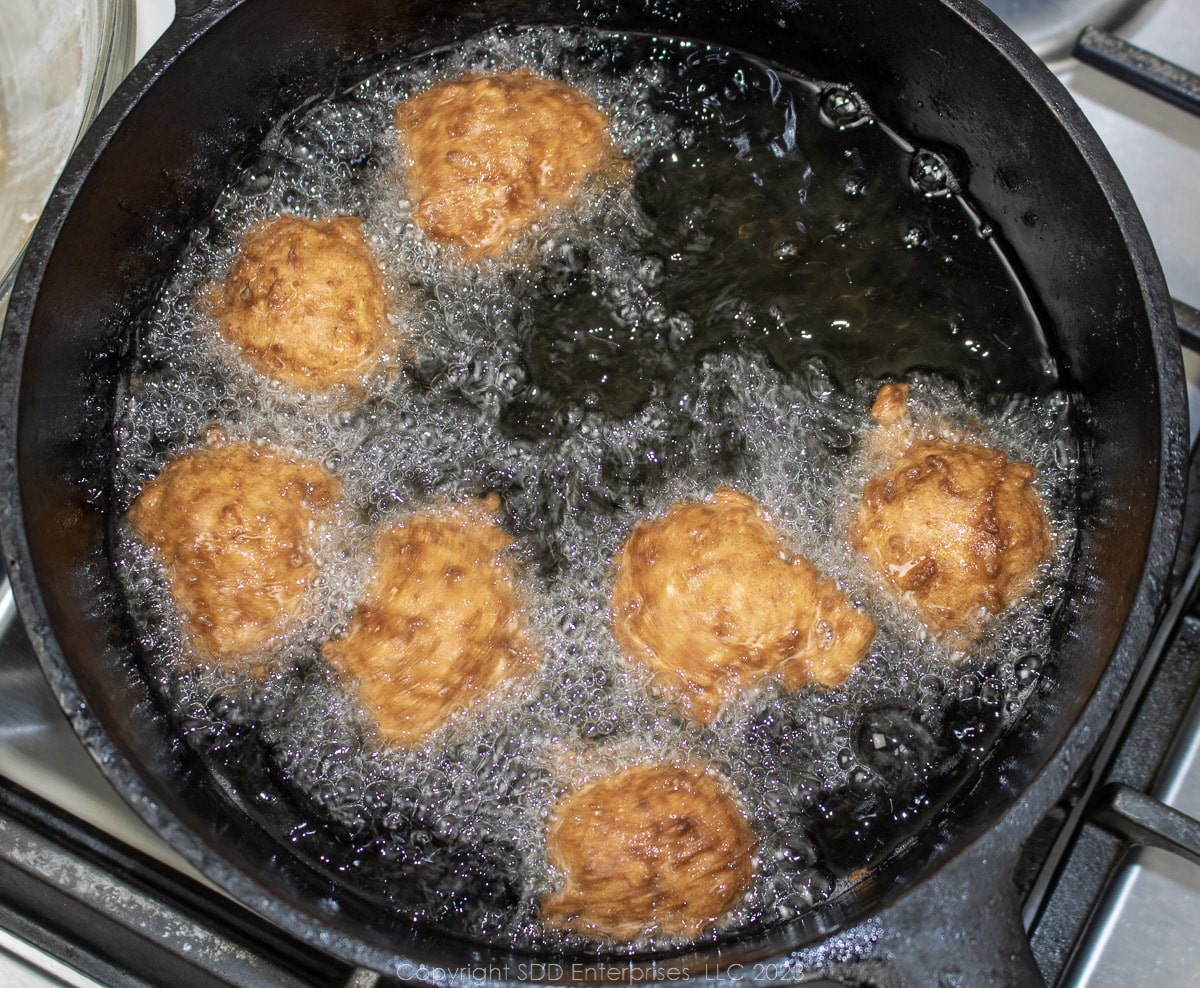 Pro Tips: Fry in two or three batches so as not to overcrowd the pot. Make sure the oil returns to the proper heat before adding the next batch. I use a scoop with a trigger release. Dip the scoop in the oil and shake off any excess oil before scooping the batter. This will make sure that the batter does not stick.
Pro Tip: I usually scoop the batter into my clean hand and roughly shape it into a ball before gently dropping it in the oil. Be very careful as the oil is extremely hot.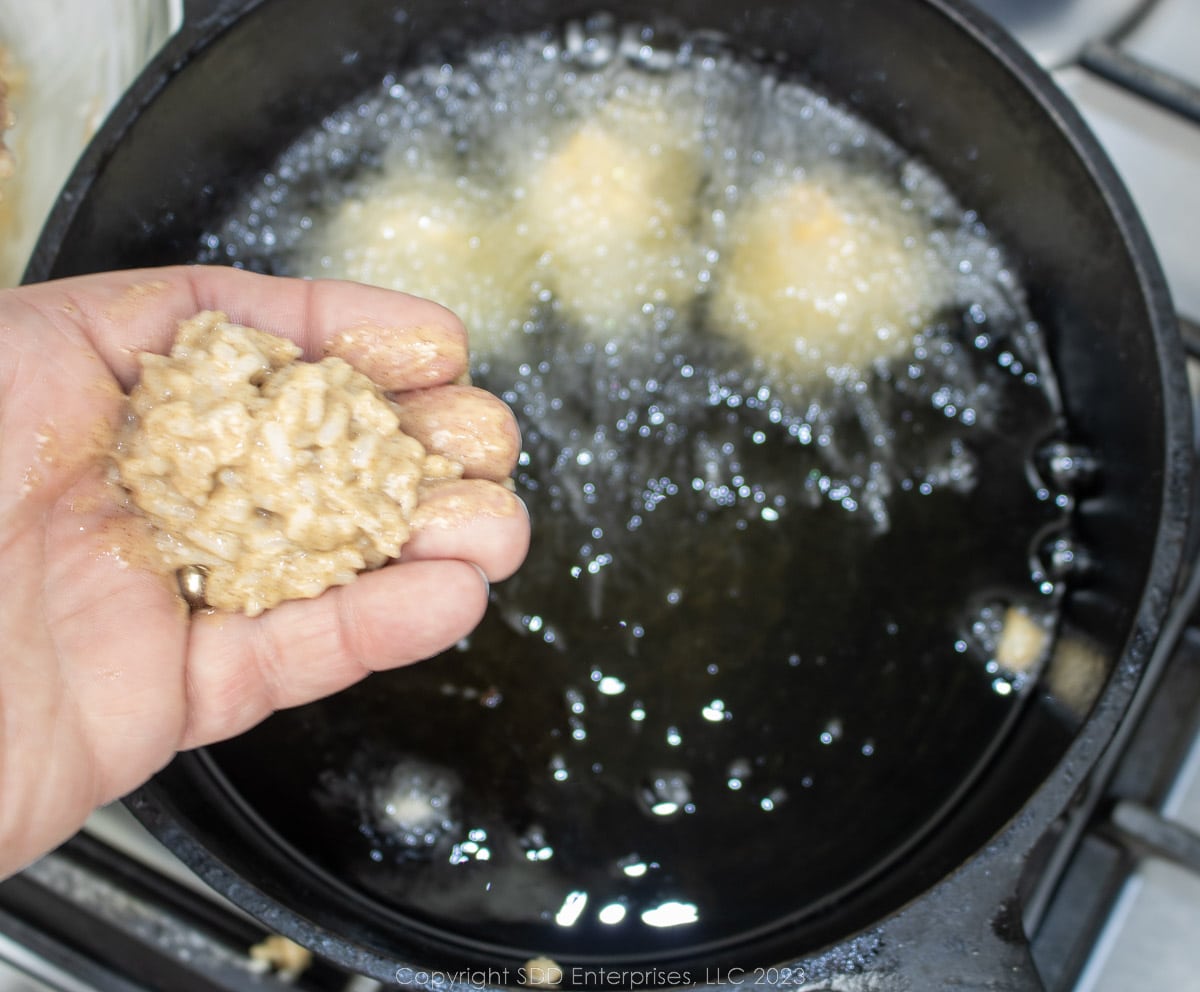 Remove the fried Calas to a sheet pan lined with paper towels.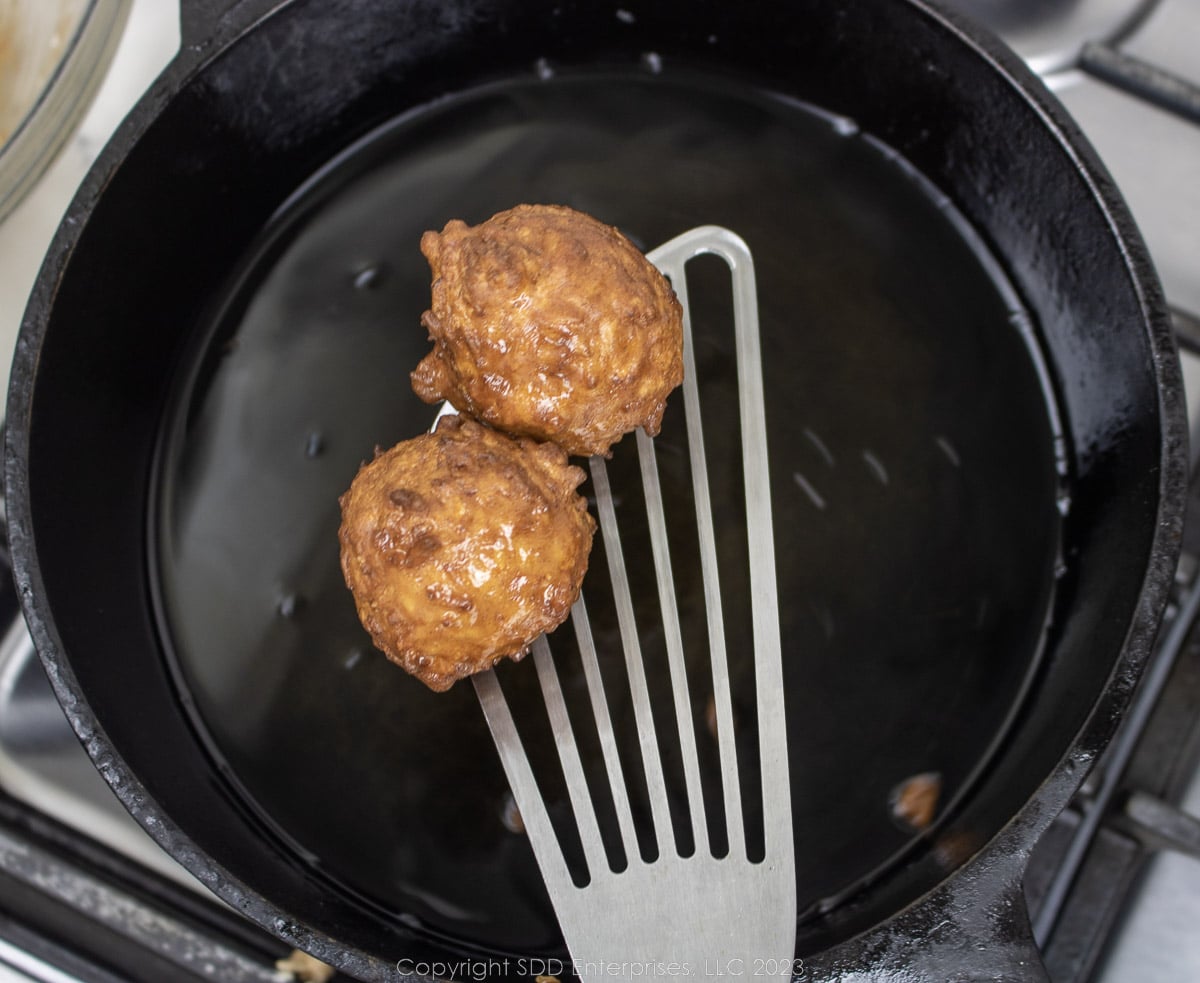 Serve warm on a platter sprinkled with powdered sugar. Place some cane syrup in a small bowl for dipping.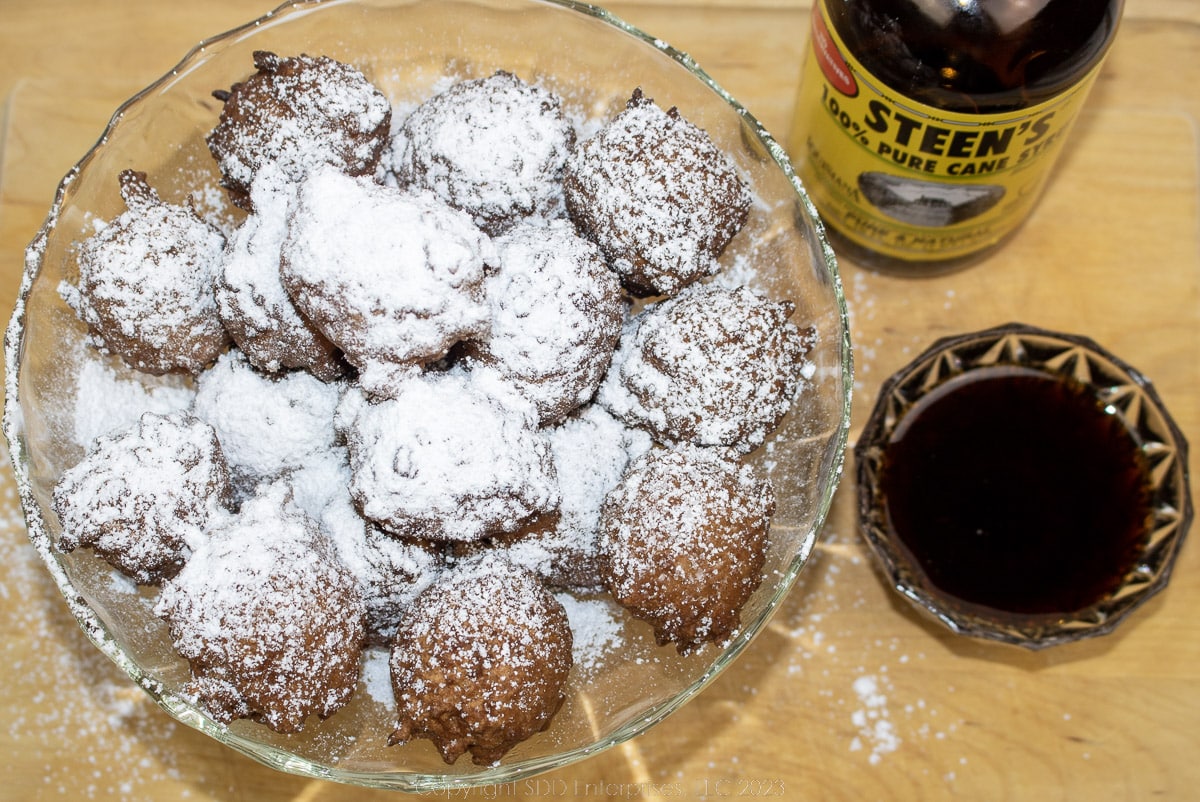 Pro Tip: I use a small strainer to shake powdered sugar (confectioner sugar) over the hot Calas.
Sign up for my email notifications of new recipes and posts right HERE.
Hints and Tips (FAQs)
Are these the same as Beignets?
There are some similarities between Calas and Beignets, but they are not the same thing. A beignet is a square French donut made by frying dough. Both beignets and Calas are fried and are a great breakfast treat, but Calas are made from a batter, like pancakes or waffles. Both Calas and Beignets are great covered in powdered sugar. I highly recommend both.
How do you serve Calas?
Calas are best served warm with a cup of coffee. I prefer Cafe Au Lait. Sprinkle copious amounts of powdered sugar right on top, then dip the Calas in cane syrup.
What is Cafe au lait?
Café au lait is the coffee of New Orleans. A New Orleans-style café au lait is made with equal amounts of dark roast coffee and chicory and scalded milk (milk warmed to just below boiling). In New Orleans, café au lait is traditionally drunk while eating beignets dusted with powdered sugar popularized at the famous New Orleans institutions, Café du Monde, and Morning Call Coffee Stand coffee stands. 

Here are some other popular Creole recipes!
If you make this recipe:
Tell us about it in the Comments section below
LEAVE A RATING ON THE RECIPE-worthy of 5-Stars?
Questions or Comments? that's the place!
SIGN UP FOR OUR EMAIL UPDATES so you don't miss anything!
Post a picture and share it with your friends on our Social Media:
Yeah You Right!
Recipe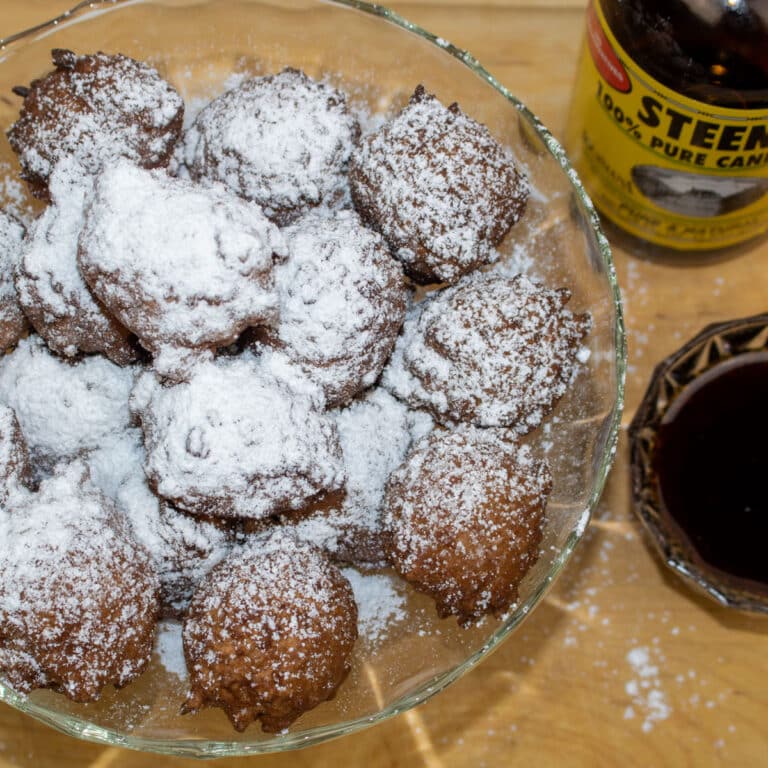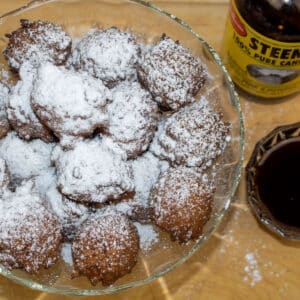 Calas
Creole Calas, are made from rice, flour, eggs, sugar, and spices. A morning time sweet treat that goes great with a cup of Cafe Au Lait!
Print
Pin
Rate
Here's What You Need
½ to 1 ½

cups

flour

2

cups

cooked rice

See Notes

2

large

eggs

¼

cup

white sugar

2

teaspoons

baking powder

½

teaspoon

nutmeg

1

teaspoon

cinnamon

¼

teaspoon

kosher salt
Here's What You Do
Cook rice until softened. When cool place 2 cups in a mixing bowl.

Combine the baking powder, salt, nutmeg, and cinnamon. Set aside

Combine the eggs and sugar and beat until the sugar dissolves.

Add the rice to the egg mixture and mix it together thoroughly.

Add the baking powder mixture to the rice mixture and combine thoroughly.

Slowly mix in the flour a little at a time until you have a sticky batter about the consistency of thick pancake or waffle batter.

Heat oil to 350 degrees. Drop in spoonfuls (about 1 tablespoon) and fry until golden brown. This should take 3 to 4 minutes per batch. Turn the calas a couple of times in the oil so that they brown evenly. Drain on paper towels.

Sprinkle powdered sugar on top and serve warm.
Recipe Notes
This recipe is perfect for leftover rice. If using raw rice, place one cup of rice into two cups of boiling salted water. Reduce heat and cover. Simmer on low for 20 minutes so that the rice is soft (not al dente).
You can substitute Rice Flour for AP Flour. I recommend adding a little more baking powder if using Rice Flour.
Nutrition
Calories:
68
kcal
|
Carbohydrates:
13
g
|
Protein:
2
g
|
Fat:
1
g
|
Saturated Fat:
0.2
g
|
Polyunsaturated Fat:
0.1
g
|
Monounsaturated Fat:
0.2
g
|
Trans Fat:
0.002
g
|
Cholesterol:
21
mg
|
Sodium:
88
mg
|
Potassium:
22
mg
|
Fiber:
0.3
g
|
Sugar:
3
g
|
Vitamin A:
30
IU
|
Vitamin C:
0.01
mg
|
Calcium:
33
mg
|
Iron:
1
mg