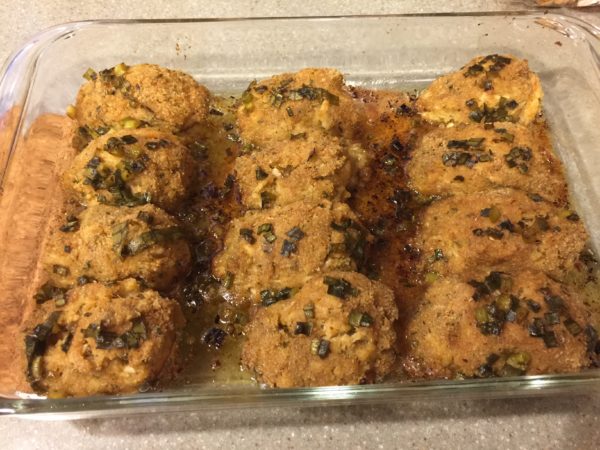 | | |
| --- | --- |
| | |
Prep the Shrimp by peeling and rinsing each one. You can leave the tail shell on if you want but its not necessary. Take a paring knife and butterfly the shrimp by slicing 1/2 to 3/4 deep into the shrimp from from the head almost all the way to the tail. Clean out the vein and rinse again. Pat dry the shrimp with a paper towels. Place butterflied shrimp in a bowl and mix with 1 to 2 Tbs of creole seasoning. Set aside while you prepare the stuffing.

Finely chop onions, green onions and celery and set aside.

Preheat the oven to 375 degrees
Melt butter in a sauté pan until foaming, then add the onions, green onions and celery and saute until just starting to soften.

Add the garlic and saute until aromatic, about 1 or 3 minutes

Add the dry white wine, increase heat so that it begins a heavy simmer. Continue to simmer until the wine has evaporated.

Take off the heat and set aside until the onion mixture cools.

In a bowl, place the crab meat and gently separate to make sure there are no shell pieces.

Gently mix in the cooled onion mixture with the crab meat. Use your hands or a rubber spatula so you don't break up the crab meat.

Add the mayonnaise, lemon juice, Worcestershire, hot sauce, egg and blend together gently.

Add 1/2 to 3/4 cup of the bread crumbs and gently incorporate with the crab meat until well combined. At this point the stuffing should stick tighter and form into a ball when pressed with your hands. Add a little more breadcrumbs if needed to get the right consistency. You can always add more, but you can't take it out!

Let the stuffing mixture sit for about 15 minutes while the flavors blend together.
Prepare a shallow baking dish with non-stick spray or a light coating of vegetable oil.

Place about 1 C of seasoned breadcrumbs in a shallow pan and set aside.

Take a shrimp in one hand; in the other hand take about 2 Tbs of the stuffing and with your hands mold the stuffing around the shrimp from the head towards the tail, starting in the butterflied split you sliced in the back of the shrimp. Use more or less stuffing depending on the size of the shrimp. Form a ball around the shrimp and press together. Roll the the stuffed shrimp in the bread crumbs coating thoroughly and place in the baking dish. This should make about 18 stuffed shrimp.

Place the shrimp in a 375 degree oven and bake for 20 to 25 minutes until starting to brown. Meanwhile, prepare the meuniere sauce
To Prepare the Sauce Meunière
Melt the butter over med-high heat in the sauté pan until foaming. Add the green onions, parsley, Worcestershire Sauce, lemon juice and hot sauce and let simmer until slightly thickened. Taste for salt and pepper and add as needed.

When the shrimp come out of the oven, spoon some sauce over each shrimp before serving.