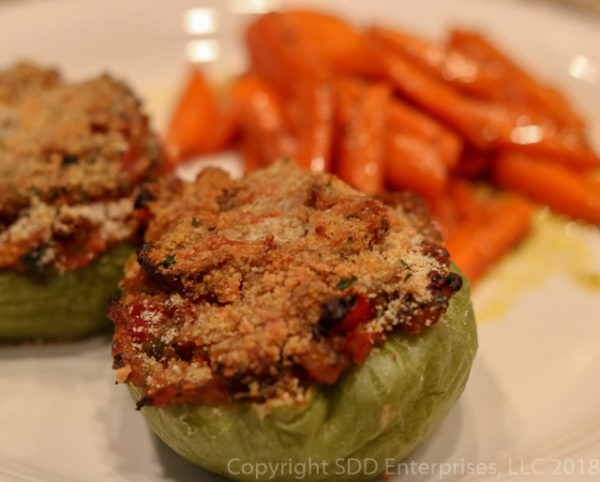 Mirlitons, stuffed with a shrimp filling made from sauteing the trinity (onions, celery and bell peppers) along with the mirliton fruit and sweet Creole tomatoes blended with fresh shrimp and creole seasoning. South Louisiana comfort food-hearty and delicious! Mirlitons, a peculiar looking squash, also known as Chayote or Vegetable Pear, is a Louisiana favorite-try this recipe and they will also be a favorite of yours!
Servings

Prep Time

Cook Time

Passive Time

Calories Per Serving

8 to 10

Servings

30

Minutes

60

Minutes

30

Minutes

236
Preheat oven to 375 degrees.

Boil whole mirlitons for 30–45 minutes until tender. Remove from water and allow to cool.

When cooled, slice in half lengthwise at widest point and remove the seed; scoop out to the meat leaving about 1/4 inch of shell. Set Aside. (See Notes)

Chop the mirliton meat and set in a colander over a bowl to allow the water to drain, retain the liquid.

Peel, devein and rinse the shrimp. Pat dry.

Coarse chop the shrimp, mix in some creole seasoning and set aside.

Parboil the tomatoes then place in an ice bath. Peel, remove the seeds then chop the tomatoes. (See Notes)

Melt butter in a heavy bottom dutch oven over high heat until frothy.

Add the trinity-yellow onions, celery and bell peppers and saute until the onions are clear, about 8 minutes.

Add the aromatics-garlic, green onions and the Herb and Spice Blend (not the sugar).

Stir and saute until aromatic, about 4 minutes.

Add the tomatoes and saute a couple of minutes.

Add the chopped mirliton meat and sugar, continue to sauté, cooking most of the water out of the mirlitons. Mash mirliton meat with a spoon as it cooks-its OK to have some chunks. About 5 minutes.

Add the chopped shrimp and stir to mix well.

Sauté until the shrimp have turned pink, about 5 to 6 minutes.

Add about half the bread crumbs and mix well.

Add more breadcrumbs until the mix tightens up-cook about 5 more minutes.

Remove the dutch from the heat and allow it to cool-about 15 to 30 minutes.

Remove the bay leaves from the filling and stuff the filling into the mirliton shells, pressing to make sure all the voids are filled.

Place the stuffed mirlitons onto a prepared baking sheet or oven-proof baking dish. When they are all stuffed, sprinkle some breadcrumbs and a little Romano cheese on top of each one. Place a small tab of butter on the top of each one.

Bake for about 30 minutes in the preheated oven until golden brown.
A mirliton is a peculiar looking squash that is commonly known as a Chayote or Vegetable Pear outside of Louisiana. Once it's all cooked, the skin will be very soft-it's fine to eat, in fact, it's delicious!
To prepare the mirlitons, add them to about 10 cups of boiling water and boil until soft-for about 30 minutes. Check them by probing with a tooth pick. If they are soft and offer little or no resistance, they are done.  If they are still a little tough, continue to boil and check every 5 to 10 minutes.  Make sure to let them cool before handling-it will be much more pleasant.  Once cooled, slice the mirliton in half lengthwise at the widest part. Scoop out the seed and the white part around it, then carefully spoon or scrape out the fruit into a bowl, leaving about 1/4 inch of the shell. The soft skin is easy to pierce or tear-but even if it gets torn, it will still be good for stuffing!
If you start with 5 mirlitons, you'll end up with 10 halves (no extra charge for the math lesson!). However, stuff as much filling as you can in them even if you don't have enough for all 10 halves. I usually end up with 8 or 9.
If you don't have Creole tomatoes, use any ripe tomato-home grown are the best. The important part is to use ripe tomatoes, but if there are none available, canned diced tomatoes will work perfectly!
The easy way to peel and seed the tomatoes is to parboil them. Cut a shallow cross with a very sharp knife on the top, crisscrossing the stem.  Bring about 10 cups of water to a heavy boil. Working with one or two tomatoes at a time, place them in the boiling water.  Boil them for about three minutes after the water returns to a boil. (placing the cover over the pot will help bring the water back to a boil quicker). Remove the tomatoes immediately into an ice bath (a large bowl filled with ice and cold water).  This will stop the cooking process and make them easy to peel. Let them sit in the ice bath about 10 minutes. When you remove them, grab a piece of the curling skin between your thumb and the flat of a knife blade and pull. Continue until the entire tomato has been peeled. To get the seeds out, slice in half or threes across the tomato's equator and scoop the seeds out with your fingers or a small spoon. Sometimes you can squeeze the seeds out. Its OK if you don't get every single seed out. Next, chop the peeled tomatoes and they are ready for use.
Some commercial creole seasonings have a lot of salt, so make sure you taste the filling before you add more salt to it.
Nutrition Facts
Mirlitons Stuffed with Shrimp and Creole Tomatoes
Amount Per Serving
Calories 236
Calories from Fat 72
% Daily Value*
Total Fat 8g 12%
Cholesterol 103mg 34%
Sodium 370mg 15%
Potassium 597mg 17%
Total Carbohydrates 25g 8%
Protein 17g 34%
* Percent Daily Values are based on a 2000 calorie diet.