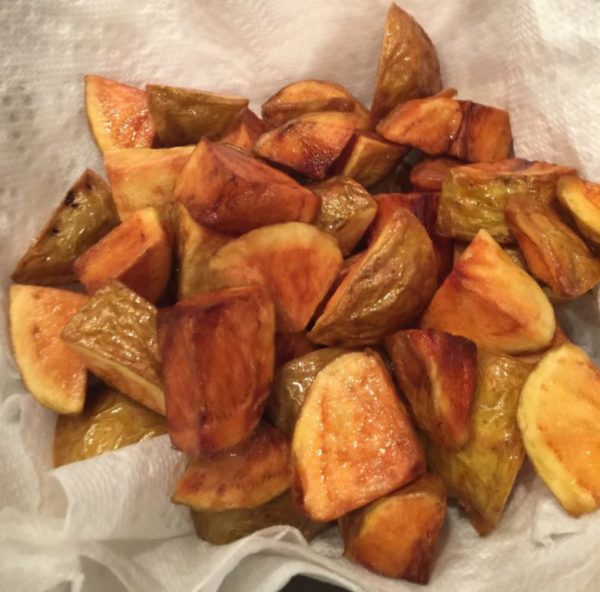 Brabant Potatoes are the New Orleans french fry. Tender and creamy on the inside and crunchy on the outside, drizzled with garlic butter and seasonings, this is the Grande Dame of side dishes. Found in many New Orleans restaurant-from the classic creole to the neighborhood restaurant.
Servings

Prep Time

Cook Time

Passive Time

Calories Per Serving

6

Servings

20

Minutes

22

Minutes

30

Minutes

317
Scrub the outside of potatoes with soft brush or cloth. Peel only if desired

Cut potatoes into ¾ inch cubes.

Soak cut potatoes in cold water for 15 to 30 minutes, then drain.

Bring about 10 cups of water to a heavy boil and parboil potatoes for three minutes after water returns to a boil. (See Recipe Notes)

Remove from water and spread out on paper towels to dry.

Melt the butter in a small sauce pan and add the chopped garlic. Simmer on low until the garlic is softened. Don't burn the butter. Keep warm while potatoes fry.

Add about 2 inches of vegetable oil (make sure its enough to cover the potatoes) in a skillet and bring to 350 degrees over high heat.

Fry potatoes for 10 to 12 minutes, until the outsides are starting to brown and get a little crisp.

Drain the potatoes onto paper towels, then place in a bowl or sheet pan almost immediately

Sprinkle on the creole seasoning and kosher salt and freshly ground black pepper; Mix well.

Add the parsley to the melted butter and garlic, mix well, then pour this onto the potatoes and mix well.

If you are not able to serve immediately, place in a warm over (150 degrees) until you are ready to serve them.
Use a starchy potatoes such as Russet or Idaho. Yukon Golds work very well also.
If you don't want to parboil the potatoes, just increase the frying time to at least 15 to 18 minutes.
Make sure to use enough oil to deep fry the potatoes.
Many commercial creole seasonings contain salt, so you should taste before adding more salt.