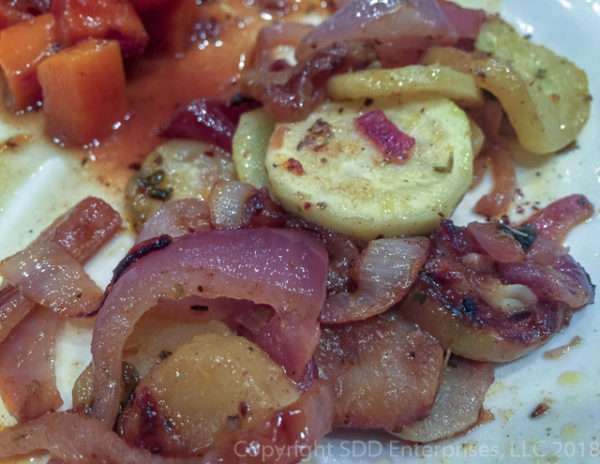 | | |
| --- | --- |
| | |
Wash and slice squash and zucchini into medallions; Slice red onion into half moons; Slice lemons, discard ends; Chop garlic

Place all of the above into a large bowl.

Add herb and spice blend and a few dashed of olive oil.

Mix well and set aside for about 20 minutes.

Chop bacon into 1 inch pieces.

Cook bacon in a large saute pan over high heat.

Remove bacon from the pan and set aside on paper towels to drain but leave the bacon grease in the pan.

Add the vegetables to the bacon grease.

Shake pan and stir occasionally.

Allow the vegetables to start to brown slightly on the edges before you shake or stir.

Maintain a high heat as you saute, don't allow them to burn but you do want to encourage some caramelization of the squashes and onions to occur and still be a little firm.

After about 15 minutes, remove from heat and return the crisp bacon pieces to the vegetables.
No need to peel the squash or zucchini unless you want to!